Amy Coney Barrett: The Lethal Injection to LGBTQ and Women's Rights?
It's the old story of the scorpion & frog.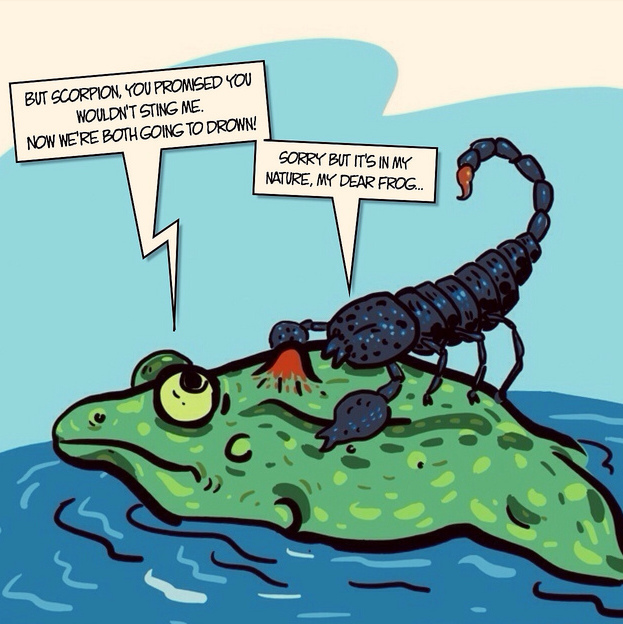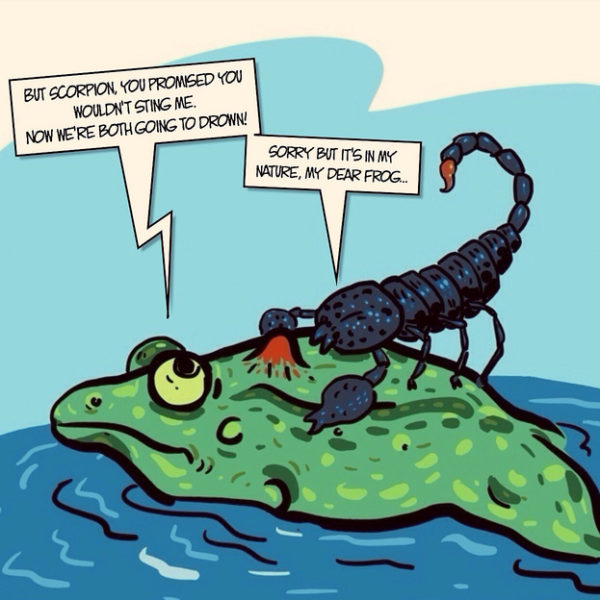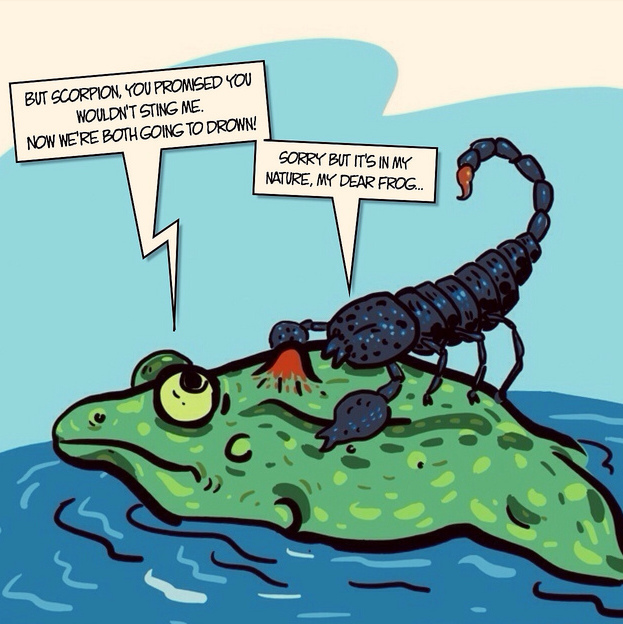 By Rob Watson | HOLLYWOOD – It is the old story about the scorpion and the frog. The two needed each other to cross a river to survive. The frog was apprehensive, knowing the scorpion had a deadly sting. The scorpion proclaimed that should the frog swim him across, he would obviously not use his lethal sting as they would both then drown. The frog gave into this logic, agreed to take the scorpion across… half-way across, the scorpion DID sting the frog. As they were both on their way to death, the frog asked, "WHY?" The scorpion proclaimed, "I could not help it. It is who I am."
The Republicans are the scorpions of politics.
America has been the land of principles. The land of justice. The land of a democratic ideal. Our people have allowed the Republican party to crawl on our back with the promise and common goal of saving those ideals. To make us "great" "again".
Amy Coney Barrett has been nominated to take over Ruth Bader Ginsberg's seat on the Supreme Court. She has been placed there, not to represent our democracy, but to finish the job of the powerful few, the Republican party, that started the agenda decades ago. Women's reproductive rights, protection against gun violence, common access to healthcare, LGBTQ rights…. She holds the lethal injection to wipe them all out. Her willingness to use such an injection is her most important qualification.
To quote Donald Trump as a disaster he perpetuated unfolds, "It is what it is" and Barrett will play her part. It is who she is. If she were someone else, she simply would not be the nominee.
How will she sting us? I took that question this week to Kate Kendell, Interim Legal Director at the Southern Poverty Law Center on the podcast RATED LGBT RADIO. For 22 years, Kendell led the National Center for Lesbian Rights. She stepped down from that role at the end of 2018, and then served as Campaign Manager for Take Back the Court, an organization committed to structural reform of the U.S. Supreme Court until October 2019.
"We are in a full-on crisis," Kendell declared. "The court's rightward lurch will make it impossible to correct things like gerrymandering, voter suppression, and the flow of dark money into elections. Any of the corrective actions we need to take to restore a functional democracy will be impossible."
I asked her about Roe versus Wade, theorizing that not only is Barrett the kill switch to women's reproductive rights in the United States, but the decision will be written with a woman's face on it… hers. Kendell agreed, "Were Barrett to be confirmed… Roe is gone. There is no doubt about that. The best we can hope for is that they would leave it to the states. It is not inconceivable that they would go even farther and legislate themselves that no abortion is permissible. Barrett is quoted as saying that she believes that all abortions are immoral. Even in the case of the risk to the life of the mother, rape, and incest. She has no regard for a woman to have bodily integrity to choose when and where to be a parent."
Kendell continued, "That is going to bleed over into all sorts of issues of privacy, including the rights of LGBTQ people. The 'Mack truck' this court has set up that can be driven through all its past rulings in favor of LGBTQ people … is 'religious exemption. I don't think the court would overrule same sex marriage, but they could rule that if one of your employees legally gets married in a same sex union, you could fire them if you find that offensive. There are all sorts of ways our enormous victories could be chipped away. If we begin to have exceptions to cases that say Non-Discrimination is our value, that Equality is our value, those erode completely if you asterisk it with 'unless you don't like those people' – that is the environment in which we are heading with this confirmation. "
"We are living in Trump's America. Imagine that worldview being animated by the majority of the Supreme Court. Now, that's a nightmare scenario."
In the first Presidential debate Tuesday night, Donald Trump bragged about stuffing the courts. This Republican accomplishment disgusts Kendell. "As a lawyer, and someone who respects the judiciary, who honors judges and their service, the cast of clowns that have been confirmed with lifetime appointments on the Bench by the GOP Senate run by McConnell is an insult to what it means to serve on the judiciary. These are unqualified. Their ONLY qualifications to be confirmed was that they WERE hardcore conservatives who would rule in lockstep with the GOP. That perverts the very reason we have a third branch of government."
Scorpions.
The Supreme Scorpion will be Barrett. She, and they, cannot help it. It is who they have been. It is who they are.
Will they win against us? Ultimately, Kendell says no. "Look, I do feel bereft, about where we are as a nation. But we have a history as a Queer Community. We have had very dim moments before where we were not sure what the path out of it was. I think of the height of the AIDS crisis. I saw the lives of many of my friends snuffed out. First it was a trickle and then it was a torrent. I remember very vividly, Larry Speakes who was Reagan's press secretary, being asked at a press conference 'what is this administration going to do about all these gay men who are dying?' And Speakes's response was to laugh. To mock the idea we should even care that gay men were dying. So literally out of nothing… with NO government support, we created an entire movement and infrastructure to save our men and others impacted by AIDS and HIV. We have this in our muscle memory. How to show up and how to be on the front when life or death is on the line. We just have to recall that and reach into that reservoir and show up in this moment in the same way."
The moral of the story is this. They may be scorpions…
… but they are sadly mistaken if they take us for being frogs.
Senate acquits Trump 57- 43 in 2nd impeachment trial
The vote was cast after lawmakers scrapped plans to depose witnesses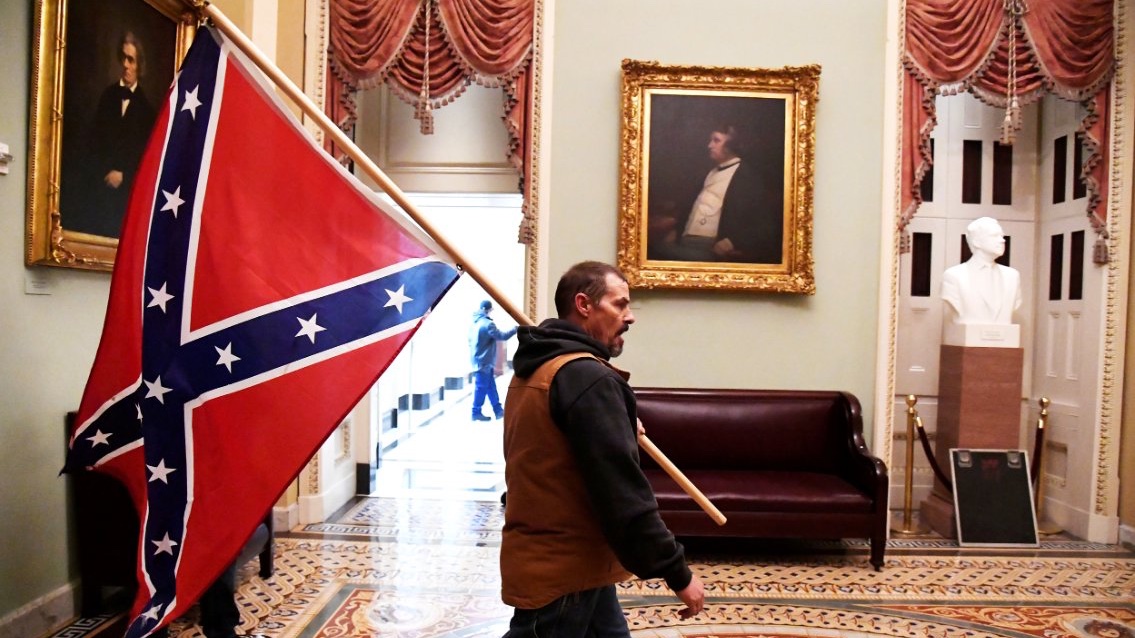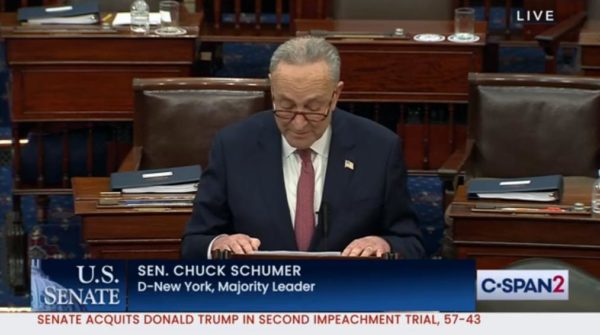 WASHINGTON – The United States Senate in a vote of 57 to 43 Saturday acquitted former President Donald Trump, who was charged in the one Article of Impeachment by the U. S. House for inciting the insurrection at the U.S. Capitol on January 6th, 2021. The Constitution requires a two-thirds majority to convict or 67 votes.
The House Impeachment Managers spoke to reporters after the Senate vote to acquit the ex-president telling reporters, "We have shown Trump is a disgrace to our country."
Trump issued a statement thanking his defense team and supporters that read in part;
"[…] My deepest thanks as well to all of the United States Senators and Members of Congress who stood proudly for the Constitution we all revere and for the sacred legal principles at the heart of our country.
This has been yet another phase of the greatest witch hunt in the history of our Country. No president has ever gone through anything like it, and it continues because our opponents cannot forget the almost 75 million people, the highest number ever for a sitting president, who voted for us just a few short months ago.
Our historic, patriotic and beautiful movement to Make America Great Again has only just begun. In the months ahead I have much to share with you, and I look forward to continuing our incredible journey together […]"
One Capitol Hill source reflecting on Trump's statement told the Blade, "Not one word of remorse in that mess. [statement on the acquittal.] He doesn't even acknowledge what a tragedy and travesty Jan. 6 was- he doesn't care."
A leading progressive coalition of more than 220 national organizations which promote and protect the civil rights of Americans, the Washington D.C. based 'The Leadership Conference on Civil and Human Rights' issued a statement from its interim president and CEO Wade Henderson after the Senate acquitted Trump;
"Despite the unmistakably clear evidence, only a handful of Republican senators found the moral fortitude to put partisan politics aside and hold Donald Trump accountable for the deadly insurrection. There is no question to fair-minded Americans that Trump weaponized blatant lies and incited a white supremacist, anti-Semitic mob to try to stop the peaceful transition of power.
The white supremacy that undergirded Trump's deadly rhetoric and fueled the insurrection is not new. The failure to convict Trump only highlights the actions we must take as a part of our country's long overdue reckoning with white supremacy and white nationalism."
One of the House Impeachment Managers, California Congressman Ted Lieu, (D-Santa Monica/Long Beach) tweeted after the vote;
"57 United States Senators concluded President Trump was guilty of inciting an insurrection. The highest bipartisan vote to convict in US history. That's a damning vote."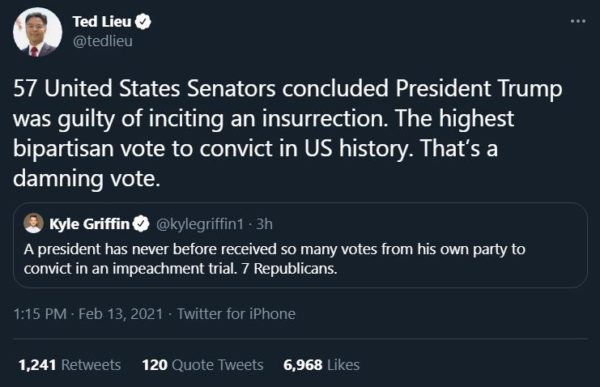 President Joe Biden, who is spending the weekend at Camp David, the presidential retreat in the Catoctin Mountain Park near Thurmont, Maryland, issued a statement late Saturday evening regarding the verdict;
"It was nearly two weeks ago that Jill and I paid our respects to Capitol Police officer Brian Sicknick, who laid in honor in the Rotunda after losing his life protecting the Capitol from a riotous, violent mob on January 6, 2021.

Today, 57 Senators – including a record 7 Republicans – voted to find former President Trump guilty for inciting that deadly insurrection on our very democracy. The Senate vote followed the bipartisan vote to impeach him by the House of Representatives. While the final vote did not lead to a conviction, the substance of the charge is not in dispute. Even those opposed to the conviction, like Senate Minority Leader McConnell, believe Donald Trump was guilty of a "disgraceful dereliction of duty" and "practically and morally responsible for provoking" the violence unleashed on the Capitol.

Tonight, I am thinking about those who bravely stood guard that January day. I'm thinking about all those who lost their lives, all those whose lives were threatened, and all those who are still today living with terror they lived through that day. And I'm thinking of those who demonstrated the courage to protect the integrity of our democracy – Democrats and Republicans, election officials and judges, elected representatives and poll workers – before and after the election.

This sad chapter in our history has reminded us that democracy is fragile. That it must always be defended. That we must be ever vigilant. That violence and extremism has no place in America. And that each of us has a duty and responsibility as Americans, and especially as leaders, to defend the truth and to defeat the lies.

That is how we end this uncivil war and heal the very soul of our nation. That is the task ahead. And it's a task we must undertake together. As the United States of America."
LGBTQ media advocacy organization GLAAD's President and CEO Sarah Kate Ellis, in a media statement wrote; "the Trump administration will forever be defined by misinformation and violence, tactics the former president weaponized against LGBTQ people and other vulnerable communities before turning them loose on our government on January 6th."
Ellis continued noting;
"The verdict does not reflect the truth understood by a majority of Americans, that Donald Trump recklessly and maliciously directed his supporters to attack the Capitol and our democracy. The Trump administration will forever be defined by misinformation and violence, tactics the former president weaponized against LGBTQ people and other vulnerable communities before turning them loose on our government on January 6th.

Senators voting to acquit are now and for all of history recorded for their cowardice in failing to hold the former president accountable for his lawless, destructive behavior. Let this be a turning point for our country, where we demand a return to shared core values of truth, safety and integrity to protect the least among us, especially from those chosen to lead us."
Republican Senate Minority Leader Mitch McConnell (R-Ky.), offered up a withering criticism of Trump's behavior. McConnell said Trump was "practically and morally" responsible for the Jan. 6 attack and suggested that he could face criminal charges. McConnell had been one of the 43 GOP Senators who voted to acquit.
McConnell said he would have "carefully considered" convicting Trump if he still held office, but ultimately determined that he, as a former president, was not "constitutionally eligible" for a conviction.
One of the ex-president's supporters blamed the Democrats; "This impeachment trial did nothing to bring the domestic terrorists who committed this heinous attack to justice," said Sen. Ted Cruz (R-Texas). "It merely satisfied Democrats' desire to once again vent their hatred of Donald Trump and their contempt for the tens of millions of Americans who voted for him."
Speaker of the House Nancy Pelosi (D-San Francisco) angrily chastised the 43 Republican Senators over their votes in the acquittal saying in a statement:
"Senate Republicans who voted not to convict chose to abandon the Constitution, the Country and the American people with this vote."
The Speaker also noted that "the Congress and Country can take great pride in the House Impeachment Managers, who defended our Constitution & Democracy with a moving presentation demonstrating love of country and loyalty to our oath and the facts."
In a letter to his supporters, House Intelligence Chairman Rep. Adam Schiff, (D-Burbank) remarked;
"[…] When I served as lead manager of the first impeachment, we warned the Senators that if they failed to convict Donald Trump after he betrayed our national security, he would do so again, that he had compromised our elections and he would do so again. We warned that they would not change or constrain him. That truth mattered little to him, what's right mattered even less, and decency not at all.
[…] As long as I live, I will never understand how the Republican Senators who voted to acquit can reconcile themselves with the consequences of that vote, or where this will place them in history. Why run for the Senate at all, if you will be missing in action when the country really needs you? Is the job that important to leave your country defenseless to a demagogue who brought violence down on our heads? How can they fail to see that by doing so, they have enabled him to bring this same hell upon us again, and that next time it could be even worse?
Rep. Jamie Raskin, (D-Md.), the lead House Impeachment Manager, warned senators that their conviction vote would define their legacies.
"This is almost certainly how you will be remembered by history," he said. "It really might not be fair, but none of us can escape the demands of history and destiny right now."