September 30, 2020 at 11:37 am PDT | by Karen Ocamb
L.A. County Democratic Party's Mark Gonzalez on the Debate, Getting out the Vote, Yes on Prop 21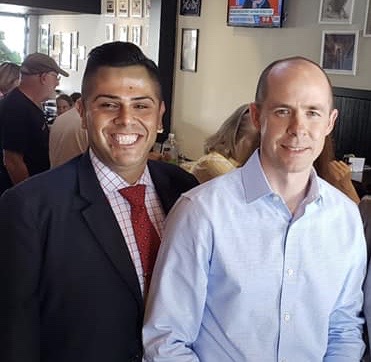 WEST HOLLYWOOD – Historian Jon Meacham summed up the contentious Sept. 29 debate between President Donald Trump and former Vice President Joe Biden simply: "No hyperbole: The incumbent's behavior this evening is the lowest moment in the history of the presidency since Andrew Johnson's racist state papers."
Many debate observers agree, including out Los Angeles County Democratic Party Chair Mark Gonzalez, who told the L.A. Blade that the president "stoked the burning coals of racism."
Trump referred to California several times, including once again blaming the wildfires on "forest floors are loaded up with trees … and leaves and everything else" and a lack of "good forest management." CalMatters fact-checked; "California only owns about 3% of the state's forest. The largest landlord of forestland in California? The federal government."
But to Meacham's point, the greatest post-debate concern was Trump's hedging about whether he would observe the peaceful democratic transfer of power should he lose re-election. Not only did he make false statements about discarded ballots, Trump falsely underscored violence in Democratic-run cities. "Look at Oakland, look what happened in Oakland. … It was more violent than what I'm even seeing now,'' Trump said, ignoring the fact that the suspect accused of killing a federal officer last May was a member of the extremist "boogaloo boys" who used peaceful protests as a cover to "incite a race war," according to the Washington Post.
Trump also refused to condemn white supremacy when asked directly by moderator Chris Wallace of Fox News. Instead, three years after he seemed to excuse the neo-Nazi violence in Charlottesville, Virginia, Trump said: "Proud Boys, stand back and stand by," which the far right extremist group celebrated as marching orders – including creating a new logo emblazoned with Trump's admonition.
"In a nation wracked by unrest, that was one of the most irresponsible and reprehensible statements I've ever seen from a president," conservative commentator David French tweeted, saying Trump's comments were "a call to be ready."
This is of particular concern to the LGBTQ community in Hawaii where Proud Boys member Nick Ochs is running against out gay Adrian Tam, both candidates for the Hawaiian state legislature. "TRUMP DIRECTLY ASKED ABOUT PROUD BOYS. DOESN'T DISAVOW. DENOUNCES ANTIFA INSTEAD," Ochs tweeted, adding "Standing back and standing by, Mr. President."
"What America and the world witnessed last night reminds us what the last 4 years have been for our nation – chaotic. While the president lied repeatedly directly to the American people and stoked the burning coals of racism putting his 'Proud Boys' on 'stand by,' Joe Biden offered strong ideas on the key problems facing American families today," said Gonzalez, a young Democrat with more than 20 years of activism who was recently named chair of the Biden/Harris campaign in California. "Joe Biden demonstrated the leadership and temperament that Americans around the country are looking for. I look forward to the next two presidential debates, and next week's Vice-Presidential Debate with California's own Kamala Harris."
Gonzalez notes that during the coronavirus pandemic, the party has gone completely virtual in its critical Get Out The Vote (GOTV) effort before Election Day, Nov. 3. "California has a huge volunteer base of people who are calling the 17 battleground states," he says, with coalition phone banking focused on Arizona and Nevada.
Mail-in ballots drop on Oct. 5 in California. In addition to mailing the ballot through the Post Office, there are voting centers in large arenas open 11 days prior to Election Day to physically dop off ballots. As long as the ballot is postmarked by Nov. 3, it will be counted.
"Our focus has always been robocalls, anything digital," and social media, says Gonzalez. "We're planning six virtual GOTV rallies across the County… [and] we're partnering with the California Democratic Party and doing virtual phone banking" on national and statewide races, including propositions such as Prop 21.
The L.A County Democratic Party actually endorsed Prop 21 before the state party. A key point: over 30% of California's 17 million renters pay over 50% of their income in rent.
"In Los Angeles alone, not just the County, there is a significant amount of folks who are renters. During the pandemic, a lot of folks who have lost their job, unfortunately, who are renters, are scared in terms of getting kicked out, being pushed onto the street," Gonzalez says. "Prop 21 is an initiative on the ballot that prevents homelessness, preserves affordable housing and gives local communities the freedom to provide renter assistance. There's over 150,000 people who are homeless in California and this was before COVID-19. And COVID-19 has left 4 to 5 million people in danger of eviction in California, according to the Aspen Institute study. So, Prop 21 will help get assistance to those renters and help prevent eviction, which I think is what the party is standing for."
Gonzalez adds: "I think it's just important. I, myself, am a renter. And I think it's important for these measures and initiatives to go through, to protect those folks. Because most people who are renting — if you're not a homeowner, you're obviously in a very different bracket. So, it's definitely something that's needed, which is why the party pushed for it."
Karen Ocamb is an award-wining journalist writing for the Yes on 21 campaign.