L.A. County Democratic Party's Mark Gonzalez on the Debate, Getting out the Vote, Yes on Prop 21
California Democrats react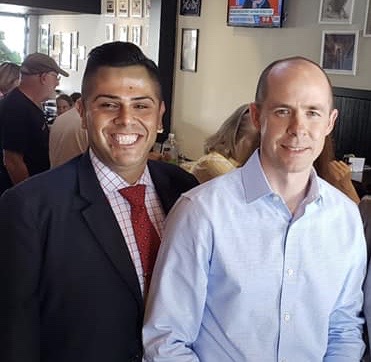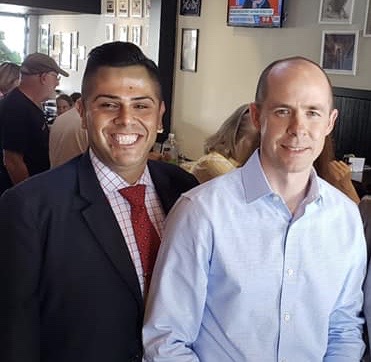 WEST HOLLYWOOD – Historian Jon Meacham summed up the contentious Sept. 29 debate between President Donald Trump and former Vice President Joe Biden simply: "No hyperbole: The incumbent's behavior this evening is the lowest moment in the history of the presidency since Andrew Johnson's racist state papers."
Many debate observers agree, including out Los Angeles County Democratic Party Chair Mark Gonzalez, who told the L.A. Blade that the president "stoked the burning coals of racism."
Trump referred to California several times, including once again blaming the wildfires on "forest floors are loaded up with trees … and leaves and everything else" and a lack of "good forest management." CalMatters fact-checked; "California only owns about 3% of the state's forest. The largest landlord of forestland in California? The federal government."
But to Meacham's point, the greatest post-debate concern was Trump's hedging about whether he would observe the peaceful democratic transfer of power should he lose re-election. Not only did he make false statements about discarded ballots, Trump falsely underscored violence in Democratic-run cities. "Look at Oakland, look what happened in Oakland. … It was more violent than what I'm even seeing now,'' Trump said, ignoring the fact that the suspect accused of killing a federal officer last May was a member of the extremist "boogaloo boys" who used peaceful protests as a cover to "incite a race war," according to the Washington Post.
Trump also refused to condemn white supremacy when asked directly by moderator Chris Wallace of Fox News. Instead, three years after he seemed to excuse the neo-Nazi violence in Charlottesville, Virginia, Trump said: "Proud Boys, stand back and stand by," which the far right extremist group celebrated as marching orders – including creating a new logo emblazoned with Trump's admonition.
"In a nation wracked by unrest, that was one of the most irresponsible and reprehensible statements I've ever seen from a president," conservative commentator David French tweeted, saying Trump's comments were "a call to be ready."
This is of particular concern to the LGBTQ community in Hawaii where Proud Boys member Nick Ochs is running against out gay Adrian Tam, both candidates for the Hawaiian state legislature. "TRUMP DIRECTLY ASKED ABOUT PROUD BOYS. DOESN'T DISAVOW. DENOUNCES ANTIFA INSTEAD," Ochs tweeted, adding "Standing back and standing by, Mr. President."
"What America and the world witnessed last night reminds us what the last 4 years have been for our nation – chaotic. While the president lied repeatedly directly to the American people and stoked the burning coals of racism putting his 'Proud Boys' on 'stand by,' Joe Biden offered strong ideas on the key problems facing American families today," said Gonzalez, a young Democrat with more than 20 years of activism who was recently named chair of the Biden/Harris campaign in California. "Joe Biden demonstrated the leadership and temperament that Americans around the country are looking for. I look forward to the next two presidential debates, and next week's Vice-Presidential Debate with California's own Kamala Harris."
Gonzalez notes that during the coronavirus pandemic, the party has gone completely virtual in its critical Get Out The Vote (GOTV) effort before Election Day, Nov. 3. "California has a huge volunteer base of people who are calling the 17 battleground states," he says, with coalition phone banking focused on Arizona and Nevada.
Mail-in ballots drop on Oct. 5 in California. In addition to mailing the ballot through the Post Office, there are voting centers in large arenas open 11 days prior to Election Day to physically dop off ballots. As long as the ballot is postmarked by Nov. 3, it will be counted.
"Our focus has always been robocalls, anything digital," and social media, says Gonzalez. "We're planning six virtual GOTV rallies across the County… [and] we're partnering with the California Democratic Party and doing virtual phone banking" on national and statewide races, including propositions such as Prop 21.
The L.A County Democratic Party actually endorsed Prop 21 before the state party. A key point: over 30% of California's 17 million renters pay over 50% of their income in rent.
"In Los Angeles alone, not just the County, there is a significant amount of folks who are renters. During the pandemic, a lot of folks who have lost their job, unfortunately, who are renters, are scared in terms of getting kicked out, being pushed onto the street," Gonzalez says. "Prop 21 is an initiative on the ballot that prevents homelessness, preserves affordable housing and gives local communities the freedom to provide renter assistance. There's over 150,000 people who are homeless in California and this was before COVID-19. And COVID-19 has left 4 to 5 million people in danger of eviction in California, according to the Aspen Institute study. So, Prop 21 will help get assistance to those renters and help prevent eviction, which I think is what the party is standing for."
Gonzalez adds: "I think it's just important. I, myself, am a renter. And I think it's important for these measures and initiatives to go through, to protect those folks. Because most people who are renting — if you're not a homeowner, you're obviously in a very different bracket. So, it's definitely something that's needed, which is why the party pushed for it."
Karen Ocamb is an award-wining journalist writing for the Yes on 21 campaign.
Senate acquits Trump 57- 43 in 2nd impeachment trial
The vote was cast after lawmakers scrapped plans to depose witnesses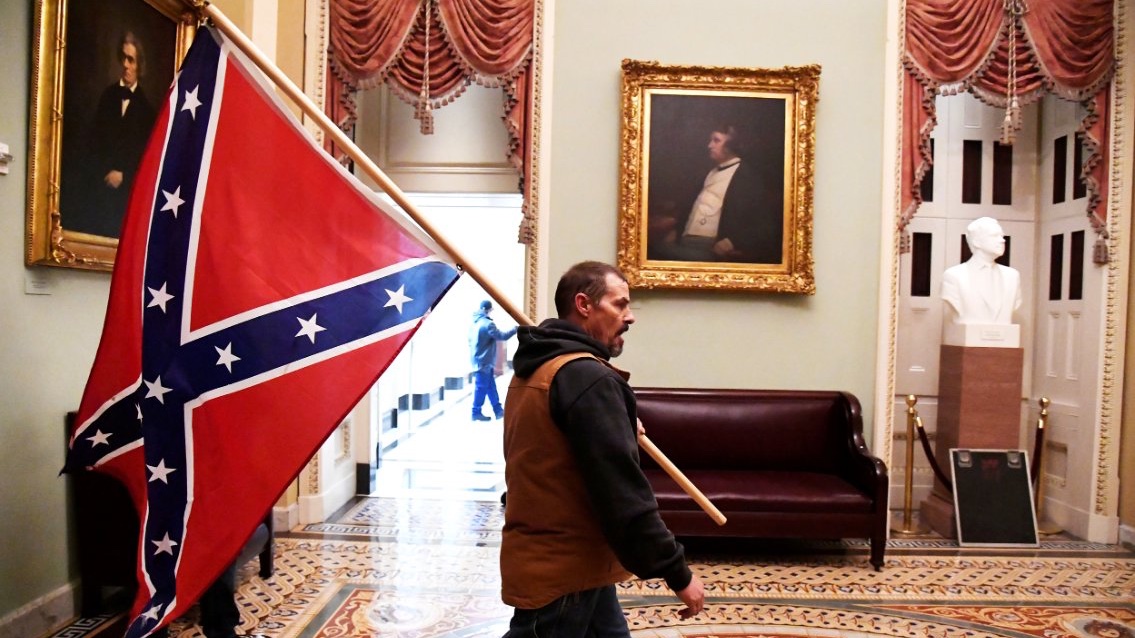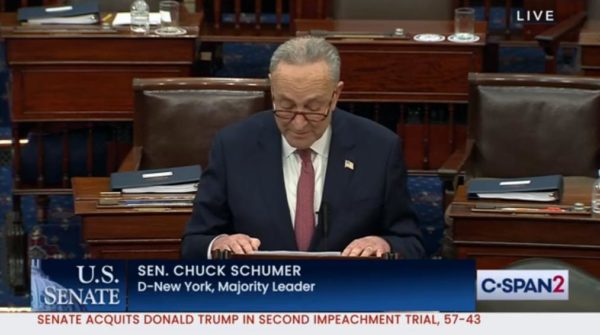 WASHINGTON – The United States Senate in a vote of 57 to 43 Saturday acquitted former President Donald Trump, who was charged in the one Article of Impeachment by the U. S. House for inciting the insurrection at the U.S. Capitol on January 6th, 2021. The Constitution requires a two-thirds majority to convict or 67 votes.
The House Impeachment Managers spoke to reporters after the Senate vote to acquit the ex-president telling reporters, "We have shown Trump is a disgrace to our country."
Trump issued a statement thanking his defense team and supporters that read in part;
"[…] My deepest thanks as well to all of the United States Senators and Members of Congress who stood proudly for the Constitution we all revere and for the sacred legal principles at the heart of our country.
This has been yet another phase of the greatest witch hunt in the history of our Country. No president has ever gone through anything like it, and it continues because our opponents cannot forget the almost 75 million people, the highest number ever for a sitting president, who voted for us just a few short months ago.
Our historic, patriotic and beautiful movement to Make America Great Again has only just begun. In the months ahead I have much to share with you, and I look forward to continuing our incredible journey together […]"
One Capitol Hill source reflecting on Trump's statement told the Blade, "Not one word of remorse in that mess. [statement on the acquittal.] He doesn't even acknowledge what a tragedy and travesty Jan. 6 was- he doesn't care."
A leading progressive coalition of more than 220 national organizations which promote and protect the civil rights of Americans, the Washington D.C. based 'The Leadership Conference on Civil and Human Rights' issued a statement from its interim president and CEO Wade Henderson after the Senate acquitted Trump;
"Despite the unmistakably clear evidence, only a handful of Republican senators found the moral fortitude to put partisan politics aside and hold Donald Trump accountable for the deadly insurrection. There is no question to fair-minded Americans that Trump weaponized blatant lies and incited a white supremacist, anti-Semitic mob to try to stop the peaceful transition of power.
The white supremacy that undergirded Trump's deadly rhetoric and fueled the insurrection is not new. The failure to convict Trump only highlights the actions we must take as a part of our country's long overdue reckoning with white supremacy and white nationalism."
One of the House Impeachment Managers, California Congressman Ted Lieu, (D-Santa Monica/Long Beach) tweeted after the vote;
"57 United States Senators concluded President Trump was guilty of inciting an insurrection. The highest bipartisan vote to convict in US history. That's a damning vote."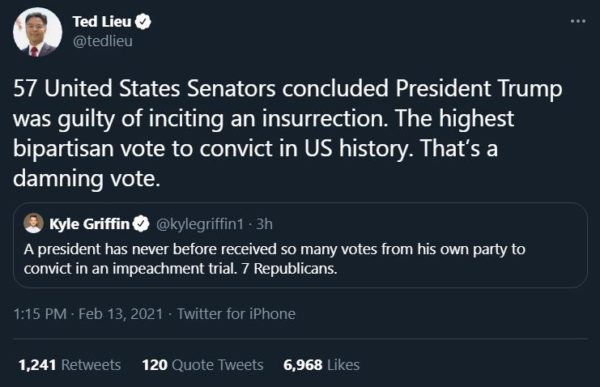 President Joe Biden, who is spending the weekend at Camp David, the presidential retreat in the Catoctin Mountain Park near Thurmont, Maryland, issued a statement late Saturday evening regarding the verdict;
"It was nearly two weeks ago that Jill and I paid our respects to Capitol Police officer Brian Sicknick, who laid in honor in the Rotunda after losing his life protecting the Capitol from a riotous, violent mob on January 6, 2021.

Today, 57 Senators – including a record 7 Republicans – voted to find former President Trump guilty for inciting that deadly insurrection on our very democracy. The Senate vote followed the bipartisan vote to impeach him by the House of Representatives. While the final vote did not lead to a conviction, the substance of the charge is not in dispute. Even those opposed to the conviction, like Senate Minority Leader McConnell, believe Donald Trump was guilty of a "disgraceful dereliction of duty" and "practically and morally responsible for provoking" the violence unleashed on the Capitol.

Tonight, I am thinking about those who bravely stood guard that January day. I'm thinking about all those who lost their lives, all those whose lives were threatened, and all those who are still today living with terror they lived through that day. And I'm thinking of those who demonstrated the courage to protect the integrity of our democracy – Democrats and Republicans, election officials and judges, elected representatives and poll workers – before and after the election.

This sad chapter in our history has reminded us that democracy is fragile. That it must always be defended. That we must be ever vigilant. That violence and extremism has no place in America. And that each of us has a duty and responsibility as Americans, and especially as leaders, to defend the truth and to defeat the lies.

That is how we end this uncivil war and heal the very soul of our nation. That is the task ahead. And it's a task we must undertake together. As the United States of America."
LGBTQ media advocacy organization GLAAD's President and CEO Sarah Kate Ellis, in a media statement wrote; "the Trump administration will forever be defined by misinformation and violence, tactics the former president weaponized against LGBTQ people and other vulnerable communities before turning them loose on our government on January 6th."
Ellis continued noting;
"The verdict does not reflect the truth understood by a majority of Americans, that Donald Trump recklessly and maliciously directed his supporters to attack the Capitol and our democracy. The Trump administration will forever be defined by misinformation and violence, tactics the former president weaponized against LGBTQ people and other vulnerable communities before turning them loose on our government on January 6th.

Senators voting to acquit are now and for all of history recorded for their cowardice in failing to hold the former president accountable for his lawless, destructive behavior. Let this be a turning point for our country, where we demand a return to shared core values of truth, safety and integrity to protect the least among us, especially from those chosen to lead us."
Republican Senate Minority Leader Mitch McConnell (R-Ky.), offered up a withering criticism of Trump's behavior. McConnell said Trump was "practically and morally" responsible for the Jan. 6 attack and suggested that he could face criminal charges. McConnell had been one of the 43 GOP Senators who voted to acquit.
McConnell said he would have "carefully considered" convicting Trump if he still held office, but ultimately determined that he, as a former president, was not "constitutionally eligible" for a conviction.
One of the ex-president's supporters blamed the Democrats; "This impeachment trial did nothing to bring the domestic terrorists who committed this heinous attack to justice," said Sen. Ted Cruz (R-Texas). "It merely satisfied Democrats' desire to once again vent their hatred of Donald Trump and their contempt for the tens of millions of Americans who voted for him."
Speaker of the House Nancy Pelosi (D-San Francisco) angrily chastised the 43 Republican Senators over their votes in the acquittal saying in a statement:
"Senate Republicans who voted not to convict chose to abandon the Constitution, the Country and the American people with this vote."
The Speaker also noted that "the Congress and Country can take great pride in the House Impeachment Managers, who defended our Constitution & Democracy with a moving presentation demonstrating love of country and loyalty to our oath and the facts."
In a letter to his supporters, House Intelligence Chairman Rep. Adam Schiff, (D-Burbank) remarked;
"[…] When I served as lead manager of the first impeachment, we warned the Senators that if they failed to convict Donald Trump after he betrayed our national security, he would do so again, that he had compromised our elections and he would do so again. We warned that they would not change or constrain him. That truth mattered little to him, what's right mattered even less, and decency not at all.
[…] As long as I live, I will never understand how the Republican Senators who voted to acquit can reconcile themselves with the consequences of that vote, or where this will place them in history. Why run for the Senate at all, if you will be missing in action when the country really needs you? Is the job that important to leave your country defenseless to a demagogue who brought violence down on our heads? How can they fail to see that by doing so, they have enabled him to bring this same hell upon us again, and that next time it could be even worse?
Rep. Jamie Raskin, (D-Md.), the lead House Impeachment Manager, warned senators that their conviction vote would define their legacies.
"This is almost certainly how you will be remembered by history," he said. "It really might not be fair, but none of us can escape the demands of history and destiny right now."
LGBTQ groups condemn Capitol siege, back Trump removal from office
We must honor the rule of law. It is what has made our democracy a model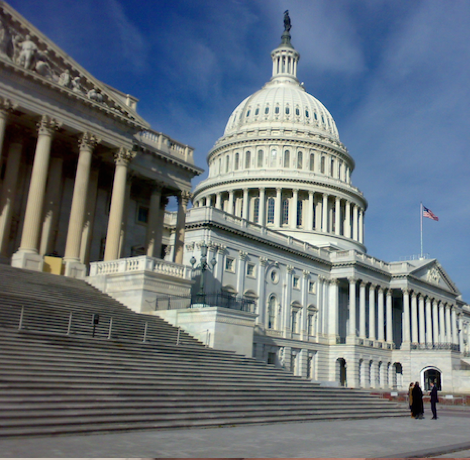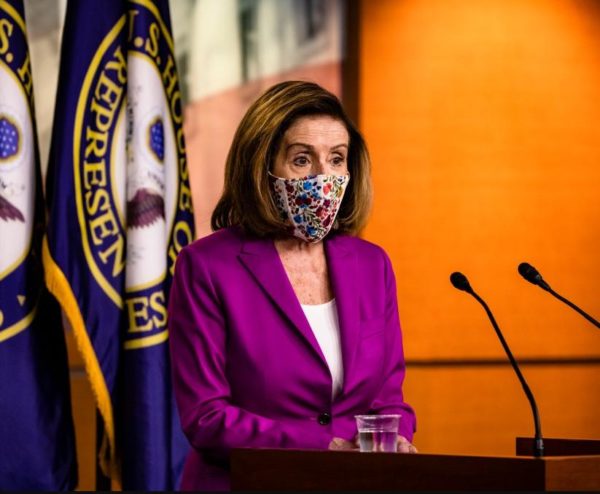 WASHINGTON – LGBTQ rights groups on Wednesday and Thursday were quick to condemn the siege of the U.S. Capitol.
"Today's violence is revolting and nothing short of insurrection, a coup instigated by Donald Trump and abetted by cowardly Republicans who have put party over conscience," tweeted Human Rights Campaign President Alphonso David. "We must honor the rule of law. It is what has made our democracy a model and one that is worth upholding."
Today's violence is revolting and nothing short of insurrection, a coup instigated by Donald Trump and abetted by cowardly Republicans who have put party over conscience. We must honor the rule of law. It is what has made our democracy a model and one that is worth upholding.

— Alphonso David (@AlphonsoDavid) January 6, 2021
PFLAG Executive Director Brian K. Bond in an email to his organization's supporters wrote "today's violence" was "undertaken not to build up, but to tear down. And we cannot ignore glaring differences between the treatment of Black Lives Matter protestors seeking justice and the treatment of the violent insurrectionists who today stormed the U.S. Capitol to undermine our democracy."
"The people attacking the Capitol building are not protestors, and the disparities in how they were received are glaringly clear," added Bond.
Equality Texas CEO Ricardo Martinez echoed Bond.
"The peaceful transition of power is the hallmark of our American democracy that both Republican and Democratic presidents have honored throughout history," said Martinez in an email to Equality Texas supporters. "The subversive nature of today's insurrection, which led to the breach of the U.S. Capitol, is not only un-American; it is domestic terrorism. Moreover, the lack of preparedness to ensure public safety was negligent — especially compared to the extraordinary measures taken during the peaceful Black Lives Matter protests in the summer."
Rodrigo Heng-Lehtinen, deputy executive director of the National Center for Transgender Equality, in a statement to the Washington Blade said President Trump "has attacked marginalized people, including transgender Americans" since he began his campaign.
"Yesterday's angry mob of armed white militants attacked the people of this country and the foundations of our democracy," added Heng-Lehtinen. "Trump and those who aid and abet him have a clear pattern of inciting violence, of targeting political opponents, of attacking people of color — all while excusing the violent actions of their supporters."
The siege began as members of Congress were certifying the Electoral College results that confirmed the election of President-elect Biden and Vice President-elect Harris. Trump supporters marched to the Capitol after the outgoing president spoke at the "Save America Rally" on the Ellipse.
Democrats on Tuesday regained control of the U.S. Senate after Rev. Raphael Warnock and Jon Ossoff defeated U.S. Sens. Kelly Loeffler (R-Ga.) and David Perdue (R-Ga.) respectively in Georgia.
Equality Florida on Wednesday acknowledged the Georgia election results before condemning the Capitol siege.
"Congratulations to Senator-elect Rev. Raphael Warnock and Senator-elect Jon Ossoff on their historic elections to the United States Senate," said Equality Florida in a tweet. "We are thankful for our volunteers, members, staff and board for being a part of the coalition that supported Georgia Equality (an LGBTQ rights group in Georgia) in their efforts to elect pro-equality senators."
"This historic mobilization of voters is a testament to our incredible democratic process, and contrasts the treasonous actions taken by supporters of President Trump at the U.S. Capitol today," added Equality Florida.
Congratulations to Senator-elect @ReverendWarnock and Senator-elect Jon @Ossoff on their historic elections to the United States Senate! https://t.co/jdX1OBCyfv

— Equality Florida (@equalityfl) January 6, 2021
This historic mobilization of voters is a testament to our incredible democratic process, and contrasts the treasonous actions taken by supporters of President Trump at the U.S. Capitol today.

— Equality Florida (@equalityfl) January 6, 2021
Equality Florida CEO Nadine Smith and National LGBTQ Task Force Executive Director Rea Carey are among those who have called for Trump's removal from office. Smith has also called for an investigation into the U.S. Capitol Police's response to the siege.
"We condemn the violence in Washington, D.C., and in communities across the country that has been incited by today's attack on the Capitol building," said Carey in a statement. "We are better than this. To move forward we must begin by making the strongest statement possible and remove Trump from office using the power of the 25th Amendment."
Lambda Legal CEO Kevin Jennings in his statement also cited the 25th Amendment.
"Today's unprecedented events are a betrayal of that fundamental American commitment, and any pretense to 'patriotism' on the part of those who committed today's acts of desecration of the temple of democracy that is our Capitol building are blasphemous," he said. "Our democratic processes must be defended, and we call upon our leaders to utilize any and all processes available to them, including the 25th Amendment, to ensure an orderly transition of power in accordance with the will of the American people as expressed freely at the ballot box in November."
"The president, but also the those who have remained silent in the face of his lies, are responsible for this attack on our democracy, and they should be held accountable for their actions," added Heng-Lehtinen. "Their desperate attempt to hold onto power at any cost will cement their legacy of failure."
GLAAD, 18 LGBTQ rights groups demand Trump's removal
GLAAD late on Thursday released a statement signed by 18 LGBTQ rights organizations that calls for Trump's removal from office.
"As LGBTQ organizations and movement leaders, we call for the immediate and unequivocal removal of Donald Trump as president of the United States via the invoking of the 25th Amendment or by impeachment if necessary," reads the statement. "Our nation's security and the personal security of every American is in grave danger, and we cannot afford to sustain even another day with this destructive and seditious man in the White House."
Athlete Ally, the Equality Federation, Family Equality, GLBTQ Legal Advocates and Defenders, GLMA: Health Professionals Advancing LGBTQ Equality, GLSEN, Lambda Legal, the National Black Justice Coalition, the National Center for Lesbian Rights, the National LGBTQ Task Force Action Fund, NMAC, PFLAG, Pride in Running, Puerto Rico Para [email protected], SAGE, the National Center for Transgender Equality, the Transgender Law Center and the Transgender Legal Defense and Education Fund signed GLAAD's letter.
HRC has also called for Trump's removal from office.
"The Human Rights Campaign urgently calls for the immediate removal of President Donald Trump from office," said David in a press release his organization released on Thursday. "President Trump bears responsibility for Wednesday's insurrection at the United States Capitol and the attempted coup of our government in which four people died."
Electoral College Vote is certified by Congress
Congress certified the Electoral College Vote at 3:41 AM Eastern Time, January 7, 2021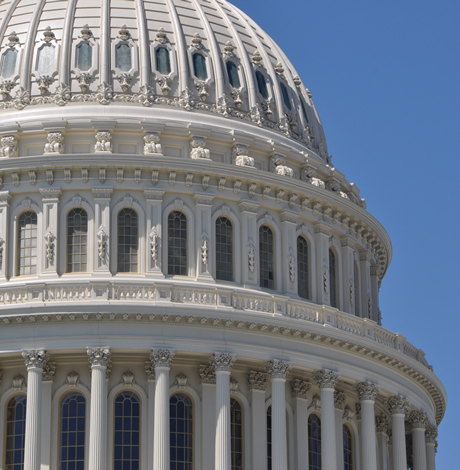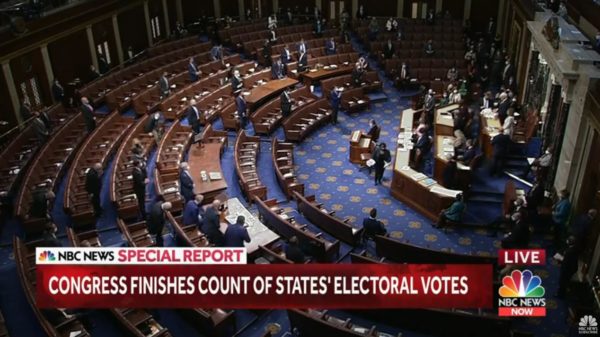 WASHINGTON – Congress certified the Electoral College Vote at 3:41 AM Eastern Time, January 7, 2021. Joe Biden was officially named as the 46th duly-elected President of the United States and Kamala D. Harris has been named as the 49th Vice-President of the United States.
It was a day of extreme drama that resulted in rioters temporarily taking over the United States Capitol building after being incited by a speech given by President Donald Trump earlier on Wednesday in which he falsely claimed that there was massive election fraud.
During the Capitol siege four civilians died including a 35 year-old female military veteran, Ashli Babbitt. She had served 14 years in the Air Force, her husband told KUSI-TV in San Diego. The couple had resided in Ocean Beach, California.
Babbitt was shot by Capitol Police officers in a hallway just off the House Chambers at the entrance to the Speaker's Lobby and died after being transported to a Washington hospital.
According to Stars & Stripes Babbitt was apparently a staunch Trump supporter, and her social media accounts were filled with posts supporting the president. She tweeted on Tuesday, "Nothing will stop us…. they can try and try and try but the storm is here and it is descending upon DC in less than 24 hours….dark to light."
Washington's Metropolitan Police Chief Robert Contee had told reporters in a press briefing Wednesday evening that three other persons had died during the rioting in the Capitol building but offered no further details citing ongoing investigations.
Objections by Republicans to accepting the results from Arizona, Pennsylvania, Wisconsin and Georgia were defeated after debate at times that was contentious and in the case of the House debate over the objection to accepting the Pennsylvania results resulted in a fist fight between a couple of House members which was rapidly broken up by other representatives.
At the end of the process, outgoing Vice President Mike Pence announced that Joe Biden defeated President Trump, officially ending the 2020 presidential race that Trump has refused to concede and after the violent day at the Capitol.