October 2, 2020 at 11:14 am PDT | by Brody Levesque
Biden campaign says former VP and running mate test negative for COVID-19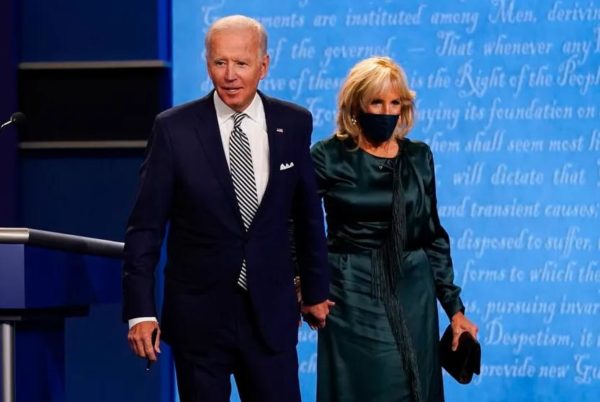 WILMINGTON – The campaign for Democratic nominee former Vice-President Joe Biden released a statement Friday morning from Biden's Doctor announcing that he and his wife Dr. Jill Biden had tested negative for the coronavirus.
"Vice President Joe Biden and Dr. Jill Biden underwent PCR testing for COVID-19 today and COVID-19 was not detected. I am reporting this out in my capacity as both Vice President Biden and Dr. Biden's primary care physician," Dr. Kevin O'Connor said.
The campaign also released in another statement announcing that Biden's running mate, California Senator Kamala Harris and her husband Douglas Emhoff had been tested Friday morning as well with both testing negative.
The news from the Biden campaign comes as the White House is struggling on its messaging over the news late Thursday that President Trump and the First Lady had tested positive. The president had also tweeted prior to his tweet confirming his diagnosis that his senior advisor Hope Hicks had tested positive.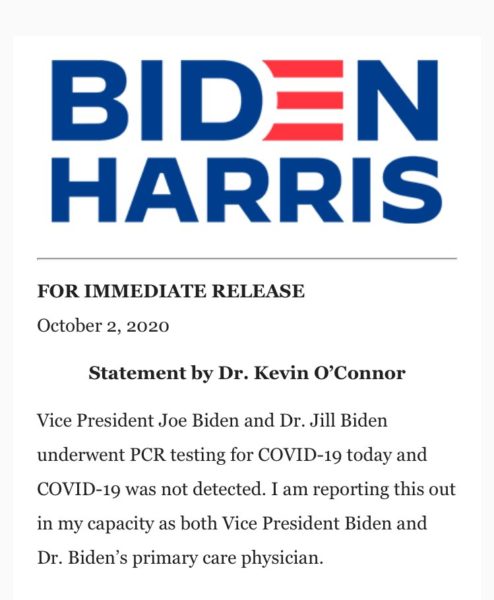 Speaking with reporters in the driveway of the West Wing Friday morning, White House Chief of Staff Mark Meadows said that the president is currently experiencing "mild symptoms," but is in "good spirits" and "very energetic."
Meadows was also confronted by several reporters who questioned when White House knew about Hick's testing positive and if senior officials embargoed the news until after Trump had attended a fundraiser held earlier Thursday evening.
"What day and time did you find out that Hope Hicks had tested positive," Meadows was asked. "And did you sit on it and when was that in relation to when the president went out to the fund-raiser in New Jersey?
"I'm not going to get into the tick-tock," Meadows said. "I can tell you, in terms of Hope Hicks, we discovered that right as Marine One was taking off yesterday. We actually pulled some of the people that had traveling in close contact. The reason why it was reported out, just frankly, is that we had already started the contact tracing just prior to that event."
Speaking on Fox News, White House Press Secretary Kayleigh McEnany said she doesn't know when Trump found out that Hope Hicks tested positive.
"Jill and I send our thoughts to President Trump and First Lady Melania Trump for a swift recovery. We will continue to pray for the health and safety of the president and his family. " Biden tweeted Friday morning.