October 2, 2020 at 3:21 pm PDT | by Brody Levesque
Trump at Walter Reed for COVID19 Symptoms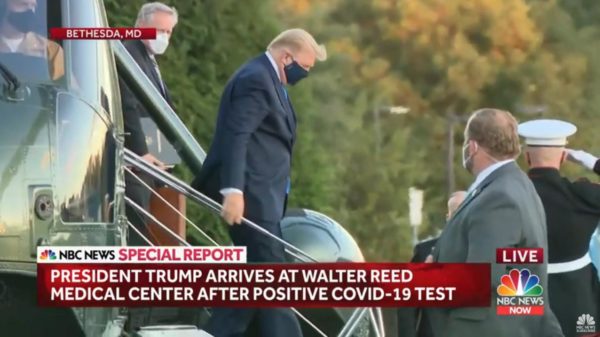 WASHINGTON – President Donald Trump arrived at Walter Reed National Military Medical Center in Bethesda, Maryland as a precaution after a COVID-19 diagnosis a spokesperson told reporters Friday afternoon. Trump will remain for 'few days' on advice of doctors.
The president traveled to Walter Reed by Marine One which had been on stand-by on the South Lawn of the White House. Trump walked to the helicopter without assistance. According to the White House Pool reporters Trump was wearing a suit and also a mask and was accompanied by White House Chief of Staff Mark Meadows. There was no sign of the First Lady who has also tested positive.
White House officials are telling reporters that there has been no transfer of power and that Vice-President Mike Pence is still remaining at his official residence at the U.S. Naval Observatory in Upper Northwest D.C.
Earlier Friday, White House Chief of Staff Mark Meadows had told reporters in the press gaggle in the North driveway outside the West Wing that the president is currently experiencing "mild symptoms," but is in "good spirits" and "very energetic."
Throughout most of the day Friday the White House was tight-lipped about ongoing developments. The president himself has not been seen nor has he been heard from since he tweeted late Thursday disclosing his COVID-19 diagnosis.
Speaking at a campaign event in Michigan Friday, Democratic nominee Joe Biden told the assembled audience and reporters, "This is not a matter of politics. It's a bracing reminder to all of us that we have to take this virus seriously. It's not going away automatically. We have to do our part to be responsible."