December 3, 2020 at 10:04 pm PST | by Brody Levesque
Under siege; new stay-at-home order in California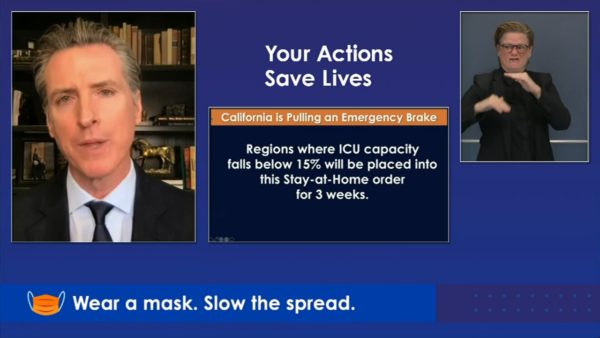 SACRAMENTO – Californians in fifty-one of the state's fifty eight counties will soon be facing another more restrictive stay-at-home order as the latest coronavirus surge wreaks havoc on the state's healthcare system.
Speaking to reporters in a press conference Thursday, Governor Gavin Newsom along with California's Health and Human Services Secretary Dr. Mark Ghaly outlined the state's latest response to the rapid uptick in new cases and hospitalizations.
The latest effort at containing the virus is predicated on dividing the state into five regional zones, this approach taking into consideration the healthcare systems and their interfacing especially in terms of available Intensive Care Unit (ICU) beds and available medical personnel.
"We are at a tipping point in our fight against the virus and we need to take decisive action now to prevent California's hospital system from being overwhelmed in the coming weeks," said Newsom.
"I'm clear-eyed that this is hard on all of us — especially our small businesses who are struggling to get by. That's why we leaned in to help our small business owners with new grants and tax relief to help us get through this month. If we stay home as much as possible, and wear masks when we have to go to the doctor, shop for groceries or go for a hike, California can come out of this in a way that saves lives and puts us on a path toward economic recovery."
The Regional Stay Home Order will go into effect within 24 hours in regions with less than 15% ICU availability. It prohibits private gatherings of any size, closes sector operations except for critical infrastructure and retail, and requires 100% masking and physical distancing in all others.
"By invoking a Stay at Home Order for regions where ICU capacity falls below 15 percent, we can flatten the curve as we've done before and reduce stress on our health care system," the governor said.

The order will remain in effect for at least 3 weeks and, after that period, will be lifted when a region's projected ICU capacity meets or exceeds 15%. This will be assessed on a weekly basis after the initial three week period Dr. Ghaly noted during the presentation.
"We are implementing a stay-at-home order for three weeks," said Newsom. "Regions where the ICU capacity is falling below 15 percent."
The state released a map of the five regions being measured. They are:
Northern California: Del Norte, Glenn, Humboldt, Lake, Lassen, Mendocino, Modoc, Shasta, Siskiyou, Tehama, Trinity
Bay Area: Alameda, Contra Costa, Marin, Monterey, Napa, San Francisco, San Mateo, Santa Clara, Santa Cruz, Solano, Sonoma
Greater Sacramento: Alpine, Amador, Butte, Colusa, El Dorado, Nevada, Placer, Plumas, Sacramento, Sierra, Sutter, Yolo, Yuba
San Joaquin Valley: Calaveras, Fresno, Kern, Kings, Madera, Mariposa, Merced, San Benito, San Joaquin, Stanislaus, Tulare, Tuolumne
Southern California: Imperial, Inyo, Los Angeles, Mono, Orange, Riverside, San Bernardino, San Diego, San Luis Obispo, Santa Barbara, Ventura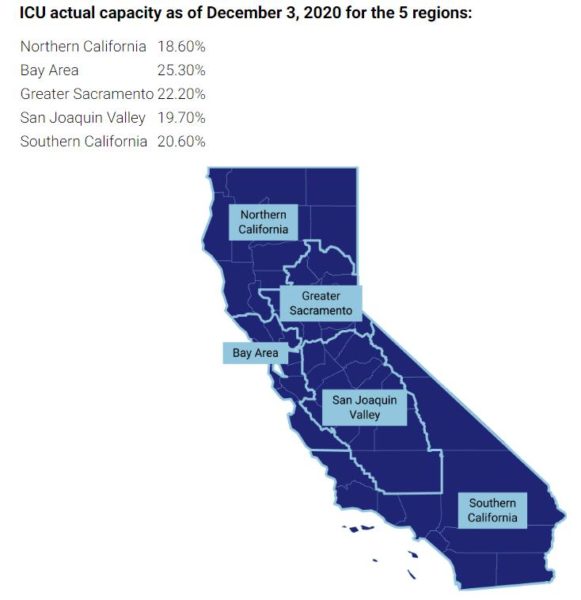 This latest set of orders will take effect at on Saturday, Dec. 5. Regions that have less than 15% ICU availability after that time must implement the orders within 24 hours, the governor told reporters adding that all regions except the Bay Area will likely fall under the orders "in early December," though Newsom didn't specify dates per se.
"The Bay Area may have a few extra days," Newsom said, with current projections suggesting mid- to late December. "But all within just the next few weeks, our ICU capacity in the state of California will drop in these five regions."
Regions will remain in the Regional Stay at Home Order status for at least three weeks once triggered. Counties are eligible to come off the Regional Stay at Home Order after three weeks if their hospital ICU capacity projected four weeks out reaches 15 percent. Counties will return to the Blueprint for a Safer Economy tier determined by their case rate and test positivity after they are eligible to exit the Regional Stay at Home Order.
"We know what a struggle this pandemic has been for so many California families, but our actions have saved countless lives," said Dr. Ghaly,
"This targeted action will preserve vital ICU beds for people who need them — whether they're COVID-19 patients or someone who has suffered a heart attack or a stroke."
In any region that triggers a Regional Stay at Home Order because it drops below 15 percent ICU capacity, all operations in the following sectors must be closed:
Indoor and Outdoor Playgrounds
Indoor Recreational Facilities
Hair Salons and Barbershops
Personal Care Services
Museums, Zoos, and Aquariums
Movie Theaters
Wineries
Bars, Breweries and Distilleries
Family Entertainment Centers
Cardrooms and Satellite Wagering
Limited Services
Live Audience Sports
Amusement Parks
The following sectors will have additional modifications in addition to 100 percent masking and physical distancing:
Outdoor Recreational Facilities: Allow outdoor operation only without any food, drink or alcohol sales. Additionally, overnight stays at campgrounds will not be permitted.
Retail: Allow indoor operation at 20 percent capacity with entrance metering and no eating or drinking in the stores. Additionally, special hours should be instituted for seniors and others with chronic conditions or compromised immune systems.
Shopping Centers: Allow indoor operation at 20 percent capacity with entrance metering and no eating or drinking in the stores. Additionally, special hours should be instituted for seniors and others with chronic conditions or compromised immune systems.
Hotels and Lodging: Allow to open for critical infrastructure support only.
Restaurants: Allow only for take-out or pick-up.
Offices: Allow remote only except for critical infrastructure sectors where remote working is not possible.
Places of Worship: Allow outdoor services only.
Entertainment Production including Professional Sports: Allow operation without live audiences. Additionally, testing protocol and "bubbles" are highly encouraged.
The Order does not modify existing state guidance regarding K-12 schools.
Newsom and Ghaly have come under fire recently as to whether or not their policies were be driven by firmly rooted science and data points. In the San Joaquin Valley, The Sun newspaper, in an interview with State Sen. Andreas Borgeas (R–Fresno) Thursday, reported that in a letter sent last week, Borgeas demanded answers for Newsom's pre-Thanksgiving order to send nearly the entire population of California into the purple tier of the state's reopening scheme.
According to The Sun, Borgeas told the paper that Ghaly reported to him during a briefing that California's public health agencies did not weigh any particular matrix of data on the transmission of the novel coronavirus in consultation with reopening tier changes.
Both the Governor and Dr. Ghaly deliberately avoided a series of questions from reporters during Thursday's press conference asking if officials have hard evidence that another round of shutting down the state even if limited will actually slow the spread of the coronavirus.
Kathleen Ronayne of the Associated Press, asked Newsom;
"You and the state and the counties have been tightening restrictions for weeks now, yet cases are continuing to go up, so how do you ensure that putting in place this order and shutting down more businesses doesn't just encourage more gatherings inside homes? What evidence do you have that shutting down things like barbershops is actually going to achieve what you want?"
"The evidence you ask? Very significant evidence, overwhelming evidence," Newsom responded. "And that's what we did by leading the nation as the first state with a stay-at-home order and we avoided the surge that many other states experienced, particularly larger states in that first wave. So we were able to bend the curve by using the same strategies, the same approaches of non-pharmaceutical interventions. So that's the evidence, and it was overwhelming."
In a follow up series of questions Ghaly stressed "reducing movement" to limit the spread of the virus
Neither Newsom nor Ghaly answered Ronayne's question directly as to whether the shut-down could create an environment for more social gatherings at home — something the first state-wide shutdown did not affect in March when less was known about coronavirus and restrictions on behaviour such as wearing face-masks fatigue had not set in.
The Los Angeles County Department of Public Health Thursday again recorded the highest daily number of new cases and people hospitalized with COVID-19. Public Health confirmed 44 new deaths and 7,854 new cases of COVID-19. The number of new cases surpasses the previous all-time high of 7,593 reported on December 1.
This is the second time this week Los Angeles County has surpassed the previous record for new cases and third consecutive day for hospitalizations.
There are 2,572 people with COVID-19 currently hospitalized and 23% of these people are in the ICU. This number surpassed yesterday's all-time high of 2,439 people hospitalized with COVID-19.
"A continued surge in cases and hospitalizations is not sustainable because as hospitalizations increase sharply, the healthcare system can become overwhelmed," a spokesperson for the Department of Public Health said.
"Please stay home as much as possible. Even if you don't feel sick, the simple act of being around people outside your household is extremely risky right now. Avoid doing any activities that are not essential. Always wear a face covering whenever outside your home, keep your distance from others not in your household, wash your hands frequently, and avoid crowds. Individuals with underlying health conditions and those that are older should remain in their home and not be around others as much as possible," the spokesperson added.
Dr. Barbara Ferrer, the Director of Public Health, urged residents to remain vigilant and observe health safety protocols.
"We are at a dangerous point where surging cases and hospitalizations are not letting up. The County, State and local jurisdictions have taken measures to reduce crowding and mingling among non-household members, however this is a health crisis that requires all of us to take action and be diligent," she said. "
I can't emphasize this enough – everyone must take personal steps to protect themselves and protect others. We can't afford lapses in the straight-forward recommended safety measures because they have deadly consequences. It is a mistake to relax and let down our guard. Staying home is the best way to protect ourselves, those we love, and those most vulnerable in our communities," Ferrer said.