January 8, 2021 at 9:38 pm PST | by Brody Levesque
LA Coroner adds temporary morgue trailers- County adds 318 new COVID19 deaths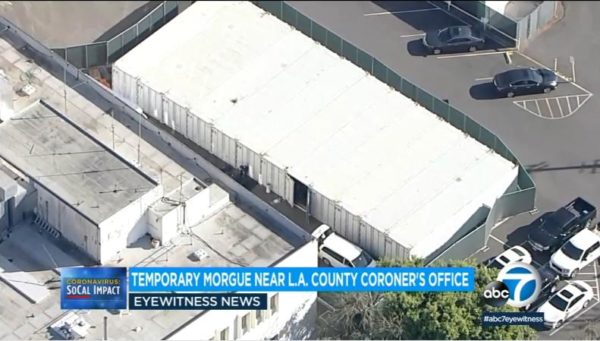 LOS ANGELES – As the coronavirus pandemic rages overwhelming the Southland region's healthcare systems, causing hospitals to implement plans to ration care, in some cases determining if a patient can survive to be saved- the county's Department of Medical Examiner-Coroner has added additional temporary morgue space to hold up to an additional 1500 bodies.
L.A. County alone has averaged 171 COVID-19 deaths a day over the past week, and public health officials warned that number will continue to rise unless the region can contain the raging coronavirus.
"We have lost far too many lives to COVID-19 in L.A. County, and unfortunately, we will continue to lose more until we're able to get everyone to work together to break the chain of transmission," county Public Health Director Dr. Barbara Ferrer told reporters earlier in the week.
"In preparation for the pandemic, the Los Angeles County Department of Medical Examiner-Coroner (DMEC) installed refrigerated storage units in the beginning of April 2020. The units have remained largely unused until recently. During normal operations, DMEC can store up to 500 bodies. With the additions, we can further hold 1500 bodies for a total of 2000." County Medical Examiner-Coroner Dr. Jonathan Lucas said in a statement released Friday.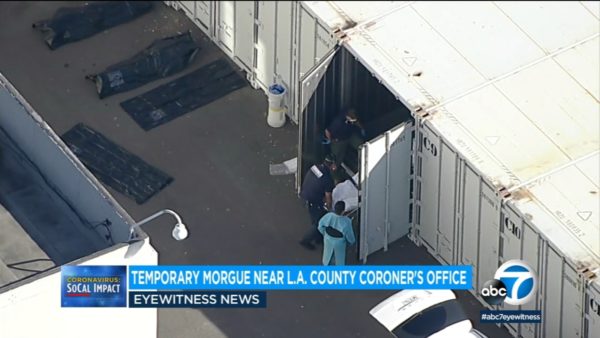 "DMEC has sufficient storage for current needs; however, the department is expanding capacity to meet potential future demands. Although DMEC has already secured most of the additional storage and is currently organizing the secondary location, we are very grateful to Cal OES for supplementing our resources with additional refrigerated trailers and providing rack systems. While there has been an increase in bodies, DMEC feels confident in managing the effects of the pandemic with the aid of our partners at Cal OES," Lucas added.
The Los Angeles County Department of Public Health confirmed 318 new deaths and 18,313 new cases of COVID-19 on Friday. The number of new deaths reported today surpasses the previous all-time high and represents a devastating milestone for the County. To date, Public Health identified 889,405 positive cases of COVID-19 across all areas of L.A. County and a total of 11,863 deaths.
Public Health reported over 200 daily deaths this week. For comparison, the County on average has approximately 170 deaths each day from all other causes combined, including heart disease, cancer, stroke, diabetes, car crashes, suicides, and homicides.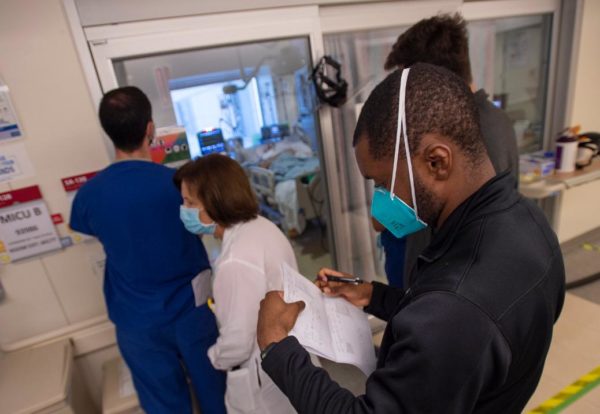 "Everyone in L.A. County, businesses and residents, needs to follow the rules if there is any chance we can get out of this surge by the end of the month," Ferrer said in a statement.
"Today's number of cases, hospitalizations and deaths are tragic and alarming, and further confirm the widespread transmission of COVID-19. The very high numbers reported today didn't happen by accident. Most of our new cases are a direct result of the actions taken by people who were not following the necessary precautions over the winter holiday: not limiting contact with those outside their households and not refraining from traveling. We anticipate that the numbers of hospitalizations and deaths will remain high throughout this month because of what occurred over the holidays. If we wish to turn this around and save lives, everyone must adhere to the safety measures put in place, residents and businesses alike," she added.
Area hospitals continue to be overrun with coronavirus patients. The California Department of Public Health issued a new public health order Tuesday that requires some non-essential and non-life-threatening surgeries to be delayed in counties that have an ICU capacity of 10% or less and that are located in a region with an overall adjusted 0% capacity. That includes Los Angeles, San Diego, Orange, Riverside, Imperial and San Bernardino counties.
"We have the power to get this virus under control if we choose to do that, and it's really up to us," Dr. Christina Ghaly, the county's director of health services, said.