Vaccine supply continues to hinder roll-out- Plateau in LA cases as White House ramps up federal effort
The city has increased staffing to reduce wait times and make the process more efficient.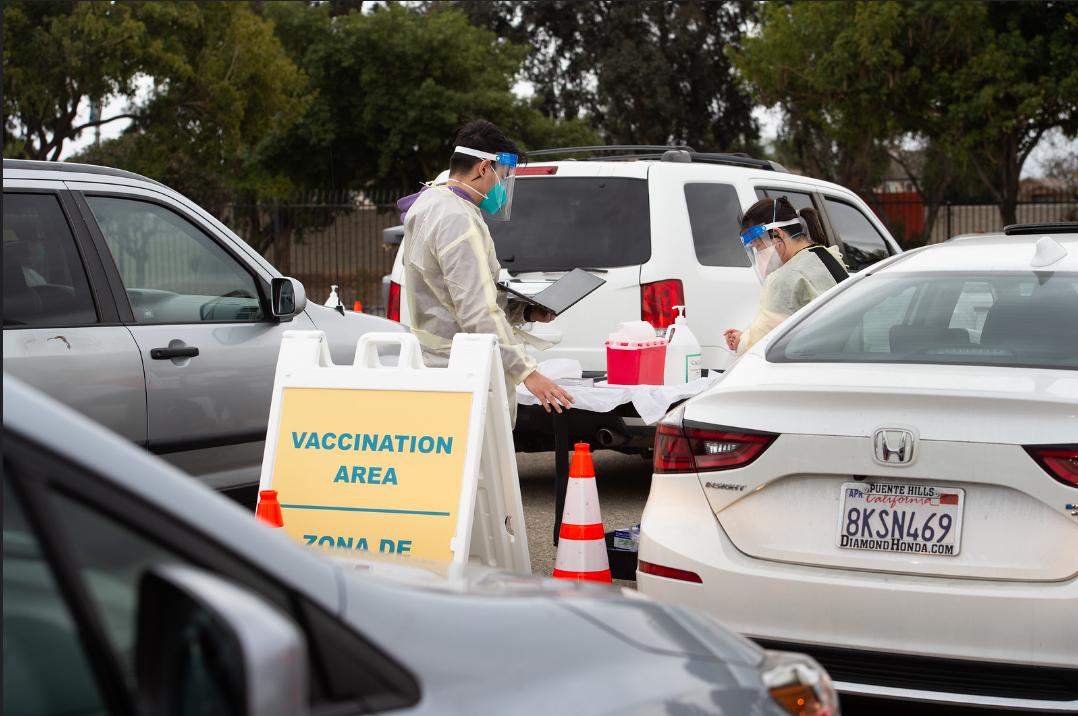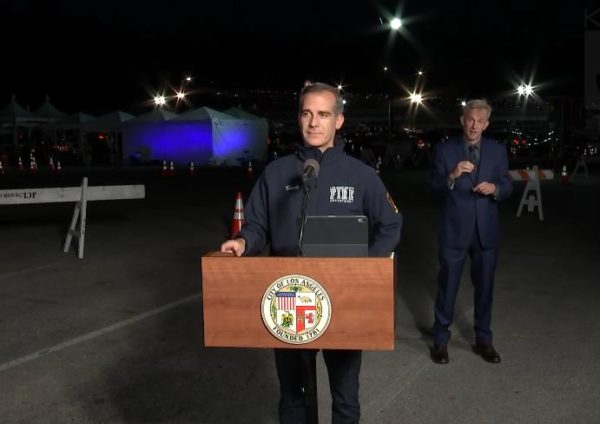 LOS ANGELES – Speaking to reporters from Dodger Stadium, the city's mega-vaccination site, Mayor Eric Garcetti acknowledged that the shortages in the vaccine supply was presenting some difficulties as the city and the county public health department strive to get the most vulnerable Angelenos, those 65 and older vaccinated.
The mayor said that he has been focused on propping up the city's five new vaccination distribution centers, which this week joined others countywide in expanding availability to elderly at risk residents and continuing to vaccinate front line workers and healthcare workers.
Los Angeles County residents who are 65 and older will be able to sign up to get a COVID-19 vaccine in Los Angeles County which started this week. LA County and City residents can get an appointment for a vaccination here. Those without internet access can call a 24/7 call center at 833-540-0473.
Garcetti acknowledged that the County Public Health was in charge of the programs, noting that the pace of vaccinations depends on how many doses they get from the federal and state governments. Garcetti also said city officials are "working day and night" to expedite the process, reiterating that vaccine availability "is not and will never be in our direct control."
The county has received 685,000 doses and nearly 350,000 have been administered through last week, Public Health said Wednesday. About 168,000 new doses will be arriving this week to be used at sites.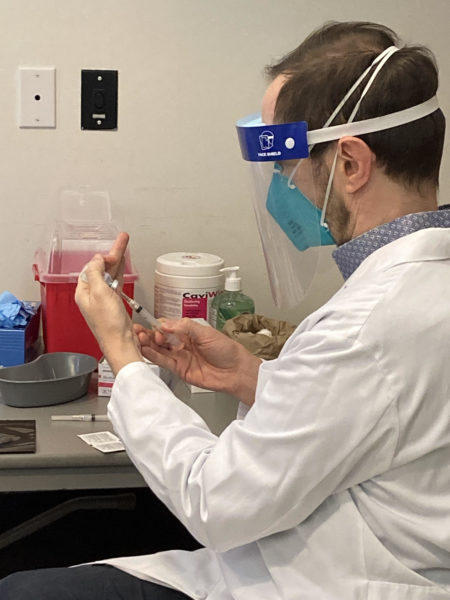 The city has increased staffing to reduce wait times and make the process more efficient. More than 80,000 people have gotten a shot at the five city-run sites since they first opened, including more than 46,600 this week — a 90% increase since last week, Garcetti said.
The Mayor also said that he expects the stadium site to be able to vaccinate up to 12,000 people a day once it's operating at full capacity.
The Los Angeles County Department of Public Health (Public Health) confirmed 262 new deaths and 8,512 new cases of COVID-19 Thursday. There are currently 7,263 people currently hospitalized with COVID-19, and 23% of these people are in the ICU.
Public Health has identified 1,046,021 positive cases of COVID-19 across all areas of L.A. County and a total of 14,641 deaths. Last week, the seven-day average of new cases was 15,182. This week, the seven-day average of cases is 10,560, a decrease of 30 percent. Hospitalizations have also decreased this week, down 7 percent since last week Thursday.
Only Los Angeles County healthcare workers in Phase 1A or County residents aged 65 and older are eligible to get their vaccination currently. Appointments are mandatory. With limited COVID-19 vaccine supply, vaccination appointments are near or at capacity at L.A. County vaccination sites. Those who are currently eligible are encouraged to check back often as there may be cancelations.
While the County is operating five large-scale vaccination sites, in addition to LA City's vaccination site at Dodger Stadium, most residents will ultimately be vaccinated at doctor's offices, clinics, pharmacies, and other licensed community vaccination sites as more vaccine becomes available.
"The process of getting everyone in L.A. county vaccinated will take several months and depends on vaccine availability. This is the most expansive vaccination campaign in recent history and further complicated by cold chain requirements and the need for two doses," said Dr. Barbara Ferrer, Director of Public Health.

"We are asking everyone to be patient while we work through the rollout of our currently limited supply of vaccine from the State. Our team is working very hard to ensure that once we receive vaccine doses they are distributed quickly through a vast network of private and public partners."
In Washington, White House Press Secretary Jen Psaki commenced the daily briefing by turning it over to Dr. Anthony Fauci, the director of the National Institute of Allergy and Infectious Diseases and Chief Medical Advisor to the President Biden. Psaki told reporters that "Dr. Fauci is here with us as part of the President's commitment to have public health experts lead our communication with the American people about the pandemic."
Fauci briefed reporters on the state of the pandemic, the Vaccine roll-out efforts and then a brief educational sketch on the variants of the coronavirus in strains of the virus which had mutated. he then took a few questions.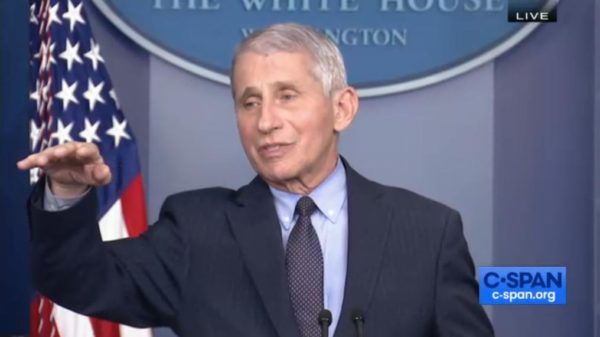 One reporter quivered Fauci on the South Africa strain which has concerned health officials in the United States as well as the UK. "Dr. Fauci, a couple of questions, if I might. I'd like to follow up with you on what you just said about this strain in South Africa. Has that strain made its way to the United States? And what, if any, concerns do you have? How much do we understand about it?"
Fauci then responded, "Great question. Thus far, it does not appear at all that the South African strain is in the United States. However, we must be honest and say that the level of comprehensive sequence surveillance thus far is not at the level that we would have liked. So we're going to be looking very, very carefully for it. But given the information we have today, it doesn't appear that the South African strain is here.
Asked about the pace of the vaccine roll-out, in particular President Biden's statements that he wanted to see 100,000,000 (million) Americans vaccinated in the first 100 days of his administration, Fauci replied; "Yes, it is. I mean, I believe that the goal that was set by the President of getting 100 million people vaccinated in the first hundred days is quite a reasonable goal.
And when you get to the point — and one of the things that I think is something we need to pay attention to — and I, quite frankly, have been spending a considerable amount of my own time — is outreaching particularly to minority communities to make sure that you get them to be vaccinated and you explain why it's so important for themselves, their family, and their community.
If we get 70 to 85 percent of the country vaccinated — let's say by the end of the summer, middle of the summer — I believe by the time we get to the fall, we will be approaching a degree of normality. It's not going to be perfectly normal, but one that I think will take a lot of pressure off the American public."
Psaki then laid out for reporters the actions that the president had taken prior to the briefing:
"So, as you know, just a few moments ago, the president also released a national COVID-19 strategy and signed 10 executive orders and other directives to move quickly to contain the crisis.

Underpinning everything the president signed today and everything we do every day will be equity. Some highlights of those actions include an executive order to fill supply shortfalls for vaccinations, testing, and PPE. The president directed agencies to exercise all appropriate authorities, including the Defense Production Act; to accelerate manufacturing and delivering of supplies, such as N95 masks, gowns, gloves, PCR swabs, test reagents, and necessary equipment and material for the vaccine.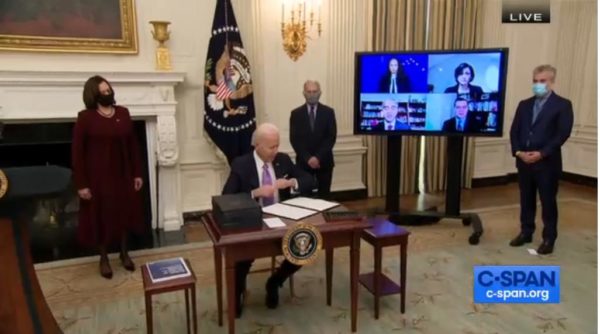 Biden signed:
A presidential memorandum to increase federal reimbursement to states and tribes for the cost of National Guard personnel, emergency supplies, and the personnel and equipment needed to create vaccination centers
An executive order that established a COVID-19 pandemic testing board to bring the full force of the federal government's expertise to expanding testing supply and increasing access to testing
An executive order to bolster access to COVID-19 treatments and clinical care, establishing a comprehensive and coordinated preclinical drug discovery and development program to allow therapeutics to be evaluated and developed in response to pandemic threats.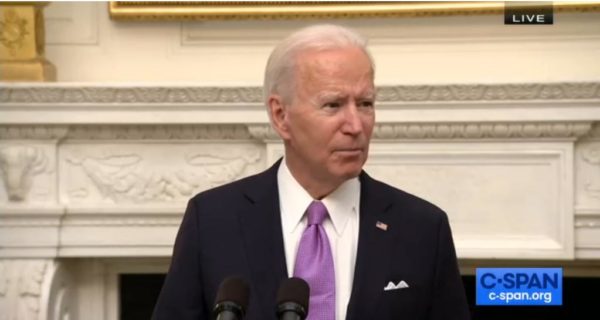 Biden also issued executive actions which included;
An executive order directing the Departments of Education and Health and Human Services to provide guidance on safe reopening and operating for schools, childcare providers, and institutions of higher education
An executive order on the Occupational Safety and Health Administration to immediately release clear guidance for employers to help keep workers safe from COVID-19 exposure
An executive order to require mask wearing in airports or certain modes of public transportation, including many trains, airplanes, maritime vessels, and intercity buses
And an executive order establishing a COVID-19 Health Equity Task Force — something previously announced, but making it official today — to provide specific recommendations to the president for allocating resources and funding in communities with inequities in COVID-19 outcomes by race, ethnicity, geography, disability, and other considerations.
Newsom announces end of the COVID-19 State of Emergency
California's pandemic response efforts have saved tens of thousands of lives, kept people out of the hospital and protected the economy
SACRAMENTO – Today, Governor Gavin Newsom announced that the COVID-19 State of Emergency will end on February 28, 2023, charting the path to phasing out one of the most effective and necessary tools that California has used to combat COVID-19.
This timeline gives the health care system needed flexibility to handle any potential surge that may occur after the holidays in January and February, in addition to providing state and local partners the time needed to prepare for this phaseout and set themselves up for success afterwards.
With hospitalizations and deaths dramatically reduced due to the state's vaccination and public health efforts, California has the tools needed to continue fighting COVID-19 when the State of Emergency terminates at the end of February, including vaccines and boosters, testing, treatments and other mitigation measures like masking and indoor ventilation.
As the State of Emergency is phased out, the SMARTER Plan continues to guide California's strategy to best protect people from COVID-19.
"Throughout the pandemic, we've been guided by the science and data – moving quickly and strategically to save lives. The State of Emergency was an effective and necessary tool that we utilized to protect our state, and we wouldn't have gotten to this point without it," said Newsom. "With the operational preparedness that we've built up and the measures that we'll continue to employ moving forward, California is ready to phase out this tool."
 
To maintain California's COVID-19 laboratory testing and therapeutics treatment capacity, the Newsom Administration will be seeking two statutory changes immediately upon the Legislature's return: 1) The continued ability of nurses to dispense COVID-19 therapeutics; and 2) The continued ability of laboratory workers to solely process COVID-19 tests.
"California's response to the COVID-19 pandemic has prepared us for whatever comes next. As we move into this next phase, the infrastructure and processes we've invested in and built up will provide us the tools to manage any ups and downs in the future," said Secretary of the California Health & Human Services Agency, Dr. Mark Ghaly. "While the threat of this virus is still real, our preparedness and collective work have helped turn this once crisis emergency into a manageable situation."
 
Throughout the pandemic, Governor Newsom, the Legislature and state agencies have been guided by the science and data to best protect Californians and save lives – with a focus on those facing the greatest social and health inequities – remaining nimble to adapt mitigation efforts along the way as we learned more about COVID-19. The state's efforts to support Californians resulted in:
Administration of 81 million vaccinations, distribution of a billion units of PPE throughout the state and processing of 186 million tests.
Allocation of billions of dollars to support hospitals, community organizations, frontline workers, schools and more throughout the pandemic.
The nation's largest stimulus programs to support people hardest hit by the pandemic – $18.5 billion for direct payments to Californians, $8 billion for rent relief, $10 billion for small business grants and tax relief, $2.8 billion to help with overdue utility bills, and more.
California's pandemic response efforts have saved tens of thousands of lives, kept people out of the hospital and protected the economy:
California's death rate is the lowest amongst large states. If California had Texas' death rate, 27,000 more people would have died here. If California had Florida's rate, that figure jumps to approximately 56,000 more deaths.
In only the first ten months of vaccines being available, a study showed that California's efforts saved 20,000 lives, kept 73,000 people out of the hospital and prevented 1.5 million infections.  
California's actions during the pandemic protected the economy and the state continues to lead the nation in creating jobs and new business starts:

"'Lockdown' states like California did better economically than 'looser' states like Florida, new COVID data shows," with California's economy having contracted less than such states – economic output shrank 3.5% on average for the U.S., compared with 2.8% for California.
Since February 2021, California has created 1,628,300 new jobs – over 16% of the nation's jobs, by far more than any other state. By comparison, Texas created 1,133,200 jobs (11.3% of the nation's) and Florida created 787,600 jobs (7.9% of the nation's) in that same timeframe.
Since the beginning of 2019, data from the Bureau of Labor Statistics shows that over 569,000 businesses started in California, by far more than any other state.