March 17, 2021 at 8:01 pm PDT | by Staff reports
New poll finds many Californians hesitant to return to indoor activities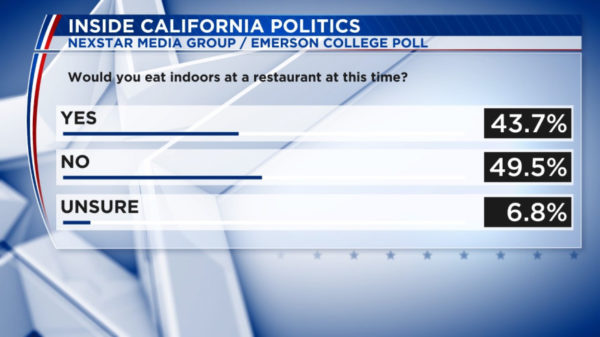 LOS ANGELES – A poll released Monday by Emerson College Polling and Nexstar Broadcasting Inc.'s six California television stations, including KTLA, found that a significant number of Californians were hesitant about returning to indoor dining and outdoor sporting events.
According to the results nearly half of respondents said they wouldn't eat indoors at a restaurant and almost the same portion said they wouldn't go to a sporting event even as officials are shifting many of the state's 58 counties back into less restrictive measures.
As of Wednesday, according to the California Department Of Public Health, more than 90% of the state's population of nearly 40 million residents will be out of the most limiting red tier in California's color-coded coronavirus plan.
KTLA reported that COVID-19 was identified as the top issue facing California by 21.6% of those polled, followed by homelessness at 19.1%, corrupt politicians at 17.5%, housing costs at 14.9%, and the environment at 6%. No other issue topped 6%.
The poll also surveyed Californian's on the state's vaccination rollout. According to the data collected "a plurality of Republicans respondents — 46.6% — said they do not plan on being vaccinated. Only 3.9% of Democrats and 24.5% of independents responded the same way."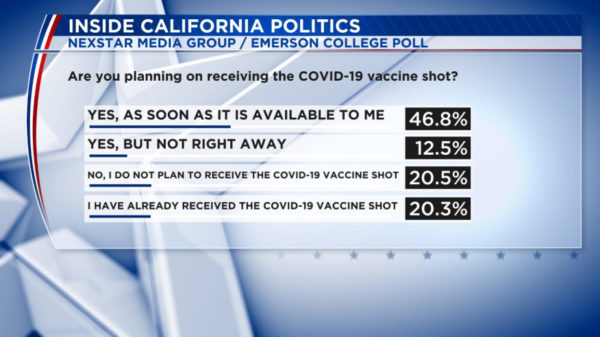 Spencer Kimball, Director of Emerson College Polling, said "the data suggests the age difference is not being driven by who is vaccinated but instead by the 21% who said they don't plan to get the vaccine: 77% of them plan to eat at an indoor restaurant and 70% of those who don't plan to take the vaccine will attend a sporting event, suggesting those most vulnerable to getting Covid will be at these events."
Just over a fifth of those polled said they didn't plan to get vaccinated, while nearly the same portion said they'd already been vaccinated. Almost half of respondents said they'd get vaccinated as soon as they could, and another 12.5% said they planned to do so but not immediately.
On the hot-topic issue of Facial Masks as ordered by Governor Newsom nearly three-quarters said the mandate is "about right" or doesn't go far enough.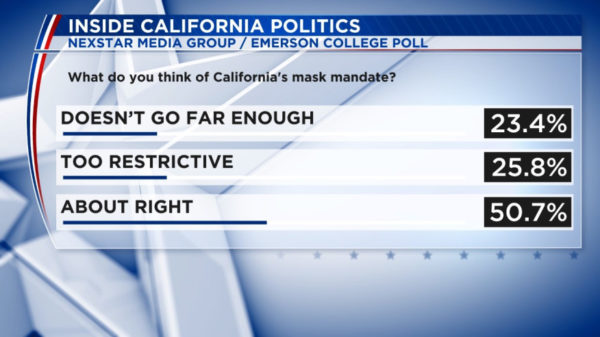 The poll surveyed more than 1,000 registered voters across the state, with a margin of error of plus or minus 3 percentage points.