LA County to consider basic income of $1K to 1,000 County residents
"We must explore guaranteed income and other measures of
poverty alleviation as permanent County policy"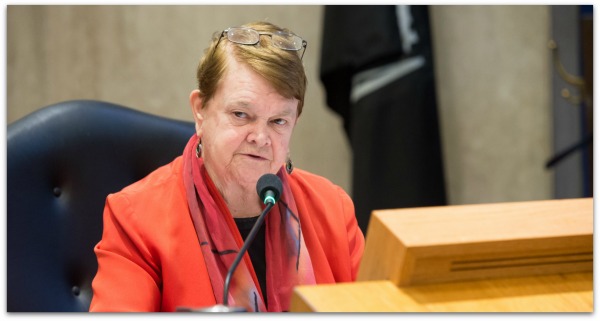 LOS ANGELES – A proposal for a guaranteed income pilot program to provide monthly payments for approximately 1,000 of the County's poorest residents for three years is under consideration by the Los Angeles County Board of Supervisors. The motion put forward by Supervisors Holly Mitchell and Sheila Kuehl would provide this basic monthly income for a three year period.
According to the motion, the county chief executive's office would have 60 days to establish a plan for the guaranteed income pilot program. The Los Angeles Times reported that the County would need at least $36 million to finance its program as proposed in the motion.
"We must fundamentally shift the idea that people who face financial insecurity have somehow failed, and instead recognize that it is the inequity and lack of access built into our economy and government assistance programs that have failed us," Mitchell and Kuehl said.
The details on participant qualifications and other details have not been worked out. The Board is set to vote on the motion next Tuesday.
"A guaranteed income program provides households with financial stability during sharp economic swings, alleviates stress and broadens recipients' horizons," Mitchell and Kuehl said. "Importantly, these programs come without the scrutiny and work requirements of programs such as welfare and food stamps."
This motion comes following the new citywide, anti-poverty proposal by Los Angeles Mayor Eric Garcetti that would give cash — without any obligations — to thousands of city residents in the coming months which was reported in April by the Los Angeles Times.
Garcetti's $24-million Basic Income Guaranteed program would provide $1,000 a month to 2,000 Los Angeles families for a year. There will be no obligation on how to spend the money, according to the mayor's office.
"Long before the dual pandemic – both public health and economic – caused by COVID-19,
the United States' (U.S.) and Los Angeles' economies have been plagued by instability, much of it caused by staggering levels of inequality. As we endeavor to create a more resilient economy and Los Angeles County (County), we must explore guaranteed income and other measures of poverty alleviation as permanent County policy, not just as an emergency measure to help with this crisis.
The coronavirus crisis has heightened and made more vivid what was already clear to
many: the inequities in our economy have been a matter of life and death for many of our most vulnerable County residents. Prior to the COVID-19 epidemic, the safety net failed to address the structural issues that have been keeping many children and their families trapped in poverty."
Directly relating to the motion put forward by Mitchell and Kuehl, in the Fall of 2019, the Williams Institute at the University of California Los Angeles School of Law published a study that disclosed that LGBTQ people collectively have a poverty rate of 21.6%, which is much higher than the rate for cisgender straight people of 15.7%. There are those who are head of single-person households and have children reflected in that grouping.
Addressing the negative economic impact specifically in terms of housing costs that the coronavirus impact has had with the County's LGBTQ community, speaking last Fall with journalist Karen Ocamb, Supervisor Kuehl noted;
"I think LGBTQ people have suffered greatly in the pandemic because we always were more vulnerable as a group, in terms of our revenue income, our ability to thrive," Kuehl said. "I think we should be very concerned about each other as a community and making certain that people can stay in their housing in these very difficult and dangerous times."
'Leave Our Kids Alone' group protest, LAPD make arrests
A separate group gathered to rally in support of LGBTQ+ youth, ultimately leading to an unlawful assembly declaration & at least two arrests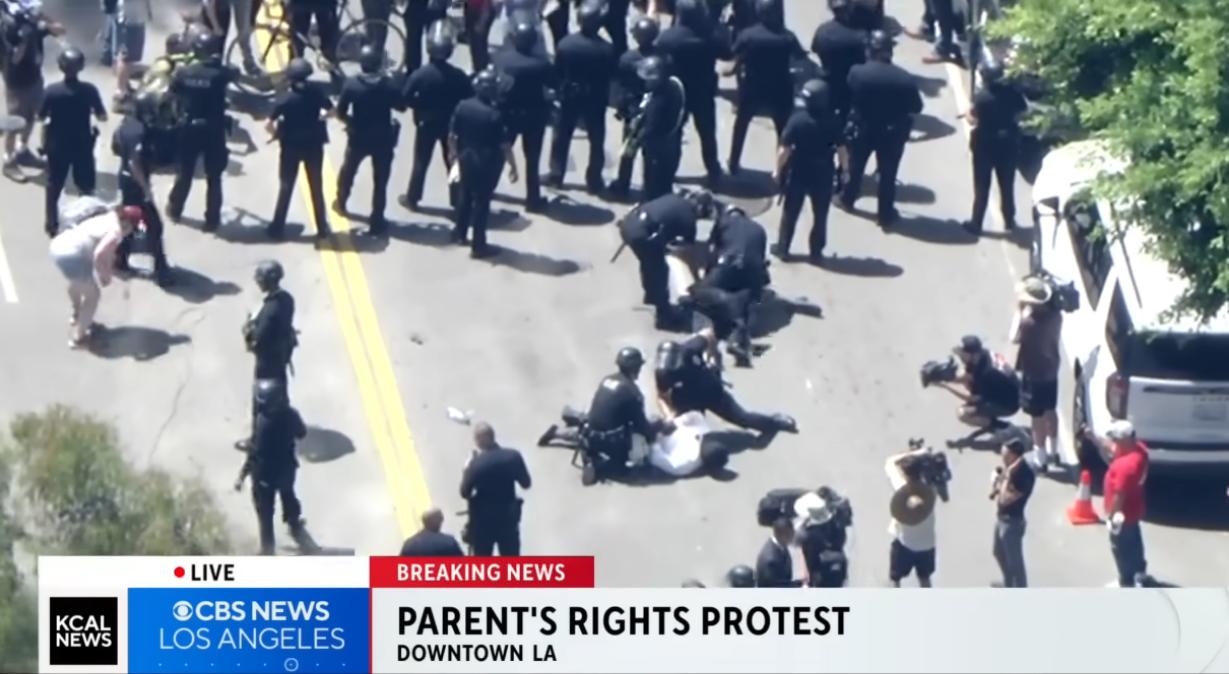 LOS ANGELES – Approximately 200 people from the loosely organized social media based group 'Leave Our Kids Alone' (LOKA) marched through downtown Los Angeles today in support of parental rights and notification policies in schools.
A separate group gathered to rally in support of LGBTQ+ youth, ultimately leading to an unlawful assembly declaration and at least two arrests as the Los Angeles Police Department deployed about 40 officers and supervisors to keep the groups apart.
On the LOKA group Instagram and Facebook posts, organizers called for the Tuesday rally at 10:00 AM writing: "Calling all California parents to stand United and rally for our kids. Whether it's the school boards or Sacramento in their attempts to indoctrinate kids and separate them from families – parents have had enough."
The group on its social media posts claim they are supporting parental rights and opposing "indoctrination," "sexualization" or "grooming" of children in schools.
KCAL CBS-Los Angeles reported the LOKA group assembled outside Los Angeles City Hall, then marched to Los Angeles Unified School District headquarters, where some participants sat in the intersection. Some people in the Leave Our Kids Alone group waved American flags while others carried signs with slogans such as "Parental Rights Matter" and "Parental rights are non-negotiable," and many wore shirts saying "Leave our kids alone." One held a sign reading "Teach the Bible, not porn."
The protest was in support of forcing the LAUSD Board to adopt policies that would 'Out' trans children and also minimize the so-called influences regarding LGBTQ+ students.
On X/Twitter members of the group live-streamed the march and protest:
Los Angeles CA – Leave Our Kids Alone #saveourkids #leaveourkidsalone

We are live on YouTube and rumble. pic.twitter.com/ytOtQ20kOM

— Oreo Express Normal/Not Mentally Ill (@OreoExpress) August 22, 2023
The counter-rally was organized by Ground Game LA and Queer Nation Los Angeles, plus another Queer affirming group which are opposed to parental-notification policies, noting such policy requirements can put LGBTQ+ students at risk if their families are not accepting of their gender identity.
KCAL also reported that members of the smaller counter protest, some of whom waved Pride flags, prompting LAPD officers to set up skirmish lines to keep the groups separated. According to reports from the scene, police attempted to push the counter-protesters back, but two people allegedly resisted and were taken into custody.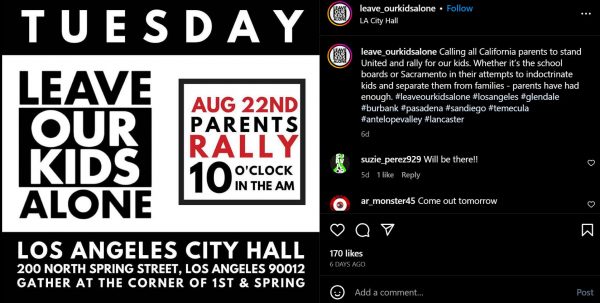 The LOKA group first rose to prominence after a group of parents took to social media and distributed flyers to protest a scheduled June 2 LGBTQ+ Pride event at Saticoy Elementary School on 7850 Ethel Avenue in North Hollywood.
Then on June 6, the group and others clashed with Glendale Police and LGBTQ+ supporters outside a meeting of the Glendale Unified School Board over LGBTQ+ studies and the GUSD polices on addressing LGBTQ+ related issues.
News footage from CBS Los Angeles KCAL showed approximately fifty Glendale police officers attempting to keep the two groups separated and then fists were thrown as both sides engaged in physical assaults. A Glendale police spokesperson confirmed that some arrests had been made but wouldn't comment further.
The group has also been present at school board meetings in Temecula, Murietta Valley, Orange County and Chino protesting for polices that would forcibly 'Out' LGBTQ+ kids and also remove LGBTQ+ materials, books, and Pride flags from classrooms.
California Attorney General Rob Bonta announced  earlier this month that his office is opening a civil rights investigation into potential legal violations by the Chino Valley Unified School District (CVUSD), which adopted a policy that forces schools to "out" students whose gender identities may be changing.
The Murrieta Valley Unified School District Board (MVUSD), had approved a policy mirroring one recently adopted by the Chino Valley Unified School District (CVUSD), that forces school faculty and staff to "out" students to parents whose gender identities may be changing.
Bonta in an emailed statement to the Blade said: "I am deeply disturbed to learn another school district has put at risk the safety and privacy of transgender and gender nonconforming students by adopting a forced outing policy. My office remains committed to ensuring school policies do not target or seek to discriminate against California's most vulnerable communities. California will not stand for violations of our students' civil rights."
Related:
Parent's rights group and counter protesters clash Downtown LA: