LGBTQ youth find refuge at church-run shelter in El Salvador
Hogar Santa Marta opened in August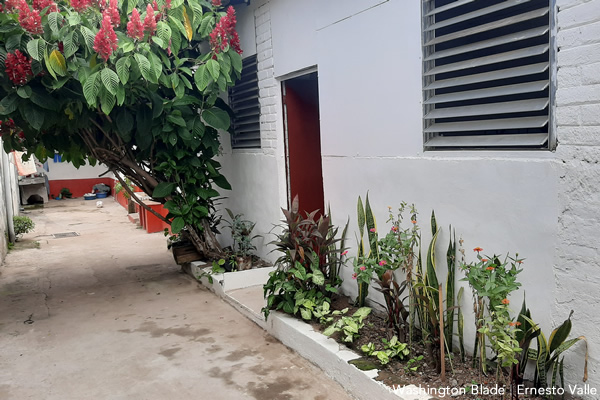 The Los Angeles Blade published a Spanish version of this article on Oct. 25.
SAN SALVADOR, El Salvador — LGBTQ youth in El Salvador frequently face violence in their families and communities, and this abuse often happens with impunity. Many of these community members have either fled their homes or have been kicked out of them because they are not accepted for who they are.
A shelter that supports this vulnerable population has opened.
The Anglican Episcopal Church of El Salvador in 2009 created its Sexual Diversity Ministry, a pastoral mission that brings together LGBTQ people and their communities. The ministry has become a space in which everyone can live their faith free of discrimination.
Hogar Santa Marta opened in August, and is one of the ministry's initiatives.
Bishop Juan David Alvarado of the Anglican Episcopal Church of El Salvador told the Los Angeles Blade this project responds to human needs, especially when there is so much injustice. He said the shelter is a temporary home for young people as they work to solve their problems or find a way to better themselves.
"We as a church wanted to give an answer to LGBTQ people who have suffered human rights violations," said Alvarado.
Hogar Santa Marta has already helped a number of LGBTQ young people. Three of them moved into the shelter and others have been able to receive assistance at their time of need.
"Our first option is that people do not necessarily have to experience family abandonment, so it is about achieving a conciliation with families," explained Cruz Torres, coordinator of the Anglican Episcopal Church of El Salvador's Sexual Diversity Ministry. He added the goal is to allow these young people to remain with their families.
Young people as of now primarily contact the shelter through its social media networks. A technical team evaluates the cases and then determines the way to proceed with each of them based on whether they are victims of violence or forced displacement or have been kicked out of their homes.
"This method of using networks has been deliberate in order to control our growth and not to have an immediate saturation," said Hogar Santa Marta Director Eduardo Madrid, who explained the shelter's opening was delayed because it was not ready to support young people who need support.
Helen Jacobo, the shelter's psychologist, and Madrid created a protocol to determine the process to use with a person who is seeking help.
The technical team creates a profile of the person when it establishes contact with them and notes the situation in which they are living. It then passes this information along to the psychologist who will then schedule an interview.
"We can find out about their support networks, if they have a shelter or a safe place (to live) through a small interview," said Jacobo.
'I feel more complete and more secure'
Carlos, 25, sought the shelter's support because of a series of the problems the pandemic made worse.
"I had to leave my house because of mistreatment, insults and beatings," he recalled.
Carlos said he was relieved to arrive at a safe place, and even more so when he knew that he would have a lot of support.
"They have provided me with a lot of services, such as psychosocial support and I will get a job very soon," he said with joy.
The shelter first offers its residents a place to live with access to regular meals and psychological therapy to address the traumas they have experienced. The shelter also accepts donations to provide residents with their basic needs.
"For my part I am very grateful, we have worked on ourselves as a person," said Carlos with an assured look that conveys happiness from behind a face mask with a smile drawn onto it. He also expressed that he is grateful the shelter allowed him to live there with his pet that he took with him when he left his house.
Religion is not imposed upon the shelter's residents, even though a church group created it.
"If you want to believe, you believe," said Carlos. "They don't impose religion on you."
"I feel more complete and more secure," he added, while saying that he has learned to put himself first. "That has been the most noticeable change that I have been able to have."
With this self-empowerment in mind, the second stage for the shelter's residents is to learn how to fight for their rights and know how to maintain them. Sustainable relocation, family awareness and creating a life plan are also part of this effort.
Alejandro, 23, has already been able to leave the shelter with the technical team's support. He was able to get a job and find a new place to live.
He learned about the shelter from a friend who is a member of the Anglican Episcopal Church of El Salvador. The friend helped him present his case and he became the first young person to live in the shelter.
"Even though I was only there for a month, I felt the necessary support from the whole team," says Alejandro.
He said he feels very involved with the shelter because he is its first successful case.
Alejandro said he had the opportunity during his first meetings to propose ideas about how the shelter can approach future cases. Alejandro added it was very rewarding to him that both the director and the psychologist took his thoughts into account.
Now that he has been able to find a job, Alejandro said he will do everything he can to remain stable. He will particularly rely on the psychological support the shelter still provides him, which is the third stage of its work. This support lasts for up to a year after admission and is supported through an alliance with NGO's, the government and private companies.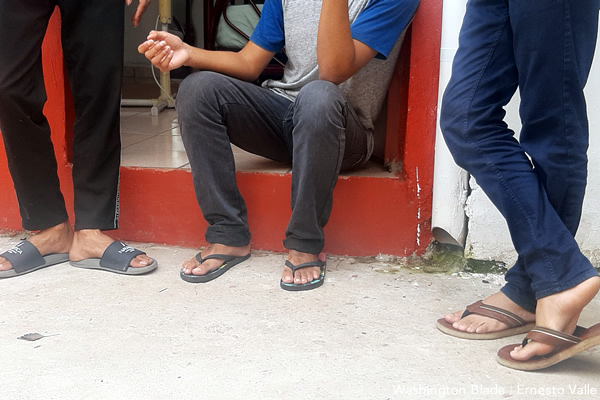 Strategic alliances
Hogar Santa Marta has made a variety of strategic alliances that allow it to carry out its work. One of them is with the U.N.'s International Organization for Migrants and specifically with its Integrated Responses on Migration from Central America project.
The shelter hopes to use this partnership to further develop a psychosocial program that will be able to help more vulnerable LGBTQ youth. Hogar Santa Maria hopes it can use some of these same strategies that IOM uses.
"Some of the instruments that they have specifically respond to psychological issues," Jacobo explained.
Hogar Santa Marta's programs have been made available to IOM in order to improve the way it views sexual diversity-related issues. They also hope to receive support for when they implement a group management program once more LGBTQ youth live in the shelter.
Rosalinda Solano, the national coordinator of the IOM project, said she is very interested in following up on the in-home work and hopes to enter into a collaboration with the shelter, such as the one that provides psychosocial support to LGBTQ people who have been returned to the country.
"We have also managed to identify other possible links, through profiles that can be linked to job opportunities," she said.
Solano said the project seemed to be something very innovative and needed in the country, which does not have anything else. She hopes it will do something that has not been done before in El Salvador.
"It takes a fairly comprehensive approach, not it is just providing shelter," she said.
There are two other shelters in El Salvador that specifically serve the LGBTQ community—ASPIDH ARCOIRIS TRANS' Casa Trans and COMCAVIS TRANS' Casa Refugio Karla Avelar—but they primarily serve displaced transgender women. Hogar Santa Marta is the first LGBTQ shelter in El Salvador that a church created.
"Young people see home with great hope for a new life," said Alvarado.
The shelter can be found at Facebook as Santa Marta LGBT and on Instagram as @santamartalgbt. There is a link to a GoFundMe account there where donations can be made.
"We as a church recognize LGBTIQ+ people's prophetic voice and we accept God's call to care, direct and guide all people who face social injustice," said Alvarado.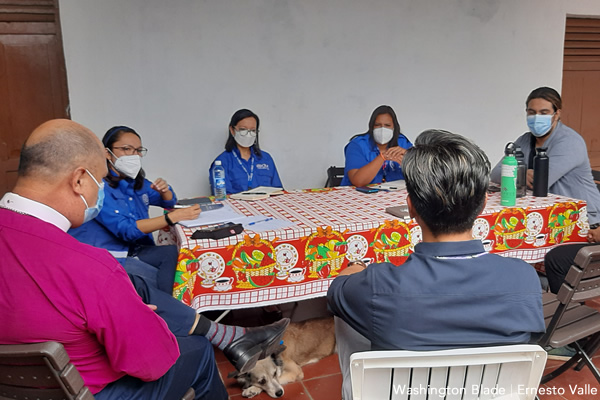 Honduras government admits responsibility for Trans woman's murder
Vicky Hernández killed in San Pedro Sula shortly after 2009 coup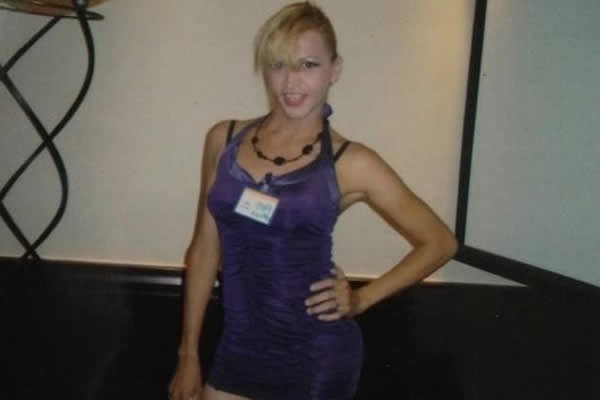 SAN PEDRO SULA, Honduras — The government of Honduras on Monday publicly acknowledged it is responsible for the 2009 murder of a Transgender activist.
Vicky Hernández was a Trans activist and sex worker with HIV who worked with Colectivo Unidad Color Rosa, an advocacy group that is based in San Pedro Sula, the country's second largest city.
Hernández's body was found in a San Pedro Sula street on June 29, 2009, hours after the coup that ousted then-President Manuel Zelaya from power. Hernández and two other Trans women the night before ran away from police officers who tried to arrest them because they were violating a curfew.
The Inter-American Court of Human Rights last June issued a landmark ruling that found Honduras responsible for Hernández's murder. The admission was part of the settlement.
Solicitor General Manuel Antonio Díaz Galeas and Foreign Minister Eduardo Enrique Reina García were among those who attended Monday's ceremony that took place in front of Colectivo Unidad Color Rosa's offices. President Xiomara Castro, who took office in January, participated virtually.
Kerry Kennedy, president of Robert F. Kennedy Human Rights, which represented Hernández's family alongside Cattrachas, a lesbian feminist human rights group that is based in the Honduran capital of Tegucigalpa, also attended alongside Hernández's mother, Rosa Hernández.
"We should love our children for who they are because they come from the womb," said Rosa Hernández. "No one has a right to take a life."
Kennedy noted the Honduran government "has taken the first steps by publicly acknowledging and taking responsibility and apologizing for murdering Vicky."
Dona Rosa, you are such a beautiful soul. Thank you for trusting us with the fight for justice for your daughter. #JusticiaParaVicky pic.twitter.com/P44ANwbtNV

— Kerry Kennedy (@KerryKennedyRFK) May 9, 2022
Violence and discrimination based on gender identity and sexual orientation remains pervasive in Honduras.
Thalía Rodríguez, a prominent Trans activist, was killed outside her Tegucigalpa home on Jan. 11. Cattrachas notes she and Hernández are two of the more than 400 LGBTQ+ people who have been killed in the Central American country since 2009.
The Inter-American Court of Human Rights ordered Honduras to pay reparations to Hernández's family and enact laws that protect LGBTQ+ people from violence and discrimination. Kennedy in her statement noted Castro has pledged "to making these necessary reforms."
LGBTQ+ activist in El Salvador receives death threats
Erick Iván Ortiz lost Legislative Assembly race in 2021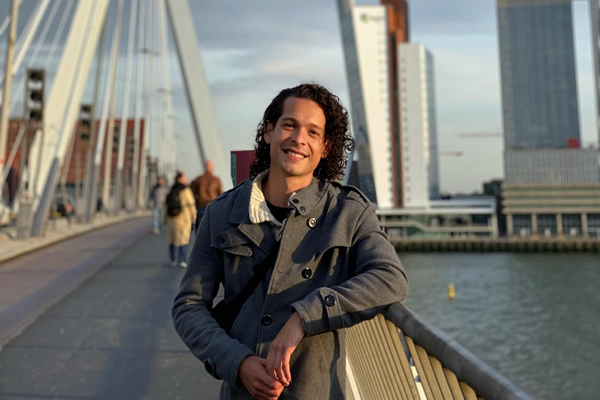 SAN SALVADOR, El Salvador — An LGBTQ+ rights activist in El Salvador who once ran for a seat in the country's Legislative Assembly has received death threats.
Erick Iván Ortiz — a member of the Nuestro Partido party who is the director of communications for the Salvadoran Federation of Lesbian, Gay, Bisexual, Transgender and Intersex Persons — spoke about the threats during an April 20 press conference.
Ortiz said he received two phone calls on April 13.
The person who Ortiz said threatened him asked in the second phone call where "should we leave the body" and whether "we should bury it or dump it in the river." The Salvadoran Federation of Lesbian, Gay, Bisexual, Transgender and Intersex Persons and the Nuestro Partido's leadership have both condemned the threats.
Ortiz would have been the first openly gay person elected to the Legislative Assembly if he had won his race last year. Ortiz in January joined the Global Equality Caucus, a network of elected officials around the world who fight for LGBTQ+ rights.
Editor's note: The Los Angeles Blade on Monday published a Spanish version of this article.
Guatemala lawmakers scrap same-sex marriage ban bill
Country's president said measure violated international treaties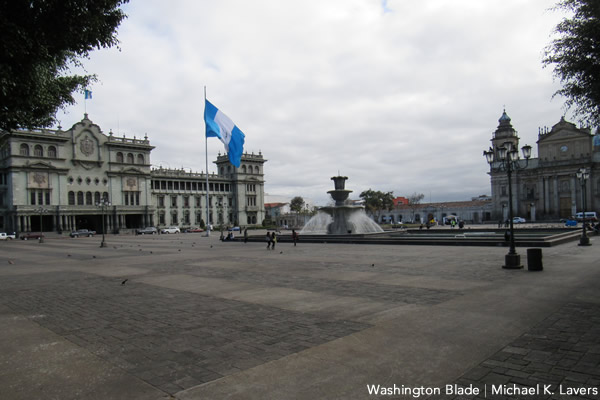 GUATEMALA CITY — Lawmakers in Guatemala on Tuesday tabled a bill that would have formally banned marriage for same-sex couples and defined a family as a man and a woman who are raising children together.
Agencia Presentes, a website that covers LGBTQ+-specific news throughout Latin America, noted members of the Guatemalan Congress voted 119-19 to table the "Law for the Protection of Life and the Family" bill. Agencia Presentes, which also reported 26 lawmakers abstained from the vote, posted a video that shows LGBTQ+ activists celebrating outside the Guatemalan Congress.
#Guatemala 🇬🇹 Momentos cuando el decreto 18-2022 fue archivado con 119 votos a favor de esta acción, 19 votos en contra y 26 votos ausentes. Así celebra las mujeres y la diversidad 🎊 con una resistencia de varios días en las calles. @redmmutrans @InfoOTRANS @ObservatorioLam pic.twitter.com/DW2iruXuev

— Agencia Presentes (@PresentesLGBT) March 15, 2022
Lawmakers in the Central American country on March 8 approved the bill under which a woman who has an abortion would have faced up to 10 years in prison.
The Inter-American Court of Human Rights in 2018 issued a landmark ruling that recognizes same-sex marriage and transgender rights in the Western Hemisphere. Guatemala is among the countries in which the decision is legally binding.
President Alejandro Giammattei sent the bill back to Congress for further review because he said it would have violated international treaties.