'There's no place like home,' The Ariadne Getty Foundation Senior Housing
"This is probably the most important home I've ever had- My new home is my sanctuary. It is safety. It is my place of peace"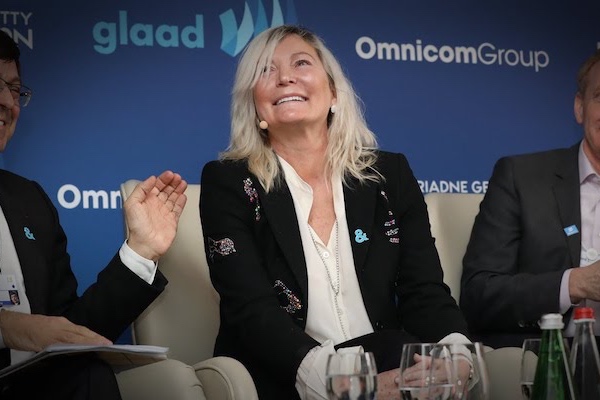 LOS ANGELES – The impact of a philanthropist's work on a community may often be felt although the public at large may not actually be informed on the character of that person sometimes mistaking the physical recognition such as naming rights on buildings as ego driven.
This simple truth is hardly applicable to the Ariadne Getty Foundation's founder and namesake, Ariadne Getty, as her work is not driven by ego, instead an unyielding devotion to community.
In Los Angeles the Getty family name can be found in public spaces that enhance the culture and education of Angelenos, the two most notable being the J. Paul Getty Museum at the Getty Center and the Getty Research Institute Library.
At LA's central library one of the largest exhibition spaces carries the family's name.
Ariadne Getty's significant philanthropic efforts however, are more focused on a marginalised community and aren't comprised of a grouping of public spaces adorned with plaques. This quiet unassuming mother of two instead prefers to direct efforts into funding organizations that directly benefit the LGBTQ+ community.
Her foundation has been underwriting the efforts of the Los Angeles LGBT Center and GLAAD. Getty joined the board of directors of the latter in 2016 and on Feb 1, 2018 at the World Economic Forum in Davos, Switzerland, Getty pledged $15 million to the organization, which focuses on media and increasing the visibility and acceptance of the LGBTQ community.
Getty is the mother of two twenty-something children who are members of the LGBTQ+ community and is the mother-in-law to a high profile Trans social media influencer who is married to one of her kids. While naturally focused on the younger set as a result, she also has deep compassion for LGBTQ+ seniors telling journalist Karen Ocamb in an interview this past January;
"I'm particularly excited about the seniors," Getty says. "My heart goes out to them so much because they've lost lots of their friends and they're lonely and the Center [LA-LGBT] provides such a hub of activity. And I love the fact that we're going to be joining the youth with the seniors, because the seniors will be able to educate the youth about really the history and the hardships of getting to where we are today, where we still have so far to go. But this is a far cry from being gay in the '40s or the '50s — let alone during the '80s with AIDS. I think people, as they get older, get afraid of new things like technology and I think that the youth can help the seniors with just staying up to date and feeling a part of that side. That's definitely the thing that makes me the happiest: they're in a Center where they're surrounded by people. There's no room for loneliness."
Getty had a dream. "My goal has always been that I'll be somebody that would give to community, to be a part of philanthropy on a larger scale," she told Ocamb. "It's been many years that I've known that — I can't shy away from the question completely — that I would inherit money. And the first thing that I did was set up the foundation and that's become my passion."
The Ariadne Getty Foundation Senior Housing is a result of Getty's focus. Located on the LA LGBT Center's Anita May Rosenstein Campus off Santa Monica Blvd. in Hollywood, the 70,000-square-foot building has 98 affordable housing units for seniors ages 62 and above. It also has a series of large common spaces and interconnected courtyards and areas for its residents tied to the larger Rosenstein campus. While the building bears the Getty name, the focus very much reflects the spirit of her ambition to offer a secure and communal safe space for LGBTQ+ seniors.
"The lack of affordable housing in this country is at an all-time high and presents even greater hardships for the LGBTQ community given the many biases which continue to exist. It's an even greater problem amongst LGBTQ seniors," Getty told journalist Greg Hernandez in a Blade interview conducted in March of 2020.
Getty's assertion that a lack of housing presents greater hardship for LGBTQ+ seniors has been backed by studies released by the Williams Institute on Sexual Orientation and Gender Identity Law and Public Policy at the UCLA School of Law and in a study that showed LGBTQ+ people are being left out of generational wealth for many reasons including family rejection, systematic barriers and a lack of financial education.
With almost half of LGBTQ+ adults saying they have been excluded by a family member or close friend as a result of their sexual orientation or gender identity, according to a study by the Pew Research Center, a lack of familial financial support is a common problem for many in the community.
It is that disconnect from family or death of a partner or spouse that leaves a substantial portion of LGBTQ+ seniors alone. Many of them at risk for homelessness which has reached epic crisis levels in Los Angeles.
An estimated 65,000 LGBTQ seniors live in Los Angeles—68 percent of whom live alone. Many struggle to afford housing and other necessities. They are four times less likely than their heterosexual counterparts to have children and grandchildren to support them and twice as likely to live alone.
These factors were reflected in the high demand during the application process to become a potential resident of the Getty Foundation/LA Center Senior Housing two years ago.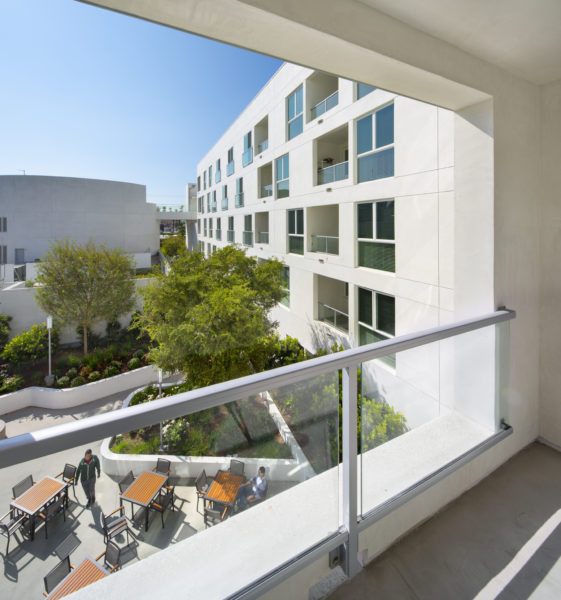 On Tuesday the formal dedication in a press-only event culminated the years-long process that opened the Senior Housing, celebrating the latest resource for the community. The process though had also been very much affected by the coronavirus pandemic. Prior to the Tuesday event, the in-house communications team at the LA LGBT Center interviewed Getty.
The Ariadne Getty Foundation Senior Center is the "cherry on the top" which completes the Center's dream of building an intergenerational campus—congratulations! How do you feel knowing that the Senior Center is finally open, particularly when we experienced delays due to the pandemic?
"I'm feeling a big sigh of relief knowing there are more LGBTQ seniors who finally have the housing and care they need and deserve. For decades, LGBTQ seniors have been on the frontlines advocating for equality. Without the progress they achieved and their personal sacrifices, the LGBTQ community would not have the same rights it does today. Covid-19 has been incredibly challenging, but even before the pandemic, LGBTQ seniors faced disproportionate rates of homelessness," Getty answered.
"Unfortunately, the pandemic deepened disparities, making the The Los Angeles LGBT Center's The Ariadne Getty Foundation Senior Center an urgent need not only for the Los Angeles community, but as an example and inspiration for communities nationwide. It's only right that we meet this urgent need and repay their decades of hardships with the services LGBTQ seniors need to live and age with dignity and respect. The Senior Center is another step towards achieving that goal and ensuring that the most vulnerable seniors receive the care they deserve."
In an email to the Blade, Getty's children Nats and August Getty expressed their admiration and support for their mother's charitable work as now physically evident with the completion of the Senior Housing.
"We couldn't be prouder to have a mom who cares so deeply for the LGBTQ community. Since we came out as queer, our mom and her foundation, The Ariadne Getty Foundation's commitment to LGBTQ equality has only deepened – and the new Los Angeles LGBT Senior Center's Ariadne Getty Foundation Senior Housing is a standing tribute to that commitment. Because of her advocacy and philanthropy, she has helped create a home where LGBTQ seniors can live and age with dignity and respect.
As out-queer, young adults, our ability to be our authentic selves comes on the back of the tireless advocacy of LGBTQ elders. It is only right that these seniors receive the care and support they deserve. We are thankful our mom has helped make that a reality."
In addition to Getty's foundation, the Senior Housing received support from investors and government agencies, including the City of Los Angeles; Los Angeles County; City of West Hollywood; State of California; California Community Reinvestment Corporation; Federal Home Loan Bank of California; and Wells Fargo Bank.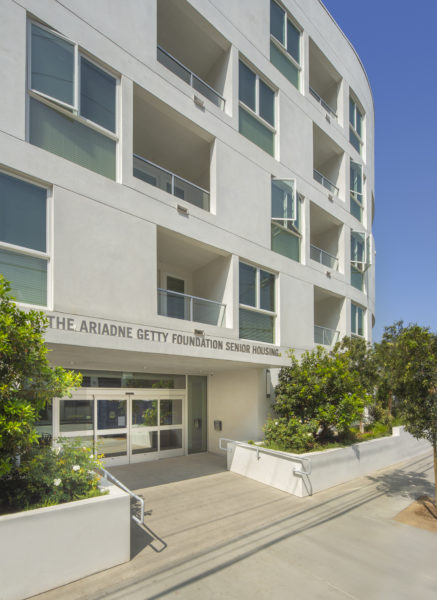 Also partnering was property management company Thomas Safran & Associates. In a phone interview Tuesday, the company's President Jordan Pynes told the Blade that community was the primary focus that was incorporated into every aspect of the design. From the physical layout to the interconnectivity with the center's main campus, every element was purpose driven to make sure that residents had the ability to mingle and build that sense of community.
Joining in the interview call, Kevin Napoli, co-founder of the LENA Group, Inc. told the Blade that all the elements of the design were based on the larger campus, but stressed that the focus was on the interconnected courtyards and common spaces. The effect to engender interactions between all members of the center's community and the seniors.
Senior Housing residents will have access to the full range of wraparound services and support provided by the Center, including case management; home-delivered meals; in-home care and benefits assistance; connection to health and mental health care; HIV support and wellness; counseling and support groups; and more than 100 monthly activities and events provided for free or at low-cost.
"We are immensely proud to finally open the doors of The Ariadne Getty Foundation Senior Housing following months of construction interruptions caused by the COVID-19 pandemic—but the wait was worth it," said LA LGBT Center CEO Lorri L. Jean. "Just in time for Thanksgiving and the upcoming holidays, our residents can celebrate with each other in a safe, warm environment where they are able to live freely and fearlessly as their authentic selves. We have many reasons to be grateful this year, and are particularly thankful for Ariadne Getty, her foundation, and our affordable housing developer partner Thomas Safran & Associates, who stepped up to work with us to improve the lives of many low-income seniors!"
"This is probably the most important home I've ever had," said new resident Lisa Chilton. "For 10 years, whether it was renting a room or sleeping on various sofas, I had been in many other people's space, trying to stay small, and following their schedules. My new home is my sanctuary. It is safety. It is my place of peace."
Rubio bashes LA Dodgers over honoring drag group, Dodgers fold
LA LGBT Center Removes Itself from the Dodgers' 'Pride Night,' To our Sisters of Perpetual Indulgence, we say: Thank you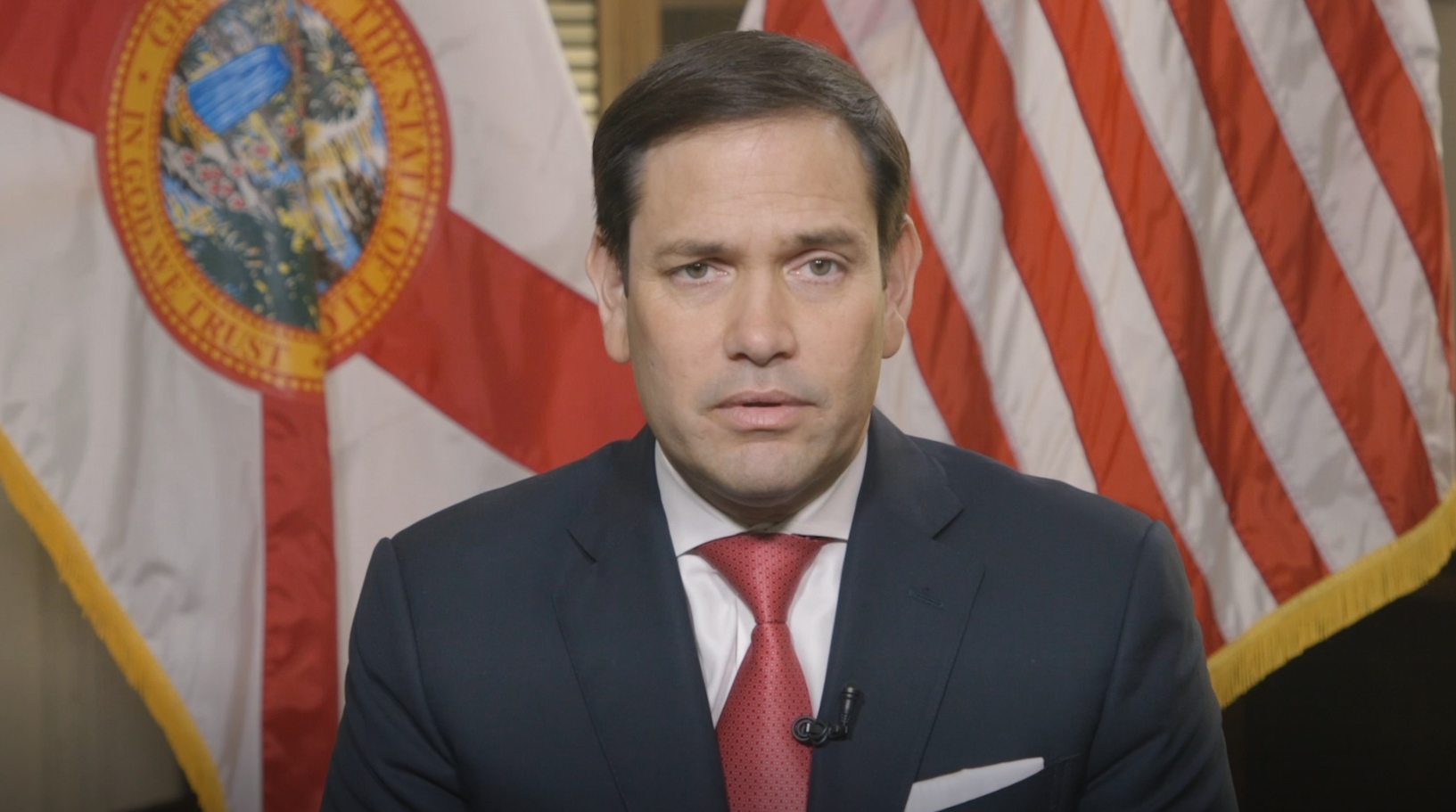 WASHINGTON – Florida Republican U.S. Senator Marco Rubio issued a statement Monday that condemned the Los Angeles Dodgers Major League Baseball franchise for a scheduled "Community Hero Award" to be given to the LA Chapter of The Sisters of Perpetual Indulgence drag group during Pride month in June.
The Florida Republican alleges that honoring the group "mock(s) the faith with the motto with "Go forth and sin some more!" Rubio sent a letter to Major League Baseball (MLB) Commissioner Rob Manfred stating that he is questioning whether the League is "inclusive and welcoming" to Christians.
Rubio cited the following:
"The 'sisters' are men who dress in lewd imitation of Roman Catholic nuns. The group's motto, 'go and sin some more,' is a perversion of Jesus's command to 'go, and sin no more.' The group's 'Easter' ceremony features children's programming followed by a drag show where adult performers dress in blasphemous imitation of Jesus and Mary. The group hosts pub crawls mocking the Stations of the Cross and even the Eucharist, the sacrament that unites more than one billion Catholics around the world."
"Do you believe that the Los Angeles Dodgers are being 'inclusive and welcoming to everyone' by giving an award to a group of gay and transgender drag performers that intentionally mocks and degrades Christians—and not only Christians, but nuns, who devote their lives to serving others?"
The New York City-based anti-LGBTQ+ Catholic League, headed by Bill Donohue who has a years-long lengthy record of anti-LGBTQ+ animus tweeted:
The Los Angeles Dodgers have besmirched their legacy of combating bigotry by partnering with LA Pride in awarding this year's Community Hero Award to an obscene anti-Catholic group, the Sisters of Perpetual Indulgence.https://t.co/LoR3TtwRAJ pic.twitter.com/n0VQ3NFXAT

— Catholic League (@CatholicLeague) May 16, 2023
In his letter to the MLB Commissioner, the Senator writes:
"On June 16, 2023, the Los Angeles Dodgers will host "LGBTQ+ Pride Night" at Dodgers Park. As part of the pre-game ceremony, the Dodgers will give its "Community Hero Award" to the Los Angeles chapter of the Sisters of Perpetual Indulgence, a self-described "order of queer and trans nuns" that has mocked and degraded Christians, and especially Catholics, since its founding on Easter Sunday in 1979.
The "sisters" are men who dress in lewd imitation of Roman Catholic nuns. The group's motto, "go and sin some more," is a perversion of Jesus's command to "go, and sin no more." The group's "Easter" ceremony features children's programming followed by a drag show where adult performers dress in blasphemous imitation of Jesus and Mary. The group hosts pub crawls mocking the Stations of the Cross and even the Eucharist, the sacrament that unites more than one billion Catholics around the world."
The Blade has reached out to the Dodgers for comment but as of time of publication the team hasn't responded. However in a tweet issued by the Dodgers Wednesday, on the globally recognized International Day Against Homophobia, Biphobia, and Transphobia, (IDAHOBIT), the baseball franchise backed away from honoring the drag group.
Tony Hoang, the Executive Director of Equality California, issued a statement on the Dodgers backtracking and caving-in to anti-LGBTQ+ groups and Rubio:
"At a moment in time when drag performers are under attack across the country — including in stage legislatures and in some cases needing armed escorts to protect them from far-right extremists — the Dodgers' actions are disappointing and let down thousands of LGBTQ+ fans that have supported them throughout the years.
"As longtime community leaders, The Sisters of Perpetual Indulgence have raised millions of dollars for causes including HIV/AIDS healthcare, affordable housing, violence prevention, and drug abuse prevention in addition to offering grants to direct-service organizations and small businesses that support underrepresented communities.
"The anti-LGBTQ+ extremists who advocated for the removal of the Sisters from Pride Night are the very same people who are trying to erase the rights of trans kids and their families, criminalize drag performance and roll back equality for LGBTQ+ people across the country — we cannot and will not let them win.
"We call on the Dodgers to reinstate The Sisters as an honoree for Pride Night and works towards strengthening their commitment to unity."
Out California State Senator Scott Wiener wrote on Twitter:
Really sad to see the Dodgers cave to pressure & kick drag queens out of a Pride celebration. The Sisters of Perpetual Indulgence do amazing, life-saving work in the community.

We expect more from our sports teams — even the Dodgers. https://t.co/TFsesI2C7F

— Senator Scott Wiener (@Scott_Wiener) May 17, 2023
Los Angeles County Supervisor Lindsey Horvath tweeted:
If they're not invited, I'm not going. Celebrating Pride is about inclusion. Do better. https://t.co/Pc3ZRgZf0Y

— Lindsey P. Horvath (@LindseyPHorvath) May 17, 2023
Assemblymember Rick Chavez Zbur (D-51) added his disappointment over the Dodgers decision on Twitter:
LGBTQ+ lives, families, love, & existence have long been characterized as offensive & controversial, but we do not give in to those calls. I urge the Dodgers to reverse this decision & ensure our home team reflects the true Los Angeles values of inclusion & acceptance. (2/2)

— Assemblymember Rick Chavez Zbur (@AsmRickZbur) May 17, 2023
"I feel angry and disappointed that the @dodgers have caved into the rising hate and anti-lgbtq rhetoric happening across our Country but driven by an extremist minority in power. Having Pride night while at the same time removing @sfsisters @ladragnuns from the evening is a blatant slap in the face to our community at a time when we need true allies and not performative ones. Los Angeles County has the largest LGBTQ+ community in California and likely the nation and we deserve better. I call on Dodgers to do the right thing. Step up, apologize and reverse course," City of West Hollywood Mayor Sepi Shyne told the Blade.
The California Legislative LGBTQ Caucus released the following statement in response to the Los Angeles Dodgers decision to rescind an invitation to honor the Sisters of Perpetual Indulgence with its Community Hero Award: pic.twitter.com/RSSq3ceQr2

— California Legislative LGBTQ Caucus (@calgbt) May 19, 2023
The City of West Hollywood issued a statement:
"As the City of West Hollywood gets ready to kick-off WeHo Pride on Harvey Milk Day, we're excitedly looking forward to the Los Angeles Sisters of Perpetual Indulgence participating in the WeHo Pride Parade during WeHo Pride Weekend on the first weekend of June.
Pride is deeply rooted in West Hollywood's history and culture. The City of West Hollywood has advocated for nearly four decades to support LGBTQ people. In our community's ongoing fight for equality, the Los Angeles Sisters of Perpetual Indulgence have marched in unity at every step.
To those who draw lines that divide groups within our LGBTQ community, the City of West Hollywood emphatically says: this is not acceptable. We call on the Los Angeles Dodgers to reconsider its decision not to honor the Los Angeles Sisters of Perpetual Indulgence as part of its Pride Night. Inclusion and acceptance are at the heart of Pride. Pride is for everyone.
We applaud the Sisters for their passionate dedication to the LGBTQ community, for tireless AIDS and HIV activism, for unequivocally crusading for the rights of all people, and for the love, laughter, and flair they inspire.
The City of West Hollywood looks forward to celebrating WeHo Pride with the Los Angeles Sisters of Perpetual Indulgence and with everyone who celebrates under the diverse and beautiful rainbow of Pride."
In response to the Dodgers Foundation rescinding their invitation to recognize the Sisters of Perpetual Indulgence at next month's Pride Night, Los Angeles LGBT Center CEO Joe Hollendoner issued the following statement:
"We are deeply disappointed that the Dodgers, an organizational partner that has made significant strides towards dismantling anti-LGBTQ+ bias in sports and long-standing supporter of our mission, has decided to revoke their invitation to honor the Sisters of Perpetual Indulgence at their upcoming Pride Night.
Buckling to pressure from out-of-state, right-wing fundamentalists, the Dodgers caved to a religious minority that is perpetuating a false narrative about LGBTQ+ people. They have been fed lies about the Sisters of Perpetual Indulgence, and have therefore contributed to the ongoing, anti-LGBTQ smear campaign happening in this country. In a year where over 400 pieces of anti-LGBTQ+ legislation are on the books—many of them targeting freedom of speech, expression, and the bodily autonomy of our community—the fight for LGBTQ+ rights is as critical as ever, and unfortunately the Dodgers chose to bow to the religious right rather than stand with our LGBTQ community.
We at the Center know that the religious right—a minority aligned with white supremacy and attacks on reproductive justice—does not speak for all people of faith, including the many people of faith within the LGBTQ+ community. We know that the Sisters of Perpetual Indulgence have reclaimed religious imagery, garb, and symbolism to advocate for LGBTQ+ equality; through their protests, they have exposed the hypocrisy of the churches that demonized gay people during the AIDS Crisis; challenged faith institutions to stand with queer and trans people; and raised valuable resources for our community as we were turned away from services elsewhere.
We call on the Dodgers to reconsider their decision, honor the Sisters, and bring the true spirit of Pride back to Dodgers Stadium. If the decision is not reversed, we strongly encourage the Dodgers to cancel Pride Night. Any organization that turns its back on LGBTQ+ people at this damning and dangerous inflection point in our nation's history should not be hoisting a rainbow flag or hosting a 'Pride Night.' We want the Dodgers ally ship to be consistent with our experience partnering with them over the past many years. The people of Los Angeles County have consistently and overwhelmingly shown up for LGBTQ+ equality. If one of our most beloved institutions—the Dodgers—refuses to stand by us at this moment, we are terrified of what will come next. Los Angeles is a leader—not a follower. We call on the Dodgers to set an example.
To our Sisters of Perpetual Indulgence, we say: Thank you. You will always have a place to be honored at the Los Angeles LGBT Center."