Log Cabin Republicans label DeSantis' anti-LGBTQ+ PressSec "Gay Icon"
"Christina dropped a bomb that annihilated their entire phony narrative and put them all on defense. She called them what they are: groomers"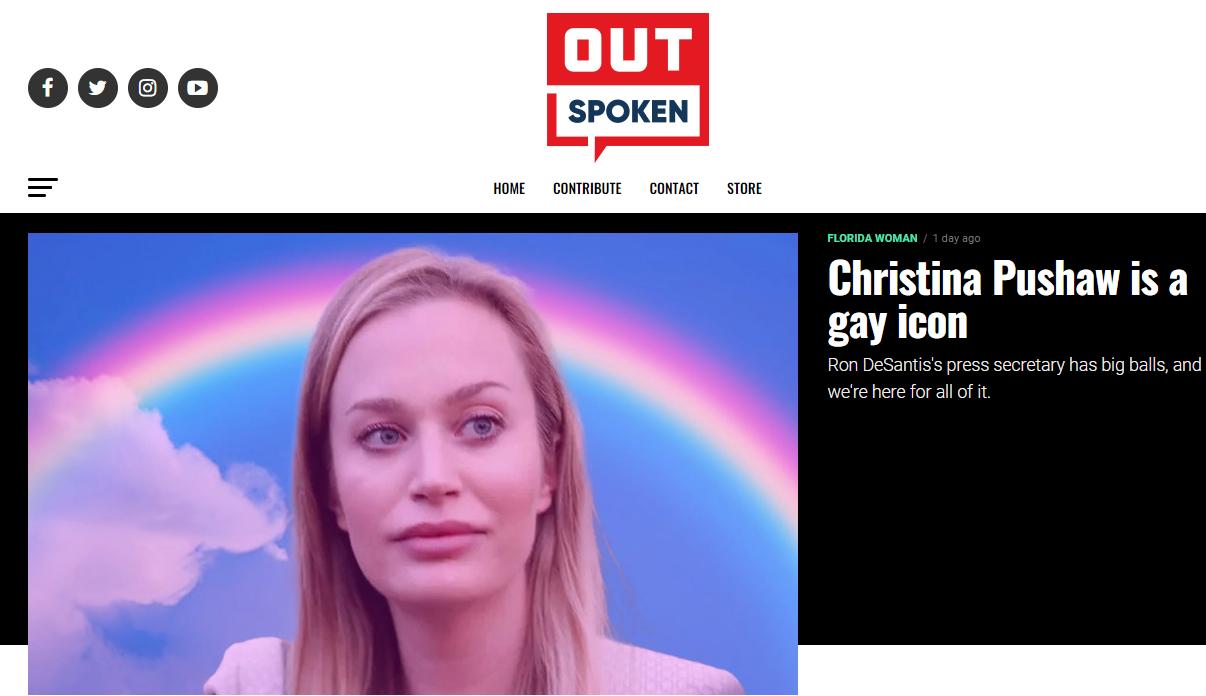 LOS ANGELES – In an article published Monday by the Log Cabin Republican blog 'Outspoken,' writer/blogger David Leatherwood, who goes by the Internet moniker Brokeback Patriot, announced that "Christina Pushaw- serving as Press Secretary for America's favorite Governor, Daddy DeSantis, Pushaw has cemented herself as a gay icon overnight and we are here for all of it."
Leatherwood also writes:
"Earlier this week, leftist gays stormed the Florida Capitol building in the Gay Insurrection of 2022. They were protesting the Parental Rights in Education Bill (branded the "Don't Say Gay" bill by lying Democrats) and demanding kindergartners have access to state-sanctioned lessons on pronoun propaganda and gay butt sex. Christina dropped a bomb that annihilated their entire phony narrative and put them all on defense. She called them what they are: groomers."
"Why is the Left so obsessed with teaching four-to-nine year olds about sex through the public education system? It's not just wrong, it's creepy and very sus. And @ChristinaPushaw exposed them all," writes @brokebackUSA https://t.co/XFezxWnw4a

— Outspoken (@GetOutspokenUSA) March 14, 2022
He then adds:
"Her stance is baked in truth. Why is the Left so obsessed with teaching four-to-nine year olds about sex through the public education system? It's not just wrong, it's creepy and very sus. And she exposed them all.
Pushaw's unapologetic attitude and fierce offensive game proves this woman has big balls. In the fight against the rise of the groomers."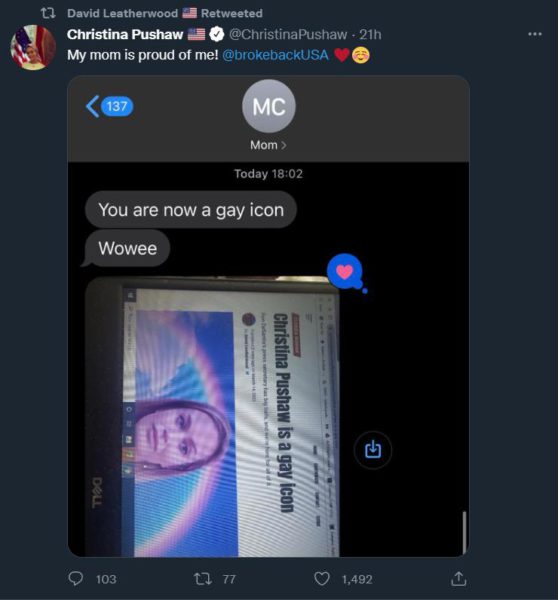 Prior to the passage of the legislation. H.B. 1557, titled Parental Rights in Education bill- colloquially referred to as the 'Don't Say Gay' bill by Florida's Senate last week, Pushaw, tweeted her belief that people who oppose the legislation are "groomers" or those who would not denounce "groomers" — references to pedophilia and people who help "groom" children for pedophiles.
Uh no, why would I walk it back? I do not see any good reason for anyone, regardless of orientation or identity, to condone instruction about sex and gender theory to VPK-3rd graders. Sorry not sorry. https://t.co/iUM2g9iteA

— Christina Pushaw 🇺🇸 (@ChristinaPushaw) March 7, 2022
The American Bar Association, (ABA), defines grooming as pertaining to child sexual abuse cases, where the abuse is preceded by sexual grooming. The ABA stated: "Sexual grooming is a preparatory process in which a perpetrator gradually gains a person's or organization's trust with the intent to be sexually abusive. The victim is usually a child, teen, or vulnerable adult."
The Southern Poverty Law Center, (SPLC) reports that a central theme of anti-LGBTQ organizing and ideology is the opposition to LGBTQ rights, often couched in demonizing rhetoric and grounded in harmful pseudoscience that portrays LGBTQ people as threats to children, society and often public health.
Anti-LGBTQ groups continue to peddle pseudo-science, spew demonizing rhetoric and further attack the LGBTQ community through legislation under the guise of "religious liberty," the SPLC continues.
The SPLC lists many of those spreading that propaganda as hate groups. Generally, the SPLC's listings of these groups is based on their propagation of known falsehoods — claims about LGBTQ people that have been thoroughly discredited by scientific authorities — and repeated, groundless name-calling.
Pushaw's characterization of grooming falls well within the definition of following the premise laid out by organizations opposed to LGBTQ+ equality which is defined as hate speech by LGBTQ+ advocacy groups and the SPLC.
The Washington Post in an article headlined; "Fans of Florida's 'Don't Say Gay' bill have a new favorite word: 'grooming' noted that discussions and declarations like Pushaw's make "It's supposed to make you think teachers talking about LGBTQ issues in front of young kids is creepy," an ugly reality facing not only LGBTQ+ students but their families and allies as well.
Anti-trans activist Kellie-Jay Keen spreads hate across America
Violence mars speaking tour by the UK's "Standing for Women" leader whose next stops include Florida, Washington, D.C. and New York City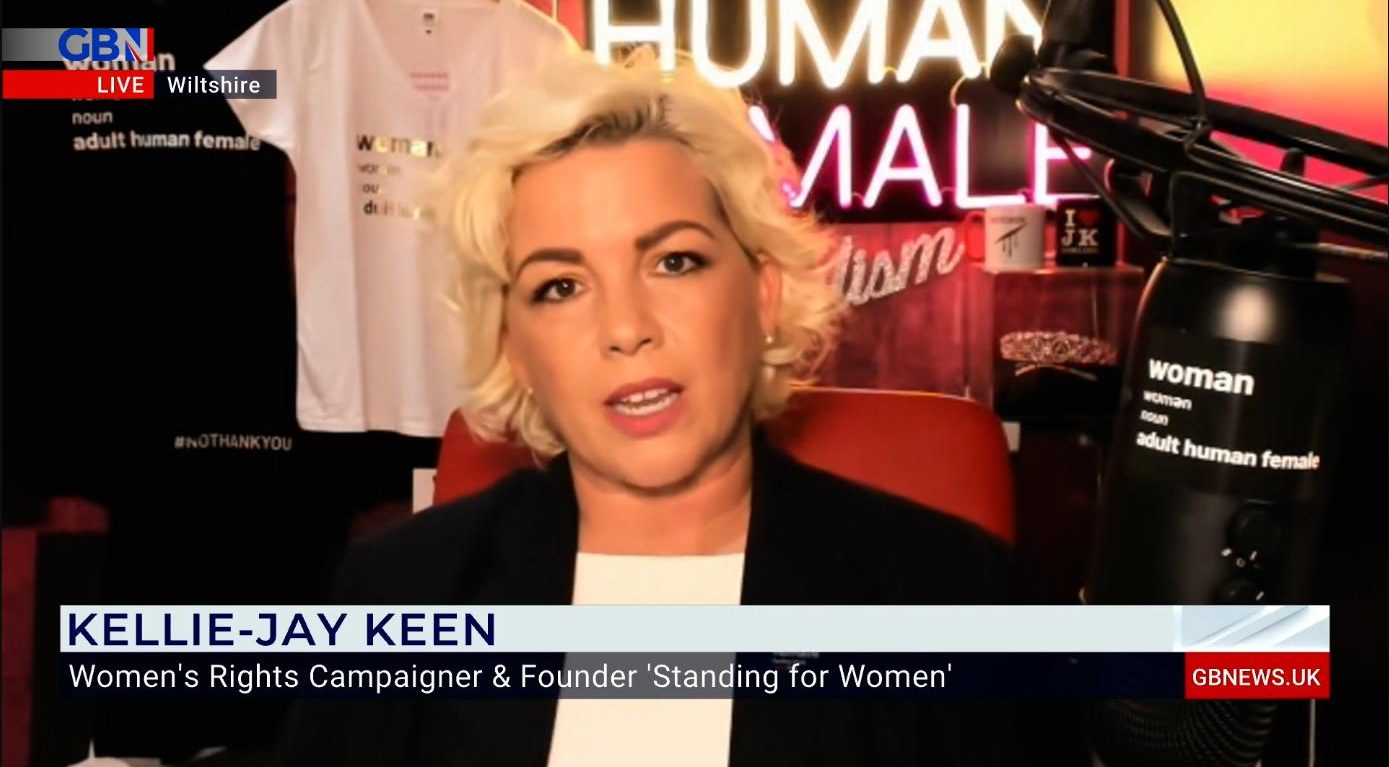 CHICAGO – Outspoken British TERF Kellie-Jay Keen, who goes by the pseudonym "Posie Parker," is in Chicago Sunday for the sixth stop in her 11-city "Standing for Women" speaking tour, which she launched in Los Angeles Oct. 16.
Her mission, she said when she announced the tour on Twitter earlier this month, is to "let women speak" and to "change the world."
"Women," according to Keen and her supporters, only means cisgender people presumed to be female at birth and does not include transgender women. "No woman has a penis," Keen said in Austin, Texas Saturday. "No man has a vagina." GC activists and TERFs like Keen are campaigning for laws discriminating against trans rights on both sides of the Atlantic.
Keen streamed the event on YouTube and posted photos on social media, showing what Keen claimed were Chicago police officers escorting her through crowds due to incidents of violence that had erupted on that tour. As of press time, Chicago police could neither confirm or deny whether on-duty officers provided security or whether off-duty uniformed officers were present.
@Chicago_Police stepping up. #LetWomenSpeak #Chicago#LetWomenSpeakUSA pic.twitter.com/dTuvHnMJFA

— SFW Kellie-Jay Keen #AdultHumanFemale (@StandingforXX) October 30, 2022
In Tacoma on Wednesday, police made one arrest for assault and The News Tribune reported at least six counter-protesters were treated for being hit with pepper-spray. The woman wielding the can of bear spray, similar to that used in the Jan. 6 insurrection at the U.S. Capitol, was identified in that report and via YouTube as Jenna Hoch of Denver, an anti-trans activist. She can be seen in the video, backing away from counter-protesters, screaming "Don't touch me."
A 14-year-old girl claims to have been targeted by Hoch in a video posted to YouTube.
"I was prepared for the violence," Hoch told The News Tribune, following what she described as an assault in Portland, Ore. One protester's hand was injured and required medical treatment, Hoch said. Keen, however, canceled the Portland event due to threats she claimed were made by Antifa. Video of a pie attack at that canceled event has since gone viral.
Despite canceling the stop in Portland, Keen did show up in Tacoma. A video posted by Keen shows a counter-protester storming the area of Tollefson Plaza where Keen and a dozen fellow speakers were holding their rally; One of Keen's supporters swiftly intercepted the counter-protester. According to The News Tribune, about 30 people showed up at the plaza in support of Keen. However, within minutes, the crowd of 20 counter-protesters grew to about 200 and made their way into the plaza. By that time, Keen had already fled, according to the report.
Keen is the U.K. activist who earlier this year advocated for gun-carrying, cisgender dads here in the U.S. to "use women's toilets… to combat the insanity" of allowing transgender girls and women to use bathrooms matching their gender identity. Keen represents cisgender women who call themselves "Gender Critical," and oppose laws and policies here and in the U.K. that allow transgender women to identify as women, compete as women and use public facilities dedicated to females. Keen also confronted this reporter covering the NCAA Women's Swimming Championships in Atlanta in March about use of public bathrooms.
When Keen launched her speaking tour on Oct. 16 on Hollywood Blvd., she was joined by a handful of supporters and fellow speakers and no opposition. And police presence was non-existent.
Kellie-Jay Live from Los Angeles #LetWomenSpeak#LetWomenSpeakUSAhttps://t.co/YFhJOQx6Zs

— SFW Kellie-Jay Keen #AdultHumanFemale (@StandingforXX) October 16, 2022
The same was true in San Francisco, her second stop. But when protesters started showing up at Keen's events, she asked for but did not receive police protection, including in Tacoma. That visibly changed when she arrived in Austin, Texas on Saturday, as ex-detransitoner and former radical feminist Ky Schevers tweeted, with a screenshot of armed security guards flanking Keen.
Kyle KD Sims & his team did security for Kellie-Jay Keen's anti-trans rally in Austin. Sims is a right-winger who's previously done security for former Senator Don Huffines & Kelly Neidert/Young Conservatives of TX. TERFs are increasingly turning to right-wing men to do security. pic.twitter.com/Qnv93fUIIK

— Ky Schevers (@reclaimingtrans) October 30, 2022
According to Schevers, "Jeannette Cooper of PEC [anti-trans group Partners for Ethical Care] hired private security for Chicago & K. Yang aka the Deprogrammer is paying for security for the NYC rally."
Also on hand on Sunday in Chicago's Pioneer Court: Counter-demonstrators brandishing signs declaring, "TERFs MACE KIDS."
#TerfsMaceKids https://t.co/T8KnyvbCMq

— Katy Montgomerie 🦗 (@KatyMontgomerie) October 30, 2022
The counter-demonstrators staged their own rally in Chicago's Cityfront Plaza, attended by at least one man identified by Twitter users as a member of the Proud Boys.
Keen's next stops include Florida, Washington, D.C. and New York City, and she announced she plans to make a documentary from video of her events.