GOP U.S. House incumbent tied to extremist anti-LGBTQ+ pastor
The pastor claims membership in the 3 Percenters, a domestic terrorist anti-government militia group, which helped storm the U.S. Capitol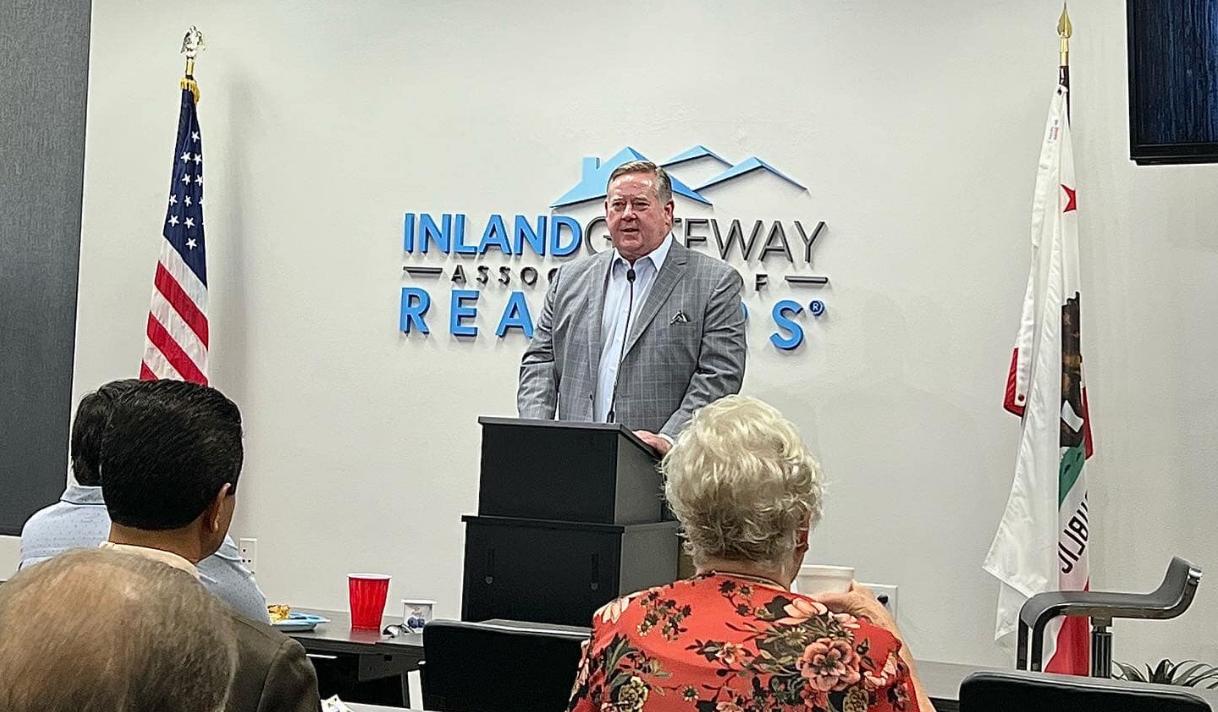 PALM SPRINGS, Ca – After – and perhaps because – California's 41st Congressional District was redrawn to include Palm Springs, Republican Rep. Ken Calvert has attempted to rebrand his record on LGBTQ+ issues as he runs for reelection in a close House race against Out Democratic challenger Will Rollins.
Calvert had previously maintained support in what was a reliably conservative Republican district prior to redistricting in part by opposing LGBTQ rights. His record has included voting for legislation such as the 1996 Defense of Marriage Act (DOMA) that defined marriage as between one man and one woman at a federal level.
Calvert also voted against the Fiscal Year 2011 National Defense Authorization Act (NDAA) which included an amendment that would repeal the military's "don't ask, don't tell" policy for gays and lesbians serving in the military. The NDAA ultimately passed the House in a 229 to 186 vote.
Calvert's close personal relationship with extreme anti-LGBTQ+ pastor Tim Thompson, however, has raised new questions about whether the veteran GOP lawmaker can convince voters his "evolution" on matters like marriage equality was authentic rather than opportunistic.
Joe Jacobson, Founder of the Progress Action Fund, a Democratic Super PAC, told The Los Angeles Blade by phone on Wednesday that he expects revelations about Thompson's extreme positions and his friendship with Calvert will be a turn-off for voters in the Coachella Valley.
"It's not like they are loosely affiliated," Jacobson said. "They've had a close relationship for over 10 years and speak very highly of each other." He noted Thompson has also boasted of his influence on the Congressman's legislative work, saying that when he calls Calvert's District Director, "she's on it."
"Rep. Calvert's political career has been built on pandering to the far-right," Will Rollins told The Blade in an emailed statement. "He launched his political career with homophobia, sending the infamous pink mailers to voters that publicly outed Rep. Mark Takano," when the two ran against each other in 1994.
Rollins's statement continues: "He voted against the Matthew Shephard Hate Crimes Bill, sought to ban gay adoptions, and voted against letting us serve in the military. Just last year, he voted to allow landlords to fire people simply for being LGBTQ. So, what Rep. Calvert really means when he says he's 'evolved' – coincidentally after Palm Springs was drawn into his congressional district – is that he'll say and do anything to try to keep power. And power has been lucrative for him: he's increased his net worth up to $20 million since taking office. Voters will see through his B.S."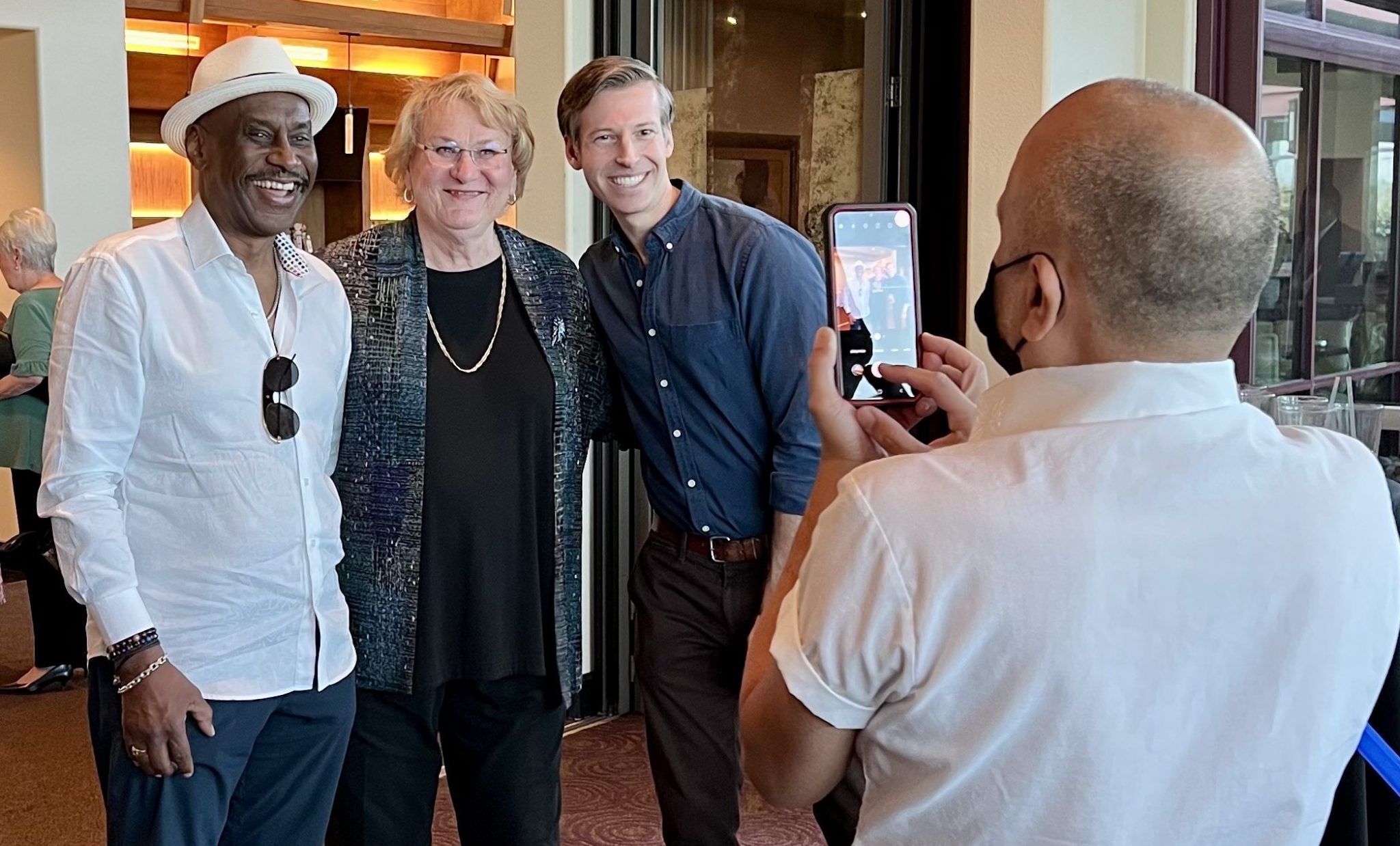 Progress Action Fund released an ad highlighting some of Thompson's statements, which include calling for the arrest of parents of queer children and characterizing LGBTQ+ marriage as "Satan's wicked plans."
Calvert's campaign did not respond to a request for comment on his relationship with the pastor and how it may call into question the authenticity of his newfound positions on LGBTQ+ and other issues.
LGBTQ+ matters aside, Calvert's attempted rebrand also included reassurances that he believes President Joe Biden was the rightful winner of the 2020 Presidential Election – but his association with Thompson may compromise that effort, too.
The pastor claims membership in the Three Percenters, a domestic terrorist anti-government militia group, which helped to plan the storming of the Capitol last year. Two of his congregants were indicted by the Justice Department over their participation in the deadly riot.
Thompson said charges against the men should be dropped. So did Calvert.
"Just look at [Calvert's] recorded interviews with Thompson," Rollins wrote in his statement to The Blade. "He's willing to fully embrace Q-Anon conspiracy theories about the Capitol attack. That's why Calvert called for dropping charges against the Capitol rioters, voted against certifying the election, and voted against an independent commission to investigate the attack. After that, he sought and received Trump's endorsement and said the FBI is 'infiltrated' by 'rot' just weeks ago. This is not a moderate."
It would be "poetic justice" for Rollins to defeat Calvert, and not just because Rollins is openly gay, Jacobson said. The Democratic candidate is "fantastic on policy," he said, a prosecutor who tried several January 6 insurrectionists.
Rollins' campaign has focused on fighting back against government corruption, partisan rhetoric, extremism, and conspiracy theories. "I think [voters] really appreciate the contrast of somebody who has worked in law enforcement, has gone after corruption, who's going to take it to somebody who is really about keeping himself in power and enriching himself more than serving the rest of us," Rollins previously told The Blade.
A close race
The latest publicly available poll has Rollins up by one point, Jacobson told The Blade. The candidate secured 46-7% of the vote during the primary election in June, which is a good sign since Democratic turnout is typically lower during primaries than during general elections, he said.
The addition of Palm Springs to the 41st Congressional District also bodes well, Jacobson said. The liberal enclave elected a city council that is entirely LGBTQ+, he said, and it's a young district populated by residents who are not interested in hate or extremism. Many of these voters, Jacobson hopes, will be motivated to go to the polls by the revelations about Calvert's proximity to a domestic terrorist and raging anti-LGBTQ+ individual.
According to an article in The Los Angeles Times, the newly drawn districts caused Calvert to lose Republican strongholds such as Temecula and Murrieta, while Riverside County has trended Democratic in recent years as Los Angeles residents have moved to the area to escape sky-high housing costs.
The LA Times notes, however, that Calvert is advantaged by his incumbency, his endorsement by former president Trump, and his fundraising – at least, as of May 18 reports to the Federal Election Commission.
Antonio Villaraigosa Leadership Award to San Diego's Mayor Gloria
The award is presented to a mayor who has exhibited an outstanding commitment to bringing diverse communities together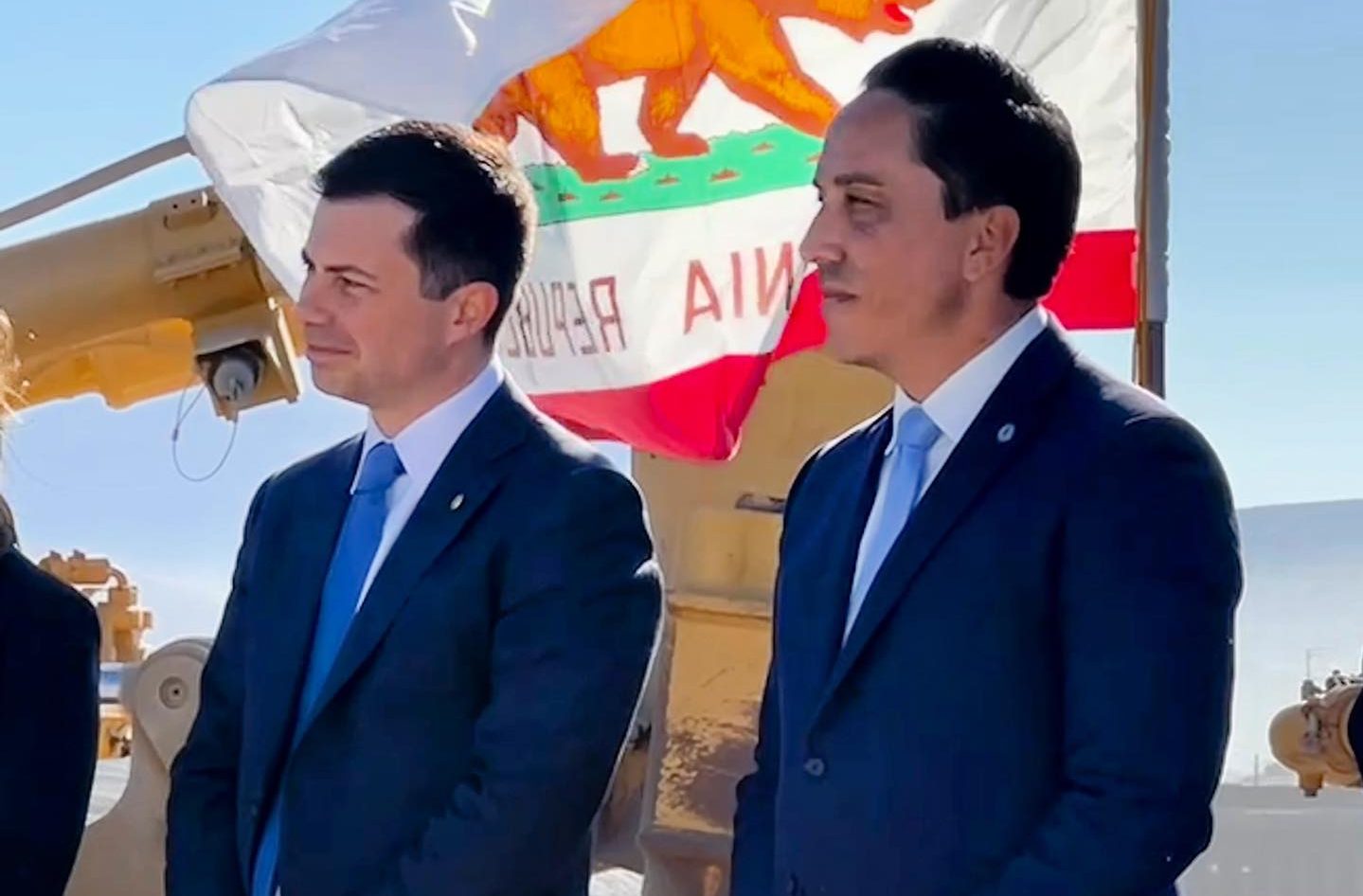 WASHINGTON — On January 18th Mayor Todd Gloria of San Diego will be presented with the Antonio Villaraigosa Leadership Award at the 37th Tribute to Mayors Signature Event. 
The Tribute to Mayors is an annual event put on by the Latino Leaders Network, which was founded by former Clinton administration Assistant to the President and Director of Intergovernmental Affairs at the White House, Mickey Ibarra, as a unique platform for prominent Latino leaders to share their personal stories of overcoming obstacles to achieve success. 
The Antonio Villaraigosa Leadership Award is presented to a mayor from a city with a significant Latino population who has exhibited an outstanding commitment to bringing diverse communities together.
Antonio Ramón Villaraigosa served as the 41st Mayor of Los Angeles from 2005 to 2013. Before becoming mayor, he was a member of the California State Assembly (1994–2000), where he served as the Democratic Majority Leader (1996–98), and the Speaker of the California State Assembly (1998–2000).
Gloria began his career at San Diego County's Health and Human Services Agency. He then went on to serve as District Director for United States Congresswoman Susan A. Davis. In 2008, Gloria was elected to the San Diego City Council. In 2016, he ran and was elected to the California State Assembly to represent the 78th Assembly District.
While serving in the Assembly Gloria went on to become the Assistant Majority Whip and eventually Majority Whip. Then in 2020 he was elected Mayor of San Diego, making history across a spectrum of significant firsts as in addition to being the first openly gay person to lead the city, Gloria, "the son of a hotel maid and a gardener"  became the first person of color to occupy the Mayor's chair. He is a third-generation San Diegan of Filipino, Native American, Puerto Rican, and Dutch descent.
In a coronavirus pandemic affected zoom-style virtual inauguration ceremony, presided over by the President pro Tempore of the California State Senate Toni Gayle Atkins, Gloria was sworn in as the 37th mayor of the City of San Diego on Thursday, December 10, 2020 before the San Diego City Council.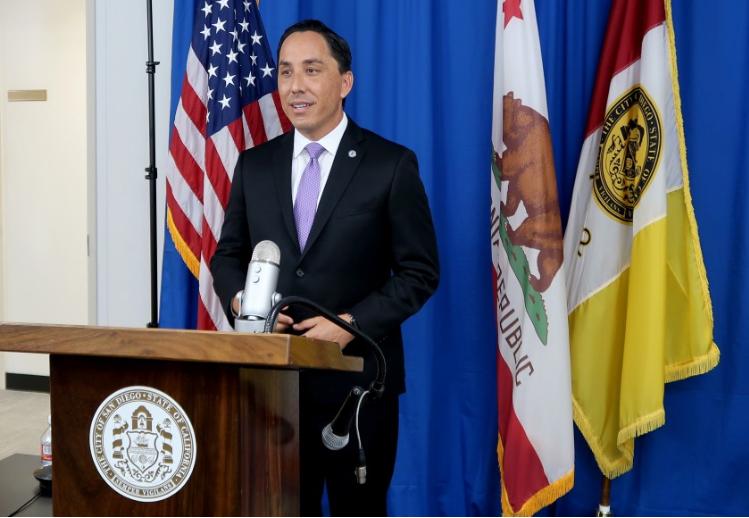 "Getting an award in Mayor Villaraigosa's name is really meaningful to me," Gloria told the Blade. "I was the nerdy kid who would watch C-SPAN and read the newspaper when I was young. I was very aware of Mayor Villaraigosa and his service leading his city that is just a few hundred miles north from where I grew up here in San Diego. There is a saying that if you haven't seen it you can't be it. The fact that I had this charismatic and energetic leader of a city not too far away meant that I could identify with him. He and others like him created that opportunity for me to see what I was interested in trying to become in terms of a public servant, and so it feels in someway poetic to receive this award."
Receiving an award that celebrates diversity and inclusion is particularly poignant for the Mayor, as he feels that while San Diego has an incredibly diverse population, inclusion in its political sphere is only just starting to turn a corner for the better. 
"I hold a sanction to being the first person of color elected mayor of my city," said Gloria. "I was elected in 2020 I think that's somewhat remarkable when you consider that San Diego is a very diverse city we are a border city we literally lie on the US Mexican border. We are on the pacific rim, and yet no one has broken this barrier until I was given the opportunity to do so just two years ago."
Much as he was inspired by LA's Mayor Villaraigosa in his youth, Gloria hopes that that he can serve as an inspiration to the next generation of diverse leaders. 
"People like myself who are given this opportunity have to stay strong. you have to remember you are not there on your own behalf. You are there on behalf of a whole community. Some may look up to me the way I looked up to Mayor Villaraigosa if I am able to show people what a person of color can do leading the 8th largest city in the country. It is a challenge, but it is also an opportunity. My friend and mentor, Vice President Harris, always says that you may be the first to do some thing, but you should not be the last. That is my goal."
"I love San Diego," said Gloria. "I was born and raised here. I am a third generation San Diegan. I love this town, and I was taught that it was my responsibility to leave it better than I found it, and so I've chosen to spend my entire career serving this community in the county of San Diego, as congressional aide as a council member, as a state legislator, and, now, as a mayor."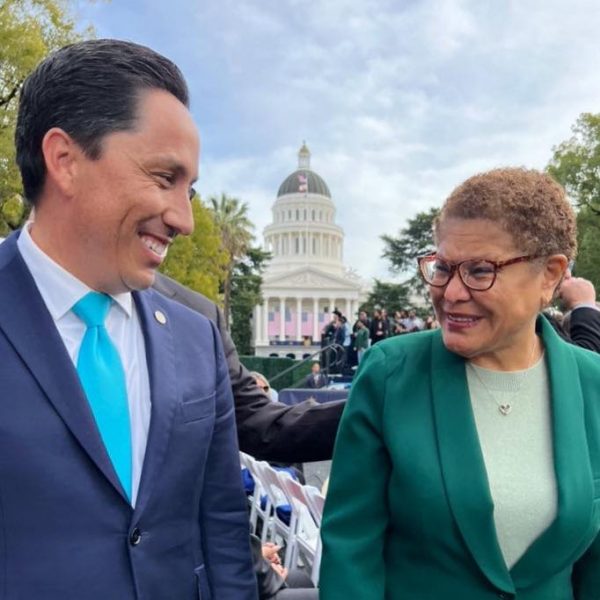 The lesson of leaving something behind better than you found it comes from the teachings of Gloria's parents he tells the Blade.
"My parents were blue-collar folks," recalled the Mayor. "When I was growing up, my mom was a hotel maid and my dad was a landscaper. These two hard-working, modest people didn't have generational wealth or the financial ease to help us. They just had good humble values that they tried to instill in me and my brother."
Gloria recounted a story from his childhood where his parents' moral compass inadvertently lead him to his political career.
"Growing up, we often didn't have a car. We had to borrow other people's cars. Obviously, we didn't have enough money, and I can remember vividly having to wash those cars and fill them with gas and having to get the buckets and sponges and soap and water. That all has expense attached to it, and so I said, 'If we are borrowing cars because we don't have money, then why are we spending money on washing them and filling the tanks up with gas?' The answer that my parents gave us was, 'This is what we have to do. We are borrowing these cars and we can't return them dirty or with an empty tank.' This left an impression on me. I don't think my parents intended it this way, but it really was this admonition to get into public service.'
"Some people have to wake up every day and punch a time clock. I just have to wake up and make the city a better place. I think that's a wonderful mission and I feel grateful for this opportunity. That is why I do this work."