September 18, 2019 at 4:22 pm PDT | by Karen Ocamb
Ed Buck arrested, charged with operating a drug house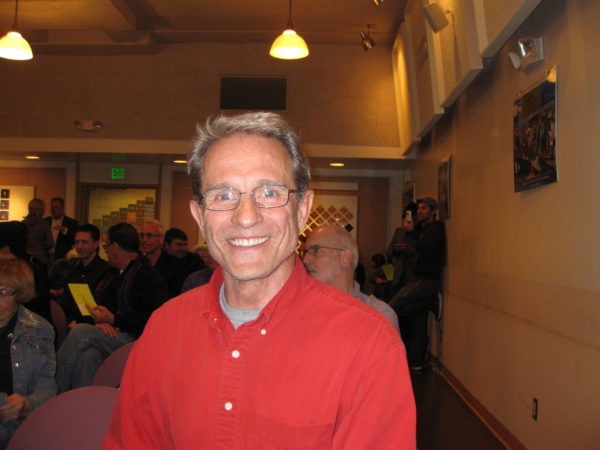 "Y'all I'm a bit overwhelmed right now. This has been two years of my life fighting for this man to be arrested," Black community activist Jasmyne Cannick tweeted late Tuesday night, Sept. 17 after learning that gay West Hollywood resident Ed Buck had been arrested by Los Angeles County Sheriff's deputies, charged with "operating a drug house and providing methamphetamine to a 37-year-old man who suffered an overdose last week," according a press release from the LA County District Attorney's office.
Cannick, attorney Hussain Turk, and several other community activists felt elated and vindicated. Buck, a white, former Democratic donor had escaped arrest after the LA County Coroner ruled the deaths of Gemmel Moore, 26, and Timothy Dean, 55, were accidental meth overdoses in Buck's apartment on Laurel Avenue, Moore in July 2017 and Dean last January.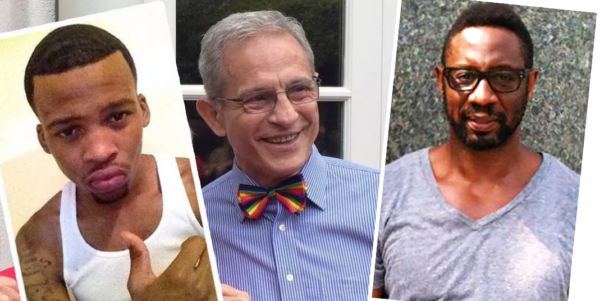 Gemmel Moore, Ed Buck, Timothy Dean (photo via Justice4Gemmel)
In the past two years and 53 days, "numerous other Black gay men have stepped forward to share their stories that painted the picture of a racist, sick and sadistic man who preys on Black men," Cannick tweeted. "And not just any Black man–vulnerable Black men who he uses his money to lure to his apartment. Gemmel Moore warned us. His journal told the sad story of how Ed Buck first gave him meth and got him addicted to meth."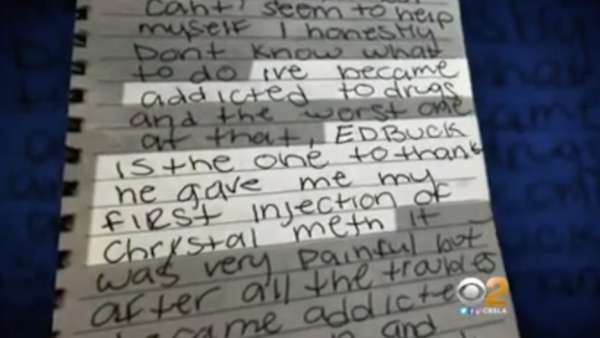 But while detectives and the DA had Moore's journal and other Black men may have come forward and talked with Cannick or the media, they apparently would not go on the record with either detectives investigating the deaths or with the DA's office that offered limited immunity for possible victims. That was a major stumbling block: the DA could offer immunity from drug use or prostitution, but not from any other alleged crimes, on outstanding warrants or parole violations. And without first person, on the record eyewitness victim accounts and hard evidence, Lacey said there was insufficient hard evidence beyond a reasonable doubt to win her case and she declined to prosecute.
That dramatically changed when a 37-year old man, as yet unidentified, suffered an overdose in Buck's apartment on Sept. 11—and survived. Lacey has been under tremendous political pressure since her decision, as well as a recent ruling by District Court Judge to allow Moore's mother LaTisha Nixon to again amend her federal wrongful death lawsuit against Lacey and Assistant DA and Buck. Lacey seemed almost eager to move forward.
"I remain deeply concerned for the safety of people whose life circumstances may make them more vulnerable to criminal predators," Lacey said in a press release. "With this new evidence, I authorized the filing of criminal charges against Ed Buck."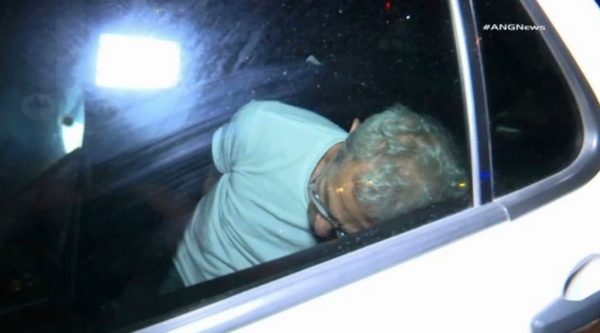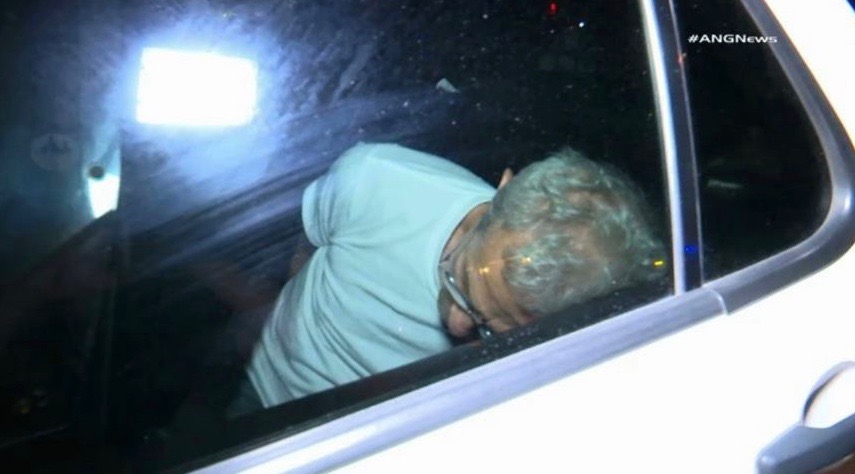 Ed Buck arrested (ANG News via KTLA)
Buck was charged with "one felony count each of battery causing serious injury, administering methamphetamine and maintaining a drug house," says the release.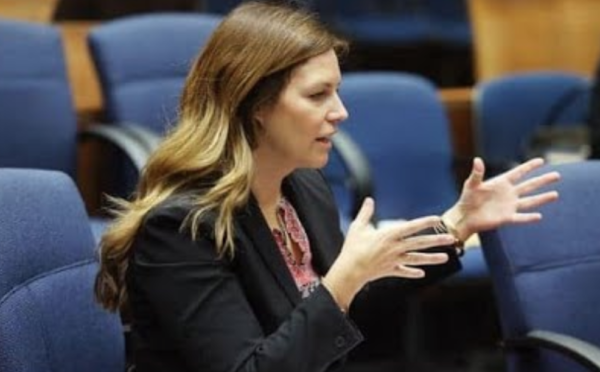 Deputy DA Cynthia Barnes (screen grab via You Tube)
Lacey assigned the case to Deputy DA Cynthia Barnes in Major Crimes Division who has been with the DA's office for more than 20 years. Perhaps her best known case is successfully prosecuting the hit and run murder case against Death Row Records mogul Suge Knight.
The first paragraph of the Statement of Facts in the 13 page Memorandum Concerning Bail Deviation a tone her prosecution might take (see filing below):
'Defendant Edward Buck is a violent, dangerous sexual predator. He mainly preys on men made vulnerable by addiction and homelessness. Using the bait of narcotics, money. And shelter, the defendant lures these vulnerable victims to his home. From his home, in a position of power, Buck manipulates his victims into participating in his sexual fetishes. These fetishes include supplying and personally administrating dangerously large doses of narcotics to his victims. Bucks aggressive and malevolent behavior led to the death of two men in Buck's apartment, Gemmel Moore and Timothy Dean. Not deterred by the senseless deaths of Moore and Dean, the defendant nearly killed a third victim last week. The defendant's predatory acts and conscious disregard for life must be stopped."
In the document, Barnes argues for a $4 million bail. But the "bail deviation" is also of interest. "Order to place a hold on the release of the defendant from custody until the court is satisfied that no portion of the proffered bail was feloniously obtained, pursuant to California Penal Code 1275.1." And how long might it take to determine that? She even included a "[Proposed] order" for a Superior Court judge to sign addressed to the Sheriff's Department "or any other law enforcement agency having custody of Defendant-prisoner, Edward Buck,"  prohibiting the acceptance of proferred bail without a prior hearing.
The latest case is still under investigation but if Buck is convicted as charged, he faces a possible maximum sentence of five years and eight months in state prison.
Numerous media outlets have tried to reach Buck's attorney Seymour Amster , to no avail. Previously, he has said that Buck is innocent of all allegations in the Moore and Dean cases.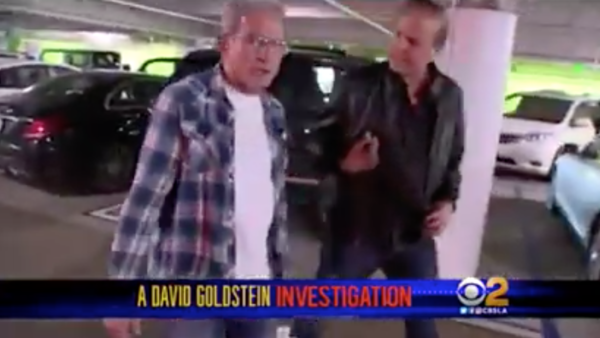 CBS2's David Goldstein confronting Ed Buck (screen grab via You Tube)
For Cannick, Moore's mother, Justice4Gemmel, and many members of the Black and LGBTQ communities, Buck's flagrant enjoyment of his freedom to pursue his cravings without consequence has been aggravating. CBS2 investigative reporter David Goldstein, for instance, caught Buck and a young Black man going to a 7-Eleven and the Beverly Center in a famous Feb. 2019 confrontation after Dean's death. Buck refused to answer questions and the young man told Goldstein he was aware of who Buck was.
Charging Buck with operating a drug den is somewhat curious. Just as most of the community has been aware that Buck has continued his practice of seeing Black men in his rent controlled apartment, so too have the Sheriff's deputies known that there are drugs and drug paraphilia there. In fact, the Los Angeles Blade specifically asked L.A. County Sheriff's Lt. Derrick Alfred about it after Dean's death since the Coroner's report in Moore's case noted "24 syringes with brown residue, five glass pipes with white residue and burn marks, a plastic straw with possible white residue, clear plastic bags with white powdery residue and a clear plastic bag with a 'piece of crystal-like substance,'" according to the LA Times.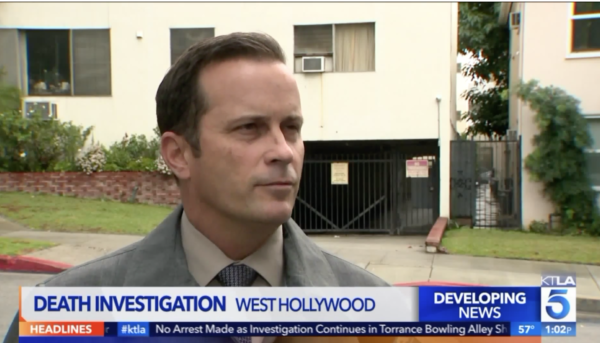 Alfred wouldn't comment until the toxicology report came back after Dean's autopsy. But he suggested that neighbors might want to contact West Hollywood's Public Safety department if they were concerned about suspicious drug use and visitors to Buck's apartment at odd hours. They might be able to use "nuisance laws," sometimes known as "broken windows" laws, to force him to leave his apartment. Apparently, he didn't offer that advice to the neighbors directly.
There are a number of remaining questions such as whatever happened to the young black man who was spotted by a neighbor walking her dog last January before she saw an older man, presumably Dean, go into Buck's apartment. He was not there when paramedics or deputies arrived.
And what will become of the charges that racism resulted in the original bungled investigations? "If that incident had occurred in my home, the police would have kicked down my door, guns drawn and had me in handcuffs. There's no doubt about it. That's how it goes," Jeffrey King, the Black executive director of In The Meantime Men told the Los Angeles Blade after Moore's death.
"That's part of the bigger issue here. That guy [Buck] was treated like a respectable citizen. But a drug-related accident occurred in a man's house. He should have been taken down to the station and questioned, at minimum. This is a matter of race on a minimum level. The value of this kid's life is not the same as a prominent person's child—he would have been handled different. The police would have been relentless; the DA would have been relentless; the whole system would have been relentless," King said.
Will Deputy DA Barnes consider racism an element of the crime or will she leave it up to the federal court to decide?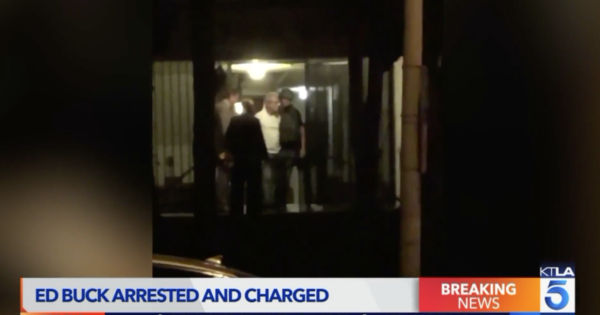 For now, Cannick, Nixon and the whole team who worked so hard to see Ed Buck in handcuffs brought them all to tears. "Being able to call Gemmel's mother and Timothy's sister and tell them that Ed Buck had been arrested was such a great feeling," Cannick tweeted. "Finally! To share some good news. We're not there yet but we're getting there."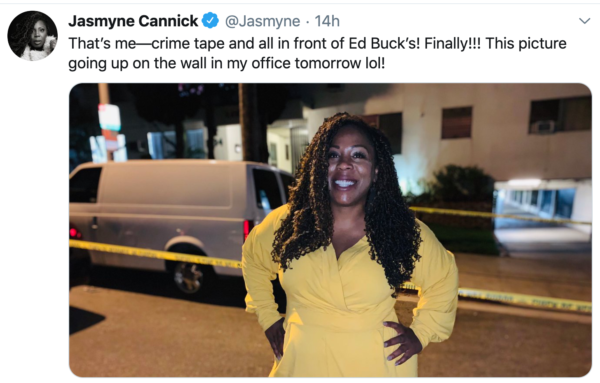 Buck Court Docs