December 1, 2019 at 7:35 pm PST | by Karen Ocamb
RaiseAChild helps build loving LGBTQ families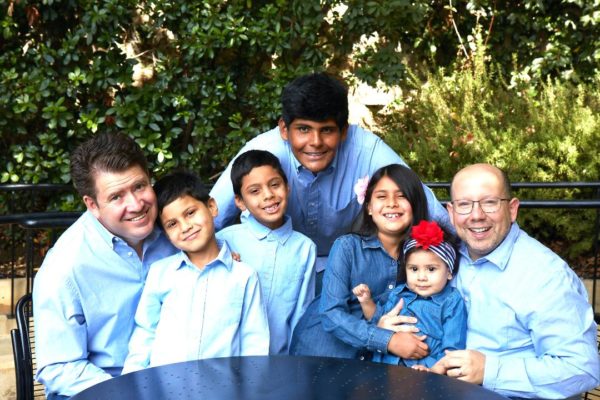 Despite the dramatic promises proffered by reality TV star Donald J. Trump during his presidential campaign and the Republican convention, "LGBTQ progress is being reversed in plain sight" for more than 11 million LGBTQ American citizens during his administration, ProPublica pointed out in a Nov. 22 report.
Among the rights being rolled back is federal support for same-sex couples and LGBTQ individuals building a family through foster care and adoption.
"Child welfare providers will never be forced to choose between their faith and serving those in need — not on our watch," evangelical-centered Vice President Mike Pence said in a speech at the Department of Health and Human Services on Nov. 1, the first day of National Adoption Month.
HHS announced "a new proposed rule that would allow adoption and foster care agencies funded by the department to turn away would-be care providers who are LGBTQ," ProPublica noted, dropping enforcement of and rolling back regulations that prohibited discrimination based on sexual orientation or gender identity by any HHS grant recipients. Specifically, "the rule seemed to target child welfare programs — and same-sex couples are more likely to adopt or foster children." Additionally, HHS halted a plan to collect LGBTQ information about foster children, as well as foster and adoptive parents or guardians.
As of 2017, about 442,995 children were in foster care, disproportionally children of color.
That the Trump/Pence administration reversed the Obama administration's child-friendly rules based more on anti-LGBTQ hatred than sincere Christian belief may be extrapolated from a Nov. 19 nationwide Hill-HarrisX poll showing that 66% of Republican voters say child welfare providers should not be able to discriminate against LGBTQ parents by turning them away from fostering or adopting a child in need. Indeed, the poll indicated that 72% of voters overall say federally funded adoption and foster care agencies should not be permitted to deny service to LGBTQ prospective parents.
One consequence of the Trump/Pence action has been self-censure, with one prospective gay dad telling the Los Angeles Blade that he and his husband fear the humiliation of being turned away by an agency or having the heartbreak of a child taken away by the government.
That wouldn't happen in California, says Rich Valenza, founder and CEO of RaiseAChild, the Los Angeles-based national LGBTQ-oriented non-profit organization that grew out of the West Hollywood-based Pop Luck Club support group for gay dads.
"This is RaiseAChild's ninth year in business and every one of the nine years we get asked by LGBTQ people: Am I allowed to foster and adopt?" Valenza, father of two adopted children, tells the Los Angeles Blade, adding that California has a longstanding law prohibiting discrimination in LGBTQ adoptions.
"In this political climate, folks understandably are nervous," Valenza says. "But I don't believe there is a reason to be nervous, as far as LGBT people going through the process to foster and adopt and build families. Public opinion has been in our favor for many, many, many years."
Under President Obama, "if you're receiving federal funding as an agency, then you don't have the right to discriminate against taxpayers who are helping pay your bill," Valenza says. "But under this administration, they are allowing for what they call 'religious freedoms' — what I see as a very dangerous policy because it's not good for the kids. Each year we're adding more and more children to the foster system because of the opioid epidemic, because of families falling apart. And what we need is more good people to step up and to foster and adopt. We don't need to allow discrimination."
Indeed, governmental agencies responsible for child welfare, such as San Bernardino County and LA County's Department of Children and Family Services say, "some of their best families are LGBTQ-headed. They call them 'resource families.' It's a name that someone in Sacramento made up, meaning both foster and adoptive parents."
Not only do LGBTQ people create good families, they often foster and adopt more than one or two children.
"Many of our families are taking on more and more kids. And it's really a wonderful thing because I know that these kids are getting a very loving home and a nurturing home within our community," says Valenza.
"We, as a community, most of us, have experienced the disappointment or the rejection of our families in coming out," he says. "And when you talk about foster kids, there's a deep profound sense of rejection that they feel by their birth parents. I think that our community has a special empathy for that, a special understanding of that. And so, I think that's a reason why we make such great foster and adoptive parents."
Additionally, "people are looking to build families because they feel there's not much that they can do against what seems to be happening in this administration," Valenza. says. "But they do feel that they can control what's going on within their home and they want to make a difference. So we're finding a lot of people saying, 'This is something that I can do that's good to reverse the effects of all of the negatives.' And we're here to support those people because it's a wonderful, wonderful thing."
RaiseAChild is holding a Fostering & Adoption information event on Dec 4 from 6:30-8 p.m. at La Plaza de Cultura y Artes, 501 N. Main St. DTLA.
PHOTO: Oscar and Adam Kaiz-Vera with their five adopted children; with a foster child coming. (Photo courtesy RaiseAChild)