March 19, 2020 at 9:59 pm PDT | by Brody Levesque
City and County of Los Angeles issue 'Safer at Home' order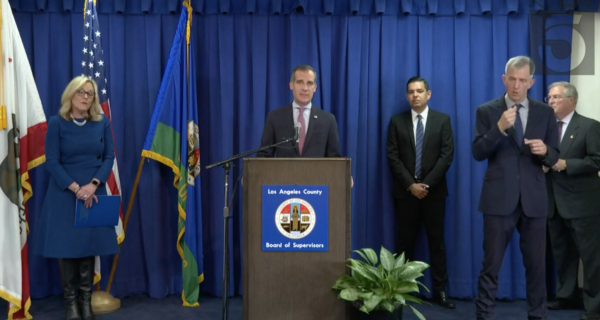 On Thursday night, Los Angeles Mayor Eric Garcetti, Kathryn Barger, Chair of the LA County Board of Supervisors, flanked by Dr. Barbara Ferrer, LA County Director of Public Health, and out Long Beach Mayor Robert Garcia and Pasadena Mayor Terry Tornek, announced a county-wide "Safer at Home" Order requiring residents to shelter at home and non-essential businesses to close to in response to the escalating cases of the COVID-19 virus pandemic.
The press conference was live-streamed on Facebook with media outlets calling in by phone.
The Order takes effect on Thursday at 11:59 p.m.
Shortly after the local "Safer at Home" Order was announced, Gov. Newsom issued a similar statewide Order that also goes into effect at midnight (go to COVID-19.ca.gov for more details).
The governor's order supersedes Garcetti's order in Los Angeles. "Home isolation is not my prefered choice, but it is a necessary one. This is not a permanent state, but a moment in time," he said. "The stay at home order is in place until further notice."
LA's order will be revisited on April 19.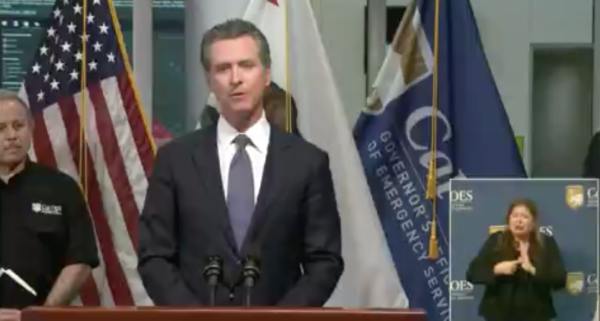 The LA Order follows an emergency order issued last week by Los Angeles County and City officials, which closed nightclubs, bars and restaurants, the latter to dine-in but not limiting take away and delivery Orders. The West Hollywood city council followed through with an emergency Order of its own, mirroring the other jurisdictions this past Monday.
In announcing this latest effort to protect residents from the spread of the COVID-19 virus, both Mayor Garcetti and Supervisor Barger emphasized that "this was not a request, but an Order."
Barger asked that residents avoid stockpiling goods, which she noted leads to panic, but endorsed also continuing to place take-away and delivery orders from restaurants. She also asked that acts of kindness such as checking on elderly friends and neighbors — offering to grocery shop or pick up other essential items.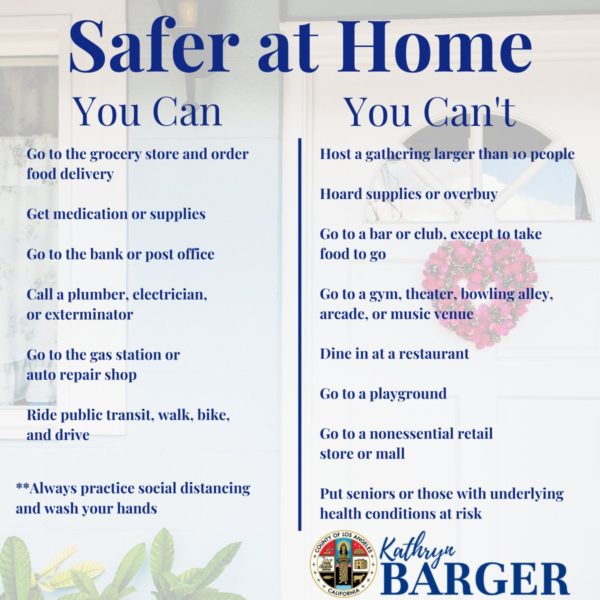 Garcetti thanked his city's residents, acknowledging that this was a stressful time for the city and county and that in many ways a pivotal moment noting that for the generation of young persons living through this pandemic, "it is the 9/11 moment for this generation," he said.
The Order is coming as the number of coronavirus cases in Los Angeles County continues to sharply increase.
On Thursday morning, a spokesperson for LA County Department of Public Health told the Los Angeles Blade that Los Angeles County now has 231 cases, including two deaths.
Long Beach Mayor Garcia said that his city would mirror the county wide efforts but added that the critical Ports of Long Beach and Los Angeles would continue to operate and would have full Long Beach City support. Garcia also took a moment to address young people asking that they, too, respect the "stay at home" Order and cautioning that they, too, are vulnerable. He added that they should take care of not only themselves but look out for their parents and grandparents.
In response to reporters' questions, Garcetti said that although there was not going to be a concerted effort by law enforcement in terms of enforcing the Order, common sense requests of business or individuals found in violation of the Order would be made. Barring that, Garcetti said that this is a legally enforceable Order.
For now, the Order is in effect till April 19, 2020 but could be extended depending on circumstances.
The basic outline of requirements is that residents of the County and City of Los Angeles are required to stay inside their homes unless they are engaged in certain "essential activities." On those occasions when you are out of your home for necessary tasks, stay at least six feet away from others.
The officials also said that under the Order gatherings of more than 10 persons is prohibited and this includes private homes. They stressed that social distancing will be absolutely necessary to arrest the spread of the virus
Officials are asking that residents and businesses please visit the LA County website for updated information.
Here's an excerpt from the extensive Fact Sheet for the Order:
"Safer At Home": What You Need to Know

WHAT YOU NEED TO KNOW

To further combat the spread of COVID-19, Mayor Eric Garcetti has issued a "Safer at Home" emergency order — ordering all residents of the City of Los Angeles to stay inside their residences, and immediately limit all movement outside of their homes beyond what is absolutely necessary to take care of essential needs.

THE BOTTOM LINE

Residents of the City of Los Angeles are required to stay inside their homes unless they are engaged in certain "essential activities." On those occasions when you are out of your home for necessary tasks, stay at least six feet away from others.

YOU CAN …

Go to the grocery store
Go to the pharmacy to pick up medications and other healthcare necessities
Go to medical appointments (check with your doctor or provider first)
Go to a restaurant for take-out, delivery or drive-thru
Care or support a friend or family member
Take a walk, ride your bike, hike, jog and be in nature for exercise — just keep at least six feet between you and others in the community.
Walk your pets and take them to the veterinarian if necessary
Help someone to get necessary supplies

YOU SHOULD NOT …

Go to work unless you are providing essential services as defined by this Order
Visit friends and family if there is no urgent need
Maintain less than 6 feet of distance from others when you go out, as possible
Travel to or from a job outside the City, unless to perform essential activities
Travel to or from a vacation home outside the City
Visit loved ones in the hospital, nursing home, skilled nursing facility, or other residential care facility

Is this order mandatory? What happens if I don't comply?

Yes. This is a legally enforceable order. It is against the law to violate this Order, and you may be punished by a fine or imprisonment for doing so.

Why is this happening now?

This Emergency Order is being issued now because it is urgent that we slow and stop the spread of COVID-19 in the City of Los Angeles.

The virus spreads easily, and this Order is intended to prevent the spread of this disease from overwhelming our healthcare system. The goal here is to "flatten the curve" to slow down the spread of the virus and ensure we have adequate health care resources for those who get sick with COVID-19 and those who need emergency medical care for accidents, heart attacks, strokes, and other routine medical conditions.

What is the difference between "safer at home" and "social distancing"?

Safer at home is a stricter form of social distancing. There are some differences. Safer at home means:

Stay home (stay unexposed)
Only go out for essential services
Stay six feet or more away from others
Don't gather in groups

The other concepts from social distancing will continue to apply when you are out shopping or walking or going to the doctor. These include washing hands, using hand sanitizer, disinfecting surfaces, not going out if sick, and staying at least six feet away from others at all times.

When does the Order go into effect and how long will it last?

The Order goes into effect immediately after midnight, starting at 11:59 p.m., Thursday, March 19, 2020. This Order shall be exempt, for a 24-hour period following the effective date above, to allow employees and business owners to access to their workplaces to gather belongings, so long as social distancing requirements are followed. Such workplaces shall remain closed to the public in accordance with this Order.

The Order is currently set to expire on April 19, 2020. The duration can be either shortened or extended by the Mayor. We want to be sure the Order is in place for only as long as necessary, and the Mayor, in coordination with the Los Angeles County Department of Public Health, will be closely monitoring the situation every day in order to determine what adjustments make sense.

What are essential activities and what businesses that will stay open?

The following essential activities will remain open:

City/County government services:

Police stations
Fire stations
Jails
Courts
Garbage/sanitation
Public Transportation
Water, power, and gas utilities
Public works construction, including construction of housing
Airport and Port operations

Gas service stations, auto supply, auto repair, bicycle repair shops and related facilities.
Health care providers, including:

Hospitals
Clinics
Dentists
Pharmacies
Pharmaceutical and biotechnology companies
Medical and scientific research
Laboratories
Healthcare suppliers
Home healthcare services providers
Veterinary care providers
Mental health providers
Physical therapists and chiropractors
Cannabis dispensaries, or any related and/or ancillary healthcare services
Manufacturers and suppliers
Healthcare operations does not include fitness and exercise gyms and similar facilities

Food providers, including:

Grocery stores
Water retailers
Certified farmers' markets
Farm and produce stands
Supermarkets
Convenience stores
Warehouse stores
Food banks
Convenience stores
Take-out from restaurants, drive-thru restaurants, and delivery from restaurants
Food cultivation, including farming, livestock, and fishing

Hardware stores and nurseries
Plumbers, electricians, exterminators, custodial/janitorial workers, handyman services, funeral home workers and morticians, moving services, HVAC installers, carpenters, landscapers, gardeners, property managers, private security personnel and other service providers who provide services to maintain the safety, sanitation, and essential operation to properties and other essential activities
Banks, credit unions, financial institutions and insurance companies.
Organizations and businesses that provide food, shelter, and social services, and other necessities of life for economically disadvantaged or otherwise needy individuals, (including gang prevention and intervention and domestic violence agencies).
Laundromats/laundry service
Newspapers, magazines, television, radio, podcasts and other media services
Educational institutions, including public and private K-12 schools, colleges, and universities — for purposes of facilitating distance learning or performing essential functions provided that social distancing of six-feet per person is maintained to the greatest extent possible

Can this Order be changed?

Yes. It was important to get this Order in place quickly given the spread of the virus in Southern California. However, it can and will likely be updated as conditions warrant. Follow updates  at https://corona-virus.la/ and sign up for NotifyLA at https://emergency.lacity.org/notifyla. We will also share new updates with the media.

What if I need to visit a health care provider?

If you are feeling sick, please first call your doctor, a nurse hotline, or an urgent care center.

Do not go to the emergency room of a hospital unless you have deemed that you have an actual emergency.

For purposes of this Order, individuals may leave their residence to work for or obtain services at any health care provider, including hospitals, clinics, dentists, pharmacies, pharmaceutical and biotechnology companies, medical and scientific research facilities, laboratories, healthcare suppliers, home healthcare services providers, veterinary care providers, mental health providers, physical therapists and chiropractors, cannabis dispensaries with medicinal permits, or any related and/or ancillary healthcare services, manufacturers and suppliers.  Health care providers do not include exercise gyms and similar facilities.

Can I still get deliveries from online stores?

Yes. The mail and other delivery services to your home can continue to function, as can food delivery services.

Can I still order the things I need online and have them delivered to my residence?

Yes. The Order identifies businesses that deliver goods or services directly to residences may continue to operate.

Can I use ride share, on demand service, or a taxi?

Only for essential travel. You should avoid being in a vehicle with many other people. In circumstances under which such transportation is needed,  you must practice social distancing, cover your mouth and nose if you cough or sneeze, use hand hand sanitizer or wash your hands before and after rides. Airlines, taxis, and other private transportation providers, like Uber and Lyft, providing transportation services necessary for essential activities and other purposes are expressly authorized in the "Safer at Home" Order.

Can I take public transportation (bus, subway, train)?

Only for essential travel. Public transit will continue to operate on a limited basis. When using public transit, maintain at least six feet of distance from others.

Can I still seek non-essential medical care like eye exams, teeth cleaning, elective procedures?

To the extent possible, all health care visits that are not cancelled or rescheduled should be done remotely.

Should I stock up on food, necessities like toilet paper, and on medicines?

No. You will continue to be able to purchase these items whenever you need them, as stores selling necessary items like grocery stores, pharmacies, and hardware stores will remain open. Please continue to buy normal quantities of these items on the same schedule you normally do. This will ensure that there is enough for everyone.

What should I do if I'm sick or a family member is sick?

If you are feeling sick, please first call your primary care doctor, a nurse hotline, or an urgent care center before going to the hospital. Check online resources like the CDC website if you are worried that you or a loved one has the COVID-19 virus. Do not go to the emergency room of a hospital unless you have deemed that you have an actual emergency. Call 911 or go to the emergency room if you are experiencing a medical emergency.