Newsom requests urgent federal aid; Rep. Adam Schiff holds tele-town hall tonight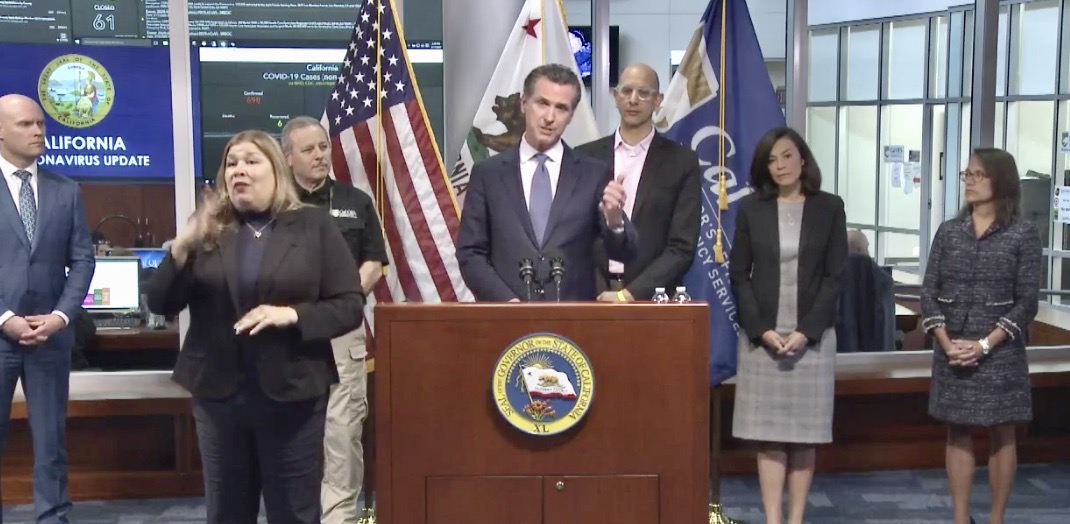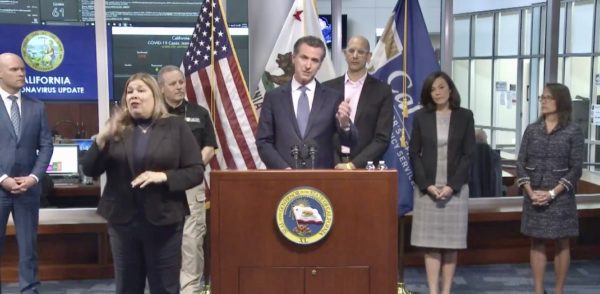 In a series of actions taken today – featuring a live broadcast on Twitter — California Gov. Gavin Newsom sent a letter outlining his requests for assistance from the federal government in dealing with the COVID-19 pandemic including a request to President Donald Trump asking him to order the immediate deployment of the USNS Mercy Hospital Ship to the Port of Los Angeles through Sept. 1, 2020, to help decompress the state's health care system which experts fear will be completely overwhelmed.
Newsom also sent a separate request letter today to Senate Majority Leader Mitch McConnell, Senate Democratic Leader Chuck Schumer, Speaker of the House Nancy Pelosi and House Republican Leader Kevin McCarthy requesting additional federal assistance to supplement California's efforts to prepare for a COVID-19 surge.
In his letter to Trump, Newsom wrote that, based on projected rates of new infections, nearly 56 percent of Californians – or approximately 25.5 million people — would be infected over the next eight-week period. According to state officials there were reported 126 new cases statewide in the last 24 hours, an increase of 21 percent; the case rate has been doubling every four days.
The governor's spokesperson clarified to the Bay Area News Group Thursday afternoon that the projection included zero mitigation efforts such as the Bay Area's shutdown of non-essential businesses to decrease contact between residents.
Especially worrisome to state and local officials are California's large homeless populations who are at extreme risk of exposure to the virus. Speaking with reporters Wednesday, Newsom noted, ""People experiencing homelessness are among the most vulnerable to the spread of COVID-19. California is deploying massive resources to get these vulnerable residents safely into shelter, removing regulatory barriers and securing trailers and hotels to provide immediate housing options for those most at risk. Helping these residents is critical to protecting public health, flattening the curve and slowing the spread of COVID-19."
Newsom directed the first allocation of the $500 million in emergency funding recently authorized by the Legislature for COVID-19- related activities, with $150 million for local emergency homelessness actions, according to a press statement from his office. To deploy this first funding allocation, the state will provide:
$100 million directly to local governments, for shelter support and emergency housing to address COVID-19 among the homeless population, and
$50 million to purchase travel trailers and lease rooms in hotels, motels, and other facilities in partnership with counties and cities to provide immediate isolation placements throughout the state for homeless individuals.
He also signed an executive order providing flexibility to local governments to spend their emergency homelessness funding on immediate solutions tailored to combating COVID-19 and its impacts on the homeless population.
On Tuesday Newsom told reporters that the state's more than 6 million California public school students would remain home likely until the end of the school year as California's Educators and school districts scrambled to find alternative means.
"This is a very sobering thing to say," Newsom said, as he warned that schools are unlikely to reopen in the coming weeks and will more than likely remain closed until the summer break. "I don't want to mislead you."
The Governor on Wednesday issued an executive order to waive, pending federal approval, this year's statewide testing for California's more than 6 million students in K-12 schools.
"This time is stressful enough for students, families and educators without the additional burden of annual testing," said Newsom. "This is an unprecedented time, and our main focus is on supporting the mental and socioemotional health of students, while continuing to provide educational opportunities such as distance learning."
Rep. Adam Schiff, who represents communities from Burbank to West Hollywood, is holding a tele-town hall on Thursday night.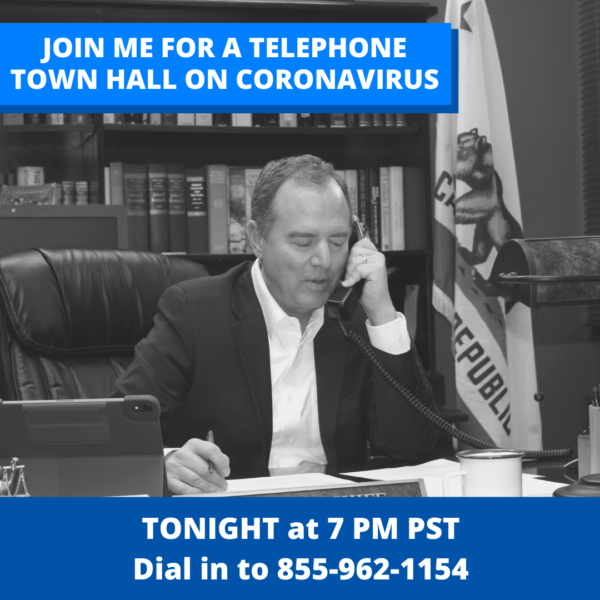 L.A. County on track to bring back mandatory indoor masking
If LA county stays in CDC designated High Community Level for 2 consecutive weeks officials would implement a universal indoor masking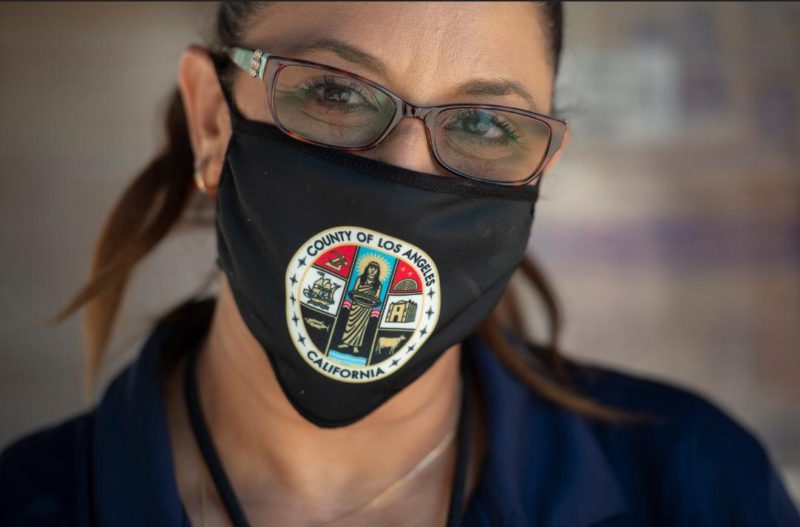 LOS ANGELES – The Los Angeles County Department of Public Health indicated that if the upward trend in coronavirus numbers continues, due to the increased circulation of the more infectious BA.4 and BA.5 Omicron subvariants coupled with increased community spread, officials may order a return to indoor masks.
On Friday, Public Health said that while the county currently remains at the CDC designated COVID-19 Medium Community Level. There are increasing concerns about the impact of new Omicron sub-variants on transmission and hospitalizations that could result in the County moving into the High Community Level designation sometime later this summer.
Barbara Ferrer, Director of LA County Public Health expressed concern and cautioned Angelenos as the region prepares for the July 4th holiday weekend.
"Since July 4 is right around the corner and many of us are looking forward to celebrating Independence Day with family and friends, it is important to remember that many of our loved ones may be older adults, or have serious underlying health conditions, or not yet been vaccinated and boosted," Ferrer said.
"Given the rising number of COVID cases and hospitalizations, and the increased circulation of the more infectious BA.4 and BA.5 subvariants, it is extra important to take steps that reduce the risk of transmission especially over the long holiday weekend; this helps us protect ourselves, our families, and our community," She continued adding, "With a little planning, you can have a great time celebrating while keeping each other safe. Please be sure to remind friends and family to stay home and skip the celebration if they feel sick or have tested positive. It is also a great idea for everyone to test themselves before getting together, ideally on the day of the gathering. It is always best to celebrate outdoors, and if people come indoors for part of the gathering, wearing a mask is advisable, particularly if there are individuals at high risk of severe illness should they become infected."
LA County Public Health pointed out in a statement that six of the seven Early Alert metrics Public Health are tracking continue to convey cause for Medium or High Concern. Moreover, in the past week, four Early Alert Signals moved upward in the level of concern: The case rate in the lowest income areas and the number of new outbreaks at Skilled Nursing Facilities per week, both moved up to High Concern.
The number of new outbreaks in settings for People Experiencing Homelessness is now at Medium Concern. And the number of worksite clusters increased, moving from Medium to High Concern for the first time since Public Health started tracking this metric in early March.
There was also an uptick in the percentage of Emergency Department Visits. The only measure indicating Low Concern is the number of sewer systems with a two-fold increase in viral load.
The first of two hospital metrics in the CDC Community Levels Framework is the seven-day total of new hospital admissions per 100,000, which rose this past week to 8.1 admissions per 100,000 people. This is a 56% increase compared to one month ago. The second hospital metric, the seven-day average for the proportion of staffed inpatient beds occupied by COVID-19 patients, also increased this past week to 4.2%.
If the county moves into the CDC designated High Community Level and remains there for two consecutive weeks, the county would implement a universal indoor masking requirement for everyone age 2 and older in LA County as a safety measure aligned with the CDC framework. The safety measure would remain in effect until the county returned to the CDC Medium Community Level designation, or lower, for two consecutive weeks.
CDC: 85% of gay & lesbian adults in U.S. are vaccinated against COVID
Data on COVID-19 vaccination among LGBTQ persons limited because of the lack of routine SOGI data collection at the national & state levels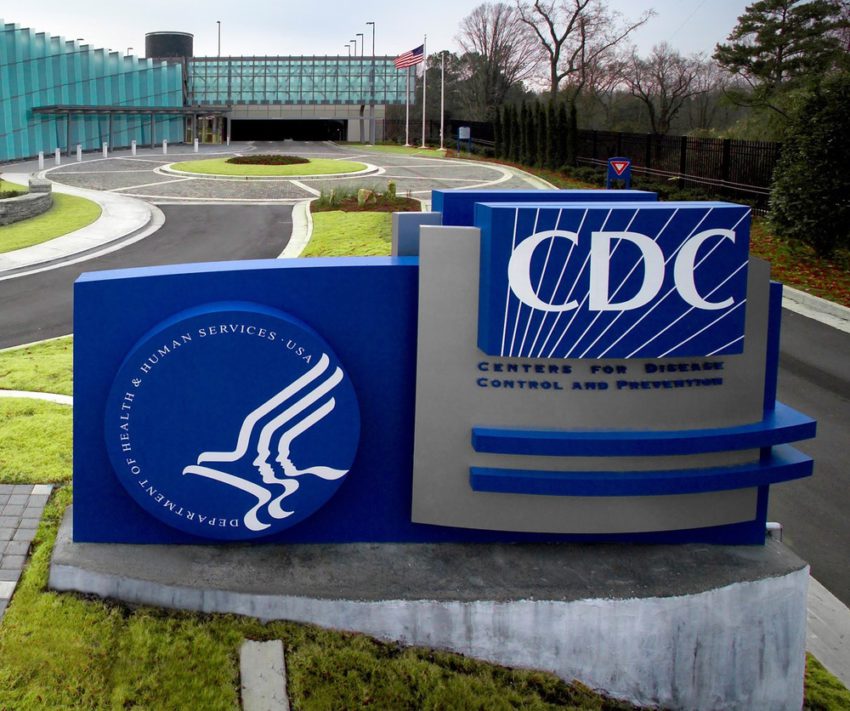 ATLANTA – A new study report released Friday by the Centers for Disease Control and Prevention, (CDC), found that found 85.4% of gay and lesbian Americans above age 18 had received at least one vaccine dose as of October 2021.
The study, conducted from August 29 until October 30, 2021, also found that by comparison, only 76.3% of heterosexuals reported receiving at least an initial dose by the same date.
The report noted that Lesbian, gay, bisexual, and transgender (LGBT) populations have higher prevalence of health conditions associated with severe COVID-19 illness compared with non-LGBT populations.
The potential for low vaccine confidence and coverage among LGBT populations is of concern because these persons historically experience challenges accessing, trusting, and receiving health care services
Data on COVID-19 vaccination among LGBT persons are limited, in part because of the lack of routine data collection on sexual orientation and gender identity at the national and state levels.
In March of 2021, the Blade reported the coronavirus (COVID-19) pandemic has revealed deep-seated inequities in health care for communities of color and amplifies social and economic factors that have contributed to those communities being hit hardest, and Mega-vaccination centers set up by California health officials and the Federal Emergency Management Agency have been addressing and tracking the issue- the LGBTQ communities are still not being tracked.
This lack of data collection has frustrated and angered California State Senator Scott Wiener who authored a bill last year that passed through the legislature and signed by Governor Gavin Newsom last Fall that mandates gathering sexual orientation and gender identity data related to the COVID testing in California.
"We're one year into the pandemic, and LGBTQ people continue to be erased in our public health response to COVID-19 — similar to our invisibility throughout history. No government is successfully tracking COVID-19 cases in the LGBTQ community, despite a law I wrote mandating that California do so," Weiner told the Blade. "And, we now know that LGBTQ people are more vulnerable to COVID-19. We've also just learned that vaccination demographic data doesn't include LGBTQ data. It simply shocking that in 2021, progressive health agencies continue to forget about our community," he added.
The CDC also noted that gay and lesbian adults were more likely to be concerned about COVID-19 and to believe in the safety and efficacy of vaccines.
"We know that the prevalence of certain health conditions associated with severe COVID-19 illness, such as cancer, smoking, and obesity, are higher in LGBT populations, and access to health care continues to be an issue for some people in the LGBT community," Dr. A.D. McNaghten, a member of the CDC's COVID-19 Emergency Response Team and corresponding author of the study, told ABC News. "We wanted to see if vaccination coverage among LGBT persons was the same as non-LGBT persons."
The CDC data recorded that bisexual and transgender adults had similar vaccination rates to heterosexual adults with 72.6% of bisexual adults fully vaccinated by the end of October, as were 71.4% of transgender adults. The numbers however for Black and Hispanic lesbian women had lower rates of vaccination at 57.9% and 72.6%, respectively, compared to Black and Hispanic heterosexual women at 75.6% and 80.5%, respectively.
Higher percentages of gay or lesbian adults and bisexual adults reported that they thought COVID-19 vaccine was very or somewhat important to protect oneself (90.8% and 86.8%, respectively) compared with heterosexual adults (80.4%), and higher percentages of adults who identified as transgender or nonbinary reported they thought COVID-19 vaccine was very or somewhat important to protect oneself (83.2%) compared with those who did not identify as transgender or nonbinary (80.7%).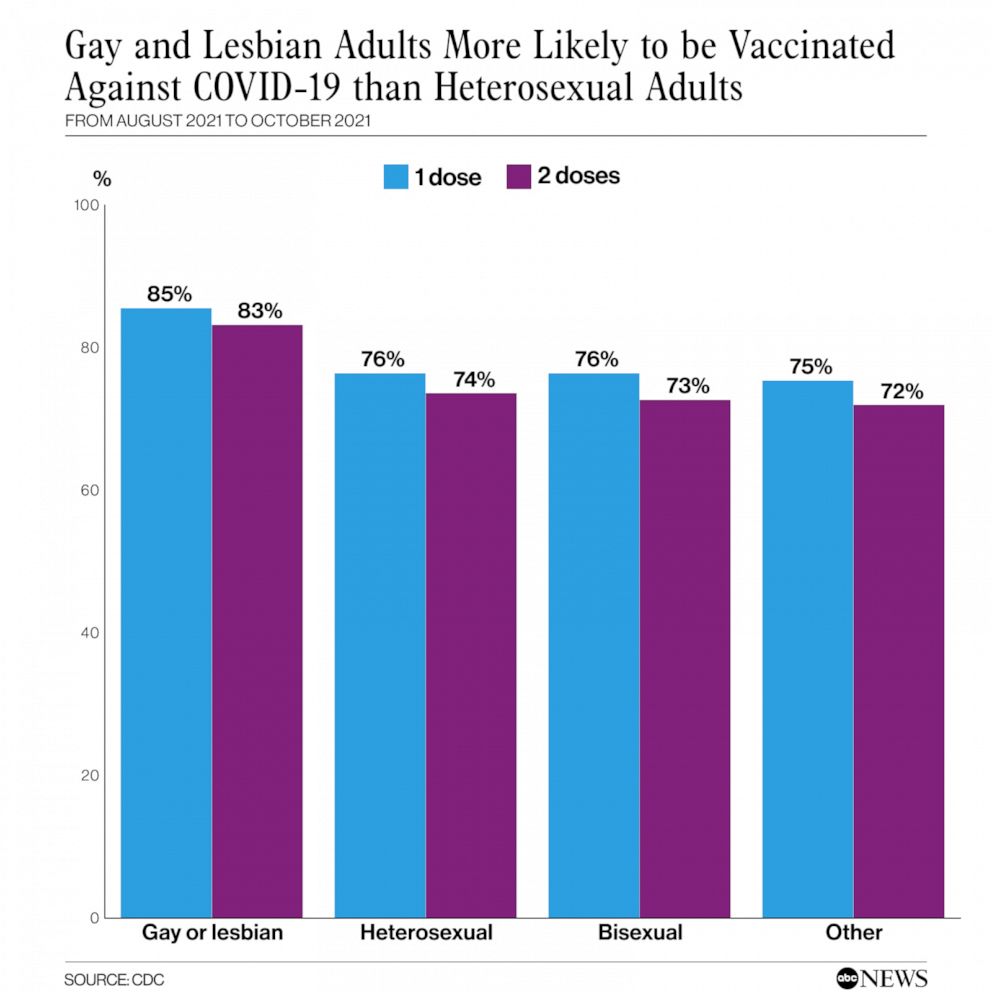 White House orders distribution of 400 million free N95 masks
Dr. Tom Inglesby, the administration's Covid testing coordinator; "We know that these masks provide better protection than cloth masks"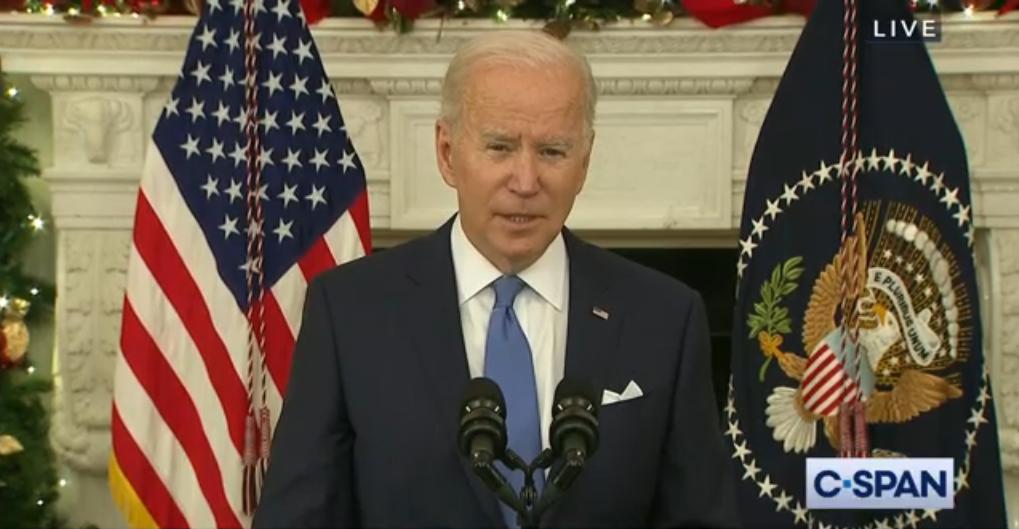 WASHINGTON – As the latest surge of the highly contagious and easily transmissible Omicron variant of the coronavirus continues to cause a rise in hospitalizations, especially among unvaccinated adults and children, the White House announced Wednesday it is making 400 million N95 masks available for free at thousands of locations across the nation.
The plan an admkistartion official said, is to start shipping the nonsurgical masks to pharmacies and community health centers to distribute this week, which will come from the Strategic National Stockpile.
In an interview with NBC News, Dr. Tom Inglesby, the administration's Covid testing coordinator, said, "We know that these masks provide better protection than cloth masks."
The N95 masks will be made available to everybody, and recipients will not be prioritized based on vulnerability to Covid, income or other criteria. Inglesby said the administration was "confident that people who want to access them will be able to access them," but it was not immediately clear how many masks a person could receive at one time.
On January 13, President Joe Biden had announced a plan to have the government distribute 1 billion rapid, at-home COVID-19 tests free to Americans, along with the N95 masks, as the administration works to fight the spiraling upward spike in coronavirus cases.
The White House website to order free at-home Covid tests went live Tuesday. The website says: "Every home in the U.S. is eligible to order 4 free at-home COVID-19 tests. The tests are completely free. Orders will usually ship in 7-12 days."
A White House official said Wednesday that the distribution of 400 million masks would be the largest deployment of personal protective equipment in U.S. history.
Inglesby told NBC News that the administration was "absolutely preparing for the possibility of additional variants in the future" and that people could expect the government to make N95 masks "more and more available."
Biden announces free masks, tests to fight omicron: