March 19, 2020 at 5:24 pm PDT | by Brody Levesque
Newsom requests urgent federal aid; Rep. Adam Schiff holds tele-town hall tonight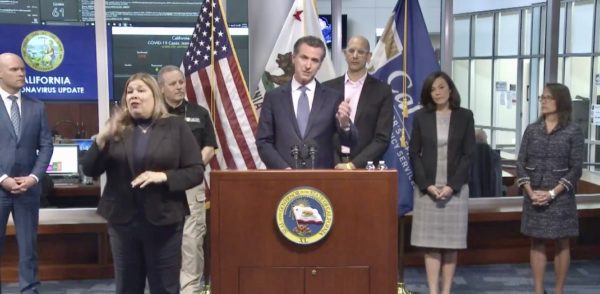 In a series of actions taken today – featuring a live broadcast on Twitter — California Gov. Gavin Newsom sent a letter outlining his requests for assistance from the federal government in dealing with the COVID-19 pandemic including a request to President Donald Trump asking him to order the immediate deployment of the USNS Mercy Hospital Ship to the Port of Los Angeles through Sept. 1, 2020, to help decompress the state's health care system which experts fear will be completely overwhelmed.
Newsom also sent a separate request letter today to Senate Majority Leader Mitch McConnell, Senate Democratic Leader Chuck Schumer, Speaker of the House Nancy Pelosi and House Republican Leader Kevin McCarthy requesting additional federal assistance to supplement California's efforts to prepare for a COVID-19 surge.
In his letter to Trump, Newsom wrote that, based on projected rates of new infections, nearly 56 percent of Californians – or approximately 25.5 million people — would be infected over the next eight-week period. According to state officials there were reported 126 new cases statewide in the last 24 hours, an increase of 21 percent; the case rate has been doubling every four days.
The governor's spokesperson clarified to the Bay Area News Group Thursday afternoon that the projection included zero mitigation efforts such as the Bay Area's shutdown of non-essential businesses to decrease contact between residents.
Especially worrisome to state and local officials are California's large homeless populations who are at extreme risk of exposure to the virus. Speaking with reporters Wednesday, Newsom noted, ""People experiencing homelessness are among the most vulnerable to the spread of COVID-19. California is deploying massive resources to get these vulnerable residents safely into shelter, removing regulatory barriers and securing trailers and hotels to provide immediate housing options for those most at risk. Helping these residents is critical to protecting public health, flattening the curve and slowing the spread of COVID-19."
Newsom directed the first allocation of the $500 million in emergency funding recently authorized by the Legislature for COVID-19- related activities, with $150 million for local emergency homelessness actions, according to a press statement from his office. To deploy this first funding allocation, the state will provide:
$100 million directly to local governments, for shelter support and emergency housing to address COVID-19 among the homeless population, and
$50 million to purchase travel trailers and lease rooms in hotels, motels, and other facilities in partnership with counties and cities to provide immediate isolation placements throughout the state for homeless individuals.
He also signed an executive order providing flexibility to local governments to spend their emergency homelessness funding on immediate solutions tailored to combating COVID-19 and its impacts on the homeless population.
On Tuesday Newsom told reporters that the state's more than 6 million California public school students would remain home likely until the end of the school year as California's Educators and school districts scrambled to find alternative means.
"This is a very sobering thing to say," Newsom said, as he warned that schools are unlikely to reopen in the coming weeks and will more than likely remain closed until the summer break. "I don't want to mislead you."
The Governor on Wednesday issued an executive order to waive, pending federal approval, this year's statewide testing for California's more than 6 million students in K-12 schools.
"This time is stressful enough for students, families and educators without the additional burden of annual testing," said Newsom. "This is an unprecedented time, and our main focus is on supporting the mental and socioemotional health of students, while continuing to provide educational opportunities such as distance learning."
Rep. Adam Schiff, who represents communities from Burbank to West Hollywood, is holding a tele-town hall on Thursday night.