Seeking truth in the war on the coronavirus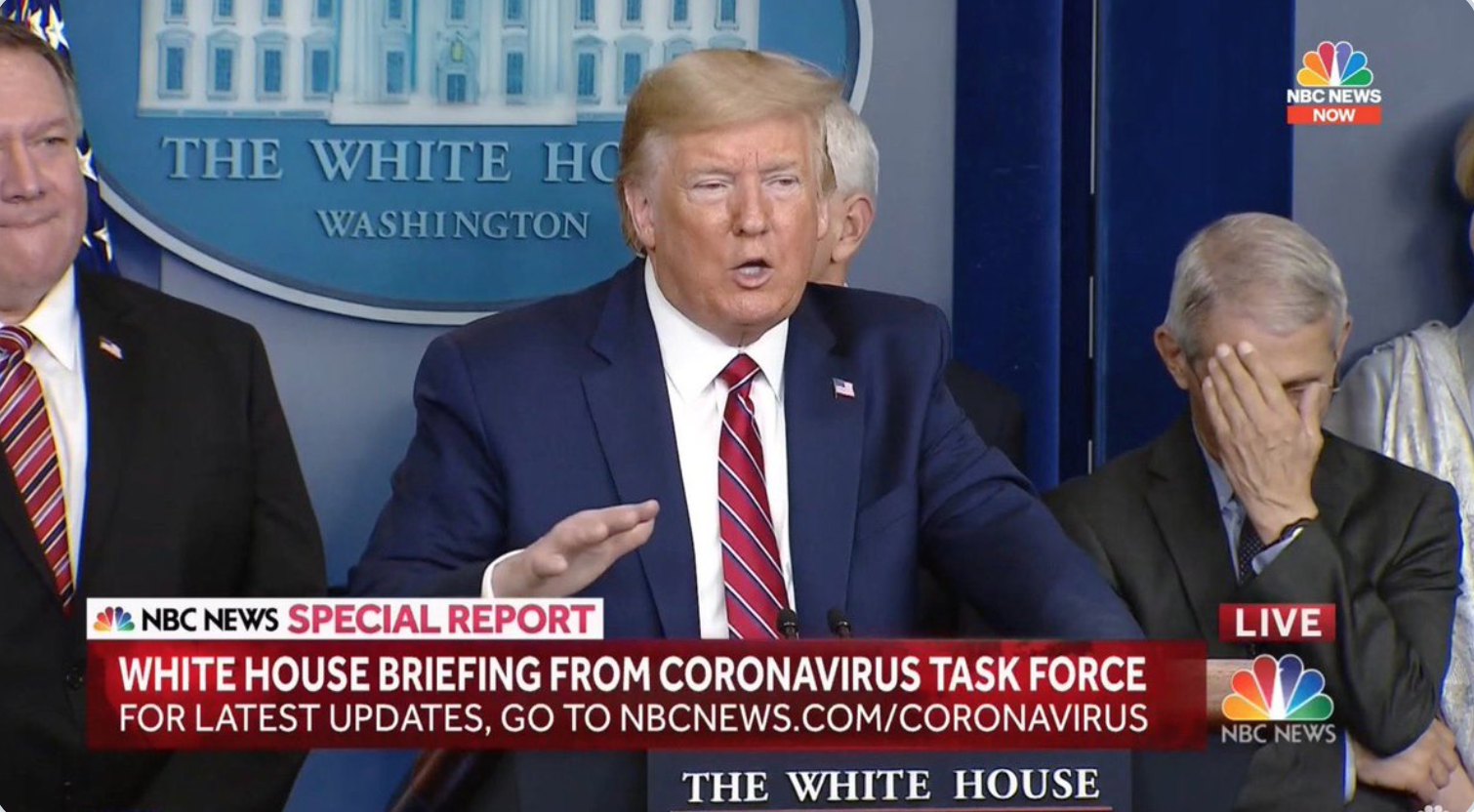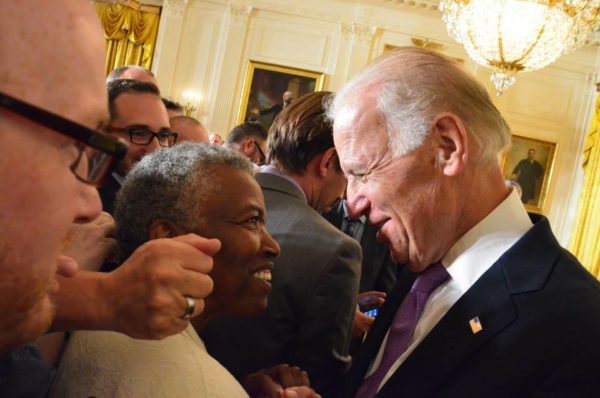 Jewel Thais-Williams said she'd call back. She was on the other line and had been inundated with calls asking how she was doing after eye surgery. Three hours later, the almost 81-year-old LGBTQ icon was pumped, angry, going on and on about conspiracy theories – how "The Eyes of Darkness" had predicted the coronavirus in 1981 and how Donald Trump was using the virus or COVID-19 to spread fear and hate for his own political gain, just like in "The 9th Wave," a book she read as a 12-year-old that still haunted her. The book is about political machinations that "frighten old people about having what they have now taken away that they vote for this guy."
And while one eye was patched from surgery that day, the other one was fixed on cable news as President Trump declared a state of emergency.
"How do we really know what's going on without having tests to let us know?" Jewel asked insistently. And without widespread testing to know if the virus is real and who's got it where and telling everyone to be afraid and shelter in place and not to have gatherings of more than 10 people, she added, "there are no more protests and law enforcement can just arrest people on the spot."
"This is happening to keep Trump in office," Jewel said flatly. "Follow the money. We could have had pop up clinics by now. We could have converted Mobile HIV Testing vans to do coronavirus testing. But instead, Trump meets with bankers and other money men. What's the alternative motive here?"
It was Tuesday night and former Vice President Joe Biden was cruising to victory in three more Democratic primary states. Jewel was watching that, too. She'd switched from Elizabeth Warren to Michael Bloomberg, then back to Warren but was now fully onboard with Biden.
"He's the same decent, honest guy who looked me in the eye when we were talking," she says, recalling their meeting at a White House Pride party. "Eyes are the window of the soul and that was the biggest thing between me and Joe – the dude is real. That's what I see."
The phone call ended agreeing to disagree about conspiracy theories. But the next day, March 18, Trump took to the White House podium and insisted that the virus came from China, so it is "the Chinese virus," a term he declared is "not racist at all."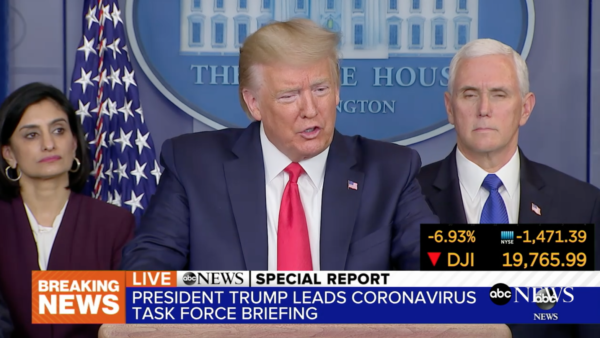 Trump – a man who used "bone spurs" as an excuse to avoid service during the Vietnam War – also declared himself a "wartime president" in this war on the coronavirus, saying he was invoking the Defense Production Act "in case we need it."
The Korean War-era law enable presidents "to take extraordinary action to force American industry to ramp up production of equipment needed for national security," according to Time.com.
Knowing Trump listens to right-wing conspiracy theorists,  it looks like Jewel Thais-Williams' network of sources may not have been that far off. The plot of "Eyes of the Darkness" involves a Chinese military lab that manufactures a deadly virus in Wuhan city. Snopes confirmed the book passage but debunked the prediction of the virus.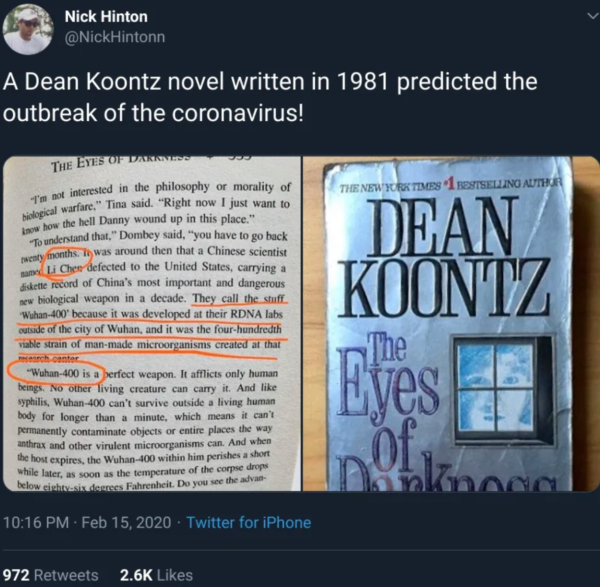 Eerily, however, this theory feels like it could hatch into something akin to the fabricated "weapons of mass destruction" fiction that had America launch a first "Shock and Awe" strike against a foreign country and start the war against Iraq. In fact, Axios reported March 21, that U.S.-China tensions hit a dangerous new high, worrying many.
Meanwhile, a website called "Stop AAPI Hate" has been launched in the Bay Area to document hate crimes against Asians Americans and Pacific Islanders, including a Los Angeles boy attacked at his middle school.  "We are currently providing support to a child who had to go to the emergency room after he was assaulted and accused by bullies of having the coronavirus, and so that tells us we may need to work with schools to address shunning and school bullying but we need to know how widespread it is," said Manjusha Kulkarni, executive director of A3PICON, told NBC/Bay Area.
The bottom line: with a president who consistently, boldly and unabashedly lies for his own self-aggrandizement, how is the American public supposed to believe anything Trump says – about anything, let alone a very real new virus that is claiming thousands of lives across the globe?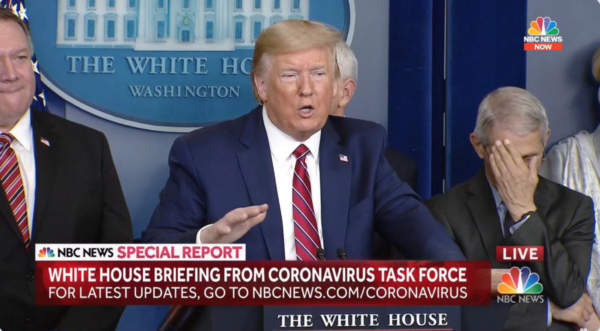 All the respected experts say "test, test, test" to find out where the virus is being spread. But the administration has failed on every front: containment is no longer applicable and mitigation is voluntary, though with Gov. Newsom's official Order to stay home, law enforcement will now be looking for violators, according to the LA County Emergency Operations – but what happens next is unclear.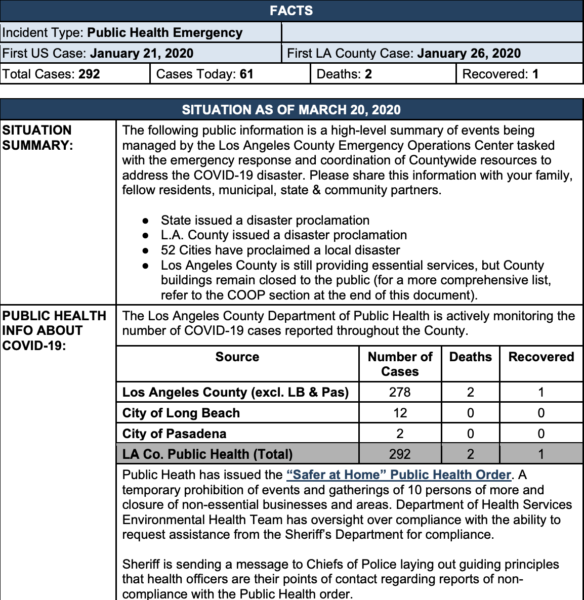 And yet, the American people themselves seem to be taking on the historic and mighty task bungled by the Trump administration, helping each other and helping non-profits help others, as well, such as volunteers showing up for Project Angel Food to prepare and deliver food to homebound people with life-threatening illnesses.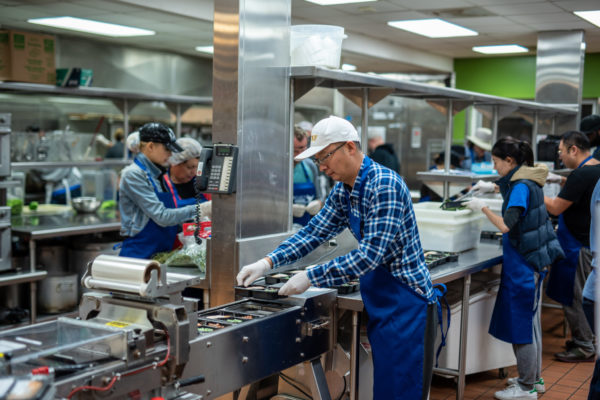 "Charity is often a vital first line of defense or the critical resource of last resort for families that struggle with food insecurity in America.  It is, however, inadequate to meet the daily needs of 40 million Americans who are food insecure," Abby Leibman CEO of MAZON: A Jewish Response to Hunger, tells the Los Angeles Blade.
"The Federal Government has the most crucial role in ensuring that people have access to adequate resources to feed themselves and their families through its nutrition safety net programs, particularly SNAP. Even at the best of times those resources are stretched thin and in this time of crisis, they are getting further stretched just as they become more vital.  The current Administration has done everything in its power to DECREASE access to these benefits, in a shameful response to people who have been struggling and those made newly food insecure by the pandemic," she says.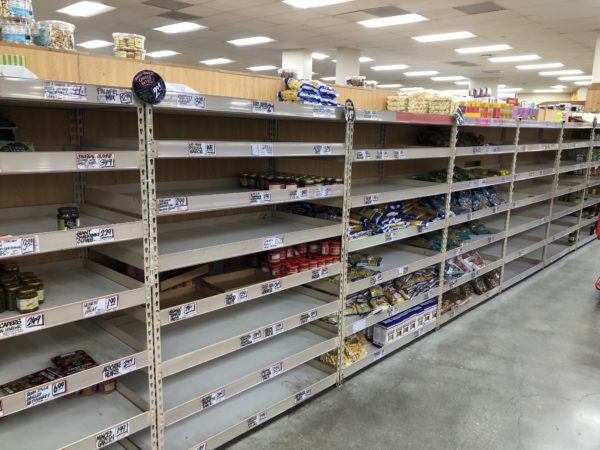 Empty grocery shelves (Photo by Karen Ocamb)
"Those who are more vulnerable, face even more barriers, particularly seniors, including LGBT seniors which is why MAZON funded a soon-to-be-released study with the Williams Institute to look into the matter of LGBT senior food insecurity," Liebman says.  "For them, issues of stigma, lack of family support, lack of access to traditional employment and its benefits, drive far too many into poverty as they age.  Our Federal Government can do better, it must do better."
Food and hunger are issues everywhere. Bamby Salcedo, founder and director of [email protected] Coalition, says she is still continuing the organization's lunch program, but limiting other services.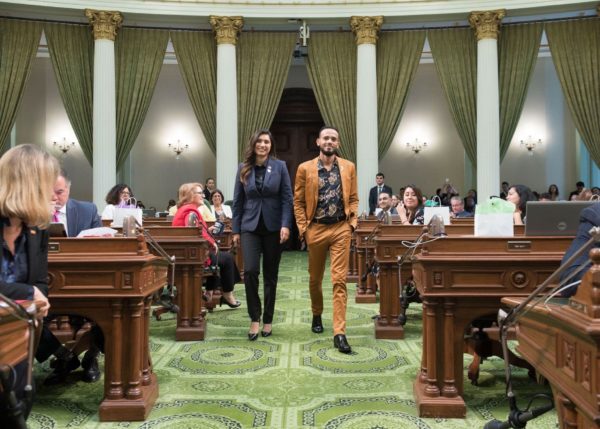 TruEvolution CEO Gabriel Maldonado being honored by Assemblymember Cervantes and the California LGBT Legislative Caucus last June in Sacramento. (Photo via Maldonado's Facebook page)
TruEvolution CEO Gabriel Maldonado says his organization has been hit hard.
"TruEvolution has canceled our all of our community and educational events for the next until April 15, 2020. We are going to re-evaluate any events taking place subsequently at that time. In addition, our strongest HIV testing partner, UC Riverside, has either postponed or canceled all campus events, including our HIV testing events," he tells the Los Angeles Blade.
"We are very much concerned about the impact that this will have on our organization's ability to provide services, and outreach to our clients," Maldonado says. "Many of our clients rely on our storefront services for food, housing, and support groups. We are suspending our drop-in hours and will be providing virtual or appointment-only services. Last night, we had a client contact us at 2:00 AM who lost his job and was sleeping in his car as of this week. Much of the paperwork must be done and completed in-person and we also need to meet with him to successful link him into emergency housing. Business must continue. Clients have the same issues before the pandemic, and both social and medical services are even more critical now than before."
Maldonado says the organization will be offering "walk-up services" during their support group hours and will be providing our clients with a hot meal, water, sanitizer, county resources and FAQs on COVID-19.
Still, confusion reigns.
"This is serious. We have an emergency," trusted Rep. Maxine Waters told MSNBC. "We have a real serious problem with testing. First of all, we have so many people who need testing who can't get testing."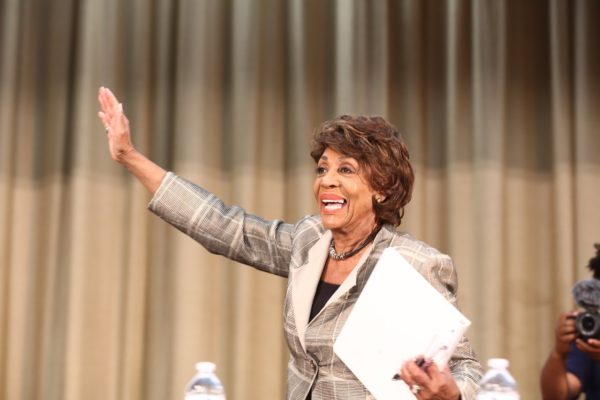 Waters, a political powerhouse and the first woman and first African-American Chair of the House Financial Services Committee, is a longtime LGBTQ ally, having been in Los Angeles and elected to Congress during the Second Wave of AIDS. The story she told MSNBC is akin to thousands of other stories of people or friends of people who have been sick or frightened and looking for help, found none. Her friend, at least, has powerful friends.
"I have a friend that I happened to call today," she told MSNBC on March 13, "and she had gone to UCLA after having real symptoms. They gave her a test for influenza and then told her she didn't have influenza. And she said, 'What about the coronavirus tests?' And they said they were not giving that test. She called a friend who has great influence and they told her to stay there, don't leave," Waters said.
"And this friend with great influence at UCLA forced them to give her the test. So, they gave her the test, but they couldn't give her the results in any short period of time. So, they sent her home," Waters continued.
"When I talked to her at home, she was in great pain, had terrific headaches, coughing and a fever. And she was waiting on the results from the test that they had been forced to give her at UCLA."
Waters paused. "I don't know what's happening. I've got to check back to see if she ever got the results of that test," she said. "But I do know this: she and her daughter are basically alone and I had to inquire about – did she have food in the house, or what was going on? She said someone was going to bring some food and leave it on the doorstep."
This, Waters says, "is a situation, I think, that is typical of what is happening in this country. Unfortunately, we were not prepared. The greatest country in the world was not prepared for this pandemic."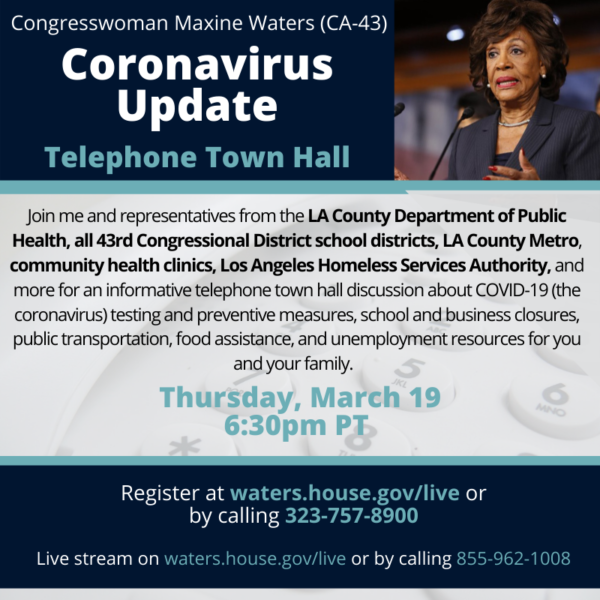 Not unexpectedly, having dealt directly with the Trump administration, Waters knows many people do not trust Trump.
"One of the problems that we have is that there's not a lot of trust from the average American in the president of the United States," she says. "Unfortunately, he has been documented to have lied so many times, to distort, to change the story."
But lack of credible leadership results in real harm to real people in real time – and that time is now.
"I am worried about people with low income and the minimum wages that are going to be stopped from work. They're not going to have jobs. They're going to be fired. The business is going to close down, and they don't have anywhere to go," Waters says. "So, we've got to make sure that for those who do have unemployment insurance, that we expand that and that is what is being looked at….We've got to make sure that we give additional support to Medicaid and that was being proposed….So, we've got a lot of work to do."
Another political powerhouse who is also a strong friend to the LGBTQ community is Rep. Adam Schiff, who represents Burbank to West Hollywood. As the leader of the House Impeachment committee, he has been getting very real death threats. Now he is facing another threat and is practicing the recommended "self-isolation" at home with his family after his lead investigator, counselor Daniel Goldman, recently tested positive for the coronavirus.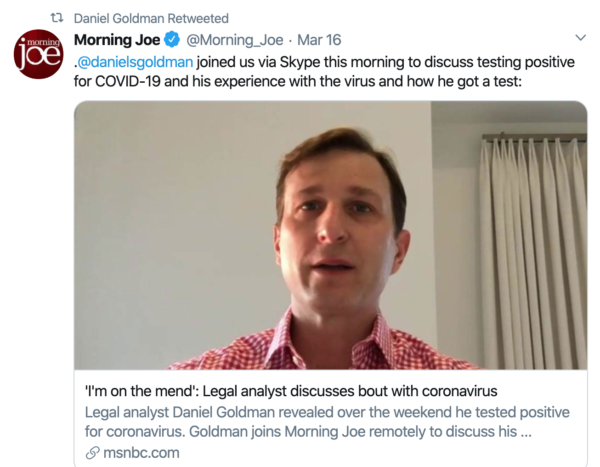 "I would be taking precautions anyway to limit my social interactions," Schiff tells the Los Angeles Blade in a phone interview. "First, we began canceling large events, and then we began canceling smaller events, doing constituent meetings by phone instead of in-person. I scaled way back on my travel plans, and I think we had to cancel all of my constituent meetings before the situation with Dan, but I'm taking some additional precautions," he says, adding that Goldman was likely infected after he left Schiff's office in early March. "But out of an abundance of caution, we're still being careful."
At a tele-townhall on March 19, Schiff said he completed his self-isolation and has been working on getting relief for freelancers in the entertainment industry, in particular. He spent most of the call discussing testing, financial relief for unemployed and small business owners, including the prospect of forgivable loans.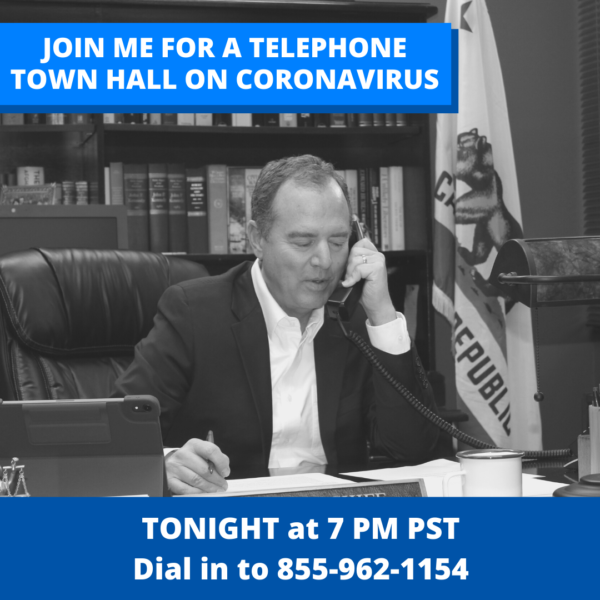 "We're going to be looking at what's necessary so that people who cannot make their rent payment or their mortgage payments or have some kind of suspension – and also to make sure that none of this effects people's credit in the long run because this is a pandemic that's effecting us all, no matter how good someone's planning may have been. We're all in this boat together." Schiff said.
"The main point in the stay home requirement is not so much because food is somehow limited or we need to ration but rather we want to make sure that people don't unnecessarily expose others to the virus. The whole point there – and this gets to the expression these days about 'flattening the curve' – if we can slow down the progress of the virus, it means that our hospitals will be able to deal with the intake, that they can get through the current shortages of protective gear, that they can get through the current lack of sufficient numbers of ventilators. If, on the other hand, we don't take these rather extraordinary steps, then we're going to have an explosion of cases, our healthcare system is going to be inundated, there won't be enough ventilators, for example, to go around, and there will be an unnecessary loss of life. And that's really the point of social distancing, the point of staying home."
Schiff will be holding another tele-townhall on March 26, details of which will be posted on his website and Facebook page.
As have many others, Schiff has noted the oddity of having Trump onstage with Vice President Mike Pence [who finally submitted to testing with his wife on March 21 after a staffer tested positive] clumped together with his coronavirus team for photos and television – and not exhibiting the social distancing of three-to-six feet they insist on for others.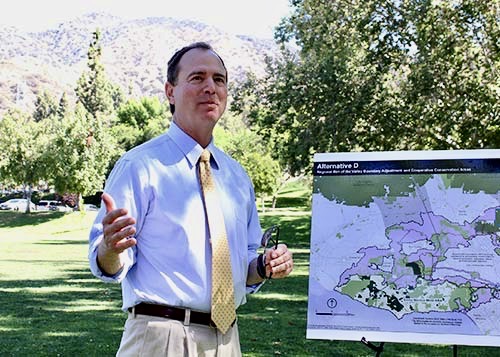 "It is incongruous to hear the president talk about social distancing while he's not social distancing. And people are standing around him and he's leaning over to whisper to Mike Pence," Schiff tells the Los Angeles Blade.
"There's kind of a conflicting message, especially with what we're saying. But it is certainly important to note that the degree that we are able to take precautions now and do sensible social distancing will significantly flatten the curve at which this virus spreads and help protect those with compromised health, or seniors."
The significance of social distancing, especially with news that the infection can be spread "silently" by people who are asymptomatic, is that individuals must accept responsibility for themselves and prevent serious health consequences that could end up costing a lot of people their lives.
"So here, the public is really empowered to do something major to affect the severity of this crisis by taking some important steps that are going to be difficult for people," he says. "We're a social creature and we like going out to restaurants, and we like joining in public places and now we've been asked to move away for a period of time. So, things are moving very, very quickly, and steps that we thought were aggressive two weeks ago now, it's been way too… It's substantial. And who knows where it will be tomorrow."
Schiff also took on some more precise question from the Los Angeles Blade on behalf of community agencies regarding the lack of testing, who's paying for what and housing issues.
"There's no question that the failure to test early and often has been the single biggest failure in the Administration's response to this virus, and it's inexcusable because we knew about it for weeks ahead of time," Schiff says. "When we emerge from this crisis, the disastrous lack of any testing of patients in the first weeks of this outbreak will need to be the topic of major congressional oversight. Testing is becoming more available, though not fast enough, and it's currently reserved for patients that are symptomatic and/or were exposed to an individual that has tested positive for the coronavirus.
"As of March 17, the testing capacity in California was 8,000 per day," he says, noting the passage of the Families First Coronavirus Response Act, which Trump signed into law March 19. The law makes testing "free for all Americans — and we will continue pushing to increase our testing capacity by getting more tests into production so they will be more widely available. Americans have been fighting blind because of the lack of tests, but I'm hoping this changes immediately."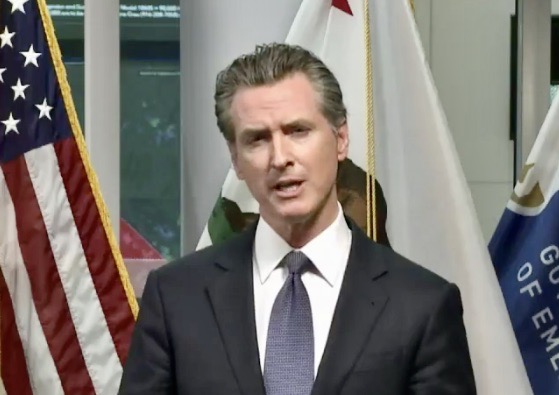 Darrel Cummings, Chief of Staff at the LA LGBT Center, asked questions via the Los Angeles Blade before Gov. Newsom issued his Stay at Home Order on March 19.
Cummings notes "community health centers have a role to play with both their current, registered clients and among the communities where there are located.  To effectuate 'social distancing' within clinical settings, telemedicine helps but is not always a billable service.  Will you advocate with HRSA so that telemedicine can be billed the same as an in-person visit? The same question applies to mental health and psychiatry visits."
"Yes," Schiff says. "Telemedicine has an increased role to play as we try to minimize visits to clinics or hospitals, especially for at-risk patients. The emergency appropriations legislation Congress passed two weeks ago lowered the barriers for telemedicine reimbursement for Medicare patients, which is a good start, but we need to do more. California has asked the federal government for a waiver that would allow reimbursement to community health clinics for telemedicine visits at the same rates as in-person visits, and that is currently pending," he adds. "I fully support moving as much diagnosis and treatment as we can online right now, because it's safer for patients and doctors alike, and reduces demand on medical resources."
Schiff also noted that the Community Clinic Association requested a national emergency declaration so they could be reimbursed for telehealth services. "Given President Trump's recent declaration, Medicare is reimbursing for telemedicine, but Medicaid reimbursement remains an important issue," he says, adding that the California Department of Health Care Services sent a request to CMS that would allow telehealth/virtual visits amongst other Covid-19 emergency responses in Medi-Cal. Once that is approved, California can send Medi-Cal dollars to clinics for telehealth."
Additionally, to help with social distancing and keep clinics a safe area, community health centers have begun pre-screening patients for flu-like symptoms before they enter a facility and are encouraging patients to come in only when necessary.
"Clinics that serve particularly vulnerable populations like the LA LGBT Center, which sees a large immunosuppressed population, will rely on telehealth to help keep their patients safe," Schiff says. "Drive-through testing has become available at some locations in Northern California to limit potentially infected people from coming into hospitals. I am hopeful drive-through testing will continue to become more widely available, but there is a limitation due to the lack of tests."
What about support and guidance for organizations that provide housing or services for the homeless, or supportive/affordable housing and for the homeless population in general?
"Our homeless population faces a significant risk to contracting Coronavirus, and the city and state are beginning to step up," Schiff says. "Gov. Newsom announced that homeless persons would be prioritized as a vulnerable population and the city is beginning to deploy resources directly to the homeless population where they are. But the federal government must also do more and I am advocating that federal assistance for the homeless be dramatically increased –both to deal with the broader epidemic of homelessness, but particularly the unique health risks now presented to this population. Much more must be done, and drastic steps to get people off the streets to create social distance may be necessary."
AIDS Healthcare Foundation has offered recently purchased 74-room motel that has not yet been leased out as temporary housing for coronavirus patients.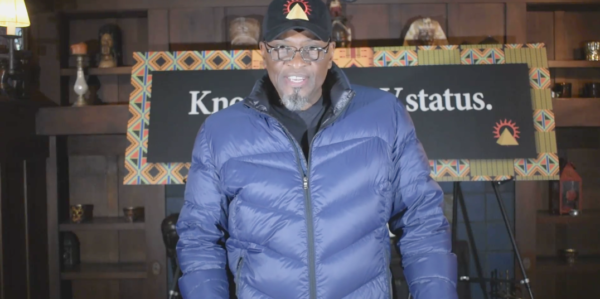 Jeffrey King, founder and executive director of In The Meantime Men, is very direct, raising the issue of having sex during the coronavirus pandemic.
"The coronavirus has us all making major adjustments in our lives," King says in a video posted on his Facebook page. "I want to encourage you to stay connected, and to consider your risk. Many of us are still engaging in sex. Our sex clubs and gay-specific social venues are closing now. Our social dating apps, however, are in full effect. Again – I want you to consider your risk and to act responsibly."
King shares information provided by the Commission on HIV in Los Angeles County for individuals living with HIV and their possible concerns regarding the coronavirus.
The Commission advises, in part:
"The novel coronavirus is understood to spread mainly from person-to-person through respiratory droplets when an infected person coughs or sneezes, or when a person touches a surface with these droplets and then touches their eyes, nose, or mouth. Common symptoms in a person with the novel coronavirus infection include fever, dry cough and shortness of breath or difficulty breathing.

"Persons living with controlled HIV (i.e. normal CD4 count and undetectable viral load) do not appear to be at greater risk than the general public for either acquiring or becoming ill with the coronavirus.

"Persons living with HIV, however, may be at increased risk for an adverse response to the infection if they have: Low CD4 cell counts, particularly under 350 cells/ml (considered not virally suppressed and therefore at higher risk); 60 years of age and older; heart, lung, or kidney disease; other poorly managed health conditions, including hypertension and diabetes.

"Public Health recommends that individuals at higher risk for serious illness associated with COVID-19 take the following actions and precautions: Practice regular hand washing (20 seconds with soap and hot water);

"Cover your cough or sneeze with a tissue, then throw the tissue in the trash and wash your hands. If you do not have a tissue, cough or sneeze into your elbow; Have a 30-day supply of all medications; Remain fully adherent to all regularly prescribed medications; Make sure all your vaccinations are current, including against influenza ("flu") and pneumonia;

"Practice social distancing (this means limiting the time you spend in public and keeping a 6-foot distance between yourself and strangers when you are in public); Stay home if you are even mildly sick; Call your health care provider before seeking medical care so that appropriate precautions can be taken."
King is pointed and non-judgmental in his Facebook video. "As we engage in sex, I want you to consider the choices and the decisions you're making as mature adults and to be as responsible and to make sober, conscious decisions. We got this," he says.
"Many of us have lived through traumatic pandemic experiences to include the introduction of the AIDS virus to America and the Black community," King tells the Los Angeles Blade. "We will be able to rise above the fear of the unknown relative to this new man-made viral construct we now call the coronavirus. The question remains: will we ever end the coronavirus?
"In The Meantime has cancelled its annual scholarship fundraiser, halted its mobile HIV testing efforts, and we are implementing an amplified sanitation protocol at our facility," he says. "We will continue to show up for our clients hosting smaller groups implementing social distancing."
But the too-familiar refrain remains: what's happening? What's true? What are the facts? Who can we trust as we bounce between one conspiracy theory and another?
California's LGBTQ community leaders are striving to be of service and trusted elected leaders are diligently upholding their oath.
Criminal defense attorney and West Hollywood City Councilmember John Duran, for instance, has been posting daily briefings on his Facebook page.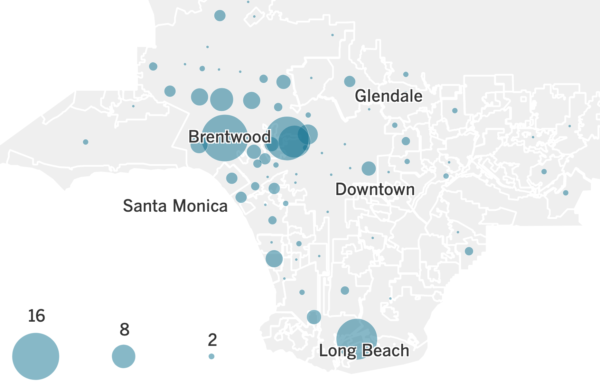 Map via the LA Times coronavirus tracker
After LA County released new data showing demographics and location for coronavirus cases, on March 21, Duran posted his assessment, which reads, in part:
LA County cases: 292 (up from 231)
LA County deaths: 2 (up from 1)

Demographics to date:
Children – 4 cases
Ages 18-40 – 72 cases
Ages 41-65 – 82 cases
Over age 65 – 34

West Hollywood cases – 15
Brentwood cases – 16
Long Beach – 12
Melrose district – 11
Encino – 8
Hollywood – 7
Sherman Oaks – 6
Pacific Palisades – 6
Beverly Hills – 5
Manhattan Beach – 5

Those are the top numbers in LA County. WHAT? HOW IS THAT POSSIBLE? HOW CAN IT BE THAT THESE COMMUNITIES HAVE MORE REPORTABLE CASES THAN THE OTHER DENSE PARTS OF THE COUNTY LIKE DOWNTOWN, KOREATOWN, HUNTINGTON PARK?

First – the Los Angeles County Department of Public Health is saying – it doesn't matter. There are no "safer" or "more dangerous" parts of the community.

But remember – these stats are cases reported today – but likely infected one or two weeks ago. And remember that anyone infected today – won't be reported until one or two weeks from now.

OR NOT TESTED AND REPORTED AT ALL. NOT REPORTED AT ALL.

LA County is now advising doctors to give up on TESTING patients in the hope of containing the virus. Doctors are being told to only test patients if a positive result could change how they would be treated.

The numbers showing the communities with the highest number of reported cases are places where people have a bit more income, a bit more education and a bit more aggression (?). Look at that list once again. Those are places where individuals and communities tend to have the resources and the aggression to get results.

And they did.

Look at the age demographics also. The highest number are neither the very young or the very old. They are the age ranges where people would tend to be working and have access to health care and testing. There are many different lenses to look at data and think about it.

BUT IT DOES RAISE THE QUESTION – SHOULD WE BE THINKING ABOUT THIS AT ALL RIGHT NOW? I say no.

Remember how during the discussions about earthquakes we were warned that for the first three days after the cataclysm – you were on your own while government was gearing up with a response. You had to be self reliant and self sustaining.

Well – this cataclysm – is still shaking. It hasn't stopped yet. We are on the front end of the cataclysm not the aftershocks. When the big quakes hit – how many of us are thinking at that moment – but what about my rent? My job? My future? NOPE. The only question in that moment is AM I GOING TO SURVIVE THIS?

That's where we are. In the midst of the shaking.

There will be a time in a couple of weeks (hopefully when the shaking has stopped) to worry about the rebuild and cleaning up the mess. THAT IS NOT NOW.

NOW – is about isolating and minimizing social contacts until the Shadow passes. That is all for now. We will have lots of work to do on the other side of the initial hit. And we will work together on that when the time is here….

80% of those of us who get exposed to COVID 19 will experience mild to moderate symptoms. It will infect and pass through us and our bodies will create antibodies.

Pray and focus on the other 20% who may need ventilators, hospital beds and treatment. And the possibly 2-3% who may die.

But in the meantime, try to stay in the group called DIDN'T get exposed to COVID 19 in this first wave of cataclysm because I isolated, washed my hands and kept social distancing. I know it's only the first week of interruption and already we are all feeling restless. But remember –

WE ARE STILL IN THE SHAKING. BRACE YOURSELF. DUCK AND COVER. AND WAIT FOR THE SHAKING TO STOP.

The clean up and rebuild will be for another day and time.

Onward! Until the next indicated step….."
In her weekly newsletter, LA County Supervisor Sheila Kuehl explained why the county took such a difficult decision to issue the "Safer At Home" Order, along with the City of LA and she offered some advice:
"There are a number of creative ways to cope and they are important for our health and sanity:  have an indoor scavenger hunt, work out by watching your gym or others on tv, read one of those many books you bought and put aside, walk around the block (keeping six feet away from everyone—just smile and give virtual hugs and high fives), call someone you haven't talked to in a while (the former President of the CA Senate, John Burton, who was my seatmate in the Senate, called me out of the blue last night just to talk), dig up that old Monopoly set and buy Park Avenue, and, of course, keep informed.

For lots of up-to-date, accurate information about COVID-19 in LA County, regularly visit lacounty.gov/covid19.

Thank you all for everything you're doing, and you can bet I will continue to send updates as they come in.

Together, we can get through this by doing our part to "flatten the curve".

As Hill Street Blues Sgt. Esterhaus used to say, "Hey, let's be safe out there!""
And, as Gov. Newsom tweets:

President's Emergency Plan for AIDS Relief marks year 20
Achievements PEPFAR have been remarkable, well-documented by outside evaluators, and hugely applauded throughout the advocacy community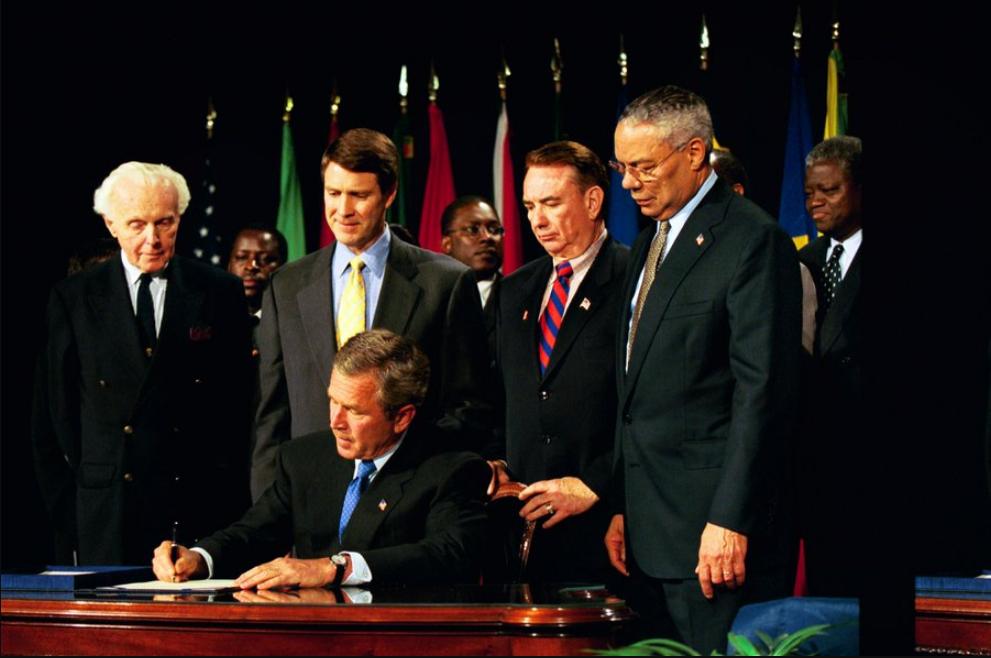 WASHINGTON – The President's Emergency Plan for AIDS Relief (PEPFAR) marks its twenty year anniversary today, marking the largest commitment by any nation to address a single disease in the world.
The initiative which was personally led and launched by former President George W. Bush in 2003, its funding has totaled more than $110 billion to date, including funding for the Global Fund to Fight AIDS, Tuberculosis and Malaria (Global Fund), to which the U.S. government is the largest donor.
PEPFAR is credited with saving millions of lives and helping to change the trajectory of the global HIV epidemic. The White House today released a statement by President Joe Biden marking the 20th Anniversary:
Twenty years ago today, President George W. Bush declared that preventing and treating HIV/AIDS was a foreign policy priority of the United States. At a time when nearly 30 million people were HIV positive, but very few were receiving life-saving medicines, the President's Emergency Plan for AIDS Relief (PEPFAR) transformed the global AIDS response and laid a marker for America's commitment to countries that were impacted the hardest by the AIDS epidemic. Helping lead the bipartisan effort in Congress to authorize PEPFAR is among my proudest achievements from my time in the Senate. To this day, PEPFAR remains a powerful example of America's unmatched ability to drive progress and make life better for people around the world.

Since 2003, PEPFAR has saved more than 25 million lives and dramatically improved health outcomes in more than 55 partner countries. AIDS-related deaths have declined by 68 percent since their peak in 2004, and new HIV infections are down 42 percent. PEPFAR investments have ensured that 5.5 million babies have been born HIV-free. And two decades of investment in partner nations' health systems played a critical role in countries' ability to respond to other health crises such as COVID-19, Mpox, and Ebola.

Today, PEPFAR continues to support 20.1 million people around the world with HIV/AIDS treatment, and my Administration is committed to continuing to lead the global HIV/AIDS response. We will build on our decades of progress to reach the Sustainable Development Goal of ending AIDS by 2030, work to eliminate the stigma and inequities that keep people from accessing care, and keep the voices of people living with HIV/AIDS at the center of our response. I look forward to working with Congress on PEPFAR's reauthorization this year.
PEPFAR is overseen by the U.S. Global AIDS Coordinator, who is appointed by the President, confirmed by the Senate, and reports directly to the Secretary of State, as established through PEPFAR's authorizing legislation.
PEPFAR's original authorization established new structures and authorities, consolidating all U.S. bilateral and multilateral activities and funding for global HIV/AIDS. Several U.S. agencies, host country governments, and other organizations are involved in implementation.
Dr. John Nkengasong, the current coordinator was sworn in on June 13, 2022, and holds the rank of Ambassador leading the Office of the Global AIDS Coordinator (OGAC) at the U.S. Department of State.
Twenty years ago this month, President George W. Bush announced #PEPFAR during his State of the Union address. Since then, the U.S. government has invested $100B+ in the global HIV/AIDS response through PEPFAR, saving 25M lives & bringing us closer to #EndAIDS2030. #PEPFAR20 pic.twitter.com/SMAOHWPZ03

— PEPFAR (@PEPFAR) January 11, 2023
Nobel Prize winning scientist Harold Varmus, who served as Director of the National Institutes of Health (NIH) from 1993 to 1999 and currently the Lewis Thomas University Professor of Medicine at Weill Cornell Medicine in New York City, wrote in an article honoring World Aids Day 2013:
[…] "the PEPFAR story must begin with George W. Bush and his wife, Laura, and their interests in AIDS, Africa, and what Bush termed "compassionate conservatism." According to his 2010 memoir, Decision Points, the two of them developed a serious interest in improving the fate of the people of Africa after reading Alex Haley's Roots and visiting The Gambia in 1990.3 In 1998, while pondering a run for the U.S. presidency, he discussed Africa with Condoleezza Rice, his future secretary of state; she said that, if elected, working more closely with countries on that continent should be a significant part of his foreign policy. She also told him that HIV/AIDS was a central problem in Africa but that the United States was spending only $500 million per year on global AIDS, with the money spread across six federal agencies, without a clear strategy for curbing the epidemic."
Key Facts (As provided by Kaiser Health & Family Foundation)
Although the U.S. has been involved in efforts to address the global AIDS crisis since the mid-1980s, the creation of the President's Emergency Plan for AIDS Relief (PEPFAR) in 2003 marked a significant increase in funding and attention to the epidemic.
PEPFAR is the largest commitment by any nation to address a single disease in the world; to date, its funding has totaled more than $110 billion, including funding for the Global Fund to Fight AIDS, Tuberculosis and Malaria (Global Fund), to which the U.S. government is the largest donor. PEPFAR is credited with saving millions of lives and helping to change the trajectory of the global HIV epidemic.
U.S. funding for PEPFAR grew from $2.2 billion in FY 2004 to $7.0 billion in FY 2022; FY 2022 funding includes $5.4 billion provided for bilateral HIV efforts and $1.6 billion for multilateral efforts ($50 million for UNAIDS and $1.56 billion for the Global Fund).
As the COVID-19 pandemic continues to have profound effects across the world, PEPFAR has acted to respond to COVID-19 in countries that receive support in order to minimize HIV service disruptions and leverage the program's capabilities to address COVID-19 more broadly.
Looking ahead, PEPFAR faces several issues and challenges, including how best to: address the short- and long-term impacts of COVID-19 on PEPFAR and the HIV response; accelerate progress toward epidemic control in the context of flat funding; support and strengthen community-led responses and the sustainability of HIV programs; define its role in global health security and broader health systems strengthening efforts; and continue to coordinate with other key players in the HIV ecosystem, including the Global Fund.
Key Activities and Results (As provided by Kaiser Health & Family Foundation)
PEPFAR activities focus on expanding access to HIV prevention, treatment, and care interventions. These include provision of antiretroviral treatment, pre-exposure prophylaxis, voluntary male circumcision, condoms, and other commodities related to HIV services. In addition, PEPFAR has launched specific initiatives in key strategic areas. For example, in 2015, PEPFAR launched DREAMS, a public-private partnership that aims to reduce HIV infections in adolescent girls and young women.
The latest results reported by PEPFAR indicate that it has:
supported testing services for 63.4 million people in FY 2021;
prevented 2.8 million babies from being born with HIV, who would have otherwise been infected;
provided care for more than 7.1 million orphans and vulnerable children (OVC);
supported training for nearly 300,000 new health care workers; and
supported antiretroviral treatment for 18.96 million people.
In the 15 countries implementing the DREAMS initiative, new diagnoses among adolescent girls and young women have declined with most DREAMS areas (96%) experiencing declines greater than 25% and nearly two-thirds with declines greater than 40%.
The achievements of the PEPFAR program have been remarkable, well-documented by outside evaluators, and hugely applauded throughout the advocacy community and the developing world. In general, milestones have been met, the program has been enlarged (for instance, to include some research on implementation of medical assistance), the roster of PEPFAR countries has grown and spending plans have not been exceeded.