LA County GOP Board chair: LGBTQs are a demographic, need for data collection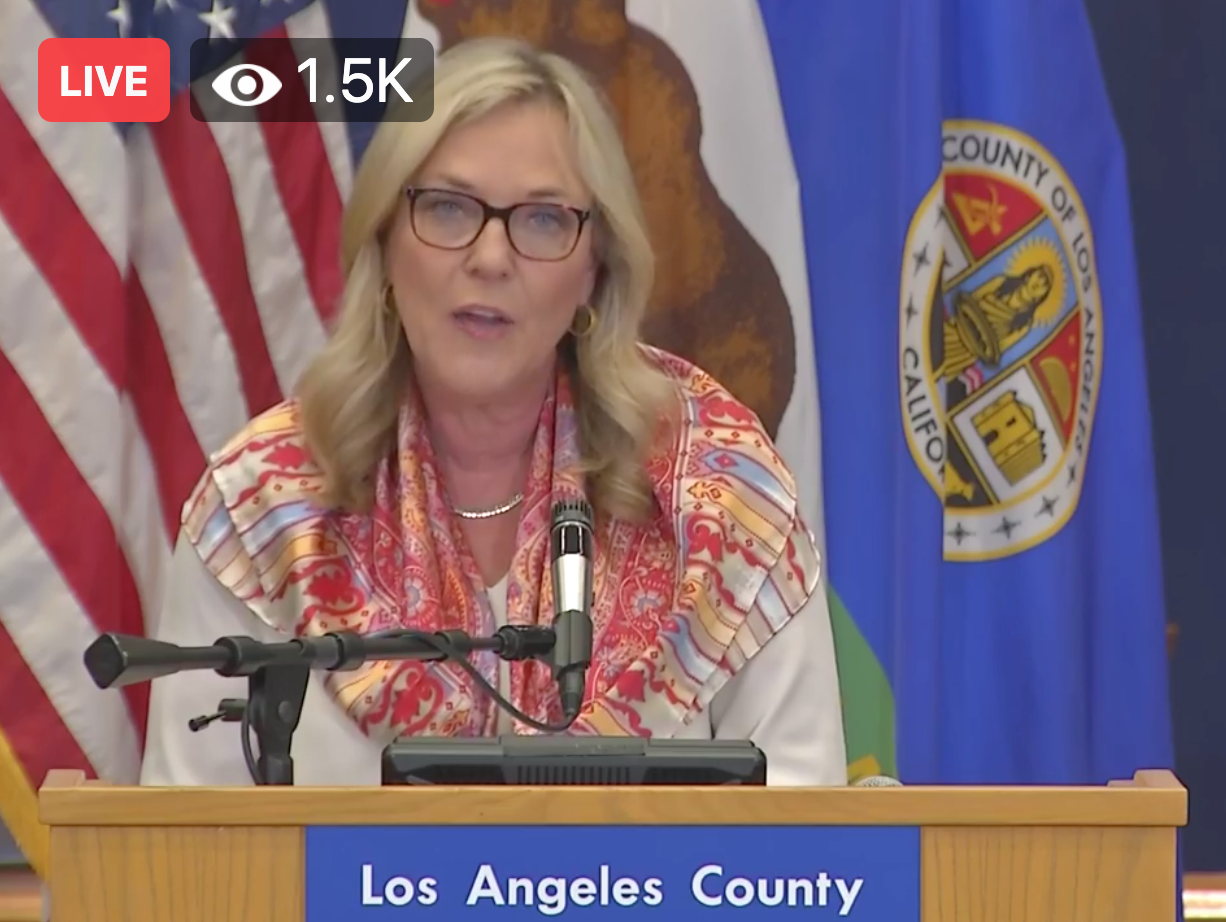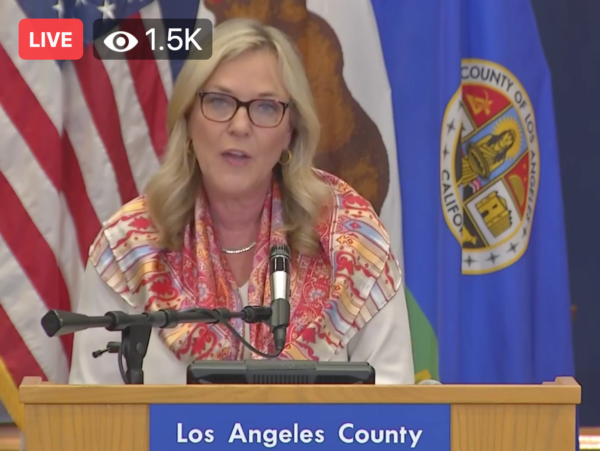 (UPDATED) Los Angeles County may have just opened the door to better government policy and resources for the LGBTQ community. During the regular Public Health afternoon news conference updating the public on the COVID-19 crisis Friday, June 19, LA County Board of Supervisors Chair Kathryn Barger noted that the County Public Health Department has added sexual orientation and gender identity questions (SOGI) to their testing questionnaire, a move she helped put into effect Thursday, working with Supervisor Sheila Kuehl and Equality California.
"LGBT people experience disproportionate rates of underlying illness, poverty, homelessness and discrimination," Kuehl said in a statement to the Los Angeles Blade Thursday. "That's why it's so important that we capture sexual orientation and gender identity information as people get tested for COVID-19. Knowing how COVID-19 is affecting LGBT populations will allow us to appropriately allocate resources and address needs within the community. I'm very grateful to the many people in government and local nonprofits who worked quickly to make sure we could start this data collection as quickly as possible."
"I completely support really looking at the numbers and allowing us to get a better feel in terms of the COVID crisis and what it's doing to the LGBTQ community," Barger said in response to a question from the Los Angeles Blade at the Friday news conference. "I'm also in support of Sen. Wiener's bill [SB 932 COVID-19 data collection] that is moving forward, as well."
But Barger went one significant step further – acknowledging what almost every politician and campaign director asking for money, votes and volunteers knows – that LGBTQ people are a real demographic, a distinct minority, a people with a culture and history, rather than an odd collection of individuals whose only shared characteristic is a casual sexual attraction to others of their own gender.
After the LA Blade pointed out that the Williams Institute estimates 1.7 million LGBT adults live in California, almost a half million of whom live in LA County, Barger said, "Yeah, I think that in this county, we recognize that we are moving in a way that we have to be more cognizant of all demographics, so obviously this board is committed across the board."
Barger, a Republican, said she and Kuehl, a Democrat, have "asked for the testing and a break down on the testing to be done for the LGBTQ community and we are adding questions."
After announcing that Public Health has identified 79,609 positive cases of COVID-19 across all areas of LA County, and a total of 3,063 deaths, Barbara Ferrer, PhD, MPH, MEd, Director of Public Health, posted graphics and explained the demographic breakdown of those who've died, 93 percent of whom had underlying health conditions.
"Of those who died, information about race and ethnicity is available for 2,844 people (99 percent of the cases reported by Public Health)," she said. "42% of deaths occurred among Latino/Latinx residents, 29% among White residents, 17% among Asian residents, 11% among African American residents, less than 1% among Native Hawaiian/Pacific Islander residents and 1% among residents identifying with other races."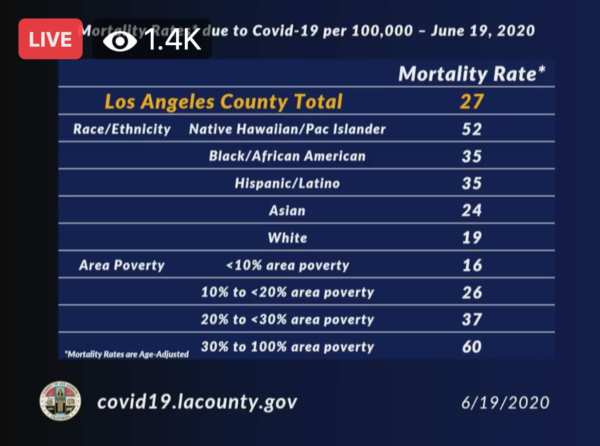 Ferrer noted that the LA Blade's question was "important," as was the Supervisors' leadership on the issue.
"The big issue has been making sure we're collecting that information in lots of different ways and we're collecting it in ways that are appropriate and feel culturally acceptable to people so they feel safe enough to answer," said Ferrer. "So, I do know, across the board, we are making efforts to improve our data collection system so that we're actually able to more accurately reflect information about sexual orientation."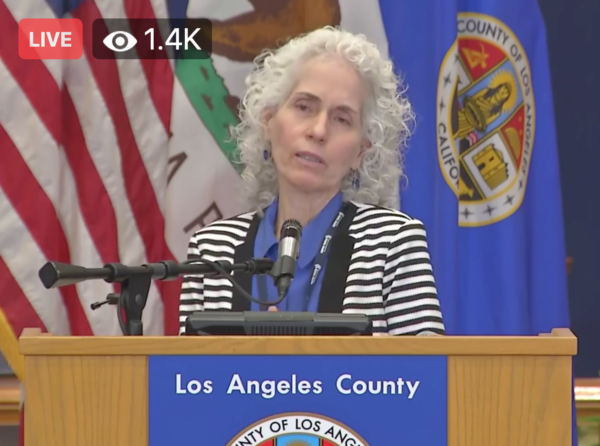 Once the department has better information," Ferrer said, "it's demographic information that we need to be able to share. We have other information that shows elevated levels of risk for other diseases – and also – for stigma, for being stigmatized and discriminated against. So, in this fight for equity, we really do need to make sure that we have the kind of information that helps us better understand everyone's experiences and then use that information to make the changes we need."
The SOGI questions are included on the County's COVID-19 portal, where the testing sign up site includes demographics on its questionnaire. After at least  one week of LGBTQ data collection, the testing data will be regularly posted on the county's website.
The significance of LA County – with a population of more than 10 million  – taking a lead on recognizing the LGBTQ community as a distinct demographic, acknowledging the importance of collecting LGBTQ data to better understand the COVID-19 crisis in this sprawling region, and including LGBTQ on the graphics along side racial minorities – is a very big deal.
The city of Washington DC is the only other governmental body that officially collects LGBTQ data and applies that data to policies and resources.
But the issue is national. On May 13, Pennsylvania Gov. Tom Wolf announced that the state  Dept. of Health would start collecting SOGI data, including "conducting extensive case histories investigations as part of contract tracing on those who test positive for the virus," according to a press release from Wolf's office. The department is working with Sara Alert, a new data collection platform and has requested a system modification to include SOGI data. However, as of June 20, it does not appear on the state's COVID-19 website that SOGI data has yet been collected.
"The fact Wolf has given the OK to collect this data is a huge deal for the LGBTQ community," says Erin Cross, director, Lesbian Gay Bisexual Transgender (LGBT) Center at Penn, told Penn Today in a June 18 story. "Unless we know the dimensions and the number of people we need to be cognizant about, we will always just be guessing," she says. "So it's good to have hard data to support our programs and goals," noting especially the "most high at risk population" are the elderly in the LGBT community. 
Dennis Flores, an assistant professor at the School of Nursing, who specializes in HIV/STI prevention, concurs. "If there was no accounting for how many folks from the LGBTQ community would test positive or if we didn't have details of the data, we wouldn't be able to create programming that would be tailored to the specific means and needs of this community," he tells Penn Today. "We would be assumed under the general public, and that would mean we could lose important details that might be beneficial in ensuring that we have success in the outcome we want to achieve."
"Our city [Philadelphia] is one of the largest poor cities in the United States," Flores adds, "and so we know that health outcomes are direr within the African-American communities. We know that it is more pronounced in lower economic status communities. Thus, as LGBTQ individuals, we have intersectional identities where we might belong to two or three of these marginalized groups. With that, it compounds the risk factors, potentially being exposed to the virus, or our success in combatting the virus and making sure we stay healthy if we do contract the disease."
It wasn't supposed to be this way. Just before the 2016 election, LGBTQ people were on the cusp of being recognized and counted by the federal government as a specific demographic. During the Obama Administration, the Departments of Justice, Housing and Urban Development, the Centers for Medicare and Medicaid Services and the Environmental Protection Agency asked the Census Bureau to add questions about sexual orientation and gender identity to the American Community Survey, according to a July 2017 report by NPR.
California Reps. Adam Schiff and Jimmy Panetta co-sponsored an amendment to a spending bill that would give the Census Bureau more money to study the need for sexual orientation and gender identity questions. Out Wisconsin Sen. Tammy Baldwin and Arizona Rep. Raúl Grijalva reintroduced bills in Congress — the LGBT Data Inclusion Act — that would require the American Community Survey, the census and other federal surveys that collected  demographic information to also collect data on sexual orientation and gender identity (SOGI), just like other demographics.
"The Justice Department laid out the 'legal authority supporting the necessity' for collecting that information in a spreadsheet of statutes attached to its letter to the Census Bureau dated Nov. 4, 2016," NPR reported.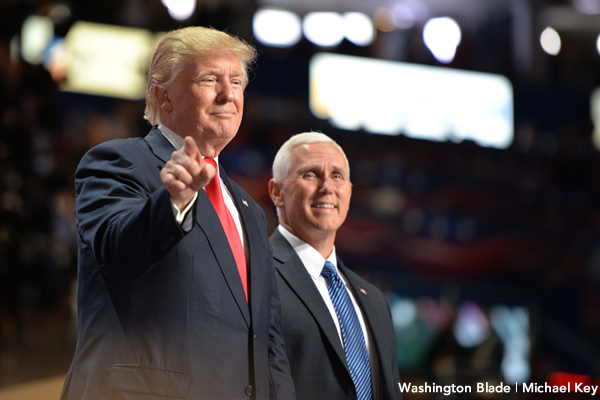 But with the advent of the Trump Administration, anything Obama-approved got scotched. A draft report of Census Bureau's planned topics of questions for the 2020 census and the American Community Survey was submitted missing a page.
But NPR "obtained a copy of a draft version of the report through a Freedom of Information Act request to the Census Bureau. The draft includes a full page about sexual orientation and gender identity as a proposed topic. That page was removed from the published report. The page provides an explanation about how the statistics could be used by the federal government:
"Sexual orientation and gender identity questions are being evaluated and may be proposed to aid in planning and funding government programs and in evaluating other government programs and policies to ensure they fairly and equitably serve the needs of all people. These statistics could also be used to enforce laws, regulations, and policies against discrimination in society."
Sens. Tom Carper and Kamala Harris of the Senate Homeland Security and Governmental Affairs Committee — which has oversight of the Census Bureau — sent a letter to the then-Census director about the missing page – but apparently they did not hear back.
The Trump Administration has been on an LGBTQ erasure kick since his election, perhaps the most glaring of which is the ban on open trans military service.
LA County, the most populous county in the country, could show the need for and become a model of LGBTQ data collection for other counties, building momentum to pass legislation, including the federal Equality Act.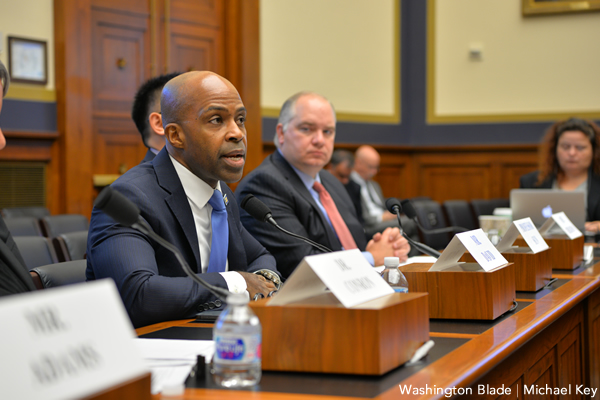 Human Rights Campaign President Alphonso David speaks at the House Financial Services Committee hearing on Oct. 29 on anti-LGBT bias in housing and credit. (Washington Blade photo by Michael Key)
The Washington Blade reported on the importance of data during an Oct 2019 congressional hearing:
"Among the key statistics that emerged in testimony before the House Financial Services Committee: About half of LGBT adults own their homes compared to 70 percent of the non-LGBT adult population; LGBT adults are twice as likely as non-LGBT people to report having been prevented by a landlord or owner from moving into a home; and same-sex couples experience about three to eight percent lower approval rates in acquiring a loan than different-sex couples.

Chairing the hearing was Rep. Al Green (D-Texas), who touted the importance of that data in laying out the case anti-LGBT discrimination persists despite claims to the contrary.

"Today we have demonstrated with empirical evidence that this level of invidious discrimination exists, such that it is quite harmful not only to the persons who have been discriminated against, but also to the country," Green said….

"Our community faces discrimination and rejection in every area of life — at school at work and at home," said Human Rights Campaign President Alphonso David. "Distressingly, the weight of this discrimination falls disproportionately on the shoulders of LGBT people who are racial minorities, specifically black and brown members of our community."
On Friday, June 19, LA County moved one step closer to establishing equity for a heretofore unrecognized intersectional demographic – the LGBTQ community. And at the very least, with that comes better health, wellness and awareness of protecting oneself and others from the COVID-19 crisis.
CDC: 85% of gay & lesbian adults in U.S. are vaccinated against COVID
Data on COVID-19 vaccination among LGBTQ persons limited because of the lack of routine SOGI data collection at the national & state levels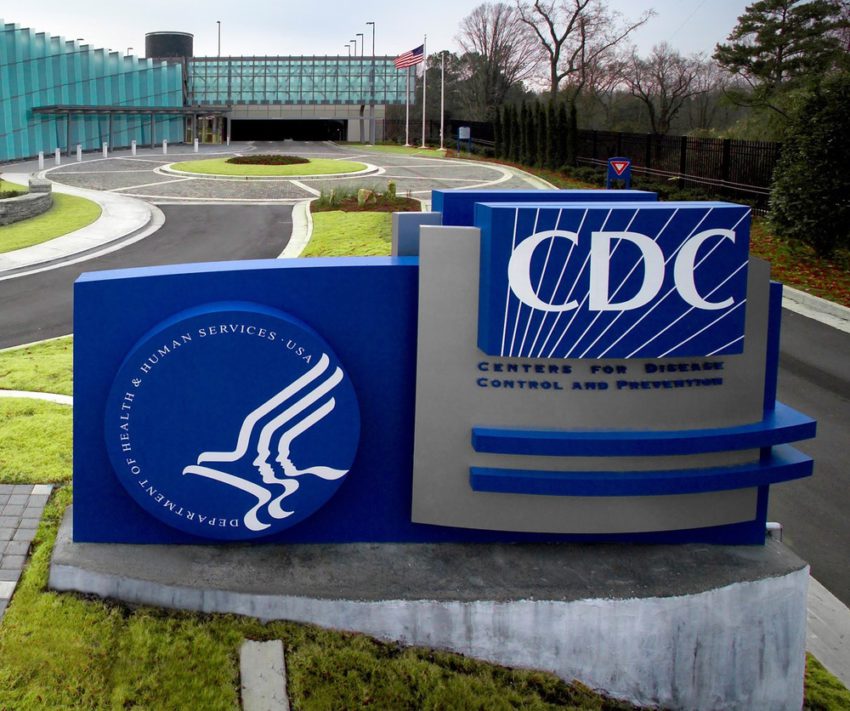 ATLANTA – A new study report released Friday by the Centers for Disease Control and Prevention, (CDC), found that found 85.4% of gay and lesbian Americans above age 18 had received at least one vaccine dose as of October 2021.
The study, conducted from August 29 until October 30, 2021, also found that by comparison, only 76.3% of heterosexuals reported receiving at least an initial dose by the same date.
The report noted that Lesbian, gay, bisexual, and transgender (LGBT) populations have higher prevalence of health conditions associated with severe COVID-19 illness compared with non-LGBT populations.
The potential for low vaccine confidence and coverage among LGBT populations is of concern because these persons historically experience challenges accessing, trusting, and receiving health care services
Data on COVID-19 vaccination among LGBT persons are limited, in part because of the lack of routine data collection on sexual orientation and gender identity at the national and state levels.
In March of 2021, the Blade reported the coronavirus (COVID-19) pandemic has revealed deep-seated inequities in health care for communities of color and amplifies social and economic factors that have contributed to those communities being hit hardest, and Mega-vaccination centers set up by California health officials and the Federal Emergency Management Agency have been addressing and tracking the issue- the LGBTQ communities are still not being tracked.
This lack of data collection has frustrated and angered California State Senator Scott Wiener who authored a bill last year that passed through the legislature and signed by Governor Gavin Newsom last Fall that mandates gathering sexual orientation and gender identity data related to the COVID testing in California.
"We're one year into the pandemic, and LGBTQ people continue to be erased in our public health response to COVID-19 — similar to our invisibility throughout history. No government is successfully tracking COVID-19 cases in the LGBTQ community, despite a law I wrote mandating that California do so," Weiner told the Blade. "And, we now know that LGBTQ people are more vulnerable to COVID-19. We've also just learned that vaccination demographic data doesn't include LGBTQ data. It simply shocking that in 2021, progressive health agencies continue to forget about our community," he added.
The CDC also noted that gay and lesbian adults were more likely to be concerned about COVID-19 and to believe in the safety and efficacy of vaccines.
"We know that the prevalence of certain health conditions associated with severe COVID-19 illness, such as cancer, smoking, and obesity, are higher in LGBT populations, and access to health care continues to be an issue for some people in the LGBT community," Dr. A.D. McNaghten, a member of the CDC's COVID-19 Emergency Response Team and corresponding author of the study, told ABC News. "We wanted to see if vaccination coverage among LGBT persons was the same as non-LGBT persons."
The CDC data recorded that bisexual and transgender adults had similar vaccination rates to heterosexual adults with 72.6% of bisexual adults fully vaccinated by the end of October, as were 71.4% of transgender adults. The numbers however for Black and Hispanic lesbian women had lower rates of vaccination at 57.9% and 72.6%, respectively, compared to Black and Hispanic heterosexual women at 75.6% and 80.5%, respectively.
Higher percentages of gay or lesbian adults and bisexual adults reported that they thought COVID-19 vaccine was very or somewhat important to protect oneself (90.8% and 86.8%, respectively) compared with heterosexual adults (80.4%), and higher percentages of adults who identified as transgender or nonbinary reported they thought COVID-19 vaccine was very or somewhat important to protect oneself (83.2%) compared with those who did not identify as transgender or nonbinary (80.7%).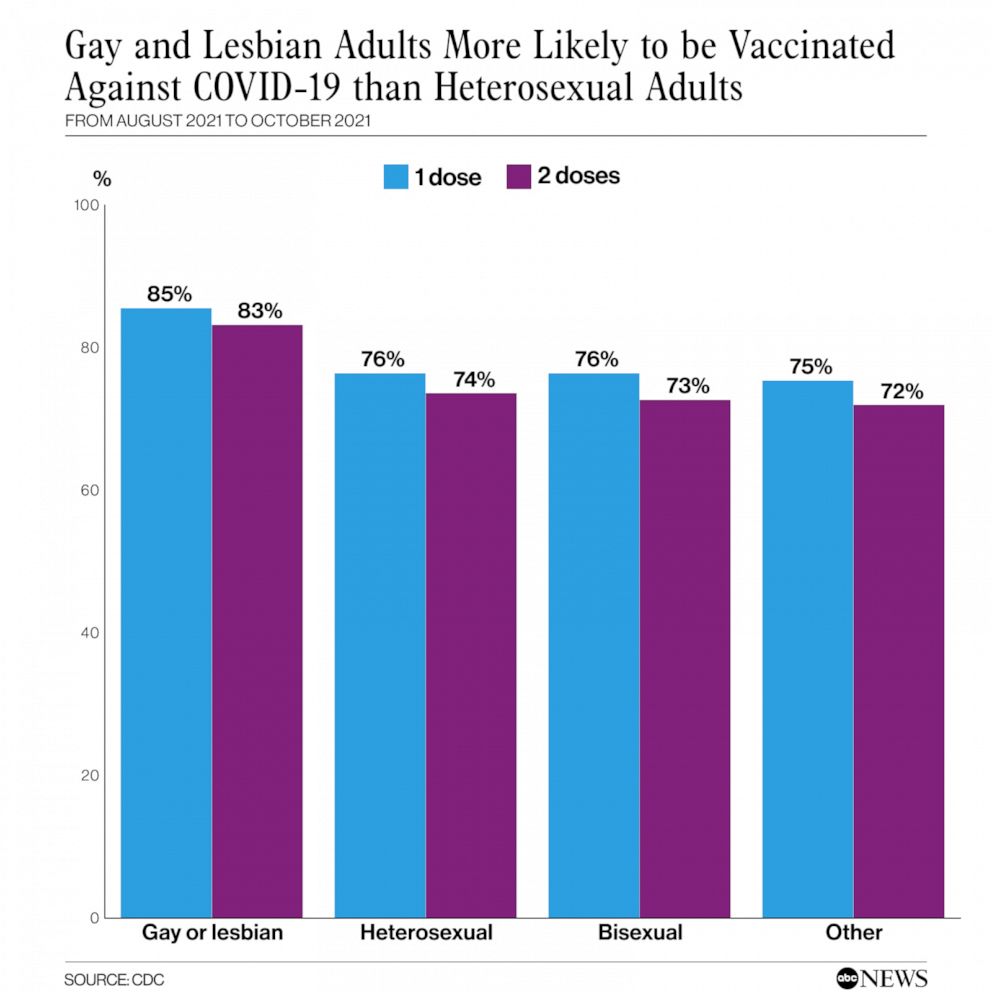 White House orders distribution of 400 million free N95 masks
Dr. Tom Inglesby, the administration's Covid testing coordinator; "We know that these masks provide better protection than cloth masks"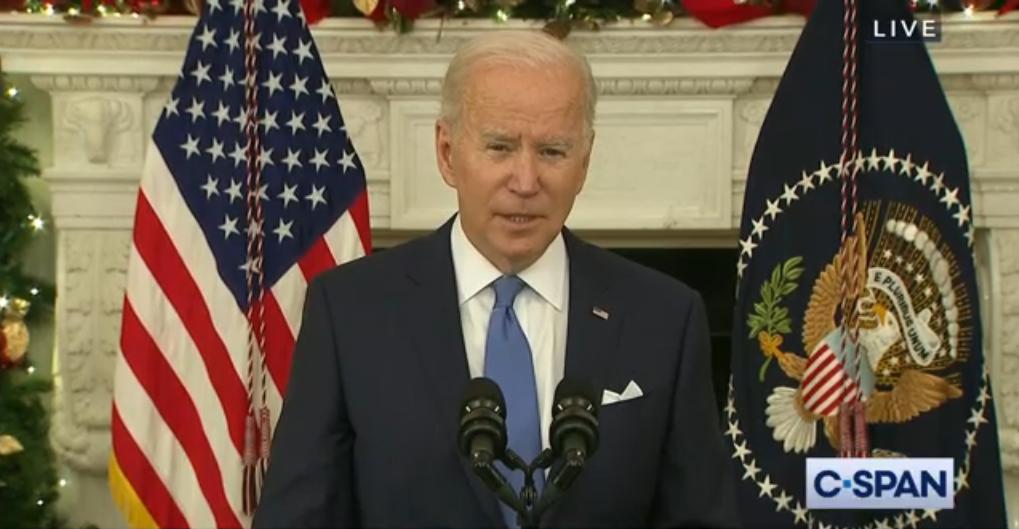 WASHINGTON – As the latest surge of the highly contagious and easily transmissible Omicron variant of the coronavirus continues to cause a rise in hospitalizations, especially among unvaccinated adults and children, the White House announced Wednesday it is making 400 million N95 masks available for free at thousands of locations across the nation.
The plan an admkistartion official said, is to start shipping the nonsurgical masks to pharmacies and community health centers to distribute this week, which will come from the Strategic National Stockpile.
In an interview with NBC News, Dr. Tom Inglesby, the administration's Covid testing coordinator, said, "We know that these masks provide better protection than cloth masks."
The N95 masks will be made available to everybody, and recipients will not be prioritized based on vulnerability to Covid, income or other criteria. Inglesby said the administration was "confident that people who want to access them will be able to access them," but it was not immediately clear how many masks a person could receive at one time.
On January 13, President Joe Biden had announced a plan to have the government distribute 1 billion rapid, at-home COVID-19 tests free to Americans, along with the N95 masks, as the administration works to fight the spiraling upward spike in coronavirus cases.
The White House website to order free at-home Covid tests went live Tuesday. The website says: "Every home in the U.S. is eligible to order 4 free at-home COVID-19 tests. The tests are completely free. Orders will usually ship in 7-12 days."
A White House official said Wednesday that the distribution of 400 million masks would be the largest deployment of personal protective equipment in U.S. history.
Inglesby told NBC News that the administration was "absolutely preparing for the possibility of additional variants in the future" and that people could expect the government to make N95 masks "more and more available."
Biden announces free masks, tests to fight omicron:
COVID-19 Cases increase by nearly 10 times in one month
While hospitalizations continue to climb, Public Health data shows that many positive cases are admitted for reasons other than COVID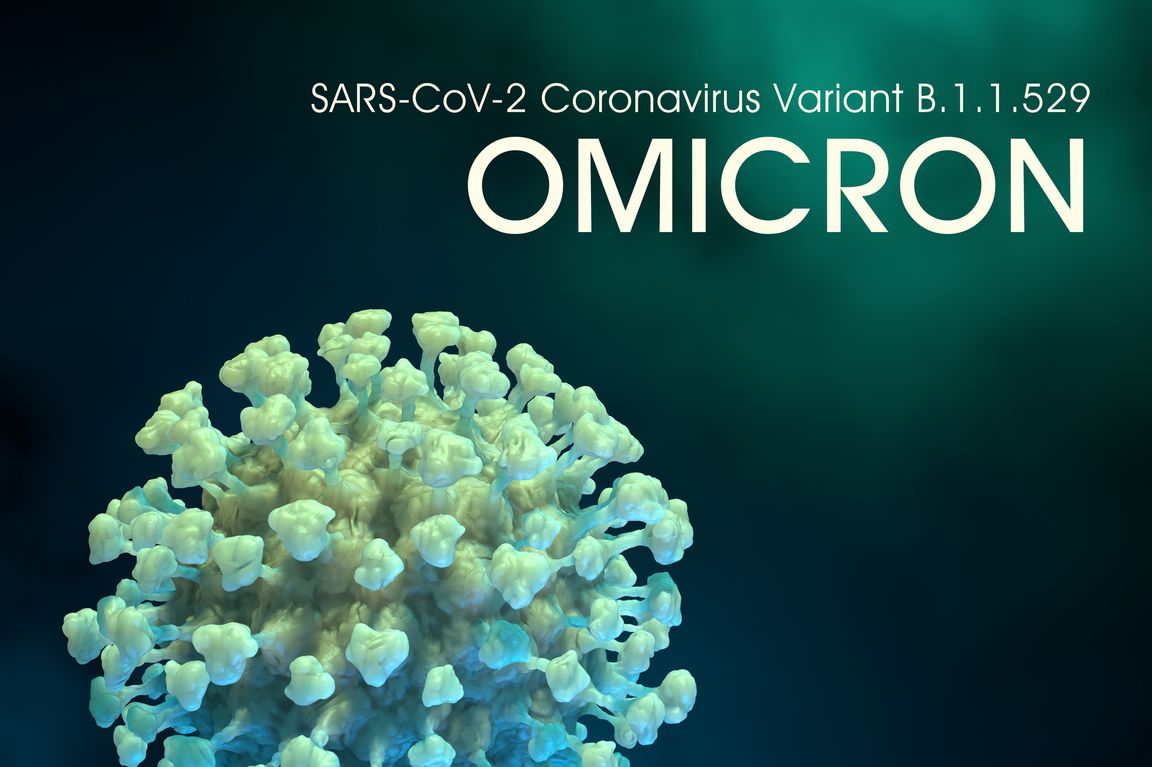 LOS ANGELES – A total of 31,576 new COVID-19 cases were documented on Monday — up ten times the number of cases reported on Dec. 17, 2021, when there were 3,360 new cases recorded the Los Angeles County Department of Public Health reported Monday.
There are 4,564 people with COVID-19 currently hospitalized, nearly 6 times the number from one month ago when 772 people were hospitalized. The daily positivity rate is 16.5%, more than 8 times the 2% daily positivity rate on December 17th.
Just one week ago, the county surpassed 2 million total COVID-19 cases, with the figure reaching 2,289,045 cases as of Monday.
"On this national holiday where we celebrate the life and legacy of Dr. Martin Luther King, we remember his deep commitment to health equity. As Reverend King memorably said, 'Of all the forms of inequality, injustice in health is the most shocking and the most inhuman because it often results in physical death,' " said Dr. Barbara Ferrer, Director of Public Health.
"Tragically, we have seen this play out in real life and very clearly over the past two years with the disparate impacts of the COVID-19 pandemic on people of color. From the onset of the pandemic, communities of color have experienced the greatest devastation from COVID-19 in Los Angeles County and throughout the nation," she added.
"The good news is that while hospitalizations continue to climb, Public Health data shows that many positive cases are admitted for reasons other than COVID but, are identified with COVID when tested for COVID upon hospital admission," the health department said in a statement released last week.
As of Friday, more than 80% of all adult ICU beds in the county were occupied.
There are also 27 new deaths due to COVID-19 in Los Angeles County and 31,576 new positive cases.
The public health department also noted that while the number of children hospitalized with the virus remains low, the number of them admitted to L.A. County hospitals "significantly increased" over the past month, with the largest increase among children younger than 5 years old.
The increase mirrors trends seen nationwide for the age group — the only one not yet eligible for the vaccine.
The county also saw its highest coronavirus death rate in nearly 10 months over this past week, with an average of 40 COVID-19 deaths a day.
"From the onset of the pandemic, communities of color have experienced the greatest devastation from COVID-19 in Los Angeles County and throughout the nation. As we continue to implement strategies – enforcing worker protections through our Health Officer Orders, providing resources needed by many to survive the impact of the pandemic, funding community-based organizations in hard hit areas to serve as trusted public health messengers, and increasing vaccination access in under-sourced neighborhoods – we also need to come together to address the impact that racism, historical disinvestment, and social marginalization have on COVID-19 outcomes," Ferrer said.
"While these conditions predate the pandemic, without deliberate collective actions to address the root causes of health inequities, we are unlikely to close the gaps we have documented for 2 long years," she added.
California has recorded more than 7 million coronavirus cases after its fastest accumulation of reported infections in the history of the pandemic, the Los Angeles Times reported.
The unprecedented count, recorded in California's databases late Monday, comes one week after the state tallied its 6 millionth coronavirus case.