June 24, 2020 at 9:28 pm PDT | by Brody Levesque
COVID19 cases soar nationwide as clash over masks intensifies in California
SANTA CRUZ — The rates of new infections of the coronavirus dramatically increased in the past week and significantly spiked upwards Wednesday as the U.S. recorded the highest number of new COVID-19 cases in a single day with 36,358 diagnosed coronavirus cases.
According to NBC News, "Wednesday's cases top the previous highest daily count from April 26 — during the first peak of the pandemic in the U.S. — by 73 cases, according to NBC News' tracking data. The World Health Organization reported its single-day record on Sunday, with more than 183,000 new cases worldwide."
As 21 states see increased hospitalizations and new cases of the virus, three states, Florida, Texas, and Arizona have seen record numbers. Florida's coronavirus caseload Wednesday broached a new daily high mark of 5,511 cases.
The sharp uptick of cases caused the governors of the Northeastern Tri-State region, New York Governor Andrew Cuomo, Connecticut Governor Ned Lamont, and New Jersey Governor Phil Murphy to announce Wednesday that effective at midnight on Thursday people traveling to the Tri-State region from other states with high infection rates must be put in a 14-day quarantine.
The trend in California is also worrisome as the California Department of Public Health released the new infection rates for the past three days with Sunday, June 21 at 4,230 cases, Monday, June 22 with 5,019 cases, and Tuesday, June 23 with 7,149 cases.
The Los Angeles County Department of Public Health confirmed 34 new deaths and 1,260 new cases of the coronavirus. To date, Public Health has identified 89,490 positive cases of COVID-19 across all areas of LA County, and a total of 3,205 deaths.
Health officials tell the Los Angeles Blade that the scaling back of stay-at-home orders as the counties across California begin to reopen was in part responsible, but officials also pointed out that people not in compliance with social distancing and facial covering requirements are greatly contributing to the spike in cases.
Speaking Wednesday with virtual attendees with the Sacramento Press Club, Dr. Anthony Fauci, the director of the National Institute of Allergy and Infectious Diseases in Washington D.C. noted that as California's counties reopening restrictions loosen he saw that it was very much young people who are contributing to the surge the Sacramento Bee reported.
Young people, Fauci said, "think that now that we're opening, opening means all or none, black or white. Either no restrictions or lock-down. There's a big difference between the two."
Fauci went on to applaud Governor Gavin Newsom's handling of the virus at the state level but stressed that what matters is the people's response to the public health orders and state guidelines.
"I think California is starting to see little bits of surges at the community level as they're opening up," he said. "I know we've gotta get the population to realize that we're all in this together."
Fauci's observation of getting people to understand the efforts required to mitigate the effects of COVID-19, especially wearing facial coverings, has been central to the debate across California which has in some cases led to extremist actions including death threats against public health officials.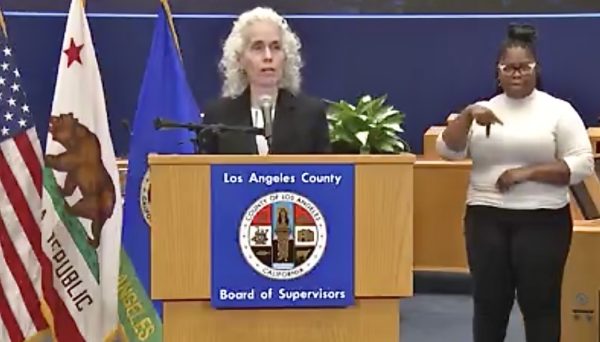 In conservative Orange County, Dr. Nichole Quick, the former Public Health Director stepped down due to those types of threats. Dr. Barbara Ferrer, Director of the Los Angeles County Department of Health released a statement on Monday regarding threats on her life.
"COVID-19 has upended thousands and thousands of lives all across the nation. The virus has changed our world as we know it, and people are angry. As of today, 83,397 cases have been reported in Los Angeles County and 3,120 people have died from this virus. We mourn every single one of those deaths, and we are working tirelessly to slow the spread of COVID-19 and find good solutions for the future of our communities.

And while the devastation experienced by so many is heartbreaking, it is also disheartening that an increasing number of public health officials, across the country—myself included—are threatened with violence on a regular basis. In my case, the death threats started last month, during a COVID-19 Facebook Live public briefing when someone very casually suggested that I should be shot. I didn't immediately see the message, but my husband did, my children did, and so did my colleagues. One reason I handle these briefings myself is to shield the extraordinary team at L.A. County Public Health from these attacks which have been going on, via emails, public postings, and letters—since March. It is deeply worrisome to imagine that our hardworking infectious disease physicians, nurses, epidemiologists and environmental health specialists or any of our other team members would have to face this level of hatred.

Our job and our calling is to keep as many people as safe as possible during this pandemic. We did not create this virus. We come into work every single day prepared to do our very best, prepared to work with everyone, with all of our partners, to try to continue to contain this pandemic and to try to continue to minimize the loss of life. And while frustration boils over in our communities as people are done with this virus, this virus is not done with us.

As public health officials, we try hard not to be influenced by partisan politics or public sentiment – we must follow the science in order to save lives. And the science says if we don't change the way we go about our daily routines, we could pay for it with our lives or the lives of others around us. Change is hard, but we must change if we want to contain this virus. Face coverings must be worn because they help to stop the spread of the virus. I recognize there is a lot of pushback from people not wanting to wear face coverings—when wearing a seatbelt was made mandatory in California there was a lot of pushback, too. But the data proves that seatbelts save lives, and the data also proves that wearing a face-covering will help stop transmission of COVID-19, which will save lives. And that's what drives public health officials and is our passion: saving lives."
In his Daily COVID-19 Press conference, an exasperated Governor Newsom addressed the ongoing battles over the wearing of facial coverings.
"When people simply thumb their nose and do not come with a collaborative spirit … then, by all means, the state of California has a responsibility, an obligation — legally and otherwise — to enforce those laws and to utilize the tools that are afforded us," he said.
The push-back on those measures implemented by the state and including Newsom's order to all Californians to wear face coverings while in public, including when shopping, taking public transit, or seeking medical care, has included elected officials across the state including law enforcement.
Speaking with KNBC4, Orange County Sheriff Don Barnes said that despite an order from the state to Orange County residents to wear masks to prevent the spread of coronavirus he won't enforce it.
"I've been asked to enforce it. I told them I will not. I don't have resources to enforce countywide," Barnes said.
Orange County has become the epicenter in California for refusal to comply with Newsom's mask orders. However, across the United States, there has been outright rebellion by mostly conservative groups and supporters of President Donald Trump who see the orders to wear masks a political versus health issue.
On social media, groups have sprung up to resist public health officials' orders, one based in Southern California, distributing ID-style cards that claim to exempt a bearer under the terms of the Americans With Disabilities Act.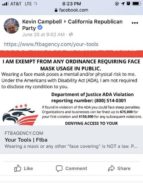 During his Wednesday press conference, Newsom threatened to withhold up to $2.5 billion in the upcoming state budget from any of the local governments that fail to comply with state mandates on wearing masks, testing and other measures meant to slow the spread of the virus.
"There are some that have made rhetorical comments about not giving a damn," Newsom said. "That's exactly why I look forward to signing this budget that will afford me a little bit of leverage in that conversation."
According to the Governor's office, the $2.5 billion is allocated to assist local city and county governments pay for services needed because of the pandemic. But receiving those funds is contingent upon those counties following emergency orders to enforce the health officials' orders as they gradually reopen their economies.