Gerald Garth humbled by All Black Lives Matter march
But there's more work to do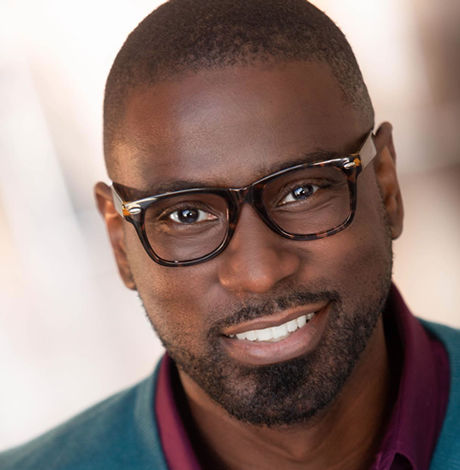 Gerald Garth was "a little exhausted" but "feeling very good" after the unexpectedly massive, hugely successful All Black Lives Matter march on June 14.
Garth, director of operations at The AMAAD Institute, and Urban Pride founder Brandon Anthony, created the Black LGBTQ+ Action Coalition that essentially saved the soul of LA Pride after criticism of past racism stymied Christopher Street West and plans for this year's Pride parade and festival.
The controversy seemed to dissipate after the marchers took over Hollywood Boulevard, where the first CSW Pride parade first occurred 50 years ago, swarmed Sunset Boulevard and gushed onto Santa Monica for an event that simultaneously exalted LGBTQ people and reconfigured Black trans people from outsiders into Black and LGBTQ history.
50 years after the first celebration of the Stonewall Rebellion, All Black Lives Matter underscored the oppression against trans people of color, including the epidemic of murders. At the end of this march was an unexpected trans flag painted at the intersection of Santa Monica Blvd and San Vicente in West Hollywood and while the flag subsequently caused something of a controversy, when marchers arrived it seemed like the exclamation point at the end of an emphatic sentence!
Garth says he feels humbled by the experience.
"The first word that comes to mind is it's so humbling, sort of moving, with this work," Garth tells the Los Angeles Blade. A number of great individuals and collaborators intentionally created an event "to really amplify and highlight individuals who have helped to make this work possible…to really create and carve out a moment in history. It's just been really, really humbling. I'm very grateful."
At the same time, Garth, 37, feels the weight of accountability and responsibility. "I live by the phrase, 'To whom much is given, much is required.' And even though this March was a beautiful monument on a momentous occasion, this is not the end. There's a great deal to be done going forward."
"One of the points that's really important to me, and the group at large, was to really look at how Black people and people of color, and more particularly, Black trans people and other trans people – such as Marsha P. Johnson and Sylvia Rivera — really were the catalyst for what we recognize today as the start of the Gay Liberation movement," Garth told the Los Angeles Blade after the march. "I consider it a responsibility to ensure that those individuals aren't forgotten. Of course, we're still fighting for a number of liberties. But we're still taking time to honor and celebrate them."
There is an opportunity for more. "So, we talk about violence and lack of resources and the need for policy change, as it relates to Black people. But for folks who live in those spaces in the middle being Black and LGBT, they are definitely disproportionately represented in those spaces."
Garth was a leader in the Black and LGBTQ communities before he arrived in Los Angeles seven years ago. "Most of my work has really been centered around inequity and allocating resources," often work that has gone unrecognized.
But Garth is committed to the cause and to working in solidarity with others to tackle structural inequities.
"We're definitely moving forward with a number of round tables and town halls designed to look at some of the unique concerns that had been voiced as we were moving into the March," Garth says. "So particularly, addressing some of the issues around historical racism within LGBT and LGBT-serving organizations, looking at how we're building an effective strategy to engage new leadership and also looking at how are we creating opportunities for these new leaders, as well."
Garth says they are committed to looking at what effective collaboration would look like and intend to work with local leadership and other leadership at "how we're surviving and develop strategies to really look at structural and institutional change."
Garth says he and members of the Black LGBTQ+ Action Coalition (BLAC), including Black trans artist Luckie Alexander, intend to work with LA City Councilmember Mitch O'Farrell's office on how to preserve the All Black Lives Matter art installation on Hollywood Boulevard.
"I'm so honored to have collaborated with Rick and Trailer Park Group and Councilmember O'Farrell's office to install my design on Hollywood Blvd," said Alexander, who collaborated on the design of the art installation. "The art piece spoke to the intersections of being Black, sexual orientation, and gender identity that are included in this racial movement. It speaks volumes to the commitment our city has regarding inclusion and equity for the Black community, especially our queer and trans community of color.  As a Black transman, our specific community has been continually overlooked and this gives me hope that we will continue to be heard here in Los Angeles. Hopefully we will also take the lead, as we always do, in creating that similar change across the country."
"BLAC is centered on effective partnerships designed to bring visibility and action to the unique needs of Black LGBTQ+ communities. Efforts like this, designed by BLAC member, Luckie Alexander, and in collaboration with Councilmember O'Farrell's office, Trailer Park Group, and all other partners and individuals that came together to make this happen is true proof of collaboration. And for a new installation of some kind to live permanently becomes a symbol not just to the city, but to the world," said Gerald Garth and Brandon Anthony, co-founders of BLAC & lead organizers of the All Black Lives Matter march.
LA-DWP & Mayor Garcetti announce new outdoor watering restrictions
Sprinkler watering will be allowed Monday & Friday at odd-numbered addresses in the city, and even-numbered addresses on Thursday & Sunday

LOS ANGELES – In a press conference Tuesday Los Angeles Mayor Eric Garcetti and officials from the Los Angeles Department of Water and Power (LADWP) announced that outdoor watering in the city will be restricted to two days a week starting June 1.
The announcement comes as the Metropolitan Water District of Southern California declared an unprecedented water shortage emergency two weeks ago, imposing restrictions after MWD's board voted to adopt the emergency measures to "reduce non-essential water use" in certain areas. Cities and smaller water suppliers that get water from MWD are required to start restricting outdoor watering to one day a week, or to find other ways to cut usage to a new monthly allocation limit.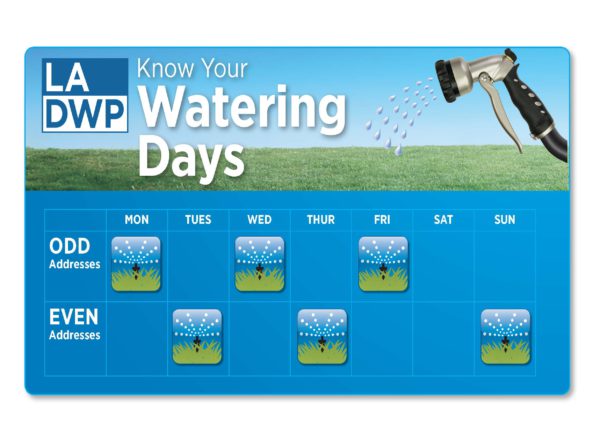 In Tuesday's press conference Mayor Garcetti said L.A.'s two-day limit was still more lenient than the one imposed by the Metropolitan Water District of Southern California, which has ordered many of its member agencies to restrict outdoor watering to once a week.
Sprinkler watering will be allowed on Monday and Friday at odd-numbered addresses in the city, and even-numbered addresses on Thursday and Sunday.
Hollywood residents angered over Sunset Blvd. homeless encampment
Many residents are frustrated over the increasing daily criminal activity that has plagued the area, including vehicle break-ins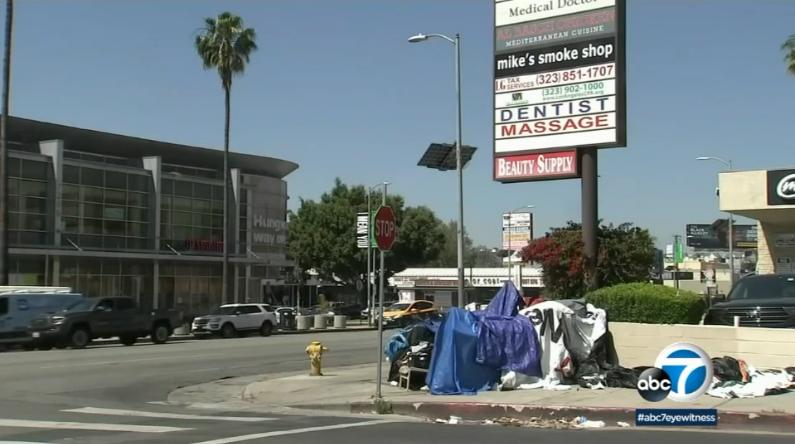 HOLLYWOOD – For those who live in the Hollywood neighborhood that surrounds the homeless encampment on Sunset Boulevard at Martel Avenue, the last seventeen months have been aggravating.
Many residents are frustrated over the increasing daily criminal activity that has plagued the area, including vehicle break-ins which at times has resulted in multiple break-ins on the same vehicles.
"We've had tons of break-ins. Our garage has been broken into five times. Cars are vandalized. Mail is stolen," local resident Lawrence S., who lives near the encampment, told KABC 7. "Our building, the building across the street, the building across the street that way — there's just rampant crime.
"I actually had my sister in-law come to visit for the first time and she parked across the street in broad daylight and within 30 seconds, someone from the homeless encampment was down swinging a club at her. The violence is escalating and we keep asking the City Council, what is it going to take? Do we need to wait till someone's murdered?"
The encampment is located at 7323 Sunset Blvd. and surrounds an AT&T building. It's located in L.A. City Councilwoman Nithya Raman's district who toured the encampment in 2021, joined by residents, including Terry S.
"She promised. She said that she would be adamantly enforcing ADA compliance. That she's looking into setting up a safe camping location for the campers. Never happened," Terry S. told KABC 7.
"In August, 41.18, an ordinance, passed and we were very hopeful because finally we thought that they would have some tools at their disposal," Lawrence S. said. "But the city councilwoman is only enforcing a part of that ordinance, which is the Care Plus Cleanup program. However, she's only doing it when she feels like enforcing it, which is three times in 17 months."
Residents say that the city's efforts to clean up and clear out the encampment only results in the homeless displaced for a couple of days sometimes less and then they return to reestablish the encampment. This past Thursday the city again clean and cleared the encampment.
While an KABC 7 camera and reporter Josh Haskell were working on the story homeless people were in the background reestablishing their presence across the street.
KABC 7 reached out to Councilwoman Nithya Raman whose office responded with a media statement:
"This encampment is a priority for our office, and our Homelessness Team has been consistently bringing services and working with the individuals living at this location. LAHSA outreach teams most recently identified seven people living here and together we worked to move three of them into shelter just yesterday as part of our Encampment-to-Home project, which has already moved 43 people in Hollywood indoors. Additionally, a cleanup took place at this location yesterday and we are working to move the remaining individuals into shelter as soon as beds become available. We are in continued communication with the residents in the neighborhood regarding the status of our progress as we move forward."
Residents upset with LA City Councilwoman Nithya Raman over Sunset Boulevard homeless encampment:
Lawsuit against USC in sexual abuse case of 80 male students settled
"The settlement is another step toward closure for our clients who finally feel a sense of recognition and validation for speaking up"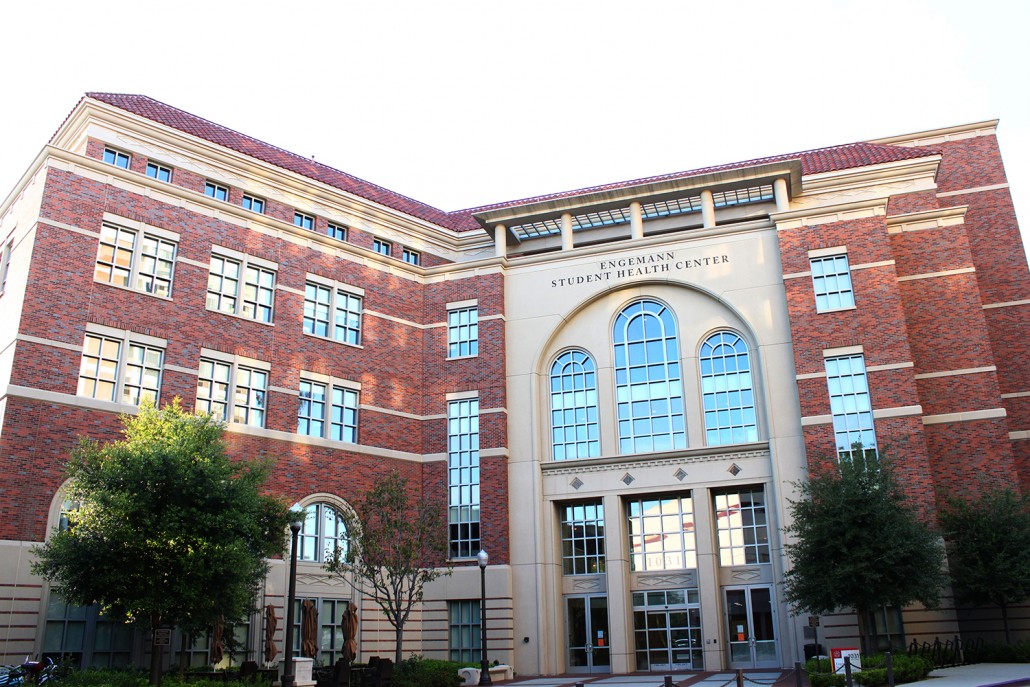 LOS ANGELES – Attorneys representing 80 individuals who filed lawsuits and made claims against the University of Southern California and former USC men's health physician Dennis Kelly for allegations of sexual misconduct and harassment have reached a global settlement according to the plaintiffs' attorney, Mikayla Kellogg.
"The settlement was achieved through the persistence and bravery of our clients who had the strength to come forward to share the harrowing details of their experiences at the USC Student Health Center and the determination to hold USC accountable for its failure to protect its students," said Kellogg, partner at Kellogg & Van Aken last week. "The settlement is another step toward closure for our clients who finally feel a sense of recognition and validation for speaking up."
The lawsuit was filed in February 2019 in Los Angeles Superior Court by six former University of Southern California student alumni, all gay or bisexual, alleges that Dr. Dennis A. Kelly discriminated against and battered them while he was serving as the only full-time men's sexual health doctor at the Engemann Student Health Center on the USC campus.
Since the original filing, 74 additional individuals have come forward, bringing the total number of claimants to 80.
Kelly Van Aken, partner at Kellogg & Van Aken said, "It has been a long three years for our courageous clients who have persevered through intense scrutiny to ensure their voices have been heard. It is our hope that by taking these allegations public and speaking out on behalf of dozens of current and former students of USC, institutions entrusted with the care of vulnerable young people are forced to confront and correct the toxic and problematic cultures that allow abuse and misconduct to continue."
Dennis Kelly was a physician at USC's Student Health Center from 1997 to 2018. The claimants allege that Dennis Kelly used his position of trust and authority as USC's men's health physician to engage in sexual misconduct under the guise of medical care and disproportionately targeted LGBTQ+ patients.  They further allege that USC received complaints about Dennis Kelly's misconduct but failed to adequately address them and continued to allow Dr. Kelly to see and treat vulnerable young students without limitation.
Kelly, 72, who resigned in August of 2018 after twenty years working at the student clinic as a primary care physician, denied any inappropriate behavior toward patients and called the lawsuit's allegations "terribly hurtful."
"I can't second-guess or question anything I've done," Kelly said in a phone interview February 12, 2019 with the Los Angeles Times. He added, "I know I did it all professionally and without any other motive."
Kelly, who described himself as an openly gay physician to the paper defended his actions telling The Times that he had devoted much of his career to counseling LGBTQ patients about ways to reduce the risks of their sexual behavior.
According to Kelly, he never used the graphic terms described in the lawsuit or performed unnecessary genital exams. He said he suspected his stern warnings about behavior that put patients at risk for sexually transmitted diseases were misinterpreted as condemnation or deviance.
The court documents stated that Kelley specifically targeted USC's gay and bisexual and male student population, "all of whom were young adults and many of whom were visiting the doctor without a parent for the first time," alleging he subjected to "intrusive and medically unnecessary rectal examinations."
"Dr. Kelly did not treat heterosexual men in a similar manner and did not perform rectal examinations on heterosexual men who had similar sexual practices," the suit claimed.