Yes on 21: Grassroots Coalition Protests California's Eviction Compromise Bill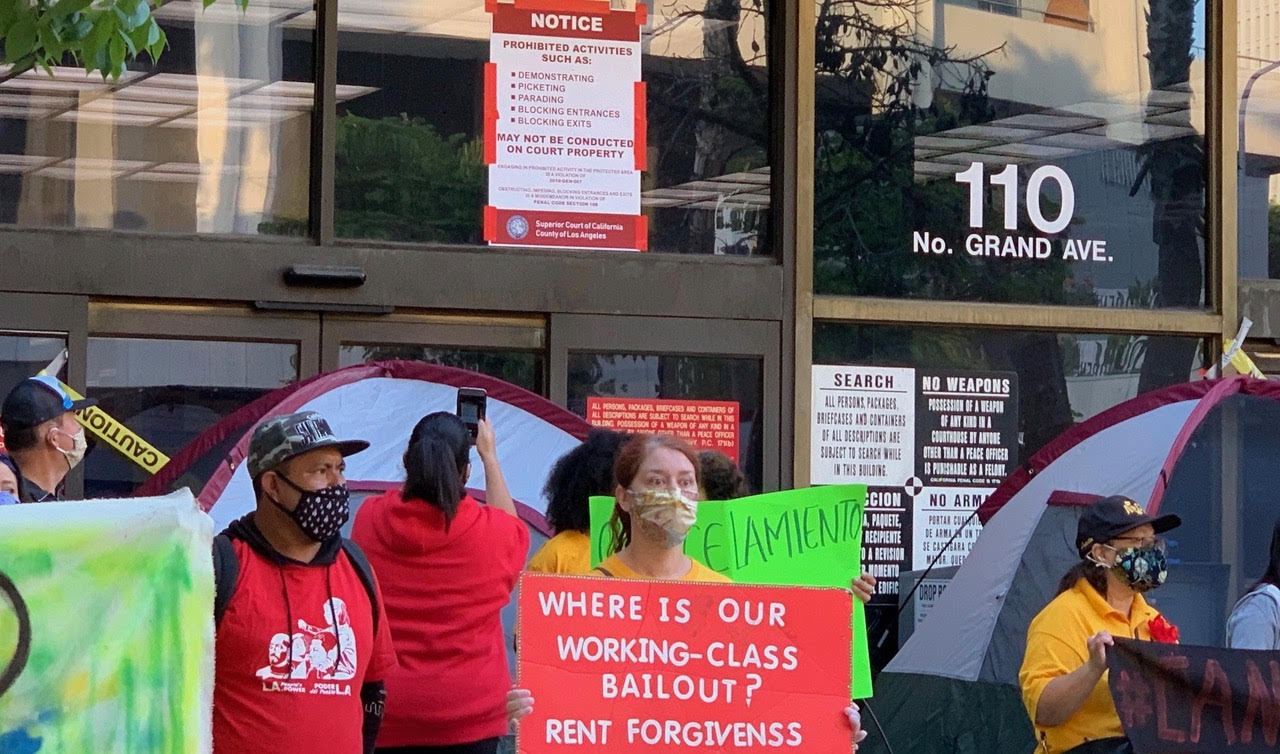 LOS ANGELES – After COVID-19 came in like a wrecking ball, smashing the lives and livelihoods of Californians, anguished renters and housing justice advocates momentarily breathed a sigh of relief when Gov. Gavin Newsom signed Assembly Bill 3088, a compromise bill intended to forestall a predicted tsunami of evictions. But soon the panicked gasping began again as renters realized AB 3088 was generating more of a confusing fog of war than clarity – a crisis Proposition 21 is designed to clear up and ease, as protesters made clear on Sept. 1.
Supporters for the Yes on 21 campaign joined a coalition action to stop evictions, planned before the AB 3088 was signed. While Proposition 21 is an important piece in solving the housing crisis, the Yes of 21 campaign has not taken an official position on the new law while also supporting grassroots activism that calls attention to how millions of renters face eviction or the loss of their homes.
Proposition 21 is the November ballot measure that puts limits on unfair, sky-high rent increases. It protects people against predatory landlords and keeps people in their homes. It's supported by trusted civil leaders and organizations, such as U.S. Bernie Sanders, labor and civil rights activist Dolores Huerta, Congresswoman Maxine Waters, the California Democratic Party, and numerous others.
The passage of AB 3088 caused local lawmakers to be concerned that unintended consequences will undermine local control – a provision specifically provided for in Prop. 21.
"The new law, dubbed the Tenant, Homeowner, and Small Landlord Relief and Stabilization Act of 2020, preempts tenant-protection ordinances passed by cities throughout California. Though the bill grandfathers in municipal ordinances already enacted, it does not allow cities to extend them after they expire," Courthouse News reports.
"We are likely to see confusion both on the part of landlords and tenants about what protections apply to them — and likely to see some group of landlords trying to circumvent" the new law, Sasha Harnden, a public policy advocate with Inner City Law Center, told the Los Angeles Times.
On Sept. 1, as the L.A. City Council debated spending nearly $10 million on new program for "emergency eviction defense" in court, out City Councilmember Mitch O'Farrell said he was still studying the state law but expressed concerns that AB 3088 could override some local protections. Listing renters protections in the city ordinance, O'Farrell said, "All of these protections are now in question."
"The legislative cycle has ended and the window to help 17 million renters closed with AB 3088, the atrocious compromise bill that Gov. Newsom and the State Legislature reached with the blessing of the California Apartment Association (CAA) and other landlord lobbyist groups," the coalition said in a press release before the demonstration. "AB 3088 is about landlords collecting rent rather than protecting tenants. AB 3088 will saddle renters with nearly a year of back rent with no forgiveness and no protections against eviction. Rent debt will claim the economic future of millions of renters in California, many of whom lost their jobs and wages by no fault of their own."
Renters and housing justice advocates did not take the anxious confusion lightly. In what Trinidad Ruiz, Campaign Organizer for Housing Is A Human Right, described as a "brilliant show of solidarity," more than 10 organizations and nearly 200 tenants carrying signs with slogans saying "#cancelrent" and "#noevictions" shut down the Stanley Mosk Courthouse. They noted it's "the epicenter of eviction orders issued against tenants in Los Angeles."
"Until the governor and the state legislature gets it right, tenants won't stop fighting for our housing, for canceled rent, and an end to evictions during a pandemic," says Rev. Rae Chen Huang, Lead Organizer for LA Voice, member of Faith in Action.
"The weak protections that Newsom passed through AB 3088 and the recent unenforceable and unresourced statement by the Trump administration offers no long term solutions for renters," Huang says. "Simply, all the protections that are being offered only delays and temporarily anesthetizes the cancer that has leached the working class of their dignity and livelihood. If our elected leaders are genuinely committed to repairing the racist and classist structures that continue to displace our working families and individuals, they would create a legislative path towards debt forgiveness and community-based and community-rooted ownership of land and property."
This article originally appeared on Yeson21CA.org. https://yeson21ca.org/news/
Karen Ocamb is an award-winning journalist and staff writer for the Yes on 21 movement.
Senate acquits Trump 57- 43 in 2nd impeachment trial
The vote was cast after lawmakers scrapped plans to depose witnesses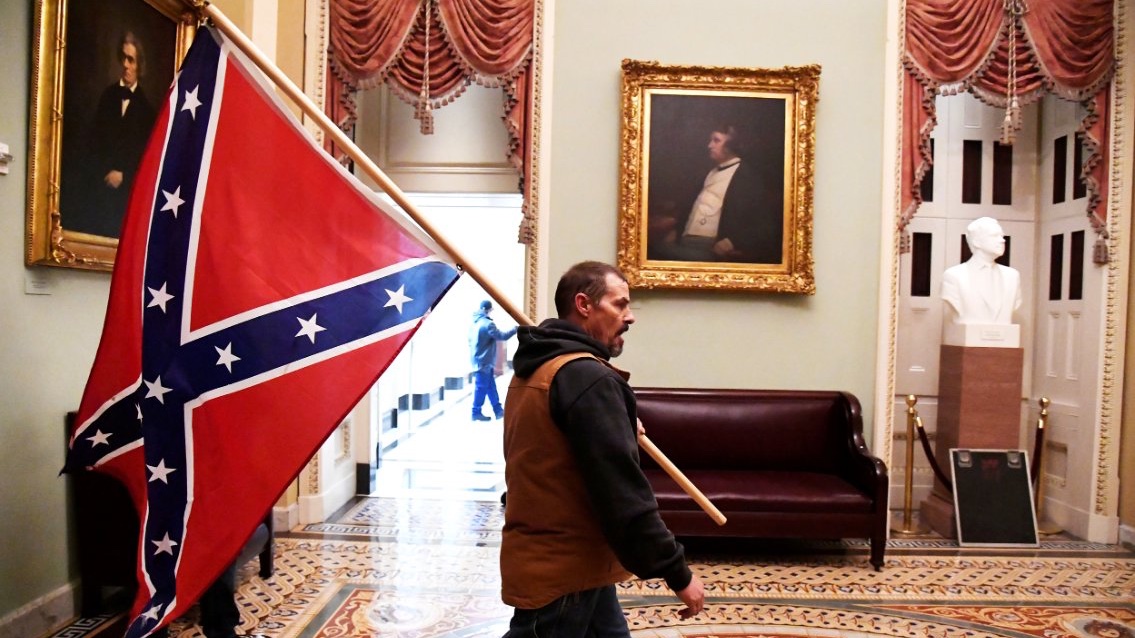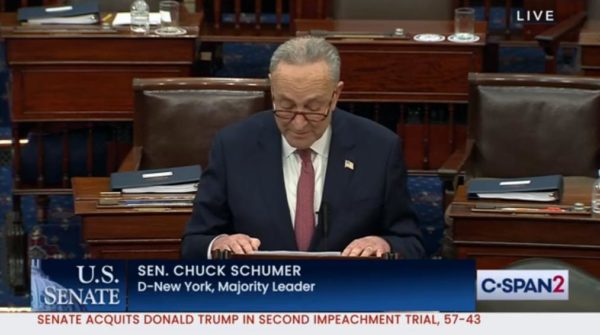 WASHINGTON – The United States Senate in a vote of 57 to 43 Saturday acquitted former President Donald Trump, who was charged in the one Article of Impeachment by the U. S. House for inciting the insurrection at the U.S. Capitol on January 6th, 2021. The Constitution requires a two-thirds majority to convict or 67 votes.
The House Impeachment Managers spoke to reporters after the Senate vote to acquit the ex-president telling reporters, "We have shown Trump is a disgrace to our country."
Trump issued a statement thanking his defense team and supporters that read in part;
"[…] My deepest thanks as well to all of the United States Senators and Members of Congress who stood proudly for the Constitution we all revere and for the sacred legal principles at the heart of our country.
This has been yet another phase of the greatest witch hunt in the history of our Country. No president has ever gone through anything like it, and it continues because our opponents cannot forget the almost 75 million people, the highest number ever for a sitting president, who voted for us just a few short months ago.
Our historic, patriotic and beautiful movement to Make America Great Again has only just begun. In the months ahead I have much to share with you, and I look forward to continuing our incredible journey together […]"
One Capitol Hill source reflecting on Trump's statement told the Blade, "Not one word of remorse in that mess. [statement on the acquittal.] He doesn't even acknowledge what a tragedy and travesty Jan. 6 was- he doesn't care."
A leading progressive coalition of more than 220 national organizations which promote and protect the civil rights of Americans, the Washington D.C. based 'The Leadership Conference on Civil and Human Rights' issued a statement from its interim president and CEO Wade Henderson after the Senate acquitted Trump;
"Despite the unmistakably clear evidence, only a handful of Republican senators found the moral fortitude to put partisan politics aside and hold Donald Trump accountable for the deadly insurrection. There is no question to fair-minded Americans that Trump weaponized blatant lies and incited a white supremacist, anti-Semitic mob to try to stop the peaceful transition of power.
The white supremacy that undergirded Trump's deadly rhetoric and fueled the insurrection is not new. The failure to convict Trump only highlights the actions we must take as a part of our country's long overdue reckoning with white supremacy and white nationalism."
One of the House Impeachment Managers, California Congressman Ted Lieu, (D-Santa Monica/Long Beach) tweeted after the vote;
"57 United States Senators concluded President Trump was guilty of inciting an insurrection. The highest bipartisan vote to convict in US history. That's a damning vote."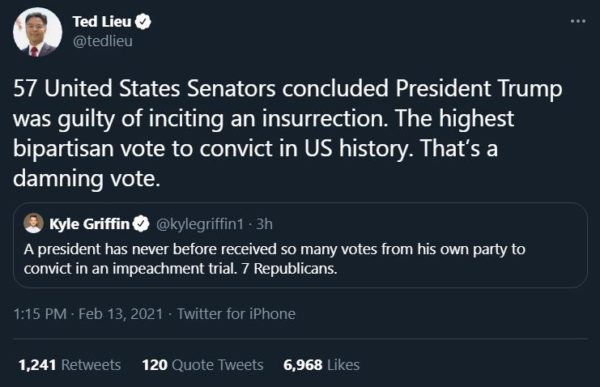 President Joe Biden, who is spending the weekend at Camp David, the presidential retreat in the Catoctin Mountain Park near Thurmont, Maryland, issued a statement late Saturday evening regarding the verdict;
"It was nearly two weeks ago that Jill and I paid our respects to Capitol Police officer Brian Sicknick, who laid in honor in the Rotunda after losing his life protecting the Capitol from a riotous, violent mob on January 6, 2021.

Today, 57 Senators – including a record 7 Republicans – voted to find former President Trump guilty for inciting that deadly insurrection on our very democracy. The Senate vote followed the bipartisan vote to impeach him by the House of Representatives. While the final vote did not lead to a conviction, the substance of the charge is not in dispute. Even those opposed to the conviction, like Senate Minority Leader McConnell, believe Donald Trump was guilty of a "disgraceful dereliction of duty" and "practically and morally responsible for provoking" the violence unleashed on the Capitol.

Tonight, I am thinking about those who bravely stood guard that January day. I'm thinking about all those who lost their lives, all those whose lives were threatened, and all those who are still today living with terror they lived through that day. And I'm thinking of those who demonstrated the courage to protect the integrity of our democracy – Democrats and Republicans, election officials and judges, elected representatives and poll workers – before and after the election.

This sad chapter in our history has reminded us that democracy is fragile. That it must always be defended. That we must be ever vigilant. That violence and extremism has no place in America. And that each of us has a duty and responsibility as Americans, and especially as leaders, to defend the truth and to defeat the lies.

That is how we end this uncivil war and heal the very soul of our nation. That is the task ahead. And it's a task we must undertake together. As the United States of America."
LGBTQ media advocacy organization GLAAD's President and CEO Sarah Kate Ellis, in a media statement wrote; "the Trump administration will forever be defined by misinformation and violence, tactics the former president weaponized against LGBTQ people and other vulnerable communities before turning them loose on our government on January 6th."
Ellis continued noting;
"The verdict does not reflect the truth understood by a majority of Americans, that Donald Trump recklessly and maliciously directed his supporters to attack the Capitol and our democracy. The Trump administration will forever be defined by misinformation and violence, tactics the former president weaponized against LGBTQ people and other vulnerable communities before turning them loose on our government on January 6th.

Senators voting to acquit are now and for all of history recorded for their cowardice in failing to hold the former president accountable for his lawless, destructive behavior. Let this be a turning point for our country, where we demand a return to shared core values of truth, safety and integrity to protect the least among us, especially from those chosen to lead us."
Republican Senate Minority Leader Mitch McConnell (R-Ky.), offered up a withering criticism of Trump's behavior. McConnell said Trump was "practically and morally" responsible for the Jan. 6 attack and suggested that he could face criminal charges. McConnell had been one of the 43 GOP Senators who voted to acquit.
McConnell said he would have "carefully considered" convicting Trump if he still held office, but ultimately determined that he, as a former president, was not "constitutionally eligible" for a conviction.
One of the ex-president's supporters blamed the Democrats; "This impeachment trial did nothing to bring the domestic terrorists who committed this heinous attack to justice," said Sen. Ted Cruz (R-Texas). "It merely satisfied Democrats' desire to once again vent their hatred of Donald Trump and their contempt for the tens of millions of Americans who voted for him."
Speaker of the House Nancy Pelosi (D-San Francisco) angrily chastised the 43 Republican Senators over their votes in the acquittal saying in a statement:
"Senate Republicans who voted not to convict chose to abandon the Constitution, the Country and the American people with this vote."
The Speaker also noted that "the Congress and Country can take great pride in the House Impeachment Managers, who defended our Constitution & Democracy with a moving presentation demonstrating love of country and loyalty to our oath and the facts."
In a letter to his supporters, House Intelligence Chairman Rep. Adam Schiff, (D-Burbank) remarked;
"[…] When I served as lead manager of the first impeachment, we warned the Senators that if they failed to convict Donald Trump after he betrayed our national security, he would do so again, that he had compromised our elections and he would do so again. We warned that they would not change or constrain him. That truth mattered little to him, what's right mattered even less, and decency not at all.
[…] As long as I live, I will never understand how the Republican Senators who voted to acquit can reconcile themselves with the consequences of that vote, or where this will place them in history. Why run for the Senate at all, if you will be missing in action when the country really needs you? Is the job that important to leave your country defenseless to a demagogue who brought violence down on our heads? How can they fail to see that by doing so, they have enabled him to bring this same hell upon us again, and that next time it could be even worse?
Rep. Jamie Raskin, (D-Md.), the lead House Impeachment Manager, warned senators that their conviction vote would define their legacies.
"This is almost certainly how you will be remembered by history," he said. "It really might not be fair, but none of us can escape the demands of history and destiny right now."