Yes on 21 Protests Gov. Newsom's Heartbreaking Failures on Housing
Housing instability can cause genuine mental and physical adversity, and lead to insufferable decisions.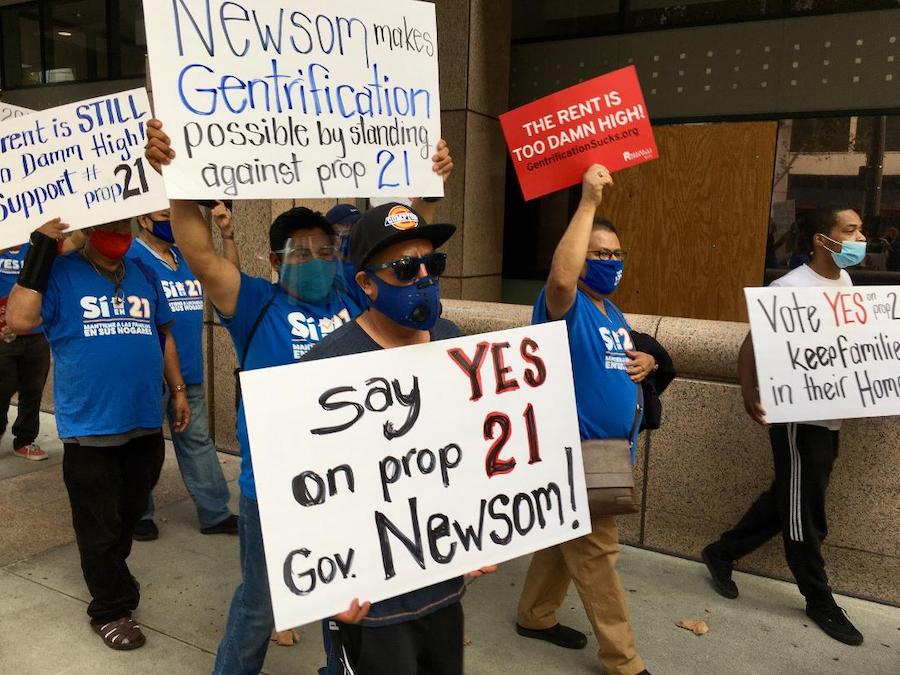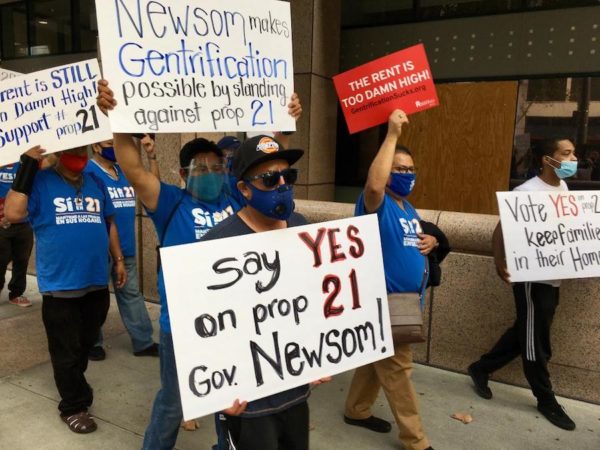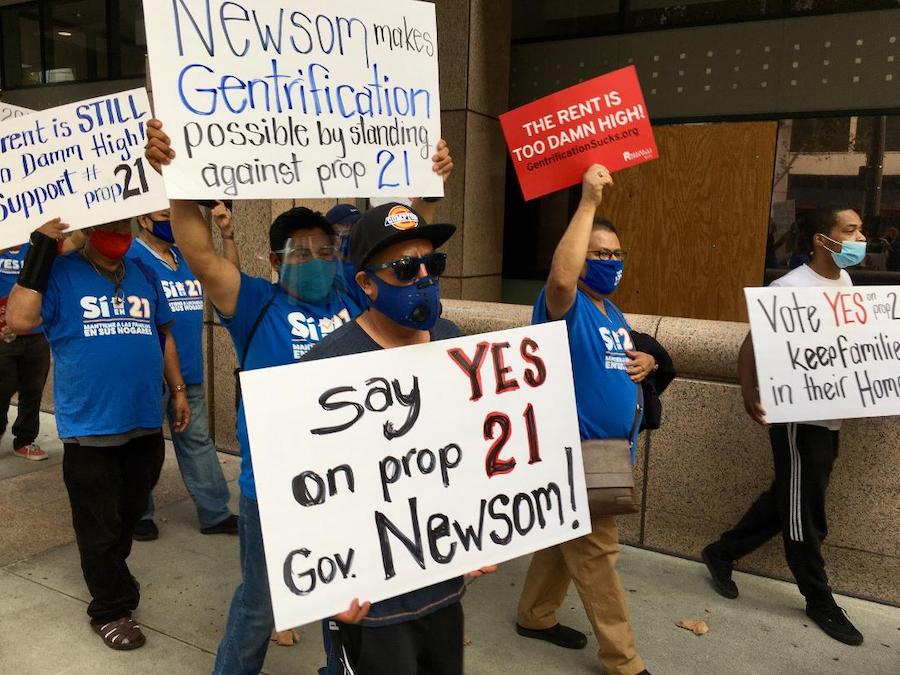 LOS ANGELES – In the beginning, there was a glimmer of hope. In 2017, then-Lt. Gov, Gavin Newsom published a plan in Medium about how, as governor, he would generate 3.5 million new housing units by 2025. "Housing is a fundamental human need — let's not forget the human face behind the dire statistics," he wrote. "Housing instability can cause genuine mental and physical adversity, and lead to insufferable decisions: no one should have to choose between paying rent or buying groceries. Knowing that too many Californians face this kind of anxiety breaks my heart."
Unlike so many other politicians who blanche and turn a blind eye to the seemingly unsolvable humanitarian crisis, Newsom posited fighting homelessness as a core moral principle. "Homelessness drove the 'why' for me when I ran for Mayor [of San Francisco], and I'm going to take the issue on with equal intensity as Governor," he wrote. And Californians believed him – only to have Newsom break their hearts when he decided to oppose Prop 21, the urgently needed Rental Affordability Act, and join with lying corporate landlords to actively work against the rent control measure.
Prop 21 is the statewide ballot measure that puts limits on unfair, sky-high rent increases, reins in corporate landlord greed, and prevents homelessness. Top experts at USC, UCLA, and UC Berkeley agree that sensible rent limits are key for stabilizing California's housing affordability crisis. That's why the California Democratic Party, the ACLU, the California Nurses Association, the California Alliance for Retired Americans, Black Lives Matter, the Los Angeles Times, and a slew of LGBTQ organizations and individuals — including LA County Supervisor Sheila Kuehl — have thrown their full support behind Prop 21, the Rental Affordability Act.
Newsom's seeming flip-flop on the urgent support needed to stem the homeless crisis, especially during the cruel COVID-19 pandemic, prompted about 100 housing justice and health care advocates to stage a socially distanced rally and car caravan at the Ronald Reagan State Building in Downtown Los Angeles on October 21.
"Gavin Newsom sold us out!" they chanted. "What do we want?! Rent control!"
"From acting as a mouthpiece and puppet for the billionaire landlords behind the No on Prop 21 campaign, to his unwillingness to cancel rent for millions of out of work Californians, to his inaction on the Aliso Canyon disaster, to his total failure to address the homeless epidemic, Governor Newsom has undeniably failed the state of California on housing," the Yes on 21 activists said in a press release. "The Governor has failed to stand with renters, failed to stand with the unhoused, failed to stand with working Californians, failed to stand with Democratic Party of California (which has endorsed Prop 21) and Democratic leaders and is instead standing with the corporate landlords who are bleeding renters dry and attempting to suppress grassroots efforts toward rent control."
"Today's protest was very important. We wanted to send a clear and direct message to California Governor Gavin Newsom: you have failed to support a stable and permanent measure — Prop 21 — to establish rent control in California. The Room Key project that you supported was like applying only a band aid to an open wound. The homeless population keeps increasing every year in California," said Eduardo Martinez, the Yes on 21
Los Angeles Advocacy/Mobilizer. "Gov Gavin Newsom — do the right thing and endorse Prop 21!"
The fight to pass Prop 21 also throws a harsh apocalyptic spotlight on massive intersectional and overlapping crisis upon crisis, including: the lack or loss of shelter during the airborne coronavirus pandemic; the terrifying economic business and unemployment crisis – and the serious food insecurity and healthcare issues tied to job loss; the unpredictable wildfires, evacuations and insurance confusion — all during a critical election where voter suppression is an ongoing threat and too many Californians are deprived of intimate human contact. More than 17,000 Californians have died from COVID-19 and new threats are looming with concerns that isolation-fatigued people will turn the upcoming holidays into super-spreader events, observes the Los Angeles Times.
The Times reports that "California has lost 9.2% of its payroll jobs, compared with 7% nationwide" since February. "More than 2 million Californians were counted as unemployed in September, but that doesn't include hundreds of thousands of discouraged workers who have dropped out of the job market. The labor force, which includes both job holders and job seekers, has shrunk by 850,000 people since February — pushing down the state's official unemployment rate. Many California businesses remain closed, and economists warn that the job market will not strongly recover until the virus is under control."
"California's labor market recovery is clearly decelerating," Scott Anderson, chief economist of the Bank of the West in San Francisco, told the LA Times. "Virus cases are on the rise, wildfires are decimating California communities, and federal government support is running dry."
And where is Gavin? Before COVID, Newsom used his Feb. 19, 2020, address to shame and blast almost everyone, calling for greater "accountability" for the failure of his homelessness plan. The East Bay Times noticed one group conspicuously absent from his harangue: the real estate industry.
"Newsom says sacrifices are needed from the homeowner who's bet their life savings on a California home. He suggests the same from the tenement-dweller who accepts their dumpy rental because there's no better option and they live one layoff or medical bill away from homelessness. But what about the real estate industry?" they wrote. 
"California is one of the nation's most-profitable places to build a home, sell or finance one or own an apartment complex. That's due, in part, to the modest supply of housing available in the state's growing economy. Do you expect the industry to willingly give up that profitable perch?"
Prop 21 activists are angry that Newsom seems to be bending over backwards to provide incentives to big real estate investors – despite audited evidence of delays and cost overruns. Last September, L.A. City Controller Ron Galperin found that "the average cost of building a single unit of housing for the homeless in Los Angeles has risen to $531,000," the LA Times reported.
"Nearly four years after voters approved Proposition HHH, only three projects have opened, construction has not started on three-quarters of the planned units, and many projects may 'never come to fruition,' said Galperin, adding that the delays began before the COVID-19 pandemic."
Meanwhile, a recent study from UCLA's Center for the Transformation of Schools found that pandemic-related job losses and economic instability have resulted in "at least 269,000 K-12 students in California experiencing homelessness at the end of the 2018-19 school year — enough children and teens to fill Dodger Stadium five times over — and that number was likely a gross underestimate." They also believe that number is likely to surge.
In a parallel world, the California housing market is trending toward recovery from the COVID-shocked economy. "Sales are expected to continue to improve for the remainder of 2020 and increase modestly again in 2021. Buyer demand remains robust and that has already pushed California's median price above $700,000. However, inventory is expected to remain a challenge that will keep sales growth in the single digits next year," as reported by the California Association of Realtors.
"Housing affordability is improving in California due to lower mortgage rates combined with fewer new homes being constructed as the construction supply chain is impaired. This could lead to a more upward pull on California home prices. Unsold inventory is already at low levels (2.1 months), and reduced construction activity means that is likely to continue—especially if buyers respond to lower rates….From the beginning of the year 2012 to the end of 2019, the median home price in California appreciated by a massive 85.5%, from $305,000 to $566,000….Currently, the median home value in California is $586,659….The latest California real estate market forecast is that the home prices will rise by 7.6% in the next twelve months (until August 2021)."
"Housing affordability" means something entirely different to the laid off renter facing eviction once the moratoriums expire and all back rent, with interest and penalties come due at the beginning of next year. Last May, the UCLA Luskin Institute on Inequality and Democracy predicted in a study that about 365,000 renter households in L.A. County were "in imminent danger of eviction and homelessness," based on the expected lifting of the eviction moratorium on September 30, 2020. One of the study's authors, retired law professor Gary Blasi, recently revised the numbers to nearly a half million L.A. renters at risk of eviction. Other studies have indicated that the huge displacement would disproportionately impact Black and Latinx neighborhoods.  
"It would be on the order of a big earthquake on the San Andreas," Blasi told the L.A. Times of the pending crisis. "It'll be a man-made version of San Andreas, except the buildings will still be standing. It's just the people that will be on the street…It will be the single biggest potential displacement of Americans, certainly since the Great Depression,"
And where is Gavin? On the TV staring back at heartbroken and terrified renters as he spins for the corporate billionaires opposing Prop 21.
"Governor Newsom spearheaded Project Roomkey, an ambitious program to house 15,000 homeless people in the midst of California's growing COVID-19 pandemic. It fell drastically short of its goal, with only 4,000 housed and little to no additional leadership from Newsom, short of announcing the program at the start," said René Christian Moya, campaign director for Yes on 21 and director of Housing Is A Human Right (HHR).
"Newsom is also siding with the Big Real Estate billionaires and multi-millionaires funding the deceptive 'No On 21' campaign and, surprisingly, against his own California Democratic Party, many fellow Democratic legislators and 17 million California renters in opposing Prop. 21."What's the "why" driving Newsom now? 
This story originally appeared on the Yes on 21 website, where you can find a number of other stories on LGBTQ-specific support for Prop 21: https://yeson21ca.org/.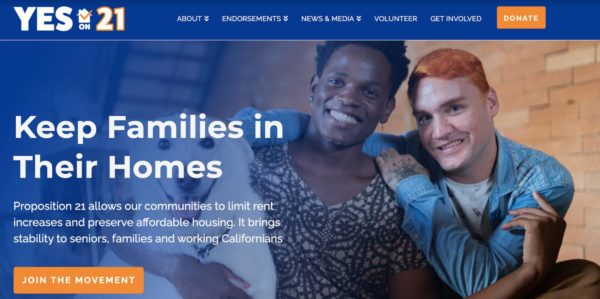 City of West Hollywood co-founder and City Councilmember John Heilman: https://yeson21ca.org/why-west-hollywood-supports-proposition-21/ 
Los Angeles County Democratic Party Chair Mark Gonzalez: https://yeson21ca.org/la-county-democratic-party-mark-gonzalez-urges-yes-on-prop-21/
Statewide LGBTQ political groups: https://yeson21ca.org/lgbtq-political-groups-endorse-prop-21/
The Los Angeles Blade, the LGBTQ newspaper of record for Southern California, endorses Prop 21: https://yeson21ca.org/los-angeles-blade-the-lgbtq-paper-of-record-in-southern-california-endorses-prop-21/
Prop 21 is deeply personal for Yes on 21 campaign contributor Michael Weinstein and Campaign Director René Christian Moya: https://yeson21ca.org/prop-21-deeply-personal-for-housing-activists-who-slam-the-opposition/  
Young, gay Latino Arturo Castro, a renter who works on the Yes on 21 campaign, is a community hero for his compassionate help for devastated evicted renters: https://yeson21ca.org/why-young-gay-latino-arturo-castro-works-hard-to-pass-prop-21/
Senate acquits Trump 57- 43 in 2nd impeachment trial
The vote was cast after lawmakers scrapped plans to depose witnesses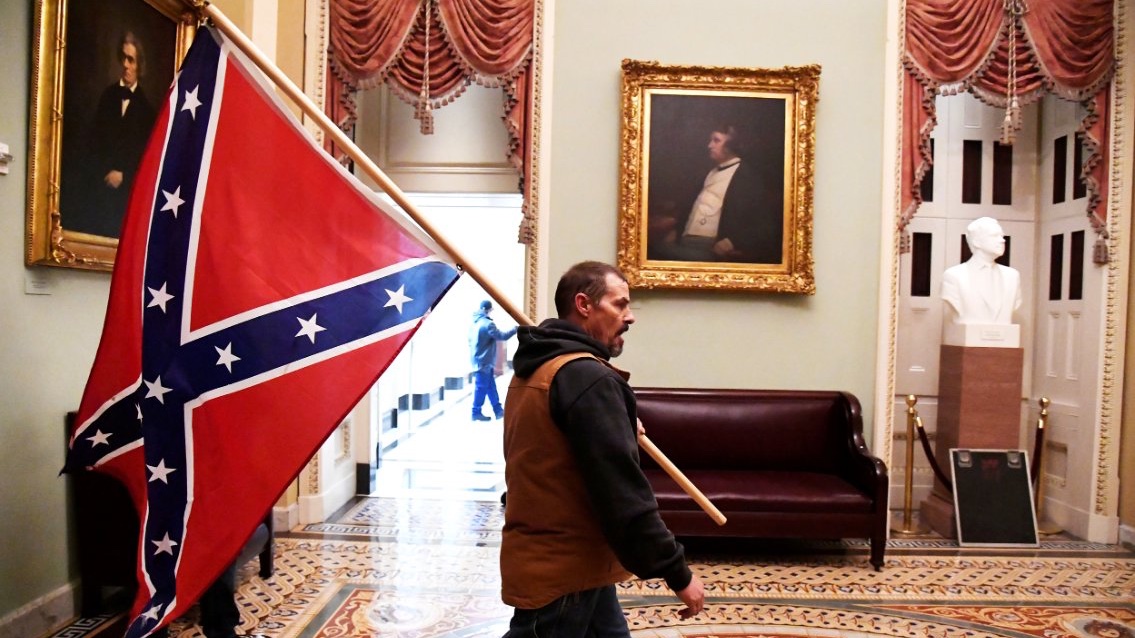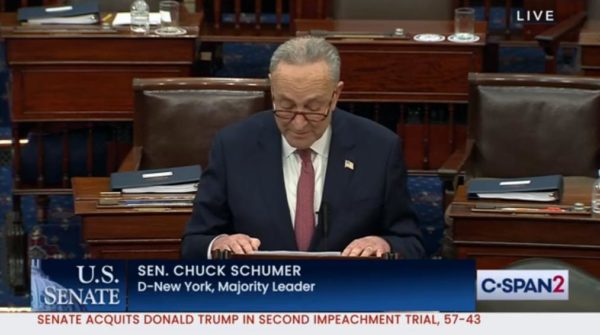 WASHINGTON – The United States Senate in a vote of 57 to 43 Saturday acquitted former President Donald Trump, who was charged in the one Article of Impeachment by the U. S. House for inciting the insurrection at the U.S. Capitol on January 6th, 2021. The Constitution requires a two-thirds majority to convict or 67 votes.
The House Impeachment Managers spoke to reporters after the Senate vote to acquit the ex-president telling reporters, "We have shown Trump is a disgrace to our country."
Trump issued a statement thanking his defense team and supporters that read in part;
"[…] My deepest thanks as well to all of the United States Senators and Members of Congress who stood proudly for the Constitution we all revere and for the sacred legal principles at the heart of our country.
This has been yet another phase of the greatest witch hunt in the history of our Country. No president has ever gone through anything like it, and it continues because our opponents cannot forget the almost 75 million people, the highest number ever for a sitting president, who voted for us just a few short months ago.
Our historic, patriotic and beautiful movement to Make America Great Again has only just begun. In the months ahead I have much to share with you, and I look forward to continuing our incredible journey together […]"
One Capitol Hill source reflecting on Trump's statement told the Blade, "Not one word of remorse in that mess. [statement on the acquittal.] He doesn't even acknowledge what a tragedy and travesty Jan. 6 was- he doesn't care."
A leading progressive coalition of more than 220 national organizations which promote and protect the civil rights of Americans, the Washington D.C. based 'The Leadership Conference on Civil and Human Rights' issued a statement from its interim president and CEO Wade Henderson after the Senate acquitted Trump;
"Despite the unmistakably clear evidence, only a handful of Republican senators found the moral fortitude to put partisan politics aside and hold Donald Trump accountable for the deadly insurrection. There is no question to fair-minded Americans that Trump weaponized blatant lies and incited a white supremacist, anti-Semitic mob to try to stop the peaceful transition of power.
The white supremacy that undergirded Trump's deadly rhetoric and fueled the insurrection is not new. The failure to convict Trump only highlights the actions we must take as a part of our country's long overdue reckoning with white supremacy and white nationalism."
One of the House Impeachment Managers, California Congressman Ted Lieu, (D-Santa Monica/Long Beach) tweeted after the vote;
"57 United States Senators concluded President Trump was guilty of inciting an insurrection. The highest bipartisan vote to convict in US history. That's a damning vote."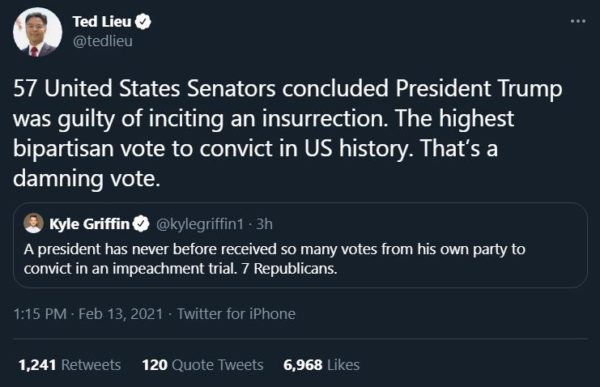 President Joe Biden, who is spending the weekend at Camp David, the presidential retreat in the Catoctin Mountain Park near Thurmont, Maryland, issued a statement late Saturday evening regarding the verdict;
"It was nearly two weeks ago that Jill and I paid our respects to Capitol Police officer Brian Sicknick, who laid in honor in the Rotunda after losing his life protecting the Capitol from a riotous, violent mob on January 6, 2021.

Today, 57 Senators – including a record 7 Republicans – voted to find former President Trump guilty for inciting that deadly insurrection on our very democracy. The Senate vote followed the bipartisan vote to impeach him by the House of Representatives. While the final vote did not lead to a conviction, the substance of the charge is not in dispute. Even those opposed to the conviction, like Senate Minority Leader McConnell, believe Donald Trump was guilty of a "disgraceful dereliction of duty" and "practically and morally responsible for provoking" the violence unleashed on the Capitol.

Tonight, I am thinking about those who bravely stood guard that January day. I'm thinking about all those who lost their lives, all those whose lives were threatened, and all those who are still today living with terror they lived through that day. And I'm thinking of those who demonstrated the courage to protect the integrity of our democracy – Democrats and Republicans, election officials and judges, elected representatives and poll workers – before and after the election.

This sad chapter in our history has reminded us that democracy is fragile. That it must always be defended. That we must be ever vigilant. That violence and extremism has no place in America. And that each of us has a duty and responsibility as Americans, and especially as leaders, to defend the truth and to defeat the lies.

That is how we end this uncivil war and heal the very soul of our nation. That is the task ahead. And it's a task we must undertake together. As the United States of America."
LGBTQ media advocacy organization GLAAD's President and CEO Sarah Kate Ellis, in a media statement wrote; "the Trump administration will forever be defined by misinformation and violence, tactics the former president weaponized against LGBTQ people and other vulnerable communities before turning them loose on our government on January 6th."
Ellis continued noting;
"The verdict does not reflect the truth understood by a majority of Americans, that Donald Trump recklessly and maliciously directed his supporters to attack the Capitol and our democracy. The Trump administration will forever be defined by misinformation and violence, tactics the former president weaponized against LGBTQ people and other vulnerable communities before turning them loose on our government on January 6th.

Senators voting to acquit are now and for all of history recorded for their cowardice in failing to hold the former president accountable for his lawless, destructive behavior. Let this be a turning point for our country, where we demand a return to shared core values of truth, safety and integrity to protect the least among us, especially from those chosen to lead us."
Republican Senate Minority Leader Mitch McConnell (R-Ky.), offered up a withering criticism of Trump's behavior. McConnell said Trump was "practically and morally" responsible for the Jan. 6 attack and suggested that he could face criminal charges. McConnell had been one of the 43 GOP Senators who voted to acquit.
McConnell said he would have "carefully considered" convicting Trump if he still held office, but ultimately determined that he, as a former president, was not "constitutionally eligible" for a conviction.
One of the ex-president's supporters blamed the Democrats; "This impeachment trial did nothing to bring the domestic terrorists who committed this heinous attack to justice," said Sen. Ted Cruz (R-Texas). "It merely satisfied Democrats' desire to once again vent their hatred of Donald Trump and their contempt for the tens of millions of Americans who voted for him."
Speaker of the House Nancy Pelosi (D-San Francisco) angrily chastised the 43 Republican Senators over their votes in the acquittal saying in a statement:
"Senate Republicans who voted not to convict chose to abandon the Constitution, the Country and the American people with this vote."
The Speaker also noted that "the Congress and Country can take great pride in the House Impeachment Managers, who defended our Constitution & Democracy with a moving presentation demonstrating love of country and loyalty to our oath and the facts."
In a letter to his supporters, House Intelligence Chairman Rep. Adam Schiff, (D-Burbank) remarked;
"[…] When I served as lead manager of the first impeachment, we warned the Senators that if they failed to convict Donald Trump after he betrayed our national security, he would do so again, that he had compromised our elections and he would do so again. We warned that they would not change or constrain him. That truth mattered little to him, what's right mattered even less, and decency not at all.
[…] As long as I live, I will never understand how the Republican Senators who voted to acquit can reconcile themselves with the consequences of that vote, or where this will place them in history. Why run for the Senate at all, if you will be missing in action when the country really needs you? Is the job that important to leave your country defenseless to a demagogue who brought violence down on our heads? How can they fail to see that by doing so, they have enabled him to bring this same hell upon us again, and that next time it could be even worse?
Rep. Jamie Raskin, (D-Md.), the lead House Impeachment Manager, warned senators that their conviction vote would define their legacies.
"This is almost certainly how you will be remembered by history," he said. "It really might not be fair, but none of us can escape the demands of history and destiny right now."