November 16, 2020 at 9:16 pm PST | by Brody Levesque
Newsom reacts as COVID19 cases spike- L.A. County officials weigh more restrictions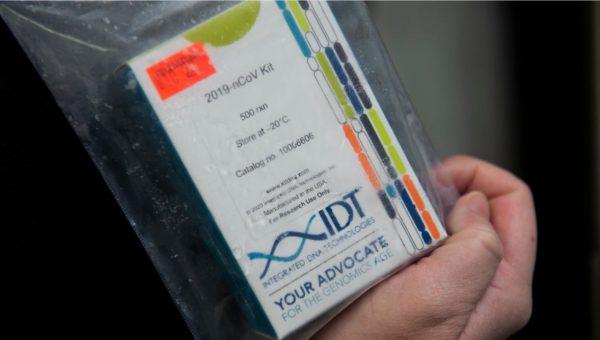 SACRAMENTO – During his regularly scheduled press briefing Monday, California Governor Gavin Newsom announced that effective Tuesday, November 17, he would be pulling the "emergency brake" on the state's efforts to reopen its economy and lifting societal restrictions imposed by the coronavirus pandemic.
"We are sounding the alarm," Newsom told reporters. "California is experiencing the fastest increase in cases we have seen yet –faster than what we experienced at the outset of the pandemic or even this summer."
"The spread of COVID-19, if left unchecked, could quickly overwhelm our health care system and lead to catastrophic outcomes," he added.
Newsom spoke along with the State's Secretary of Health and Human Services, Dr. Mark Ghaly, both men noting that the rate of growth in confirmed COVID-19 cases is faster than it was in July, which led to a significant peak in cases.
"This requires a swift public health response and action from all Californians to slow the spread of the virus. Immediate action will help protect individuals at higher risk of severe illness or death from COVID-19 and will help keep the state's health care delivery system from becoming overwhelmed," the Governor said.
"The data we are seeing is very concerning. We are in the midst of a surge, and time is of the essence. Every day matters and every decision matters," said Dr. Ghaly. "Personal decisions are critical, and I am imploring every Californian to stay home if they can, wear a mask whenever they leave their homes, limit mixing, practice physical distancing and wash their hands."
Newsom announced that 30 counties were moved back into Tier 1(Purple/Widespread/Most Restrictive) with another nine counties moving back into Tier 2 (Red/Substantial)
Ventura and Orange counties both joined Los Angeles, Riverside and San Bernardino in the purple tier on Monday.
During a virtual briefing with reporters on Friday, Ghlay pointed out that although it is an advisory he and other officials are strongly urging Californians to heed the urgent call to take greater precautions as the holiday period begins.
"During As COVID-19 transmission is increasing in many states and countries, those arriving, or returning to California, from other states or countries should self-quarantine for 14 days after arrival.
According to data collected by Johns Hopkins University, California has recorded at least 1,006,400 confirmed cases and 18,144 deaths. Los Angeles County is also the U.S. county with the highest number of confirmed cases, at 330,450.
The state recorded more than 13,280 new coronavirus cases today, which is the highest daily total since the pandemic began and a sign of how quickly COVID-19 is spreading across the state. The measures announced by Newsom will result in 94.1 percent of California's population in the most restrictive tier.
The governor also noted that the state is strengthening its face covering guidance to require individuals to wear a mask whenever outside their home, with limited exceptions. These new restrictive measures are partly because the spike in cases mainly on people who have grown fatigued coping with the virus and have ignored public health warnings to not socialize with friends and family members both Newsom and Ghaly noted.
In Los Angeles, Dr. Barbara Ferrer, the Director of the Los Angeles County Department of Public Health urged Angelenos to take immediate action to slow the spread of COVID-19 and to stay home as much as possible for the next two to three weeks except for accessing essential services.
Speaking in a Monday media briefing Ferrer warned that the County is at "a very dangerous point in the pandemic." She added that officials will be weighing additional restrictions and urged residents to cancel their travel plans.
"If the county can't get the pandemic back under control, we have no choice but to take a hard look at what kinds of restrictions will again limit our ability to intermingle," Ferrer said.
Restrictions may include implementing new occupancy limits or instituting curfews and, if there is a real threat to the healthcare system, possibly returning to safer-at-home orders, Ferrer said. "But we're not there yet," she added. Ferrer stressed that residents need to go back to following coronavirus safety protocols, avoiding gatherings and stay home as much as possible for the next two to three weeks.
"There is light at the end of the tunnel with positive news about vaccines. So we need to hang together, make sure actions are informed by the science and take better care of each other," Ferrer said.
Public Health confirmed 6 new deaths and 2,795 new cases of COVID-19. Monday Over the weekend, LACDPH reported a total of 6,841 new cases; 3,780 new cases for Saturday and 3,061 new cases for Sunday. The County has not experienced daily numbers like this since late July, during the last surge that resulted in many people becoming very seriously ill and losing their lives to COVID-19.
Younger residents are among those driving the surge in increasing cases. In the last month, the case rate for residents age 18 to 29 years old has more than doubled, from 11.5 cases per 100,000 people to 25 cases per 100,000 people. The second highest group, residents ages 30 through 49 years old, has nearly doubled from 9.4 cases to 18 cases per 100,000 people.
There are 1,049 people with COVID-19 currently hospitalized and 28% of these people are in the ICU. This is the highest number of people hospitalized with COVID-19 each day since the beginning of September and is the second day in a row the daily number of hospitalized patients with COVID-19 exceeded 1,000.