Newsom orders limited stay at home order as COVID surges
The virus is spreading at a pace we haven't seen since the start of this pandemic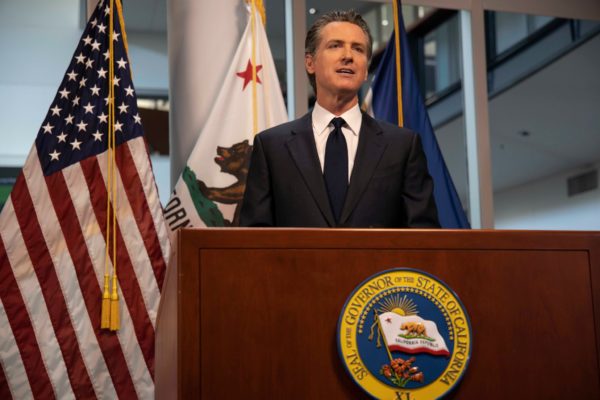 SACRAMENTO – In light of an unprecedented, rapid rise in COVID-19 cases across California, Governor Gavin Newsom and the California Department of Public Health (CDPH) announced Thursday afternoon that a limited Stay at Home Order generally requiring that non-essential work, movement and gatherings stop between 10 PM and 5 AM in counties in the purple tier.
This includes Los Angeles, Orange, Ventura, Riverside and San Bernardino counties.
The order will take effect at 10 PM Saturday, November 21 and remain in effect until 5 AM December 21. This is the same as the March Stay at Home Order, but applied only between 10 PM and 5 AM and only in purple tier counties that are seeing the highest rates of positive cases and hospitalizations.
"The virus is spreading at a pace we haven't seen since the start of this pandemic and the next several days and weeks will be critical to stop the surge. We are sounding the alarm," the Governor said. "It is crucial that we act to decrease transmission and slow hospitalizations before the death count surges. We've done it before and we must do it again."
Non-essential businesses and personal gatherings are prohibited between 10 PM and 5 AM beginning Saturday, November 21 at 10 PM
This limited Stay at Home Order is designed to reduce opportunities for disease transmission. Activities conducted during 10 PM to 5 AM are often non-essential and more likely related to social activities and gatherings that have a higher likelihood of leading to reduced inhibition and reduced likelihood for adherence to safety measures like wearing a face covering and maintaining physical distance.
"We know from our stay at home order this spring, which flattened the curve in California, that reducing the movement and mixing of individuals dramatically decreases COVID-19 spread, hospitalizations, and deaths," said California Health and Human Services Secretary Dr. Mark Ghaly. "We may need to take more stringent actions if we are unable to flatten the curve quickly. Taking these hard, temporary actions now could help prevent future shutdowns."
"We are asking Californians to change their personal behaviors to stop the surge. We must be strong together and make tough decisions to stay socially connected but physically distanced during this critical time. Letting our guard down could put thousands of lives in danger and cripple our health care system," said Dr. Erica Pan, the state's acting Public Health Officer.
"It is especially important that we band together to protect those most vulnerable around us as well as essential workers who are continuing their critical work amidst this next wave of widespread community transmission across the state. Together we prevented a public health crisis in the spring and together we can do it again."
COVID-19 case rates increased by approximately 50 percent in California during the first week of November. As a result, Governor Newsom and California's public health officials have announced a list of measures to protect Californians and the state's health care system, which could experience an unprecedented surge if cases continue their steep climb.
During his regularly scheduled press briefing Monday, California Governor Gavin Newsom announced that effective Tuesday, November 17, he would be pulling the "emergency brake" on the state's efforts to reopen its economy and lifting societal restrictions imposed by the coronavirus pandemic.
"We are sounding the alarm," Newsom told reporters. "California is experiencing the fastest increase in cases we have seen yet –faster than what we experienced at the outset of the pandemic or even this summer."
"The spread of COVID-19, if left unchecked, could quickly overwhelm our health care system and lead to catastrophic outcomes," he added.
Late last week, Newsom issued a travel advisory for California joining Oregon Governor Kate Brown and Washington State Governor Jay Inslee, urging people entering their states or returning home from travel outside of the state(s) to self-quarantine to slow the spread of the virus. The travel advisory urges against non-essential out-of-state travel, asks people to self-quarantine for 14 days after arriving from another state or country, and encourages residents to stay local.
Newsom announces end of the COVID-19 State of Emergency
California's pandemic response efforts have saved tens of thousands of lives, kept people out of the hospital and protected the economy
SACRAMENTO – Today, Governor Gavin Newsom announced that the COVID-19 State of Emergency will end on February 28, 2023, charting the path to phasing out one of the most effective and necessary tools that California has used to combat COVID-19.
This timeline gives the health care system needed flexibility to handle any potential surge that may occur after the holidays in January and February, in addition to providing state and local partners the time needed to prepare for this phaseout and set themselves up for success afterwards.
With hospitalizations and deaths dramatically reduced due to the state's vaccination and public health efforts, California has the tools needed to continue fighting COVID-19 when the State of Emergency terminates at the end of February, including vaccines and boosters, testing, treatments and other mitigation measures like masking and indoor ventilation.
As the State of Emergency is phased out, the SMARTER Plan continues to guide California's strategy to best protect people from COVID-19.
"Throughout the pandemic, we've been guided by the science and data – moving quickly and strategically to save lives. The State of Emergency was an effective and necessary tool that we utilized to protect our state, and we wouldn't have gotten to this point without it," said Newsom. "With the operational preparedness that we've built up and the measures that we'll continue to employ moving forward, California is ready to phase out this tool."
 
To maintain California's COVID-19 laboratory testing and therapeutics treatment capacity, the Newsom Administration will be seeking two statutory changes immediately upon the Legislature's return: 1) The continued ability of nurses to dispense COVID-19 therapeutics; and 2) The continued ability of laboratory workers to solely process COVID-19 tests.
"California's response to the COVID-19 pandemic has prepared us for whatever comes next. As we move into this next phase, the infrastructure and processes we've invested in and built up will provide us the tools to manage any ups and downs in the future," said Secretary of the California Health & Human Services Agency, Dr. Mark Ghaly. "While the threat of this virus is still real, our preparedness and collective work have helped turn this once crisis emergency into a manageable situation."
 
Throughout the pandemic, Governor Newsom, the Legislature and state agencies have been guided by the science and data to best protect Californians and save lives – with a focus on those facing the greatest social and health inequities – remaining nimble to adapt mitigation efforts along the way as we learned more about COVID-19. The state's efforts to support Californians resulted in:
Administration of 81 million vaccinations, distribution of a billion units of PPE throughout the state and processing of 186 million tests.
Allocation of billions of dollars to support hospitals, community organizations, frontline workers, schools and more throughout the pandemic.
The nation's largest stimulus programs to support people hardest hit by the pandemic – $18.5 billion for direct payments to Californians, $8 billion for rent relief, $10 billion for small business grants and tax relief, $2.8 billion to help with overdue utility bills, and more.
California's pandemic response efforts have saved tens of thousands of lives, kept people out of the hospital and protected the economy:
California's death rate is the lowest amongst large states. If California had Texas' death rate, 27,000 more people would have died here. If California had Florida's rate, that figure jumps to approximately 56,000 more deaths.
In only the first ten months of vaccines being available, a study showed that California's efforts saved 20,000 lives, kept 73,000 people out of the hospital and prevented 1.5 million infections.  
California's actions during the pandemic protected the economy and the state continues to lead the nation in creating jobs and new business starts:

"'Lockdown' states like California did better economically than 'looser' states like Florida, new COVID data shows," with California's economy having contracted less than such states – economic output shrank 3.5% on average for the U.S., compared with 2.8% for California.
Since February 2021, California has created 1,628,300 new jobs – over 16% of the nation's jobs, by far more than any other state. By comparison, Texas created 1,133,200 jobs (11.3% of the nation's) and Florida created 787,600 jobs (7.9% of the nation's) in that same timeframe.
Since the beginning of 2019, data from the Bureau of Labor Statistics shows that over 569,000 businesses started in California, by far more than any other state.