Gay circuit party impresario hosts NYE super-spreader in Mexico
Jeffrey Sanker's event has drawn massive mostly negative reaction and condemnation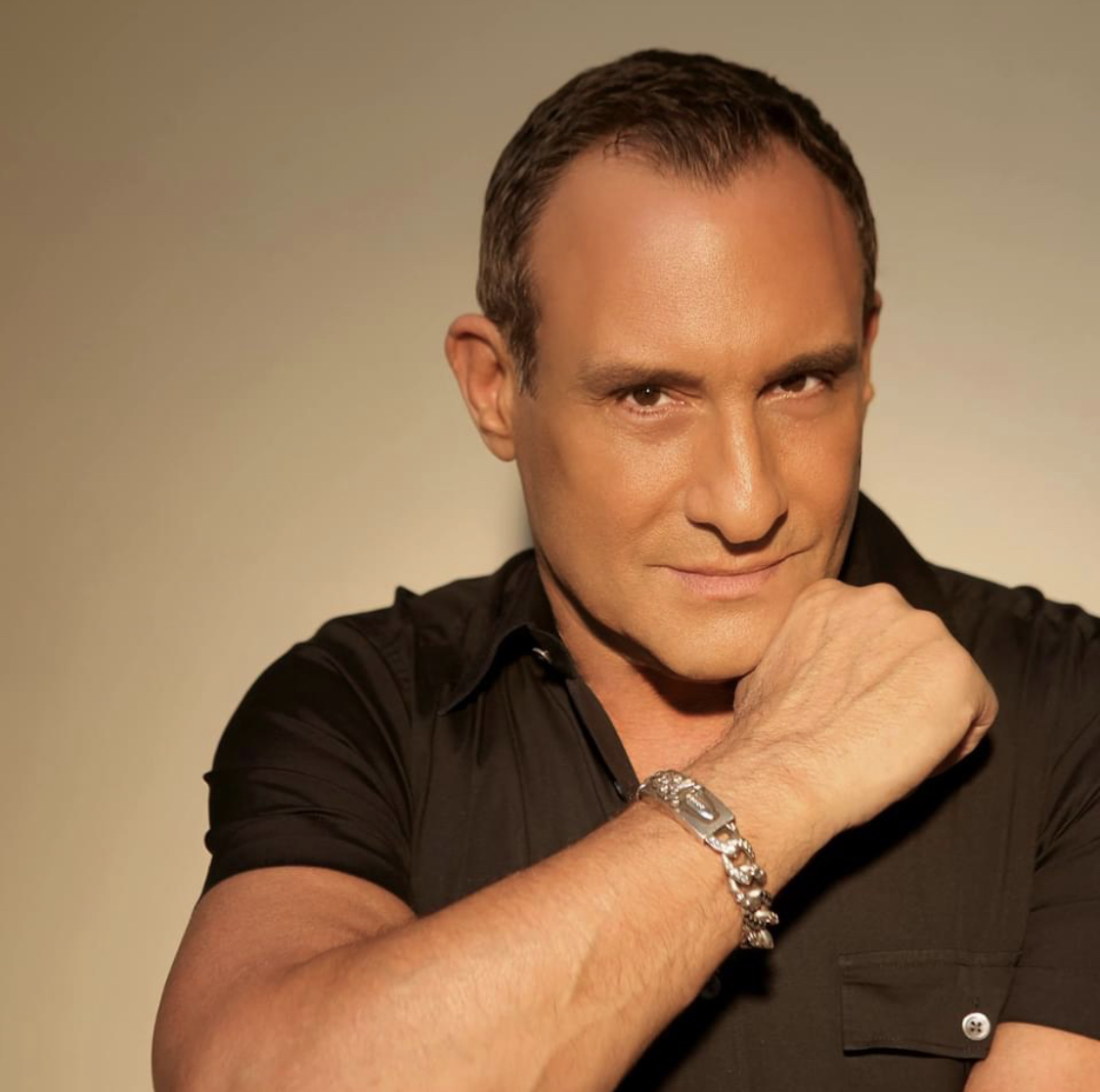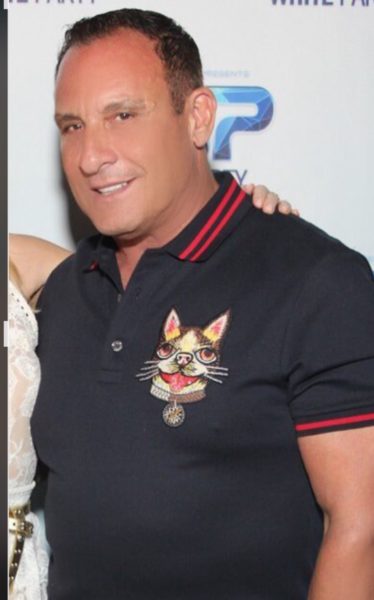 NUEVO VALLARTA – Ending one of the deadliest months in the nearly year long coronavirus pandemic, as well as the year 2020 itself, gay circuit party impresario Jeffrey Sanker's Palm Springs based White Party Entertainment is throwing a New Years Eve weekend bash- in Mexico, despite recommended Mexican public health guidelines and COVID-19 mandates.
The event has drawn massive mostly negative reaction and condemnation in social media posts, and online as well prompting authorities in Puerto Vallarta in the Mexican state of Jalisco, where the White Party was originally advertised as being held, to strongly remind partygoers and organisers that the city and the surrounding region were observing COVID-19 restrictions that would prohibit any type of mass gathering.
"Per the current state government mandate related to COVID-19, all private and public events of more than 8 people are strictly forbidden. All public festivities in the state of Jalisco have been cancelled, including the previously promoted White Party Weekend at Mantamar Beach Club & Sushi," an official wrote on behalf of the Puerto Vallarta Tourism Board in an emailed statement to the Blade.

"Local authorities are aware of all previously planned events and are prepared to respond in a timely manner should any activity take place that is in opposition to local mandates."
The Vallarta Daily News reported last week on Christmas Day that the Puerto Vallarta Regional Hospital had reached 100% total bed capacity, overwhelmed with COVID-19 patients, as the state of Jalisco's health officials reported a 65% positivity rate in coronavirus testing.
Mexico has experienced more than 126,000 deaths from COVID-19 and is also currently experiencing a new rapid surge. Nearly 13,000 new cases were reported Wednesday with 990 deaths. The state of Jalisco which has a population of 8 million reported 456 new cases and 52 additional deaths.
Seemingly undeterred, Sanker's company has shifted the event to the town of Nuevo Vallarta in the neighboring state of Nayarit after Jalisco authorities forbade the event.
As of Wednesday the state of Nayarit is under the orange status of Mexico's "Traffic Light" monitoring system. All businesses, and organizations continue to operate at 50% capacity with social distancing, which includes the hotel industry, beaches and tours. The state of Nayarit which has a population of 1.8 million, on Wednesday reported 19 new cases and 7 new deaths.
The Blade spoke with authorities in Nayarit Wednesday evening who indicated that while technically not running afoul of the health orders, they were aware of the event and would be "closely monitoring" it.
The New Years Eve weekend long bash, which was originally advertised on Sanker's company's Eventbrite listing of events, as well as its Instagram, Facebook and Jefferysanker.com pages, asked that attendees not to share photos or video of the event on social media.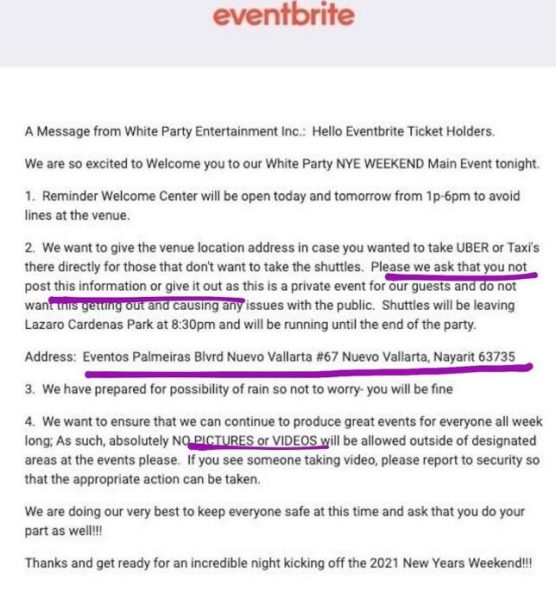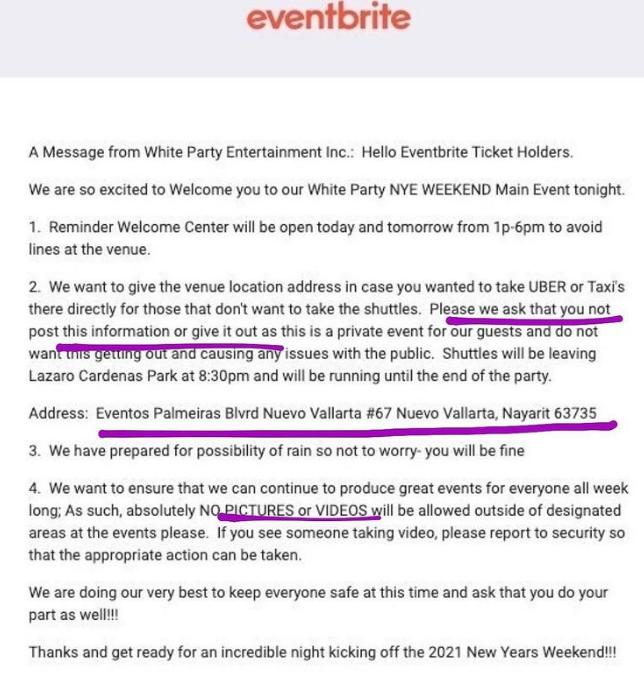 The Blade spoke with a staff member of Evento Palmerias in Nuevo Vallarta, which is located approximately 45 minutes from the original venue at the Mantamar Beach Club, Bar & Sushi. The source, who spoke on the condition of remaining anonymous, confirmed that the event will proceed in that location.
"The event is sold out and we will be reminding everyone that it's polite to wear a mask and stay 6 feet away during the party. If they have a temperature we intend to suggest they go home, but we can not force them to stay at home. Nayarit allows gatherings and there are no restrictions here," the staffer told the Blade.
One reveler, also spoke to the Blade on the condition of anonymity claimed that the venue did not change and had always been privately advertised as Nuevo Vallarta, however there are numerous parties throughout the weekend and many others are planned.
"The best party with the hottest sex will be held at an estate in Puerto Vallarta and I'm going. I don't have Covid. Like, I can't infect someone with something I don't have," he said. "If I get it I'll let you know, but who cares. I'm 23 years old and a girls gotta live," he said.
Since many of those traveling to the event are from California, a spokesperson for the Los Angeles County Department of Public Health told the Blade that especially with the looming threat of a Christmas holiday-fueled surge, public health officials had amended health orders now requiring that travelers returning to the Southland must quarantine.
"Because of the likelihood of exposure to COVID-19 while traveling outside of L.A County, for everyone that traveled or are planning to travel back into L.A. County, you must quarantine for 10 days. If you start to experience any symptoms or have a positive test, isolate for 10 days and until you are fever-free for 24 hours."
The Blade scanned the "Nearby Friends" app feature on Facebook and counted more than two dozen West Hollywood and Los Angeles area residents whose locations revealed they are currently in Puerto Vallarta.
In a Wednesday evening phone call, law enforcement officials in the state of Jalisco told the Blade that there will be random checkpoints set up targeting rideshare and private vehicles especially to ensure that COVID-19 restrictions are being kept for any vehicle returning from the state of Riviera Nayarit.
White House orders distribution of 400 million free N95 masks
Dr. Tom Inglesby, the administration's Covid testing coordinator; "We know that these masks provide better protection than cloth masks"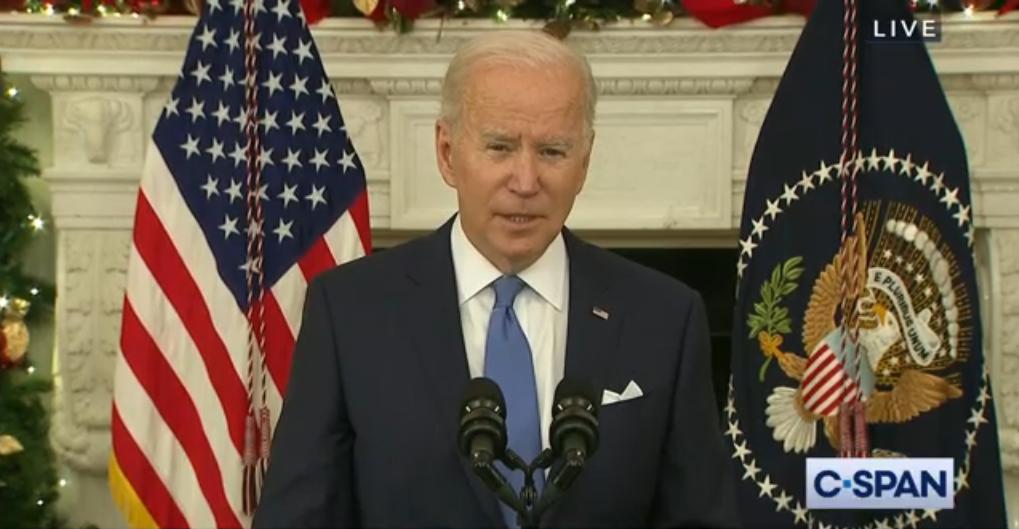 WASHINGTON – As the latest surge of the highly contagious and easily transmissible Omicron variant of the coronavirus continues to cause a rise in hospitalizations, especially among unvaccinated adults and children, the White House announced Wednesday it is making 400 million N95 masks available for free at thousands of locations across the nation.
The plan an admkistartion official said, is to start shipping the nonsurgical masks to pharmacies and community health centers to distribute this week, which will come from the Strategic National Stockpile.
In an interview with NBC News, Dr. Tom Inglesby, the administration's Covid testing coordinator, said, "We know that these masks provide better protection than cloth masks."
The N95 masks will be made available to everybody, and recipients will not be prioritized based on vulnerability to Covid, income or other criteria. Inglesby said the administration was "confident that people who want to access them will be able to access them," but it was not immediately clear how many masks a person could receive at one time.
On January 13, President Joe Biden had announced a plan to have the government distribute 1 billion rapid, at-home COVID-19 tests free to Americans, along with the N95 masks, as the administration works to fight the spiraling upward spike in coronavirus cases.
The White House website to order free at-home Covid tests went live Tuesday. The website says: "Every home in the U.S. is eligible to order 4 free at-home COVID-19 tests. The tests are completely free. Orders will usually ship in 7-12 days."
A White House official said Wednesday that the distribution of 400 million masks would be the largest deployment of personal protective equipment in U.S. history.
Inglesby told NBC News that the administration was "absolutely preparing for the possibility of additional variants in the future" and that people could expect the government to make N95 masks "more and more available."
Biden announces free masks, tests to fight omicron:
COVID-19 Cases increase by nearly 10 times in one month
While hospitalizations continue to climb, Public Health data shows that many positive cases are admitted for reasons other than COVID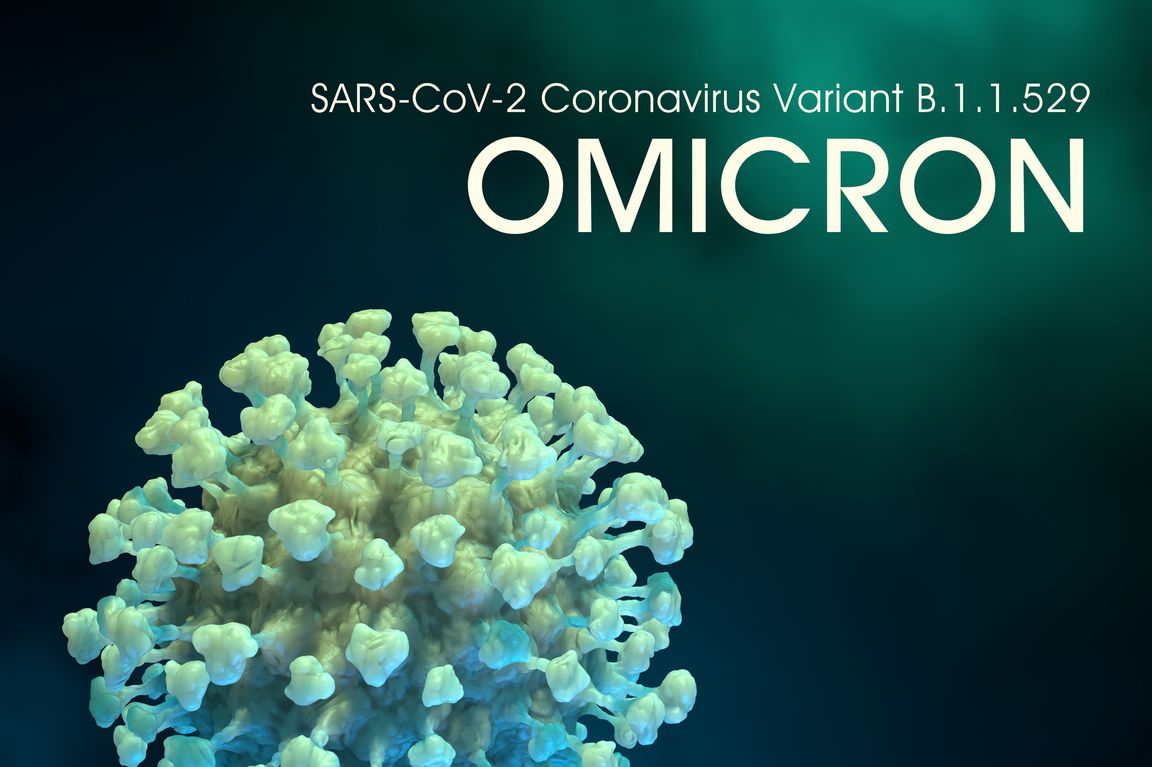 LOS ANGELES – A total of 31,576 new COVID-19 cases were documented on Monday — up ten times the number of cases reported on Dec. 17, 2021, when there were 3,360 new cases recorded the Los Angeles County Department of Public Health reported Monday.
There are 4,564 people with COVID-19 currently hospitalized, nearly 6 times the number from one month ago when 772 people were hospitalized. The daily positivity rate is 16.5%, more than 8 times the 2% daily positivity rate on December 17th.
Just one week ago, the county surpassed 2 million total COVID-19 cases, with the figure reaching 2,289,045 cases as of Monday.
"On this national holiday where we celebrate the life and legacy of Dr. Martin Luther King, we remember his deep commitment to health equity. As Reverend King memorably said, 'Of all the forms of inequality, injustice in health is the most shocking and the most inhuman because it often results in physical death,' " said Dr. Barbara Ferrer, Director of Public Health.
"Tragically, we have seen this play out in real life and very clearly over the past two years with the disparate impacts of the COVID-19 pandemic on people of color. From the onset of the pandemic, communities of color have experienced the greatest devastation from COVID-19 in Los Angeles County and throughout the nation," she added.
"The good news is that while hospitalizations continue to climb, Public Health data shows that many positive cases are admitted for reasons other than COVID but, are identified with COVID when tested for COVID upon hospital admission," the health department said in a statement released last week.
As of Friday, more than 80% of all adult ICU beds in the county were occupied.
There are also 27 new deaths due to COVID-19 in Los Angeles County and 31,576 new positive cases.
The public health department also noted that while the number of children hospitalized with the virus remains low, the number of them admitted to L.A. County hospitals "significantly increased" over the past month, with the largest increase among children younger than 5 years old.
The increase mirrors trends seen nationwide for the age group — the only one not yet eligible for the vaccine.
The county also saw its highest coronavirus death rate in nearly 10 months over this past week, with an average of 40 COVID-19 deaths a day.
"From the onset of the pandemic, communities of color have experienced the greatest devastation from COVID-19 in Los Angeles County and throughout the nation. As we continue to implement strategies – enforcing worker protections through our Health Officer Orders, providing resources needed by many to survive the impact of the pandemic, funding community-based organizations in hard hit areas to serve as trusted public health messengers, and increasing vaccination access in under-sourced neighborhoods – we also need to come together to address the impact that racism, historical disinvestment, and social marginalization have on COVID-19 outcomes," Ferrer said.
"While these conditions predate the pandemic, without deliberate collective actions to address the root causes of health inequities, we are unlikely to close the gaps we have documented for 2 long years," she added.
California has recorded more than 7 million coronavirus cases after its fastest accumulation of reported infections in the history of the pandemic, the Los Angeles Times reported.
The unprecedented count, recorded in California's databases late Monday, comes one week after the state tallied its 6 millionth coronavirus case.
Los Angeles County surpasses 2 million COVID cases
While hospitalizations continue to climb, Public Health data shows that many positive cases are admitted for reasons other than COVID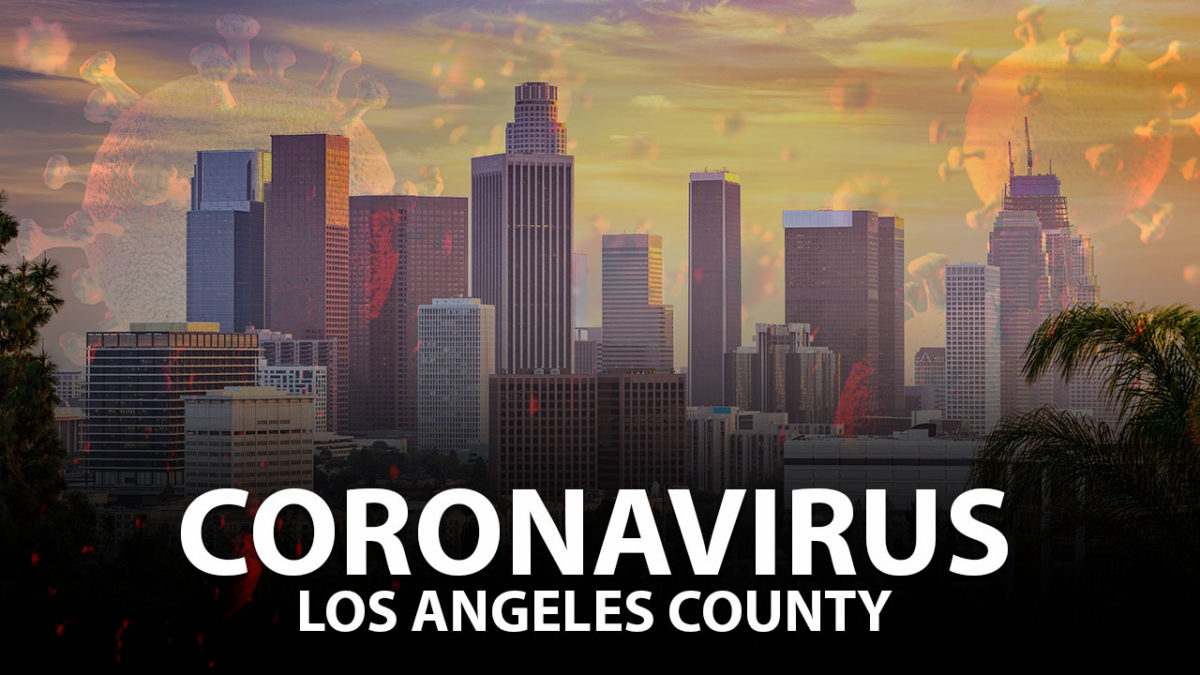 LOS ANGELES – Los Angeles County health officials are urging residents to postpone nonessential gatherings and avoid some activities – especially those that will include people who are unmasked, unvaccinated or at higher risk of severe COVID-19 illness.
This comes as Los Angeles County recorded a grim milestone Monday as the Department of Public Health reports that the County has now confirmed more than 2 million total cases of COVID-19 since the beginning of the pandemic.
The Los Angele Times reported early Tuesday that hundreds of thousands of Los Angeles Unified students returned to campus from winter break Tuesday morning amid a record-breaking surge in coronavirus cases.
As they stood in long lines to enter campus, the district's health-screening system crashed. These conditions, including staffing shortages, student absences, and apprehensive parents and students, put the district's carefully laid plans to open campuses in the nation's second-largest school district to the test.
Although some students and parents were anxious amid the Omicron surge, they said they wanted to be back in the classroom. District leaders said strict campus safely precautions are in place, the Times reported.
The surge, which has now created uncertainty in the business community as some restaurants and other retail operations close up due to staffing shortages or out of caution, prompted County Public Health to ask that residents postpone nonessential gatherings just ahead of the long Martin Luther King Jr. Day holiday weekend.
Public Health officials are also concerned as LA-based Super Bowl is a mere month away. The recommendation is voluntary and officials have not imposed any new restrictions that could put any events in jeopardy.
The latest Public Health data shows vaccines are still the best way to protect against the coronavirus. In L.A. County cases have continued to increase rapidly across all groups however at significantly lower levels for vaccinated individuals. For the week ending December 25th, case rates were much higher for those unvaccinated. There were 991 new cases per 100,000 unvaccinated; 588 cases per 100,000 fully vaccinated without boosters; and 254 cases per 100,000 fully vaccinated with boosters.
The vaccine also continues to provide very strong protection against hospitalization and death. One way to evaluate the protection offered by vaccines is rate ratios. These ratios compare rates of an outcome in unvaccinated people with rates of the same outcome in fully vaccinated people. The higher the rate ratio, the more protective the vaccine is against the outcome.
The hospital rate ratio was 9 when comparing those unvaccinated vs those fully vaccinated without boosters, meaning a 9-fold higher rate of hospitalization for the unvaccinated compared to this protected group. More markedly, the hospital rate ratio was 38 when comparing the unvaccinated vs fully vaccinated with boosters, meaning those fully vaccinated and boosted were 38 times less likely to be hospitalized than those unvaccinated.
"With surging transmission and rapidly rising cases and hospitalizations, our already understaffed health care providers are under enormous strain as they try to care for so many COVID infected people," Barbara Ferrer, L.A. County Health Director said.
About 14% of the patients with COVID-19 were in the ICU, and 7% were on a ventilator.
"The good news is that while hospitalizations continue to climb, Public Health data shows that many positive cases are admitted for reasons other than COVID but, are identified with COVID when tested for COVID upon hospital admission," the LA County Public Health Department said in a news release.
"However, at the moment, vaccinations alone are not sufficient to get us back to slowing the spread. We all need to exercise more caution in the weeks ahead. One effective strategy for reducing transmission is to wear a high-quality mask whenever around non-household members," Ferrer said.
"Given the dominance of the highly infectious Omicron variant, well-fitting masks provide a great layer of protection to both the wearer and all those nearby. It is also time to pause those non-essential activities where people are unmasked and in close contact with others. The reality is that parties and events, especially those indoors, make it easy for the virus to spread. Limiting our time with others to those more essential work or school activities is a prudent action for us to take when-ever possible until the surge subsides," she added.
COVID-19 vaccines are safe and effective and are recommended for everyone 5 years old and older to help protect against COVID-19. Vaccinations are always free and open to eligible residents and workers regardless of immigration status. Appointments are not needed at all Public Health vaccination sites and many community sites where first, second, and third doses are available.
To find a vaccination site near you, or to make an appointment, please visit:
www.VaccinateLACounty.com (English) or www.VacunateLosAngeles.com (Spanish).
If you need assistance, you can also call 1-833-540-0473 for help:
Connect to free transportation to and from a vaccination site, or
Schedule a home visit if you are homebound.
For more information regarding COVID-19 in LA County you can also visit the Public Health website at www.publichealth.lacounty.gov