February 18, 2021 at 10:08 pm PST | by Staff reports
Winter Storms delay vaccine shipments to LA- daily test positivity rate drops to 5.0%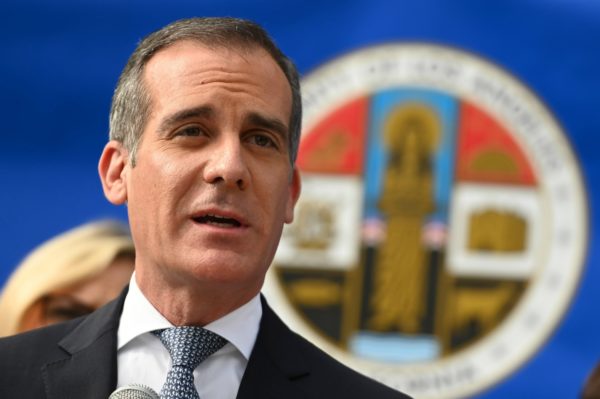 LOS ANGELES – According to Los Angeles Mayor Eric Garcetti's office approximately 63,000 coronavirus COVID-19 vaccine doses slated for healthcare vaccination sites in LA, are delayed due to the freezing weather and winter storms across most of the nation.
The shipments are temporarily halted due to grounded FedEx and UPS flights and ground transportation because of icy roads. The shipments still en route to L.A. include 26,000 doses held up in Kentucky that had been expected to arrive Tuesday, and another 37,000 doses meant for next week's appointments sitting in Tennessee.
In a livestreamed coronavirus briefing Thursday, the mayor said that the delay of 12,500 vaccine appointments originally set for Friday. along with additional appointments scheduled for Saturday may also have to be postponed.
It's unclear when the appointments will be able to be rescheduled, as the city has yet to confirm when new shipments will arrive. But Garcetti said those in need of a second dose will get one within the 42 days recommended by the U.S. Centers for Disease Control and Prevention.
The shortage affects all five of the city's inoculation centers, including the Dodger Stadium site. But the city will continue operating mobile clinics meant to target areas hardest hit by the pandemic.
"Severe weather across the country has disrupted travel and shipping nationwide, including delaying the delivery of our vaccines," Garcetti said in a release from his office. "Our City is ready to administer COVID-19 vaccines swiftly, safely, and equitably — and as soon as doses arrive in Los Angeles, we will get them into people's arms immediately."
As of Thursday afternoon, health officials for L.A. County had not indicated the delivery delays will impact their vaccine distribution.
The Los Angeles County Department of Public Health confirmed 153 new deaths and 2,873 new cases of COVID-19.  To date, Public Health identified 1,174,340 positive cases of COVID-19 across all areas of L.A. County and a total of 19,514 deaths.
There are 2,757 people with COVID-19 currently hospitalized and 31% of these people are in the ICU. Testing results are available for nearly 5,729,000 individuals with 19% of people testing positive. Today's daily test positivity rate is 5.0%. 
Public Health encourages L.A. County businesses to take advantage of the COVID-19 Safety Compliance Certification Program. The Program allows employers and employees to voluntarily participate in a free online training about COVID-19 infection control protocols and allows businesses to self-certify that they are fully implementing protocols in compliance with infection control and physical distancing requirements. To date, a total of 22,058 employees and employers have completed the training.
COVID-19 vaccine supply remains very limited. For information about vaccine appointments in L.A. County, to sign up for a vaccination newsletter, check your appointment status and more:
Visit:  www.VaccinateLACounty.com 
and in Spanish  www.VacunateLosAngeles.com