Florida 'Don't Say Gay' law goes into effect, negative impact already felt
LGBTQ youth, already at higher risk of depression, anxiety, & suicide than their peers, report their mental health being negatively impacted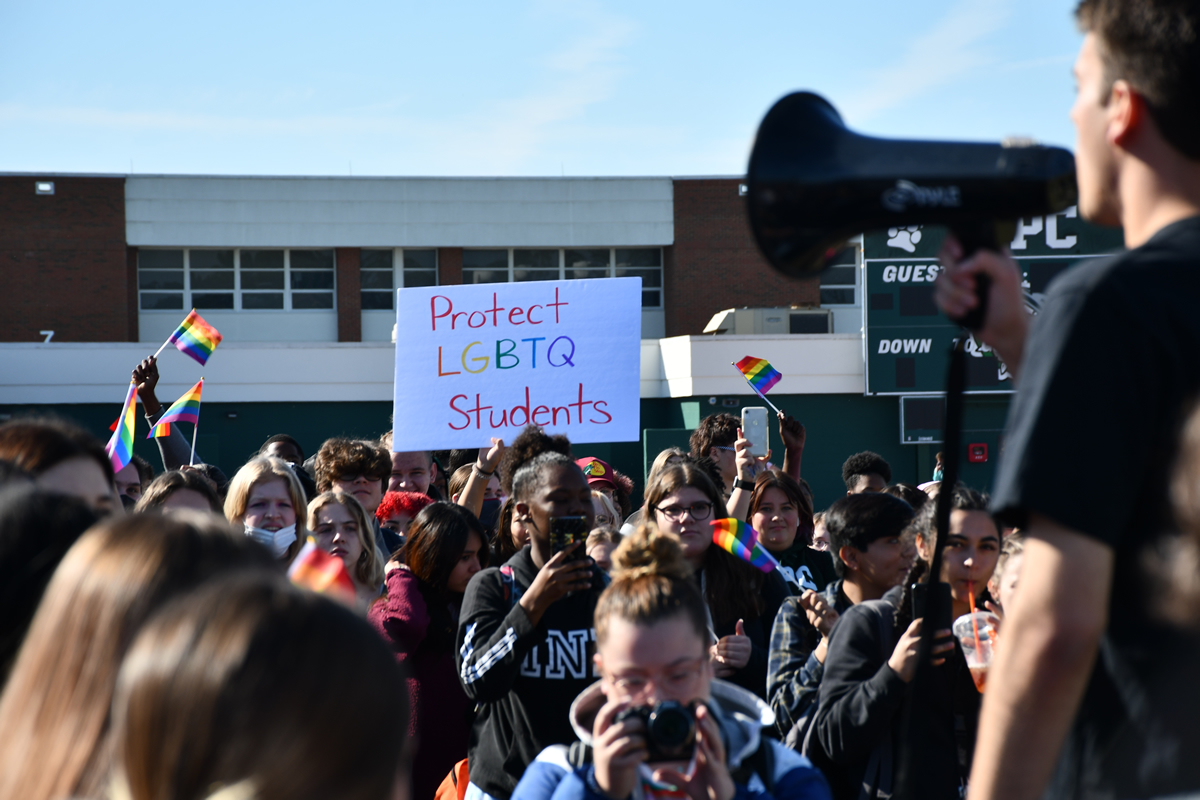 TALLAHASSEE – Florida's HB 1557, known as the Don't Say LGBTQ law, took effect today. The law, which bans classroom instruction on sexual orientation and gender identity in grades K-3 and restricts that instruction in grades 4-12, will immediately begin impacting efforts to make Florida classrooms more inclusive.
But its impacts have already been felt for months. Educators and school staff have shared the chilling effects they are experiencing across the state. Books with LGBTQ characters are being pulled from shelves. Rainbow "safe space" stickers are being peeled from classroom windows. LGBTQ educators are being asked to avoid speaking about their families. As the law officially goes into effect, these impacts will escalate.
In the same district, teachers in queer relationships are being advised to remove any family portraits. Staff can't even wear rainbow clothing.

We always knew what this was about, silencing LGBTQ+ people.

— Jack Petocz (@Jack_Petocz) June 28, 2022
"Since the inception of this hateful policy, lawmakers have assured the public that it would not lead to censorship or erasure of LGBTQ people," said Joe Saunders, Equality Florida Senior Political Director. "But our community has always known the truth. The Don't Say LGBTQ law has always been fueled by anti-LGBTQ animus and designed to further stigmatize the LGBTQ community, ban books about us, erase us from classrooms, and force us back into the closet. It is a bigoted and dangerous law that is making Florida less safe for students and families, and we will work tirelessly to see it repealed."
Throughout the legislative process, lawmakers scoffed at the suggestion that HB 1557 would have negative impacts on the LGBTQ community, even as they refused to clarify its dangerously vague language and prevent the eventual law from doing harm.
A bipartisan contingent of lawmakers offered up dozens of amendments to the bill, attempting to narrow its overly-broad scope and clarify the most vague components. These amendments came after assertions from their colleagues that the bill's intent was narrow. However, those reasonable amendments were rejected by bill sponsors Representative Joe Harding, Senator Dennis Baxley, and their allies, leaving its language broad and discriminatory.
As a result, the chilling effects were swift and sweeping. Across the state, censorship of LGBTQ lives began in earnest and has continued until today. In Palm Beach County, School Superintendent Mike Burke began by circumventing the district's material review process to remove multiple books featuring LGBTQ characters, citing concern about the implications of the Don't Say LGBTQ law. He followed the move in recent weeks by issuing guidance to educators across the district for them to remove books currently being challenged and place them "in a classroom closet" and scour their shelves for other titles that may include LGBTQ characters or mention topics like racism or oppression.
Growing up, I spent countless nights trying to change who I am. Praying to God I could wake up different, what I had preconceived as "normal."

Today, "Don't Say Gay" goes into effect, but I'll keep proudly expressing my identity, so no child feels lesser than or not worthy. ❤️ pic.twitter.com/3LzAIAjg1i

— Jack Petocz (@Jack_Petocz) July 1, 2022
Districts statewide have taken drastic steps in response to the Don't Say Gay law. Graduation speeches have been scrubbed of references to LGBTQ advocacy. Yearbook pages have had images of Don't Say LGBTQ walkouts blacked out. Conservative religious activists have successfully initiated challenges to dozens of books in multiple school districts. Rainbow-colored COEXIST banners and Pride flags have been stripped from school walls.
In total, LGBTQ+ equality rights advocacy group Equality Florida has received over 50 complaints of censorship aimed at the LGBTQ community since the bill was signed into law in March.
I wrote an OP ED for @nytopinion about my experience growing up gay and non-binary and how the #DontSayGay bill would effect people like me. https://t.co/UPjmtExjnu

— Will Larkins☮️ (@ProudTwinkie) March 12, 2022
Most recently, Orange County Public Schools garnered national attention after reports emerged that during seminars designed to discuss the potential implementation of the Don't Say LGBTQ law, school administrators were advised to begin removing rainbow "safe space" stickers from classroom windows, ask LGBTQ educators to remove family photos from their desks, and avoid talking about their loved ones at work for fear of running afoul of the new law. While exactly what advocates for equality had warned of, the revelation shocked educators across the district, who took to the next board meeting to express their deep concerns and demand written clarification.
All of these chilling effects come as LGBTQ youth, those already at higher risk of depression, anxiety, and suicidal ideation than their peers, report their mental health being negatively impacted by anti-LGBTQ policies and the debates that surround them. And they come amidst a surge in online harassment against LGBTQ people nationwide and threats of violence against LGBTQ spaces and Pride celebrations fueled by the dehumanizing anti-LGBTQ+ rhetoric launched by the DeSantis Administration in defense of the Don't Say LGBTQ bill.
In March, the governor's spokeswoman Christina Pushaw took to Twitter to traffic in age-old, anti-LGBTQ tropes to rescue the mired legislation, tropes that have since been parroted by Fox News hosts, right-wing influencers, and have exploded into the digital harassment and threats of violence running rampant across the country.
Equality Florida hosted a virtual press conference with lawmakers and those directly impacted on Friday morning. Those who have been impacted by the Don't Say LGBTQ law can share their stories at freetosaygay.org.
White House Press Secretary Karine Jean-Pierre released a statement as Florida's "Don't Say Gay" Law took effect Friday:
Today, some of Florida's most vulnerable students and families are more fearful and less free. As the state's shameful "Don't Say Gay" law takes effect, state officials who claim to champion liberty are limiting the freedom of their fellow Americans simply to be themselves. Already, there have been reports that "Safe Space" stickers are being taken down from classrooms. Teachers are being instructed not to wear rainbow clothing. LGBTQI+ teachers are being told to take down family photos of their husbands and wives—cherished family photos like the ones on my own desk.
 
This is not an issue of "parents' rights." This is discrimination, plain and simple. It's part of a disturbing and dangerous nationwide trend of right-wing politicians cynically targeting LGBTQI+ students, educators, and individuals to score political points. It encourages bullying and threatens students' mental health, physical safety, and well-being. It censors dedicated teachers and educators who want to do the right thing and support their students. And it must stop.
 
President Biden has been very clear that every student deserves to feel safe and welcome in the classroom. The Department of Education will be monitoring this law, and any student or parent who believes they are experiencing discrimination is encouraged to file a complaint with the Department's Office for Civil Rights. Our Administration will continue to fight for dignity and opportunity for every student and family—in Florida and around the country.
Florida prohibits Medicaid reimbursement for trans healthcare
Lambda Legal tells the LA Blade its "exploring all possible avenues for challenging this discriminatory rulemaking"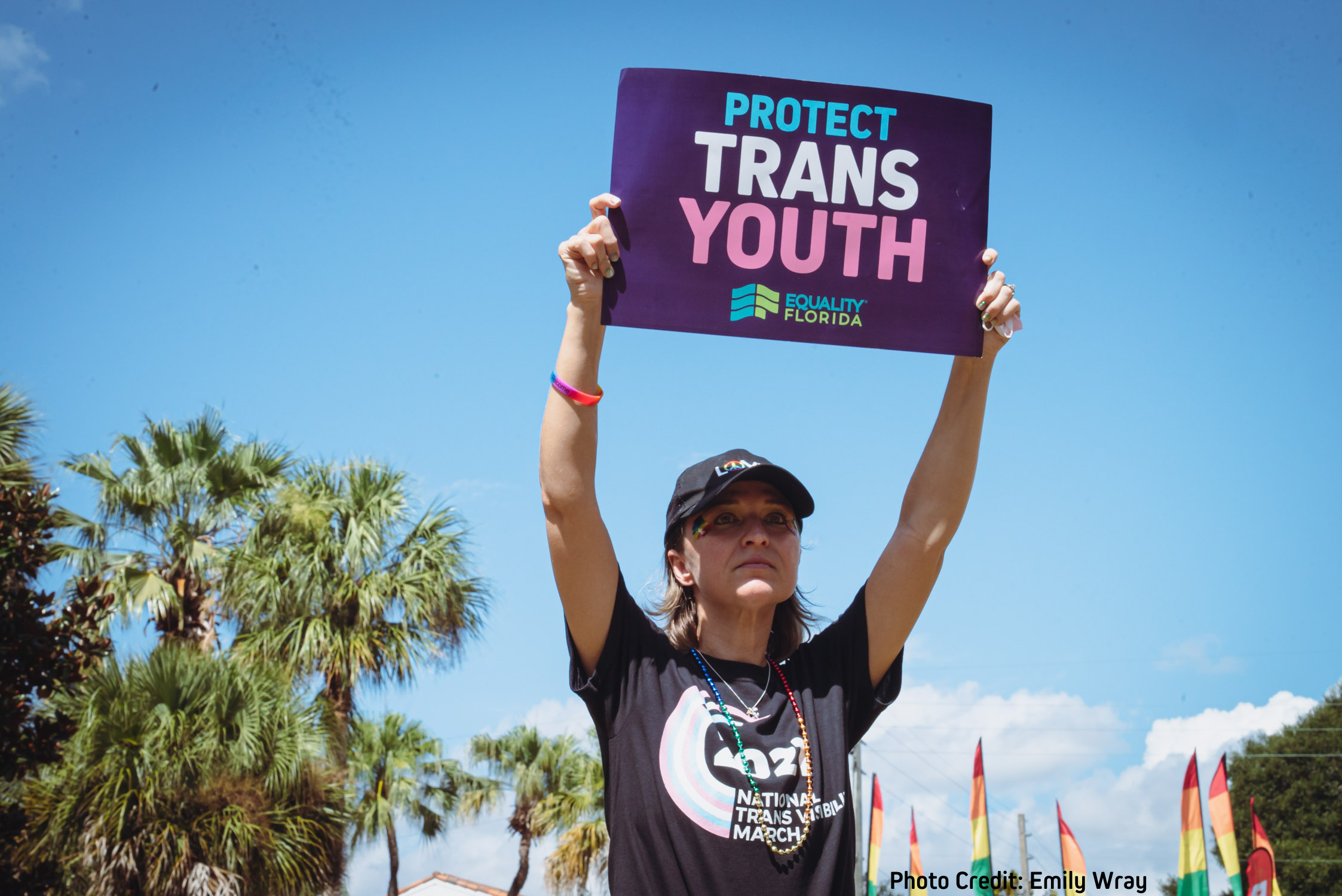 TALLAHASSEE – On Thursday, Florida officially joined the roster of conservative states whose Medicaid programs carve out coverage exemptions for transgender related healthcare, including gender-affirming therapies for young people.
Against the guidance of mainstream medical opinion, the state's Agency for Health Care Administration (AHCA) ratified new rules prohibiting taxpayer reimbursement for puberty blockers, hormone therapies, or surgical procedures to treat gender dysphoria.
"We are exploring all possible avenues for challenging this discriminatory rulemaking," wrote Carl Charles, senior attorney at Lambda Legal, in an emailed statement to The Los Angeles Blade. "Lambda Legal has secured victories on this issue in other states such as Alaska (Being v. Crum), and just this month in our case, Fain v. Crouch, in West Virginia."
The American Academy of Pediatrics (AAP) and its Florida Chapter (FCAAP) wrote in an emailed statement to The Blade that they were "disheartened" by AHCA's finalization of rules blocking Medicaid coverage for gender affirming care:
"The state's interference with the physician-patient relationship and its prohibition of this vital care will negatively impact Floridians who are trying to live their lives as their true, healthiest selves. As pediatricians, our only goal is to work with families and provide our patients with the best evidence-based care possible. When necessary and appropriate, that includes gender-affirming care. The AAP and FCAAP will continue to stand up in support of all young people, including those who are transgender."
The U.S. Centers for Medicare and Medicaid Services did not return a request for comment in time for publication. The U.S. Department of Health and Human Services did not immediately respond to a request for comment.
Also on Thursday, Florida's AHCA inaccurately accused HHS and the AAP of misleading the public about the safety of transgender related healthcare, though it was not the first time the state's health agency has butted up against its federal counterparts and associations of medical practitioners.
AHCA previously issued a bulletin in April that prompted rebukes from groups including the Endocrine Society, which accused AHCA of spreading misinformation about healthcare treatments for transgender people, including youth. The bulletin's contents also conflicted with official positions on these matters held by HHS.
A coalition of legal advocacy organizations including Lambda Legal immediately condemned the AHCA's latest move in a joint statement Thursday, writing: "Ignoring thousands of public comments and expert testimony, Florida's AHCA has finalized a rule that will deny Medicaid coverage for all medically necessary gender-affirming care for both youth and adults. This discriminatory and medically unsound rule will take effect on August 21, 2022, putting transgender people in jeopardy of losing access to critical gender-affirming health care services."
The statement also took aim at Florida Gov. Ron DeSantis: "AHCA's actions, at the behest of Governor DeSantis and his political appointees, are morally and legally wrong as well as medically and scientifically unsound. This rule represents a dangerous escalation in Governor DeSantis's political zeal to persecute LGBTQ+ people in Florida, and particularly transgender youth."
The Movement Advancement Project publishes a chart tracking state-by-state Medicaid coverage for transgender-related care, which is a patchwork of different exemptions and carveouts that generally maps onto the extent to which each leans conservative.
Much like with other public health insurance programs like state employee health plans, discriminatory state Medicaid programs have often been the subject of litigation challenging them, in lawsuits that are often successful.
Nikole Parker, Equality Florida's Director of Transgender Equality in an emailed statement said:
"Just over one week from today, Florida's Agency for Health Care Administration, at the behest of Governor DeSantis, plans to strip thousands of vulnerable Floridians of their health care. Transgender people have been accessing gender-affirming care through Medicaid for years. That care is now being shut off by a state agency that has been corrupted, weaponized, and stacked with extremists by a governor desperate to fuel his own political ambitions.
Today, more than 9,000 transgender Floridians access care through Medicaid. On August 21, the state government will put  that care on the chopping block. As further evidence for his complete disregard for the health and well being of transgender Floridians, the DeSantis Administration has done nothing to quantify or assess the terrible impact this rule would have on the thousands of transgender people who rely on Medicaid for their care. The transgender community, like all people, shouldn't have necessary, life-saving care stripped away by extremist politicians working overtime to stoke right-wing fervor. This brazen, politically-motivated attack is cruel, dangerous and puts the health of thousands at risk."
Ukrainian family accused of anti-gay hate crime: "Accusations are false"
Initially the victim told police he was drunk & fell down changing his story 6 months later when he said that he was attacked by the family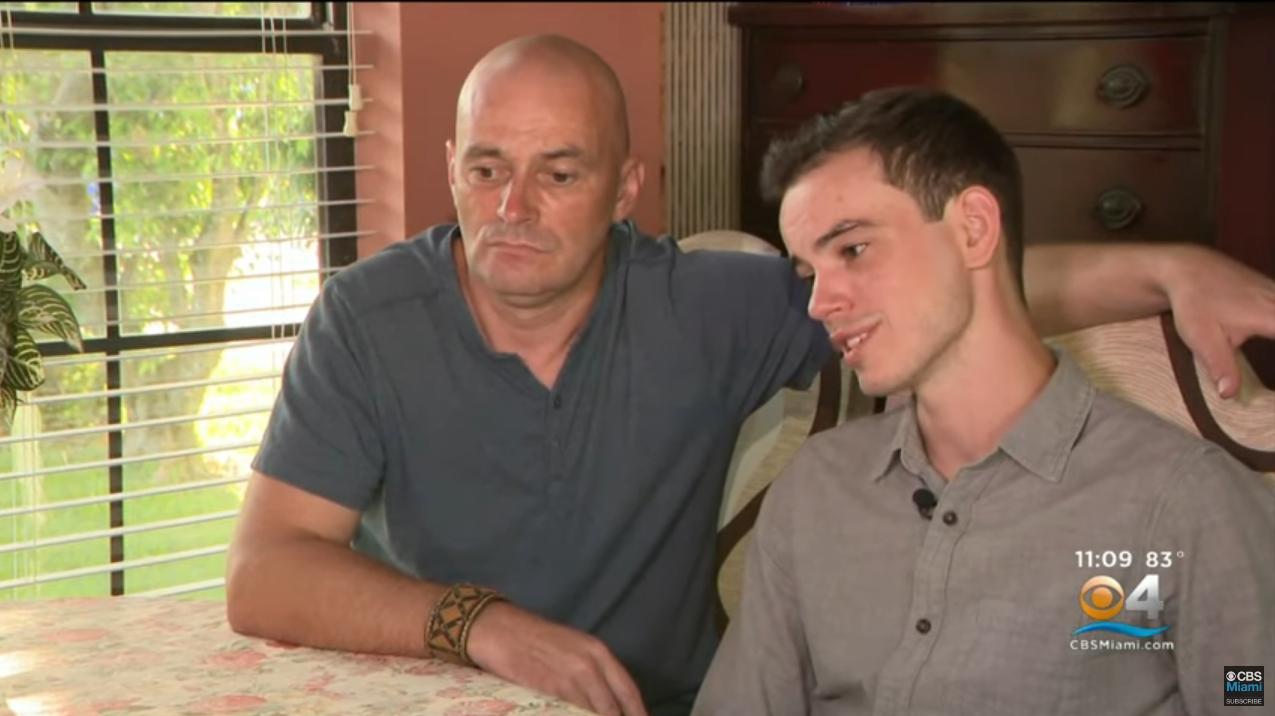 POMPANO BEACH, Fl. – A family of Ukrainian refugees accused of a vicious hate crime against a gay man have bonded out of jail and are speaking to media outlets in South Florida telling their side of the story, denying that the victim is being truthful.
Inna Makarenko, her husband Yevhen and their youngest son Oleh, who goes by Alex, were accused of a brutal hate crime by the 31-year-old victim who has invoked Marsy's Law rights and is declining to be named publicly, of attacking him in his apartment in Pompano Beach on or about August 6, 2021.
The victim says he has been left permanently blinded by the assault. The Makarenko's oldest son Vladyslav, was arrested while in Alabama when the family was taken into custody last Spring, but charges were dropped a few months later when Broward County Sheriff's Office investigators determined he was out of state at the time of the alleged assault.
CBS Miami reporter Karli Barnett spoke with the Markarenko family, first with Inna who was released from an immigration detention facility on a $10,000 bond. "We were very happy in this country," she told Barnett. "But our happiness was broken March 10." That was the date the family was arrested in the alleged assault which prosecutors added a hate crime enhancement because of the victim's sexual orientation.
According to the arrest documents, 19-year-old Oleh [Alex] Makarenko and the victim had been romantically involved for about nine months, but the victim said Alex told him his father was not accepting him as gay.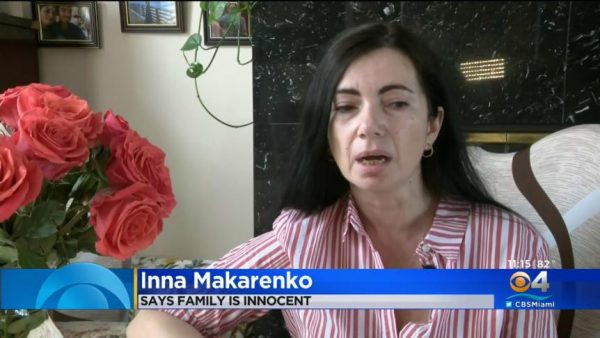 "I never heard about this person," Inna told CBS Miami. "Maybe if it was some communication, maybe it was for some reason. I don't know. I want so much to see my son to hug him and to give him some questions, because I don't understand."
Inna explained her son has a fiancée. She also said her family has no malice toward gay people.
"God loves everyone," she said. She added that they have witnesses that can vouch they were not at the alleged victim's residence the night of the alleged assault because they were celebrating her daughter's birthday party. 
"The rule is not working here. Be good, do good, and you will be fine. No," she said. "One day, someone can just point a finger on you and police can catch you, even without evidence or anything."
Barnett reported that initially the victim told police he was drunk and fell down changing his story the following February six months later when he said that he was attacked by the Markarenko family.
"He was really a victim from August until February," said Inna. "But in February, when he came to the police and said it was me and my family who beat him, he became a liar, not victim."
The Makarenko's came to the U.S. from Ukraine seeking asylum in 2016. Their next hearing was Friday, August 5th to determine their status. The outcome currently is unknown.
Accused of hate crime against gay man, Pompano Beach family claims "accusations false:"
Warning label slapped on LGBTQ+ related books by Florida school district
Books receiving these warnings disproportionately include stories featuring LGBTQ+ and titles about communities of color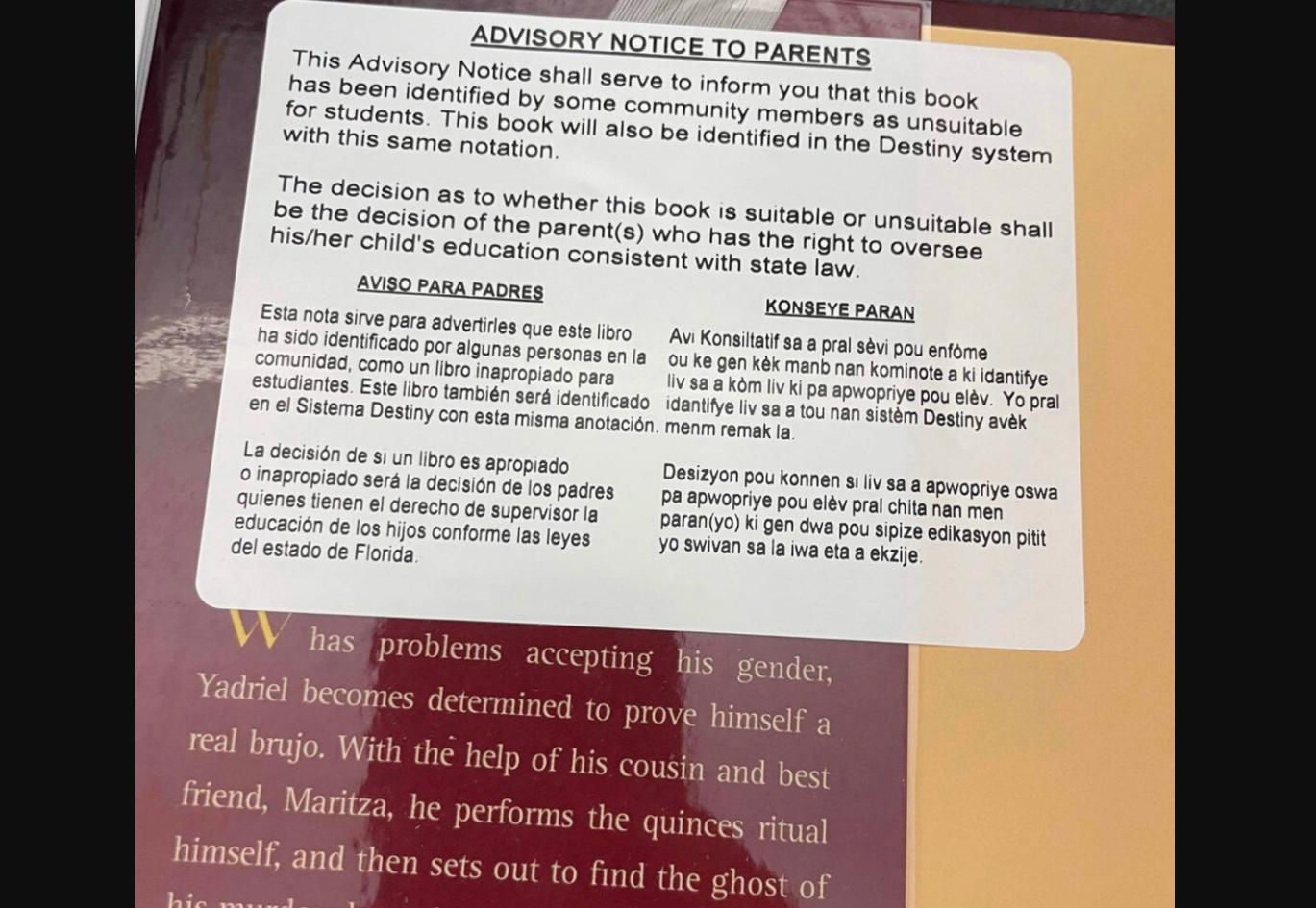 NAPLES – The Collier County Public Schools District in Southwestern Florida which includes the city of Naples, has placed labels that read "Advisory notice to parents" in capital letters on books available to students dealing with race-related and LGBTQ+ themes.
New York City-based PEN America, a nonprofit organization that works to defend and celebrate free expression in the U.S. and worldwide through the advancement of literature, noted that Collier Schools had attached a warning to the description label on over 100 books listed on the district's online library catalog and physical labels were affixed to hard copies of the same books.
"This Advisory Notice shall serve to inform you that this book has been identified by some community members as unsuitable for students," the label states. "This book will also be identified in the Destiny [online access] system with the same notation. The decision as to whether this book is suitable or unsuitable shall be the decision of the parent(s) who has the right to oversee his/her child's education consistent with state law."
The books receiving these warnings disproportionately include stories featuring LGBTQ+ characters and plot lines and titles about communities of color.
NBC News Out reported the district began adding the labels in February, after the district's legal representative spoke with the Florida Citizens Alliance, a conservative group that last year issued a "Porn in Schools Report." 
The labels appear digitally in the library records & physically on the books. They warn: "this book has been identified by some community members as unsuitable for students." Apparently, a lot is 'unsuitable'. Even Everywhere Babies by Susan Meyers & illustrated by @MarlaFrazee. pic.twitter.com/wA5fT5fjLr

— PEN America (@PENamerica) August 5, 2022
Jonathan Friedman, director of free expression and education programs at PEN America, said in response: "This alarming development is just the latest in an onslaught of attacks against students' freedom to read in Florida. Even if access to these books is not technically restricted, the labeling of these books risks attaching a stigma to the topics they cover and the books themselves. Under the guise of 'parental rights,' interest groups have been empowered by opportunistic elected officials and are now hijacking public schools. Every child deserves the right to learn from a diverse set of voices and perspectives, and to freely access the books they wish to read."
Children's books such as Everywhere Babies by Susan Meyers and Julian is a Mermaid by Jessica Love were among titles labeled with a warning. In addition, authors targeted include Maya Angelou, Toni Morrison, George Johnson, Ibram Kendi, Ellen Hopkins, Ashley Hope Pérez, Jodi Picoult, Jason Reynolds, Arundhati Roy, and John Updike–among many others. 
PEN America found that a warning to parents was inserted alongside a total of at least 110 titles in the school's online catalog, saying, "this book has been identified by some community members as unsuitable for students."