Liza strikes a pose
How did she get in that position?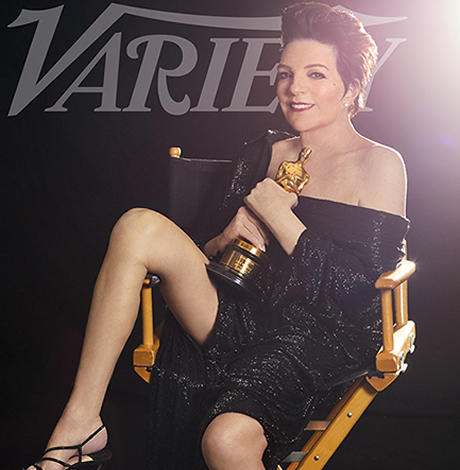 "Thank you. I will drink until next morning." — Bong Joon-Ho, winner of Best Director for "Parasite."
When people look back on the 2020 Oscars…well, God only knows what they'll think. Here's my general thought – confusion. Every time someone popped up around the theater to introduce a segment, I was bewildered. First off, I had no idea where to look. It was like a celebrity version of "Where's Waldo" – minus the celebrities. Who were these people? I suppose using lesser performers made sense. You couldn't have Diane Ladd hanging on for dear life from the rafters. I will definitely remember some of the outstanding performances. How fabulous was Cynthia Erivo singing "Stand Up" from "Harriet"? Even better, how fabulous was Cynthia keeping her gaze on the camera circling her to the commercial break? As great as she was and as great as the song was, I have to give it up to Elton – especially after his kick-ass rendition of "(I'm Gonna) Love Me Again." Admittedly, he had to look at music and lyrics (it's not a song he's performed often), but it was touching to see him and Bernie Taupin win their first Oscar.
Let me give a warning to any future award show singers – don't go anywhere near Rita Wilson with a microphone. She's got sheet music in her purse and is ready to hit the stage. Chris Rock and Steve Martin showed how valuable comedians are to an awards show. But, it's not as easy as you think. The night before the Oscars, the two were at The Comedy Store in Hollywood and tried out their routine, including several jokes that didn't make it to air. I believe James Corden and Rebel Wilson are carrying the mantle of Bob Barker by reminding us to spay and neuter our pets. I do have one question – do Maya Rudolph and Kristen Wiig have no gay friends? Not even one?
Without a doubt, the winner of the Faye Dunaway Award for Award Presentation is Diane Keaton. My God, the only thing she didn't do was exclaim "La La Land!" It's sad when Keanu is the coherent one. On the flip side, Martin Scorsese always looks like he's having such a good time – even when he lost Best Director. Lastly, after the first award of the night, I wouldn't be surprised if the Scientologists had Tom Cruise on suicide watch.
I'm assuming most of you don't read "Variety" religiously. So it follows that most of you didn't see the photo of Liza Minnelli on the cover of the magazine's "Oscars" issue. If you did, you would have seen a youthful-appearing Minnelli, clutching an Oscar to her bosom, perched high upon a director's chair, with one leg precariously swinging over the arm. This is in sharp contrast to the Liza who is usually captured by the paparazzi having enormous difficulty walking, and who approaches stairs as if she's being asked to negotiate a medieval gauntlet. Which begs the question: How many people did it take to get Liza into this unusual position? And is she still stuck in the chair? The interview really seems secondary, but it did provide one illuminating moment. Given her protection of her mother's image, and the fact that Renee Zellweger was nominated for (and ultimately won) an Oscar for playing her, the topic had to come up. Minnelli admits to not seeing (and having no interest in seeing) the flick, but graciously added, "I hope she had a good time making it." Now could someone please help me out of this chair?!
Our "Ask Billy" question comes from Roger in Detroit: "I get a very gay feeling about [celebrity DJ] Calvin Harris. Maybe it's 'cause he's so hot. But why did he stop doing underwear ads? And do you have anything hotter?"
I first became aware of Calvin when billboards started popping up around Los Angeles featuring his torso and his name – an odd way of promoting a DJ. But we're in a time when one cannot be a great DJ or painter or aluminum siding installer without having a 6-pack and pecs. Or maybe that's just what I look for in someone banging around my home. With that notoriety came the underwear spread for Armani. That was around the same time as his liaison with Taylor Swift. Perhaps coincidentally, the Armani campaign ended when Calvin's relationship with Taylor went kaput. Still, it made him comfortable enough in his skin to take more candid shots – such as the one on his manager's birthday when he was just standing there in his fully packed boxer briefs. We've gotten a peek at what's inside those briefs and, while most DJs specialize in 12-inches, Calvin's sporting a good, solid eight inches. And, lest you question the veracity of the photo, our forensic experts insist that certain moles on that distinctive torso line up perfectly with this photo. Check it out for yourself on BillyMasters.com.
When nothing comes between me and my Calvin, it's definitely time to end yet another column. What a long night! I must confess, I'm exhausted. But let me quickly remind you to check out BillyMasters.com – the site that'll perk you up. If you have a question, send it along to [email protected] and I promise to get back to you before Liza gets out of that chair! So, until next time, remember, one man's filth is another man's bible.
Wentworth Miller won't play straight anymore
And Scott Baio wins praise from Trump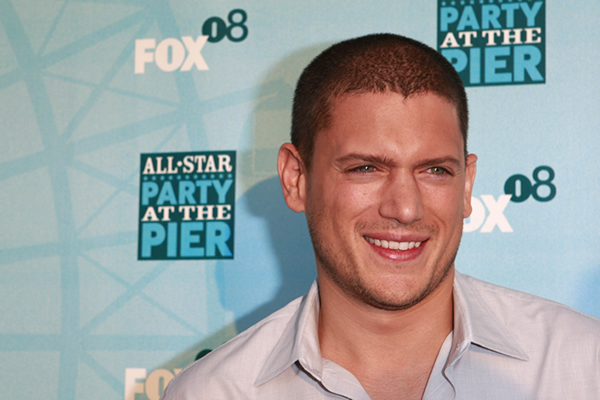 "You can't say that marriage is a union between one man and one woman. Until very recently, that's what the vast majority of Americans thought. Now it's considered bigotry." —Supreme Court Justice Samuel Alito. So much for impartiality.
Our opening quote could have been, "The road to hell is paved with good intentions." Melissa McCarthy's upcoming flick, "Superintelligence" had a carefully thought out promotional plan. During "20 Days of Kindness," HBO Max would donate $20K a day to a worthy charity. What could go wrong, right? Wrong. One of the recipients was Exodus Cry, an organization that is against reproductive choice and vilifies the LGBTQ community. When Melissa heard about this, she was outraged enough to cry through an apology. "There's no other way to say it – we blew it. We made a mistake and we backed a charity that, upon proper vetting, stands for everything that we do not. So I want to thank everyone on social media who said, 'What are you doing? Are you sure you want to back this?' Because the answer was no, we do not." How do you rectify that? McCarthy says, "We have pulled it." So who's getting that $20K?
I got a laugh when one outlet referred to thespian Scott Baio as a "former actor." Baio's good deed was to rearrange the mugs in his local Michael's to read "Trump Is Still Your President." "Thank you Scott, and stay tuned. You are terrific!" Tweeted Trump in response to Baio's photo. I don't know what's more shocking – that Trump thinks Scott is terrific, or that Baio is into crafting. Or, perhaps he was working in the mugs section that day.
Wentworth Miller made a revelation on Instagram regarding his future with "Prison Break." "I just don't want to play straight characters. Their stories have been told (and told). So. No more Michael. If you were a fan of the show, hoping for additional seasons…I understand this is disappointing. I'm sorry. If you're hot and bothered bec you fell in love with a fictional straight man played by a real gay one…That's your work." Miller's "Prison Break" brother, Dominic Purcell, was among the first to respond. "It was fun mate. What a ride it was. Fully support and understand your reasoning. Glad you have made this decision for your health and your truth. Keep the posts coming…love ya brother."
Then there's Viggo Mortensen – who, by all accounts, is heterosexual. He's writing, directing, and starring in his next film. My God – he's like the male Streisand. All he has to do is sing the theme song wearing Lee Press On Nails! Anyway, "Falling" is about a homophobic and racist man suffering from dementia. Viggo plays the man's son – who happens to be a gay, married man. Mortensen claims that this is not "a gimmick, anchor, or some trigger." In fact, he didn't originally write the role to be gay – but felt it made for a more compelling story. He added, "I apologize to all the proctologists for casting David Cronenberg" – who plays a proctologist in the film. I might add that I don't believe Viggo ever met any hobbits in real life!
FYI, I had already announced I was taking Thanksgiving Week off. But, due to circumstances beyond my control (and you know how I hate that), I'm going to be indisposed for this week as well. Fear not – we'll be back right with a special series of shows for December. Stay tuned.
Remember Michael Cohen? El Presidente's former fixer? He appears in a tantalizing video – courtesy of Matthew Camp, who is a former NYC go-go boy. For some reason, Cohen made a Cameo video where he says the following: "I just want to say how amazing Matthew Camp is on OnlyFans. Having a blast enjoying every minute with you guys. Good luck. Love it. Stay safe. Stay Covid-free. And, again, OnlyFans – having a blast with him." Things that make you go, "Hmm." I smell an endorsement coming for "Billy Masters LIVE". In the meantime, you can see both Camp and Cohen on BillyMasters.com.
If Cohen loves Camp, he'll love our "Ask Billy" question. Danny in San Francisco writes, "Did you hear that the Zakar Twins said they'd release some nude photos if Biden won? Well, where are they?"
Actually, they promised a whole lotta things. Things like this: "Will post nudes if (when?) Trump loses." They kinda modified the deal when they heard of Biden's win. "Alright, alright, a deals a deal. Butts out for Biden! You want full-frontal? Wait for AOC to take office." Of course, you don't want to wait. You just have to check out BillyMasters.com.
When brothers' butts are out for Biden (or, I venture to say, anyone else who comes along), it's time to end yet another column. Sorry to take this week off, but I'm dealing with some sticky situations – none of which concern my penis (at least, not yet). But there are more than enough penii for you on BillyMasters.com – the site that shows full-frontal with or without AOC! Even though I'm tied up, I'm never too busy to answer your questions. Feel free to write me at [email protected], and I promise to get back to you before Scott Baio gets promoted to Manager of Mugs at Michael's! So, until next time, remember, one man's filth is another man's bible.