Aaron's not-so-Schocking news
Anti-gay congressman finally comes out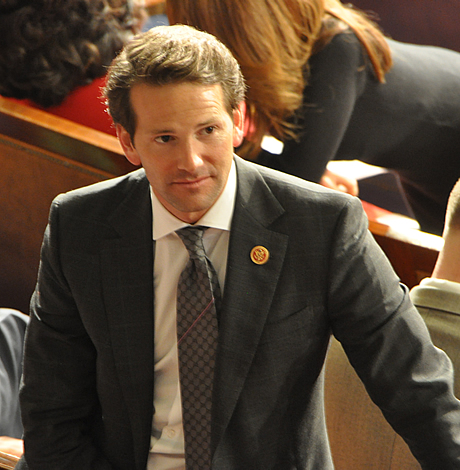 This may be the last column you read from me. In just a few days, I will be going under the knife. I know what many of you are thinking – it's about time! However, this is not elective surgery. While I have every confidence in my surgical team, anything can happen. If we've learned nothing from Auntie Joan and Donda, it is possible to come out of a minor procedure…DEAD! So, should that happen, well, it's been a great couple of decades.
Of course, the last thing I want to do is be spending time in a hospital – ground zero for the coronavirus. They say the people most at risk are the old and the infirm. I may not be old, but it doesn't get more infirm than being sliced open like a sturgeon. But you know who is really at risk? The Pope. The last time the Pontiff was seen in public, he was sneezing and coughing and hacking. He has since cancelled everything on his schedule. While the official word is that he's been tested and is negative, there has been a single case of the coronavirus reported within Vatican City. And that got one of my friends thinking – if something happens to the Pope, how will they have a Conclave of Cardinals? I say they vote by app – perhaps they can hire those geniuses who made the one for the Iowa Caucus. Then we can see white or black smoke on our cell phones. That's me – always thinking ahead.
He's been quiet for a while, but last week Aaron Schock surfaced in Rio. And he was all over sexy Eliad Cohen. Now, I know what you're all thinking – Aaron Schock is dating that little Cuban boy who came to America on an inner tube? No, that was Elián González, who I believe is currently working on Bernie Sanders' campaign. This is Eliad Cohen – a successful Israeli circuit party promoter (and occasional actor and model). If you didn't know who they were, you'd probably think Aaron and Eliad were just another hot gay circuit couple. But, of course, people do know who they are, and photographed them…as one does.  And, as this one does, I'll post them on BillyMasters.com – along with all those other photos (and videos) of every inch of Aaron.
And then Aaron did something unexpected – he came out.  In a long, rambling essay. I really would have preferred some illustrations – as they say, a picture is worth a thousand words.  But, OK, I read it. Here's my two cents. I don't really care one iota about Aaron Schock. His minor political career didn't interest me; his conservative views don't interest me; and his voting record on anti-LGBTQ initiatives doesn't interest me (but, should you like details, he supported DOMA and opposed DADT repeal). I realize I'm in the minority in my apathy – if social media means anything.  The gays posting online are livid that in Schock's statement, he never said the words, "I'm sorry."
Here's my question – why does anyone need to hear "I'm sorry" from someone so insignificant in their lives? Why are you elevating him to that importance? If you read his missive, it's clear he's a damaged person from a very dysfunctional family. He has demons he hasn't even dealt with – again, not my problem. However, even I, the apathetic Billy Masters, can imagine the horror when he telephoned his mother to tell her he is gay just before going home for Easter, only to be told that he should turn around – he wasn't welcome. I have no idea what that would feel like, but I'm willing to imagine it wouldn't be fun. I suspect if he were less attractive, he'd probably get a bit more empathy from most gay men. And, if those haters were really honest, they'd admit that given half a chance, they'd sleep with him.
Continuing her string of appearances in this column, it's time for yet another RuPaul story. For those of you who have been waiting to binge watch "AJ and the Queen," be forewarned – this is not only the first season, it's the last. Netflix cancelled it last week. RuPaul Tweeted, "End of the road for 'AJ and The Queen.' Netflix has decided to not extend our trip across America. Thank you for all the love & support. We're so very proud of the work."
Onto news about a reboot you'll be able to see wherever you are.  Amazon Prime Video is producing new episodes of "The Kids In The Hall." Actually, it's being produced by Canadian Amazon Original Series, which only makes sense since the original show originated in Canada.  The entire cast has signed on for eight episodes.
With that, it's time to end yet another column  Even when I'm gone, my website will carry on.  So check out BillyMasters.com – the site that can (hopefully) raise the dead! While I am certain I'll survive this major operation, one can never be too sure. So, if you have a question, you have two options: hold a séance, or send an e-mail to [email protected]. Either way, I hope to get back to you before Danny Newman slides into Schock…literally. So, until next time, remember, one man's filth is another man's bible.
Wentworth Miller won't play straight anymore
And Scott Baio wins praise from Trump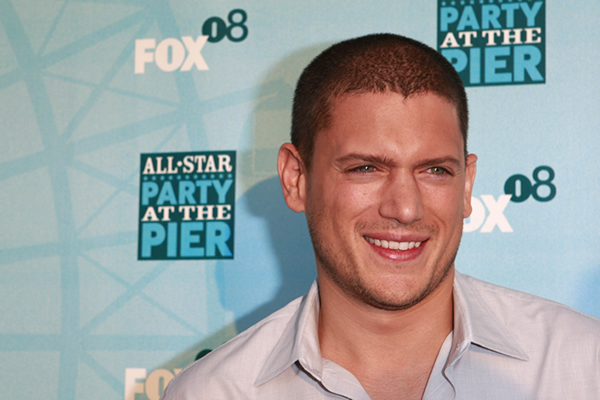 "You can't say that marriage is a union between one man and one woman. Until very recently, that's what the vast majority of Americans thought. Now it's considered bigotry." —Supreme Court Justice Samuel Alito. So much for impartiality.
Our opening quote could have been, "The road to hell is paved with good intentions." Melissa McCarthy's upcoming flick, "Superintelligence" had a carefully thought out promotional plan. During "20 Days of Kindness," HBO Max would donate $20K a day to a worthy charity. What could go wrong, right? Wrong. One of the recipients was Exodus Cry, an organization that is against reproductive choice and vilifies the LGBTQ community. When Melissa heard about this, she was outraged enough to cry through an apology. "There's no other way to say it – we blew it. We made a mistake and we backed a charity that, upon proper vetting, stands for everything that we do not. So I want to thank everyone on social media who said, 'What are you doing? Are you sure you want to back this?' Because the answer was no, we do not." How do you rectify that? McCarthy says, "We have pulled it." So who's getting that $20K?
I got a laugh when one outlet referred to thespian Scott Baio as a "former actor." Baio's good deed was to rearrange the mugs in his local Michael's to read "Trump Is Still Your President." "Thank you Scott, and stay tuned. You are terrific!" Tweeted Trump in response to Baio's photo. I don't know what's more shocking – that Trump thinks Scott is terrific, or that Baio is into crafting. Or, perhaps he was working in the mugs section that day.
Wentworth Miller made a revelation on Instagram regarding his future with "Prison Break." "I just don't want to play straight characters. Their stories have been told (and told). So. No more Michael. If you were a fan of the show, hoping for additional seasons…I understand this is disappointing. I'm sorry. If you're hot and bothered bec you fell in love with a fictional straight man played by a real gay one…That's your work." Miller's "Prison Break" brother, Dominic Purcell, was among the first to respond. "It was fun mate. What a ride it was. Fully support and understand your reasoning. Glad you have made this decision for your health and your truth. Keep the posts coming…love ya brother."
Then there's Viggo Mortensen – who, by all accounts, is heterosexual. He's writing, directing, and starring in his next film. My God – he's like the male Streisand. All he has to do is sing the theme song wearing Lee Press On Nails! Anyway, "Falling" is about a homophobic and racist man suffering from dementia. Viggo plays the man's son – who happens to be a gay, married man. Mortensen claims that this is not "a gimmick, anchor, or some trigger." In fact, he didn't originally write the role to be gay – but felt it made for a more compelling story. He added, "I apologize to all the proctologists for casting David Cronenberg" – who plays a proctologist in the film. I might add that I don't believe Viggo ever met any hobbits in real life!
FYI, I had already announced I was taking Thanksgiving Week off. But, due to circumstances beyond my control (and you know how I hate that), I'm going to be indisposed for this week as well. Fear not – we'll be back right with a special series of shows for December. Stay tuned.
Remember Michael Cohen? El Presidente's former fixer? He appears in a tantalizing video – courtesy of Matthew Camp, who is a former NYC go-go boy. For some reason, Cohen made a Cameo video where he says the following: "I just want to say how amazing Matthew Camp is on OnlyFans. Having a blast enjoying every minute with you guys. Good luck. Love it. Stay safe. Stay Covid-free. And, again, OnlyFans – having a blast with him." Things that make you go, "Hmm." I smell an endorsement coming for "Billy Masters LIVE". In the meantime, you can see both Camp and Cohen on BillyMasters.com.
If Cohen loves Camp, he'll love our "Ask Billy" question. Danny in San Francisco writes, "Did you hear that the Zakar Twins said they'd release some nude photos if Biden won? Well, where are they?"
Actually, they promised a whole lotta things. Things like this: "Will post nudes if (when?) Trump loses." They kinda modified the deal when they heard of Biden's win. "Alright, alright, a deals a deal. Butts out for Biden! You want full-frontal? Wait for AOC to take office." Of course, you don't want to wait. You just have to check out BillyMasters.com.
When brothers' butts are out for Biden (or, I venture to say, anyone else who comes along), it's time to end yet another column. Sorry to take this week off, but I'm dealing with some sticky situations – none of which concern my penis (at least, not yet). But there are more than enough penii for you on BillyMasters.com – the site that shows full-frontal with or without AOC! Even though I'm tied up, I'm never too busy to answer your questions. Feel free to write me at [email protected], and I promise to get back to you before Scott Baio gets promoted to Manager of Mugs at Michael's! So, until next time, remember, one man's filth is another man's bible.