Falwell's fall at hands of pool boy
And VH1 renews all of RuPaul's shows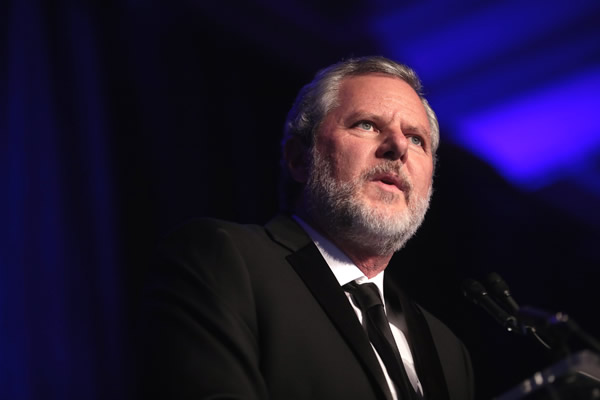 "I don't ever picture Dame Barbara Cartland doggie-style!" — Billy Masters explains that writers of fiction need not write solely from experience. This was part of a longer chat with writer Christopher Rice on Billy Masters LIVE!
Are we really living in a world where we accuse the president's son of being high on cocaine during a convention speech? I thought the world hit a low when they went after Chelsea Clinton, to say nothing of Amy Carter or the Bush girls. And does the son of a president have to actually say, "No, I was not high on cocaine" in a national television interview? I guess in this Trumpian age, the answer is yes. Whatever happened to class?
Then there's Jerry Falwell Jr. I prepared a report on his unzipped escapade weeks ago, but thought "Who cares?" Apparently people cared. On Instagram, he posted a photo from his yacht with a scantily clad woman – a woman who was not his wife. And let's not even mention Jerry's unzipped jeans peeking out below his protruding paunch. He deleted the pic, but not before others saved it and reposted it. Shortly thereafter, the Executive Committee of Liberty University's Board of Trustees "requested that Jerry Falwell, Jr. take an indefinite leave of absence from his roles as President and Chancellor of Liberty University." BTW, it was a paid leave of absence.
And yet, they didn't have a problem with last year's story about the pool boy – if anybody 29 years of age can be called a boy anywhere other than on a hookup app. A year ago, speculation ran rampant that Jerry Jr. had an affair with Giancarlo Granda. Now it's being claimed that the tyke had an eight-year affair with Mrs. Falwell and that Mr. Falwell liked to "watch." Jerry says, "Becki had an inappropriate personal relationship with this person, something in which I was not involved." Becki also asserts that her husband never watched. But I noticed something odd. In his statement, Mr. Falwell says that he and his wife "forgave each other." What did Mrs. Falwell have to forgive Mr. Falwell for? Hmm. Becki's list of sins continues to grow. It's now being alleged that she performed oral sex on one of her son's friends after band practice. Oh, did I mention they were both students at Liberty University? Falwell has resigned from the institute of higher learning because he doesn't want his wife's bad behavior to sully the school's reputation. Fret not – he'll leave with a $10.5 million severance package. For that price, I'd do whatever he wants me to do with his package!
Last week on "Billy Masters LIVE", I made a new friend and reconnected with three others. Our guest on Tuesday was writer Christopher Rice. While I might have previously met Anne Rice's son, I certainly never spent any time talking to him. I would have certainly remembered how smart and funny he is. Speaking of funny, we reunited the famed Funny Gay Males on Thursday's show – their first time together since 2006! When they started out, they were Jaffe Cohen, Danny McWilliams, and the late Bob Smith. Along the way, Eddie Sarfaty joined the group. All accomplished writers and performers, they formed at the perfect time in history to pave the way for people like Ellen. As with all of our shows, you can watch them on YouTube.com/BillyMastersTV.
This Tuesday, we sit down with Buck Angel – famed porn star, producer, and transsexual. And on Thursday, our drag divas series co-hosted by Frank DeCaro continues with Peppermint and Miss Richfield. How's that for an all-star line-up? There's something for everyone on BillyMasters.com/TV.
By the by, VH1 unsurprisingly renewed all of RuPaul's shows. "RuPaul's Drag Race", "RuPaul's Drag Race All Stars" and "Untucked" have been picked up for another season.
Because most networks don't have enough shows to air, some programs from the digital platform are moving up to primetime. For instance, CBS is bringing us the fourth season of "One Day at a Time." If they find a way to air the earlier seasons, that would also be a smart move. "Star Trek: Discovery" joins the network line-up and will begin airing episodes from the first season on Sept. 24.
When Zac Efron's little brother Dylan pulled to the side of a road to pee, someone took a photo. This is fortuitous since he lowered his shorts all the way. However, the locale appears to be pretty deserted, which makes me think it was an inside job – as in inside his own car. Posed or not, I'll post it on BillyMasters.com.
Our Ask Billy question was about another photo. Kevin in Denver wrote, "Did you see the pics of Tyler Posey frying sausage in the nude? He is just so dreamy."
He is dreamy, but also a big-ole tease. I mean, he didn't really show anything – certainly not any sausage! Once again, I got thinking – didn't we have a story like this before? So I went and checked the definitive site for celebrity nudes – BillyMasters.com. And there was Tyler…pleasuring himself during a video call. If I didn't see it, I wouldn't believe it. I'll re-post it for your viewing pleasure.
When I'm more interested in some actual sausage than anything else Tyler is frying up, it's definitely time to end yet another column. Since there's no rest for the wicked, I'll keep cooking up content for BillyMasters.com – the site that will whet more than just your appetite. If you have a question, drop a note to [email protected], and I promise to get back to you before I recycle that "pocket full of Posey" joke! Until next time, remember, one man's filth is another man's bible.
Wentworth Miller won't play straight anymore
And Scott Baio wins praise from Trump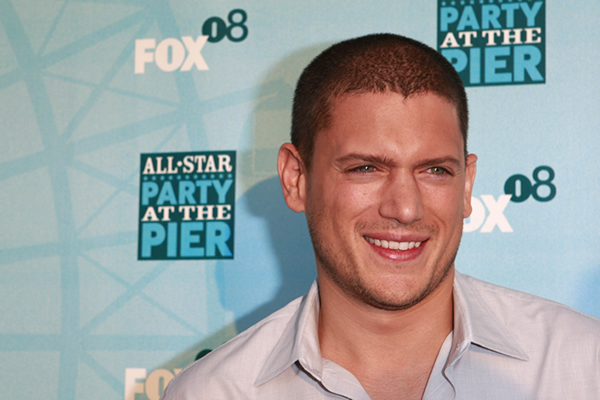 "You can't say that marriage is a union between one man and one woman. Until very recently, that's what the vast majority of Americans thought. Now it's considered bigotry." —Supreme Court Justice Samuel Alito. So much for impartiality.
Our opening quote could have been, "The road to hell is paved with good intentions." Melissa McCarthy's upcoming flick, "Superintelligence" had a carefully thought out promotional plan. During "20 Days of Kindness," HBO Max would donate $20K a day to a worthy charity. What could go wrong, right? Wrong. One of the recipients was Exodus Cry, an organization that is against reproductive choice and vilifies the LGBTQ community. When Melissa heard about this, she was outraged enough to cry through an apology. "There's no other way to say it – we blew it. We made a mistake and we backed a charity that, upon proper vetting, stands for everything that we do not. So I want to thank everyone on social media who said, 'What are you doing? Are you sure you want to back this?' Because the answer was no, we do not." How do you rectify that? McCarthy says, "We have pulled it." So who's getting that $20K?
I got a laugh when one outlet referred to thespian Scott Baio as a "former actor." Baio's good deed was to rearrange the mugs in his local Michael's to read "Trump Is Still Your President." "Thank you Scott, and stay tuned. You are terrific!" Tweeted Trump in response to Baio's photo. I don't know what's more shocking – that Trump thinks Scott is terrific, or that Baio is into crafting. Or, perhaps he was working in the mugs section that day.
Wentworth Miller made a revelation on Instagram regarding his future with "Prison Break." "I just don't want to play straight characters. Their stories have been told (and told). So. No more Michael. If you were a fan of the show, hoping for additional seasons…I understand this is disappointing. I'm sorry. If you're hot and bothered bec you fell in love with a fictional straight man played by a real gay one…That's your work." Miller's "Prison Break" brother, Dominic Purcell, was among the first to respond. "It was fun mate. What a ride it was. Fully support and understand your reasoning. Glad you have made this decision for your health and your truth. Keep the posts coming…love ya brother."
Then there's Viggo Mortensen – who, by all accounts, is heterosexual. He's writing, directing, and starring in his next film. My God – he's like the male Streisand. All he has to do is sing the theme song wearing Lee Press On Nails! Anyway, "Falling" is about a homophobic and racist man suffering from dementia. Viggo plays the man's son – who happens to be a gay, married man. Mortensen claims that this is not "a gimmick, anchor, or some trigger." In fact, he didn't originally write the role to be gay – but felt it made for a more compelling story. He added, "I apologize to all the proctologists for casting David Cronenberg" – who plays a proctologist in the film. I might add that I don't believe Viggo ever met any hobbits in real life!
FYI, I had already announced I was taking Thanksgiving Week off. But, due to circumstances beyond my control (and you know how I hate that), I'm going to be indisposed for this week as well. Fear not – we'll be back right with a special series of shows for December. Stay tuned.
Remember Michael Cohen? El Presidente's former fixer? He appears in a tantalizing video – courtesy of Matthew Camp, who is a former NYC go-go boy. For some reason, Cohen made a Cameo video where he says the following: "I just want to say how amazing Matthew Camp is on OnlyFans. Having a blast enjoying every minute with you guys. Good luck. Love it. Stay safe. Stay Covid-free. And, again, OnlyFans – having a blast with him." Things that make you go, "Hmm." I smell an endorsement coming for "Billy Masters LIVE". In the meantime, you can see both Camp and Cohen on BillyMasters.com.
If Cohen loves Camp, he'll love our "Ask Billy" question. Danny in San Francisco writes, "Did you hear that the Zakar Twins said they'd release some nude photos if Biden won? Well, where are they?"
Actually, they promised a whole lotta things. Things like this: "Will post nudes if (when?) Trump loses." They kinda modified the deal when they heard of Biden's win. "Alright, alright, a deals a deal. Butts out for Biden! You want full-frontal? Wait for AOC to take office." Of course, you don't want to wait. You just have to check out BillyMasters.com.
When brothers' butts are out for Biden (or, I venture to say, anyone else who comes along), it's time to end yet another column. Sorry to take this week off, but I'm dealing with some sticky situations – none of which concern my penis (at least, not yet). But there are more than enough penii for you on BillyMasters.com – the site that shows full-frontal with or without AOC! Even though I'm tied up, I'm never too busy to answer your questions. Feel free to write me at [email protected], and I promise to get back to you before Scott Baio gets promoted to Manager of Mugs at Michael's! So, until next time, remember, one man's filth is another man's bible.