LGBTQ Political Groups Endorse Prop 21, Fearing Loss of Rights, Shelter
LGBTQ access to shelter is no theoretical policy point. That's why numerous LGBTQ political groups, organizations and individuals have endorsed Proposition 21.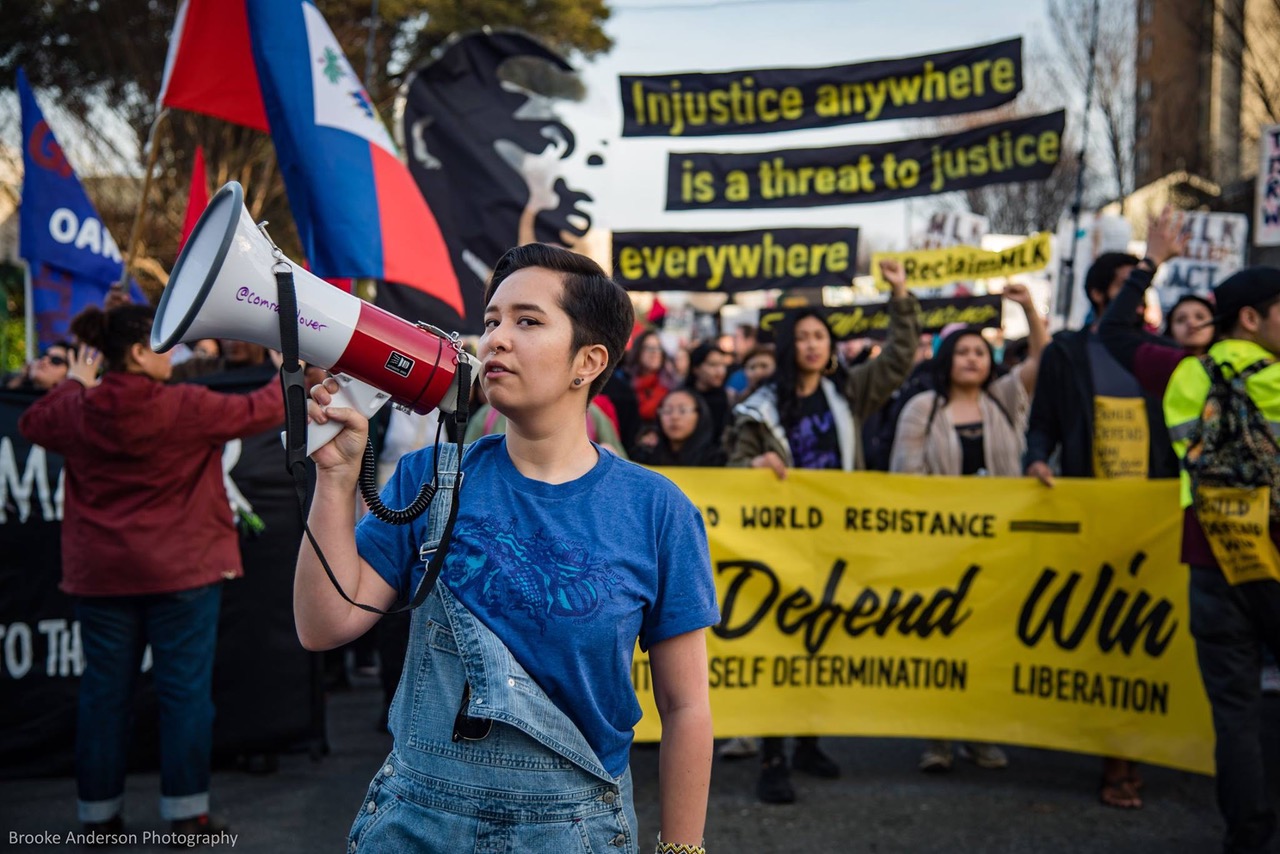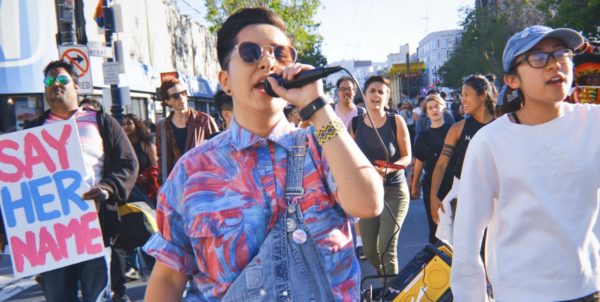 LOS ANGELES – This year LGBTQ people faced a difficult dilemma on Oct. 11, National Coming Out Day: come out, be authentic, and jump into the progressive fight for full equality – or stay closeted, silent, and sheltered from the gathering storm of anti-LGBTQ animus threatening to blow down LGBTQ rights like a house of cards. Since his first day in office, the Trump administration has been rendering invisible or rolling back LGBTQ rights and is now working hard to put Judge Amy Coney Barrett on the Supreme Court to replace iconic Justice Ruth Bader Ginsberg.
The Human Rights Campaign released a 9-page report detailing Barrett's "troubling judicial approach and philosophy." Additionally, HRC President Alphonso David penned a Washington Post op-ed with marriage plaintiff Jim Obergefell saying Barrett's confirmation "would be an LGBTQ rights emergency" with two justices already expressing interest in overturning marriage equality and other progressive laws. "Taxpayer-funded emergency shelters could refuse to place married same-sex couples in family housing, and adoption and foster care agencies could turn their backs on youths in need rather than certify the homes of same-sex couples. And they could gut access to affordable health care for a community that already faces disproportionate obstacles to care," they wrote.
LGBTQ access to shelter is no theoretical policy point. As Congress continues to dicker over emergency relief from the impact of the coronavirus pandemic, millions of working and unemployed Americans face an eviction tsunami early next year when the CDC moratorium is lifted and renters are required to pay all back rent and fees due to landlords as soon as Jan. 1.
That's why numerous LGBTQ political groups, organizations and individuals have endorsed Proposition 21, the California Rental Affordability Act. In fact, Prop 21 is so important right now, APLA Health, once a policy rival of major Prop 21 backer AIDS Healthcare Foundation, announced their endorsement of the measure, choosing housing rights over ancient history.
Prop 21 is the statewide ballot measure that puts limits on unfair, sky-high rent increases, reins in corporate landlord greed, and prevents homelessness. Top experts at USC, UCLA, and UC Berkeley agree that sensible rent limits are key for stabilizing California's housing affordability crisis. That's why the California Democratic Party, the ACLU, the California Nurses Association, the California Alliance for Retired Americans, and the Los Angeles Times, among many others, have thrown their full support behind Prop 21.
Fear is reasonable right now. James Esseks, director of the ACLU Lesbian Gay Bisexual Transgender & HIV Project, points out that his religious liberties case will be heard by the Supreme Court on Nov. 4, the day after the election. "In Fulton v. Philadelphia, the court could create a precedent that allows discrimination against LGBTQ families. More specifically, private agencies that receive taxpayer funding to provide government services — such as foster care agencies, food banks and homeless shelters — could be given a constitutional right to deny services not just to people who are LGBTQ, but even to religious groups, such as Jews, Muslims or Mormons," he wrote.
Transgender individuals are at an even greater risk. On Oct. 7, Brooklyn DeShauna Smith, 20, a Black transgender woman was killed in Shreveport, Louisiana – the 32nd violent trans death in America this year. Lambda Legal's Graciela González notes that as judge, Barrett mischaracterized trans women as "physiological males."
Additionally, a new Morning Consult poll for The Trevor Project indicates that more than 40% of LGBTQ youth reported that "the Covid-19 pandemic had affected their ability to express their LGBTQ identity" and "nearly a third of transgender and nonbinary youth reported not feeling safe in their living situation since the start of the pandemic."
Last April, the Williams Institute issued a 41-page report on "LGBT People and Housing Affordability, Discrimination, and Homelessness." In a Preface noting that the coronavirus would most likely change the data but not the circumstances, the authors wrote: "LGBT people are more likely than non-LGBT people to be poor, to be renters, to have unstable housing, and to be homeless. Furthermore, LGBT elders are more likely to live alone than non-LGBT elders; LGBTQ youth have high rates of homelessness related, for many, to rejection from their families; and discrimination against LGBT adults in housing and homeless shelters is widespread."
Last month, the Williams Institute issued another report: "Pathways Into Poverty: Lived experiences among LGBTQ people." It showed that LGBT Americans experience poverty at higher rates than cisgender heterosexuals. "Research has also shown that transgender people and cisgender bisexual women experience the highest rates of economic insecurity," the authors wrote, noting that numerous advocacy organizations have tried to "address the high rates of poverty among sexual and gender minority people."
But, while trying to meet the increasing need created by COVID, nonprofits have been struggling. "An analysis of more than 233 nonprofits found that 73% reported a drop in revenue, with many organizations finding the uncertainty of the current moment making it difficult to plan for the short and long term, while another survey of nearly 300 organizations found that 64% cut program services as a result of the pandemic," the Movement Advancement Project reported in September.
In California, Prop 21 is viewed by many as a key tool to finding a solution to help protect renters from the coming housing apocalypse.
"In a recent needs assessment of trans and gender-nonconforming Asians and Pacific Islanders (TGNC APIs) in the Bay Area, APIENC found that 93% of people are renters or live with their families," says Sammie Ablaza Wills, Director of APIENC (pictured above). "Nearly a quarter of our people have been homeless at some time in their life. TGNC API people are vulnerable to rising rents and corporate greed, especially in the age of COVID-19 unemployment and uncertainty. Housing is a right, and stable housing is the foundation of creating meaningful relationships and healing for our communities. Prop 21 is a crucial measure that can help protect our people from being displaced and pushed onto the streets. In order to survive and thrive, we need real legislation that protects renters, provides affordable housing, and improves rent control for ALL Californians." 
"The Harvey Milk LGBTQ Democratic Club supports Proposition 21 because housing affordability and rent control are LGBTQ rights," says Kevin Bard, Co-President, Harvey Milk LGBTQ Democratic Club. "In the past decade, San Francisco has seen the cost of rent increase dramatically, alongside the ongoing gentrification of many of our most beloved neighborhoods and communities. Allowing jurisdictions to enact and expand rent control (and to limit rent increases when there is a change in the master tenancy) will ensure that renters can stay in San Francisco, particularly those who rely on affordable housing. As a city that has been a refuge for LGBTQ peoples for decades, it is imperative that we do as much as we can to protect renters and keep greedy landlords in check because LGBTQ people (especially Trans and LGBTQ youth) are much more likely to be vulnerable tenants than the general population. For these reasons, please vote Yes on Proposition 21."
In Los Angeles County, Stonewall Democratic Club President Lester Aponte notes the neglected impact on people with HIV/AIDS.
"Rent prices in California, particularly in our biggest cities, are out of control and rising much faster than incomes," says Aponte. "As millions of Californians face unprecedented economic hardship, there is no relief in sight and many are facing the prospect of eviction or being unable to afford their rent and forced to leave their homes of many years. And among those worst affected are LGBTQ seniors and those living with HIV and AIDS. Prop 21 would allow local governments to adopt rent control on morehousing units. It is a long-overdue measure that will bring some humanity to the landlord-tenant relationship at long last. The Stonewall Democratic Club urges a YES vote."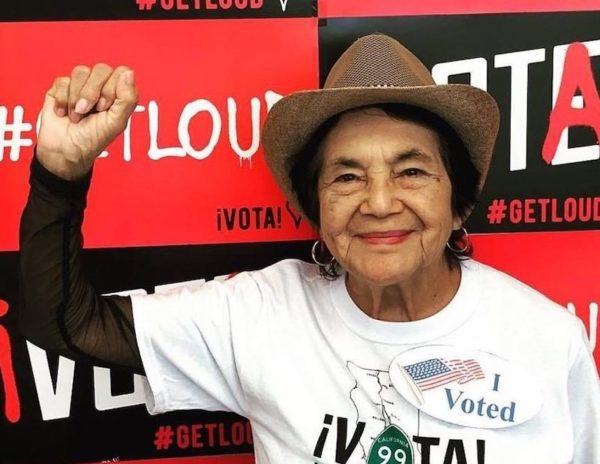 Noticeably absent from the Yes on 21 endorsement list is Equality California. Despite pro-Prop 21 board member Dolores Huerta's nudge to endorse, the statewide lobbying group decided to officially remain neutral on this proposition early on. Later, however, Equality California's candidate-endorsing political action committee accepted $17,500 in August and $100,000 in September from Prop 21 opponent, the California Apartment Association Independent Expenditure Committee, according to records of financial contributions on the Sec. of State's website.
Though Equality California is missing in action, both the Bay Area Reporter and the Los Angeles Blade did endorse Prop 21, tied to an acknowledgement of the price of coming out and living an authentic LGBTQ life.
"The current generation of LGBTQ seniors are at particular risk of COVID-19 while also being unable to age in place. They are survivors of the most intense years of the AIDS crisis, many of whom gave up financial opportunity in order to engage in the fight against AIDS. They survived that epidemic but were hobbled by homophobia, alienation and isolation during what should have been the most financially productive years of their lives. They're counting on their hometowns to protect them," says LA Blade publisher Troy Masters.
"The Los Angeles Blade is breaking its policy of remaining neutral in electoral races because Proposition 21 helps address the severe consequences of the COVID-19 economic collapse," Masters says. "Kicking the can down the road TO FORESTALL evictions is not a strategy. But without Prop 21, landlords could jack up rents just when the back rent bill comes due, with interest. Prop 21 seeks to avert a humanitarian crisis."
This article originally appeared on the Yes on 21 website.
Karen Ocamb is an award-winning journalist and staff writer for the Yes on 21 campaign.
Senate acquits Trump 57- 43 in 2nd impeachment trial
The vote was cast after lawmakers scrapped plans to depose witnesses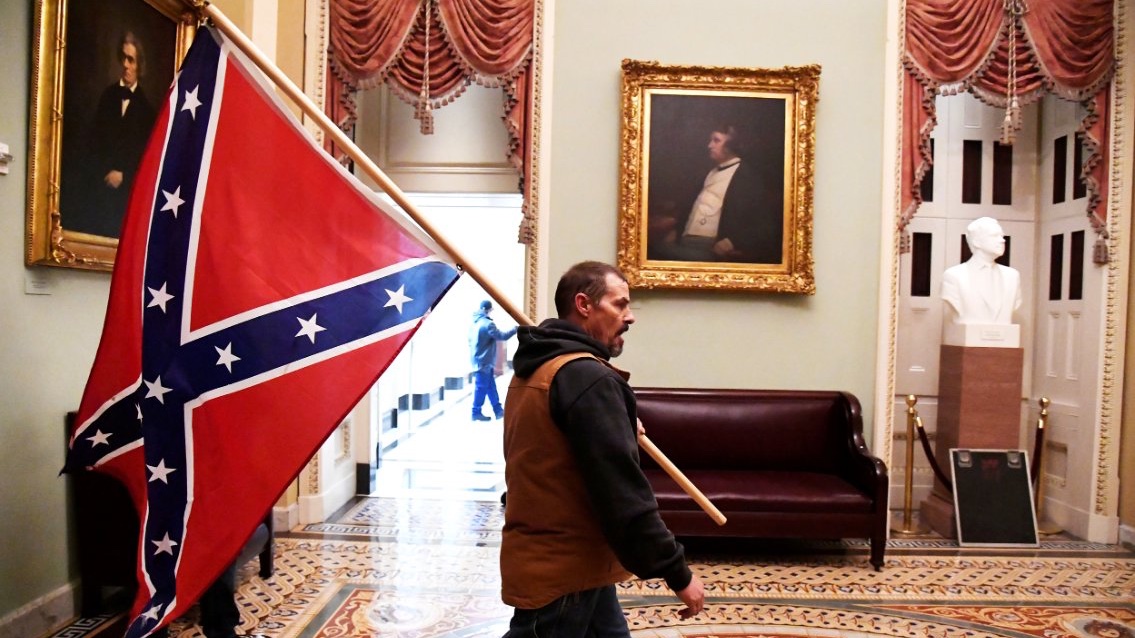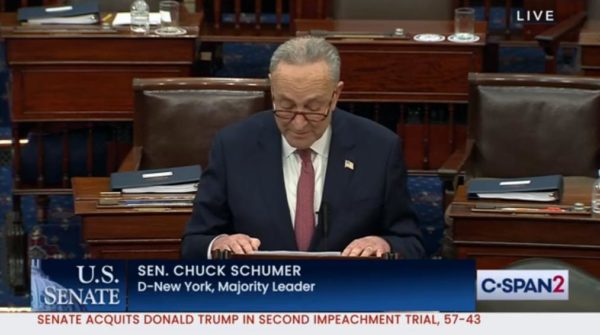 WASHINGTON – The United States Senate in a vote of 57 to 43 Saturday acquitted former President Donald Trump, who was charged in the one Article of Impeachment by the U. S. House for inciting the insurrection at the U.S. Capitol on January 6th, 2021. The Constitution requires a two-thirds majority to convict or 67 votes.
The House Impeachment Managers spoke to reporters after the Senate vote to acquit the ex-president telling reporters, "We have shown Trump is a disgrace to our country."
Trump issued a statement thanking his defense team and supporters that read in part;
"[…] My deepest thanks as well to all of the United States Senators and Members of Congress who stood proudly for the Constitution we all revere and for the sacred legal principles at the heart of our country.
This has been yet another phase of the greatest witch hunt in the history of our Country. No president has ever gone through anything like it, and it continues because our opponents cannot forget the almost 75 million people, the highest number ever for a sitting president, who voted for us just a few short months ago.
Our historic, patriotic and beautiful movement to Make America Great Again has only just begun. In the months ahead I have much to share with you, and I look forward to continuing our incredible journey together […]"
One Capitol Hill source reflecting on Trump's statement told the Blade, "Not one word of remorse in that mess. [statement on the acquittal.] He doesn't even acknowledge what a tragedy and travesty Jan. 6 was- he doesn't care."
A leading progressive coalition of more than 220 national organizations which promote and protect the civil rights of Americans, the Washington D.C. based 'The Leadership Conference on Civil and Human Rights' issued a statement from its interim president and CEO Wade Henderson after the Senate acquitted Trump;
"Despite the unmistakably clear evidence, only a handful of Republican senators found the moral fortitude to put partisan politics aside and hold Donald Trump accountable for the deadly insurrection. There is no question to fair-minded Americans that Trump weaponized blatant lies and incited a white supremacist, anti-Semitic mob to try to stop the peaceful transition of power.
The white supremacy that undergirded Trump's deadly rhetoric and fueled the insurrection is not new. The failure to convict Trump only highlights the actions we must take as a part of our country's long overdue reckoning with white supremacy and white nationalism."
One of the House Impeachment Managers, California Congressman Ted Lieu, (D-Santa Monica/Long Beach) tweeted after the vote;
"57 United States Senators concluded President Trump was guilty of inciting an insurrection. The highest bipartisan vote to convict in US history. That's a damning vote."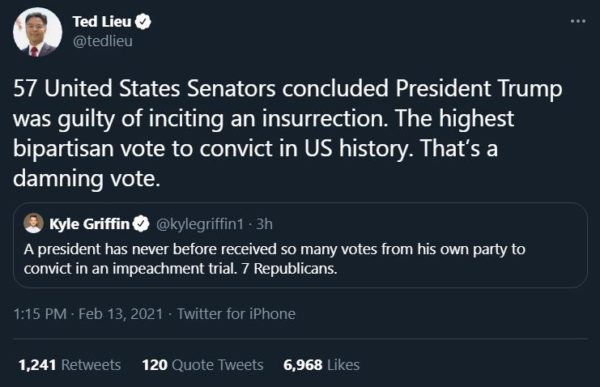 President Joe Biden, who is spending the weekend at Camp David, the presidential retreat in the Catoctin Mountain Park near Thurmont, Maryland, issued a statement late Saturday evening regarding the verdict;
"It was nearly two weeks ago that Jill and I paid our respects to Capitol Police officer Brian Sicknick, who laid in honor in the Rotunda after losing his life protecting the Capitol from a riotous, violent mob on January 6, 2021.

Today, 57 Senators – including a record 7 Republicans – voted to find former President Trump guilty for inciting that deadly insurrection on our very democracy. The Senate vote followed the bipartisan vote to impeach him by the House of Representatives. While the final vote did not lead to a conviction, the substance of the charge is not in dispute. Even those opposed to the conviction, like Senate Minority Leader McConnell, believe Donald Trump was guilty of a "disgraceful dereliction of duty" and "practically and morally responsible for provoking" the violence unleashed on the Capitol.

Tonight, I am thinking about those who bravely stood guard that January day. I'm thinking about all those who lost their lives, all those whose lives were threatened, and all those who are still today living with terror they lived through that day. And I'm thinking of those who demonstrated the courage to protect the integrity of our democracy – Democrats and Republicans, election officials and judges, elected representatives and poll workers – before and after the election.

This sad chapter in our history has reminded us that democracy is fragile. That it must always be defended. That we must be ever vigilant. That violence and extremism has no place in America. And that each of us has a duty and responsibility as Americans, and especially as leaders, to defend the truth and to defeat the lies.

That is how we end this uncivil war and heal the very soul of our nation. That is the task ahead. And it's a task we must undertake together. As the United States of America."
LGBTQ media advocacy organization GLAAD's President and CEO Sarah Kate Ellis, in a media statement wrote; "the Trump administration will forever be defined by misinformation and violence, tactics the former president weaponized against LGBTQ people and other vulnerable communities before turning them loose on our government on January 6th."
Ellis continued noting;
"The verdict does not reflect the truth understood by a majority of Americans, that Donald Trump recklessly and maliciously directed his supporters to attack the Capitol and our democracy. The Trump administration will forever be defined by misinformation and violence, tactics the former president weaponized against LGBTQ people and other vulnerable communities before turning them loose on our government on January 6th.

Senators voting to acquit are now and for all of history recorded for their cowardice in failing to hold the former president accountable for his lawless, destructive behavior. Let this be a turning point for our country, where we demand a return to shared core values of truth, safety and integrity to protect the least among us, especially from those chosen to lead us."
Republican Senate Minority Leader Mitch McConnell (R-Ky.), offered up a withering criticism of Trump's behavior. McConnell said Trump was "practically and morally" responsible for the Jan. 6 attack and suggested that he could face criminal charges. McConnell had been one of the 43 GOP Senators who voted to acquit.
McConnell said he would have "carefully considered" convicting Trump if he still held office, but ultimately determined that he, as a former president, was not "constitutionally eligible" for a conviction.
One of the ex-president's supporters blamed the Democrats; "This impeachment trial did nothing to bring the domestic terrorists who committed this heinous attack to justice," said Sen. Ted Cruz (R-Texas). "It merely satisfied Democrats' desire to once again vent their hatred of Donald Trump and their contempt for the tens of millions of Americans who voted for him."
Speaker of the House Nancy Pelosi (D-San Francisco) angrily chastised the 43 Republican Senators over their votes in the acquittal saying in a statement:
"Senate Republicans who voted not to convict chose to abandon the Constitution, the Country and the American people with this vote."
The Speaker also noted that "the Congress and Country can take great pride in the House Impeachment Managers, who defended our Constitution & Democracy with a moving presentation demonstrating love of country and loyalty to our oath and the facts."
In a letter to his supporters, House Intelligence Chairman Rep. Adam Schiff, (D-Burbank) remarked;
"[…] When I served as lead manager of the first impeachment, we warned the Senators that if they failed to convict Donald Trump after he betrayed our national security, he would do so again, that he had compromised our elections and he would do so again. We warned that they would not change or constrain him. That truth mattered little to him, what's right mattered even less, and decency not at all.
[…] As long as I live, I will never understand how the Republican Senators who voted to acquit can reconcile themselves with the consequences of that vote, or where this will place them in history. Why run for the Senate at all, if you will be missing in action when the country really needs you? Is the job that important to leave your country defenseless to a demagogue who brought violence down on our heads? How can they fail to see that by doing so, they have enabled him to bring this same hell upon us again, and that next time it could be even worse?
Rep. Jamie Raskin, (D-Md.), the lead House Impeachment Manager, warned senators that their conviction vote would define their legacies.
"This is almost certainly how you will be remembered by history," he said. "It really might not be fair, but none of us can escape the demands of history and destiny right now."