October 14, 2020 at 7:45 pm PDT | by Brody Levesque
Vota con orgullo; 'Vote with pride' engaging young Latinx LGBTQ people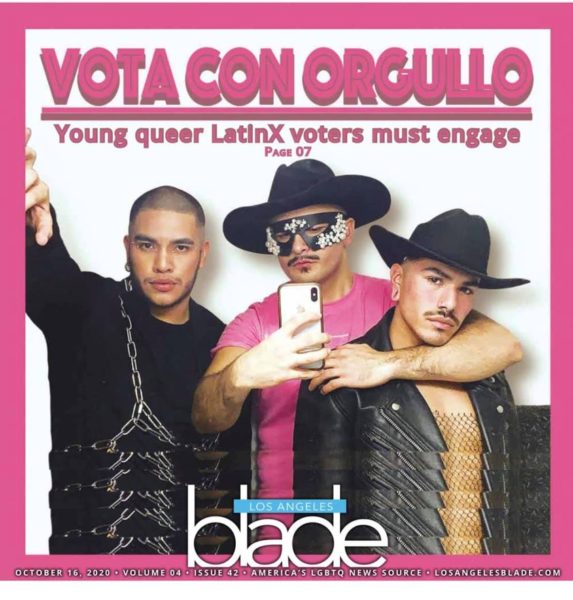 LOS ANGELES – Since first occupying the White House in 2017, President Donald Trump and his administration have waged war against America's marginalized communities- immigrants, LGBTQ people, Muslims, Black Americans, but a seemingly majority of the vitriol and xenophobic actions have been levied against the Latinx communities in the United States.
The administration attempted to end the Development, Relief, and Education for Alien Minors Act, known as the DREAM Act or DACA until the intervention of the U.S. Supreme Court this past June which rejected the administration's effort to end the legal protections for 650,000 young immigrants. The high court ruled that those young immigrants referred to as 'Dreamers' would retain their protection from deportation and their authorization to work in the United States. There were however numerous 'Dreamers' who were deported prior to the court stepping in.
In communities across the nation, the U.S. Immigration and Customs Enforcement agency has stepped up immigration workplace raids, arrested immigrants appearing in courthouses for state or local hearings not related to their immigration status, elevated deportations, and at the Southern Border not only incarcerated immigrants but separated families. For LGBTQ people, especially Trans Latinx people, many have languished in ICE detention facilities and several have died.
Against this backdrop an atmosphere of fear has developed within the Hispanic communities and their extended families. But there has also been a concerted effort and push back against the president and his administration especially by young people of all races as evidenced by the Black Lives Matter movement as well as a high percentage of young people becoming politically active.
The Los Angeles Blade spoke this week with several young queer Latinx activists. One of them, Edgardo Lopez Hernandez, was quick to point out that, "There is so much at stake and the future of this country is in our hands. A recent study shows that in this election, 32 million Latinos are eligible to vote. That is 13.3% of all eligible voters! We must understand that as Latinos and a minority group in this country, our voices must be heard loudly. We must speak our minds because our future depends on it."
Hernandez added, "So much is at stake this year. From climate change issues to ongoing gay rights, DACA, and now Roe V. Wade, Latinos must unite together to go out and vote! Many Latinos are quick to ignore their ability to vote because they simply don't focus on politics or they simply don't care. But we must care, we must not be complacent, and we must act. If what is stopping you from voting is not enough knowledge, then look for ways to educate yourself on current political events. Seek guidance from those who can help you make your voting process easier."
There has been a stepped up effort for civic engagement and voter education by the various non-profits and political advocacy groups across the Southland especially in targeting the Latinx vote. Yet because there is still a disconnect often because of language barriers many Latinx voters who are eligible to vote may need assistance.
"My mother became a US citizen three years ago. This is her first general election that she is eligible to vote in," Hernandez said, "I drove up to Fresno, to visit my mom and help her fill out her ballot. She does not speak English and does not know much about politics but she wants her voice to be heard."
In a research study and polling by the Williams Institute at the University of California Los Angeles School of Law, researchers determined that there are roughly 9 million LGBTQ adults are eligible to vote in the 2020 election. Of that total number nearly half are under the age of thirty-five. Twenty-two percent of LGBTQ voters are Latinx, 13 percent Black, 61 percent white, and 4 percent other races or multiracial.
Christy Mallory, the Legal Director at the Williams Institute and the study's author noted that "LGBT voters in general are a little bit more likely to support diverse candidates, particularly in terms of race and sexual orientation and gender identity. I think the biggest difference demographically is LGBT voters tend to be younger."
The study also found that LGBTQ voters were also more supportive of transgender and gender non-binary candidates than non-LGBTQ voters. Among LGBTQ voters, over one-quarter (28%) said they were more likely to support a candidate because they were transgender or gender non-binary. By comparison, 9% of non-LGBTQ voters said they were more likely to support a transgender or gender non-binary candidate.
However, David Johns, the executive director of the National Black Justice Coalition told journalist DeAssia Paige, writing for The Nation magazine last month, that 'the challenges that LGBTQ people of color face were not adequately addressed in the Democratic debates or among the candidates.' "The safe issues for politicians to talk about were all that they put forward," Johns said. "There was a lot of basic talk about basic equality for everybody, but not very many candidates had actual policy for meeting the needs of queer voters of color."
There are some advocates in the LGBTQ Latinx community who agree with John's assessment. But, of greater concern driving activists is ensuring that Donald Trump is not reelected and that in the down ballot races, Congressional allies of the president are also voted out.
A Trans Latina activist who asked to be identified only by her first name of Rita told the Blade that she was actively contacting her classmates and other Latinx peers at the Los Angeles Community College where she's enrolled, urging them to get registered to vote and if they have received their mail-in ballots fill them out and mail them back or drop them off at one of LA County's 400 ballot collection boxes. She added that the coronavirus has complicated her efforts so she uses email, Instagram, and instant messaging to get the word out especially among her fellow Latinx queer, non-binary, and trans classmates.
Chris Gris, a twenty-something queer Latinx who works for the City of San Diego government told the Blade that he has been helping out his extended family. Explaining ballot issues, giving his advice on candidates for federal, statewide and local offices, Gris is also urging his peers and LGBTQ friends to vote. "We can't afford to not participate or not be educated," Gris said adding, "Too much is at stake."
The final push is on now as according to Calif. Secretary of State Alex Padilla's office, more than one million Californians have returned their completed mail-in ballots as of Oct 14. Padilla's office told the LA Blade that nearly half of that number, around 435,000, came from LA County alone.
Hernandez stressed the importance of engagement; "I urge people my age, younger, and older to be proud of being a Latino living in the US. Be proud and be loud. Go out and vote for what matters most to you. Your rights and pursuit of liberty and happiness. Together, we can build a better future."
California offers voter registration online, by mail, and in person. Online voter registration is available at RegisterToVote.ca.gov. You can also request and complete a paper voter registration form and mail or hand deliver it to your county elections official to register to vote.
Registration deadlines; Online: Oct. 19 By mail: Postmarked by Oct. 19 In person: Nov. 3
Absentee ballot deadlines Request: Oct. 27 Return by mail: Postmarked by Nov. 3 Return in person: Nov. 3 by 8:00 p.m.