Closing Argument: Why LGBTQs, and Especially the Trans Community, Need Prop 21
The day-to-day lives of LGBTQ individuals is often an unreported life lived on the economic edge.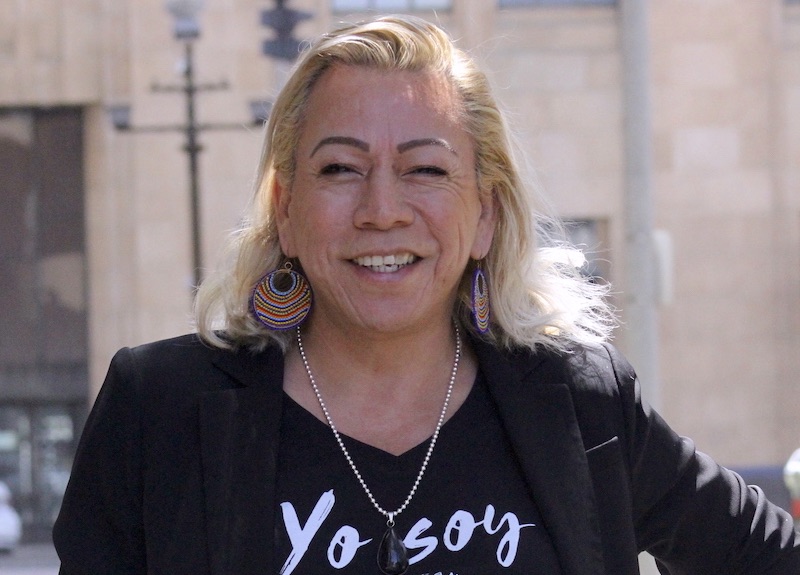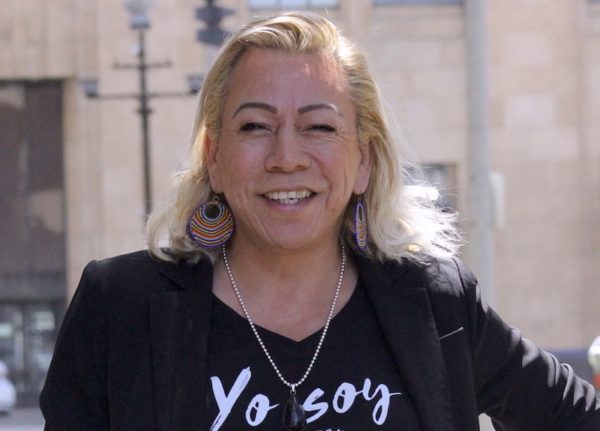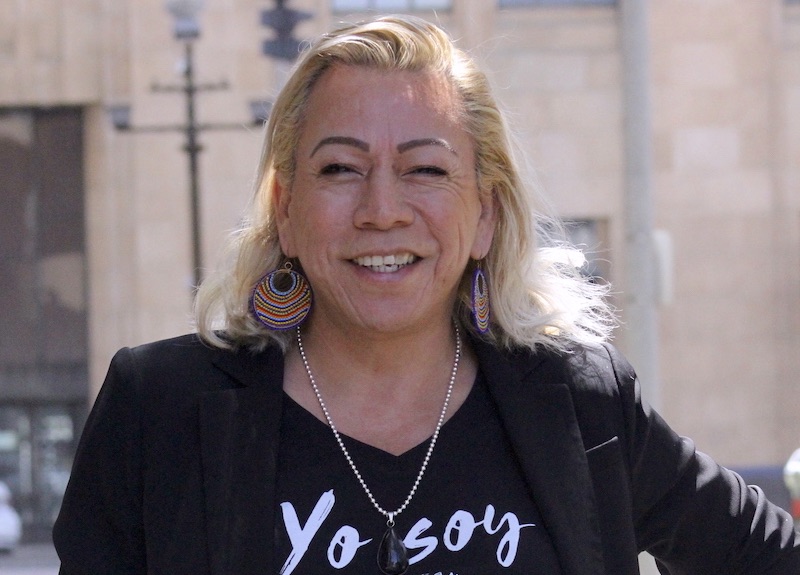 LOS ANGELES – This is it. Tuesday's election is an existential event for LGBTQ Americans. "Hate is on the march," says former Vice President Joe Biden in a powerful new video by the Human Rights Campaign promising hope and equality. But to President Trump, writes trans activist and Barnard College professor Jennifer Finney Boylan in the New York Times, "we don't matter at all. In so many ways, he's made it clear he feels we'd be better off erased. The messaging began the first week of his administration, when mention of L.G.B.T.Q. rights disappeared from the White House website. This was just for starters."
Most news stories about what's at stake for LGBTQs in the 2020 election explain the malicious rollback of civil rights and the intentional blocking of the Equality Act and enabling anti-LGBTQ employers to explicitly fire or not hire LGBTQ people because of "religious liberty." Not much is made of the consequences of those policies which put LGBTQ people at high risk of poverty and homelessness. This is particularly true for transgender people, says Bamby Salcedo, founder and CEO of [email protected] Coalition – which is why she supports Prop 21, the Rental Affordability Act.
Prop 21 is the statewide ballot measure that puts limits on unfair, sky-high rent increases, reins in corporate landlord greed, and prevents homelessness. Top experts at USC, UCLA, and UC Berkeley agree that sensible rent limits are key for stabilizing California's housing affordability crisis. That's why Reps. Maxine Waters, Karen Bass and Barbara Lee, the California Democratic Party, the ACLU, the California Nurses Association, the California Alliance for Retired Americans, Black Lives Matter, the Los Angeles Times, and a slew of LGBTQ organizations and individuals — including LA City Councilmember Mike Bonin and LA Unified School Board member Jackie Goldberg — have thrown their full support behind Prop 21.
"Prop 21 would actually affect members of our community in a positive way," says Salcedo. "A few years ago, the Williams Institute put out a report that there are about 218,400 trans-identified individuals in the state of California," of the 1,397,150 self-identified trans adults in America. "Obviously we, as all people, need to have a place to live. But there are many trans people who continue to be discriminated against simply because we are trans. Obviously, having some type of protection while trying to access housing or trying to maintain their housing is important to better the quality of life for our people."
For trans people, just having a life is a daily act of bravery. As West Hollywood commemorates the start of Transgender Awareness Month on Election Eve, civilized and empathetic Americans must grasp that since January, at least 33 trans or gender non-conforming people have been shot or otherwise violently killed – most of whom were Black or Latinx trans women. Additionally, the Los Angeles County Commission on Human Relations 2019 annual hate crime report shows the largest jump in violent hate crimes since 2008, with hate attacks against the trans community surging to 64%.
But the day-to-day lives of LGBTQ individuals is often an unreported life lived on the economic edge. As the Williams Institute reported last April, for people experiencing homelessness and housing instability during the COVID pandemic, "complying with directives to remain at home may be difficult if not impossible. For people living in or near poverty, the present economic turmoil and widespread loss of work could immediately lead to housing instability and even homelessness."
This is an acute concern because "LGBT people are more likely than non-LGBT people to be poor, to be renters, to have unstable housing, and to be homeless. Furthermore, LGBT elders are more likely to live alone than non-LGBT elders; LGBTQ youth have high rates of homelessness related, for many, to rejection from their families; and discrimination against LGBT adults in housing and homeless shelters is widespread."
"LGBT adults, as a whole, have at least 15% higher odds of being poor than cisgender straight adults after controlling for age, race, urbanicity, employment status, language, education, disability, and other factors that affect risk of poverty," economist Lee Badgett wrote last year. "Among LGBT people, poverty is especially prevalent among racial minorities, bisexuals, women, transgender people, and younger people."
While Reality TV shows such as Bravo's "Million Dollar Listing" portray rich, white gay real estate agents as representative of the LGBTQ community, another study is closer to the truth: "Poverty rates are incredibly high in the LGBTQ community. The belief in the power of the 'gay dollar' is a dangerous myth that clouds a frightening reality. Even the highest earners in our community, white, gay male couples, earn 15% less than similarly situated heterosexual couples.
When one looks at lesbian headed households and trans headed households, incomes are 40-60% lower than similarly situated heterosexual households. One fifth of LGBTQ households are raising kids; many of these families fall below the federal poverty guidelines."
Prop 21 is designed to help stave off the wave of homelessness from the projected eviction tsunami when eviction moratoriums are lifted and back rent is due, with interest and penalties, at the end of January.
Add COVID on top of the economics. Approximately 361,000 LGBT adults in Californians were in fair or poor health before the pandemic began, the Williams Institute reported in May, with over 200,00 LGBTQs having one or more medical conditions that put them at high risk of COVID-19 illness, including asthma, diabetes, heart disease, or HIV. In addition, about 612,000 LGBT Californians were living below 200% of the federal poverty level prior to the pandemic.
"An estimated 251,000 of them were working in industries facing substantial job losses, such as hospitality, health care, retail, and construction. The economic fallout of the pandemic is likely to significantly impact these LGBT people due to their pre-existing vulnerabilities."
Trans people have been hit hard by all of it, says Salcedo. Many trans people were not able to receive government relief because they were unemployed as a result of persistent discrimination and could not receive unemployment benefits. And those who were employed lost their jobs. Additionally, non-profits such as the [email protected] Coalition face systemic issues with the standard way request for proposals (RFP) are crafted.
"It doesn't necessarily give an opportunity for individuals like ourselves who do have a transitional housing program to actually get funded," she says. "So there needs to be protections for trans people to not be homeless and to continue to maintain their places of living. And Prop 21 is one of those securities."
Additionally, trans women have the highest incidence of HIV infections than any other population. "So, if we do not have secure housing, then we're not able to take our medications that help us suppress our viral load. And there's so many complications with that — like malnutrition. And obviously the stress of not being able to maintain a place of living is just too much for any individual who's already marginalized and oppressed. And that's why for us Prop 21 is one thing that could address some of those multiple things."
Trans people "are pushed onto the streets because of the institutionalized violence that our community continues to face, even during a global pandemic. Because we're not able to sustain ourselves, then obviously we're prone to be murdered. And 2020 is a record year for our community in terms of murders. And so this is obviously a clear sign of the changes that need to happen in our society to better support the livelihood of trans people," says Salcedo. "Vote for Prop 21, please."
Late Election Eve, HRC reported the death of Angel Unique, "whom some reports identify as Angel Haynes, a 25-year-old Black transgender woman who was killed in Memphis, Tenn. on October 25. Her death is believed to be at least the 34th violent death of a transgender or gender non-conforming person this year in the U.S. We say 'at least' because too often these deaths go unreported — or misreported." As may the deaths of the unidentified LGBTQ homeless. Passing Prop 21 really is an existential event.
Senate acquits Trump 57- 43 in 2nd impeachment trial
The vote was cast after lawmakers scrapped plans to depose witnesses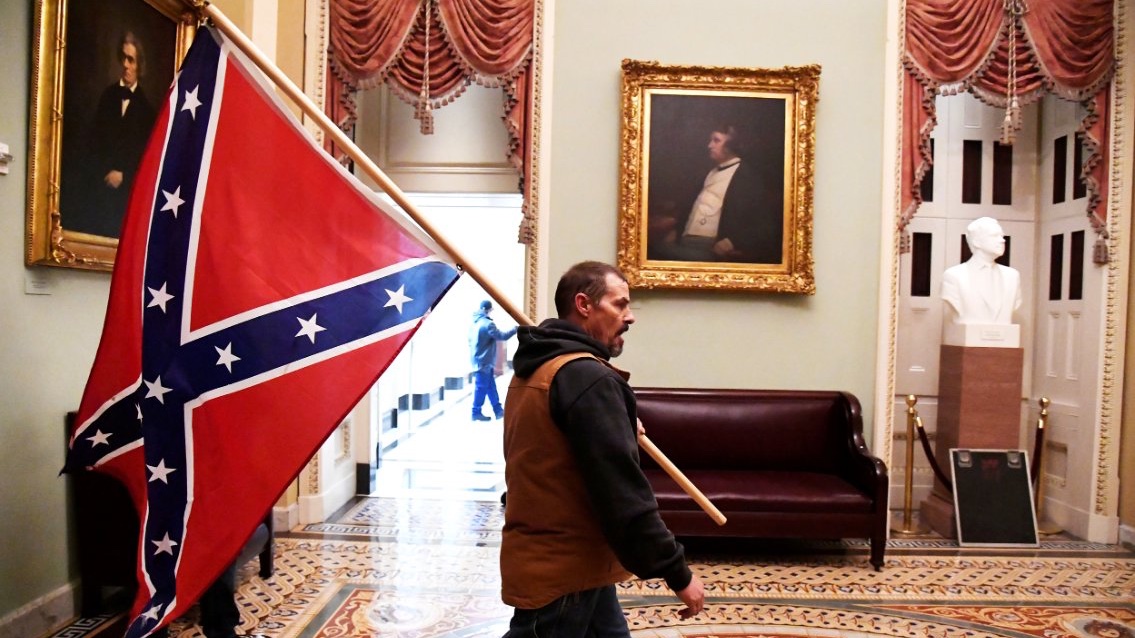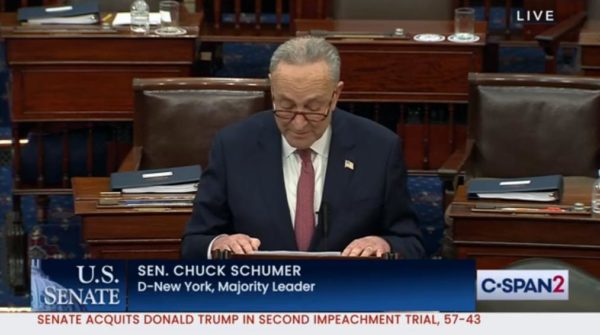 WASHINGTON – The United States Senate in a vote of 57 to 43 Saturday acquitted former President Donald Trump, who was charged in the one Article of Impeachment by the U. S. House for inciting the insurrection at the U.S. Capitol on January 6th, 2021. The Constitution requires a two-thirds majority to convict or 67 votes.
The House Impeachment Managers spoke to reporters after the Senate vote to acquit the ex-president telling reporters, "We have shown Trump is a disgrace to our country."
Trump issued a statement thanking his defense team and supporters that read in part;
"[…] My deepest thanks as well to all of the United States Senators and Members of Congress who stood proudly for the Constitution we all revere and for the sacred legal principles at the heart of our country.
This has been yet another phase of the greatest witch hunt in the history of our Country. No president has ever gone through anything like it, and it continues because our opponents cannot forget the almost 75 million people, the highest number ever for a sitting president, who voted for us just a few short months ago.
Our historic, patriotic and beautiful movement to Make America Great Again has only just begun. In the months ahead I have much to share with you, and I look forward to continuing our incredible journey together […]"
One Capitol Hill source reflecting on Trump's statement told the Blade, "Not one word of remorse in that mess. [statement on the acquittal.] He doesn't even acknowledge what a tragedy and travesty Jan. 6 was- he doesn't care."
A leading progressive coalition of more than 220 national organizations which promote and protect the civil rights of Americans, the Washington D.C. based 'The Leadership Conference on Civil and Human Rights' issued a statement from its interim president and CEO Wade Henderson after the Senate acquitted Trump;
"Despite the unmistakably clear evidence, only a handful of Republican senators found the moral fortitude to put partisan politics aside and hold Donald Trump accountable for the deadly insurrection. There is no question to fair-minded Americans that Trump weaponized blatant lies and incited a white supremacist, anti-Semitic mob to try to stop the peaceful transition of power.
The white supremacy that undergirded Trump's deadly rhetoric and fueled the insurrection is not new. The failure to convict Trump only highlights the actions we must take as a part of our country's long overdue reckoning with white supremacy and white nationalism."
One of the House Impeachment Managers, California Congressman Ted Lieu, (D-Santa Monica/Long Beach) tweeted after the vote;
"57 United States Senators concluded President Trump was guilty of inciting an insurrection. The highest bipartisan vote to convict in US history. That's a damning vote."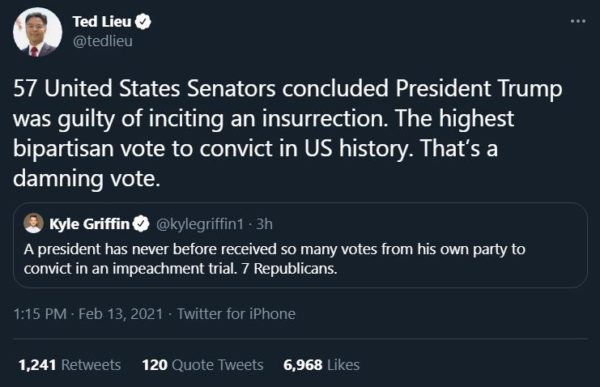 President Joe Biden, who is spending the weekend at Camp David, the presidential retreat in the Catoctin Mountain Park near Thurmont, Maryland, issued a statement late Saturday evening regarding the verdict;
"It was nearly two weeks ago that Jill and I paid our respects to Capitol Police officer Brian Sicknick, who laid in honor in the Rotunda after losing his life protecting the Capitol from a riotous, violent mob on January 6, 2021.

Today, 57 Senators – including a record 7 Republicans – voted to find former President Trump guilty for inciting that deadly insurrection on our very democracy. The Senate vote followed the bipartisan vote to impeach him by the House of Representatives. While the final vote did not lead to a conviction, the substance of the charge is not in dispute. Even those opposed to the conviction, like Senate Minority Leader McConnell, believe Donald Trump was guilty of a "disgraceful dereliction of duty" and "practically and morally responsible for provoking" the violence unleashed on the Capitol.

Tonight, I am thinking about those who bravely stood guard that January day. I'm thinking about all those who lost their lives, all those whose lives were threatened, and all those who are still today living with terror they lived through that day. And I'm thinking of those who demonstrated the courage to protect the integrity of our democracy – Democrats and Republicans, election officials and judges, elected representatives and poll workers – before and after the election.

This sad chapter in our history has reminded us that democracy is fragile. That it must always be defended. That we must be ever vigilant. That violence and extremism has no place in America. And that each of us has a duty and responsibility as Americans, and especially as leaders, to defend the truth and to defeat the lies.

That is how we end this uncivil war and heal the very soul of our nation. That is the task ahead. And it's a task we must undertake together. As the United States of America."
LGBTQ media advocacy organization GLAAD's President and CEO Sarah Kate Ellis, in a media statement wrote; "the Trump administration will forever be defined by misinformation and violence, tactics the former president weaponized against LGBTQ people and other vulnerable communities before turning them loose on our government on January 6th."
Ellis continued noting;
"The verdict does not reflect the truth understood by a majority of Americans, that Donald Trump recklessly and maliciously directed his supporters to attack the Capitol and our democracy. The Trump administration will forever be defined by misinformation and violence, tactics the former president weaponized against LGBTQ people and other vulnerable communities before turning them loose on our government on January 6th.

Senators voting to acquit are now and for all of history recorded for their cowardice in failing to hold the former president accountable for his lawless, destructive behavior. Let this be a turning point for our country, where we demand a return to shared core values of truth, safety and integrity to protect the least among us, especially from those chosen to lead us."
Republican Senate Minority Leader Mitch McConnell (R-Ky.), offered up a withering criticism of Trump's behavior. McConnell said Trump was "practically and morally" responsible for the Jan. 6 attack and suggested that he could face criminal charges. McConnell had been one of the 43 GOP Senators who voted to acquit.
McConnell said he would have "carefully considered" convicting Trump if he still held office, but ultimately determined that he, as a former president, was not "constitutionally eligible" for a conviction.
One of the ex-president's supporters blamed the Democrats; "This impeachment trial did nothing to bring the domestic terrorists who committed this heinous attack to justice," said Sen. Ted Cruz (R-Texas). "It merely satisfied Democrats' desire to once again vent their hatred of Donald Trump and their contempt for the tens of millions of Americans who voted for him."
Speaker of the House Nancy Pelosi (D-San Francisco) angrily chastised the 43 Republican Senators over their votes in the acquittal saying in a statement:
"Senate Republicans who voted not to convict chose to abandon the Constitution, the Country and the American people with this vote."
The Speaker also noted that "the Congress and Country can take great pride in the House Impeachment Managers, who defended our Constitution & Democracy with a moving presentation demonstrating love of country and loyalty to our oath and the facts."
In a letter to his supporters, House Intelligence Chairman Rep. Adam Schiff, (D-Burbank) remarked;
"[…] When I served as lead manager of the first impeachment, we warned the Senators that if they failed to convict Donald Trump after he betrayed our national security, he would do so again, that he had compromised our elections and he would do so again. We warned that they would not change or constrain him. That truth mattered little to him, what's right mattered even less, and decency not at all.
[…] As long as I live, I will never understand how the Republican Senators who voted to acquit can reconcile themselves with the consequences of that vote, or where this will place them in history. Why run for the Senate at all, if you will be missing in action when the country really needs you? Is the job that important to leave your country defenseless to a demagogue who brought violence down on our heads? How can they fail to see that by doing so, they have enabled him to bring this same hell upon us again, and that next time it could be even worse?
Rep. Jamie Raskin, (D-Md.), the lead House Impeachment Manager, warned senators that their conviction vote would define their legacies.
"This is almost certainly how you will be remembered by history," he said. "It really might not be fair, but none of us can escape the demands of history and destiny right now."