California U.S. House seats realign as they flip & ballot props take center stage
California ballot measures included three hotly fought over measures out of the twelve listed.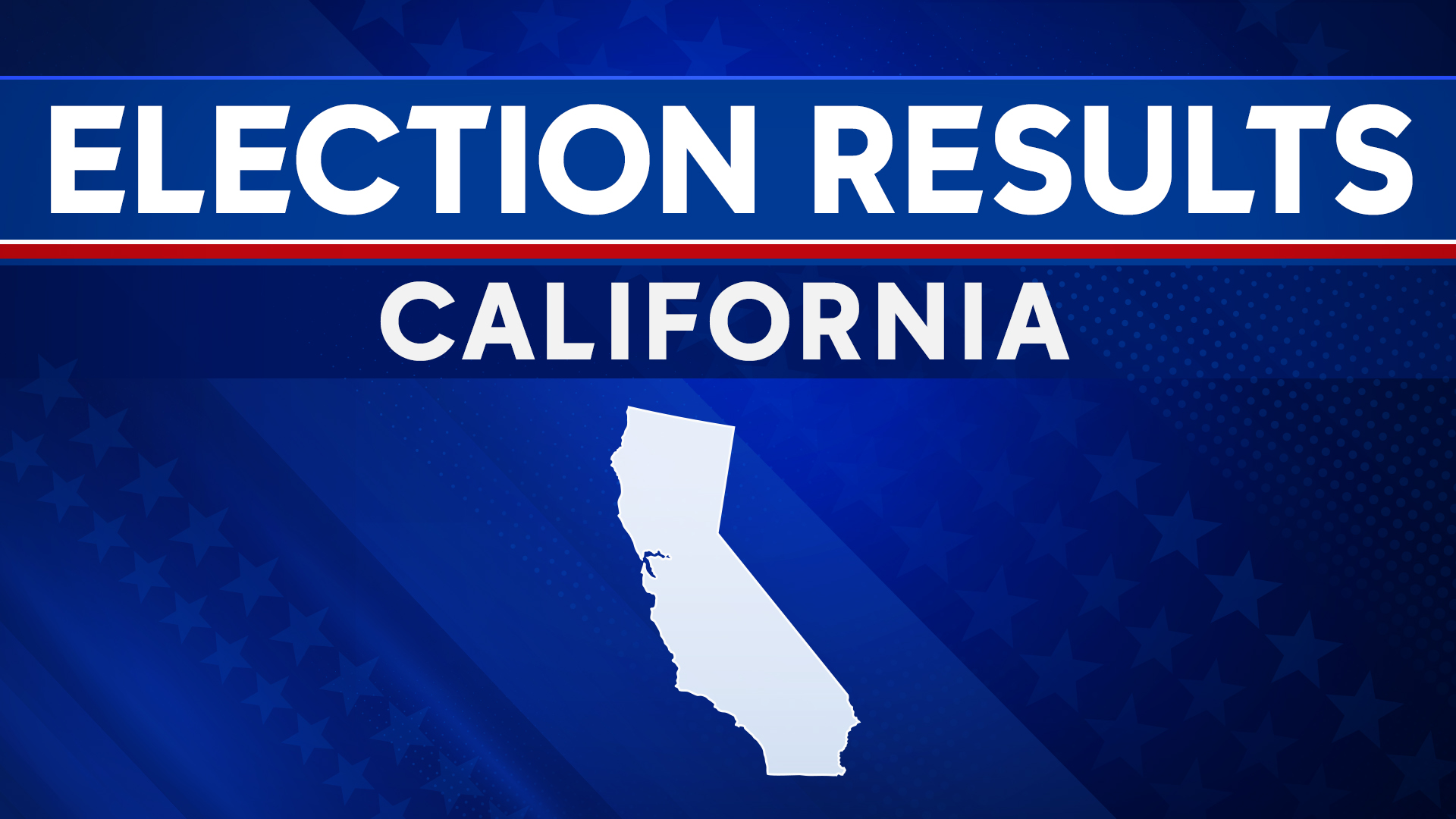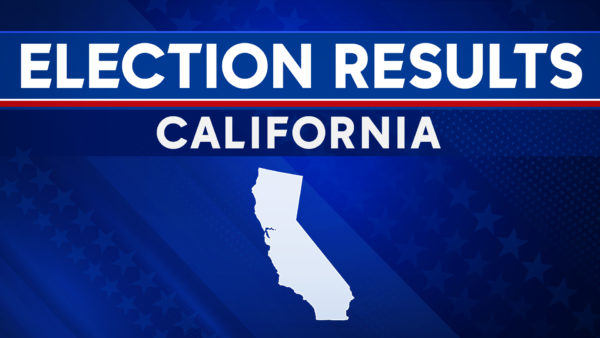 LOS ANGELES – Along with most of the United States Wednesday, California woke up to an undetermined outcome in the race for the White House, which as of Wednesday evening showed President Donald Trump trailing his Democratic challenger, former Vice-President Joe Biden, with an electoral count of 264 – 214 as of 6 PM Pacific.
California, as was the case in nearly every jurisdiction across the nation, had record setting mail-in balloting as a result of the coronavirus pandemic. In the 2020 Election cycle more than 11.2 million Californians voted early with nearly half of that total number voting by mail. According to a spokesperson for California's Secretary of State Alex Padilla's office, it will take several weeks for all of the state's 58 counties to process and count all of the ballots. County Elections officials will have approximately one month to complete their extensive tallying, auditing, and certification work.
Because of this, the statistics in each of these races reported Wednesday, November 4 by the Los Angeles Blade are expressly preliminary results. State law requires county elections officials to report their final results for presidential electors to the Secretary of State by December 1, 2020, and all other state contests by December 4, 2020. The Secretary of State has until December 11, 2020, to certify the results of the election.
California voters statewide rejected seven of the twelve ballot measures know as propositions. In Los Angeles County voters approved the sole measure brought about by a summer of massive protests and anger directed at the Los Angeles County Sheriff's office as well as other law enforcement agencies over the deaths of young Black males at the hands of those agencies. Southern California's burgeoning homeless problems also contributed to voter angst.
L.A. County voters approved Measure J, which requires that 10% of locally generated, unrestricted county money estimated to be at around $400 million by County officials – be spent on housing, mental health programs, jail diversion, employment opportunities and social services. LA County will be prohibited from using the money on prisons, jails or law enforcement agencies.
For residents of Southern California, there were five closely watched U.S. House races that were hotly contested by the parties.
In San Diego, the fight over the seat vacated by disgraced former Republican Congressman Duncan Hunter, who was convicted of a federal corruption charge last Spring, was a match-up pitting former GOP Congressman Darrell Issa, the onetime chairman of the House Oversight and Government Reform Committee from 2011 to January 2015. (Issa was well-known for his harsh partisan attacks on then President Barack Obama.) and 31-year-old Democrat Ammar Campa-Najjar. Campa-Najjar nearly ousted Hunter in 2018 in a bitter race that saw Hunter "ridiculously and offensively stated that Campa-Najjar is part of an effort by radical Muslims to infiltrate the U.S. government and suggested that electing Campa-Najjar may lead to the implementation of Sharia law and Islamism in America," The Times of San Diego reported at the time. Campa-Najjar in a 2018 interview with the Los Angeles Blade noted that he has an LGBTQ stepsister and is a strong LGBTQ ally.
According to The San Diego Union-Tribune; "As of 7 a.m. Wednesday, Issa led Campa-Najjar by 4.4 percentage points — or nearly 11,700 votes. However there are still hundreds of thousands of outstanding, uncounted ballots throughout San Diego and Riverside counties, and neither candidate claimed victory on Election Night. The San Diego County Registrar of Voters Michael Vu said additional vote totals would be released after 5 p.m. Thursday"
Another closely watched race was California's 25th U.S. House District, which for years was reliably Republican, was won by Democrat Katie Hill, who identifies as bi-sexual, in a 2018 mid-term election upset. However, Hill resigned amid a House ethics probe involving sexual misconduct less than a year into her term.
Hill was replaced in the House seat by Republican Mike Garcia, a former U.S. Navy aviator and executive for defense contractor Raytheon Technologies last May in a special election. Garcia is running against California State Assemblywoman Christy Smith. (D-38th district).
The race is a rematch of this past May's special election and early results show Smith, a Trump supporter, with a slim lead at 131, 218 to Garcia's 128, 462- a 50.5% to 49.5% plurality.
In Orange County's House District 39, Democrat Rep. Gil Cisneros, who had voted for passage of the Equality Act in 2019 and in 2018 had rousted anti-LGBTQ extremist Republican Rep. Ed Royce, is trailing his Republican challenger, Young Kim. Kim has garnered 134,556 (50.2%) to Cisneros' 133,263. (49.8%)
Another hotly contested race, also in Orange County, has Democrat Harley Rouda matched against Republican challenger Michelle Steel, chair of the county's Board of Supervisors. House District 48 was occupied by virulently anti-LGBTQ former Republican Rep. Dana Rohrabacher who had served in the seat for decades before losing in 2018 to Rouda. This race is also close with Rouda trailing Steel at 167,229 (49.7%) to her 169,179 (50.3%).
In the California State Senate Races, Stonewall Democrats endorsed newcomer, Santa Clarita resident and worker/civil rights Attorney Kipp Mueller, (D) matched against incumbent Republican State Sen. Scott Wilk in State Senate District 21. Mueller is trailing Wilk with 135,743 (49.9%) to Wilk's 136,296 (50.1%).
In District 23, another newcomer Abigail Medina, currently an an at-large member of the San Bernardino City Unified School District Board of Education is the Democratic Party Candidate running against Republican candidate Rosilicie Ochoa Bogh. The seat is currently held by Republican State Sen. Mike Morrell who termed out in 2020 and was therefore ineligible to run for the district seat again. Both candidates are in a statistical tie with Medina at 112,940 (50%) and Bogh at 112,799 (50%).
California ballot measures included three hotly fought over measures out of the twelve listed.
Voters rejected Prop 16 which would have repealed the decades-old ban on affirmative action policies at public colleges and other government agencies based on race, ethnicity or sex. Californians also rejected Proposition 21, which was endorsed by the Los Angeles Blade.
Prop 21 would have allowed cities and counties to apply rent controls to housing more than 15 years old. The measure's defeat marks the second time since 2018 that the state's voters have opted against expanding rent control. The campaign against the measure had the backing of California's Democratic Governor Gavin Newsom who was accused by supporters of the initiative of bending to the will of big developers and real estate holding companies. Some argued that California's chronic homeless issues would be exacerbated by Newsom's failure to identify rent control as a necessary measure especially during the economic downturn resulting from the coronavirus pandemic.
Voters did approve Prop 22 which pitted Ride-Sharing App giants Uber and Lyft against an array of drivers, rideshare users, and union supporters who saw the measure as a way for the to companies to deny benefits to their contract workers. The prop defined the app-based drivers as independent contractors and not employees or agents.
The battle over Prop 22 was a result of the deeply unpopular Assembly Bill 5 (AB 5), signed by Gov. Newsom in September 2019, which had tried to define the question of whether app-based drivers are employees or independent contractors.
The problem with AB 5 as it was first passed was that it also ensnared a host of other careers and jobs in California's robust 'gig' economy as well as brought about a court battle with ongoing litigation that was brought by California State Attorney General Xavier Becerra to force the rideshare giants to comply with AB5.
Examples of companies that hire app-based drivers included Uber, Lyft, and DoorDash. The ballot measure did not affect how AB 5 was applied to other types of workers.
Voters said no to Prop 15, a property tax to fund schools, and government services, also rejected Prop 16, which would have repealed the decades-old ban on affirmative action policies at public colleges and other government agencies based on race, ethnicity or sex. Voters also said thumbs down to Prop 25, which would have overturned a 2018 law abolishing cash bail in California. The legislative fight over the law pitted the multibillion-dollar bail industry, criminal defense attorneys and some civil liberties advocates against Democratic leaders.
Also being voted down was Prop 18 which would have given 17-year-old residents 'Primary Voting Rights' if their 18th birthday occurred before the next November election Prop 20, which would have implemented parole restrictions for certain offenses and Prop 23 changing state requirements for Kidney Dialysis Clinics.
Another set of races in Southern California of note was in Palm Springs where City Councilmembers Christy Holstege and Lisa Middleton have won their re-election bids in Council Districts 4 and 5, respectively.
Holstege, who is bisexual, beat two opponents after facing sexist, biphobic attacks during the campaign. She is expected to succeed Mayor Geoff Kors next year and become the first woman and first bisexual person to serve as mayor of Palm Springs.
Middleton, who became the first transgender Californian elected to a nonjudicial office after winning a highly competitive citywide race alongside Holstege in 2017, was unopposed in 2020.
Senate acquits Trump 57- 43 in 2nd impeachment trial
The vote was cast after lawmakers scrapped plans to depose witnesses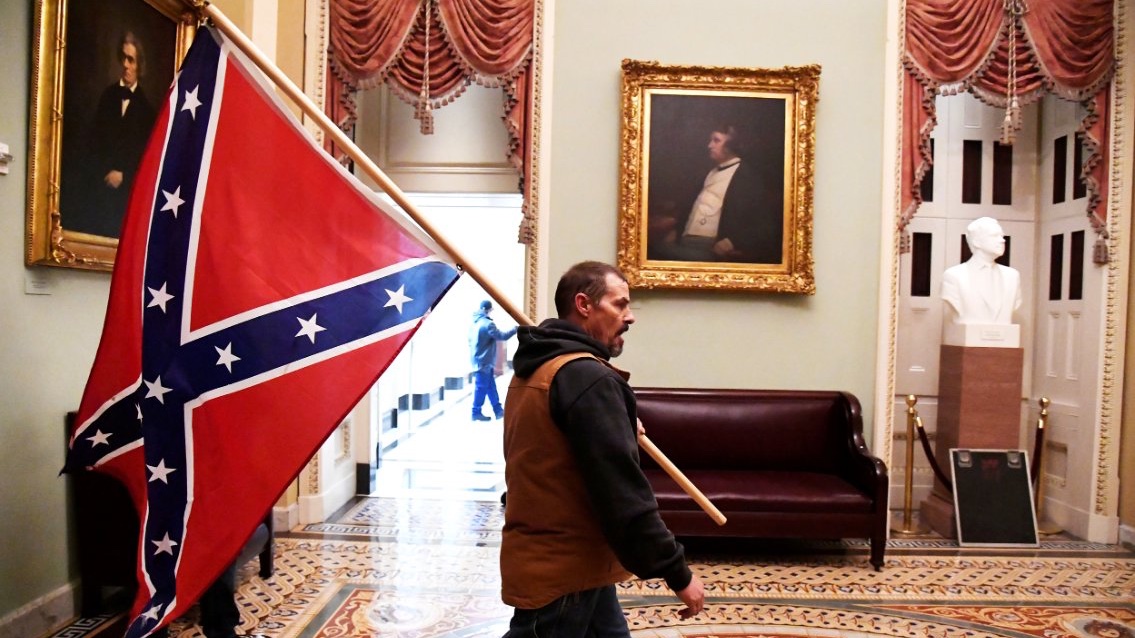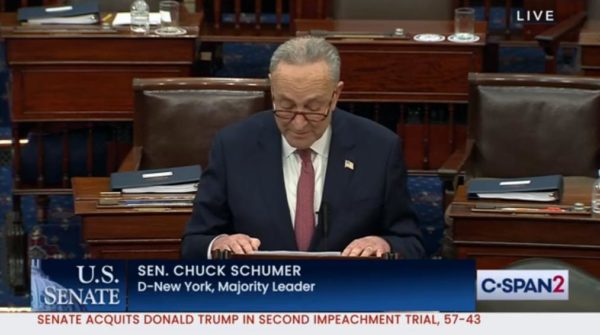 WASHINGTON – The United States Senate in a vote of 57 to 43 Saturday acquitted former President Donald Trump, who was charged in the one Article of Impeachment by the U. S. House for inciting the insurrection at the U.S. Capitol on January 6th, 2021. The Constitution requires a two-thirds majority to convict or 67 votes.
The House Impeachment Managers spoke to reporters after the Senate vote to acquit the ex-president telling reporters, "We have shown Trump is a disgrace to our country."
Trump issued a statement thanking his defense team and supporters that read in part;
"[…] My deepest thanks as well to all of the United States Senators and Members of Congress who stood proudly for the Constitution we all revere and for the sacred legal principles at the heart of our country.
This has been yet another phase of the greatest witch hunt in the history of our Country. No president has ever gone through anything like it, and it continues because our opponents cannot forget the almost 75 million people, the highest number ever for a sitting president, who voted for us just a few short months ago.
Our historic, patriotic and beautiful movement to Make America Great Again has only just begun. In the months ahead I have much to share with you, and I look forward to continuing our incredible journey together […]"
One Capitol Hill source reflecting on Trump's statement told the Blade, "Not one word of remorse in that mess. [statement on the acquittal.] He doesn't even acknowledge what a tragedy and travesty Jan. 6 was- he doesn't care."
A leading progressive coalition of more than 220 national organizations which promote and protect the civil rights of Americans, the Washington D.C. based 'The Leadership Conference on Civil and Human Rights' issued a statement from its interim president and CEO Wade Henderson after the Senate acquitted Trump;
"Despite the unmistakably clear evidence, only a handful of Republican senators found the moral fortitude to put partisan politics aside and hold Donald Trump accountable for the deadly insurrection. There is no question to fair-minded Americans that Trump weaponized blatant lies and incited a white supremacist, anti-Semitic mob to try to stop the peaceful transition of power.
The white supremacy that undergirded Trump's deadly rhetoric and fueled the insurrection is not new. The failure to convict Trump only highlights the actions we must take as a part of our country's long overdue reckoning with white supremacy and white nationalism."
One of the House Impeachment Managers, California Congressman Ted Lieu, (D-Santa Monica/Long Beach) tweeted after the vote;
"57 United States Senators concluded President Trump was guilty of inciting an insurrection. The highest bipartisan vote to convict in US history. That's a damning vote."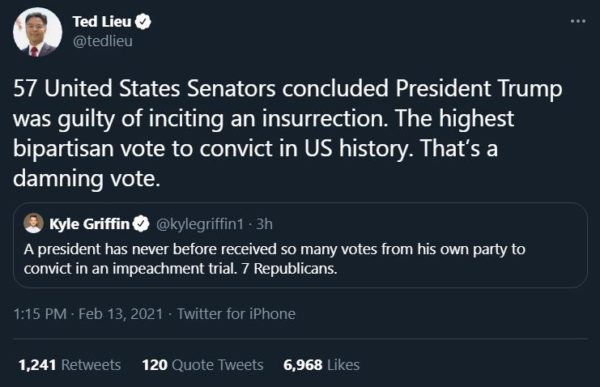 President Joe Biden, who is spending the weekend at Camp David, the presidential retreat in the Catoctin Mountain Park near Thurmont, Maryland, issued a statement late Saturday evening regarding the verdict;
"It was nearly two weeks ago that Jill and I paid our respects to Capitol Police officer Brian Sicknick, who laid in honor in the Rotunda after losing his life protecting the Capitol from a riotous, violent mob on January 6, 2021.

Today, 57 Senators – including a record 7 Republicans – voted to find former President Trump guilty for inciting that deadly insurrection on our very democracy. The Senate vote followed the bipartisan vote to impeach him by the House of Representatives. While the final vote did not lead to a conviction, the substance of the charge is not in dispute. Even those opposed to the conviction, like Senate Minority Leader McConnell, believe Donald Trump was guilty of a "disgraceful dereliction of duty" and "practically and morally responsible for provoking" the violence unleashed on the Capitol.

Tonight, I am thinking about those who bravely stood guard that January day. I'm thinking about all those who lost their lives, all those whose lives were threatened, and all those who are still today living with terror they lived through that day. And I'm thinking of those who demonstrated the courage to protect the integrity of our democracy – Democrats and Republicans, election officials and judges, elected representatives and poll workers – before and after the election.

This sad chapter in our history has reminded us that democracy is fragile. That it must always be defended. That we must be ever vigilant. That violence and extremism has no place in America. And that each of us has a duty and responsibility as Americans, and especially as leaders, to defend the truth and to defeat the lies.

That is how we end this uncivil war and heal the very soul of our nation. That is the task ahead. And it's a task we must undertake together. As the United States of America."
LGBTQ media advocacy organization GLAAD's President and CEO Sarah Kate Ellis, in a media statement wrote; "the Trump administration will forever be defined by misinformation and violence, tactics the former president weaponized against LGBTQ people and other vulnerable communities before turning them loose on our government on January 6th."
Ellis continued noting;
"The verdict does not reflect the truth understood by a majority of Americans, that Donald Trump recklessly and maliciously directed his supporters to attack the Capitol and our democracy. The Trump administration will forever be defined by misinformation and violence, tactics the former president weaponized against LGBTQ people and other vulnerable communities before turning them loose on our government on January 6th.

Senators voting to acquit are now and for all of history recorded for their cowardice in failing to hold the former president accountable for his lawless, destructive behavior. Let this be a turning point for our country, where we demand a return to shared core values of truth, safety and integrity to protect the least among us, especially from those chosen to lead us."
Republican Senate Minority Leader Mitch McConnell (R-Ky.), offered up a withering criticism of Trump's behavior. McConnell said Trump was "practically and morally" responsible for the Jan. 6 attack and suggested that he could face criminal charges. McConnell had been one of the 43 GOP Senators who voted to acquit.
McConnell said he would have "carefully considered" convicting Trump if he still held office, but ultimately determined that he, as a former president, was not "constitutionally eligible" for a conviction.
One of the ex-president's supporters blamed the Democrats; "This impeachment trial did nothing to bring the domestic terrorists who committed this heinous attack to justice," said Sen. Ted Cruz (R-Texas). "It merely satisfied Democrats' desire to once again vent their hatred of Donald Trump and their contempt for the tens of millions of Americans who voted for him."
Speaker of the House Nancy Pelosi (D-San Francisco) angrily chastised the 43 Republican Senators over their votes in the acquittal saying in a statement:
"Senate Republicans who voted not to convict chose to abandon the Constitution, the Country and the American people with this vote."
The Speaker also noted that "the Congress and Country can take great pride in the House Impeachment Managers, who defended our Constitution & Democracy with a moving presentation demonstrating love of country and loyalty to our oath and the facts."
In a letter to his supporters, House Intelligence Chairman Rep. Adam Schiff, (D-Burbank) remarked;
"[…] When I served as lead manager of the first impeachment, we warned the Senators that if they failed to convict Donald Trump after he betrayed our national security, he would do so again, that he had compromised our elections and he would do so again. We warned that they would not change or constrain him. That truth mattered little to him, what's right mattered even less, and decency not at all.
[…] As long as I live, I will never understand how the Republican Senators who voted to acquit can reconcile themselves with the consequences of that vote, or where this will place them in history. Why run for the Senate at all, if you will be missing in action when the country really needs you? Is the job that important to leave your country defenseless to a demagogue who brought violence down on our heads? How can they fail to see that by doing so, they have enabled him to bring this same hell upon us again, and that next time it could be even worse?
Rep. Jamie Raskin, (D-Md.), the lead House Impeachment Manager, warned senators that their conviction vote would define their legacies.
"This is almost certainly how you will be remembered by history," he said. "It really might not be fair, but none of us can escape the demands of history and destiny right now."