November 4, 2020 at 4:53 pm PST | by Karen Ocamb
Shyne and Erickson oust Heilman and Duran in WeHo and other California races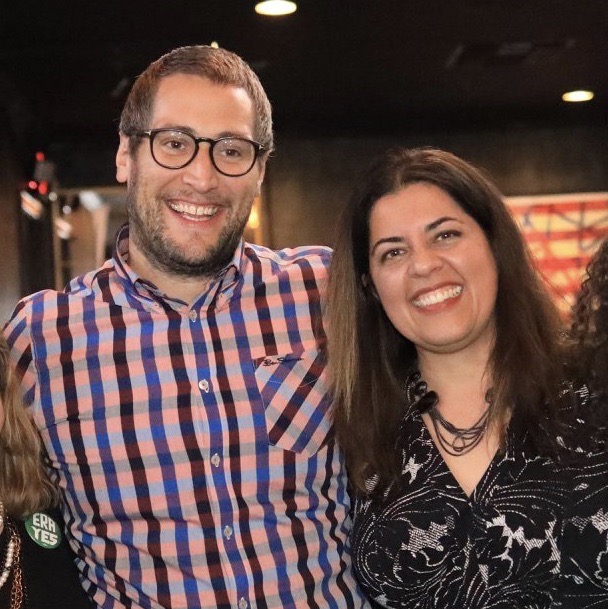 WEST HOLLYWOOD – Wednesday morning, Nov. 4, after a harrowing Election Night where Democrats saw their wishes for a Blue Wave crash on the jagged cliffs of Trumpism, Los Angeles County Democratic Party Chair Mark J. Gonzalez managed to find a patch of blue in the foggy political sky.  
"Last night, Americans proved that, as our nation has always done, we will work to vanquish threats. Last night, millions of Americans chose hope over fear, progress over bigotry, democracy over authoritarianism," Gonzalez said in a statement noting that a record 150+ million Americans voted. "This election cycle, we hit 3 million registered Democrats and we could not be more hopeful for our future as a nation and the future of our county and state." 
With early voting and Trump-ordered confusion at numerous post offices, the official outcome of many races, including the presidential race, may not be known for weeks. In California, county elections officials must report all final results to the Secretary of State by Dec. 4 to be certified by Dec. 11. Meanwhile, county clerks are regularly updating their results, including Los Angeles County which reported early Wednesday on LAVote.net the results for 99% of the 3,383 precincts.
Interestingly, while Democrats on the federal level are dumbstruck by the success of Donald Trump's messaging lies about "socialism," abject racism about keeping streets and neighborhoods "safe," and economic prowess during the nation's near depression caused by his incapacity to handle the COVID-19 crisis, – on the ground in California, there were real signs of youthful progressive activism demonstrating real political strength.
There was perhaps no greater example of this longing for generational change than in the race for two seats on the West Hollywood City Council.
Attorney Sepi Shyne, a WeHo Business License Commissioner, and LGBTQ and Iranian-American advocate and John Erickson, a former Legislative Representative at Los Angeles World Airports, longtime WeHo city community outreach and event planner and LGBTQ and NOW/LA activist ousted longtime incumbents Councilmember and WeHo City co-founder John Heilman, a lawyer, law professor and longtime human rights, LGBTQ and AIDS advocate and Councilmember John Duran, a criminal defense attorney, radio host and longtime LGBTQ and AIDS activist. 
Shyne — the top vote getter with 6,738 votes (23.49%) — and Erickson, who garnered 6,228 votes (21.71%), both posted notes of gratitude on their Facebook pages but withheld further comment until more votes are counted. Heilman remained silent, but Duran — who has become renown for his daily COVID updates, posted some thanks and some thoughts.
"It appears that both John Heilman and I are not going to be re-elected to Weho Council, Duran wrote, noting that not all the ballots are in and counted. "But it looks likely that the voters wanted change and fresh faces at city hall. If this is the case, we all need to support the new council members because they will have a heavy lift immediately in dealing with a public health emergency and West Hollywood economic collapse. I will wish them well and will offer to help anyway that I can….If I lose – it has been a GREAT 20 years on council."
Duran considered his legacy. "I am most proud of the Weho Recovery Center and Log Cabin 12 Step facilities acquisition for sobriety in Weho. And It has been extraordinary to have served as an LGBT activist for 40 years – with 20 of those years as an elected official through the marriage battles. The rainbow crosswalks, rainbow and trans flags across the city, the dog parks and the night time shuttle – are my lasting legacies. All of these mentioned items are my fingerprints," he wrote, in part.
"There's still plenty of fire in this middle aged (Ok. end of middle aged) Gay Latino. And there's still plenty of work to be done. Elected office was never an end point for me. It was a vehicle for service," Duran added.
The City of West Hollywood also noted the passage of a measure to help the city recover from the COVID economy. "Unofficial election results also indicate that Measure E, a measure establishing a 3/4¢ sales tax, has been approved by West Hollywood voters with votes currently tallied at 12,351 "yes" (73.1%) and 4,546 "no" (26.9%). Measure E will provide approximately $11,000,000 annually to maintain City of West Hollywood services and recover from public health emergencies; support senior services and health-related services; keep public areas clean and safe; address homelessness; help retain local businesses and jobs; repair potholes and streets; maintain public safety and 911 response; and provide other City services. It will exist until ended by voters, and requires public disclosure of spending, independent financial audits, and all funds to be used locally," according to a WeHo press release.
Shyne and Erickson will be sworn-in on Dec. 7, 2020 at 6 p.m. Lindsey P. Horvath will continue as Mayor until May 17. But the City Council will elect a new Mayor Pro Tempore to replace Heilman on Dec. 21. Keep an eye on the posted council agenda for any changes.
Shyne and Erickson are not the only LGBTQ candidates who won their races. The Victory Fund endorsed 50 LGBTQ candidates in California, including members of the California LGBT Legislative Caucus such as State Sen. President Toni Atkins of San Diego and Todd Gloria, who left the California Assembly to run for San Diego Mayor.
As of noon on Wednesday, Gloria led his opponent Barbara Bry 56.3% to 43.7%, with 6.4% of the voter turnout. 
That San Diego mayor's race had ugly patches, including one misleading incident apparently orchestrated by gay conservative Republican Carl DeMaio, a former city councilmember and radio talk show host. According to KPBS DeMaio sent text message ads saying Gloria "supports sex offenders" or has "put our kids at risk by voting to shield sex offenders." A  Facebook post was entitled "Todd Gloria Supports Sex Offenders." All of this referred to Gloria's support of SB 145, the important change to California's sex offender registry that gives judges greater discretion in determining whose name goes on the lifelong registry, helping end some of the discrimination against LGBTQ people in sex crime convictions.
The bill was authored by state Sen. Scott Wiener (who won his contentious re-election race in San Francisco), sponsored by Equality California and a slew of law enforcement professionals and signed by Gov. Newsom. 
There are several other local races of importance to the LA LGBTQ community. LA City Councilmember David Ryu is a tight race against Bernie Sanders-backed urban planner Nithya Raman, co-founder of SELAH Neighborhood Homeless Coalition, in the 4th District. Ironically, Ryu, who is also passionate about homelessness, has been endorsed by Sanders' Democratic Primary opponent in 2016, Hillary Clinton. 
Ryu is best known by the LGBTQ community for his strong support for the Los Angeles LGBT Center – strong enough to garner a rare endorsement from Center CEO Lorri Jean. As of noon on Wednesday, Raman had a slight lead with 52.38% of the vote to Ryu's 47.62%.
In the grueling race to replace Mark Ridley-Thomas (who is winning his City Council race for the 10th District), for LA County Supervisor for the2nd district, State Sen. Holly Mitchell has a long lead over former Assembly Speaker and former LA City Council President Herb Wesson, with 60.86% of the vote to Wesson's 39.14%.
Both have long and close ties to the LGBTQ community, including Mitchell's friend, former colleague (serving former State Sen. Diane Watson) and former senior advisor Charles Stewart plus the endorsement by the Stonewall Democratic Club and Wesson's endorsement by the LA County Democratic Club (led by gay chair Mark Gonzalez and Executive Director Drexel Heard), and by senior consultant Jasmyne Cannick. 
KNBC4 points out:  "Sen. Holly Mitchell appears set to make history, turning the county board once referred to as 'five little kings' into one that will be run by five women for the first time in its history." 
Another critical local race is for LA District Attorney. Current DA Jackie Lacey, the first woman and first Black woman to hold the office, faced intense criticism by families, Black Lives Matter, and criminal justice reform activists for failing to charge law enforcement officers who fatally shot Black men. Former Los Angeles police officer George Gascón skipped running for San Francisco DA in order to come back to LA and challenge Lacey.
Though regarded as progressive and reform-minded, Gascón faced a last minute allegation of sexual harassment 20-25 years ago, as reported by freelance journalist Yashar Ali.     53.8% of the vote to Lacey's 46.2%, holding a lead of about 211,650 votes. Both candidates have their LGBTQ supporters and opponents, though more activists pushing for police and prison reform support Gascón.
Even if former Vice President Joe Biden and Sen. Kamala Harris defeat Trump and Democrats hold onto the House, it looks like the Senate will remain in Republican Mitch McConnell's control. That means local activism becomes even more important.
"No matter what happens with the Presidential election, the LGBTQ community today stands united with other communities which have also faced ongoing attacks against their humanities. We stand with Black, Indigenous and people of color, with activists seeking racial justice, with feminists and immigrants, and, indeed, with the many millions of people who believe in the possibility that—working together—we can build a more equitable and loving national community, said Los Angeles LGBT Center CEO Lorri L. Jean in a statement.
"No matter the results, the Center will continue to do what we've always done: Fight like hell for our community and for all people who believe we can truly be a nation of liberty and justice for all." 
The Center is hosting a post-election virtual community conversation via Facebook Live https://www.facebook.com/LAlgbtcenter  tonight (Wednesday, November 4) at 6 p.m PT that will include an update on the election and its impact on the LGBT community. Center CEO Lorri L. Jean will be joined by guests U.S. Representative Adam Schiff (CA–28th District); Phill Wilson, Founder of the Black AIDS Institute; and Dan Maldonado and Eve O'Toole, the Center's Federal Advocates.