Long-awaited 'Studio One' doc hits LA's Outfest
Studio One has long been buried and neglected, overshadowed and out-excessed by the scandal-ridden saga of its more famous Manhattan cousin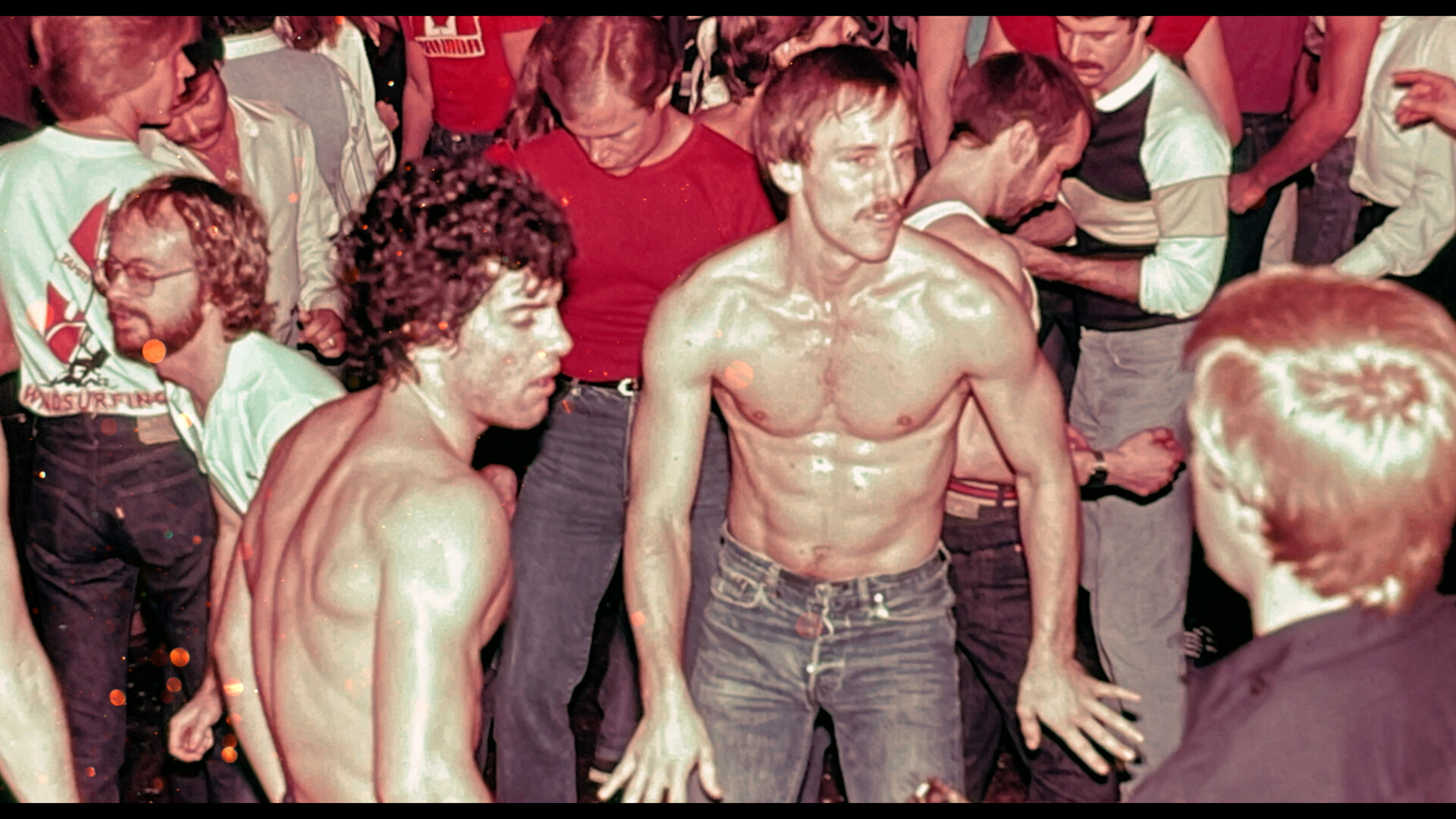 We know you've heard of Studio 54, the iconic New York City dance club that became almost synonymous with the hedonistic lifestyle of the 1970s disco scene, but before it ever opened its doors there was already Studio One, and if you've heard of that one, you're probably from Los Angeles.
Founded in 1974 by part-owner Scott Forbes in the upstairs space above a furniture factory, the West Hollywood nightclub was must-do hotspot in LA during through the peak of the disco years until its closing in 1993. Explicitly conceived as a haven for gay men, it was known for its youthful clientele, celebrity patrons, and notoriously hedonistic vibe; it became even more of a draw with the opening of "The Backlot," an adjacent performance venue that featured some of the biggest "A-list" acts of the era.
The story of Studio One has long been buried and neglected, overshadowed and out-excessed by the scandal-ridden saga of its more famous Manhattan cousin, but thanks to filmmaker Marc Saltarelli, it's finally getting its due as a seminal part of queer cultural history. His film – "Studio One Forever," a documentary that chronicles the nightclub's decadent reign as the queen of queer nightlife in LA and follows the effort to preserve the building that housed it – has its world premiere screening at LA's OutFest on July 18, and while it might not yet be available to a wider audience, it's bound to draw attention as an important document of an era when queer culture was bursting – through the phenomenon of disco – into the mainstream.
Framed by the modern-day story of former patrons, now local community leaders, spearheading the campaign to save the club's historic building from demolition, it's a widely-scoped exploration of the Studio One legacy that draws heavily on archival material, personal reminiscence, and hindsight, unearthing a history that took place mostly in secret – or as much so as was possible for a nightclub frequented by some of Hollywood's biggest stars, both new and old. It's an engrossing watch, full of interviews with Studio One-adjacent celebs like Bruce Vilanch, Chita Rivera, Thelma Houston, Melissa Rivers, Julie Budd and more, and loaded with anecdotal tidbits alongside the corroborative testimony that gives them the weight of lived experience; more than that, it offers a microcosmic look at queer life from the giddy freedom of the sexually liberated seventies through the decimation of the AIDS era and beyond, into an age when survivors of that time have empowered themselves to reclaim their own history – something that becomes nearly visceral through the extensive photographic record of life inside the club itself, much of it made possible by a chance discovery, covered in the film, which we won't spoil.
Speaking to Saltarelli before his movie's debut, we learned that although he had been to Studio One after moving to Los Angeles in 1984, his interest in making a film about it began in 2018, when a friend and former Backlot producer told him about a reunion party for the club that was planned to help drum up support for a "Save the Factory" campaign, in hopes of persuading West Hollywood city officials that the space which once housed the legendary club was worth preserving. It was suggested to him that the story would make a good documentary.
"I had been to the club when I was 19, after I had moved from Illinois, and I had those memories – but I had no idea what had happened before I got there, or after," Saltarelli tells us. "So, I started doing the research, and the women who started 'Save the Factory' had put together a 30-or-40-page, detailed, historical document – it actually got official 'historical preservation status' – where they interviewed a lot of people that I would end up interviewing later. When I read that, I was like, 'Wow, there's an amazing story here that not many people know about.' I certainly didn't."
There were funding challenges, of course, and other logistical obstacles that had to be worked out before he could start the project, but thanks to a postponement of the planned reunion, the filmmaker was able to get things together in time to film that occasion, including extensive interviews with former patrons waiting in line to get in – just like in the old days.

He also gained access to film inside the building, giving him the opportunity to gather a core group of former Studio One regulars – including John Jude Duran, a West Hollywood City Council member and veteran of multiple terms as the town's mayor – to reminisce on camera within the space in which they had spent so many hours of their younger lives.
"We were able to film the club's front bartender, Michael Koth, at his old station," he says, "which was really amazing." Koth, who used to put lines of complementary cocaine on the bar for patrons, is now a respected health and wellness practitioner.

The flagrant encouragement of drug use at Studio One is just one of the less-than-savory aspects that Saltarelli includes in his documentary, though it takes nothing away from the joyous nostalgia that infuses it. Another is the inevitable discussion of the club's well-documented racist-and-classist admission policies, which led to controversy and protest even in the "pre-woke" environment of the seventies and eighties.

"Scott Forbes' vision was to have a place for gay white men only," Saltarelli tells us. "He didn't come right out and say it, but he had this 'no open-toed shoes' policy as a way of keeping women out, and he didn't want people of color to be a part of it. They had to have three forms of ID, sometimes, it was just ridiculous.
"Scott had his flaws. I don't believe he was racist, but he was a businessman, and it was business decision – and the times were different. It's not to trash Scott, but I didn't want to gloss over it, it's the way it was. Some people deny it, but frankly, that's because they're white and they never saw it happening."
Though "Studio One Forever" has an inherently local focus, Saltarelli has been pleased to find enthusiasm for his project coming from all across the country – and he believes he understands why it strikes a chord for so many people who never set foot in the club itself.
"It's a universal story for our queer community," he muses. "It represents our youth, our coming-of-age, it resonates not only with incredibly happy times but also the tragedy of the eighties that still lives with us. All those emotions and memories come back, and most of the people in these photographs, unfortunately, aren't with us anymore.
"I also like to think it's a way of honoring those people, who gave so much. They didn't ask to die, but because of them we were mobilized as a community and that's why we've been able to attain further rights – even though some people are trying to erase those now."
In truth, queer safe spaces like Studio One are also being erased, even in the LGBTQ+ mecca of West Hollywood – which makes the history related by Saltarelli's movie even more valuable.
10 films you must not miss during Outfest 2023's second half
Outfest's Closing Gala is on Sunday July 23, at 7pm. It will be held at The Montalbán, 1615 Vine St, in Hollywood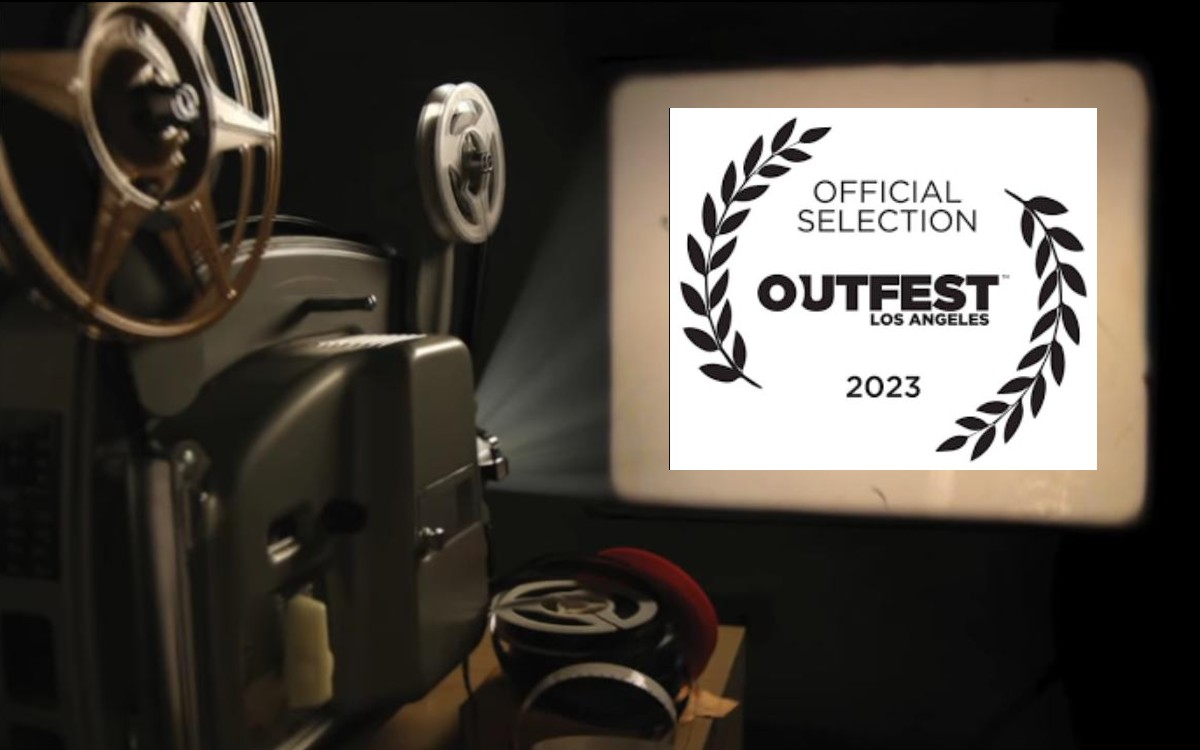 LOS ANGELES – The 41st edition of Outfest Los Angeles is in full bloom – but if you missed any of its thrilling first half that included scores of LGBTQ+ screenings, premieres and parties, fear not.
Much of the best of this year's Outfest is still to come over the next several days, including dozens of in-person screenings, the seventh annual Trans, Nonbinary, & Intersex Summit, and the festival's big Closing Gala on Sunday, July 23. What's more, for a limited time, many fantastic films that have already screened (like Down Low, Fancy Dance, and Mutt) can now be streamed via the festival's virtual platform.
But it's in-person screenings that have always been the main draw at Outfest, often featuring lively Q&A sessions with the films' directors (though sadly not the narrative casts this year, due to the SAG-AFTRA strike). Here are ten standout screenings that you won't want to miss in the final days of Outfest Los Angeles 2023.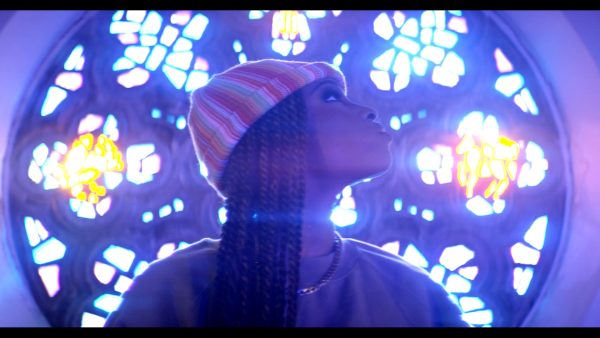 Emmy-winning director Nneka Onuorah (Lizzo's Watch Out for the Big Grrrls) presents a unique and important front-lines look at the fight to bring LGBTQ+ inclusivity to the Black church, featuring reflections from Billy Porter, Cedric the Entertainer, and frequent Tyler Perry collaborators David and Tamala Mann. Onuorah and several of the doc's participants are expected to be in attendance. (Thu July 20, 5pm, Directors Guild of America, Theatre 1)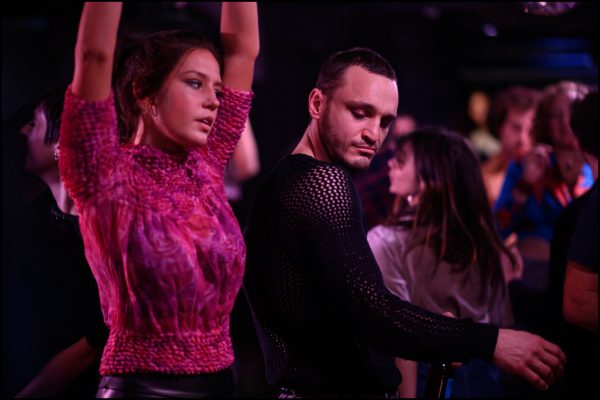 A quartet of modern queer cinematic icons comes together for this latest feature from director Ira Sachs (Outfest Grand Jury Prize winner for 2012's Keep the Lights On), in which Paris-based filmmaker Tomas (Franz Rogowski from 2021's excellent Great Freedom) strays from his longtime marriage to Martin (Ben Whishaw) for a surprising affair with Agathe (Adèle Exarchopoulos, Blue Is the Warmest Color), throwing everyone's worlds into bedlam. The film is this year's Outfest Special Centerpiece, and Sachs is expected to appear. (Thu July 20, 7:15pm, DGA 1)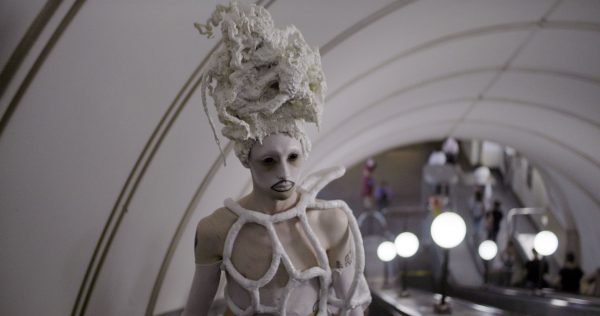 Director Agniia Galdanova profiles the profoundly bold drag activism of Gena Marvin, a radical young performance artist from a small town in eastern Russia who has turned her talent for otherworldly costuming into a powerful instrument of protest against a litany of political and social injustices, including the mistreatment of Russia's LGBTQ+ community. (Thu July 20, 7:30pm, DGA 2)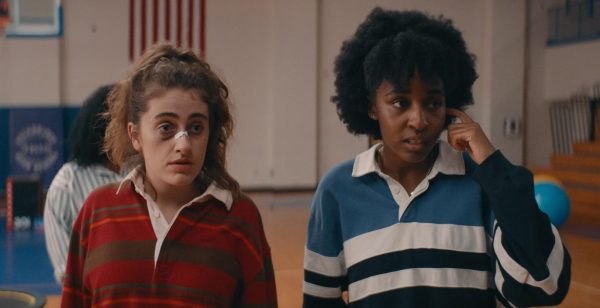 The Shiva Baby team of director Emma Seligman and star Rachel Sennott return in this wacky queer high school farce that Variety called "a gonzo gay Fight Club meets Heathers." Senior pals PJ and Josie (Sennott and Ayo Edebiri) devise a plan to lose their virginity by launching a female fight club that will bring them close to their school's hottest cheerleaders. Seligman is expected to attend this screening. (Fri July 21, 7:30pm, DGA 1)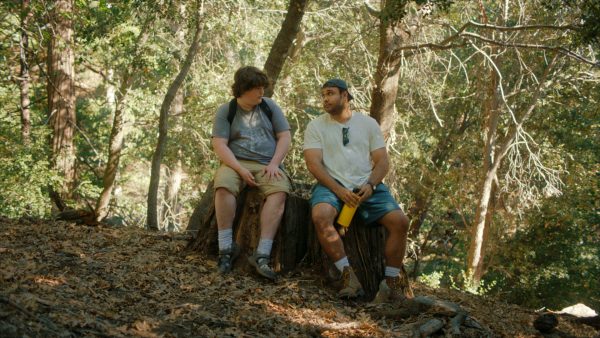 Young Jamie's excitement for a wholesome family camping trip is dashed when his favorite cousin Allie shows up with her new boyfriend Dan, who not only diverts Allie's attention, but arouses fellow "big boy" Jamie's romantic interest. The Guardian called director Corey Sherman's feature debut "an achingly brilliant queer coming-of-age classic." Sherman is expected to appear live. (Sat July 22, 11am, DGA 1)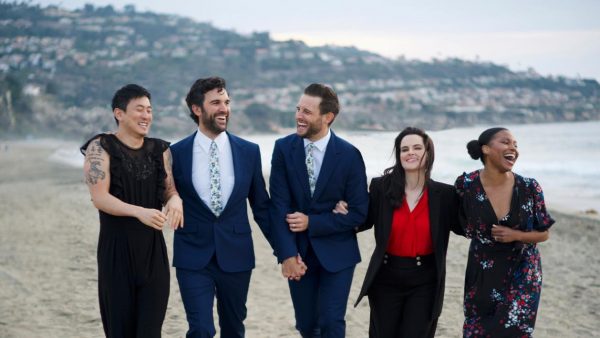 When couple Thomas (Nico Tortorella) and Oscar (Juan Pablo di Pace) lose their foster son following his birth mother's release from prison, they react differently to the loss, with Oscar happy to return to his rejuvenated acting career, and Thomas yearning to reprise the role he never thought he'd want as a father. Andy Vallentine directed the script by his real-life husband Danny Vallentine, and both are expected to be in attendance. (Sat July 22, 1:30pm, DGA 1)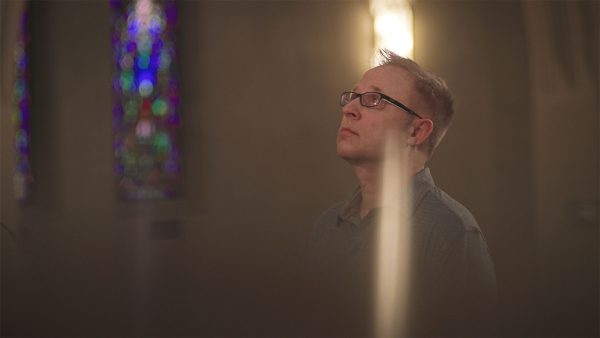 LGBTQ+ people learn early on that the Christian Bible condemns their very existence – or does it? Guided by personal faith and queer identity, director Rocky Roggio explores the powerful significance of a single word that was mistranslated in 1946, then unravels how that subsequently altered the trajectory of history for generations of believers. (Sat July 22, 4:15pm, DGA 1)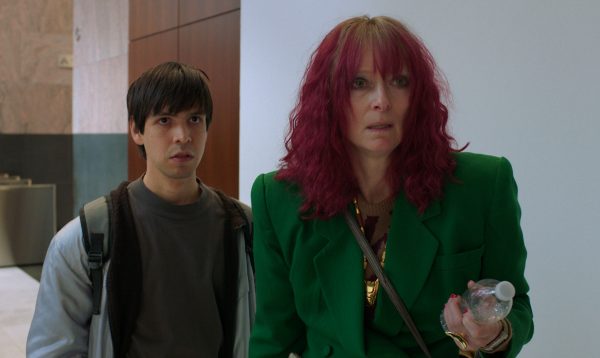 Los Espookys' Julio Torres brings his surreal brand of comedy to his directorial debut, in which he also stars as aspiring Salvadoran toy designer Alejandro – who, to stay in New York, takes a gig assisting an eccentric art world outcast, played by a deliciously unhinged Tilda Swinton. It's all wryly narrated by Isabella Rossellini. (Sat July 22, 6:45pm, DGA 1)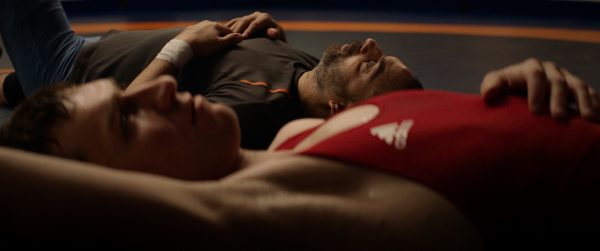 Forced to flee Tehran after a shadowy violent incident that left a target on his back, closeted pro wrestler Iman lands with his wife and children in the far north of Sweden. When he joins the Swedish national wrestling team, the sport's sensual physicality brings back irresistible reminders of his unresolved past. (Sat July 22, 9:45pm, DGA 2)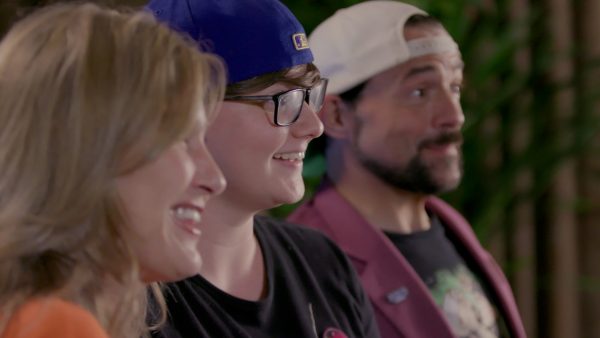 What better way to close out Outfest 2023 than with a queer film about a queer(ish) film? Kevin Smith's 1997 rom-com Chasing Amy has been controversial among the LGBTQ+ community ever since its release, at once normalizing our existence while simultaneously promoting inaccurate and harmful stereotypes. Director Sav Rodgers delves into his own attraction to the film as a young man struggling with gender identity, before frankly exploring the movie's messy place in queer cinematic history via interviews with Smith, Chasing Amy stars Joey Lauren Adams and Jason Lee, and one of the film's unexpected inspirations – lesbian cinema legend Guinevere Turner.
Outfest's Closing Gala will immediately follow the screening. (Sun July 23, 7pm,The Montalbán, 1615 Vine St, Hollywood)