Kathy, Olivia, Aaron, Trump and other tawdry bits
No one is safe from Billy's scrutiny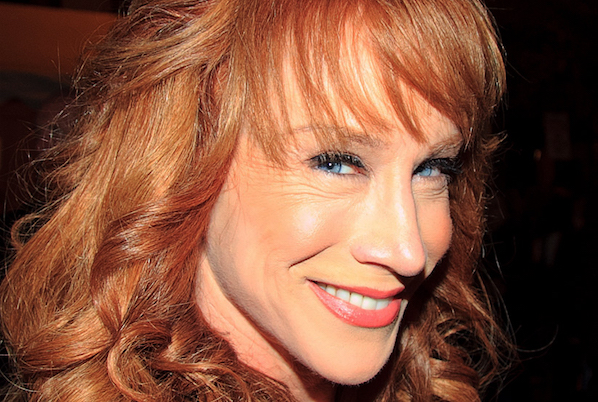 "Yeah, we're still friends. Look, I said what I said…I didn't think what she said was appropriate. I wish her the best and I hope she bounces back and is back on the road. She's incredibly funny, and a lot of people love her." – Anderson Cooper tells Andy Cohen about the status of his friendship with Kathy Griffin.
It's over – our great national tragedy is coming to a close. Kathy Griffin is back.  Well, not back as in working. But back as in ready to work. "I am no longer under federal investigation. The case is closed. I have been completely exonerated. Finally," tweeted the funny lady. The statement was meant to shoot down a report that Griffin was not only still under investigation but also facing jail time.
Although she's not in the big house, she's having trouble with a big house.  Although she recently moved into palatial digs within spitting distance of Kim and Kanye, her old house, Wings (which was featured in her "D-List" show), has been in limbo. Nothing squelches sales like a Secret Service investigation. Kathy paid $2.85 million for the house in 2004, so she listed it for $6.5 million. Then the scandal happened, and she took it off the market. Now, it's for sale again, for the marked-down price of $5 million.
Aaron Carter is making lots of announcements for someone with virtually no career. A few weeks ago, he tearfully told "Entertainment Tonight" he has an eating disorder and actually gets fillers in his face – and if that's what he looks like with fillers, it must be REALLY bad.  "I have a hiatal hernia. I have a stress condition it's an eating disorder….How would you feel every two seconds seeing a Tweet, 'You have AIDS. Go die. Oh, look at this meth head. Oh, meth kills. Crack kills.' I'm not a meth head. I've never touched it in my life."
Then this week, another revelation – he's bisexual. He might have considered revealing this when he headlined LA Pride in June!
"I grew up in this entertainment industry at a very young age and when I was around 13-years-old I started to find boys and girls attractive. There were years that went by that I thought about it, but it wasn't until I was 17-years-old, after a few relationships with girls, I had an experience with a male that I had an attraction to who I also worked with and grew up with." Let the guessing game begin. My money's on someone with the initials PS.
Screen legend Olivia de Havilland is eager to have her day in court. As you know, the 101-year-old, two-time Oscar winner was less than thrilled with the way Ryan Murphy and the FX Network portrayed her in "Feud." She filed suit against the network and the auteur for an undetermined amount. The network shot back, saying, "The law on this is very clear: No permissions of any kind were required in order to tell the tale.  Docudramas, such as this one, are original narrative works, based on real, verifiable facts and events." Undaunted, Livvy is moving the case to court – and quickly. Her lawyers have requested a speedy trial: "Based on her unusually advanced age, Olivia de Havilland moves for preference in the setting of trial of this matter under California Code of Civil Procedure and asks the Court to set this case for a jury trial in November 2017, or in any event on a date within 120 days of the granting of this motion." The case has been assigned to Los Angeles Superior Court Judge Holly Kendig, who will formally hear the motion on Sept. 13. We're told de Havilland, who lives in Paris, will not be attending.  Perhaps she'll send Catherine Zeta-Jones!
Our brief "Ask Billy" question comes from Justin. "Thanks for the video of both parts of 'Angels in America' from London. But, here's one better – Bette Midler in 'Hello, Dolly!'  Nobody has any footage. If anyone can get it, you can."
I can, and do. Many people have attempted to film clips of Bette Midler in "Dolly." Those who posted footage online found it quickly removed due to the vehemence of pit bull producer Scott Rudin. There has been an embargo on any clips of Bette in the role – the rationale being, if you wanna see her, spend $600 and buy a ticket.  But, the wait is over. There are a couple of tantalizing videos on BillyMasters.com. Well, the word "video" might be a misnomer. Yes, there are fleeting images of Midler, but most of the time she's onstage, the spotlight is so bright it almost completely washes her out.  Still, you can hear her perfectly and see glimpses of a ghostly Divine Miss M on our website. And if you want to see Bette in "Dolly" in person, you better act fast – she leaves on Jan. 14.
When our answer to an "Ask Billy" question is "You Bette", it's definitely time to end yet another column. Your best bet is to check out www.BillyMasters.com – the site that never holds anything back. Of course, keep sending your questions to me at [email protected] and I promise to get back to you before Caitlyn Jenner replaces Bette Midler in "Dolly"!
So, until next time, remember, one man's filth is another man's bible.
Wentworth Miller won't play straight anymore
And Scott Baio wins praise from Trump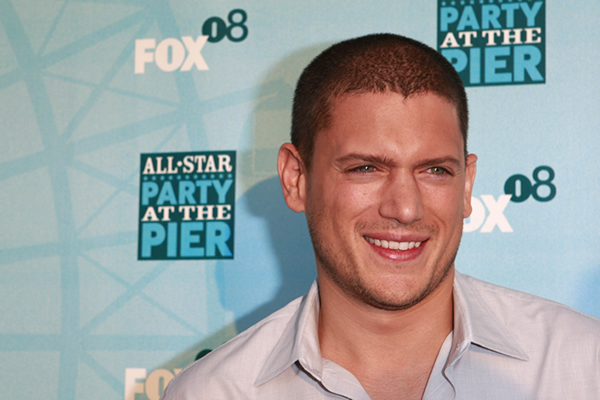 "You can't say that marriage is a union between one man and one woman. Until very recently, that's what the vast majority of Americans thought. Now it's considered bigotry." —Supreme Court Justice Samuel Alito. So much for impartiality.
Our opening quote could have been, "The road to hell is paved with good intentions." Melissa McCarthy's upcoming flick, "Superintelligence" had a carefully thought out promotional plan. During "20 Days of Kindness," HBO Max would donate $20K a day to a worthy charity. What could go wrong, right? Wrong. One of the recipients was Exodus Cry, an organization that is against reproductive choice and vilifies the LGBTQ community. When Melissa heard about this, she was outraged enough to cry through an apology. "There's no other way to say it – we blew it. We made a mistake and we backed a charity that, upon proper vetting, stands for everything that we do not. So I want to thank everyone on social media who said, 'What are you doing? Are you sure you want to back this?' Because the answer was no, we do not." How do you rectify that? McCarthy says, "We have pulled it." So who's getting that $20K?
I got a laugh when one outlet referred to thespian Scott Baio as a "former actor." Baio's good deed was to rearrange the mugs in his local Michael's to read "Trump Is Still Your President." "Thank you Scott, and stay tuned. You are terrific!" Tweeted Trump in response to Baio's photo. I don't know what's more shocking – that Trump thinks Scott is terrific, or that Baio is into crafting. Or, perhaps he was working in the mugs section that day.
Wentworth Miller made a revelation on Instagram regarding his future with "Prison Break." "I just don't want to play straight characters. Their stories have been told (and told). So. No more Michael. If you were a fan of the show, hoping for additional seasons…I understand this is disappointing. I'm sorry. If you're hot and bothered bec you fell in love with a fictional straight man played by a real gay one…That's your work." Miller's "Prison Break" brother, Dominic Purcell, was among the first to respond. "It was fun mate. What a ride it was. Fully support and understand your reasoning. Glad you have made this decision for your health and your truth. Keep the posts coming…love ya brother."
Then there's Viggo Mortensen – who, by all accounts, is heterosexual. He's writing, directing, and starring in his next film. My God – he's like the male Streisand. All he has to do is sing the theme song wearing Lee Press On Nails! Anyway, "Falling" is about a homophobic and racist man suffering from dementia. Viggo plays the man's son – who happens to be a gay, married man. Mortensen claims that this is not "a gimmick, anchor, or some trigger." In fact, he didn't originally write the role to be gay – but felt it made for a more compelling story. He added, "I apologize to all the proctologists for casting David Cronenberg" – who plays a proctologist in the film. I might add that I don't believe Viggo ever met any hobbits in real life!
FYI, I had already announced I was taking Thanksgiving Week off. But, due to circumstances beyond my control (and you know how I hate that), I'm going to be indisposed for this week as well. Fear not – we'll be back right with a special series of shows for December. Stay tuned.
Remember Michael Cohen? El Presidente's former fixer? He appears in a tantalizing video – courtesy of Matthew Camp, who is a former NYC go-go boy. For some reason, Cohen made a Cameo video where he says the following: "I just want to say how amazing Matthew Camp is on OnlyFans. Having a blast enjoying every minute with you guys. Good luck. Love it. Stay safe. Stay Covid-free. And, again, OnlyFans – having a blast with him." Things that make you go, "Hmm." I smell an endorsement coming for "Billy Masters LIVE". In the meantime, you can see both Camp and Cohen on BillyMasters.com.
If Cohen loves Camp, he'll love our "Ask Billy" question. Danny in San Francisco writes, "Did you hear that the Zakar Twins said they'd release some nude photos if Biden won? Well, where are they?"
Actually, they promised a whole lotta things. Things like this: "Will post nudes if (when?) Trump loses." They kinda modified the deal when they heard of Biden's win. "Alright, alright, a deals a deal. Butts out for Biden! You want full-frontal? Wait for AOC to take office." Of course, you don't want to wait. You just have to check out BillyMasters.com.
When brothers' butts are out for Biden (or, I venture to say, anyone else who comes along), it's time to end yet another column. Sorry to take this week off, but I'm dealing with some sticky situations – none of which concern my penis (at least, not yet). But there are more than enough penii for you on BillyMasters.com – the site that shows full-frontal with or without AOC! Even though I'm tied up, I'm never too busy to answer your questions. Feel free to write me at [email protected], and I promise to get back to you before Scott Baio gets promoted to Manager of Mugs at Michael's! So, until next time, remember, one man's filth is another man's bible.