Huge LA Pride bursting with color, fun, families and trans visibility (photos!)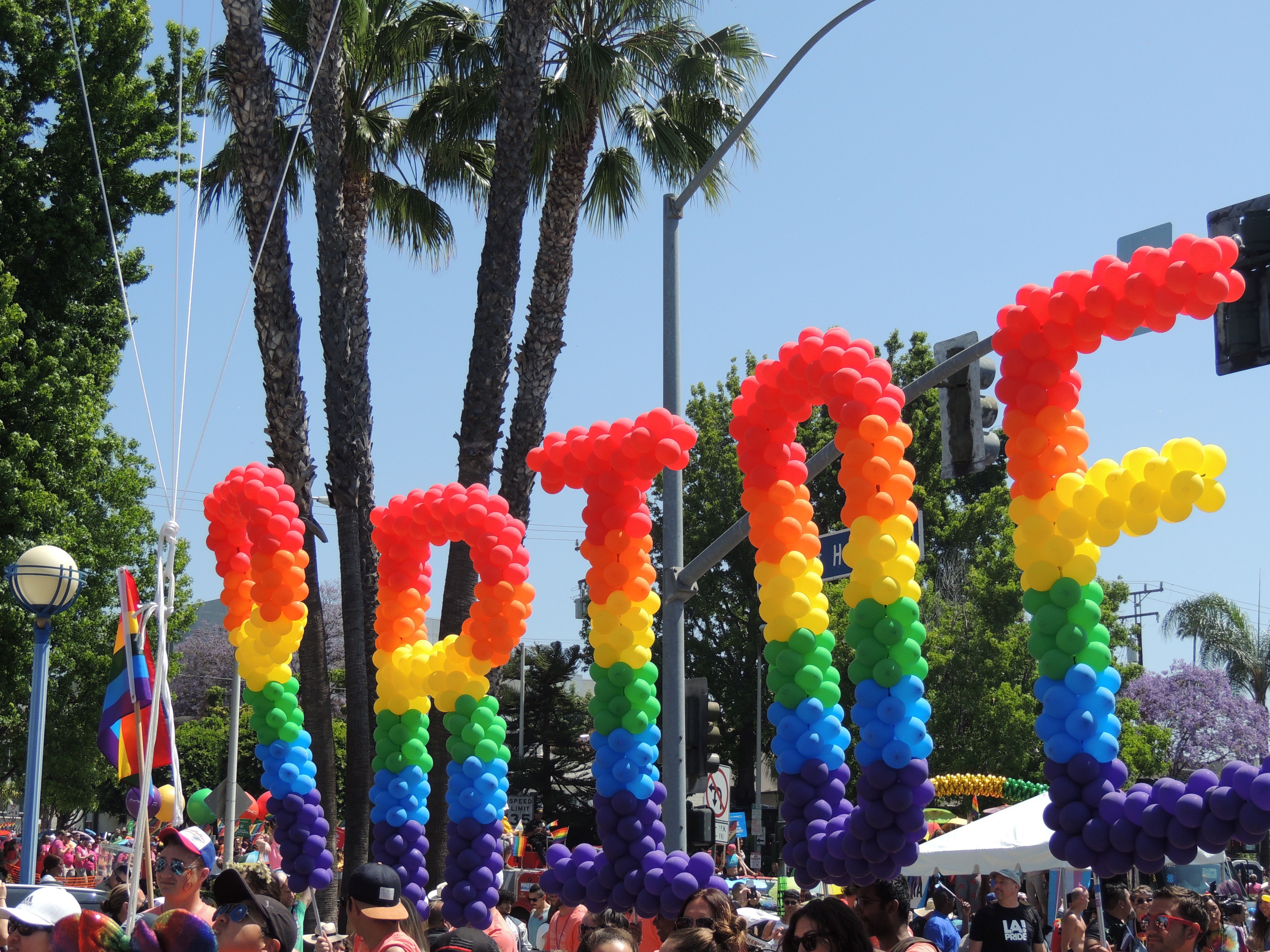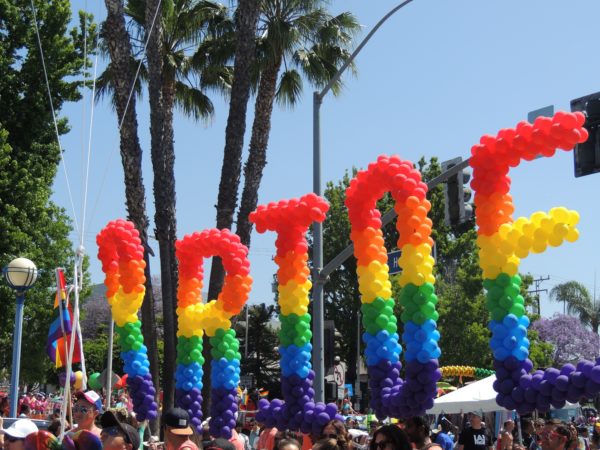 The Los Angeles County Sheriff's Department could not provide a guesstimate of how many people participated in the LA Pride parade Sunday, perching from balconies, lining the sidewalks and marching down Santa Monica Boulevard in West Hollywood. The LASD spokesperson said the helicopter was being used for a car chase and apparently WeHo station isn't exactly proficient with drones.
But to the casual observer, the parade appeared to be biggest, most colorful, the most crowded with welcomed corporate marchers and the most enjoyed by all types of families. Two outstanding themes: incredible trans visibility and no obvious protests of Donald Trump, though the tens of thousands of happy, dancing, marching, hugging and loving LGBT people and allies was a clear affront to the Trump administration's anti-LGBT policies.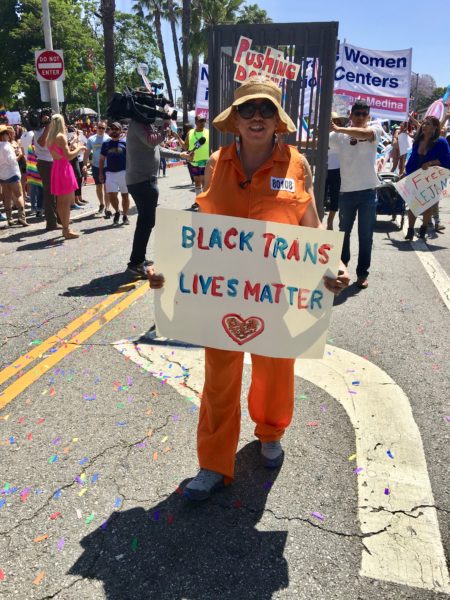 In fact, other than the appearance of elected officials and political groups such as Stonewall Democratic Club and Equality California, the only really political statement, per se, was [email protected] Coalition founder Bamby Salcedo wearing an orange jail jump suit, followed by a makeshift jail cell and a large contingent condemning ICE detention centers and highlighting the deaths of trans women who died in ICE custody.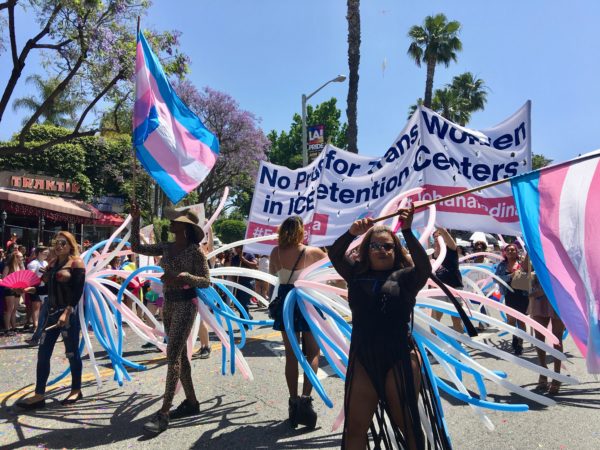 In an important show of political and humanitarian unity, Salcedo also carried a sign calling attention to the epidemic of black trans women who have been murdered. Nine black trans women have been murdered in 2019.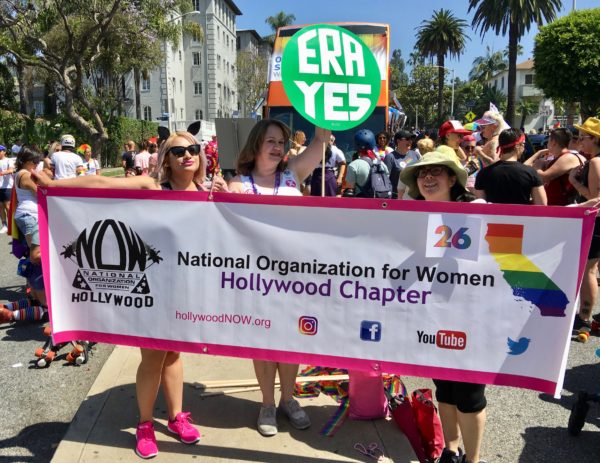 Advocates for women's rights – including passage of the long dormant Equal Right Amendment – were also represented and appreciated as the Trump administration continues its assault against reproductive rights.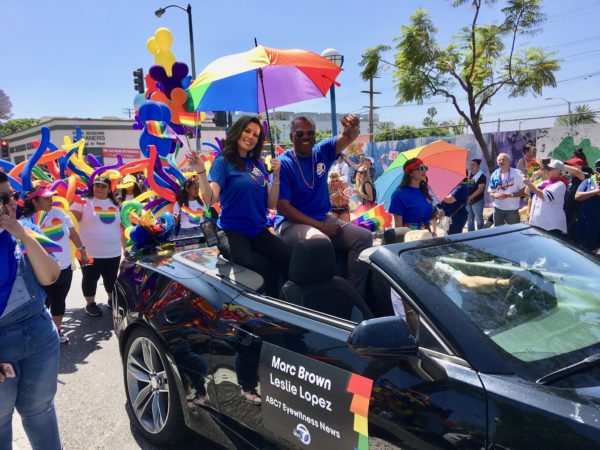 The two messages reached a larger audience this year. For the first time, the parade was broadcast live on KABC7 Eyewitness News and live streamed for an hour after the station returned to regular programming. ABC is owned by Disney, a longtime supporter of the LGBT community and always one of the largest favorite contingents in the parade.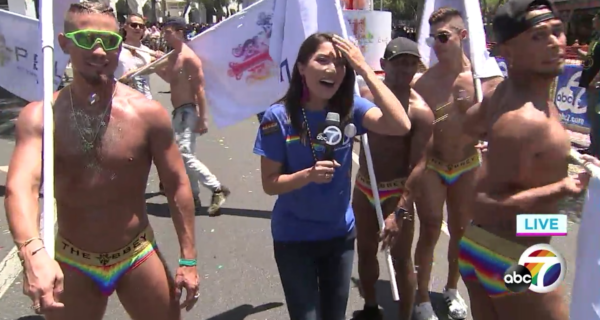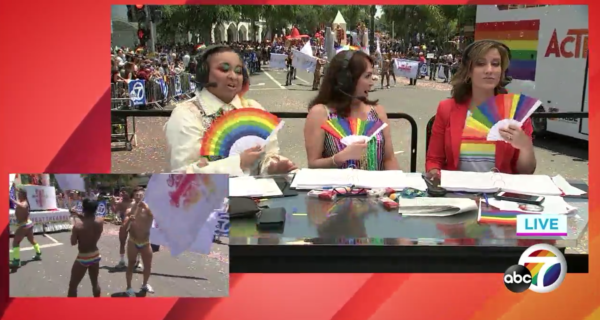 But old Disney fans were probably shocked to see a live broadcast of gay men representing The Abbey nearly naked but for their revealing speedos. But KABC did not cut away – in fact the women commentators seemed somewhat giddy by the proudly exposed tight abs. Suddenly out came the fans, as the WeHo temperature heated up, seeming hotter than the low 80s at the time.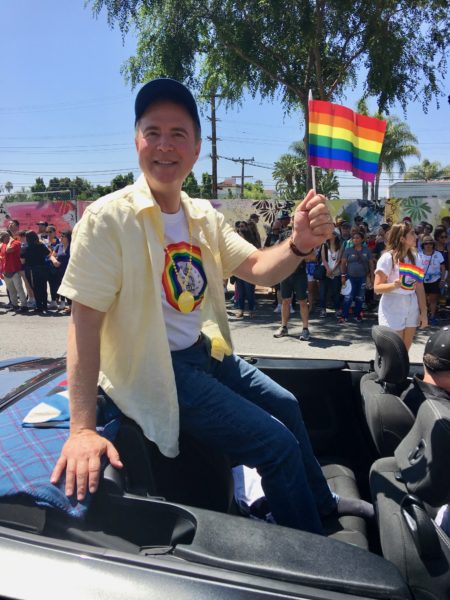 Fans screamed "Thank you, Adam Schiff" as Rep. Adam Schiff, chair of the House Intelligence Committee investigating the Trump-Russia connection, started on the trek through WeHo. The parade, Schiff told the Los Angeles Blade, "is awesome. It's so nice to be out here to celebrate all the progress that's been made and all the progress yet to be done."
At the earlier news conference, Schiff said: "The march towards full equality for all LGBTQ people has been steady, albeit all too slow. We must keep marching forward for the transgender service member whose courage has been called into question, LGBTQ migrants seeking asylum at our borders…and for so many who are counting on us to speak up."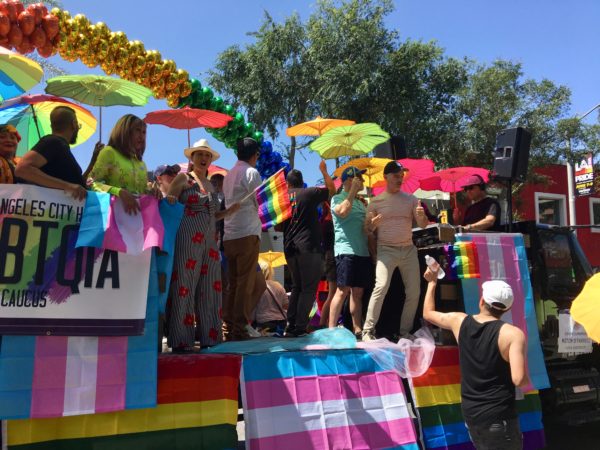 Out LA City Councilmember Mitch O'Farrell sponsored Jaime Marin and Yolanda Rocha Rito, operators of of Casa Jardín de las Mariposas, a homeless shelter for LGBT individuals in Tijuana, Mexico.
"I invited them here to highlight the fact that the Trump Administration's policies are hurting this community. Asylum seekers can't get hearings because he's so cold-hearted and racist in his policies," O'Farrell said. "They don't have the social safety net we have here. The Pride Festival always highlights the fact that there are other places where this community can't live so authentically and out in the open."
Jaime Marin works at the Jardín. "Jardín de las Mariposas is a sanctuary shelter for our brothers and sisters in Central America who are fleeing for their countries, afraid for their lives," said Marin. "We started as a rehab center for the LGBT community, but since the need [for LGBT services] is so big in Tijuana, we had to expand our services." These services include assistance with the political asylum process, job searching, and acting as a homeless shelter.
Out LA Councilmember Mike Bonin rode on a fire truck, keeping up a tradition started by his late out mentor, LA City Councilmember Bill Rosendahl. LA Controller Ron Galprin—first out gay elected citywide who called for a boycott of hotels owned by the anti-LGBT Sultan of Brunei—rode with his husband Rabbi Zachary Shapiro. Longtime ally City Attorney Mike Feuer, one of the first on the scene at LAX to help after Trump unexpectedly announced his Muslim Ban.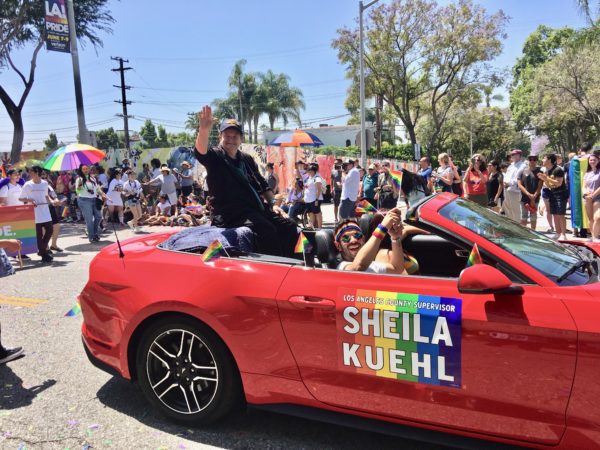 LA County Supervisor Sheila Kuehl, the first out LGBT person elected to the state Assembly in 1994, continues to receive a huge wave of gratitude.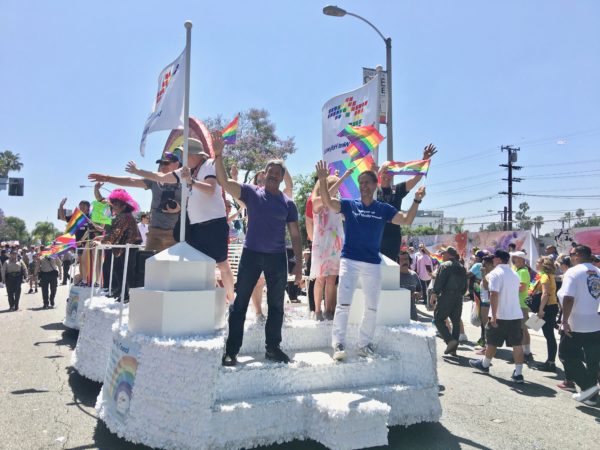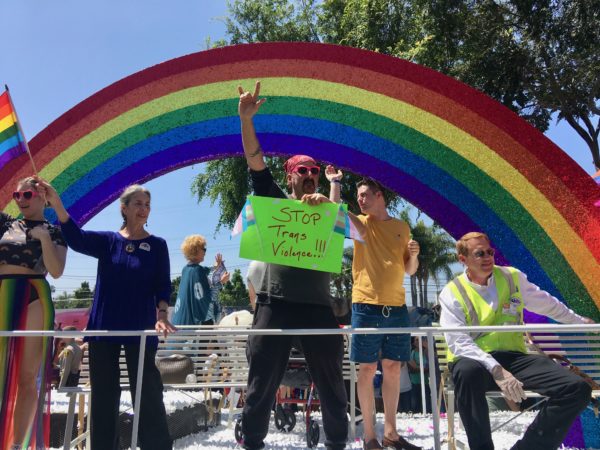 The West Hollywood City Council, which has sponsored CSW since it moved from Hollywood, always receives applause. West Hollywood Human Services Commission member Jimmy Palmieri, Founder of The Tweakers Project, who coordinates the Pride #Sizzle sober party – also carried a sign calling for an end to trans violence.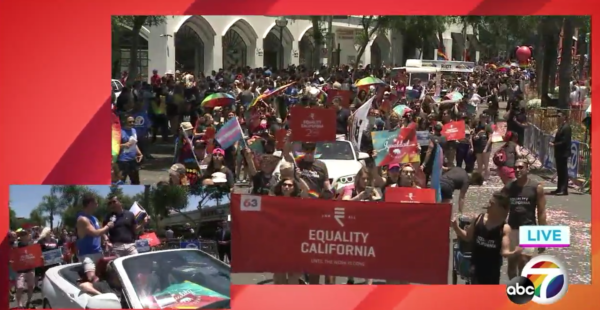 Equality California's contingent was so large, they needed three cars. Out Insurance Commissioner Ricardo Lara was interviewed by KABC and bisexual Rep. Katie Hill posted several tweets about the fun she had.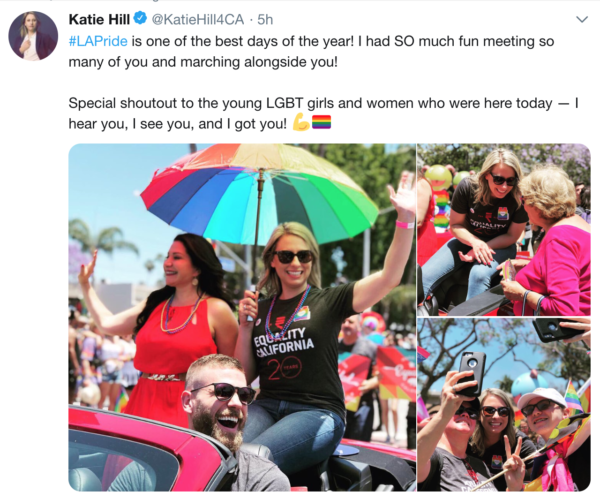 And while the news out of New York City notes that the NYPD finally apologized for the police raid that resulted in the Stonewall Uprising, and Sacramento Pride had issues with Sacramento Police marching in uniform – LA Pride welcomed the Fire Department and their families and an FBI contingent from the local LA office, led by Dan Lathan.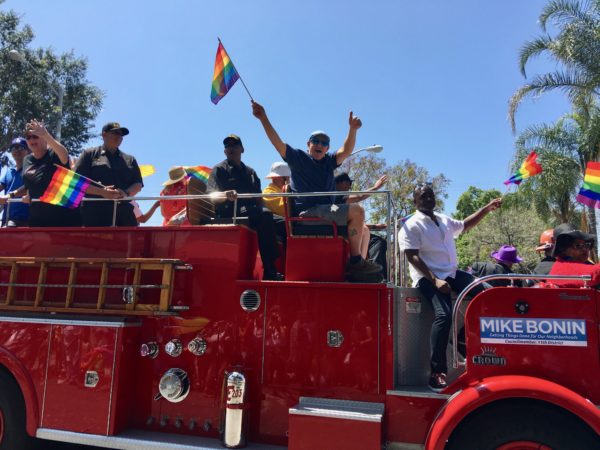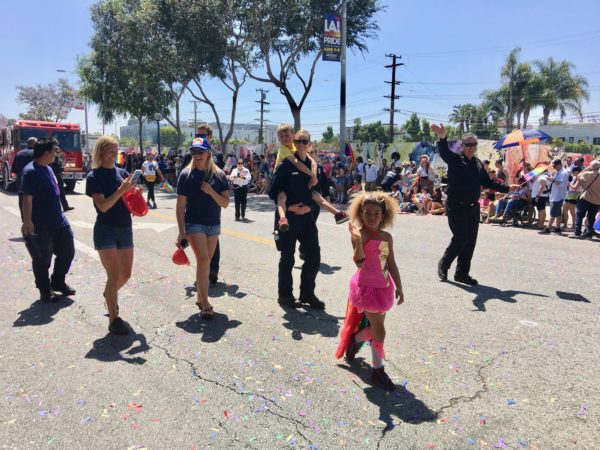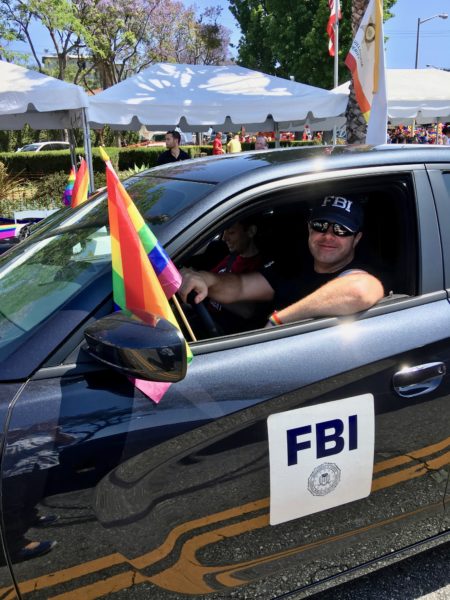 LA Mayor Eric Garcetti marched with LAPD Chief Michel Moore, noting that the police raids against the Black Cat Tavern in Silver Lake were two years before the Stonewall Rebellion and now the police chief is walking in the Pride parade with the mayor and Police Commissioner Sandra Figueroa-Villa rode with out former Commissioner Rob Saltzman. . Chief Moore not only posed with other officers but donned a Disney Pride sticker, as well.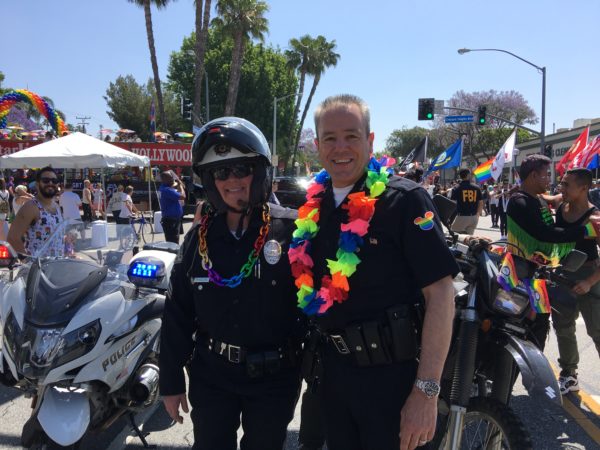 That provided some jovial competition between the LAPD and the LASD over which department wore Pride better since Sheriff Alex Villanueva authorized – and wore – a special Pride patch that caught the attention of local media.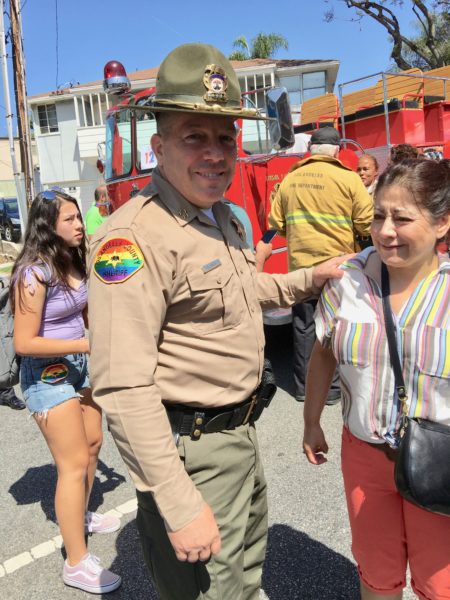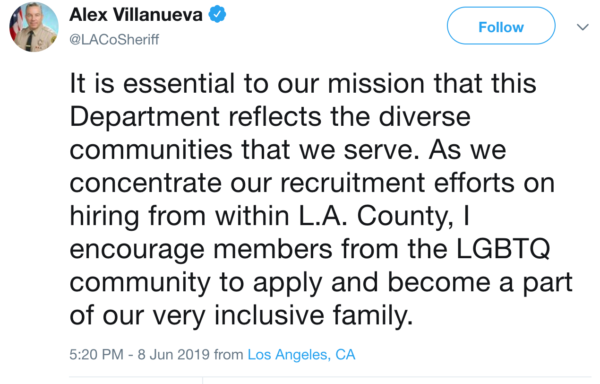 Lt. Tonia Martinez was interviewed by a FoxLA reporter about the patch, then sincerely thanked the Sheriff for the significant gesture.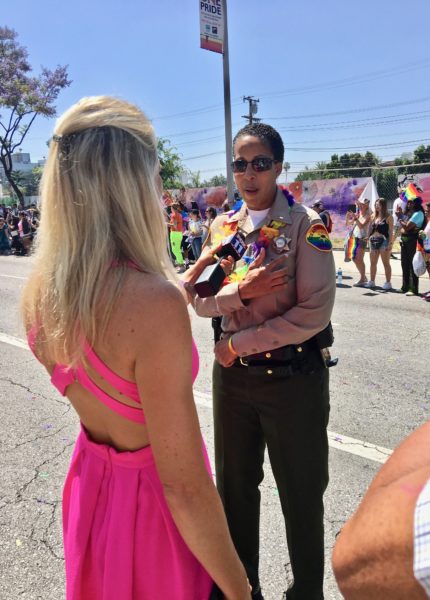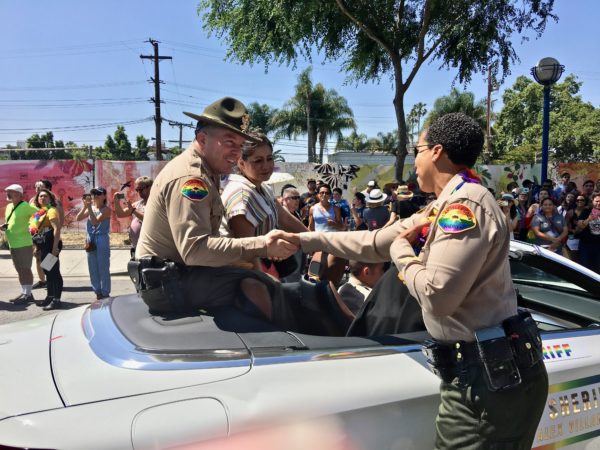 But the LASD outreach went beyond the fun patch. Deputies Aston Guasfall and Elizabeth Castro were handing out trans flags and the back of one of the Sheriff's cars displayed the trans flag, too.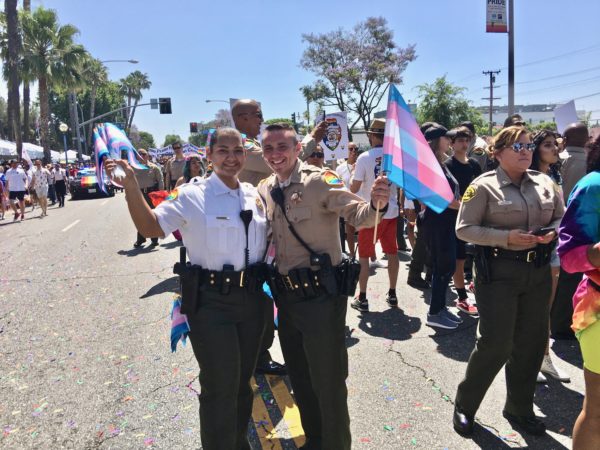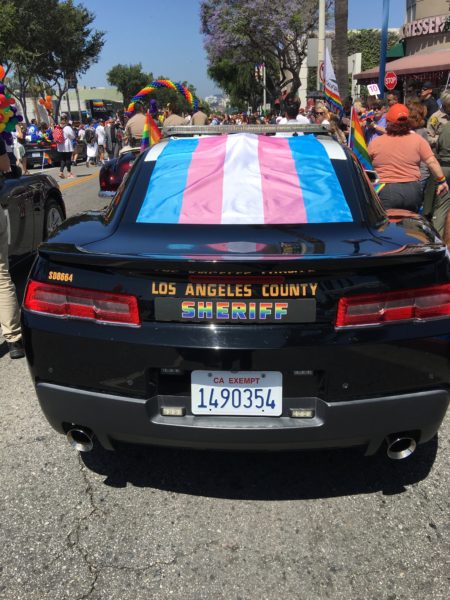 Watching from a place of honor was Metropolitan Community Church Founder Rev. Troy Perry, co-founder of Christopher Street West with the late Gay Liberation Front leader Morris Kight and the late homeless advocate, Rev. Bob Humphries, with his husband and fellow marriage equality advocate Phillip De Blieck.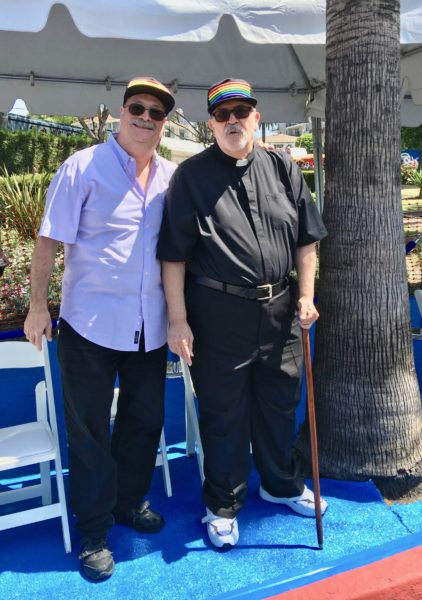 "Pride means everything to me," Perry told the Los Angeles Blade. "We were the first gay pride parade in the world. New York had a demonstration, nothing wrong with that – but we sued the city and had a parade." This year, Perry was delighted at the participation of "young people [who ought] to be a part of the struggle and this fight too."
He noted that LA insisted on a parade instead of a demonstration in 1970 to commemorate the year anniversary of Stonewall. "We've had all kinds of demonstrations," he said. "We're gonna have a parade – this is Hollywood!"
The LAPD told Perry, Kight and Humphries that they'd rather have thieves and burglars march down Hollywood Boulevard instead of homosexuals. CSW sued and two judges ruled in their favor.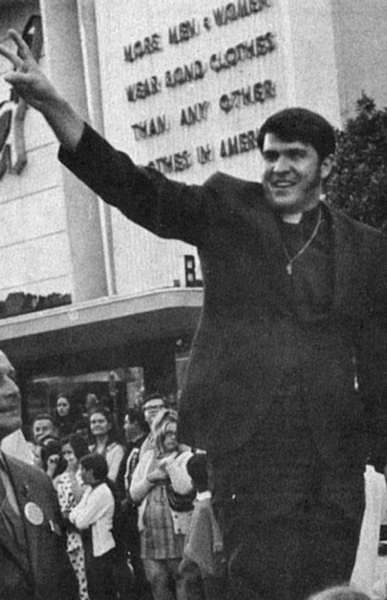 Metropolitan Community Church founder Reverend Troy Perry is a founder of Christopher Street West. Here he kicks off the first LA Pride in 1970 on Hollywood Boulevard, where he will be when the event returns there with 2017's #ResistMarch. (Photo courtesy Troy Perry)
"We only had three floats in the parade," Perry recalled, but an estimated 1,165 people showed up, many with their dogs, including one marcher with his husky and a sign reading, "We don't all walk poodles!" Others joined in along the parade route. But at the end of the first parade that June 28, Perry, Carol Shepard, head of L.A. chapter of the Daughters of Bilitis, and lesbian activist Kelly Longman sat down on the corner of Las Palmas Avenue and Hollywood Boulevard, refusing to move until elected officials talked to them about gay rights.
They were soon arrested for "vicious and malicious blocking of a sidewalk with intent to do harm," Perry recalled in 2017.  The two women were released but Perry spent the night in jail. After his release, Perry held a 10-day hunger strike at the federal building until City Councilmember Robert Stevenson and his wife Peggy spoke to him and Perry broke his fast.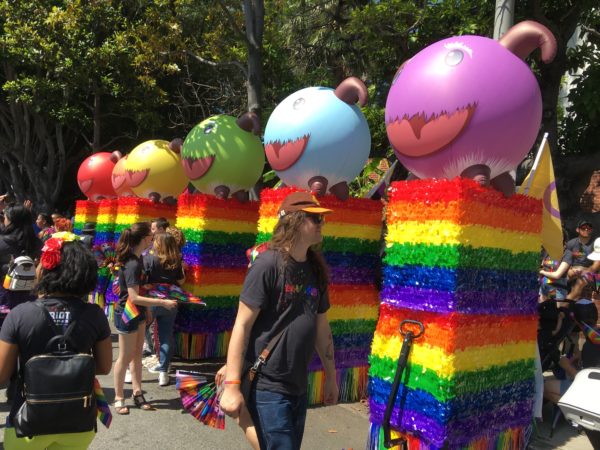 Forty-nine years later, LA Pride's response to today's anti-LGBT environment is color, fun, creativity and alliances with a myriad of businesses that support LGBT equal rights for the community and their diverse employees.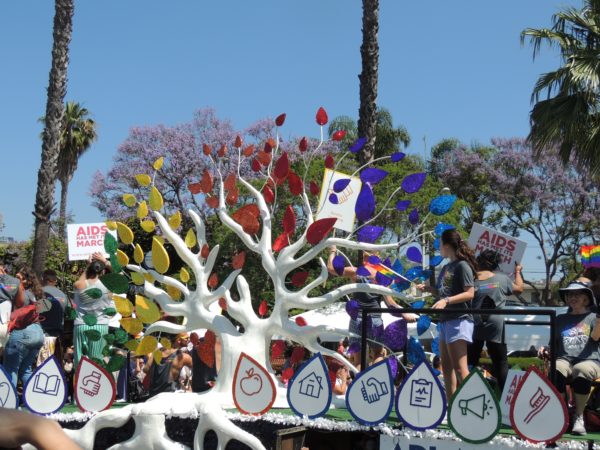 In May 2018, after concerted reporting on the dire condition of CSW as an organization, the Los Angeles Blade posed the question: "Can Estevan Montemayor save LA Pride?"
It appears he and his CSW partner Madonna Cacciatore not only "saved" CSW but raised the bar for LA Pride events to come. Presumably they are preparing an After Action Report on what worked and what didn't work to provide transparency to their successful strategy.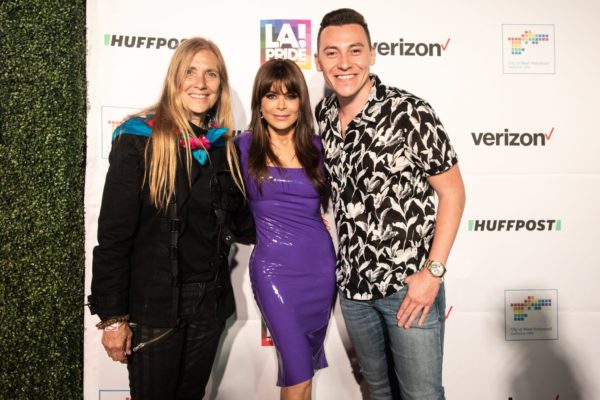 Christopher Street West Executive Director Madonna Cacciatore, Paula Abdul and Christopher Street West President Estevan Montemayor pose on the Red Carpet on day one of LA Pride at West Hollywood Park on June 7, 2019 in West Hollywood, California. (Photo by Chris Tuite)
One major new factor was opening up a free Pride on the Boulevard as part of the Festival that featured numerous organization booths on Santa Monica Boulevard (the Los Angeles Blade booth attracted more than 8,000 people) outside the traditional tickets-needed Festival. Bienestar conducted free HIV tests; GLSEN promoted safe schools and the too-often ignored bisexual community; Cedars-Sinai Hospital sponsored an interactive health awareness mobile clinic with information about PrEP and offered vaccines for Hepatitis A and meningitis at their the Health and Wellness Village on the Boulevard.
Inside the Festival there were a slew of different exhibits and performances from the artistic Trans Galleria to a stunning performance by Todrick Hall and a soaring kick-off concert by Paula Abdul on Friday night, capped by fireworks.
"I would not be anywhere without this community. The love and support you've given me leaves me breathless," Abdul told her fans.
There was also the Dyke March and a screening of the documentary "5B" about the creation of the AIDS Ward at San Francisco General Hospital in 1983 by nurses who broke the rules and touched their incurable and dying patients.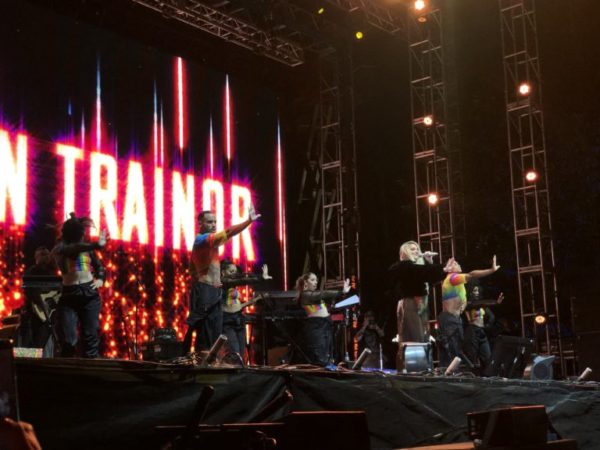 Saturday night also featured major performances by Rupaul's Drag Race alum Raja on the MAC Park stage, as well as rapper CupcakKe, Brazilian pop star and global drag sensation Pabllo Vittar, capped off by a concert by superstar Megan Trainor, who honored the trans community, the women's community and reminded the audience about the importance of enjoying life even though "we are clearly under attack."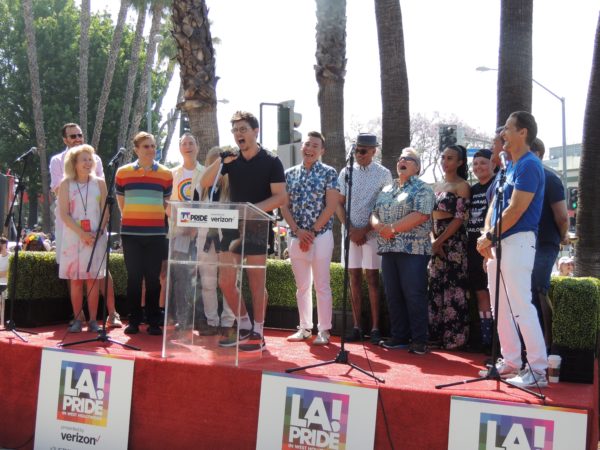 On Sunday, a Tongva Two-Spirit leader offered a blessing and the Trans Chorus offered a song before the official LA Pride kick off, as CSW organizers and the West Hollywood City Council held a news conference to introduce elected officials and the event honorees. "Our city is the seat of LGBT pride for the entire country," proclaimed out West Hollywood Mayor John D'Amico.
Celebrity Grand Marshal Ryan O'Connell—a gay man with cerebral palsy who stars in Netflix's "Special" who cracked everyone up with unending jokes—and Community Grand Marshal Phill Wilson, Founder of the Black AIDS Institute, and Lorri Jean, CEO of the Los Angeles LGBT Center, the Organizational Grand Marshal, also shared a few words.
"I am so proud of our community because we strive to include all of us. We're not perfect, we've never been perfect, but that is our aspiration. We understand that we are great when all of us are included, and we are all diminished when we exclude any one of us," said Wilson.
"It's so amazing to have disability finally be a part of the conversation. Being gay and disabled, stories like mine don't often get told so it means a lot to be at the forefront and celebrating with you this year," said O'Connell.
"We are here to celebrate our pride in our community, our pride in ourselves as individuals. There are those in our land who want to turn back the clock, who want to re-impose discrimination against us. We're not going back. We're not going to tolerate that, and we are going to win," said Jean.
CSW Executive Director Madonna Cacciatore recognized the eight black transgender women murdered this year and led a moment of silence.
"It's a testament of our progress that today, instead of fighting division, we stand together in unity," said CSW President Estevan Montemayor. "We only got this far by marching together side by side, and we must continue to march forward until every LGBTQ person is free from fear and oppression."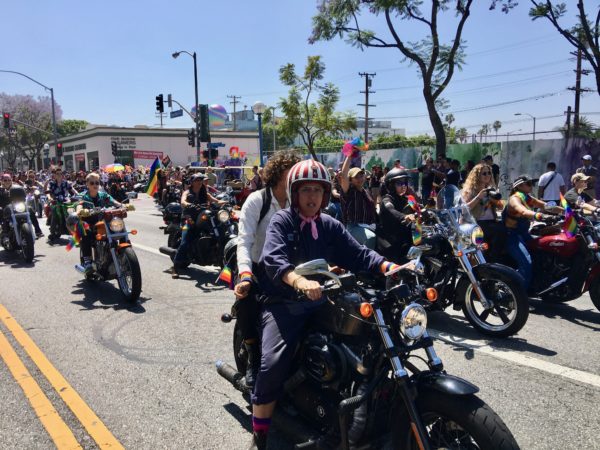 And then #JustUnity hit the road. First the Dykes on Bikes roared up the Boulevard, a stirring annual event that evokes cheers of female power paving the way for all the politicos to follow.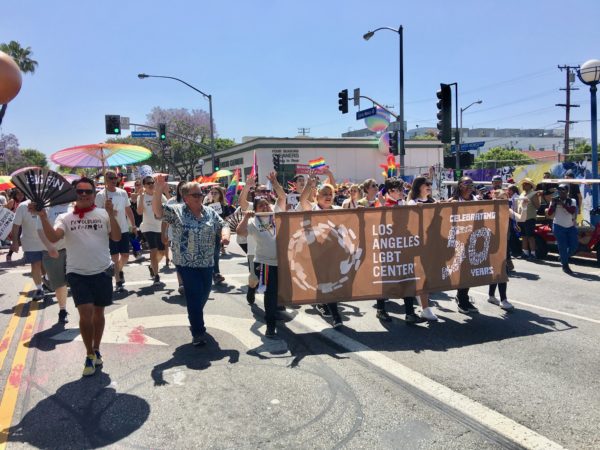 Finally, the Los Angeles LGBT Center hit their mark and sent wave after wave of program staff, participants and their families out to celebrate their 50 year anniversary, including a float of Asian drums heralding their arrival—including just returned AIDS LifeCycle riders, veterans, and members of the Trans Wellness Center, featuring Johanna Padilla, 27, in balloon wings.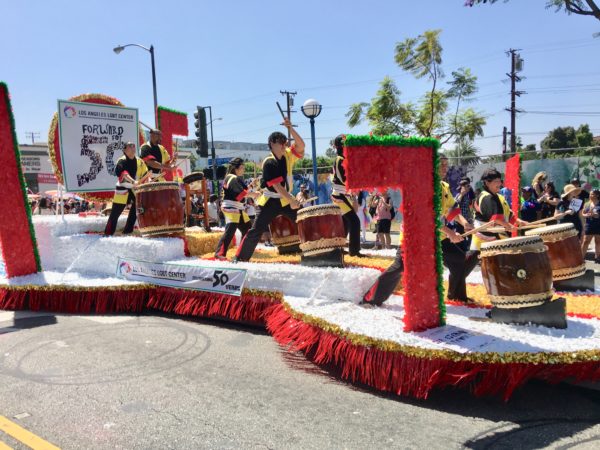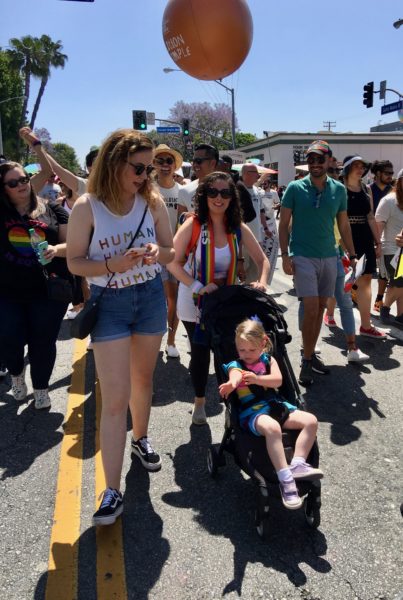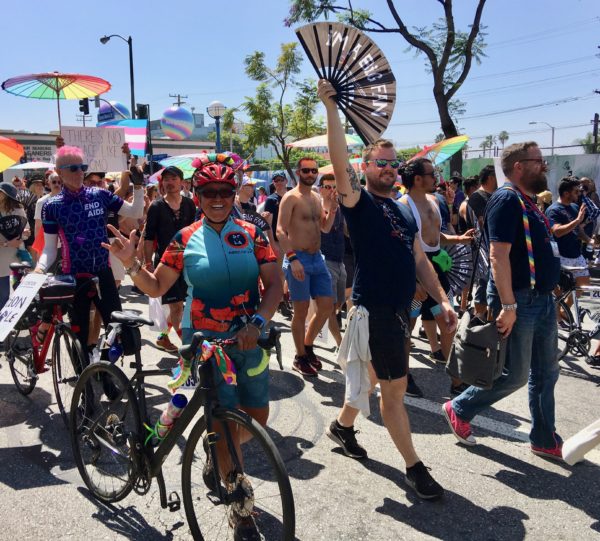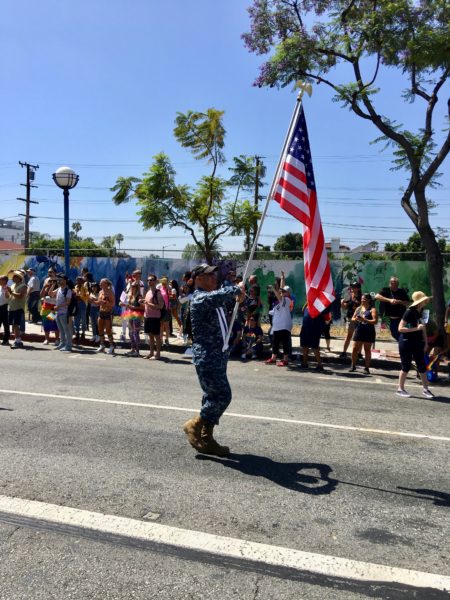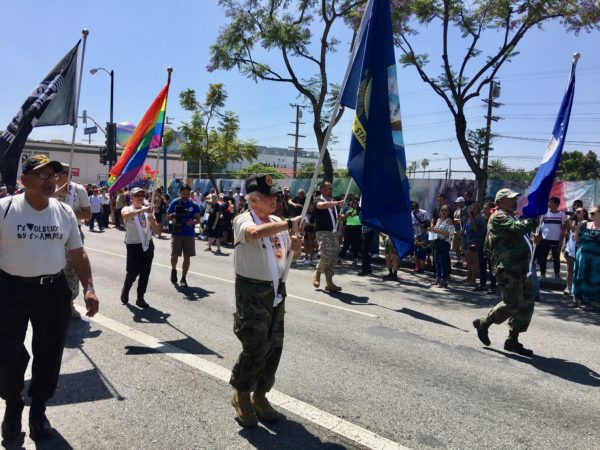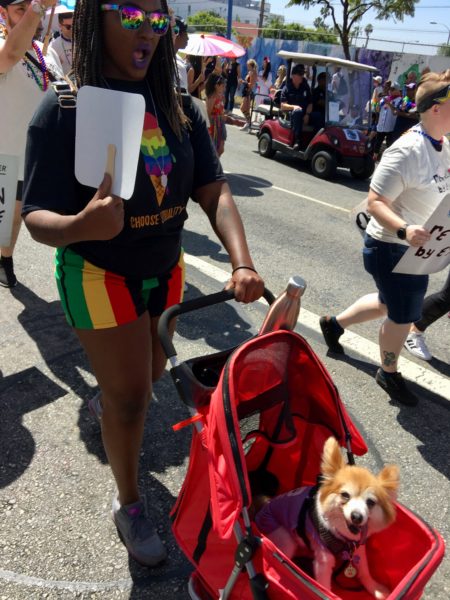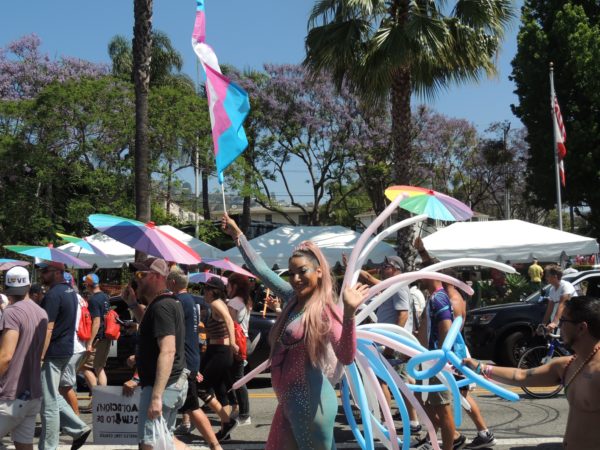 And while he has formally retired from heading his Black AIDS Institute, Phill Wilson is not far from the LGBT community's mind.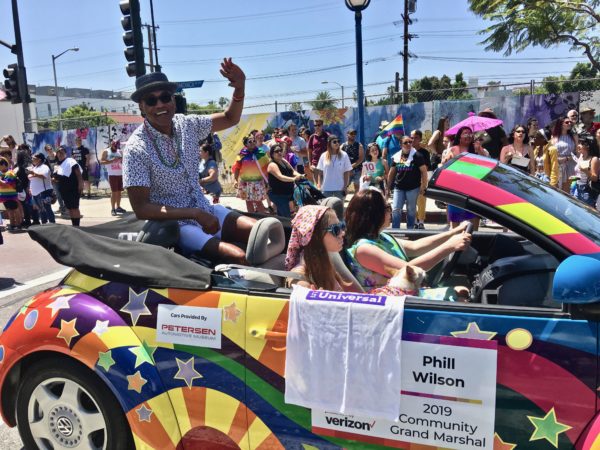 Perhaps one of the largest contingents was the Disney Company.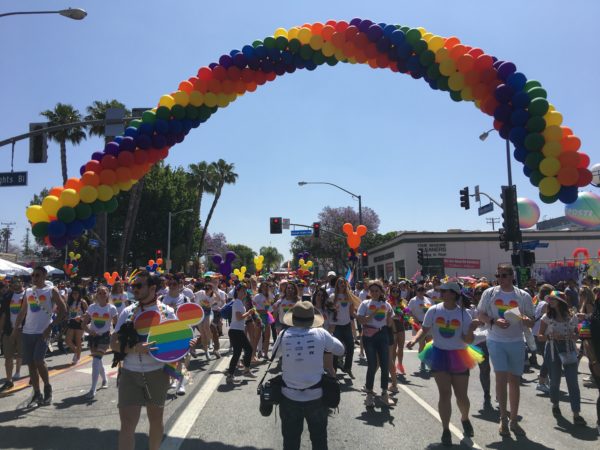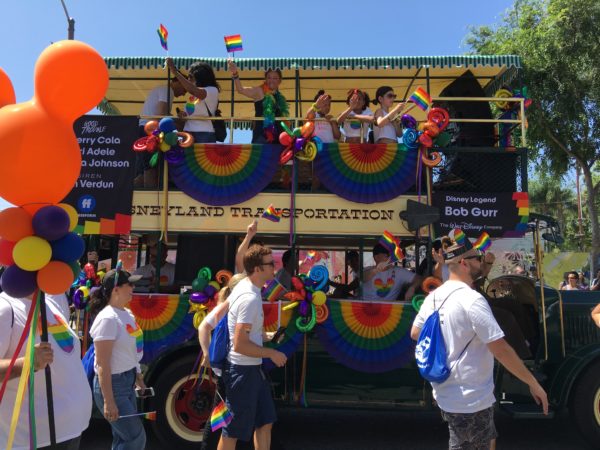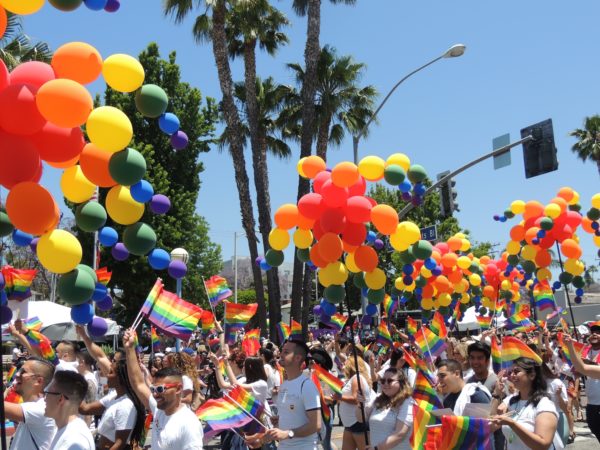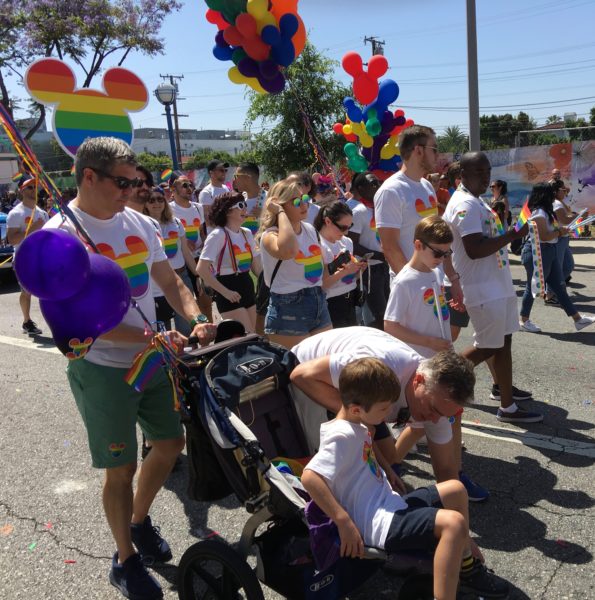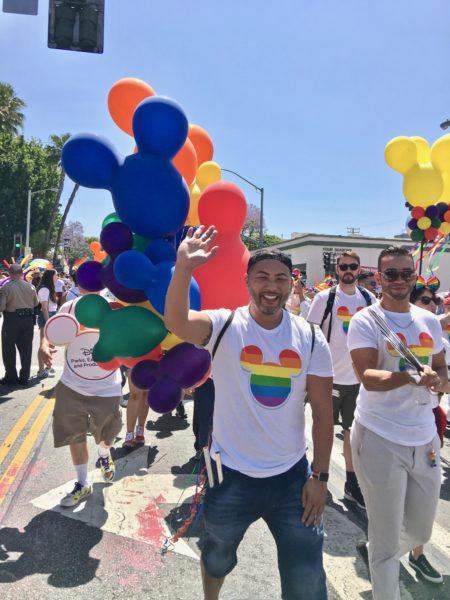 Verizon was a major sponsor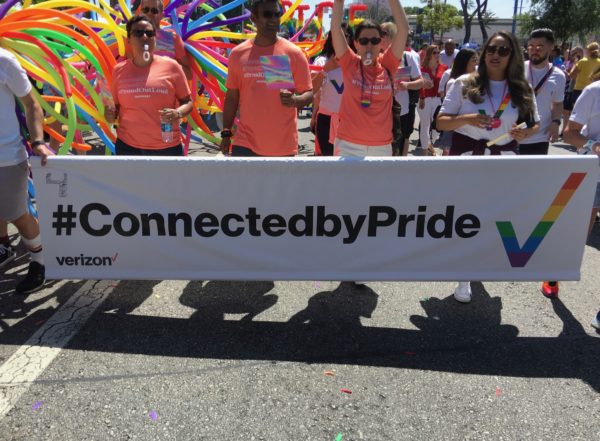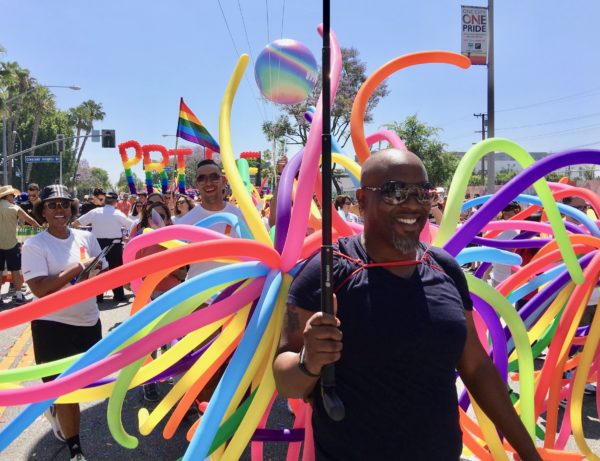 MAC was a big sponsor, too.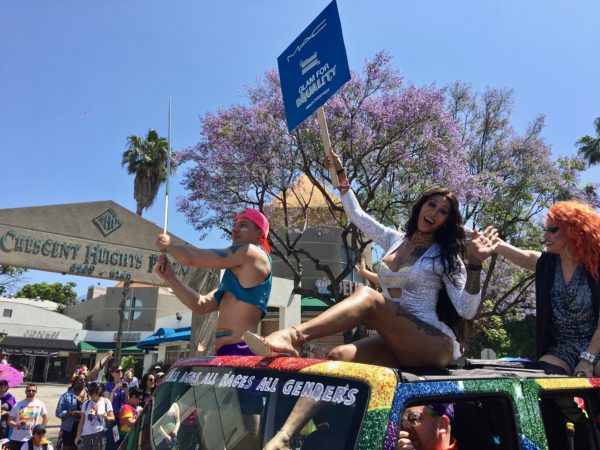 Several companies had unique approaches such as having Glitteress, 27, and Hydra, 25, walking the mile and a half stretch in high heels, escorted by Kris Rollins, 34, for Delta Airlines.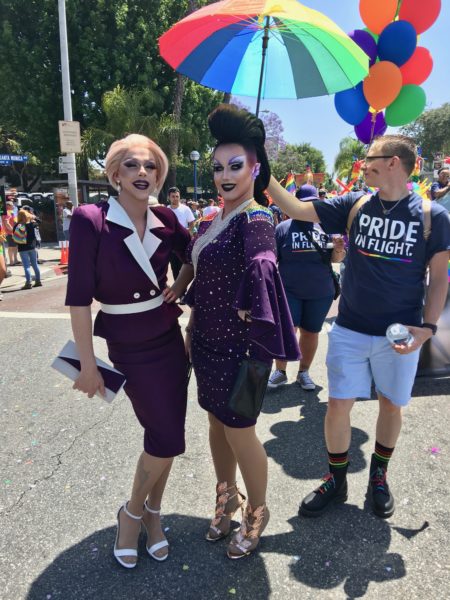 "Pose" was a huge hit, especially with their stilt-wearing vogue models.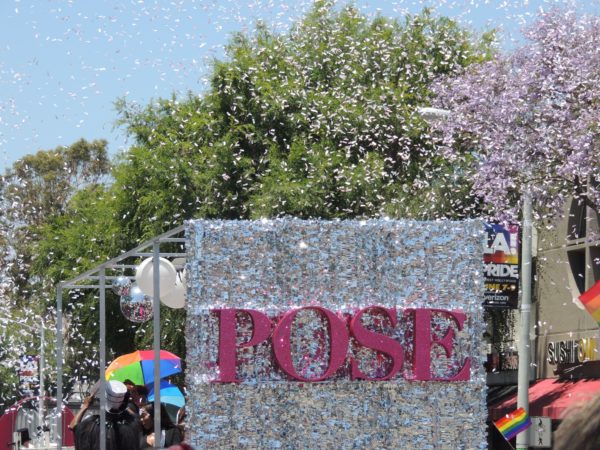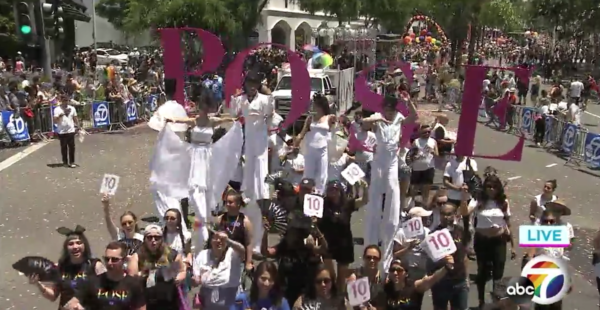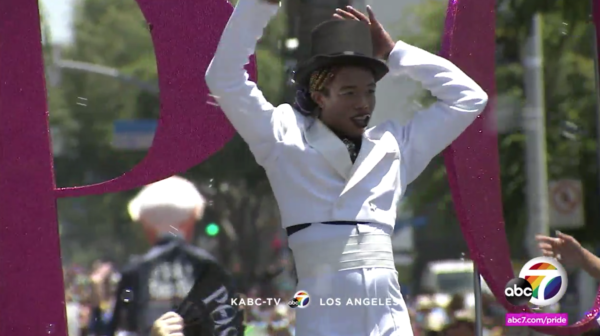 And then there were the young people, including little Jorge, who his family say "is expressing who he is. We are supporting his choices."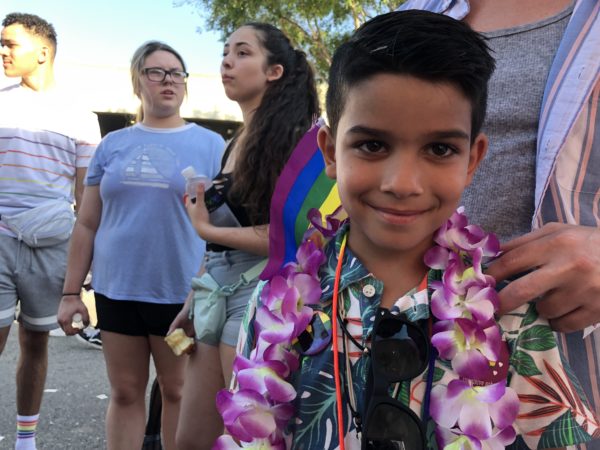 Here are other LA Pride participants and watchers.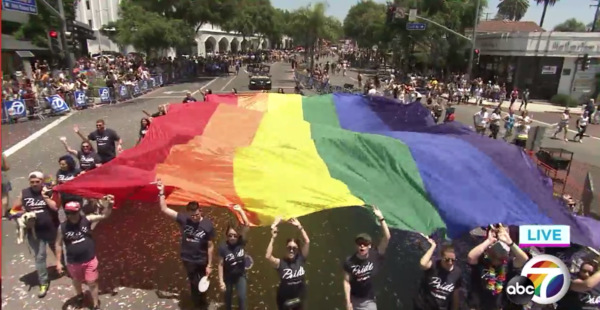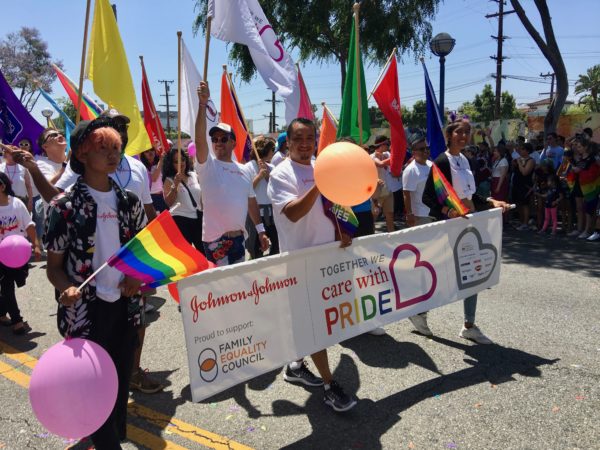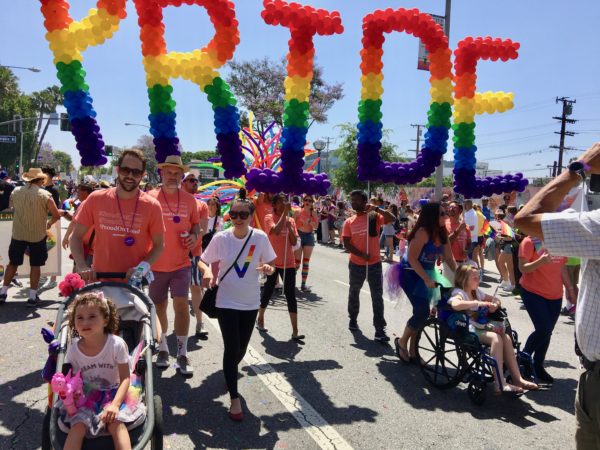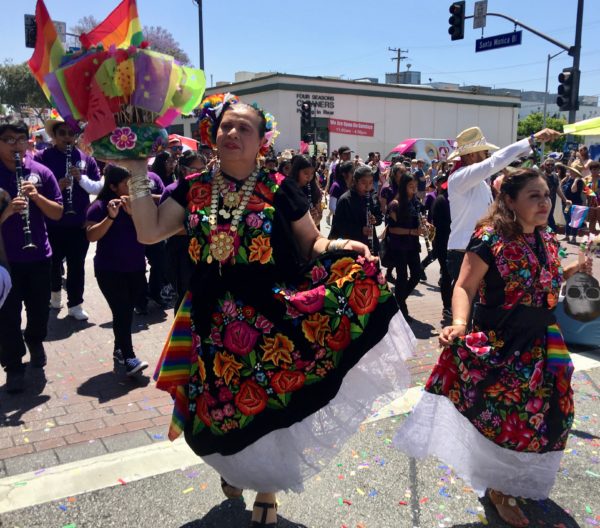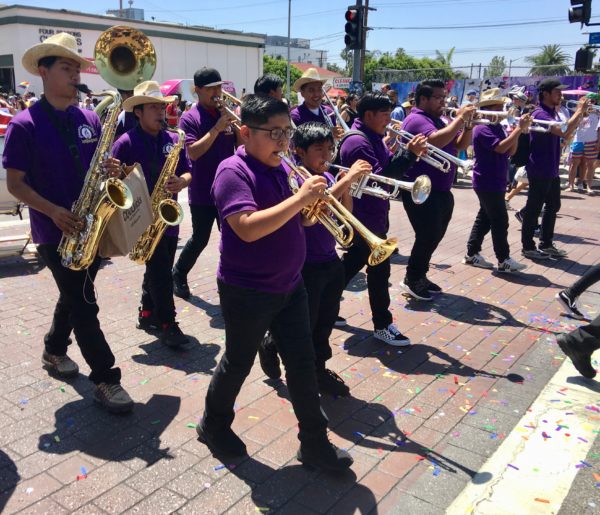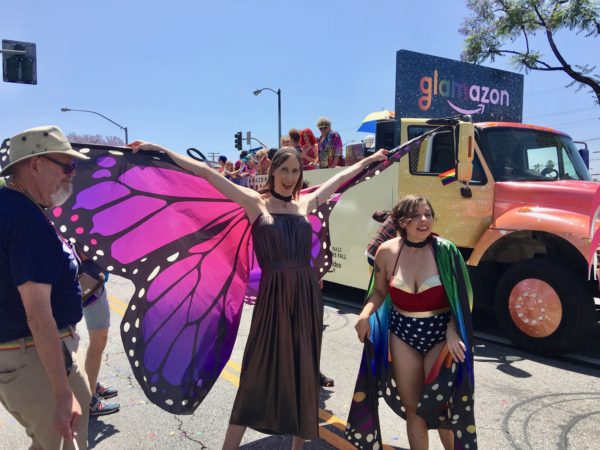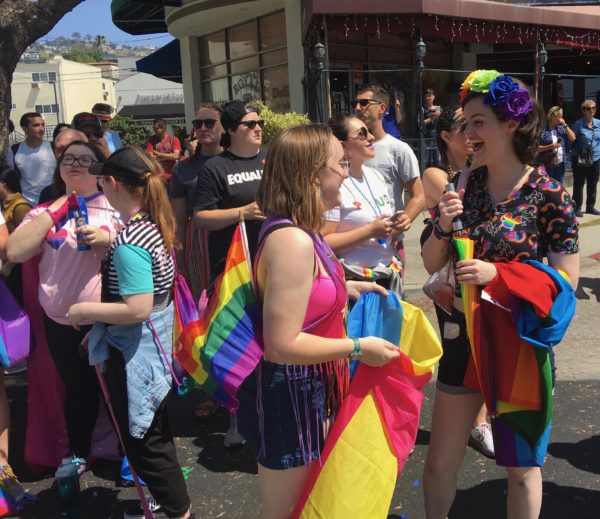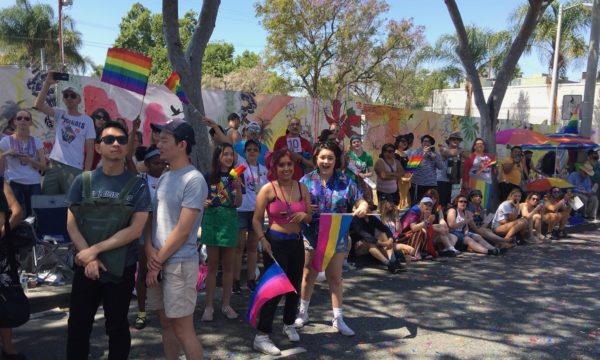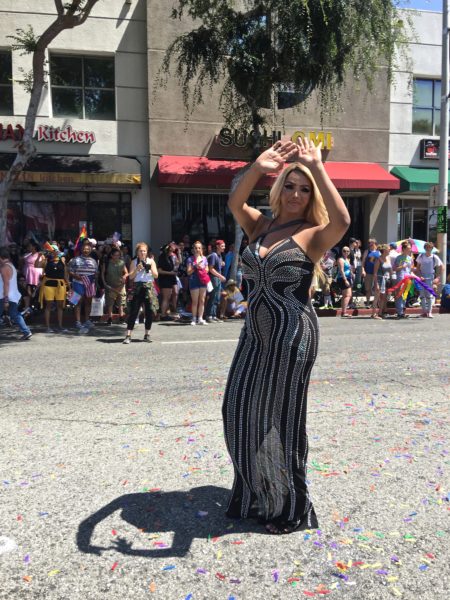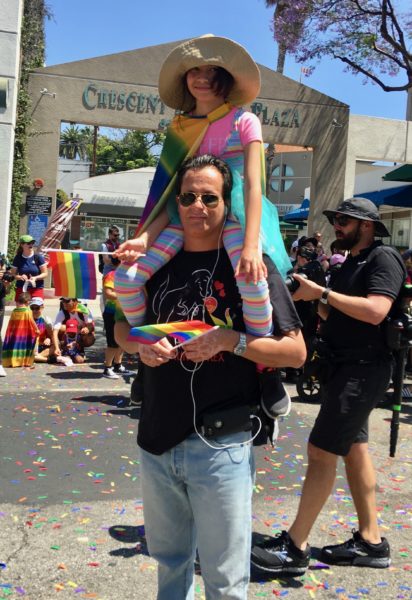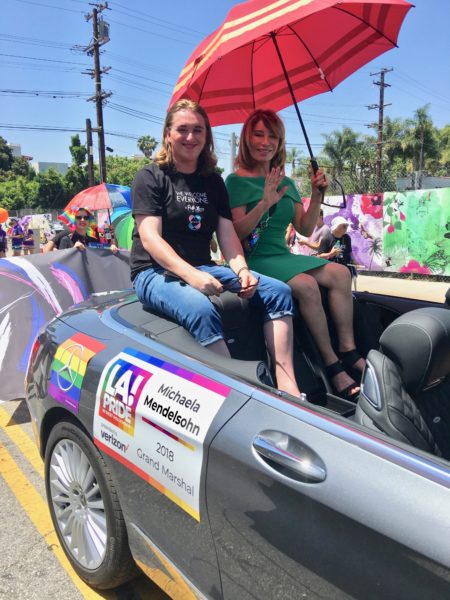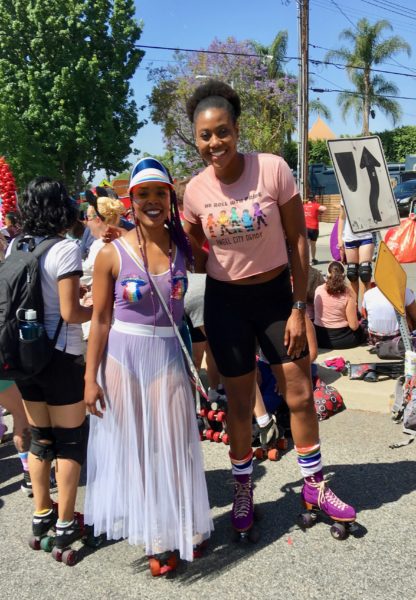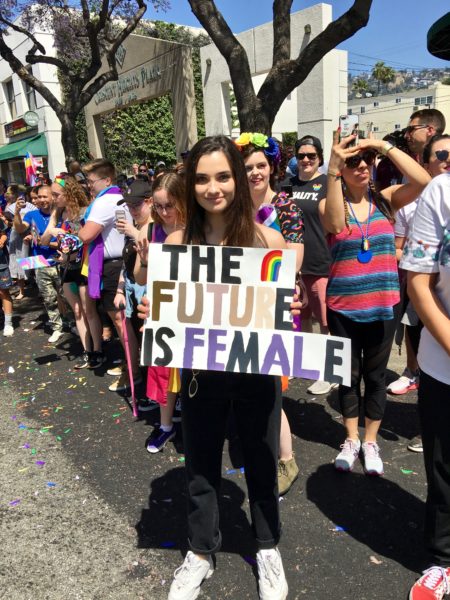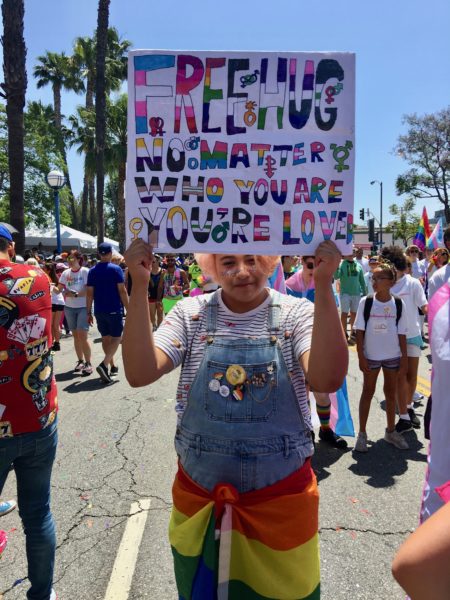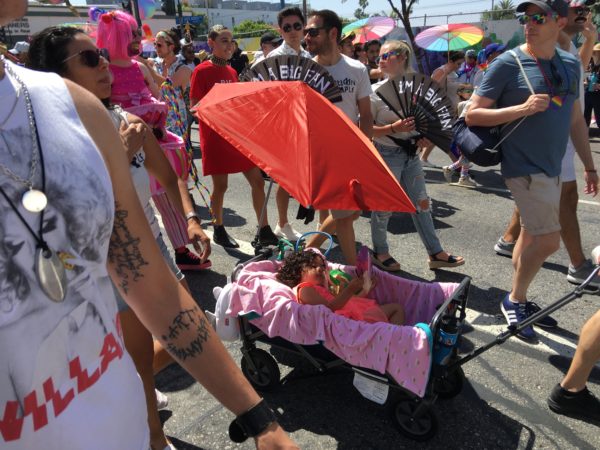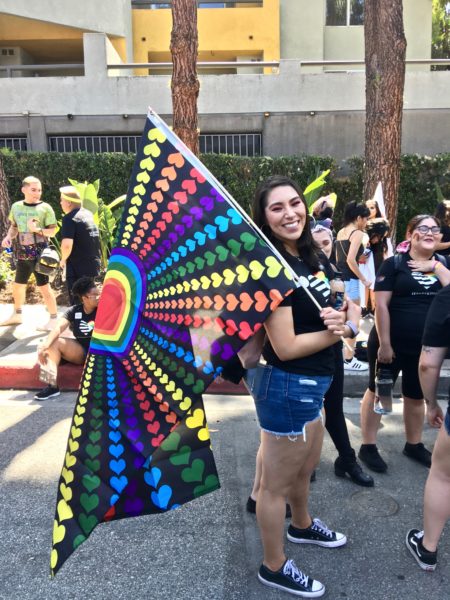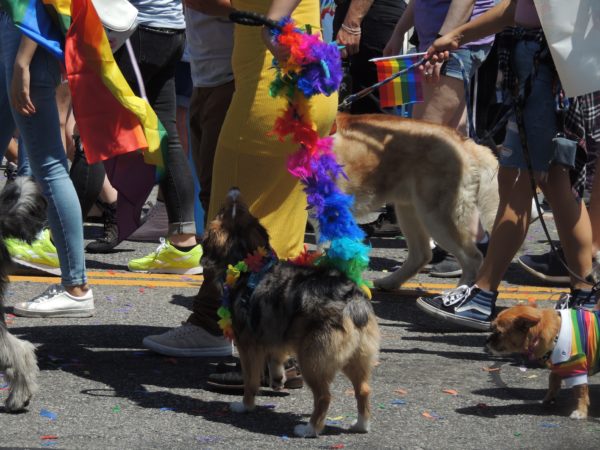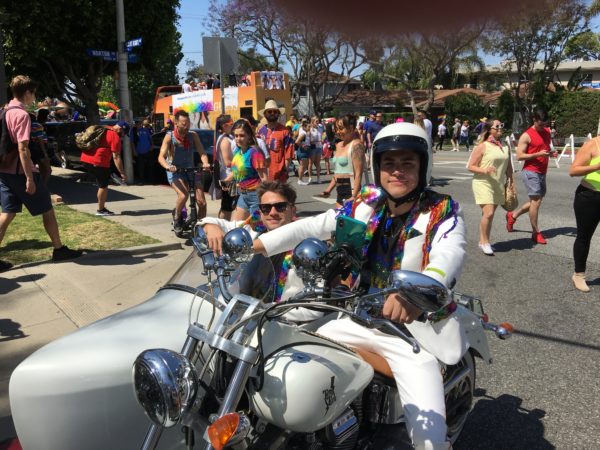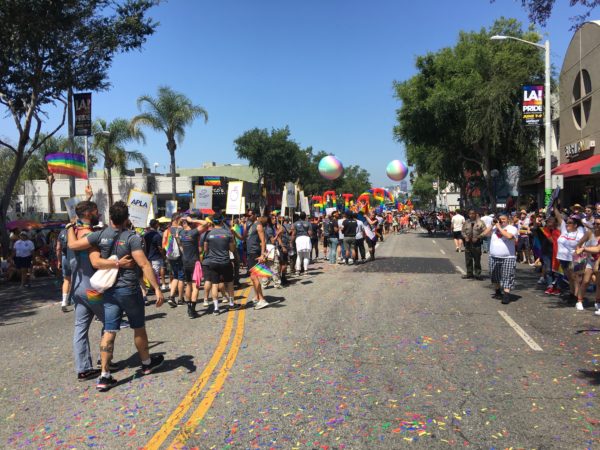 Austin Mendoza contributed to this story
Monét X Change joins Kiva to Celebrate Pride
Kiva, the sought-after cannabis brand, is following through once again with their second annual partnership with world famous drag superstar Monét X Change.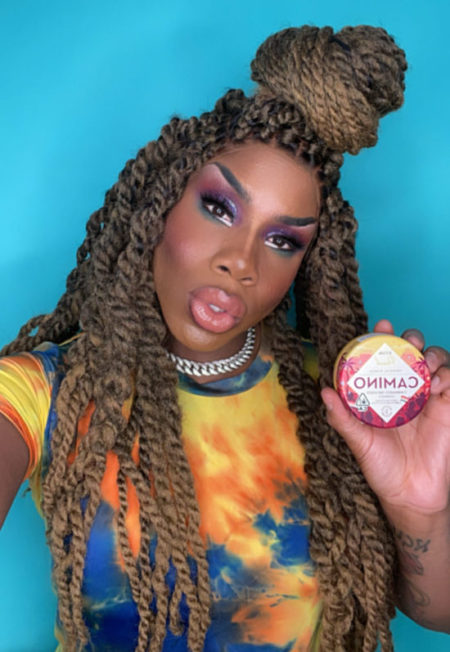 LOS ANGELES – 'Tis the season of rainbow sponsorships. Pride partnerships between companies of all sizes and queer celebrities of all caches abound. In the whirl of Pride collabs, it's important to know which companies are for real.
Kiva, the sought-after cannabis brand, is following through once again with their second annual partnership with world famous drag superstar Monét X Change. Monét went Live on Kiva's Instagram Thursday evening, hosting a candid conversation with viewers on Pride, cannabis and how the two are intertwined.
On her Instagram Live, Monét started off the bat by calling out other companies who "slap on a rainbow" and call it a day. Kiva is not one of those companies. This Pride month, Kiva has made donations to GLAAD and has pledged to continue their involvement and support of the LGBT+ community year-round, something with Monét cited on Live as especially noteworthy.
GLAAD is an internationally recognized LGBT+ organization that works ubiquitously in the worlds of entertainment, news, and digital media to accelerate acceptance and celebrate LGBTQ+ stories.
Monét X Change gained fame on the 10th season of RuPaul's Drag Race, where she won Miss Congeniality. She went on to win (in a tie) the fourth season of RuPaul's Drag Race All Stars. Working her way to the top of the industry, she is now regarded as one of the most popular and successful queens to come out of the show, frequently partnering with her pal from New York, Season 8 winner Bob the Drag Queen.
You can now find Monét everywhere in almost every facet of the entertainment world. Most recently, Monét released "Love Like This" – a beachy bop with a fresh queer Caribbean sound.
Joining Monét's Kiva live stream was a colorful bunch of up and coming New York queens, including the in-demand Jacklynn Hyde, her leggy New York sister Tina Twirler and the crown-snatching Sabbyiana.
Back by popular demand, Kiva is relaunching the much asked for Tropical Punch Camino Gummies. These fruity little edibles are a Pride spin-off of Kiva's popular line of Camino gummies. A light, refreshing edible with 5mg THC per dose perfect for Pride month.
LA Pride breaks silence announces 'Thrive with Pride'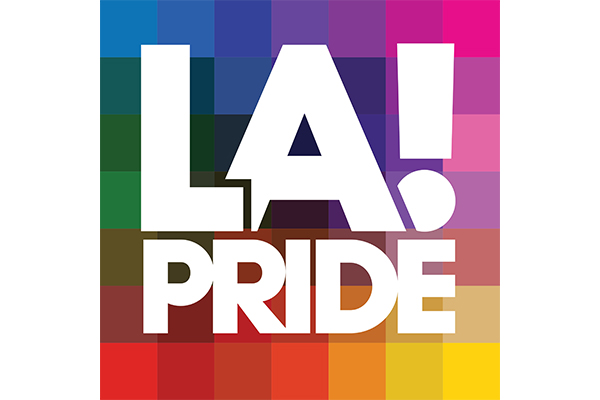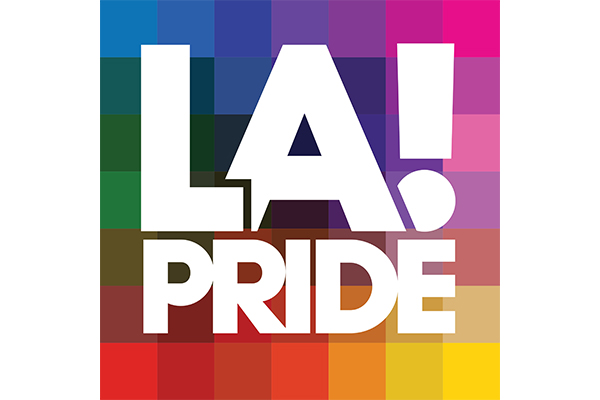 LOS ANGELES – After weeks of 'stay tuned' on its website and no real engagement with the media or the LGBTQ community, Christopher Street West Association Inc. the nonprofit organization that produces the annual LA Pride celebration announced its planned June programming for LA Pride 2021 on Thursday.
Pride 2021 activations are themed around the daily reminder to Thrive with Pride.
LA Pride weekend will kick-off on Thursday night, June 10th with a concert exclusively presented by and live streamed on TikTok featuring hyper-pop diva Charli XCX and a showcase of up and coming LGBTQ+ performers across genres. In-person concert opportunities are not available at this time. Fans and followers can follow @tiktokforgood and @lapride on TikTok for updates and advanced promotions.
Further, a televised special titled "Thrive with Pride Celebration" is set for Saturday, June 12th airing 9:00pm-10:00pm PDT on ABC 7 Los Angeles, the most-watched station in Southern California, will feature special guests, performances and LA Pride honorees.
"To thrive means to flourish and progress despite the circumstances. Pride this year is a moment for you to stop and breathe," said Sharon-Franklin Brown, CSW board president. "It's a moment to remember you're not just surviving one of the hardest years in recent memory, but growing into your truth. This is why we were so intentional in our planning. We want to bring a moment of celebration, a moment to highlight the community, and an opportunity to give back. If we as a community can come together, even for a moment, to realize we've broken down some barriers put on us, it'll strengthen our resolve to continue tearing more down for those to come after us."
"After an unprecedented year of challenge and struggle, I am so pleased that this year's pride festivities embrace the spirit of the first pride parade and our activist roots," said Los Angeles City Councilmember Mitch O'Farrell. "By bringing together LGBTQ+ communities from every corner of our City, we will uplift all voices and elevate the important work of the icons of the LGBTQ movement who sacrificed everything in their young lives at the time so we can all celebrate together in 2021. With a mix of virtual and potential in-person events, this year's festivities will keep our community safe and connected while providing every Angeleno an opportunity to embrace giving and volunteerism."
In recognition of the incredibly difficult work Los Angeles social justice and non-profit organizations have put into achieving equity, actionable change and stability, LA Pride will launch a 30-day give back campaign to support these efforts. Pride Makes a Difference will highlight opportunities for Angelenos to sign up to either volunteer, or donate goods and/or money to local organizations in Los Angeles County. Pride Makes a Difference is a new program in conjunction with Big Sunday. As part of these new efforts, drop off locations will be set up all throughout Los Angeles. A list of selected local organizations and drop off sites will be available soon to choose from, as well as the sign-up details and commitment.
"Our utmost priority in whatever we're doing to celebrate Pride this year ensures safety and follows CDC-approved pandemic guidelines," continued Brown. "That's why we're announcing this programming first. Any potential in-person celebratory activations will be announced at a later date in the coming weeks. The more we put safety first, the more likely we're able to plan big physical events in the future, including Pride 2022, where we can celebrate who we are, where we came from, and where we need to go."
LA Pride 2021 looks to be virtual with limited in-person events- maybe?
There have not been any announcements for plans for Pride month events in June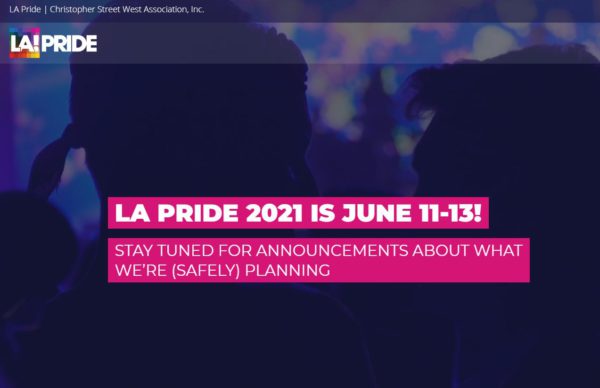 LOS ANGELES – The months April and May are usually crunch time in planning for Pride events in any year, however the impact of the coronavirus pandemic has shut down larger scale in-person gatherings as well as restricted smaller events in both outdoor and indoor venues.
This year, however, remains a question mark and so far there's been no concrete planning announcements.
Last week, California Governor Gavin Newsom announced that as the state has surpassed a major milestone in the fight against COVID- administering more than 20 million vaccine doses, including 4 million in the state's hardest-hit communities, officials intend to fully reopen on June 15.
However, common-sense health measures such as masking will remain across the state. Testing or vaccination verification requirements will remain in relevant settings.
All sectors listed in the current Blueprint for a Safer Economy grid may return to usual operations in compliance with Cal/OSHA requirements and with common-sense public health policies in place, such as required masking, testing and with vaccinations encouraged.
Large-scale indoor events, such as conventions, will be allowed to occur with testing or vaccination verification requirements.
Pride would fall into the latter category.
A spokesperson for The Los Angeles County Department of Public Health echoed the governor's announcement but stressed there were science and data driven caveats to modification of the Public Health Order allowing large-scale events and that systems would be required in place to protect the public's health.
A majority of Pride events in 2020 were either cancelled outright or moved online as California was under strict 'Stay-At-Home' orders.
This year, even with the governor's announcement there have not been any announcements for plans for Pride month events in June. The Blade reached out to the both the City of West Hollywood and Christopher Street West which runs LA Pride seeking information.
In an email, a spokesperson for the City of West Hollywood said that it is anticipated that the West Hollywood City Council will receive an update on programming for the celebration of LGBTQ Pride 2021 at its regular City Council meeting on April 19, 2021.
'At this time, the City of West Hollywood remains in a declared local emergency in order to respond to the COVID-19 pandemic. Despite extraordinary progress in vaccinations and in opening certain sectors of the economy, COVID-19 community transmission remains a top concern to the City and to local health officials; this year there will be no large in-person gatherings, including the events we typically see in West Hollywood during Pride festivities," Sheri A. Lunn, the Public Information Officer for City of West Hollywood told the Blade.
"Gov. Newsom's announcement to fully open its economy is conditioned on the state meeting two criteria: 1) sufficient vaccine supply for Californians 16 years and older who wish to be inoculated, and 2) stable and low hospitalization rates. In planning ahead, the City must anticipate shifts in the timing of these policy changes and plan accordingly to ensure the health and safety of residents, business community members, and visitors," she added.
For Pride 2021, the City of West Hollywood will host its annual One City One Pride LGBTQ Arts Festival, which will take place with a series of virtual events that will run from Harvey Milk Day (May 22) through the end of June Pride month (June 30). The City plans to work with the West Hollywood Chamber of Commerce to encourage and promote the efforts of West Hollywood's business community during Pride season this year to celebrate in accordance to regularly revised guidelines established by the Los Angeles County Department of Public Health.
So far there has been no comment nor statements from LA Pride/Christopher Street West nor has the organization returned phone calls from the Blade regarding plans for Pride.
On its website the organization simply says "Stay Tuned."
The Blade also reached out to several businesses and a couple of LGBTQ organizations, all of which said that there had been no news or announcements for Pride planning as of this week.