Huge LA Pride bursting with color, fun, families and trans visibility (photos!)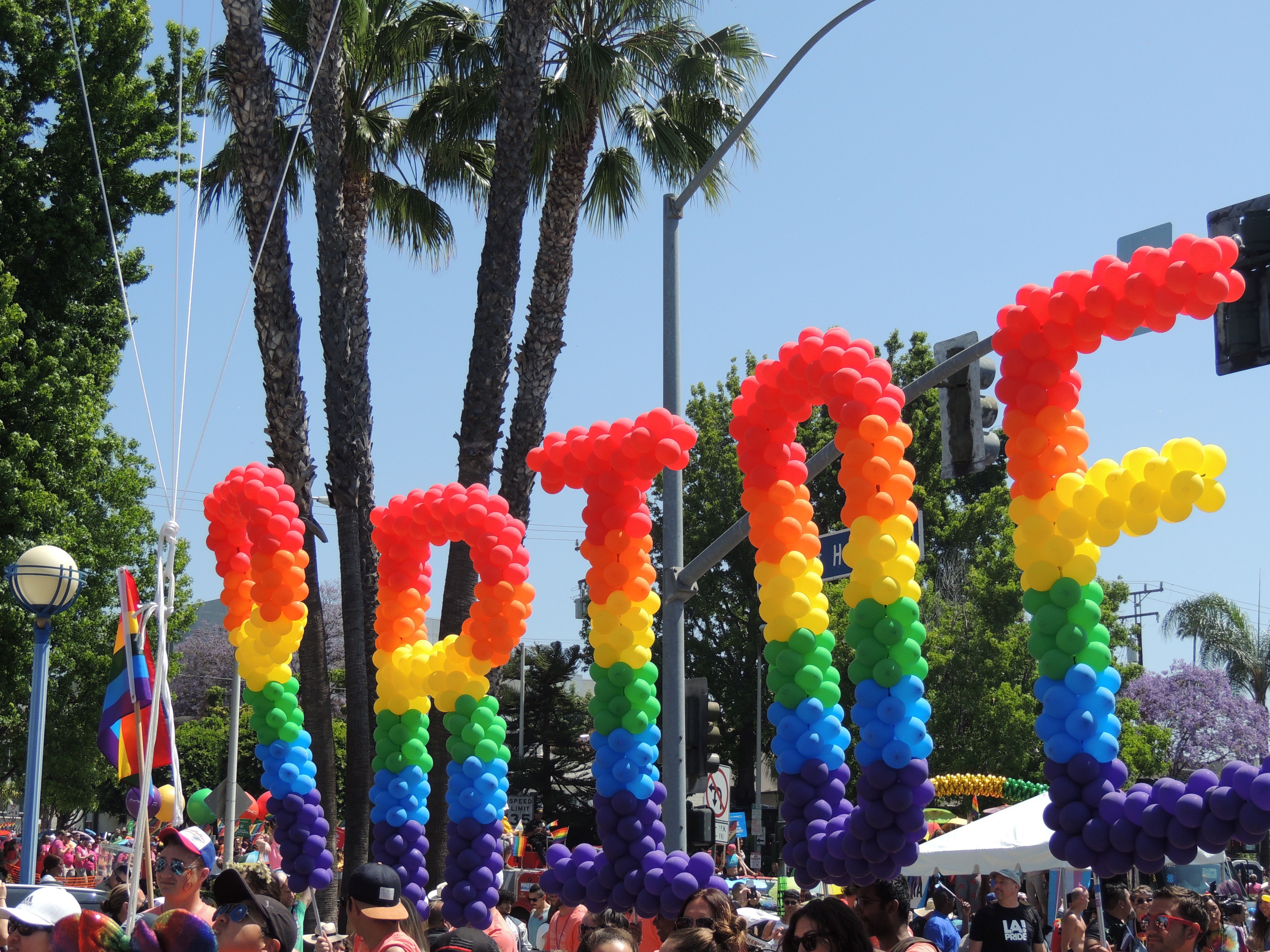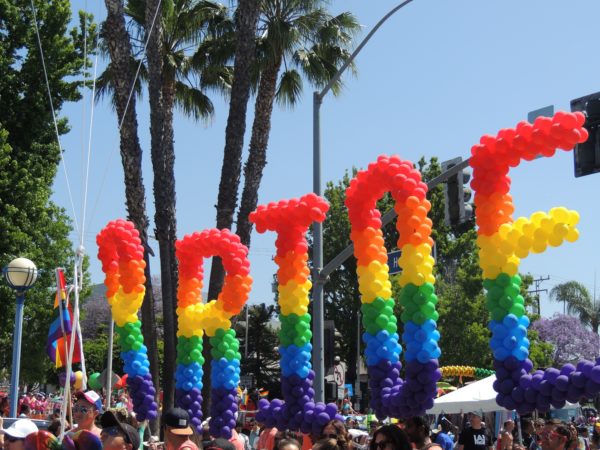 The Los Angeles County Sheriff's Department could not provide a guesstimate of how many people participated in the LA Pride parade Sunday, perching from balconies, lining the sidewalks and marching down Santa Monica Boulevard in West Hollywood. The LASD spokesperson said the helicopter was being used for a car chase and apparently WeHo station isn't exactly proficient with drones.
But to the casual observer, the parade appeared to be biggest, most colorful, the most crowded with welcomed corporate marchers and the most enjoyed by all types of families. Two outstanding themes: incredible trans visibility and no obvious protests of Donald Trump, though the tens of thousands of happy, dancing, marching, hugging and loving LGBT people and allies was a clear affront to the Trump administration's anti-LGBT policies.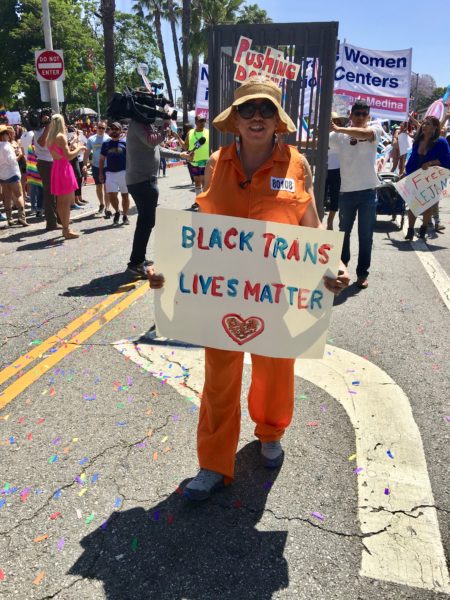 In fact, other than the appearance of elected officials and political groups such as Stonewall Democratic Club and Equality California, the only really political statement, per se, was [email protected] Coalition founder Bamby Salcedo wearing an orange jail jump suit, followed by a makeshift jail cell and a large contingent condemning ICE detention centers and highlighting the deaths of trans women who died in ICE custody.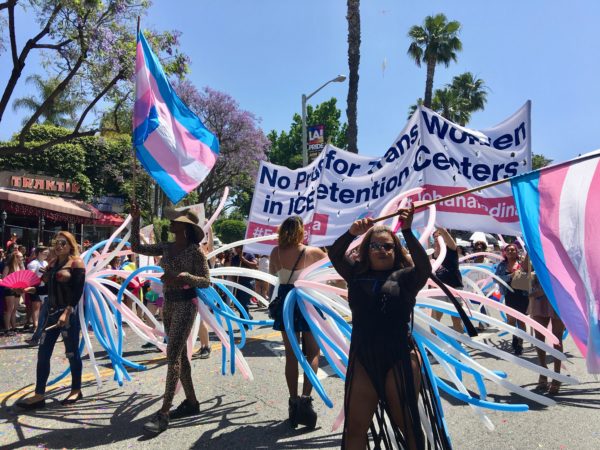 In an important show of political and humanitarian unity, Salcedo also carried a sign calling attention to the epidemic of black trans women who have been murdered. Nine black trans women have been murdered in 2019.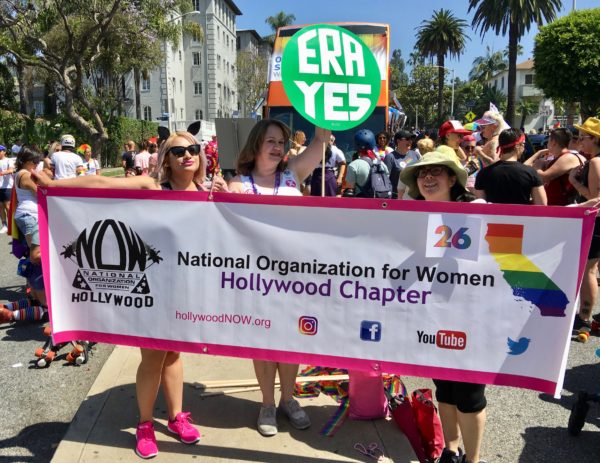 Advocates for women's rights – including passage of the long dormant Equal Right Amendment – were also represented and appreciated as the Trump administration continues its assault against reproductive rights.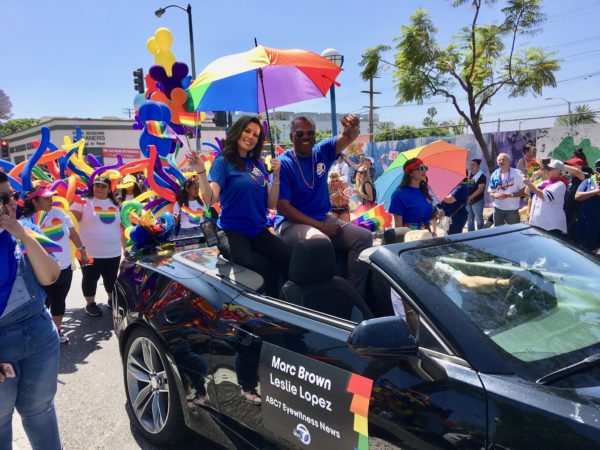 The two messages reached a larger audience this year. For the first time, the parade was broadcast live on KABC7 Eyewitness News and live streamed for an hour after the station returned to regular programming. ABC is owned by Disney, a longtime supporter of the LGBT community and always one of the largest favorite contingents in the parade.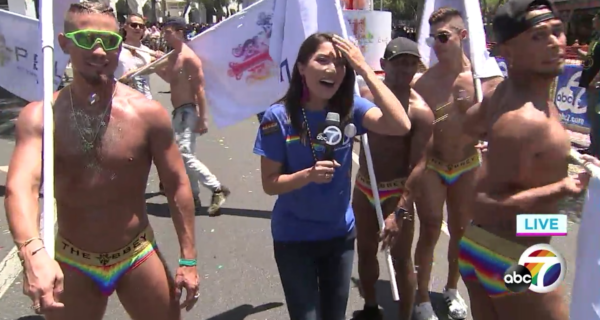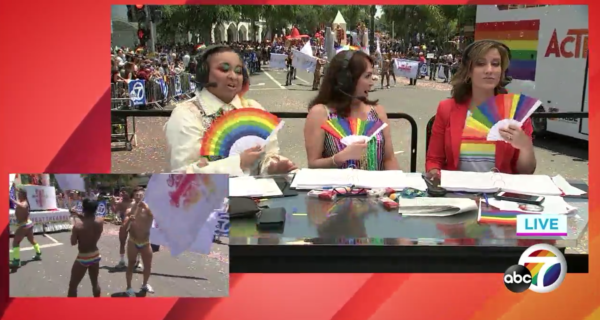 But old Disney fans were probably shocked to see a live broadcast of gay men representing The Abbey nearly naked but for their revealing speedos. But KABC did not cut away – in fact the women commentators seemed somewhat giddy by the proudly exposed tight abs. Suddenly out came the fans, as the WeHo temperature heated up, seeming hotter than the low 80s at the time.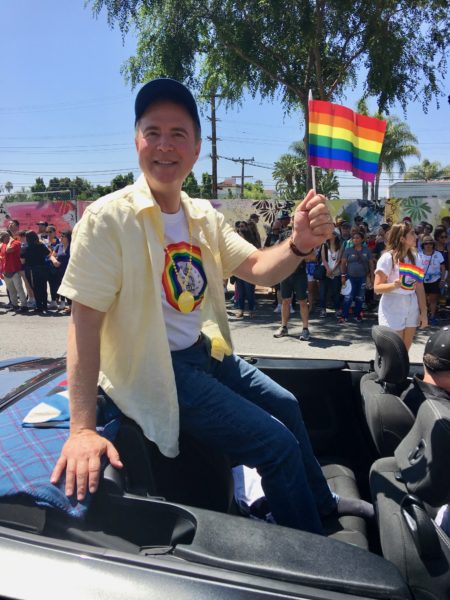 Fans screamed "Thank you, Adam Schiff" as Rep. Adam Schiff, chair of the House Intelligence Committee investigating the Trump-Russia connection, started on the trek through WeHo. The parade, Schiff told the Los Angeles Blade, "is awesome. It's so nice to be out here to celebrate all the progress that's been made and all the progress yet to be done."
At the earlier news conference, Schiff said: "The march towards full equality for all LGBTQ people has been steady, albeit all too slow. We must keep marching forward for the transgender service member whose courage has been called into question, LGBTQ migrants seeking asylum at our borders…and for so many who are counting on us to speak up."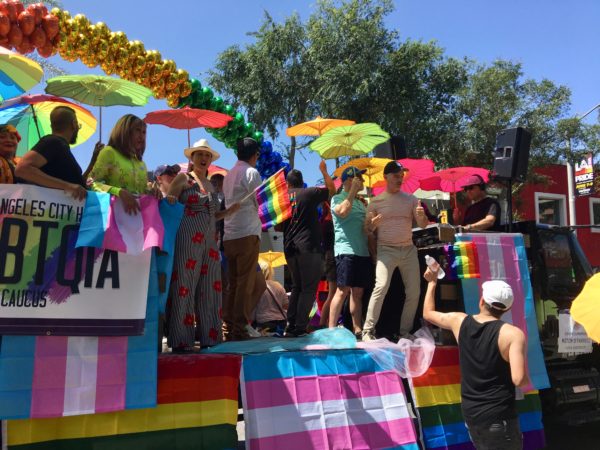 Out LA City Councilmember Mitch O'Farrell sponsored Jaime Marin and Yolanda Rocha Rito, operators of of Casa Jardín de las Mariposas, a homeless shelter for LGBT individuals in Tijuana, Mexico.
"I invited them here to highlight the fact that the Trump Administration's policies are hurting this community. Asylum seekers can't get hearings because he's so cold-hearted and racist in his policies," O'Farrell said. "They don't have the social safety net we have here. The Pride Festival always highlights the fact that there are other places where this community can't live so authentically and out in the open."
Jaime Marin works at the Jardín. "Jardín de las Mariposas is a sanctuary shelter for our brothers and sisters in Central America who are fleeing for their countries, afraid for their lives," said Marin. "We started as a rehab center for the LGBT community, but since the need [for LGBT services] is so big in Tijuana, we had to expand our services." These services include assistance with the political asylum process, job searching, and acting as a homeless shelter.
Out LA Councilmember Mike Bonin rode on a fire truck, keeping up a tradition started by his late out mentor, LA City Councilmember Bill Rosendahl. LA Controller Ron Galprin—first out gay elected citywide who called for a boycott of hotels owned by the anti-LGBT Sultan of Brunei—rode with his husband Rabbi Zachary Shapiro. Longtime ally City Attorney Mike Feuer, one of the first on the scene at LAX to help after Trump unexpectedly announced his Muslim Ban.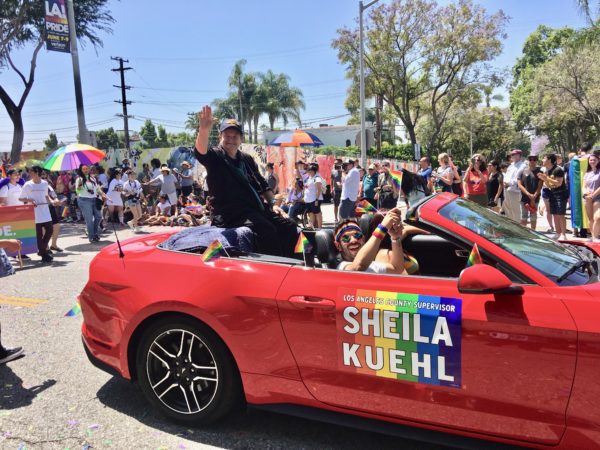 LA County Supervisor Sheila Kuehl, the first out LGBT person elected to the state Assembly in 1994, continues to receive a huge wave of gratitude.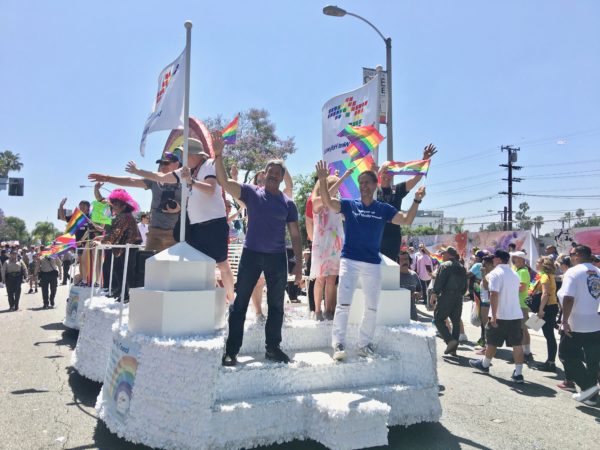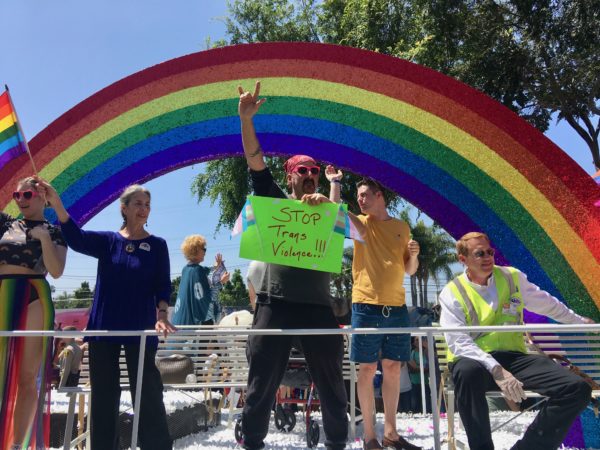 The West Hollywood City Council, which has sponsored CSW since it moved from Hollywood, always receives applause. West Hollywood Human Services Commission member Jimmy Palmieri, Founder of The Tweakers Project, who coordinates the Pride #Sizzle sober party – also carried a sign calling for an end to trans violence.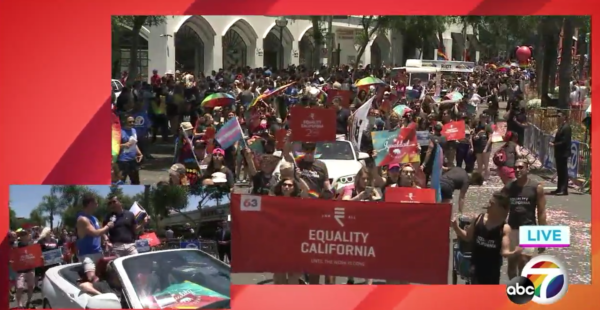 Equality California's contingent was so large, they needed three cars. Out Insurance Commissioner Ricardo Lara was interviewed by KABC and bisexual Rep. Katie Hill posted several tweets about the fun she had.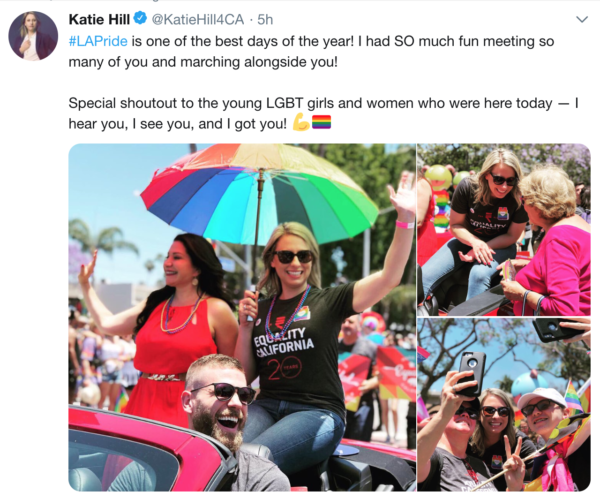 And while the news out of New York City notes that the NYPD finally apologized for the police raid that resulted in the Stonewall Uprising, and Sacramento Pride had issues with Sacramento Police marching in uniform – LA Pride welcomed the Fire Department and their families and an FBI contingent from the local LA office, led by Dan Lathan.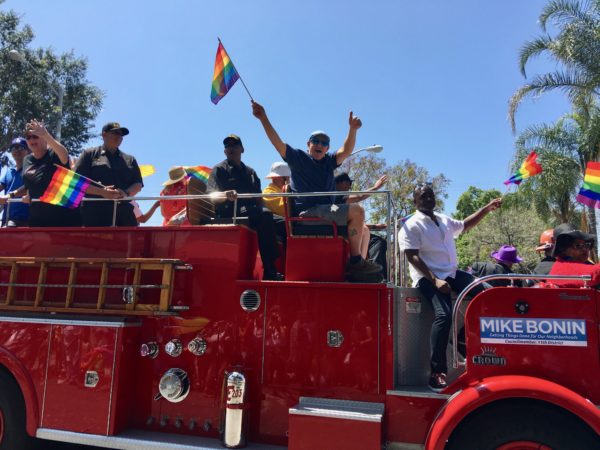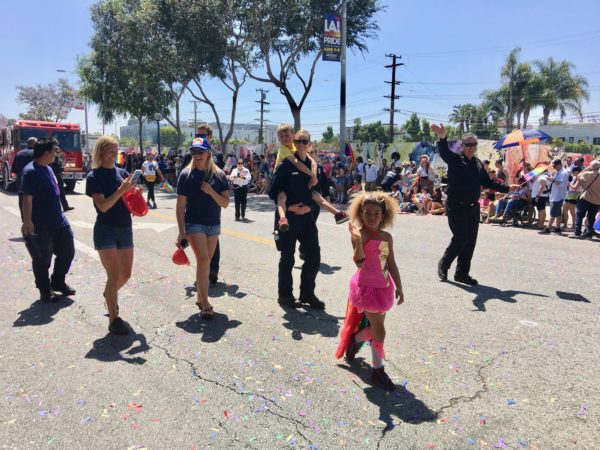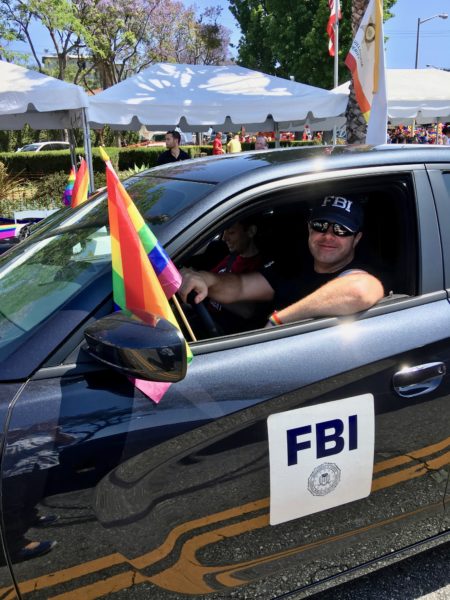 LA Mayor Eric Garcetti marched with LAPD Chief Michel Moore, noting that the police raids against the Black Cat Tavern in Silver Lake were two years before the Stonewall Rebellion and now the police chief is walking in the Pride parade with the mayor and Police Commissioner Sandra Figueroa-Villa rode with out former Commissioner Rob Saltzman. . Chief Moore not only posed with other officers but donned a Disney Pride sticker, as well.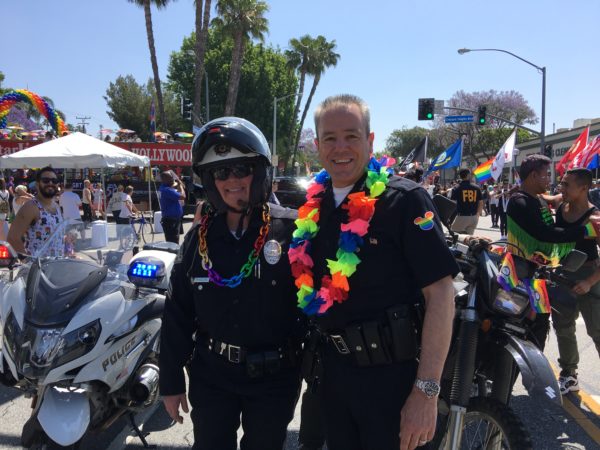 That provided some jovial competition between the LAPD and the LASD over which department wore Pride better since Sheriff Alex Villanueva authorized – and wore – a special Pride patch that caught the attention of local media.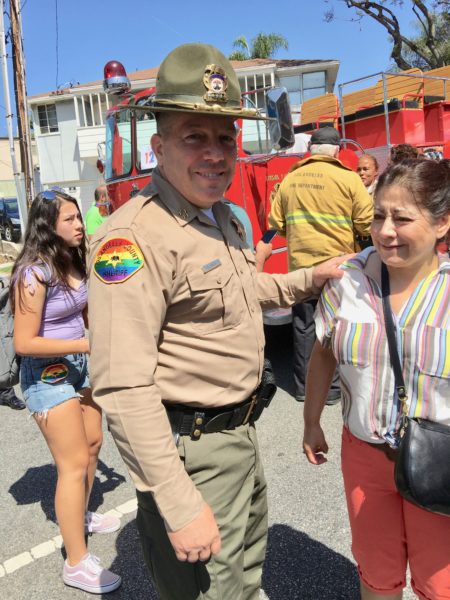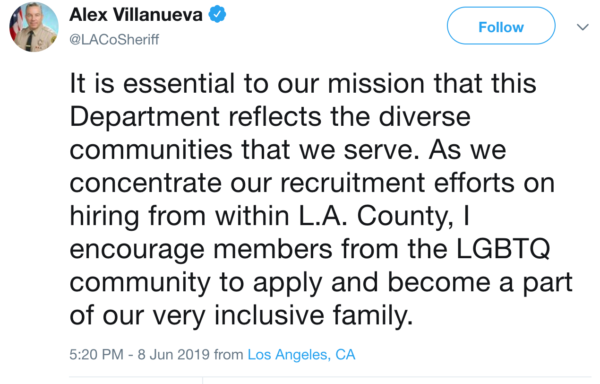 Lt. Tonia Martinez was interviewed by a FoxLA reporter about the patch, then sincerely thanked the Sheriff for the significant gesture.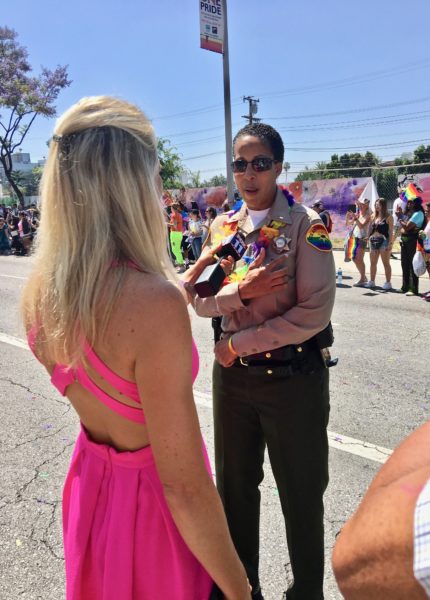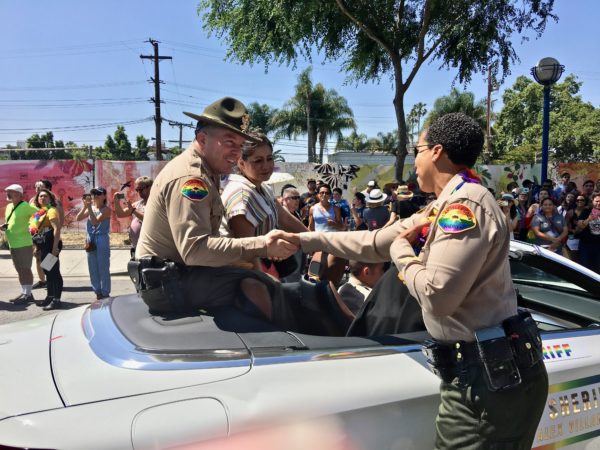 But the LASD outreach went beyond the fun patch. Deputies Aston Guasfall and Elizabeth Castro were handing out trans flags and the back of one of the Sheriff's cars displayed the trans flag, too.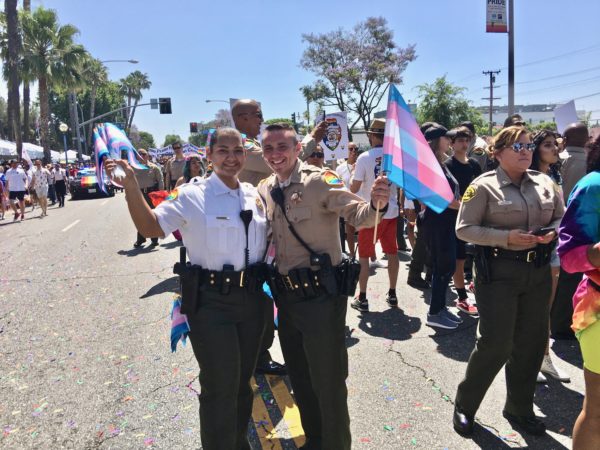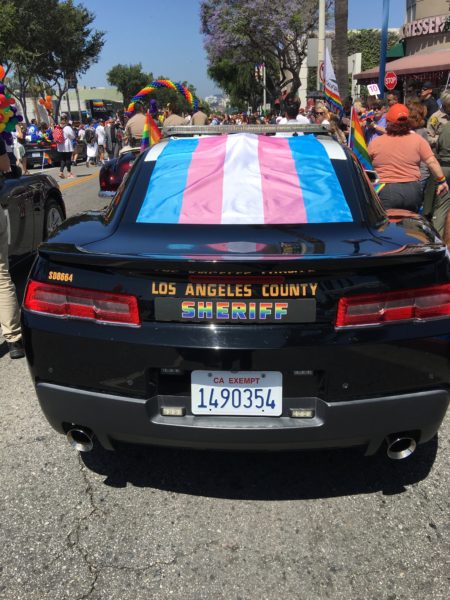 Watching from a place of honor was Metropolitan Community Church Founder Rev. Troy Perry, co-founder of Christopher Street West with the late Gay Liberation Front leader Morris Kight and the late homeless advocate, Rev. Bob Humphries, with his husband and fellow marriage equality advocate Phillip De Blieck.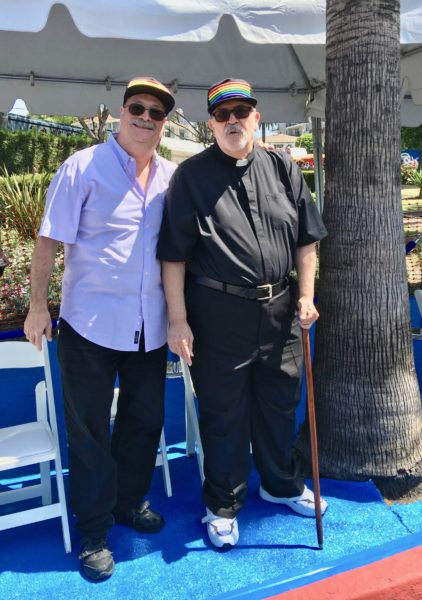 "Pride means everything to me," Perry told the Los Angeles Blade. "We were the first gay pride parade in the world. New York had a demonstration, nothing wrong with that – but we sued the city and had a parade." This year, Perry was delighted at the participation of "young people [who ought] to be a part of the struggle and this fight too."
He noted that LA insisted on a parade instead of a demonstration in 1970 to commemorate the year anniversary of Stonewall. "We've had all kinds of demonstrations," he said. "We're gonna have a parade – this is Hollywood!"
The LAPD told Perry, Kight and Humphries that they'd rather have thieves and burglars march down Hollywood Boulevard instead of homosexuals. CSW sued and two judges ruled in their favor.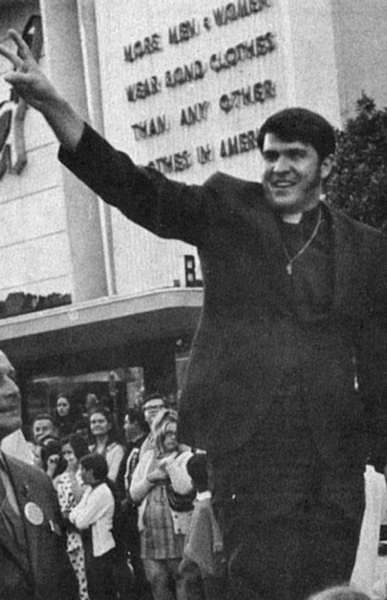 Metropolitan Community Church founder Reverend Troy Perry is a founder of Christopher Street West. Here he kicks off the first LA Pride in 1970 on Hollywood Boulevard, where he will be when the event returns there with 2017's #ResistMarch. (Photo courtesy Troy Perry)
"We only had three floats in the parade," Perry recalled, but an estimated 1,165 people showed up, many with their dogs, including one marcher with his husky and a sign reading, "We don't all walk poodles!" Others joined in along the parade route. But at the end of the first parade that June 28, Perry, Carol Shepard, head of L.A. chapter of the Daughters of Bilitis, and lesbian activist Kelly Longman sat down on the corner of Las Palmas Avenue and Hollywood Boulevard, refusing to move until elected officials talked to them about gay rights.
They were soon arrested for "vicious and malicious blocking of a sidewalk with intent to do harm," Perry recalled in 2017.  The two women were released but Perry spent the night in jail. After his release, Perry held a 10-day hunger strike at the federal building until City Councilmember Robert Stevenson and his wife Peggy spoke to him and Perry broke his fast.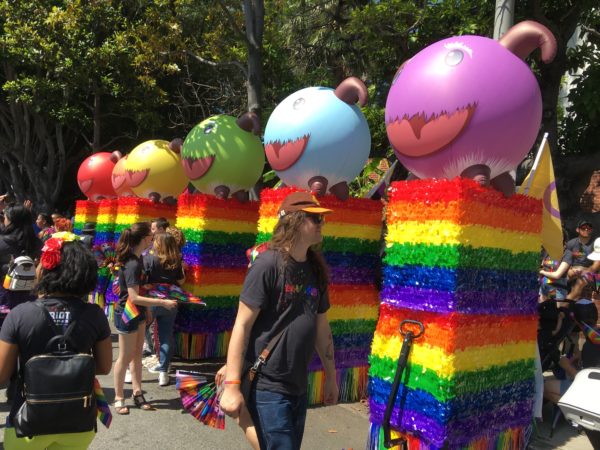 Forty-nine years later, LA Pride's response to today's anti-LGBT environment is color, fun, creativity and alliances with a myriad of businesses that support LGBT equal rights for the community and their diverse employees.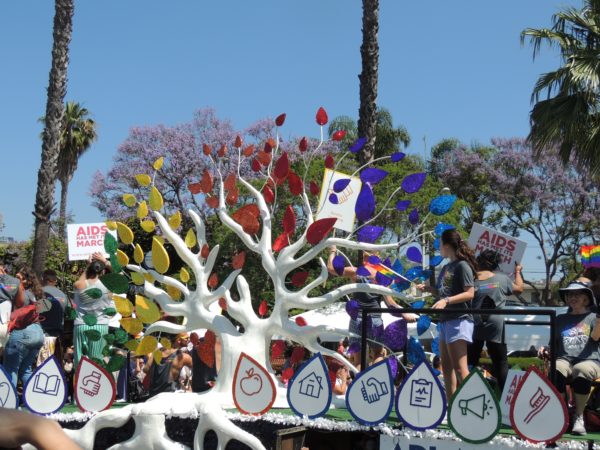 In May 2018, after concerted reporting on the dire condition of CSW as an organization, the Los Angeles Blade posed the question: "Can Estevan Montemayor save LA Pride?"
It appears he and his CSW partner Madonna Cacciatore not only "saved" CSW but raised the bar for LA Pride events to come. Presumably they are preparing an After Action Report on what worked and what didn't work to provide transparency to their successful strategy.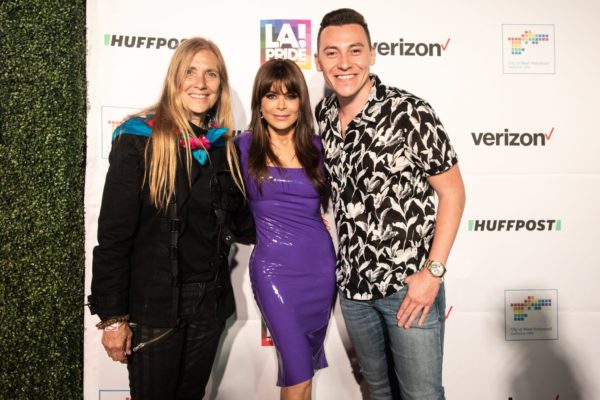 Christopher Street West Executive Director Madonna Cacciatore, Paula Abdul and Christopher Street West President Estevan Montemayor pose on the Red Carpet on day one of LA Pride at West Hollywood Park on June 7, 2019 in West Hollywood, California. (Photo by Chris Tuite)
One major new factor was opening up a free Pride on the Boulevard as part of the Festival that featured numerous organization booths on Santa Monica Boulevard (the Los Angeles Blade booth attracted more than 8,000 people) outside the traditional tickets-needed Festival. Bienestar conducted free HIV tests; GLSEN promoted safe schools and the too-often ignored bisexual community; Cedars-Sinai Hospital sponsored an interactive health awareness mobile clinic with information about PrEP and offered vaccines for Hepatitis A and meningitis at their the Health and Wellness Village on the Boulevard.
Inside the Festival there were a slew of different exhibits and performances from the artistic Trans Galleria to a stunning performance by Todrick Hall and a soaring kick-off concert by Paula Abdul on Friday night, capped by fireworks.
"I would not be anywhere without this community. The love and support you've given me leaves me breathless," Abdul told her fans.
There was also the Dyke March and a screening of the documentary "5B" about the creation of the AIDS Ward at San Francisco General Hospital in 1983 by nurses who broke the rules and touched their incurable and dying patients.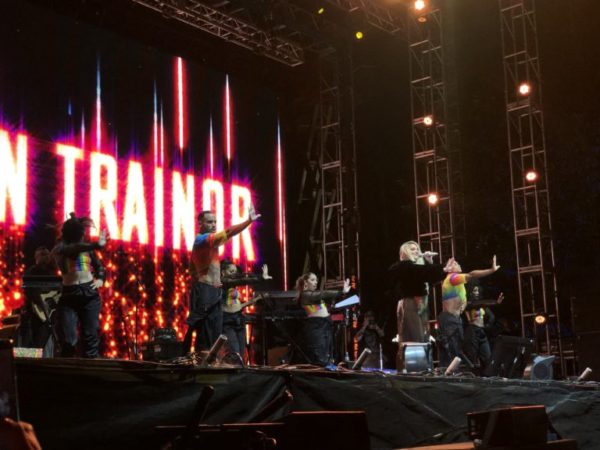 Saturday night also featured major performances by Rupaul's Drag Race alum Raja on the MAC Park stage, as well as rapper CupcakKe, Brazilian pop star and global drag sensation Pabllo Vittar, capped off by a concert by superstar Megan Trainor, who honored the trans community, the women's community and reminded the audience about the importance of enjoying life even though "we are clearly under attack."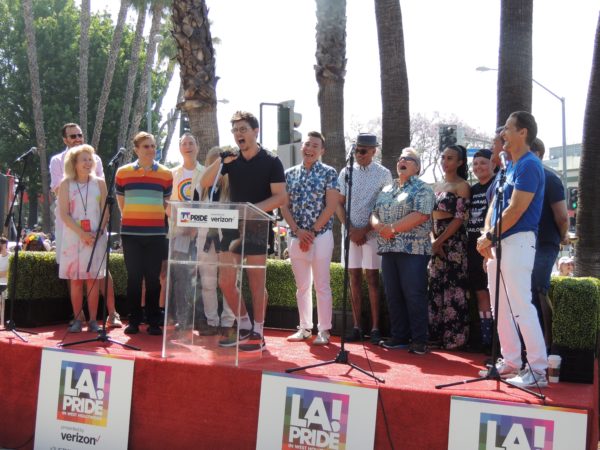 On Sunday, a Tongva Two-Spirit leader offered a blessing and the Trans Chorus offered a song before the official LA Pride kick off, as CSW organizers and the West Hollywood City Council held a news conference to introduce elected officials and the event honorees. "Our city is the seat of LGBT pride for the entire country," proclaimed out West Hollywood Mayor John D'Amico.
Celebrity Grand Marshal Ryan O'Connell—a gay man with cerebral palsy who stars in Netflix's "Special" who cracked everyone up with unending jokes—and Community Grand Marshal Phill Wilson, Founder of the Black AIDS Institute, and Lorri Jean, CEO of the Los Angeles LGBT Center, the Organizational Grand Marshal, also shared a few words.
"I am so proud of our community because we strive to include all of us. We're not perfect, we've never been perfect, but that is our aspiration. We understand that we are great when all of us are included, and we are all diminished when we exclude any one of us," said Wilson.
"It's so amazing to have disability finally be a part of the conversation. Being gay and disabled, stories like mine don't often get told so it means a lot to be at the forefront and celebrating with you this year," said O'Connell.
"We are here to celebrate our pride in our community, our pride in ourselves as individuals. There are those in our land who want to turn back the clock, who want to re-impose discrimination against us. We're not going back. We're not going to tolerate that, and we are going to win," said Jean.
CSW Executive Director Madonna Cacciatore recognized the eight black transgender women murdered this year and led a moment of silence.
"It's a testament of our progress that today, instead of fighting division, we stand together in unity," said CSW President Estevan Montemayor. "We only got this far by marching together side by side, and we must continue to march forward until every LGBTQ person is free from fear and oppression."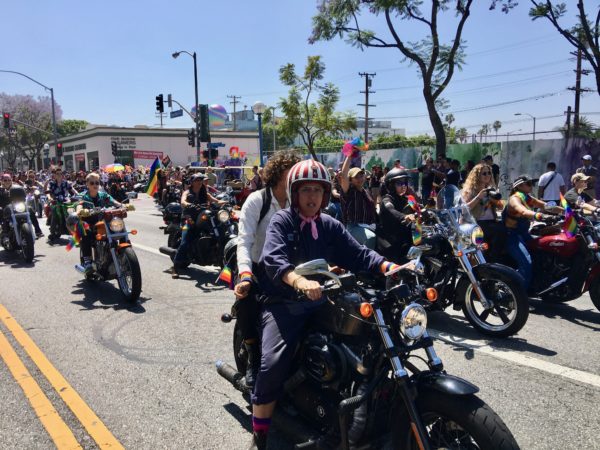 And then #JustUnity hit the road. First the Dykes on Bikes roared up the Boulevard, a stirring annual event that evokes cheers of female power paving the way for all the politicos to follow.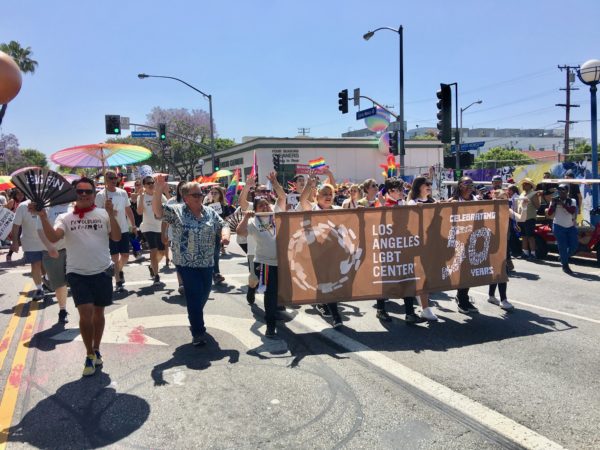 Finally, the Los Angeles LGBT Center hit their mark and sent wave after wave of program staff, participants and their families out to celebrate their 50 year anniversary, including a float of Asian drums heralding their arrival—including just returned AIDS LifeCycle riders, veterans, and members of the Trans Wellness Center, featuring Johanna Padilla, 27, in balloon wings.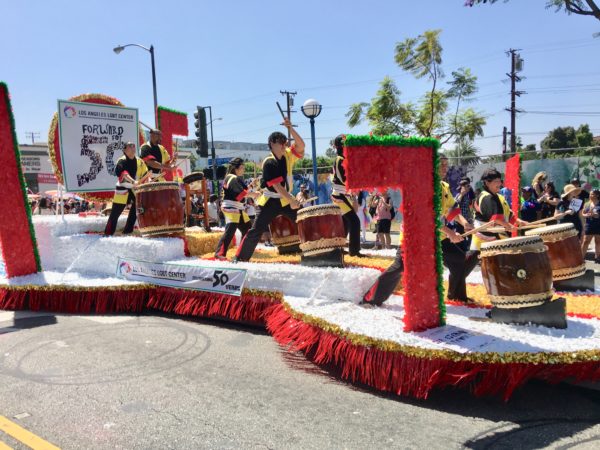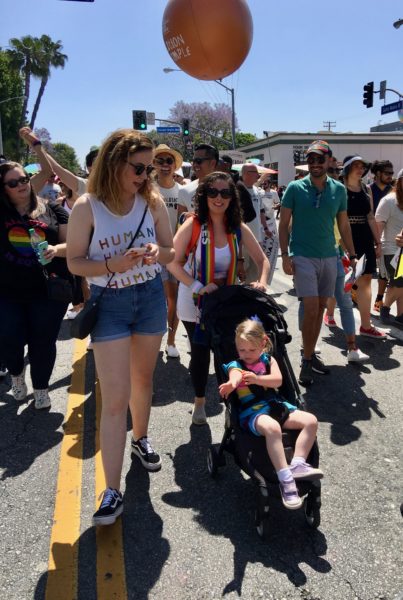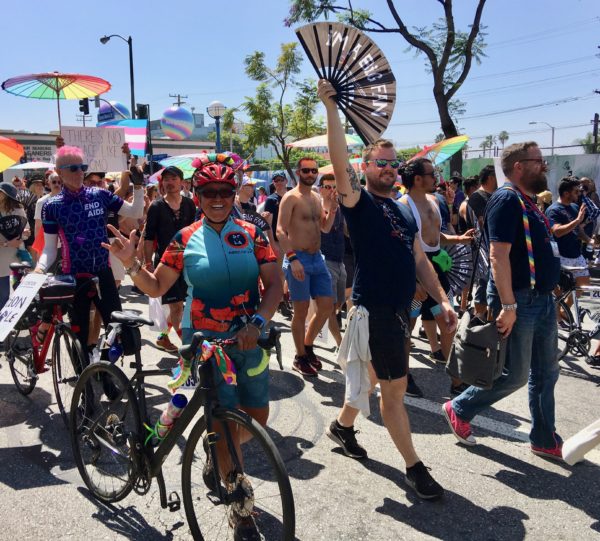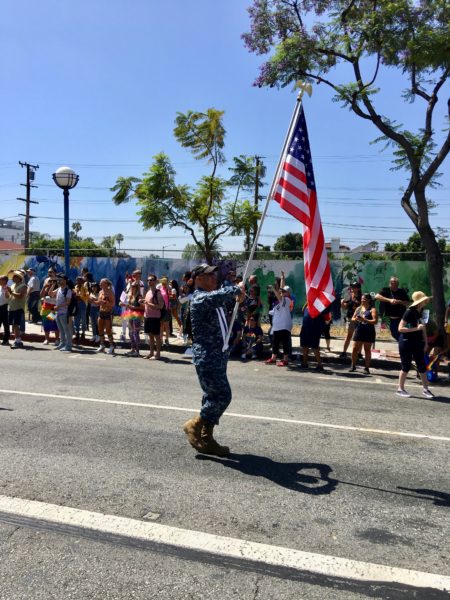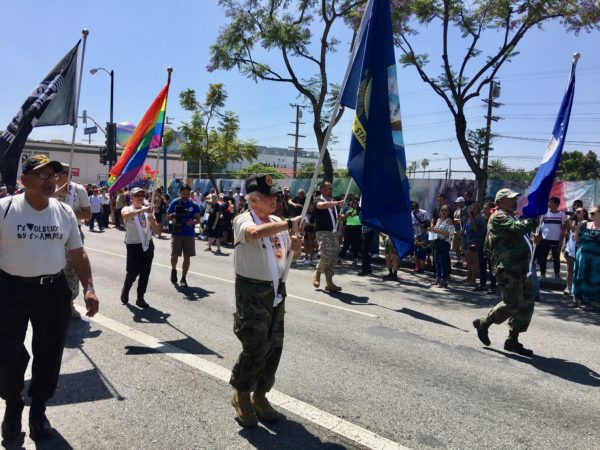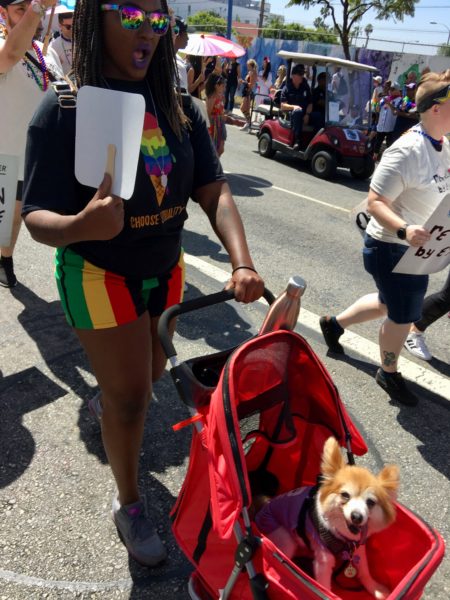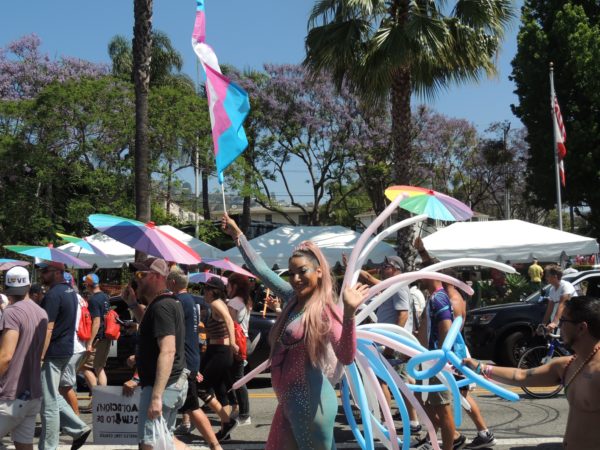 And while he has formally retired from heading his Black AIDS Institute, Phill Wilson is not far from the LGBT community's mind.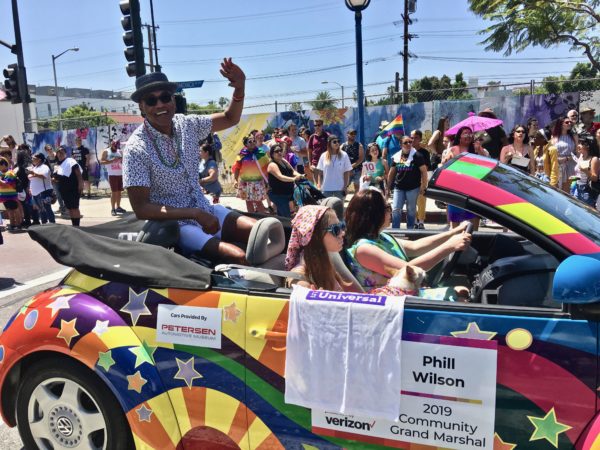 Perhaps one of the largest contingents was the Disney Company.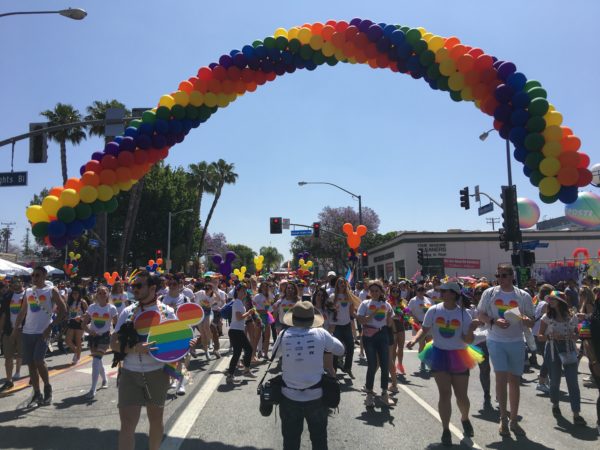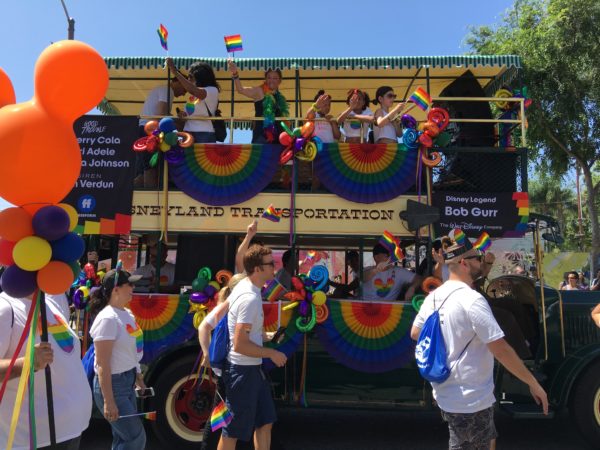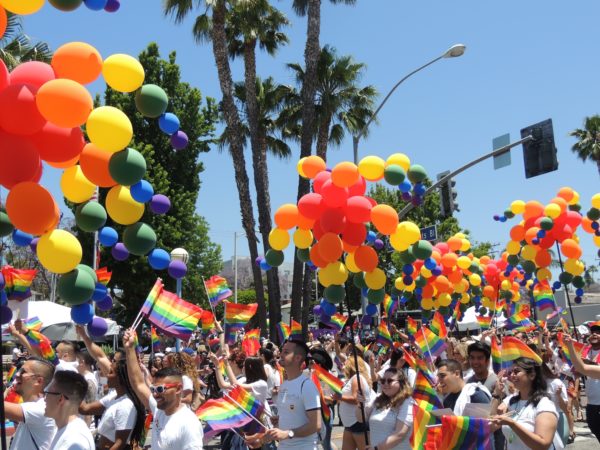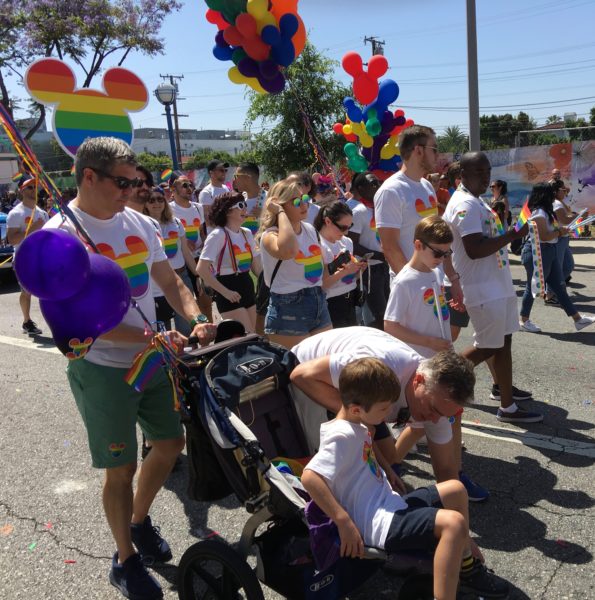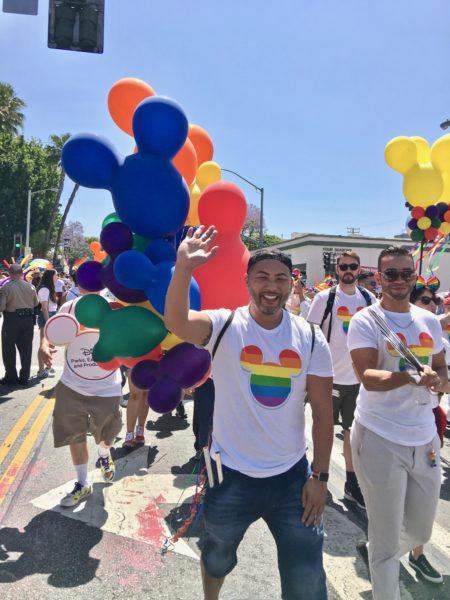 Verizon was a major sponsor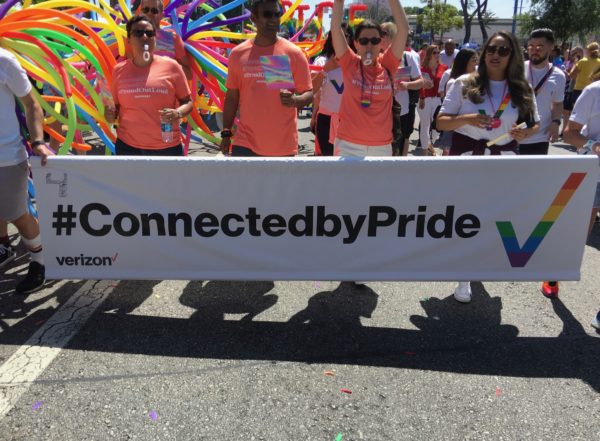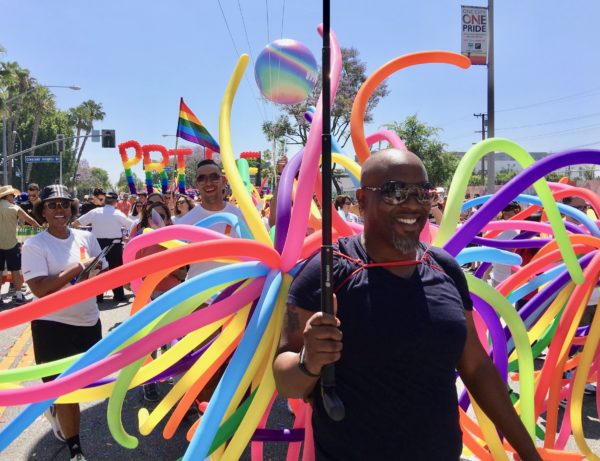 MAC was a big sponsor, too.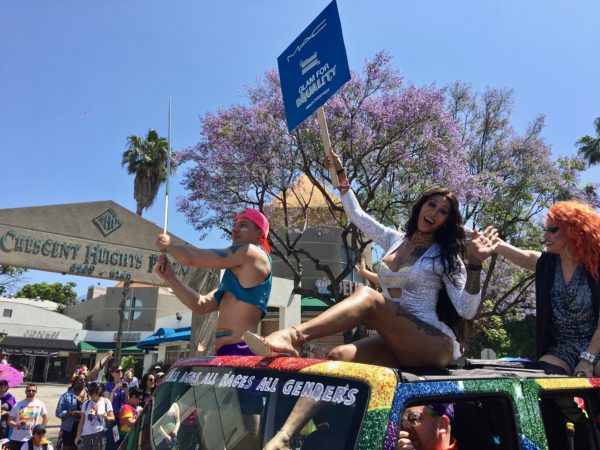 Several companies had unique approaches such as having Glitteress, 27, and Hydra, 25, walking the mile and a half stretch in high heels, escorted by Kris Rollins, 34, for Delta Airlines.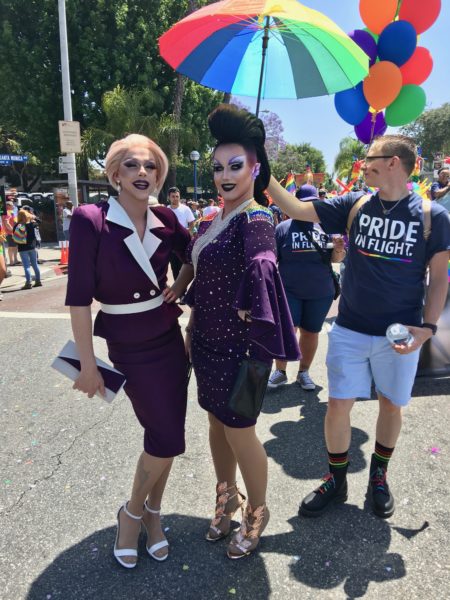 "Pose" was a huge hit, especially with their stilt-wearing vogue models.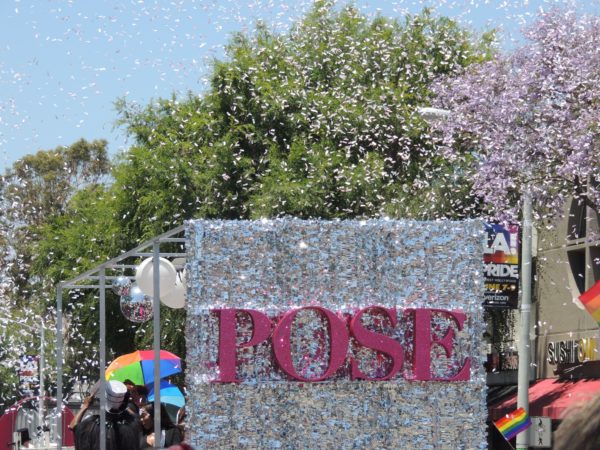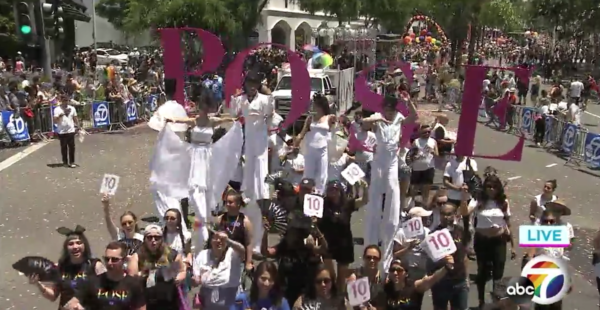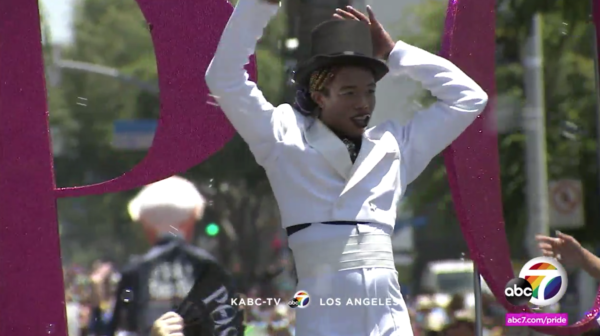 And then there were the young people, including little Jorge, who his family say "is expressing who he is. We are supporting his choices."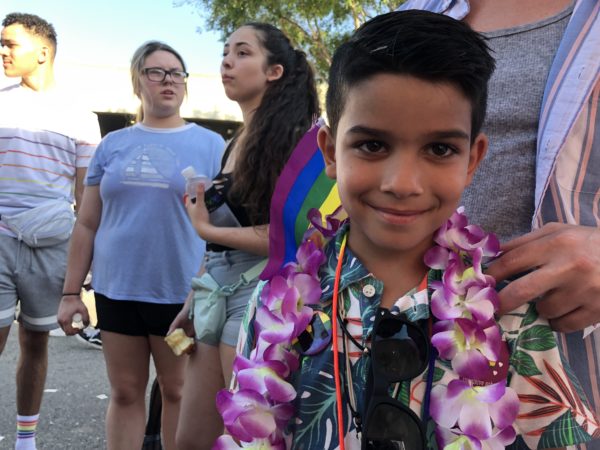 Here are other LA Pride participants and watchers.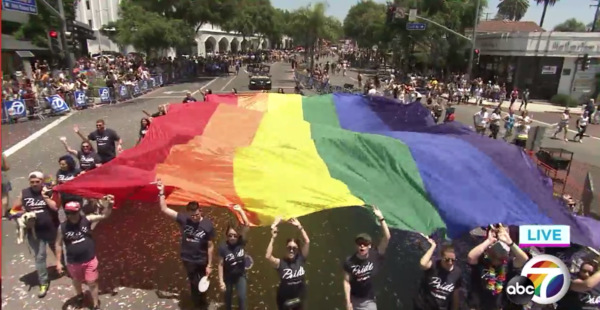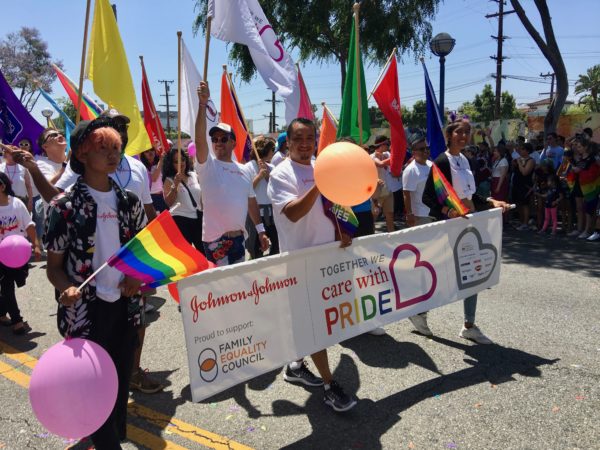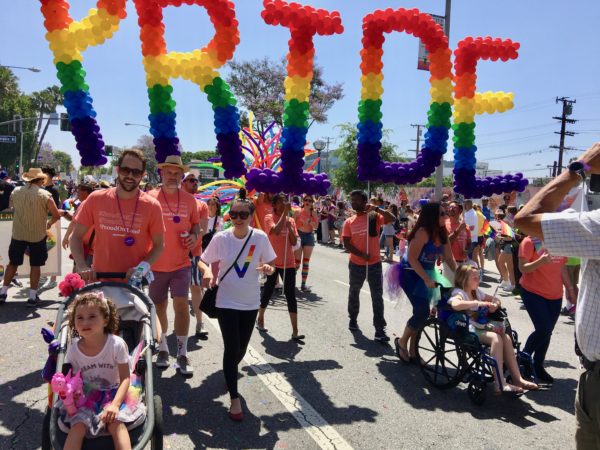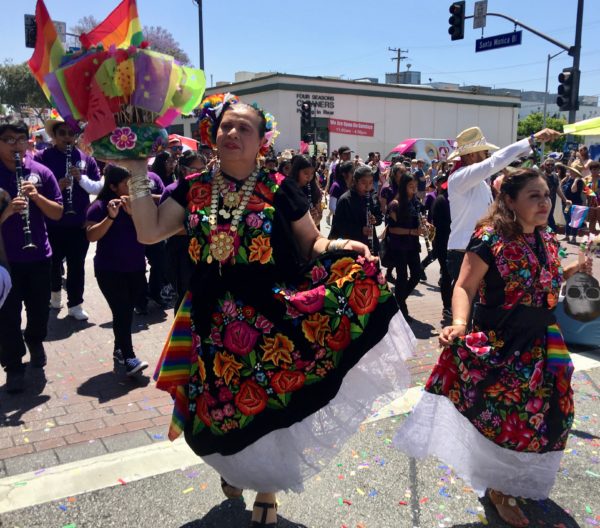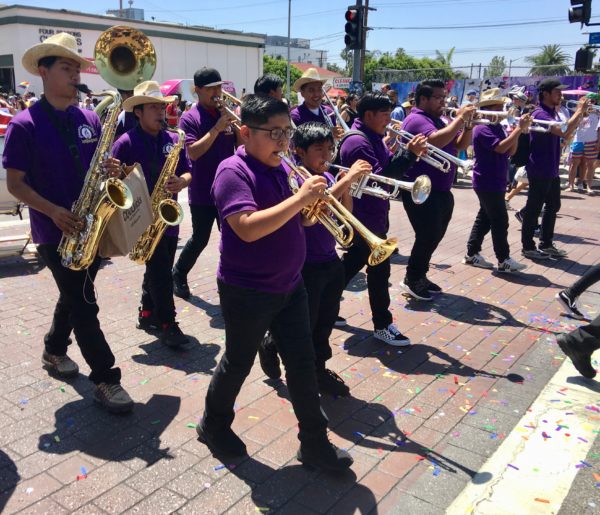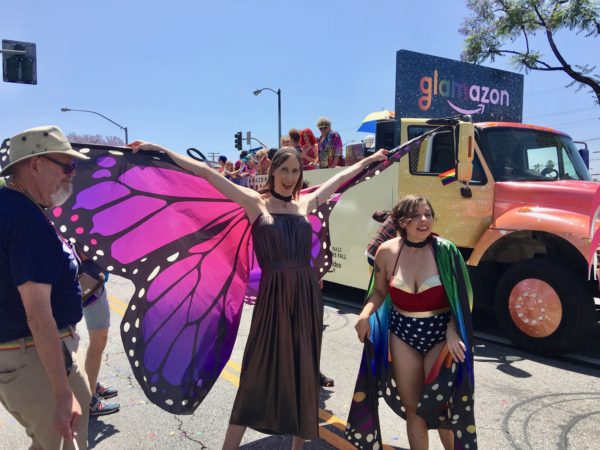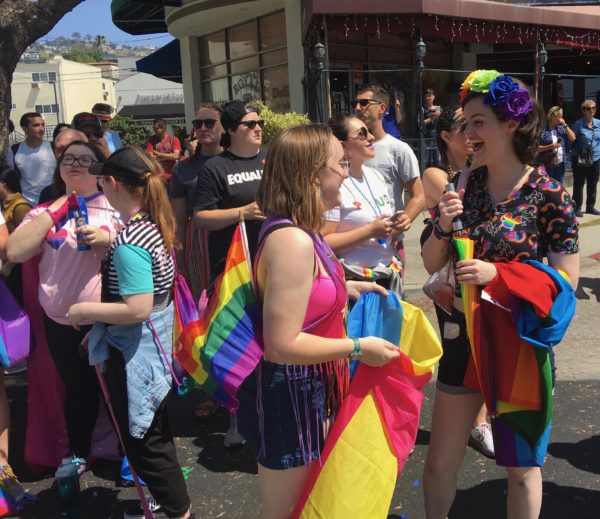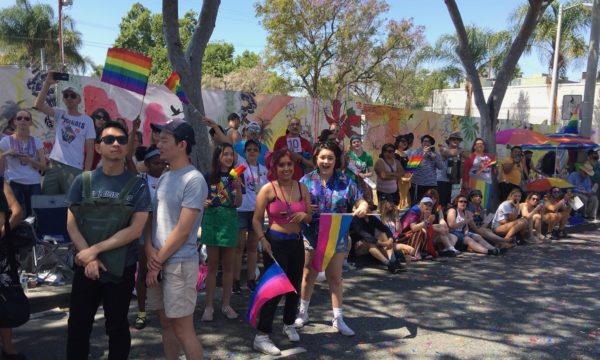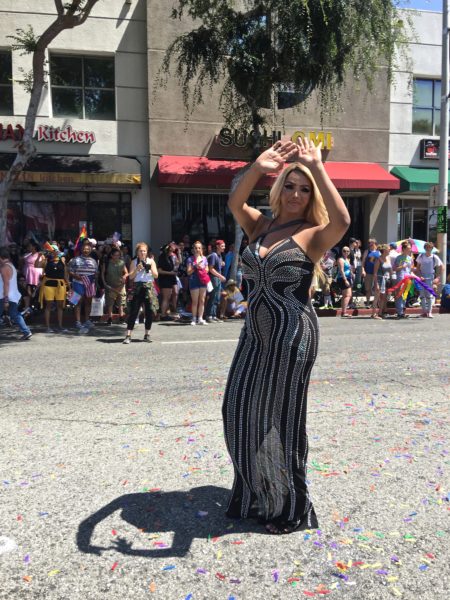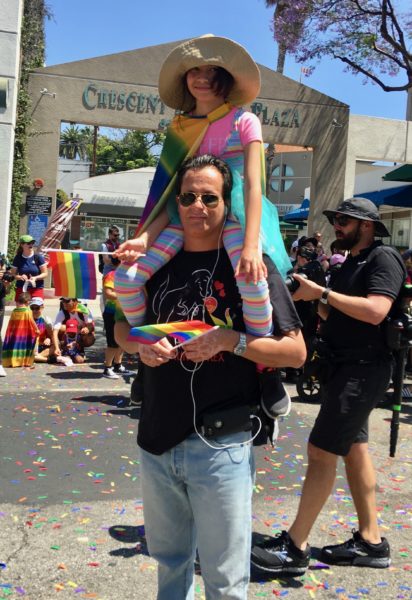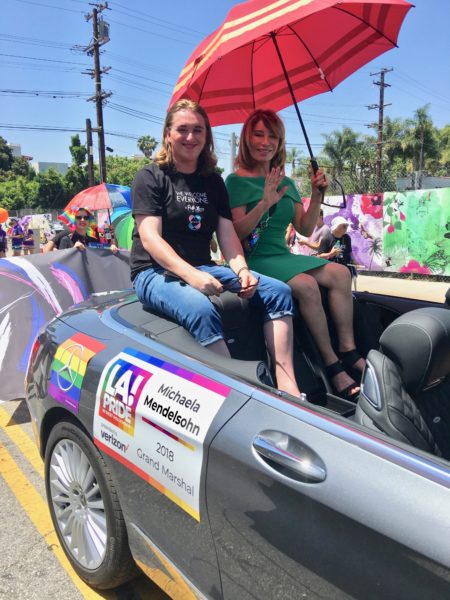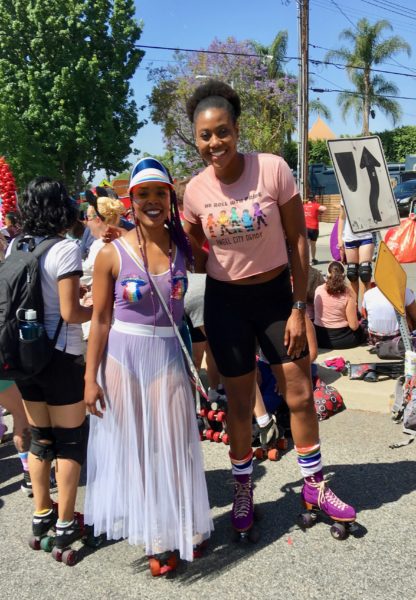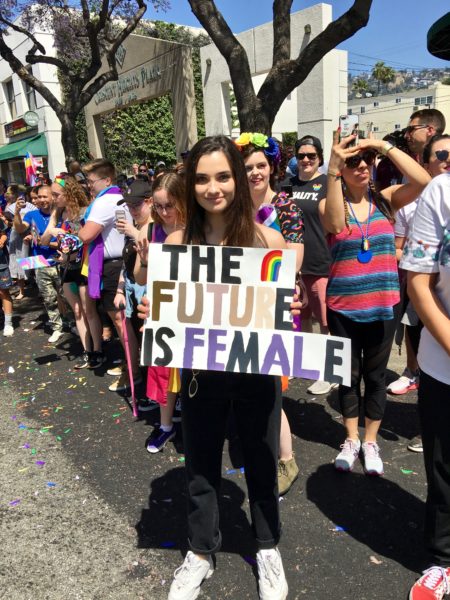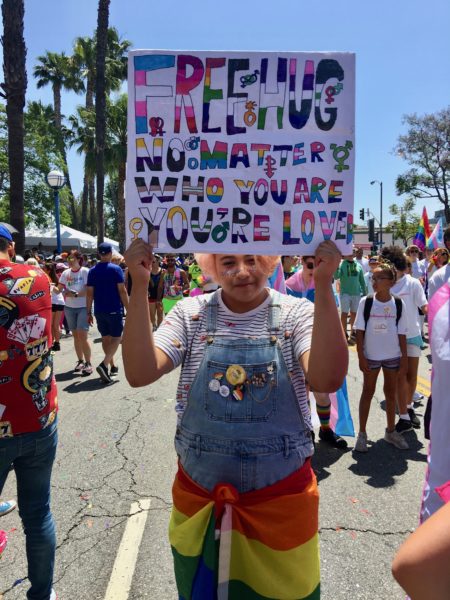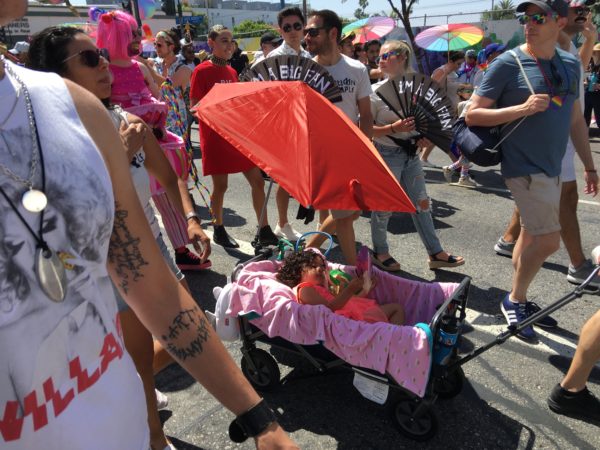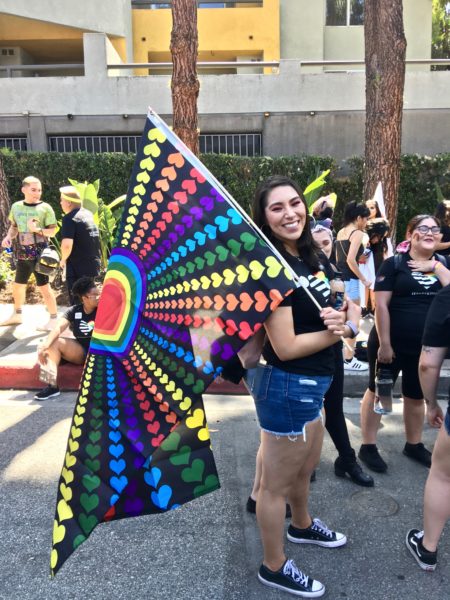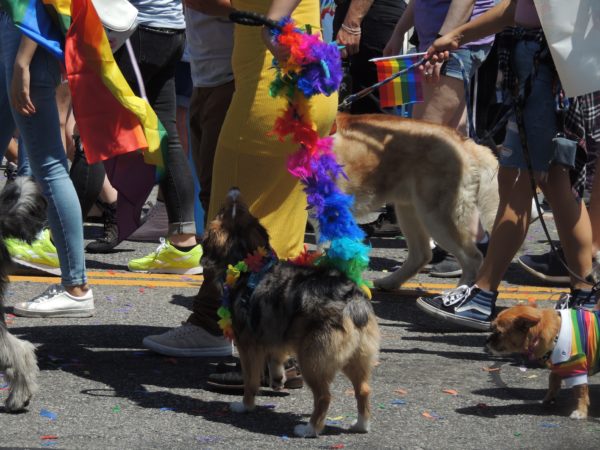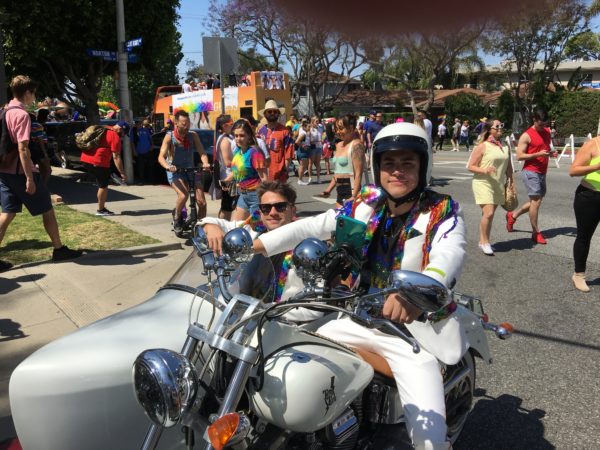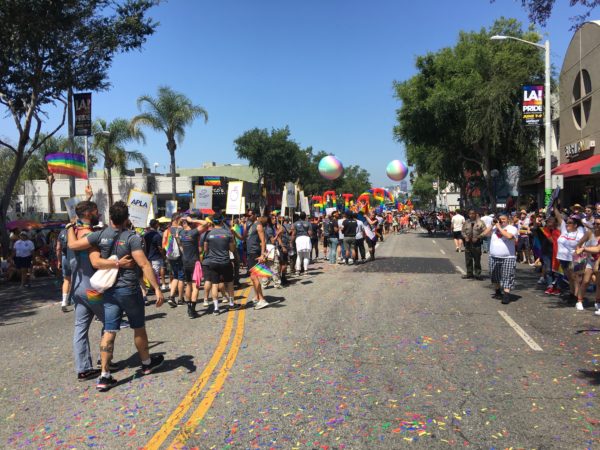 Austin Mendoza contributed to this story
The pleasures of Palm Springs Pride are many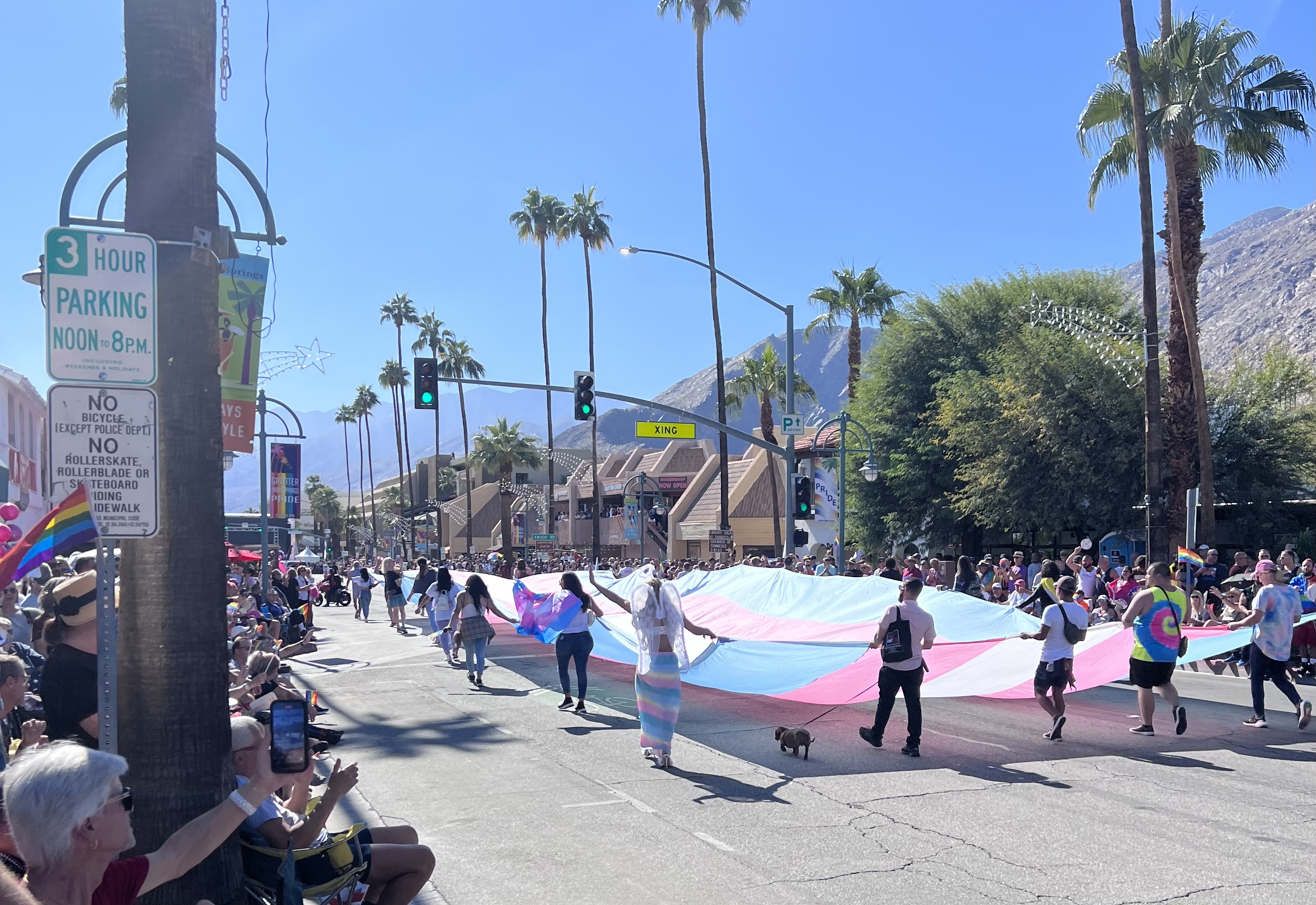 PALM SPRINGS – There is, of course, the obvious element – a strong sense of shared community with hundreds of fellow LGBTQ+ people, living our lives and taking a moment to celebrate all the things that make us both unique and essential within the totality of American culture – that marks any Pride event across the globe; but there's something special, dare we even say "magical", about the vibe in this desert city's timelessly elegant approach to the occasion.
It's difficult, in fact, to describe the blend of progressive modern sensibility and aspirational small-town idealism that defines the experience. Though Palm Springs is a long-established oasis for Angelenos seeking an escape from the big-city intensity that governs their daily lives, it's also a comparatively modest municipality in which queer culture interacts with quotidian practicality on a regular basis. That means, for the purposes of Pride, that the city comes together as a unified voice to assert not only the validity of queer experience, but the inextricable part it plays in the daily life of the community – a welcome and valued part of the diverse and inclusive environment in one of Southern California's most iconic destinations.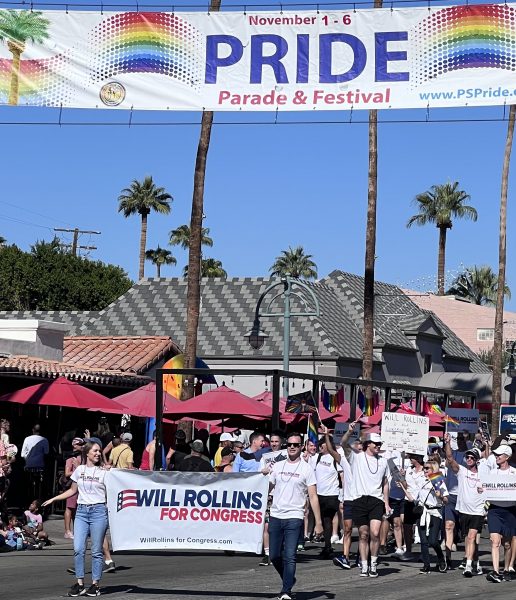 This year's festivities were no exception. Whether it's because, coming on the cusp of a crucial midterm election, Palm Springs Pride represents an eleventh-hour throw-down against the Trump-ist forces that threaten to undermine most of the hard-won freedoms we've come to take for granted, or because it reminds us of the deep well of allied support that exists around our struggle to break free of the stigma and repression of the past, the vibe at this year's 36th annual festival was a heartening dose of positivism – an unequivocally welcome counterpoint to the worst-case scenarios and doom-laden prognostications dominating our current cultural discourse.
The sense of enthusiastic solidarity that permeated the event can be attributed, at least in part, to the heavy participation of local merchants and organizations – something that is part of any Pride celebration, perhaps, but here taken to a level which made a smalltown festival feel as if it were happening in a major metropolitan hub.
With over 150 exhibitors, there was much to do, see, and sample from the vendors, artists and craftspeople, non-profits, and food and beverage providers on hand; deployed in booths, outdoor lounges, and food trucks across several blocks of the city's classic downtown corridor on Palm Canyon Drive, these representatives of the community ensured there was no shortage of activity to keep visitors entertained between the weekend's plethora of musical performances and other scheduled events.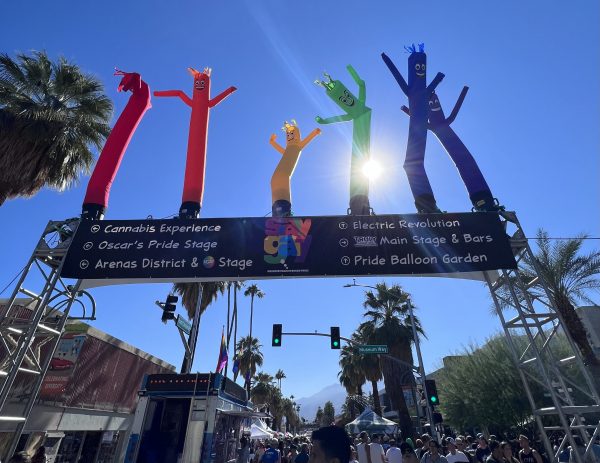 Pride flags, buttons, gear, and other queer-affirming merchandise were available everywhere; opportunities to interact with local organizations – from nudist recreation clubs to live theatre companies to anti-bullying advocacy and support groups – were plentiful; if you were in search of a monkeypox or flu vaccination, those services were available, too, along with plentiful information and resources around other LGBTQ+ health and wellness concerns.
In addition, the location allowed for numerous stores and restaurants lining the streets of the Pride venue – many of them on the Palm Springs "must do" list for tourists and locals alike – to remain open for business, offering full access without even having to leave the festival's "Event Zone."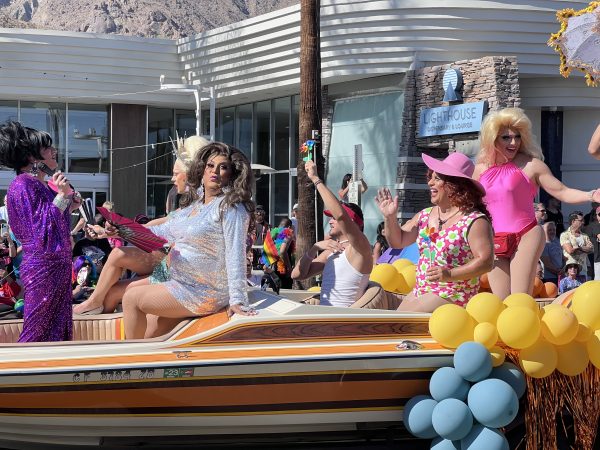 All of this helped to create a vibrant, diverse, and welcoming atmosphere in which all the colors, sights, and sounds of Pride were on full and constant display – an environment where everyone could feel seen, supported, and appreciated, from out and proud members of the LGBTQ+ community to allies and family, or anywhere in between.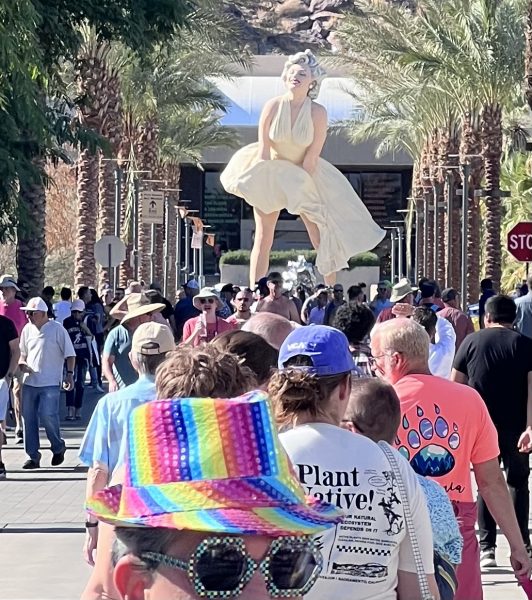 That's not to say there wasn't a keen awareness at Palm Springs Pride of the precarious edge on which our queer future teeters. Though the atmosphere within the festival was focused on celebration, there was an aura of grim-but-determined battle-readiness that became most evident, perhaps, in the cheers of support bestowed on openly gay US Congressional candidate Will Rollins by the tightly-packed crowd of spectators as he marched in Sunday morning's parade.
Alan Uphold, a relative newcomer to Palm Springs who relocated from Los Angeles with husband Jeff Olde just before the pandemic, told the Blade he believed the sense of political urgency was sparked by the recent redistricting process that made the city part of a very "red" political region. "Because of redistricting," he observed, "Palm Springs was lumped in with the more conservative areas to the west of us that are currently represented by one of the most corrupt, anti-LGBTQ, anti-reproductive freedom, January 6th-denying members in Congress. There's a real sense of stress here, mixed with cautious optimism that Palm Springs voters could help Will Rollins win, because we CAN NOT be represented by a radical MAGA extremist like Calvert."
Eva L, a festival attendee from Coachella who told the Blade she came to march with Rollins, also expressed frustration over the redistricting. "I can't believe residents and politicians in Palm Springs just rolled over and didn't object to it. Being represented by Calvert is a setback to the peaceful haven that is our community. I think we should demand to be reincorporated. So, I'm here in part just to support Will and hope for the best on Tuesday."
There were voices in the crowd, too, that served as reminders that – even at Pride – not everyone is on board with progressive ideas about LGBTQ+ acceptance. Roberta C, who was wearing a Bianco for Sheriff campaign badge, told us she doesn't understand why people need Pride in Palm Springs. "You guys have it easy now – and I realize that can change – but I'm here to be with my nephew who thinks he might be transgender. I'm confused because he's going to become a woman and says he's a lesbian. He insists on being called 'they'." The Blade offered to provide contact information for Trevor Project as she walked away, wiping a tear from her face as she said with cracking voice, "It's all too much for me."
Still, the overall mood of the crowd was festive throughout the weekend, with many people overheard saying it was the best Pride they've seen in recent memory. One attendee, Carlos Hernandez, who was visiting Palm Springs and happened upon the event by accident, told us "I can't believe my luck! Be always wanted to attend Pride in the states and it's just hard to believe how joyous this day has been so far."
"Joyous" is, in fact, the word we would also use to describe the occasion, which was ultimately a triumphant declaration of how far we've come as a queer community coupled with a fierce recognition of how far we have still to go. It's that heady mix of emotions that made Palm Springs Pride less remarkable, perhaps, for its party atmosphere and high-voltage entertainment – though those were undeniably part of the event's success – than for the thousands of little moments, powerful and personal, experienced by those who were there.
Uphold perhaps encapsulated the resonant magic of this phenomenon.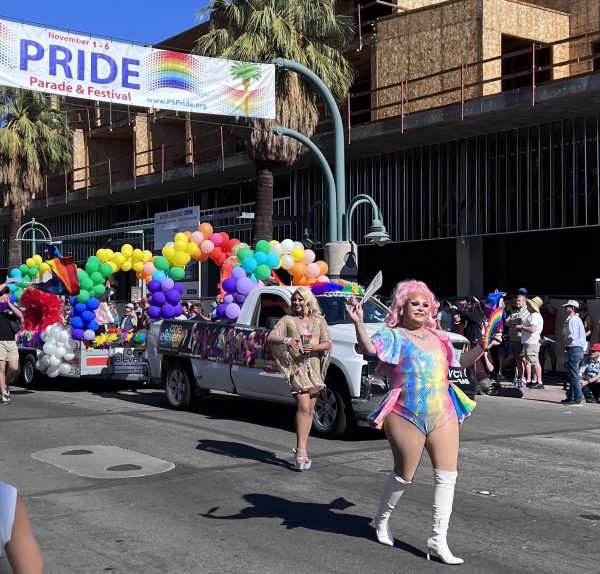 "The thing that Jeff and I love about Palm Springs Pride is that even though the event attracts more than 125,000, it still feels like a smalltown festival," he told us. "I especially like that the parade features local high school bands and students from local high school students all across the Coachella Valley."
"When we attended Pride celebrations 25 years ago in WeHo, it was practically an act of subversion and defiance just to show up. That's why, every year, I get really emotional just seeing these high school kids marching in a Pride parade," he added.