Ryan Murphy ready to take over Netflix
Lange to play Marlene Dietrich; Kidman and Streep star in 'Prom'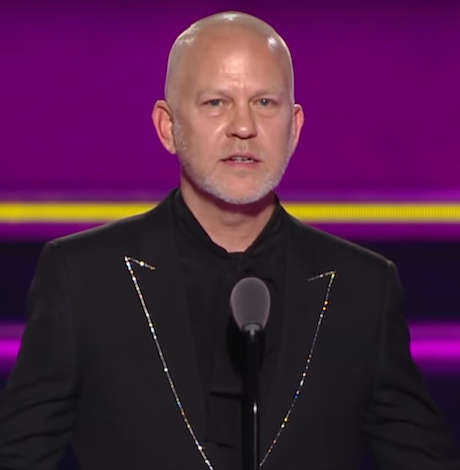 I'm not on a diet. I'm NEVER on a diet. LOOK AT ME!" — For those of you who didn't know, Meghan McCain is just fine with her weight.
I'm fascinated by people who dedicate their lives to conversion therapy. It just always strikes me as…I dunno, peculiar. Or, more often than not, just the last part of that word – "liar." So, color me surprised when I heard that the leader of one of the largest conversion therapy programs came out as…wait for it…GAY! McKrae Game ran "Hope for Wholeness" for almost two decades. Not only is he now admitting to being gay, he also has some choice words for his former vocation.
"Conversion therapy is not just a lie, but it's very harmful. Because it's false advertising." He may no longer work in the field, but he hasn't left heterosexuality completely behind. He is, in fact, still married to a woman. BTW, he says she knows he is gay. If she didn't before, she certainly does now!
Last week, Ryan O'Callaghan, an openly gay former member of the New England Patriots, released his memoir, "My Life on the Line." One passage has drawn quite a bit of interest: "I can promise you there's plenty of closeted NFL players. I think it's safe to say there's at least one on every team who is either gay or bisexual."
A week before that book was released, NFL free agent Ryan Russell published an essay on ESPN.com. Here's the salient passage: "Today, I have two goals: returning to the NFL, and living my life openly. I want to live my dream of playing the game I've worked my whole life to play, and being open about the person I've always been." Apparently that person isn't gay – he's bisexual.
Let's check back in a few months and see how that's going.
Then there's Jerry Falwell Jr. and Ben Crosswhite, his "personal trainer" (so that's what we're calling it now). It's been reported that in 2016, Falwell signed documents transferring ownership of an 18-acre fitness facility owned by Liberty University (his very Christian college) to Crosswhite, a recent Liberty graduate. While the purchase price was $1.2 million, the university reduced that by $650K in order to lease the tennis courts back from him through 2025. On top of that, Liberty financed the balance at 3-percent interest. Such favorable terms leave me with one question – exactly what is Crosswhite training? Publicly, Falwell credits Ben for helping him lose 75 pounds. Whatever they were doing, I suspect the word "pound" was employed. It bears mentioning that only a few weeks ago, we revealed that Falwell lent a young pool attendant in Miami almost $2 million to start a youth hostel.
Details of Ryan Murphy's marriage with Netflix are starting to take shape. There's a new show called "The Politician" that debuts later this month and stars Ben Platt, Jessica Lange and Gwyneth Paltrow. Speaking of Miss Lange, she will star in a series about the legendary Marlene Dietrich. Ryan also plans lots of Broadway-centric shows, including the just-filmed "The Boys in the Band" starring the entire cast from last year's Broadway hit, a film version of the Broadway musical "The Prom" starring Nicole Kidman and Meryl Streep, and a miniseries about "A Chorus Line." There will be a limited series about designer Halston starring Ewan McGregor, and a docu-series about Andy Warhol. Most tantalizing for me are two projects. One is a series called "Ratched" starring Sarah Paulson in the origin story of the nurse from "One Flew Over the Cuckoo's Nest." Paulson's real-life love, Holland Taylor, will join Patti LuPone for "Hollywood," which explores Tinseltown's relationship with the sex industry. That series will also star Darren Criss, who is an executive producer, and is due to debut next May.
Speaking of Patti LuPone, she is returning to Broadway. I reported it months ago, but it's now official that she will reprise the role of Joanne in the transfer of the West End production of "Company." As you'll recall, that production was notable for swapping the gender of several characters, most notably the lead Bobby, who became Bobbie. While Rosalie Craig led the London cast, Tony winner Katrina Lenk will play Bobbie on Broadway. The show opens on March 22nd, which just happens to be Stephen Sondheim's 90th birthday. See ya there!
You know where else you might see me? At the upcoming Gay Days Anaheim October 4-6. Way back in 1998, I was part of a scrappy band of people who wore red T-shirts and descended on Disneyland. From those roots, it's grown into a destination for gay people around the world. You can get more details and tickets at GayDaysAnaheim.com.
This week's "Ask Billy" question is one many of you had. Karl in Chicago writes, "You said James Van Der Beek will be on 'Dancing with the Stars'. But hasn't he already done that show? You ran photos of him dancing."
Yes and no. While playing a fictionalized version of himself on "Don't Trust The B—- in Apartment 23", his character competed on DWTS.
Before closing, I must acknowledge the passing of "Project Runway" alum Chris March. He was one of those people who lit up a room. He was a formidable presence and a big personality to match. Very quick, very catty, and beyond talented – my kinda guy. It's being reported that he had a massive heart attack at 56. If you have a question, send it along to [email protected] and I promise to get back to you before the NFL sends rookies to Ben Crosswhite for training (yes, that's what we're calling it now). Until next time, remember, one man's filth is another man's bible.
Wentworth Miller won't play straight anymore
And Scott Baio wins praise from Trump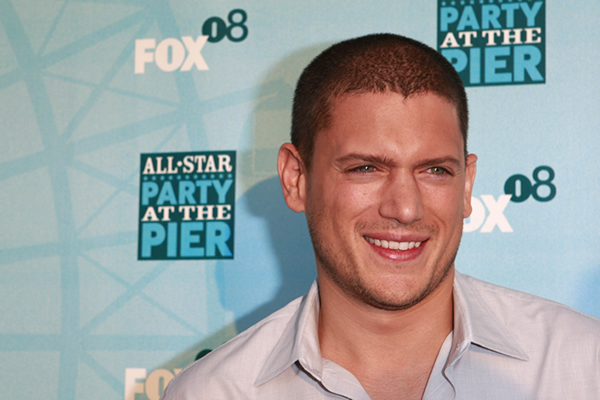 "You can't say that marriage is a union between one man and one woman. Until very recently, that's what the vast majority of Americans thought. Now it's considered bigotry." —Supreme Court Justice Samuel Alito. So much for impartiality.
Our opening quote could have been, "The road to hell is paved with good intentions." Melissa McCarthy's upcoming flick, "Superintelligence" had a carefully thought out promotional plan. During "20 Days of Kindness," HBO Max would donate $20K a day to a worthy charity. What could go wrong, right? Wrong. One of the recipients was Exodus Cry, an organization that is against reproductive choice and vilifies the LGBTQ community. When Melissa heard about this, she was outraged enough to cry through an apology. "There's no other way to say it – we blew it. We made a mistake and we backed a charity that, upon proper vetting, stands for everything that we do not. So I want to thank everyone on social media who said, 'What are you doing? Are you sure you want to back this?' Because the answer was no, we do not." How do you rectify that? McCarthy says, "We have pulled it." So who's getting that $20K?
I got a laugh when one outlet referred to thespian Scott Baio as a "former actor." Baio's good deed was to rearrange the mugs in his local Michael's to read "Trump Is Still Your President." "Thank you Scott, and stay tuned. You are terrific!" Tweeted Trump in response to Baio's photo. I don't know what's more shocking – that Trump thinks Scott is terrific, or that Baio is into crafting. Or, perhaps he was working in the mugs section that day.
Wentworth Miller made a revelation on Instagram regarding his future with "Prison Break." "I just don't want to play straight characters. Their stories have been told (and told). So. No more Michael. If you were a fan of the show, hoping for additional seasons…I understand this is disappointing. I'm sorry. If you're hot and bothered bec you fell in love with a fictional straight man played by a real gay one…That's your work." Miller's "Prison Break" brother, Dominic Purcell, was among the first to respond. "It was fun mate. What a ride it was. Fully support and understand your reasoning. Glad you have made this decision for your health and your truth. Keep the posts coming…love ya brother."
Then there's Viggo Mortensen – who, by all accounts, is heterosexual. He's writing, directing, and starring in his next film. My God – he's like the male Streisand. All he has to do is sing the theme song wearing Lee Press On Nails! Anyway, "Falling" is about a homophobic and racist man suffering from dementia. Viggo plays the man's son – who happens to be a gay, married man. Mortensen claims that this is not "a gimmick, anchor, or some trigger." In fact, he didn't originally write the role to be gay – but felt it made for a more compelling story. He added, "I apologize to all the proctologists for casting David Cronenberg" – who plays a proctologist in the film. I might add that I don't believe Viggo ever met any hobbits in real life!
FYI, I had already announced I was taking Thanksgiving Week off. But, due to circumstances beyond my control (and you know how I hate that), I'm going to be indisposed for this week as well. Fear not – we'll be back right with a special series of shows for December. Stay tuned.
Remember Michael Cohen? El Presidente's former fixer? He appears in a tantalizing video – courtesy of Matthew Camp, who is a former NYC go-go boy. For some reason, Cohen made a Cameo video where he says the following: "I just want to say how amazing Matthew Camp is on OnlyFans. Having a blast enjoying every minute with you guys. Good luck. Love it. Stay safe. Stay Covid-free. And, again, OnlyFans – having a blast with him." Things that make you go, "Hmm." I smell an endorsement coming for "Billy Masters LIVE". In the meantime, you can see both Camp and Cohen on BillyMasters.com.
If Cohen loves Camp, he'll love our "Ask Billy" question. Danny in San Francisco writes, "Did you hear that the Zakar Twins said they'd release some nude photos if Biden won? Well, where are they?"
Actually, they promised a whole lotta things. Things like this: "Will post nudes if (when?) Trump loses." They kinda modified the deal when they heard of Biden's win. "Alright, alright, a deals a deal. Butts out for Biden! You want full-frontal? Wait for AOC to take office." Of course, you don't want to wait. You just have to check out BillyMasters.com.
When brothers' butts are out for Biden (or, I venture to say, anyone else who comes along), it's time to end yet another column. Sorry to take this week off, but I'm dealing with some sticky situations – none of which concern my penis (at least, not yet). But there are more than enough penii for you on BillyMasters.com – the site that shows full-frontal with or without AOC! Even though I'm tied up, I'm never too busy to answer your questions. Feel free to write me at [email protected], and I promise to get back to you before Scott Baio gets promoted to Manager of Mugs at Michael's! So, until next time, remember, one man's filth is another man's bible.