Celine Dion does karaoke
And Pete Davidson reveals his DiCaprio crush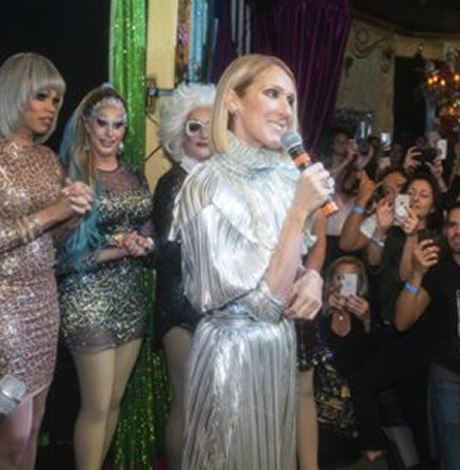 "Well, I used to jerk off to Leonardo DiCaprio." — Pete Davidson in "Paper" magazine. He clarifies, "Uhh, like his acting.  used to have a HUGE crush on Leonardo DiCaprio. I had this huge poster of him from 'The Beach' in my room." Well, that clarifies…err, nothing.
While the impeachment hearings limped to an end, one question remains: Did Hope kill Thomas by pushing him into a vat of acid?  These preemptions have made it impossible to follow "The Bold and the Beautiful." The one thing I'm certain of is that if Thomas did end up in boiling hydrofluoric acid, he's neither bold nor beautiful.
The original Broadway cast of "The Tale of the Allergist's Wife" reunited for a special reading to benefit Broadway Cares/Equity Fights AIDS. The idea for the reunion was sparked by Linda Lavin, the leading lady of the original Broadway production.  When she recently staged the play at her North Carolina theatre company, she played the role of the leading lady's mother, Frieda (played on Broadway by the late Shirl Bernheim). Linda knew that playwright Charles Busch always coveted the title role, so why not assemble the rest of the original cast and have Charles play Linda's role while Linda played the mother? Charles was in, but said that since Lavin played the role to perfection, he'd have to play it the way she did – "in homage." "There will be times Linda's going to feel like she's acting with herself." While Busch slipped into the title role effortlessly, Lavin still stole every scene she was a part of. As I quipped to Linda, "I can't think of another actress who returns to a play in which she stole the show 20 years ago, plays a different part, and steals the show again!" The event proved what a phenomenal piece of writing Busch's play is – it may even survive the proposed film version starring Bette Midler and Sharon Stone.
Just a few blocks away, the Roundabout Theatre was doing its own benefit reading on the same night. Oscar Wilde's "The Importance of Being Earnest" starred the formidable Angela Lansbury as the meddling Lady Bracknell. I'm told that Angela gave a terrific performance – obviously I wasn't there because, contrary to popular belief, I cannot be in two places at the same time (I can, however, be with two men at the same time, should that ever be relevant). Everyone says Angie seemed thrilled to be back onstage. The audience loved her, and she looked positively elated at the endless curtain calls. Two benefits for two great causes. Only in NYC.
Elsewhere in the Big Apple, Celine Dion turned up at drag karaoke, and why not?  She's probably the most convincing Celine Dion the place has seen! Miss Dion went to Lips to celebrate the release of her latest CD, "Courage." Celine also entered the karaoke competition by singing a new song, "Flying On My Own." Watch the video on BillyMasters.com and let me know if you would have voted for her or not.
While voting hasn't happened yet, Lil Nas X has already made Grammy history.  Last week, Nas got nominated for Artist of the Year, Album of the Year, Best New Artist, Best Pop Duo/Group Performance, Best Rap/Sung Performance, and Best Music Video. In short, this is an unprecedented number of plaudits going to an openly gay singer. You can check out his 12-inch on BillyMasters.com – free membership for all Grammy voters!
Jussie Smollett made good on his promise to sue the City of Chicago and the lead officer for how they handled his purported "attack." The suit really is a response to the Chicago asking that he pay back the $260K it cost to investigate. Instead of paying the bill (assuming he has the money), Jussie filed a countersuit claiming economic losses, legal bills, mental anguish and distress. I say we start a class action suit charging mental anguish and distress for the handful of us still watching "Empire." Talk about cruel and unusual punishment!
When daytime dramas are being preempted by the biggest soap opera of all, it's definitely time to end yet another column. Since this is our Thanksgiving column, let me tell you what I'm thankful for. First and foremost, I'm thankful that certain parts of my anatomy can bring so much pleasure to so many people. I'm thankful for the ability to laugh at others' misfortunes. I'm also thankful I'm not in therapy, where it would be pointed out that laughing at others' misfortunes is not healthy. But, most of all, I'm thankful for all of you who have been reading this column for close to 25 years – you really are the best part of this job. Thanks to the many papers that continue to publish me – even in these days when print media are in jeopardy. Lastly, thanks to the staff at BillyMasters.com – the legal eagles who keep me out of prison and the proofers who make sure that my penis is the only thing dangling. Should you have a question, a query, or a Quiznos sandwich you'd like to share (I'm partial to footlongs), get in touch with me at [email protected] and I promise to get back to you before I ever again write the word Wu.  So, until next time, remember, one man's filth is another man's bible.
Wentworth Miller won't play straight anymore
And Scott Baio wins praise from Trump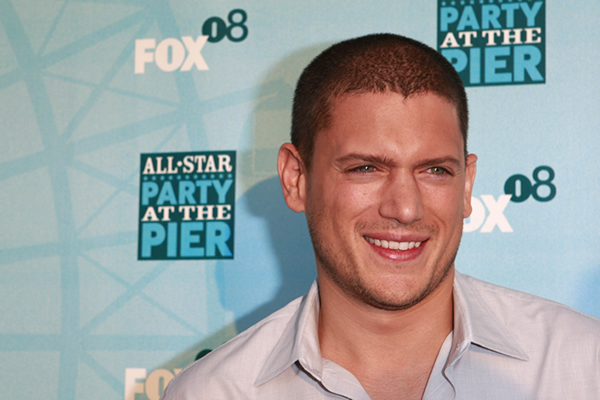 "You can't say that marriage is a union between one man and one woman. Until very recently, that's what the vast majority of Americans thought. Now it's considered bigotry." —Supreme Court Justice Samuel Alito. So much for impartiality.
Our opening quote could have been, "The road to hell is paved with good intentions." Melissa McCarthy's upcoming flick, "Superintelligence" had a carefully thought out promotional plan. During "20 Days of Kindness," HBO Max would donate $20K a day to a worthy charity. What could go wrong, right? Wrong. One of the recipients was Exodus Cry, an organization that is against reproductive choice and vilifies the LGBTQ community. When Melissa heard about this, she was outraged enough to cry through an apology. "There's no other way to say it – we blew it. We made a mistake and we backed a charity that, upon proper vetting, stands for everything that we do not. So I want to thank everyone on social media who said, 'What are you doing? Are you sure you want to back this?' Because the answer was no, we do not." How do you rectify that? McCarthy says, "We have pulled it." So who's getting that $20K?
I got a laugh when one outlet referred to thespian Scott Baio as a "former actor." Baio's good deed was to rearrange the mugs in his local Michael's to read "Trump Is Still Your President." "Thank you Scott, and stay tuned. You are terrific!" Tweeted Trump in response to Baio's photo. I don't know what's more shocking – that Trump thinks Scott is terrific, or that Baio is into crafting. Or, perhaps he was working in the mugs section that day.
Wentworth Miller made a revelation on Instagram regarding his future with "Prison Break." "I just don't want to play straight characters. Their stories have been told (and told). So. No more Michael. If you were a fan of the show, hoping for additional seasons…I understand this is disappointing. I'm sorry. If you're hot and bothered bec you fell in love with a fictional straight man played by a real gay one…That's your work." Miller's "Prison Break" brother, Dominic Purcell, was among the first to respond. "It was fun mate. What a ride it was. Fully support and understand your reasoning. Glad you have made this decision for your health and your truth. Keep the posts coming…love ya brother."
Then there's Viggo Mortensen – who, by all accounts, is heterosexual. He's writing, directing, and starring in his next film. My God – he's like the male Streisand. All he has to do is sing the theme song wearing Lee Press On Nails! Anyway, "Falling" is about a homophobic and racist man suffering from dementia. Viggo plays the man's son – who happens to be a gay, married man. Mortensen claims that this is not "a gimmick, anchor, or some trigger." In fact, he didn't originally write the role to be gay – but felt it made for a more compelling story. He added, "I apologize to all the proctologists for casting David Cronenberg" – who plays a proctologist in the film. I might add that I don't believe Viggo ever met any hobbits in real life!
FYI, I had already announced I was taking Thanksgiving Week off. But, due to circumstances beyond my control (and you know how I hate that), I'm going to be indisposed for this week as well. Fear not – we'll be back right with a special series of shows for December. Stay tuned.
Remember Michael Cohen? El Presidente's former fixer? He appears in a tantalizing video – courtesy of Matthew Camp, who is a former NYC go-go boy. For some reason, Cohen made a Cameo video where he says the following: "I just want to say how amazing Matthew Camp is on OnlyFans. Having a blast enjoying every minute with you guys. Good luck. Love it. Stay safe. Stay Covid-free. And, again, OnlyFans – having a blast with him." Things that make you go, "Hmm." I smell an endorsement coming for "Billy Masters LIVE". In the meantime, you can see both Camp and Cohen on BillyMasters.com.
If Cohen loves Camp, he'll love our "Ask Billy" question. Danny in San Francisco writes, "Did you hear that the Zakar Twins said they'd release some nude photos if Biden won? Well, where are they?"
Actually, they promised a whole lotta things. Things like this: "Will post nudes if (when?) Trump loses." They kinda modified the deal when they heard of Biden's win. "Alright, alright, a deals a deal. Butts out for Biden! You want full-frontal? Wait for AOC to take office." Of course, you don't want to wait. You just have to check out BillyMasters.com.
When brothers' butts are out for Biden (or, I venture to say, anyone else who comes along), it's time to end yet another column. Sorry to take this week off, but I'm dealing with some sticky situations – none of which concern my penis (at least, not yet). But there are more than enough penii for you on BillyMasters.com – the site that shows full-frontal with or without AOC! Even though I'm tied up, I'm never too busy to answer your questions. Feel free to write me at [email protected], and I promise to get back to you before Scott Baio gets promoted to Manager of Mugs at Michael's! So, until next time, remember, one man's filth is another man's bible.