Buttigieg rings the wrong bell
Mayor Pete unfairly slammed for work with Salvation Army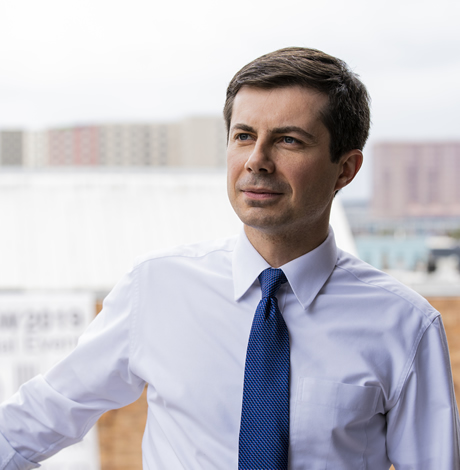 "I didn't bother going to school. I just found my inner pussy." — Sir Ian McKellen explains how he prepared for his role as Gus the Theatre Cat in the film version of the musical "Cats."
After a recent brief stay in Florida, I had to dash to Los Angeles to co-host "Sidebar with John Duran" on Channel Q Radio, which is syndicated around the country (you can hear the show on BillyMasters.com). The good thing about when I host something is I bring my own guests. I booked Jenifer Lewis, since she was appearing in Debbie Allen's "Hot Chocolate Nutcracker" gala the following night. And what a night it was. Shonda Rhimes donated a building to the Debbie Allen Dance Academy! And I learned that Berry Gordy gave Debbie the first $50K to get started. As to the show, there was never such a "Nutcracker." More than 200 gorgeous kids danced, sang, and acted their tails off. And speaking of tails, Jenifer Lewis played a rat. We were joined backstage by the young and restless Shemar Moore, who has a pretty hot tail himself.  You must check out the photos at BillyMasters.com.
An old photo has surfaced of Pete Buttigieg raising money for the Salvation Army — he's even wearing the apron and ringing the bell. Turns out, the mayor has a long history of working with the group and actually held a mayoral event at the Salvation Army center in 2018. As I told you last week after Ellie Goulding performed at the Dallas Cowboys' Salvation Army halftime show on Thanksgiving, the organization has a long history of anti-gay stances. However, the Salvation Army has said they have "evolved" on some of their views. Instead of people finding fault with Mayor Pete over groups he has volunteered for, why not focus on the fact that he actually volunteers?! I dunno about you, but I sure ain't standing outside in the cold ringing a bell for NOBODY!
And now, time for more of "Billy's Holiday Gift Giving Suggestions." Who doesn't love an ornament? And who doesn't love Broadway? You put those two things together and you get one of my favorite annual gifts – the Broadway Legends collectible ornament. Since 2008, Broadway Cares/Equity Fights AIDS has raised money by featuring an iconic Broadway performer immortalized as a handmade glass ornament.  For 2019, the honor goes to Angela Lansbury in the title role of "Mame." You can grab this one at BroadwayCares.org.
A couple of months ago, I went to an event that featured celebrities playing the game "You Don't Know My Life," which is described as "The TMI Party game with no wrong answers…just #inappropriate ones." The game was created by my pal Dennis Hensley with Jeb Havens, and is based on Hensley's experience of interviewing celebrities and asking odd questions to get them to tell offbeat stories. If you play this with the right people (the night I was there, both Frank DeCaro and Melissa Peterman were playing), it can be both hysterical and shocking. On that fateful night, I shared a long-forgotten story about me and Ben Stiller on an airplane – but I'll save that for another time. This is great to play with friends, both old and new. Grab it at YouDontKnowMyLifeGame.com.
Here's a first – this week's "Ask Billy" question comes from within my own organization. My proofreader Aaron writes, "I just read about Jason Derulo's dick being censored online.  So now I wanna see it."
Obviously I have the photo in question, but I didn't plan on running it. Why? They discussed this on "The Talk." If I live by one rule of thumb: There's no reason to share a story that has been discussed by Marie Osmond. But rules are made to be broken. Jason posted a photo where he was clad only in some tight-fitting black boxer briefs – briefs that showed a sizable tubular structure across the front. When a fan asked what was in there, Derulo said an "anaconda." Apparently harboring an animal in your undies is an Instagram no-no. The social media platform said the photo was "taken down for nudity or sexual activity." Jason shot back, "I can't help my size." When they discussed this on "The Talk," someone wondered if it was discrimination. Why can you show a large-breasted woman in a tight T-shirt but not a large-penised man in tight undies? Food for thought. That food was a bit much for Instagram, but it's an all-you-can-eat buffet at BillyMasters.com.
When being big is bad, it's definitely time to end yet another column. And be sure to visi BillyMasters.com, the site where size is never an issue.  If you have a question, send it along to [email protected] and I promise to get back to you before I tell you which celebrity mentioned in this week's column actually kissed my hand. Here's a hint – we have a nude photo of him on the website, too! So, until next time, remember, one man's filth is another man's bible.
Wentworth Miller won't play straight anymore
And Scott Baio wins praise from Trump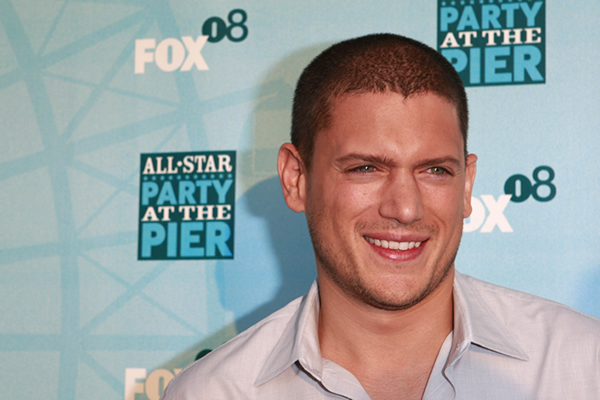 "You can't say that marriage is a union between one man and one woman. Until very recently, that's what the vast majority of Americans thought. Now it's considered bigotry." —Supreme Court Justice Samuel Alito. So much for impartiality.
Our opening quote could have been, "The road to hell is paved with good intentions." Melissa McCarthy's upcoming flick, "Superintelligence" had a carefully thought out promotional plan. During "20 Days of Kindness," HBO Max would donate $20K a day to a worthy charity. What could go wrong, right? Wrong. One of the recipients was Exodus Cry, an organization that is against reproductive choice and vilifies the LGBTQ community. When Melissa heard about this, she was outraged enough to cry through an apology. "There's no other way to say it – we blew it. We made a mistake and we backed a charity that, upon proper vetting, stands for everything that we do not. So I want to thank everyone on social media who said, 'What are you doing? Are you sure you want to back this?' Because the answer was no, we do not." How do you rectify that? McCarthy says, "We have pulled it." So who's getting that $20K?
I got a laugh when one outlet referred to thespian Scott Baio as a "former actor." Baio's good deed was to rearrange the mugs in his local Michael's to read "Trump Is Still Your President." "Thank you Scott, and stay tuned. You are terrific!" Tweeted Trump in response to Baio's photo. I don't know what's more shocking – that Trump thinks Scott is terrific, or that Baio is into crafting. Or, perhaps he was working in the mugs section that day.
Wentworth Miller made a revelation on Instagram regarding his future with "Prison Break." "I just don't want to play straight characters. Their stories have been told (and told). So. No more Michael. If you were a fan of the show, hoping for additional seasons…I understand this is disappointing. I'm sorry. If you're hot and bothered bec you fell in love with a fictional straight man played by a real gay one…That's your work." Miller's "Prison Break" brother, Dominic Purcell, was among the first to respond. "It was fun mate. What a ride it was. Fully support and understand your reasoning. Glad you have made this decision for your health and your truth. Keep the posts coming…love ya brother."
Then there's Viggo Mortensen – who, by all accounts, is heterosexual. He's writing, directing, and starring in his next film. My God – he's like the male Streisand. All he has to do is sing the theme song wearing Lee Press On Nails! Anyway, "Falling" is about a homophobic and racist man suffering from dementia. Viggo plays the man's son – who happens to be a gay, married man. Mortensen claims that this is not "a gimmick, anchor, or some trigger." In fact, he didn't originally write the role to be gay – but felt it made for a more compelling story. He added, "I apologize to all the proctologists for casting David Cronenberg" – who plays a proctologist in the film. I might add that I don't believe Viggo ever met any hobbits in real life!
FYI, I had already announced I was taking Thanksgiving Week off. But, due to circumstances beyond my control (and you know how I hate that), I'm going to be indisposed for this week as well. Fear not – we'll be back right with a special series of shows for December. Stay tuned.
Remember Michael Cohen? El Presidente's former fixer? He appears in a tantalizing video – courtesy of Matthew Camp, who is a former NYC go-go boy. For some reason, Cohen made a Cameo video where he says the following: "I just want to say how amazing Matthew Camp is on OnlyFans. Having a blast enjoying every minute with you guys. Good luck. Love it. Stay safe. Stay Covid-free. And, again, OnlyFans – having a blast with him." Things that make you go, "Hmm." I smell an endorsement coming for "Billy Masters LIVE". In the meantime, you can see both Camp and Cohen on BillyMasters.com.
If Cohen loves Camp, he'll love our "Ask Billy" question. Danny in San Francisco writes, "Did you hear that the Zakar Twins said they'd release some nude photos if Biden won? Well, where are they?"
Actually, they promised a whole lotta things. Things like this: "Will post nudes if (when?) Trump loses." They kinda modified the deal when they heard of Biden's win. "Alright, alright, a deals a deal. Butts out for Biden! You want full-frontal? Wait for AOC to take office." Of course, you don't want to wait. You just have to check out BillyMasters.com.
When brothers' butts are out for Biden (or, I venture to say, anyone else who comes along), it's time to end yet another column. Sorry to take this week off, but I'm dealing with some sticky situations – none of which concern my penis (at least, not yet). But there are more than enough penii for you on BillyMasters.com – the site that shows full-frontal with or without AOC! Even though I'm tied up, I'm never too busy to answer your questions. Feel free to write me at [email protected], and I promise to get back to you before Scott Baio gets promoted to Manager of Mugs at Michael's! So, until next time, remember, one man's filth is another man's bible.