October 19, 2020 at 5:15 pm PDT | by Brody Levesque
Arson suspected in Baldwin Park official ballot box fire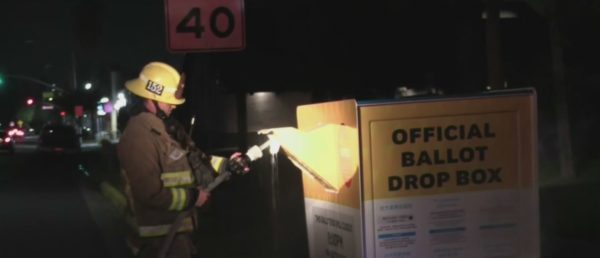 BALDWIN PARK – The fire Sunday evening in an official Los Angeles County elections drop-off box in the San Gabriel Valley city of Baldwin Park damaged voters' ballots, and is under investigation for arson a Los Angeles County Fire Department, (LACFD) spokesperson confirmed to the Blade Monday afternoon. The spokesperson also noted that the department dispatched three arson investigators and LACFD units spent nearly two hours on site fighting the fire and recovering the contents of the box.
According to the LACFD, the incident happened around 8 p.m. Sunday near 4100 Baldwin Park Blvd. in front of the city's public library. The fire inside the box looked to be set intentionally by an unknown suspect who threw burning newspapers into the box which required responding units to inundate the box with water from a fire hose inserted into it causing significant damage to the contents.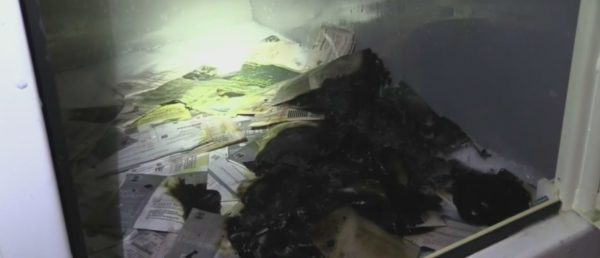 Broadcast news footage showed firefighters cutting into the box with a saw and dragging out stacks of wet and burnt ballots which were remanded to the custody of responding police units who in turn handed them over to the LA County Registrar's office.
Hilda L. Solis, the LA County First District Supervisor, which includes the heavily Latino majority Baldwin Park, in an emailed statement and on twitter said; "The arson of an official ballot drop box by the Baldwin Park Library in the First District has all the signs of an attempt to disenfranchise voters and call into question the security of our elections. Tampering, or attempts to tamper, with our democracy will not be tolerated."
A media statement issued by Los Angeles County Registrar & County Clerk Dean C. Logan noted that officials had last picked up from the affected box on Saturday. The registrar's office said Monday it was reviewing material collected from the damaged box "to determine the appropriate notifications to voters whose ballots may have been impacted".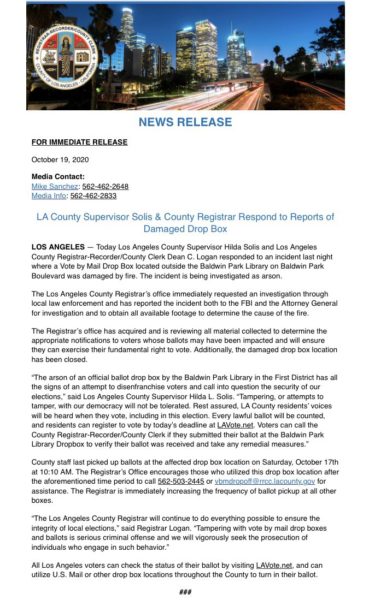 "Tampering with vote by mail drop boxes and ballots is serious criminal offense and we will vigorously seek the prosecution of individuals who engage in such behavior," said Logan.
A County government source told the Blade Monday afternoon that the County has asked both California Attorney General Xavier Becerra 's office and the FBI to investigate the crime.
"The residents, or those who decide to use this particular box, they voted already, so we need to reach out to them," Baldwin Park Mayor Manuel Lozano told several media outlets.
One witness to the aftermath of the fire while he was out biking, George Silva, 33, a local resident who runs an air conditioning business said to The Guardian,
"I saw a lot of smoke coming out of the ballot box Clearly somebody lit something and threw it in there. There's no way this was an accident. It's completely outrageous," he said adding, "I felt a sense of broken-heartedness and disappointment. I can't believe somebody would do this." He remarked that he has not voted yet telling The Guardian he now planned to cast his ballot in person when early voting begins later this month. "I'm waiting until I know my vote will be safe and secure."
The arson incident occurred one day before California ended its Mail-In Ballot registration Monday and a week after controversy erupted when California's Republican party commenced placing their own unauthorized ballot boxes in several counties. That action prompting Attorney General Becerra and Secretary of State Alex Padilla to send a cease-and-desist order demanding their removal. The state warned that the GOP boxes could mislead voters and violate the law.
Becerra and Padilla told reporters during a press briefing last Friday that neither of their offices were contemplating further action saying that the State Republican party had agreed to modify their self-described ballot harvesting efforts. Padilla noted that the state GOP had agreed to "no longer deploy these unstaffed, unsecured and unofficial ballot drop boxes."
Election officials across California have reported a record turnout. According to Calif. Secretary of State Padilla's office, more than one million Californians have returned their completed mail-in ballots as of Oct 14. Padilla's office told the LA Blade that nearly half of that number, around 435,000, came from LA County alone.
On the website for the L.A. County Recorder/Registrar's office are listed the location of the 400 county-owned secure ballot drop-off boxes. For further information or to track a ballot until its counted voters can sign up for "Where's My Ballot" on the website for the California Secretary of State. (Here)
Editor's Note:
California offers voter registration online, by mail, and in person. Online voter registration is available at RegisterToVote.ca.gov. You can also request and complete a paper voter registration form and mail or hand deliver it to your county elections official to register to vote.
Registration deadlines; Online: Oct. 19 By mail: Postmarked by Oct. 19 In person: Nov. 3
Absentee ballot deadlines Request: Oct. 27 Return by mail: Postmarked by Nov. 3 Return in person: Nov. 3 by 8:00 p.m.