Alleged Trans incident at upscale LA Spa may have been staged
The video quickly made the rounds in far right, and Trans-Exclusionary Feminist (TERF) sites and Anti-trans "feminist" websites.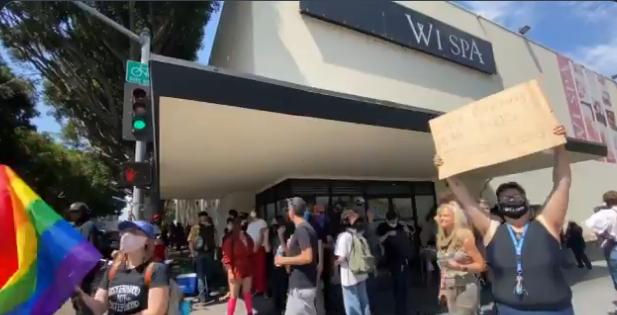 By Robert Lansing | LOS ANGELES – On June 24th, Instagram user "cubaangel" posted a video of herself angrily confronting a staff member at the Wi Spa in Koreatown, accusing them of letting a disrobed transgender person into the women's section of the business.
There is increasing doubt among law enforcement and staff at the Wi Spa whether there was ever was a transgender person there to begin with. Anonymous sources within the LAPD tell the Blade they have been unable to find any corroborating evidence that there was a transgender person present on that day.
Similarly, a source at the Spa told the Blade there's no record of any of its usual transgender clients on its appointments guest list on the day in question. Treatment at the Spa is by appointment only, and most of its transgender clients are well known to the staff.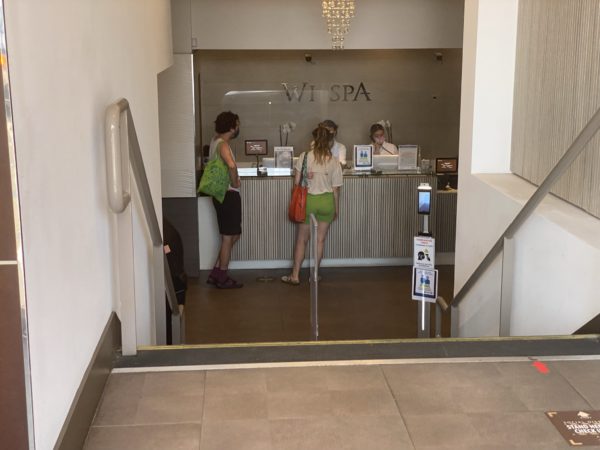 Several other factors cast doubt on the veracity of the claims in the video. Cubaangel's Instagram account is almost exclusively Christian memes, which begs the question why she chose to go to a spa well known for being LGBTQ friendly. During Cubaangel's video, no transgender person can be seen, and no other witnesses have come forward to confirm the allegations made. It's also not the first time Wi Spa has been targeted for catering to transgender people. After the alleged, unconfirmed incident, Wi Spa was deluged with 1-star Yelp! and Trip Advisor reviews.
It also remains a possibility that there was a person, unknown to the Wi Spa staff, who pretended to be transgender to create an inciting incident. In 2015, anti-transgender activists in Washington State deliberately encouraged men to enter women's facilities. One cisgender man entered a swimming pool changing area wearing only board shorts while claiming that he had a right to be there (he was removed from the premises without charges being filed).
The video quickly made the rounds in far right, and Trans-Exclusionary Feminist (TERF) sites. Anti-trans "feminist" websites like Mumsnet, Ovarit, and Spinster were sharing content by far right provocateurs known for disinformation, like Ian Miles Cheong, by June 27th.
Shortly thereafter, flyers for a protest on July 3rd began circulating in religious right, far right, and TERF social media circles, and were shared by Cubaangel on the 29th and users on Spinster. They discussed defending the alt-right troll website, Kiwifarms, which is known for targeting transgender women.
Prior to the protest, a Los Angeles trans woman was falsely accused by anti-trans feminists of being the alleged transgender person in the video. She received multiple death threats and harassment, including a picture of a masked man brandishing an assault weapon threatening to shoot her.
The anti-trans protest was a mix of religious fundamentalist street preachers, QAnon conspiracy theorists chanting "save our children," and Proud Boys. Black-bloc (like Antifa) and trans activists engaged in a counter protest at the same time, and violence erupted. Right wing personality Andy Ngo, who coordinates with far right groups when they're looking to engage in violence on camera, was also there.
A right-wing protestor drew a gun on a person recording the event and told him it was "something to shoot you with." A videographer wearing a vest marked "PRESS" was struck from behind by a right wing protester with a metal pipe. Another anti-trans protester stabbed two people: a pro-trans counter protester who was reportedly hospitalized by the wound, and a fellow anti-trans protesters while she was attempting to help him off the ground. The LAPD quickly declared the protest and counter-protest unlawful assemblies and dispersed them.
All of this fits into an emerging pattern of the alt-right, anti-Semitic conspiracy theorists, violent far right groups like the Proud Boys, the religious right, and anti-trans "feminists" collaborating and coordinating as they share the same media streams. Rhetoric against transgender people in popular right-wing media like Fox News has grown both more frequent, and more extreme. In April, Tucker Carlson (who serves as a gateway to the far right) declared that transgender people are a threat to the "perpetuation of the species."
Dr Joe Mulhall, head of research at the UK's renowned anti-extremist watchdog group Hope Not Hate, discussed this trend in a recent interview. "We see more anti-trans content from within the far right than against any other minority today… [They] disproportionally talk about trans rights way more than Muslims now". He sees transphobia as more accepted publicly than anti-Semitism. "Talking about Jews isn't. It ostracizes you. But if you talk about trans issues it opens the doors to the mainstream. The far right are saying things they know will be echoed in the comment pages of the right-wing press."
Flyers are circulating online advertising a second protest against Wi Spa on July 17th. LAPD sources says they are aware, and will be taking steps to avoid a repeat of July 3rd. However, as of publication, no warrants, indictment, or arrests have been made as a result of the violence.
Robert Lansing is a pseudonym for a long time investigative trans researcher and writer-journalist. Use of the pseudonym is to protect the writer from retribution and potential harm by right wing extremists.
Transgender Awareness Week 2021 begins as community is under siege
This annual tradition leading up to the Transgender Day of Remembrance brings awareness to the continued struggle the Trans community faces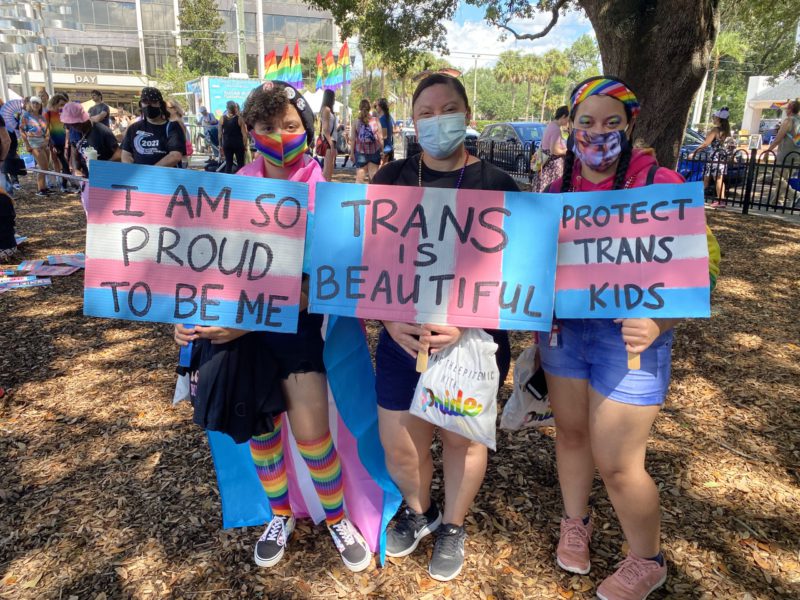 SAN DIEGO – The San Diego LGBT Center kicked off Transgender Awareness Week 2021 on Saturday November 13, by raising the Transgender Pride Flag over Hillcrest, San Diego's 'gayborhood.' Several community members, activists and representatives from the city and county's elected officials were in attendance.
This has become an annual tradition leading up to the Transgender Day of Remembrance on Nov. 20, which brings awareness to the continued struggle the transgender community faces and gives trans folks an opportunity to speak with their unique voices.
Last month hundreds of Out transgender people and allies from across Florida and from as far away as Southern California gathered in Orlando Saturday to rally and to march, demanding justice, equality and acceptance.
Chanting, "Trans Solidarity," and "Hey Hey, Ho, Ho, Transphobia Has Got To Go!" participants in the 3rd annual National Trans Visibility March stepped off for their first march to be held outside Washington, D.C. This was also the first in-person parade since last year's march was held mostly virtually, on account of the COVID-19 pandemic.
"There are so many of us who feel excluded from our cities and our communities," said Ariel Savage of Riverside, Calif.
Ebony Harper, the Executive Director of California TRANscends, a statewide initiative that promotes the health and wellness of transgender people throughout California with a focus on Black and Brown transgender communities spoke to the Blade Saturday afternoon addressing the needs of the Trans community;
"While our community has some visibility in media, we still live under threats of violence and having our rights stripped from us. That's our reality. This isn't a narrative; these are facts!
This year alone, over 102 anti-trans bills have been introduced in 7 states. 47 to prevent trans kids from playing sports and the majority attacking how trans folks receive healthcare.
"At least 45 transgender people were murdered this year, the majority Black and Latinx transgender women. I'm one of many Black trans women advocating for our community, but you as an ally can have a powerful impact; Spreading awareness, resisting "the status quo" for us, speaking-up, is harm prevention. That's humanizing our experience. We are divinely human, just as you are divinely human. That's what this week is about. It's about our humanity.
I'll be speaking at several Trans Day of Remembrance events here in Northern California and I will talk about how you, the ally, have contributed to what we have now, but we're just getting started. Find you a Transgender Week of Awareness event this week and show our community that we are in this together," Harper told the Blade.
With the news of the killing of Marquiisha Lawrence in Greenville, S.C. on November 4 the Human Rights Campaign has now officially recorded more violent deaths of transgender and gender non-conforming people than any year prior.
At least 45 transgender or gender non-conforming people have been killed this year; HRC Foundation uses "at least" because too often these stories go unreported or misreported. Previously, the highest number of fatal deaths of transgender or gender non-conforming people that HRC Foundation has tracked over a 12 month period was just last year in 2020, when at least 44 transgender or gender non-conforming people were killed.
"We are at a tragic and deeply upsetting moment: With the death of Marquiisha Lawrence, 2021 has become the deadliest year ever for transgender and gender non-conforming people. Each of these 45 names represents a whole person and a rich life torn from us by senseless violence, driven by bigotry and transphobia and stoked by people who hate and fear transgender people and the richness of their experience," Joni Madison, interim president of the Human Rights Campaign, said.
"Dehumanizing rhetoric has real-life consequences for the transgender community, particularly transgender women of color but especially Black transgender women. As we have seen an unprecedented number of bills introduced in state legislatures attacking transgender youth and trans adults, the moment we are in is clear. They have attacked transgender people's right to health care, right to exist in public, and right to live openly, with the ultimate goal of dehumanizing and erasing their lives and experiences," she added.
In Tampa, Florida, another Trans woman of colour was found murdered further raising the number of Trans women who were killed this year.
We are heartbroken to share news of the murder of Jenny, a 25-year old transgender woman, who was killed in Tampa Bay on November 2nd. Jenny is the 46th known trans or nonbinary person killed this year, making 2021 the deadliest year on record for trans Americans. #SayHerName pic.twitter.com/A3jbWgQDhY

— Equality Florida (@equalityfl) November 11, 2021
"Prominent Republicans are holding up the authoritarian Hungarian state as the model for the US to follow, in great part because Hungary has ended all government recognition of trans people, and criminalized LGBT media content. We are running out of time to prevent the effective end of the trans community in America."

Brynn Tannehill, Trans author, Los angeles blade columnist and activist.
"In the face of seemingly insurmountable barriers, including a record number of anti-transgender bills and fatal violence, the trans community remains resilient and vibrant. The strength displayed by transgender and nonbinary youth in response to these attacks has been remarkable and should serve as a call to action for us all," said Carrie Davis Chief Community Officer for The Trevor Project. "Every person has a role to play in creating a safer world for young trans people. The Trevor Project recently released a study that found transgender and nonbinary young people who feel accepted by the people in their lives are less likely to attempt suicide. This week, and every week, let us make clear that transgender and nonbinary youth deserve love, respect, and to live their lives without fear of discrimination and violence."
Relevant Research
New Study: Acceptance of Transgender and Nonbinary Youth from Adults and Peers Associated with Significantly Lower Rates of Attempting Suicide
Transgender and nonbinary youth who reported gender identity acceptance from at least one adult had 33% lower odds of reporting a past-year suicide attempt.
Transgender and nonbinary youth who reported gender identity acceptance from at least one peer had 34% lower odds of reporting a past-year suicide attempt.
According to The Trevor Project's 2021 National Survey on LGBTQ Youth Mental Health:
More than half (52%) of transgender and nonbinary youth seriously considered attempting suicide in the past year— and 1 in 5 attempted suicide.
78% of trans youth stated that their mental health was "poor" most of the time or always during COVID-19.
However, the data also illuminate protective factors:

Transgender and nonbinary youth attempt suicide less when respect is given to their pronouns, when they are allowed to officially change their legal documents, and when they have access to spaces that affirm their gender identity.

Transgender and nonbinary youth who reported having pronouns respected by all of the people they lived with attempted suicide at half the rate of those who did not have their pronouns respected by anyone with whom they lived.
Further, a peer-reviewed study found that transgender and nonbinary youth who report experiencing discrimination based on their gender identity had more than double the odds of attempting suicide in the past year compared to those who did not experience gender identity-based discrimination.
Research Brief: Diversity of Nonbinary Youth
One in four LGBTQ youth (26%) in our sample of nearly 35,000 identified as nonbinary. An additional 20% reported that they are not sure or are questioning if they are nonbinary.
While nonbinary identities have often been grouped under the umbrella term of "transgender," our data show that only 50% of youth who identified as nonbinary also identified as transgender.
The majority of nonbinary youth reported exclusively using pronouns outside of the gender binary, such as "they/them" (33%) or neopronouns (5%), such as "xe/xem."
When asked about ways other people can make them feel happy or euphoric about their gender, nonbinary youth overwhelmingly responded: having people in their life use the correct name and pronouns to refer to them. Nonbinary youth who reported that "no one" respected their pronouns had more than 2.5x the rate of attempting suicide compared to those who reported that "all or most of the people" they know respected their pronouns.
Research Report: All Black Lives Matter: Mental Health of Black LGBTQ Youth
One in three Black LGBTQ youth identified as transgender or nonbinary
44% of Black LGBTQ youth seriously considered suicide in the past 12 months, including 59% of Black transgender and nonbinary youth
25% of Black transgender and nonbinary youth reported that they had been physically threatened or harmed in their lifetime due to their gender identity
Black transgender and nonbinary youth reported twice the rate of police victimization (6%) compared to cisgender Black LGBQ youth (3%). Black LGBTQ youth who were involved with police victimization due to their LGBTQ identity reported rates of suicide attempts (32%) that were nearly double that of youth who were not (17%).