Kathy Griffin's New Year's surprise
And Gus Kenworthy has some fun in Palm Springs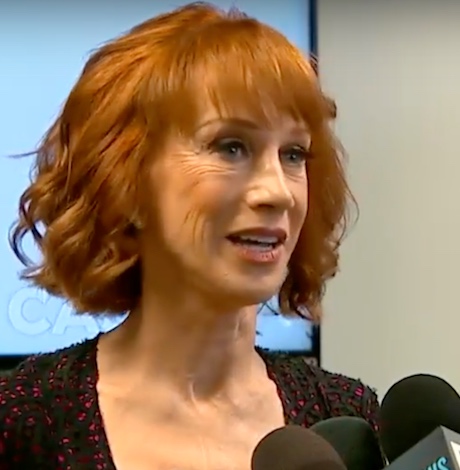 "This is 20/20." — Cheri Oteri rings in the New Year as Barbara Walters alongside a stoic Andy Cohen and a giggling Anderson Cooper on CNN.
I'm a lot like Tina Turner. Now, the obvious question to ask is, "How, Billy, are you like Tina Turner?" Sometimes I like my life to be nice and easy; but sometimes, I like it to be nice and rough. I was thinking – what would be a good challenge for this, the dawn of a new decade?  Then it hit me — we've got 50 states in this country (more or less), and we've got 50 weeks in a year (more or less). So, why not try and have sex with a guy from a different state each week.  I've built in a lot of conditions for this challenge. First off – none of this has to be done alphabetically. Also, layover sex in an airport definitely counts. However, the guy and I don't need to have sex in the state in question. But since I'm a stickler for details, IDs should be consulted – even at certain gatherings where clothing is not required. Come to think of it, on a good night I could cross like a baker's dozen states off the list if I'm lucid enough to keep track.  Let's see how this goes – and how often I need to go to urgent care.
Kathy Griffin didn't need a gig on New Year's Eve to make headlines. Forget about CNN and ABC. Kathy had a captive audience watching her ring in the New Year from her palatial home, where she GOT MARRIED! Yes, Griffin married her on-again/off-again beau Randy Bick. To make it a truly gayla affair, the officiant was the legendary Lily Tomlin, while Tomlin's spouse, the great Jane Wagner, was a witness. It's not God, but it's close.
I wonder if Russell Tovey and Steve Brockman will become the Colton Haynes and Jeff Leatham of 2020 (there's a chance many of you reading this would not be able to identify any of those four people in a police lineup). Tovey and Brockman were dating in 2017. They got engaged in 2018. Later that year, they broke up (perhaps that coincided with news of Brockman's gay porn past going public). Last year, they started dating again. And as the year drew to a close, they were once again engaged. Looking forward to more drama with those crazy kids in 2020.
Gus Kenworthy has no use for kids. He's courting an older crowd. How much older? In the words of Mame Dennis, somewhere between 40 and death. Gus was recorded meeting a group of three gay men who are denizens of God's waiting room, Palm Springs (Fort Lauderdale is God's parking lot). When shown a photo, the men seemed unsure who Gus was. One said, "Who was that Olympic skier? Adam Rippon's friend. Chuck Helmsworthy?"  In the words of Jesus' parents – Oy!  Once Gus was correctly IDed, he came out to meet the oldsters, who were quite smitten – after all, Kenworthy is both dashing and delightful. Well, that and as one guy kept pointing out, he's got those thighs and that ass. Check out this fun video on BillyMasters.com.
As 2019 drew to a close, we lost a giant among men – the legendary composer Jerry Herman. It's interesting to note that 2019 began with the death of Herman's dear friend and muse, Carol Channing. I don't think Jerry would want us to remember him by mourning. He'd want us to celebrate life — something he did in all of his musicals. And the fact that he was diagnosed as HIV-positive in 1985 and lived 34 years proves something. So long, dearie.
Our first "Ask Billy" question of the year isn't particularly gay, but it amuses me. Frank in Detroit asks, "Have you seen the 'Mad About You' reboot?  I love it – but where is Fran?"
I love it too. The chemistry between Paul Reiser and Helen Hunt is perfect, as is the writing. A hallmark of the original sitcom was the quirky supporting characters. I'm glad to see Ira, Lisa and Mark back. As to Fran, actress Leila Kenzle (who played the role) gave up acting a few years ago and is now a psychotherapist. The irony is Fran's onscreen husband, Mark, is now married to Tonya, who is, you guessed it, a therapist!  If the studio just matched Leila's hourly rate, they could probably get her to do a cameo.
When someone charging an hourly rate is NOT the subject of a blind item, it's definitely time to end yet another column. While I get my agent on the phone, let me remind you to get the latest gossip (and casting ideas) at BillyMasters.com – the site that has nothing against you doing it on the couch. If you have a question for me – or if you're an Alaskan visiting Los Angeles for the weekend – send an e-mail to [email protected] and I'll get back to you once I'm south of the Mason-Dixon Line. Until next time, remember, one man's filth is another man's bible.
Wentworth Miller won't play straight anymore
And Scott Baio wins praise from Trump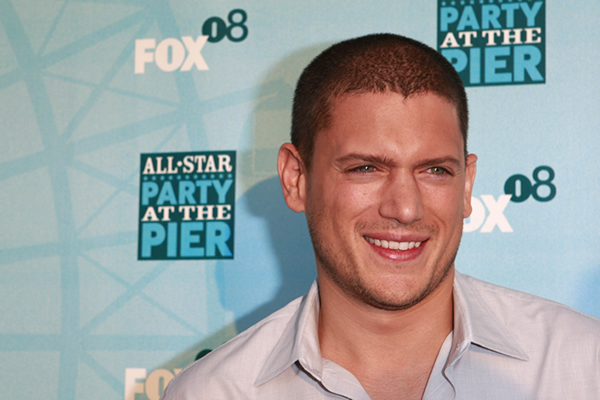 "You can't say that marriage is a union between one man and one woman. Until very recently, that's what the vast majority of Americans thought. Now it's considered bigotry." —Supreme Court Justice Samuel Alito. So much for impartiality.
Our opening quote could have been, "The road to hell is paved with good intentions." Melissa McCarthy's upcoming flick, "Superintelligence" had a carefully thought out promotional plan. During "20 Days of Kindness," HBO Max would donate $20K a day to a worthy charity. What could go wrong, right? Wrong. One of the recipients was Exodus Cry, an organization that is against reproductive choice and vilifies the LGBTQ community. When Melissa heard about this, she was outraged enough to cry through an apology. "There's no other way to say it – we blew it. We made a mistake and we backed a charity that, upon proper vetting, stands for everything that we do not. So I want to thank everyone on social media who said, 'What are you doing? Are you sure you want to back this?' Because the answer was no, we do not." How do you rectify that? McCarthy says, "We have pulled it." So who's getting that $20K?
I got a laugh when one outlet referred to thespian Scott Baio as a "former actor." Baio's good deed was to rearrange the mugs in his local Michael's to read "Trump Is Still Your President." "Thank you Scott, and stay tuned. You are terrific!" Tweeted Trump in response to Baio's photo. I don't know what's more shocking – that Trump thinks Scott is terrific, or that Baio is into crafting. Or, perhaps he was working in the mugs section that day.
Wentworth Miller made a revelation on Instagram regarding his future with "Prison Break." "I just don't want to play straight characters. Their stories have been told (and told). So. No more Michael. If you were a fan of the show, hoping for additional seasons…I understand this is disappointing. I'm sorry. If you're hot and bothered bec you fell in love with a fictional straight man played by a real gay one…That's your work." Miller's "Prison Break" brother, Dominic Purcell, was among the first to respond. "It was fun mate. What a ride it was. Fully support and understand your reasoning. Glad you have made this decision for your health and your truth. Keep the posts coming…love ya brother."
Then there's Viggo Mortensen – who, by all accounts, is heterosexual. He's writing, directing, and starring in his next film. My God – he's like the male Streisand. All he has to do is sing the theme song wearing Lee Press On Nails! Anyway, "Falling" is about a homophobic and racist man suffering from dementia. Viggo plays the man's son – who happens to be a gay, married man. Mortensen claims that this is not "a gimmick, anchor, or some trigger." In fact, he didn't originally write the role to be gay – but felt it made for a more compelling story. He added, "I apologize to all the proctologists for casting David Cronenberg" – who plays a proctologist in the film. I might add that I don't believe Viggo ever met any hobbits in real life!
FYI, I had already announced I was taking Thanksgiving Week off. But, due to circumstances beyond my control (and you know how I hate that), I'm going to be indisposed for this week as well. Fear not – we'll be back right with a special series of shows for December. Stay tuned.
Remember Michael Cohen? El Presidente's former fixer? He appears in a tantalizing video – courtesy of Matthew Camp, who is a former NYC go-go boy. For some reason, Cohen made a Cameo video where he says the following: "I just want to say how amazing Matthew Camp is on OnlyFans. Having a blast enjoying every minute with you guys. Good luck. Love it. Stay safe. Stay Covid-free. And, again, OnlyFans – having a blast with him." Things that make you go, "Hmm." I smell an endorsement coming for "Billy Masters LIVE". In the meantime, you can see both Camp and Cohen on BillyMasters.com.
If Cohen loves Camp, he'll love our "Ask Billy" question. Danny in San Francisco writes, "Did you hear that the Zakar Twins said they'd release some nude photos if Biden won? Well, where are they?"
Actually, they promised a whole lotta things. Things like this: "Will post nudes if (when?) Trump loses." They kinda modified the deal when they heard of Biden's win. "Alright, alright, a deals a deal. Butts out for Biden! You want full-frontal? Wait for AOC to take office." Of course, you don't want to wait. You just have to check out BillyMasters.com.
When brothers' butts are out for Biden (or, I venture to say, anyone else who comes along), it's time to end yet another column. Sorry to take this week off, but I'm dealing with some sticky situations – none of which concern my penis (at least, not yet). But there are more than enough penii for you on BillyMasters.com – the site that shows full-frontal with or without AOC! Even though I'm tied up, I'm never too busy to answer your questions. Feel free to write me at [email protected], and I promise to get back to you before Scott Baio gets promoted to Manager of Mugs at Michael's! So, until next time, remember, one man's filth is another man's bible.