The ubiquitous RuPaul
She's everywhere — except on a talk show that was rejected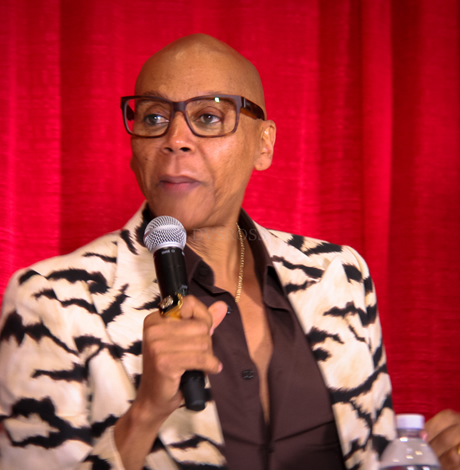 "OK, people, time to recalibrate our gaydar. Batwoman is a lesbian? Not that there's anything wrong with that, but talk to me, Gotham – whatever happened to politics staying out of our superheroes?" – Not only did "Batwoman" just out herself, it was discussed in the on-air commentary of Vesper Fairchild – as voiced by Rachel Maddow.
"Some people call it a train wreck. We call it 'The View.'" Truer words were never spoken than during this "Saturday Night Live" spoof of the talk show's opening (said by Cheri Oteri as Barbara Walters). Whatever you may think about "The View," it is appointment television. The show not only reports the news – it makes news. And it opened the new year with a bombshell – the departure of right-of-center Abby Huntsman. A popular co-host's departure would be news at any time. But a co-host's departure during an election year is huge – especially for a show the New York Times recently dubbed "The most important political TV show in America." The first question is why – why is Abby leaving? The immediate answer is that she's going to help her father, who is running for governor of Utah. But then, more tidbits trickled out. First, who knew that Meghan McCain was pregnant? Hands? Anyone? Apparently, she was pregnant last summer and even wrote a New York Times piece about her miscarriage.  So, bad Billy – I missed this entirely (in my defense, in the summer I am at my most self-involved and promiscuous). According to sources, Meghan considered Abby's on-air "child-centric chats" during this difficult time "insensitive." While this isn't the only reason Abby left, the term "toxic work environment" was brought up more than once.  Abby's dad running for governor may simply be a good excuse.
This leaves us with the bigger question – who will fill the seat? An election year is not the time for a revolving door of co-hosts. Friday fill-in Ana Navarro would be a perfect fit, but she won't relocate to NYC. Perpetual also-ran, Rachel Campos, has surely already made herself available. What I believe the show needs is a newswoman. Of course, Meredith Vieira is the obvious answer. Diane Sawyer likely doesn't want to continue being a Barbara Walters stand-in. But what about ABC's former golden girl Elizabeth Vargas?  She'd fit in perfectly. Or, if the show wants to be really edgy, why not reach out to Megyn Kelly? Replace one "Bombshell" character with another?
Meanwhile in Hollywood, I was invited to a gathering of the leading ladies of "Knots Landing" at the Hollywood Museum. Michele Lee, Donna Mills, and Joan Van Ark were on hand to unveil an exhibit of costumes that were worn on the nighttime sudser. These events always bring out some luminaries from Hollywood's bygone days.  At one point, I found myself standing between Kathy Garver from "Family Affair" and Donna Pescow from "Angie." I think that's when Anson Williams stopped by to say hi.  The "Knots" ladies were delightful, and I was happy to catch up with each of them. I saw Michele Lee two months ago when she joined the Broadway cast of "The Tale of the Allergist's Wife" in a special performance for The Actors Fund. I spent time with Joan Van Ark last year when she participated in an all-star reading of "Valley of the Dolls" to raise money for the LA LGBT Center. And a few months earlier, I saw Donna Mills in "Driving Miss Daisy." The fact that all three of these ladies recently did high-profile theatre events got me thinking – why not find a project for them to do together? "Why not?" said Van Ark, excitedly. "We could do it as a big benefit. We'd have a ball."
It's been a great few years for RuPaul. She's everywhere. OK, perhaps not on FOX, which took a hard pass on Ru's daytime talk show. But it certainly isn't slowing the drag diva down. She's starring in "AJ and the Queen," which has a 10-episode commitment from Netflix and producer Michael Patrick King. And she's got another season of the award-winning "RuPaul's Drag Race." Then there's a Las Vegas residency coming up at the Flamingo Hotel (formerly the home of Donny and Marie). And "RuPaul's Drag Race: UK" was a huge hit. Alas, that also led to some woes. Last weekend, the UK hosted its first-ever DragCon – a popular event for drag queens and their fans. DragCon was a victim of its own success, with too many tickets being sold and people queuing in lines for hours. Photos at the Olympia London (the venue) show hordes both inside and out.  World of Wonder (the producers) issued a statement offering to honor tickets the next day, or offer refunds.
With all this hoopla, more producers are cashing in on the drag craze. TLC has announced a new show – "Dragnificent!", which will star "Drag Race" alumnae Jujubee, Bebe Zahara Benet, Thorgy Thor and Alexis Michelle as sort of a drag version of "Queer Eye." The ladies will travel around and try to make people's lives better. I hope they let them loose on some of those people from "My 600-lb Life!" The show debuts in the spring.
When Jujubees aren't just for eating, it's definitely time to end yet another column.  You know what's never a drag? Checking out BillyMasters.com – the site where you'll never wait to be serviced.  If you'd like to cut to the front of the line, drop a note to [email protected] and I promise to get back to you before RuPaul replaces Abby Huntsman on "The View." Until next time, remember, one man's filth is another man's bible.
Wentworth Miller won't play straight anymore
And Scott Baio wins praise from Trump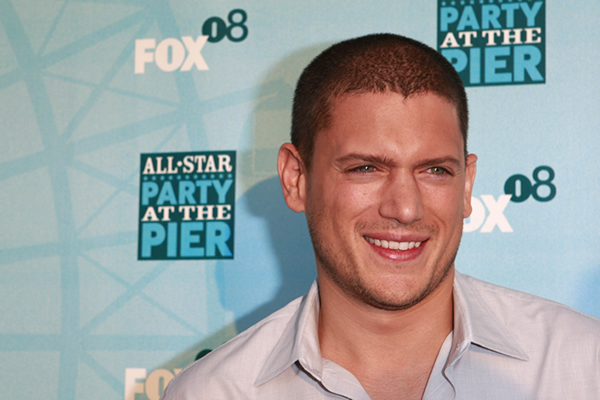 "You can't say that marriage is a union between one man and one woman. Until very recently, that's what the vast majority of Americans thought. Now it's considered bigotry." —Supreme Court Justice Samuel Alito. So much for impartiality.
Our opening quote could have been, "The road to hell is paved with good intentions." Melissa McCarthy's upcoming flick, "Superintelligence" had a carefully thought out promotional plan. During "20 Days of Kindness," HBO Max would donate $20K a day to a worthy charity. What could go wrong, right? Wrong. One of the recipients was Exodus Cry, an organization that is against reproductive choice and vilifies the LGBTQ community. When Melissa heard about this, she was outraged enough to cry through an apology. "There's no other way to say it – we blew it. We made a mistake and we backed a charity that, upon proper vetting, stands for everything that we do not. So I want to thank everyone on social media who said, 'What are you doing? Are you sure you want to back this?' Because the answer was no, we do not." How do you rectify that? McCarthy says, "We have pulled it." So who's getting that $20K?
I got a laugh when one outlet referred to thespian Scott Baio as a "former actor." Baio's good deed was to rearrange the mugs in his local Michael's to read "Trump Is Still Your President." "Thank you Scott, and stay tuned. You are terrific!" Tweeted Trump in response to Baio's photo. I don't know what's more shocking – that Trump thinks Scott is terrific, or that Baio is into crafting. Or, perhaps he was working in the mugs section that day.
Wentworth Miller made a revelation on Instagram regarding his future with "Prison Break." "I just don't want to play straight characters. Their stories have been told (and told). So. No more Michael. If you were a fan of the show, hoping for additional seasons…I understand this is disappointing. I'm sorry. If you're hot and bothered bec you fell in love with a fictional straight man played by a real gay one…That's your work." Miller's "Prison Break" brother, Dominic Purcell, was among the first to respond. "It was fun mate. What a ride it was. Fully support and understand your reasoning. Glad you have made this decision for your health and your truth. Keep the posts coming…love ya brother."
Then there's Viggo Mortensen – who, by all accounts, is heterosexual. He's writing, directing, and starring in his next film. My God – he's like the male Streisand. All he has to do is sing the theme song wearing Lee Press On Nails! Anyway, "Falling" is about a homophobic and racist man suffering from dementia. Viggo plays the man's son – who happens to be a gay, married man. Mortensen claims that this is not "a gimmick, anchor, or some trigger." In fact, he didn't originally write the role to be gay – but felt it made for a more compelling story. He added, "I apologize to all the proctologists for casting David Cronenberg" – who plays a proctologist in the film. I might add that I don't believe Viggo ever met any hobbits in real life!
FYI, I had already announced I was taking Thanksgiving Week off. But, due to circumstances beyond my control (and you know how I hate that), I'm going to be indisposed for this week as well. Fear not – we'll be back right with a special series of shows for December. Stay tuned.
Remember Michael Cohen? El Presidente's former fixer? He appears in a tantalizing video – courtesy of Matthew Camp, who is a former NYC go-go boy. For some reason, Cohen made a Cameo video where he says the following: "I just want to say how amazing Matthew Camp is on OnlyFans. Having a blast enjoying every minute with you guys. Good luck. Love it. Stay safe. Stay Covid-free. And, again, OnlyFans – having a blast with him." Things that make you go, "Hmm." I smell an endorsement coming for "Billy Masters LIVE". In the meantime, you can see both Camp and Cohen on BillyMasters.com.
If Cohen loves Camp, he'll love our "Ask Billy" question. Danny in San Francisco writes, "Did you hear that the Zakar Twins said they'd release some nude photos if Biden won? Well, where are they?"
Actually, they promised a whole lotta things. Things like this: "Will post nudes if (when?) Trump loses." They kinda modified the deal when they heard of Biden's win. "Alright, alright, a deals a deal. Butts out for Biden! You want full-frontal? Wait for AOC to take office." Of course, you don't want to wait. You just have to check out BillyMasters.com.
When brothers' butts are out for Biden (or, I venture to say, anyone else who comes along), it's time to end yet another column. Sorry to take this week off, but I'm dealing with some sticky situations – none of which concern my penis (at least, not yet). But there are more than enough penii for you on BillyMasters.com – the site that shows full-frontal with or without AOC! Even though I'm tied up, I'm never too busy to answer your questions. Feel free to write me at [email protected], and I promise to get back to you before Scott Baio gets promoted to Manager of Mugs at Michael's! So, until next time, remember, one man's filth is another man's bible.