Not again! Aaron Carter nude pics surface
And the gay porn awards return to Vegas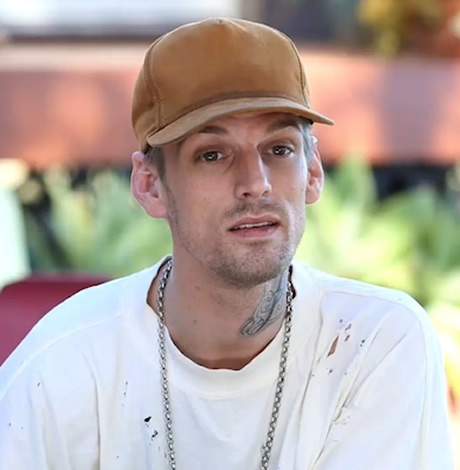 "Man dies after getting attacked by his rooster on their way to a cockfight in India." It may only be January, but we have a contender for best headline of 2020.
I barely know who Calum Scott is, and yet I identify with him. The "Britain's Got Talent" winner took to social media to discuss his weight fluctuation whilst on the road.  He posted three shirtless pics from his 2018 tour which were only weeks apart but showed a drastic difference in definition. He added "I always yo-yo with my weight because I love wine and carbs but I learned that that's ok. It's about making sure you train hard and eat well, then the treats are well deserved. Who is getting fit in 2020?" He had me till he mentioned training hard and eating well!
The U.S. Navy is investigating a series of videos of sailors taken in a bathroom.  Allegedly, dozens of service members were surreptitiously videotaped. The theory is that the videos were taken through a peephole…shades of Erin Andrews. Of the sailors still in uniform, some have their name badges clearly visible. The videos also include some civilians – which begs the question, where is this bathroom with civilians frolicking with nude sailors?
Speaking of gay porn, the hottest ticket in Las Vegas last week was the GayVN Awards – the most prestigious gay porn awards show. Once again, gay porn stars hit Sin City for a sexy, swanky event at the Hard Rock. Although I was once again a judge for these festivities, I wasn't able to make it to Las Vegas. Still, I'm happy to report that many of my choices ended up winning. The show even managed to make history. DeAngelo Jackson won Best Actor – making him the first gay African-American actor to win such an award.
Closer to home, there was a special revival of the camp classic "Women Behind Bars" staged at the Montalban Theatre in Los Angeles. Some of my younger readers may not know that this play was written by Tom Eyen – who also wrote the book for the musical "Dreamgirls." My older readers probably remember this play from the legendary 1976 New York production starring Divine (who also brought the show to London the following year). I was delighted to see that one of the original producers – Alan Eichler – was a producer for this revival. The all-star cast included a surprisingly skillful Traci Lords, a scene-stealing Miss Coco Peru, and the legendary Mink Stole playing twins! I'd be remiss if I neglected to mention the presence of gay porn star Wesley Woods, who showed off some stage skin – and his penis. One of the performances was filmed – and that show was introduced by Kathy Griffin. We'll keep you posted on where and when you can see it.  In the meantime, you can check out Wesley's wood on BillyMasters.com.
Here we are, at the end of January 2020, and I haven't published a celebrity nude OR an "Ask Billy" question. Well, brace yourselves – we've got one of each this week.  First up, Aaron Carter. Last year, there was that quickie webcam glimpse we got of his nether regions. This year, a series of four shots of his penis at full staff surfaced – and I swear it has nothing to do with the Navy. But you can salute it at BillyMasters.com.
Our "Ask Billy" question is about a subject I'd been following. Mark in Boston writes, "On Gavin Degraw's podcast, Julianne Hough's husband Brooks Laich recently said that he is taking a break from their marriage to 'really dive into his sexuality'. WTF?  He's really hot, so if you have any nude photos, that would be great, too."
You may recall last year, Julianne defined herself as "not straight" – and I will once again remind you that this "not straight" woman once dated Ryan Seacrest…who I always thought was using Julianne to get to Derek, but that's another story. Recently, Julianne's hubby, hockey player Brooks Laich, posted on Instagram some of his goals for 2020: "I want to learn more about intimacy and my sexuality." Perhaps he should call Ryan…or Derek. Needless to say, his comment to Degraw (on the podcast they co-host) didn't surprise me. I wouldn't be surprised if at the end of his exploration, he learned that he's just a little bit gay. Still, I don't think that's a deal breaker for Julianne. Alas, no nudes have surfaced thus far. But he's hot enough shirtless for me to run some of those pics on BillyMasters.com.
When Julianne could possibly be someone's beard…again, it's definitely time to end yet another column. Check out the latest news and nudes on BillyMasters.com – the site that's a sure thing. If you have a question, send it along to [email protected] and I promise to get back to you before one of those nude sailors competes on "Dancing with the Stars." So, until next time, remember, one man's filth is another man's bible.
Wentworth Miller won't play straight anymore
And Scott Baio wins praise from Trump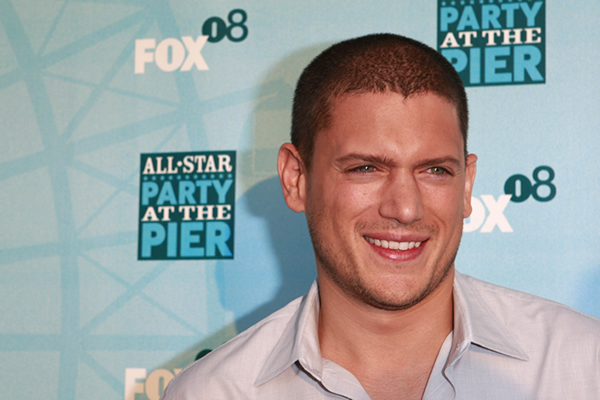 "You can't say that marriage is a union between one man and one woman. Until very recently, that's what the vast majority of Americans thought. Now it's considered bigotry." —Supreme Court Justice Samuel Alito. So much for impartiality.
Our opening quote could have been, "The road to hell is paved with good intentions." Melissa McCarthy's upcoming flick, "Superintelligence" had a carefully thought out promotional plan. During "20 Days of Kindness," HBO Max would donate $20K a day to a worthy charity. What could go wrong, right? Wrong. One of the recipients was Exodus Cry, an organization that is against reproductive choice and vilifies the LGBTQ community. When Melissa heard about this, she was outraged enough to cry through an apology. "There's no other way to say it – we blew it. We made a mistake and we backed a charity that, upon proper vetting, stands for everything that we do not. So I want to thank everyone on social media who said, 'What are you doing? Are you sure you want to back this?' Because the answer was no, we do not." How do you rectify that? McCarthy says, "We have pulled it." So who's getting that $20K?
I got a laugh when one outlet referred to thespian Scott Baio as a "former actor." Baio's good deed was to rearrange the mugs in his local Michael's to read "Trump Is Still Your President." "Thank you Scott, and stay tuned. You are terrific!" Tweeted Trump in response to Baio's photo. I don't know what's more shocking – that Trump thinks Scott is terrific, or that Baio is into crafting. Or, perhaps he was working in the mugs section that day.
Wentworth Miller made a revelation on Instagram regarding his future with "Prison Break." "I just don't want to play straight characters. Their stories have been told (and told). So. No more Michael. If you were a fan of the show, hoping for additional seasons…I understand this is disappointing. I'm sorry. If you're hot and bothered bec you fell in love with a fictional straight man played by a real gay one…That's your work." Miller's "Prison Break" brother, Dominic Purcell, was among the first to respond. "It was fun mate. What a ride it was. Fully support and understand your reasoning. Glad you have made this decision for your health and your truth. Keep the posts coming…love ya brother."
Then there's Viggo Mortensen – who, by all accounts, is heterosexual. He's writing, directing, and starring in his next film. My God – he's like the male Streisand. All he has to do is sing the theme song wearing Lee Press On Nails! Anyway, "Falling" is about a homophobic and racist man suffering from dementia. Viggo plays the man's son – who happens to be a gay, married man. Mortensen claims that this is not "a gimmick, anchor, or some trigger." In fact, he didn't originally write the role to be gay – but felt it made for a more compelling story. He added, "I apologize to all the proctologists for casting David Cronenberg" – who plays a proctologist in the film. I might add that I don't believe Viggo ever met any hobbits in real life!
FYI, I had already announced I was taking Thanksgiving Week off. But, due to circumstances beyond my control (and you know how I hate that), I'm going to be indisposed for this week as well. Fear not – we'll be back right with a special series of shows for December. Stay tuned.
Remember Michael Cohen? El Presidente's former fixer? He appears in a tantalizing video – courtesy of Matthew Camp, who is a former NYC go-go boy. For some reason, Cohen made a Cameo video where he says the following: "I just want to say how amazing Matthew Camp is on OnlyFans. Having a blast enjoying every minute with you guys. Good luck. Love it. Stay safe. Stay Covid-free. And, again, OnlyFans – having a blast with him." Things that make you go, "Hmm." I smell an endorsement coming for "Billy Masters LIVE". In the meantime, you can see both Camp and Cohen on BillyMasters.com.
If Cohen loves Camp, he'll love our "Ask Billy" question. Danny in San Francisco writes, "Did you hear that the Zakar Twins said they'd release some nude photos if Biden won? Well, where are they?"
Actually, they promised a whole lotta things. Things like this: "Will post nudes if (when?) Trump loses." They kinda modified the deal when they heard of Biden's win. "Alright, alright, a deals a deal. Butts out for Biden! You want full-frontal? Wait for AOC to take office." Of course, you don't want to wait. You just have to check out BillyMasters.com.
When brothers' butts are out for Biden (or, I venture to say, anyone else who comes along), it's time to end yet another column. Sorry to take this week off, but I'm dealing with some sticky situations – none of which concern my penis (at least, not yet). But there are more than enough penii for you on BillyMasters.com – the site that shows full-frontal with or without AOC! Even though I'm tied up, I'm never too busy to answer your questions. Feel free to write me at [email protected], and I promise to get back to you before Scott Baio gets promoted to Manager of Mugs at Michael's! So, until next time, remember, one man's filth is another man's bible.