With Democrats winning the House, LGBT advocates have great expectations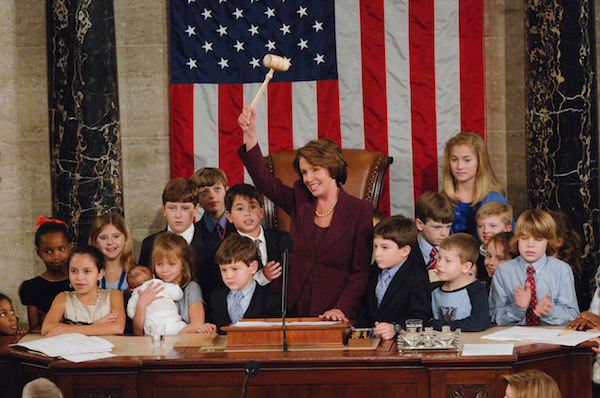 After a disappointing election night in 2016 and two years of President Trump in the White House, Democrats came back with an important win Tuesday night and were projected to win control of the U.S. House — a victory celebrated by LGBT rights supporters eager to thwart the administration and advance equality measures.
NBC News and Fox News declared at late Tuesday night Democrats would win enough seats on Election Day to take control of the House, marking the first time since 2008 Democrats won a majority of seats in the chamber. Democrats needed a net gain of 23 seats to win control of the House, but the early call means they could win significantly more as the night progresses.
Meanwhile, CNN declared the Senate would remain in Republicans hands after Sen. Ted Cruz (R-Texas) declared the winner against a Democratic challenger Beto O'Rourke. Despite an expected "blue" wave, political observers expected Republicans to retain control of the Senate.
Topping the list for what LGBT rights supporters were expecting from the House with Democrats in control was oversight of the Trump administration's anti-LGBT policies and advancement of the Equality Act.
Sarah McBride, a transgender advocate and spokesperson for the Human Rights Campaign, identified the Equality Act as a top priority with Democrats finally in control of the House.
"Voters across the country have helped to pull the emergency brake on the hateful agenda of Donald Trump and Mike Pence, and with a pro-equality majority in the U.S. House and pro-equality leadership in the U.S. Senate, we're hopeful that we can see the Equality Act pass through the chamber this Congress," McBride said. "That would send an important message that the U.S. House of Representatives believes that LGBTQ people should be protected from discrimination throughout daily life."
Although the Equality Act, which would expand the Civil Rights Act of 1964 to bar anti-LGBT discrimination, is unlikely to become law if Democrats control only one chamber of Congress and President Trump is in the White House, McBride said movement in one chamber would be beneficial.
"It would help build momentum for us to pass the Equality Act and have it signed into law by a pro-equality president when a pro-equality president is elected into office in 2020," McBride said. "It would help to build momentum for state legislatures and more city councils to pass inclusive non-discrimination protections."
Rea Carey, executive director of the National LGBTQ Task Force, said legislation to prohibit anti-LGBT discrimination in Congress has languished for decades and the time has come for action.
"Given that so many LGBTQ people and their families face discrimination in multiple areas of their lives, it is well past time for a federal bill to provide protections, so we will certainly continue working with members of the House to pass federal legislation, to push for passage of the Equality Act and ensure that our community members are finally protected," Carey said.
House Minority Leader Nancy Pelosi (D-Calif.) has signaled the Equality Act would be a personal priority and she'd assign the legislation a low bill number between 1 and 10 designating the legislation a top priority with Democrats in control of the House.
In terms of the expected timing from LGBT advocates for movement on the Equality Act, the general consensus was as soon as possible, although no specific timeframe was offered.
Mara Keisling, executive director of the National Center for Transgender Equality, called the Equality Act the "centerpiece bill" for the LGBT community and said timing for movement should be "sooner rather than later," but didn't offer a specific deadline.
Asked when she expects to see movement from the House on the Equality Act, Carey replied, "Yesterday."
"We will continue to push for the Equality Act very early on in this next session," Carey said. "It is past time. We've been having this conversation for decades starting really in the 1970s when the first piece of legislation was introduced, but certainly into ENDA, and now the full Equality Act. But it is just well past time for our community to have protections."
But oversight of the Trump administration's anti-LGBT policies — such as the transgender military ban, efforts to define laws against sex discrimination to exclude LGBT people and "religious freedom" laws that would enable anti-LGBT discrimination — was also high on the list of priorities for LGBT rights supporters.
Keisling said oversight and accountability of the Trump administration are "by far the most important things" in the next Congress.
"Finally, somebody will be holding President Trump accountable for all his lawless actions," Keisling said. "So when the Office of Civil Rights at the Department of Education says it will no longer enforce federal civil rights laws, somebody can hold them accountable. Somebody can hold hearings, somebody can subpoena their records to find out why they're doing."
Carey expressed a similar sentiment about the importance of congressional oversight under the Trump administration.
"We're expecting them to step up," Carey said. "They should be using their authority to conduct hearings and investigations to stand up for the American people to ensure that this administration is held accountable. We have an unprecedented lack of transparency, corruption and self-serving actions from this administration, so we expect the House to step up and stand by the American people."
Carey also said her organization will stand with the House in efforts to preserve the Affordable Care Act, including protections for patients with pre-existing conditions, and efforts to use religious freedom "to discriminate against LGBTQ people and others."
The Equality Act wasn't the only piece of legislation important to LGBT rights supporters. Other bills not as high profile but still important to LGBT people were also mentioned.
For the transgender community, Keisling identified the Every Child Deserves a Family Act, which would ban anti-LGBT discrimination in adoption, and the Screening with Dignity Act, which would enhance policies at the Transportation Security Administration for transgender passengers.
Carey said she wants to see companion legislation in the House for the Census Equality Act, which would add questions to the U.S. Census allowing respondents to identify their sexual orientation and gender identity. Currently, a version of the legislation introduced by Sens. Kamala Harris (D-Calif.) and Tom Carper (D-Del.) remains pending in the Senate.
"We know that when our community isn't counted through the U.S. Census and other federal surveys that it means that valuable and much-needed programming in federal funding is not directed to the needs of our community," Carey said.
Rep. Katie Hill explains abrupt resignation in video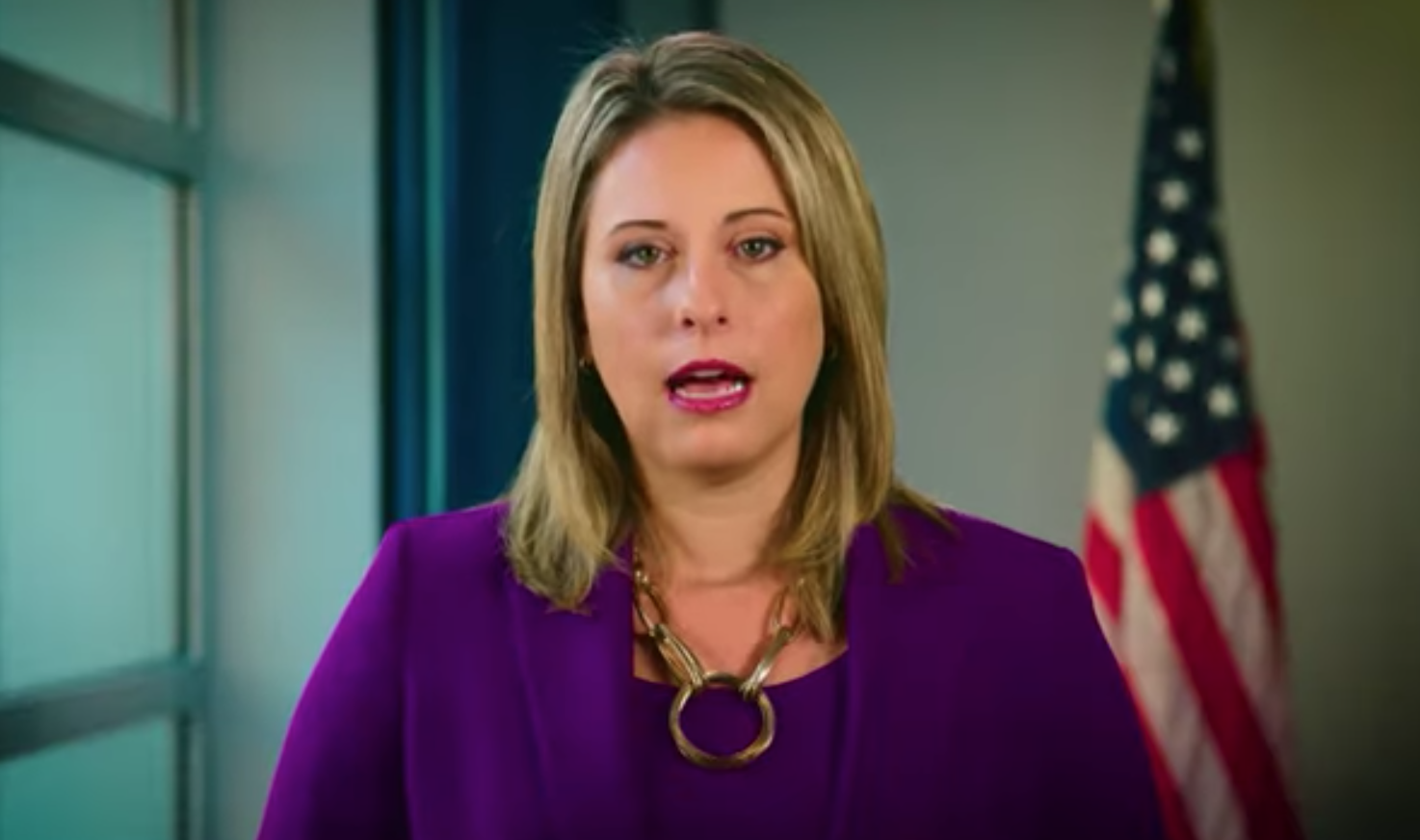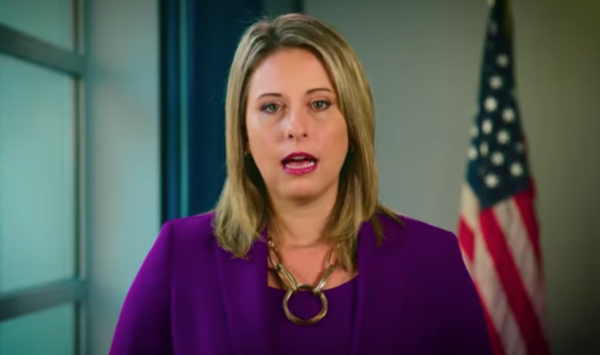 Rep. Katie Hill says she's determined to fight against what she calls a smear campaign designed to humiliate her. But, with an apparent nudge from House Speaker Nancy Pelosi, she says she had to resign from Congress on Sunday to not impede the important constitutional work for which she might serve as a distraction.
"Congresswoman Katie Hill came to Congress with a powerful commitment to her community and a bright vision for the future, and has made a great contribution as a leader of the Freshman Class," Pelosi wrote in a statement on Sunday. "She has acknowledged errors in judgment that made her continued service as a Member untenable.  We must ensure a climate of integrity and dignity in the Congress, and in all workplaces."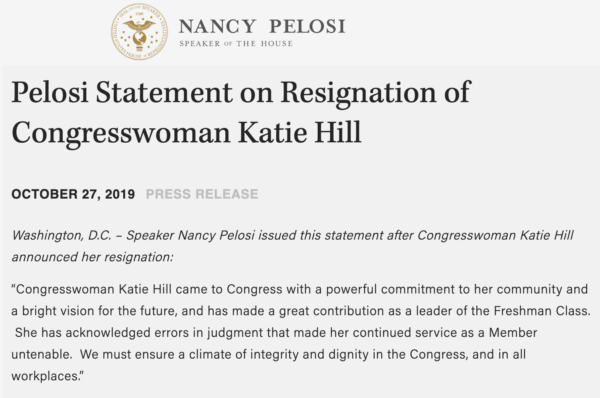 Hill, 32, a rising leader as vice chair of the House Oversight Committee, acknowledged having an "inappropriate" relationship with a campaign staffer. "I know that even a consensual relationship with a subordinate is inappropriate, but I still allowed it to happen despite my better judgment," she wrote in a letter to her constituents.
But Hill has vigorously denied a relationship with a congressional staffer, a violation of House Ethics Rules that triggers an ethics investigation.
"It is with a broken heart that today I announce my resignation from Congress. This is the hardest thing I have ever had to do, but I believe it is the best thing for my constituents, my community and our country," Hill wrote in a letter posted on Twitter.
"This is what needs to happen so that the good people who supported me will no longer be subjected to the pain inflicted by my abusive husband and the brutality of hateful political operatives who seem to happily provide a platform to a monster who is driving a smear campaign built around cyber exploitation," Hill wrote.
Politico reports that she is expected to officially step down on Nov. 1.
It is unclear if Hill's resignation will halt her request to U.S. Capitol Police to investigate the origin of the nude photos that accompanied stories in the conservative online site RedState on Oct. 18 and a British tabloid that Hill and supporters call "revenge porn" distributed by her Los Angeles County-based estranged husband, Kenny Heslep, whom she is divorcing. Revenge porn is against the law in California.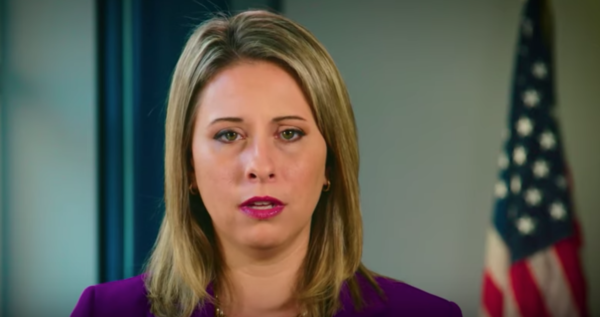 In a You Tube video posted Monday, Hill explains why she resigned and thanks her supporters.
"I made this decision so my supporters, my family, my staff and our community will no longer be subjected to the pain inflected by my abusive husband and the brutality of hateful political operatives.

This coordinated campaign carried out by the fight wing media and the Republican opponents enabling and perpetuating my husband's abuse by providing him a platform is disgusting and unforgivable and they will be held accountable.

But I will not allow myself to be a distraction from the constitutional crisis we're faced with and the critical work of my colleagues. And so I have to take my personal fight outside the Halls of Congress.

Too many Americans our counting on Washington to fulfill our promises of quality healthcare, housing we can afford, and a government that works for the people. And I cannot let this horrible smear campaign get in the way of that work.

To my supporters in my district and across our great country, please know that we did something incredible. We proved that an imperfect woman – the 31-year old daughter of a nurse and a police officer who never planned to run for office – has a place int eh people's House. We showed the nation that there is hope, even in the darkest of moments; that every single person deserves a chance and a voice; and that voters will believe and will rise to make that happen.

We showed Washington that a grassroots campaign can propel a young woman into Congress without the help of big corporations and special interests that have for so long governed politics and that this movement will change our broken political system forever.

That matters.

And it will always matter.

I need you to know that my fight is not over. Those of you who know me know that I am a fighter. Before I came to Congress, I fought for the most vulnerable people in our community, working to end homelessness for individuals, veterans and families.

I fought to give a voice to those who, for too long, have been silenced or pushed into the shadows. I'm going to continue to fight for our democracy, for representation, for justice and equality and for making the world a better place.

And I will also take up a new fight. I will fight to ensure that no one else has to live through what I just experienced. Some people call this electronic assault, digital exploitation. Others call it revenge porn. As the victim of it, I call it one of the worst things we can do to our sisters and our daughters.

I am grateful for all of you who have spoken out about this in recent days. As I have before, I will stand up for those who cannot stand up for themselves because there is one thing that I know for sure: I will not allow my experience to scare off other young women or irls from running for office.

For the sake of all of us, we cannot let that happen.

I'm hurt. I'm angry. The path that I saw so clearly for myself is no longer there. I'e had moments where I've wondered what the last three years of my life were for and if it was worth it. And I know that many of you feel the same.

I never claimed to be perfect. But I never thought my imperfections would be weaponized and used to try to destroy me and the community I've loved for my entire life. For that, I am so incredibly sorry.

I'm so grateful for the outpouring of support that I've received. I grew up riding horses and the most important thing that I learned was that when you fall off, you have to get right back up in the saddle.

So I'm going to do that. I hope I can count on you to do the same and join me on the next ride.

Thank you.
Reaction has been mixed to both the smear campaign and Hill's resignation, including from someone Democrats might never consider – Donald Trump loyalist Florida Republican Rep. Matt Gaetz.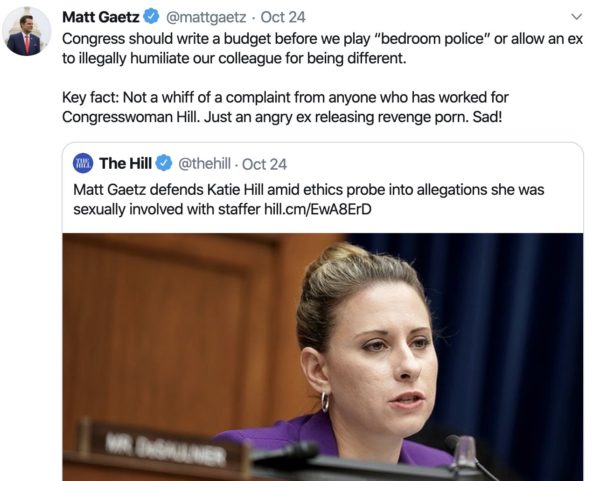 "This is just absurd. The only person who seems to have a gripe is @RepKatieHill's soon-to-be ex," Gaetz tweeted on Oct. 24 as the Ethics investigation of Hill was announced.  "Who among us would look perfect if every ex leaked every photo/text? Katie isn't being investigated by Ethics or maligned because she hurt anyone – it is because she is different."
"I serve on Armed Services with Katie and while we frequently disagree on substance, she is always well-prepared, focused and thoughtful," Gaetz tweeted later.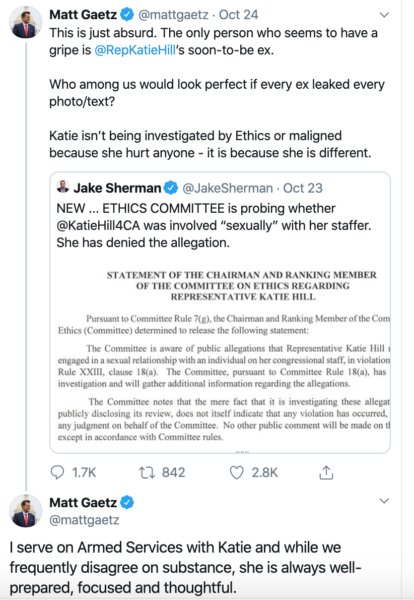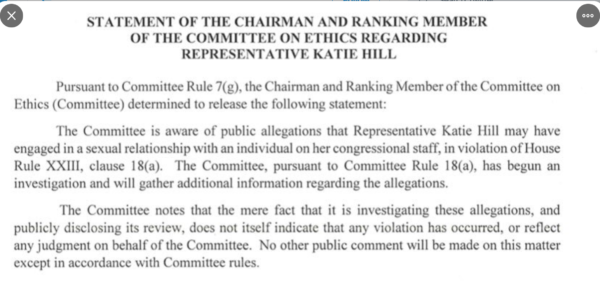 "We are sorry to lose a good public servant in Congresswoman Katie Hill. We thank her for putting her district first over the personal attacks that have been levied her way," said Mark J. González, Los Angeles County Democratic Party Chair, in a statement. "We do not condone this kind of behavior from anyone and most of all our elected leaders. No one in any profession should live in fear of having intimate and deeply personal moments used as weapons against them. As Democrats, we are proud to stand against sexual harassment of any kind and we have procedures in place to protect all. We will continue to fight for progress and justice for our communities."
"Since January, Katie Hill has served the LGBTQ community and the people of California's 25th district with honor and integrity," said Equality California Executive Director Rick Zbur. "She fought for us every day. Her treatment by the cabal of right-wing media and a revengeful husband was abusive and unconscionable. The double standard that women — and LGBTQ women in particular — face in politics and the workplace is a sad stain on this nation. America needs leaders like Katie. She always had our backs — we and thousands of her grateful constituents still have hers."
Democrats are now wondering who will replace Hill, who was among the 2018 "Blue Wave" that flipped GOP seats to Democrats, include the CA 25th District then occupied by anti-LGBTQ Republican Rep. Steve Knight. Hill beat Knight by nine points. Politico reports that Democratic Assemblymember Christy Smith, who represents some 60 percent of the #CA25 district, is expected to announce her run for the seat. She's already been endorsed by LACDP head Gonzalez. Others are knocking on the door.